Seeking Alpha Review 2023: Is Seeking Alpha Worth It?
Many or all of the products featured on this page are from our sponsors who compensate us. This may influence which products we write about and where and how the product appears on a page. However, this does not influence our evaluations. Our opinions are our own. Here is a list of our partners and here is how we make money.
---
The information provided on this page is for educational purposes only. The Modest Wallet is a financial publisher that does not offer any personal financial advice or advocate the purchase or sale of any security or investment for any specific individual.
Want to fine-tune your investment portfolio but don't have time to research stocks every single day? Seeking Alpha might just be what you need.
Seeking Alpha is a stock screening and research tool that provides expert insight into the financial world.
But is Seeking Alpha worth signing up for? Should you pay for a subscription?
In this Seeking Alpha review, we'll take a closer look at what the company offers to investors. We'll discuss each of the platform's features, its subscription tiers, and how it could help you maximize your investing strategy.

Bottom Line: Seeking Alpha is one of the largest crowd-sourced content platforms for financial markets in the world. Seeking Alpha is free to use, but it also offers premium services for a monthly subscription.
| | |
| --- | --- |
| Pricing | |
| Platform | |
| Features and tools | |
| Ease of use | |
| Customer support | |
---
What Is Seeking Alpha?
Seeking Alpha is a stock screener and investment research tool. It provides investors with information about stocks and ETFs so that they can feel empowered to make their own investing decisions.
The company was founded in 2004 by David Jackson, a former technology research analyst for Morgan Stanley. Since then, Seeking Alpha has grown substantially, and it now boasts more than 10 million registered users.
Overall the platform and services have positive reviews and ratings from sites like Trustpilot (4.3 out of 5.0), Sitejabber (3.5 out of 5.0), and Capterra (4.5 out of 5.0).
Seeking Alpha mobile apps have great reviews on both the Apple App Store (4.8 out of 5.0 with over 111k reviews) and the Google Play Store (4.2 out of 5.0 with over 46k reviews).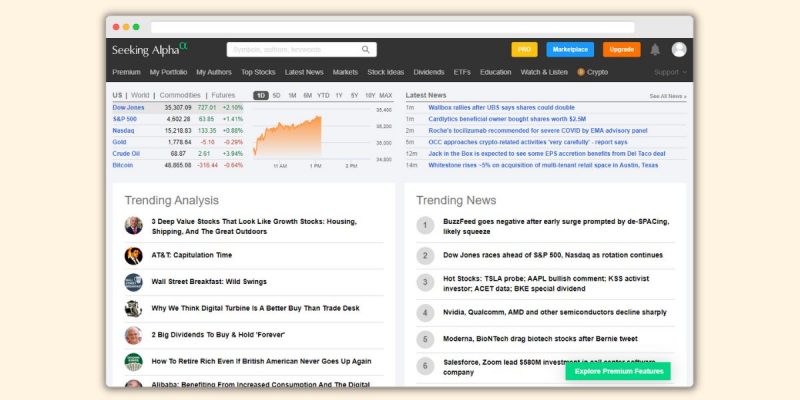 ---
How Does Seeking Alpha Work?
Seeking Alpha is a subscription-based service for investors. Anyone who wants access to the firm's investing insights first needs to make an account on the Seeking Alpha website.
The company offers three different subscription tiers (more on those in a bit), including a free option called Seeking Alpha Basic. If you want to subscribe to the Basic plan, you simply need to enter your email address and a password to get started. Meanwhile, if you want a Premium or Pro subscription, you'll also have to enter your credit card details.
Once your account is up and running, you'll have access to your dashboard. You can log into your account, read through news articles, manage your portfolio, and check out the latest investing insights.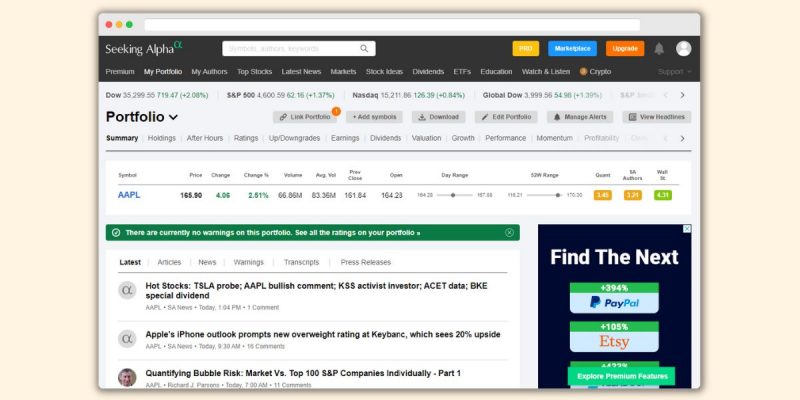 ---
Seeking Alpha Features
Seeking Alpha is a feature-rich investing tool. Here are some of the features that come with a subscription to the platform.
| | |
| --- | --- |
| Service | Investing Community, Newsletters, Stock Research, Ratings, Scanners, and More |
| Pricing | $0/month (Basic), $19.99/month (Premium), and $69.99/month (PRO) |
| Plans | Basic, Premium, and PRO |
| Mobile App | iOS and Android |
| Promotions | Seeking Alpha Basic (Free to join) and Seeking Alpha Premium (7-day free trial & 50% off) |
| Best For | Intermediate-to-advanced data-driven investors |
| Support | Phone (+1 347 509 6837) and Email ([email protected]) |
Find Investing Ideas
The primary purpose of Seeking Alpha is to help you find investing ideas. To do so, the company offers the following features:
Follow authors: There are thousands of authors who provide investing insight on Seeking Alpha. You can search for and follow as many authors as you'd like on the platform for the latest information about stocks and ETFs.
Access newsletters: Seeking Alpha offers dozens of newsletters that provide breaking market news right in your inbox. You can subscribe to up to 15 newsletters at once.
Find Top-Rated Stocks: Premium and Pro subscribers get Seeking Alpha's Top-Rated Stocks list. This list helps you find stocks that are rated as bullish or above for all stock metrics.
Stock & ETF screener tool: With a Premium or a Pro subscription, you can use Seeking Alpha's stock screeners. These screeners help you quickly filter thousands of stocks. For example, you can look for top small-cap stocks, top tech stocks, or top REITs with the push of a button.
Research Investing Ideas
Once you find a potential investing idea, Seeking Alpha makes it easy for you to learn more about it.
One of the most powerful aspects of Seeking Alpha is its five stock ranking metrics. These metrics include:
Wall Street Ratings: These ratings provide insight into what Wall Street analysts think about a given stock or ETF. They tell you whether top professional analysts view a specific investment as bullish, bearish, or neutral. Wall Street Ratings are available for all subscribers.
Seeking Alpha Author Ratings: With Seeking Alpha Author Ratings, Premium, and Pro subscribers get information about what Seeking Alpha authors think about an investment. The platform averages author reviews from the last 90 days to create an overall Author Rating.
Quant Ratings: A Quant Rating is a Seeking Alpha-specific metric that offers an objective evaluation of an investment based on recent data. All of this data is combined to produce a rating between Very Bearish and Very Bullish. A Premium or Pro subscription is required for access to complete Quant Rating data.
Factor Grades: Factor Grades are a Seeking Alpha-specific tool that grades stocks by five factors (value, profitability, growth, EPS revisions, and momentum). The stocks are given a grade from A+ to F for each factor. This is available only for Premium or Pro subscribers.
Dividend Grades: Premium and Pro subscribers can access Dividend Grades, which provide insight into the quality of an investment's dividends. The firm rates dividends on their safety, growth, yield, and consistency.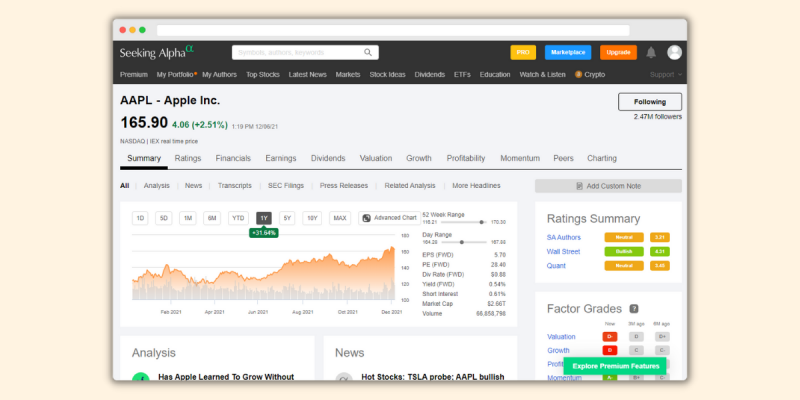 In addition to these ratings, Seeking Alpha provides the following tools to help you learn more about your investment options:
Download & print financials: Seeking Alpha gives you easy access to financial information and documents for nearly any stock or ETF. Basic subscribers can access five years of financials, while Premium and Pro subscribers get 10 years of financials.
Stock dividend & earnings forecast: With Seeking Alpha, you can get up-to-date information about a company's dividends and earnings. Premium and Pro subscribers get additional analysis and insights about these forecasts.
Stock comparison tools: All subscribers get access to Seeking Alpha's stock comparison tools that let them compare the metrics of multiple stocks side-by-side for easy analysis. This feature lets users directly compare important metrics such as market capitalization, valuation, and ratings from Seeking Alpha analysts, Wall Street analysts, and others. Whether creating a customized comparison or utilizing preset options, this tool empowers investors to make informed decisions aligned with their investment strategies.
Manage Portfolio
Another useful feature of Seeking Alpha is the company's portfolio management system. All subscribers can link their brokerage accounts to Seeking Alpha using Plaid. This lets you see and manage all of your stocks and ETFs in one place. Some of the brokerages supported include:
Once you link your portfolio, you also get access to the following:
Personalized notifications & alerts: Whenever there's new analyst insight on stocks and ETFs in your portfolio, Seeking Alpha will send you notifications and alerts so you can better manage your assets. This is available for 30 days for Basic subscribers, but it's included with Premium and Pro subscriptions.
Personalized news & articles: In addition to notifications and alerts, Seeking Alpha gives all subscribers personalized news and articles about stocks and ETFs in their portfolios.
Earnings calendar: Seeking Alpha gives all subscribers access to a calendar where you can see when all your holdings have earnings reports scheduled.
Stock Ideas
Seeking Alpha offers access to a wide range of stock ideas. These stock ideas are curated by Seeking Alpha authors, and they offer insight into the inner workings of leading stocks.
Stock ideas are available to all subscription holders. You can also comment on the blog post for each stock idea to interact with the author and other community members.
Mobile App
Seeking Alpha is available on the web, as a desktop app, and as a mobile app. The company's mobile apps make it easy for subscribers to access all of the platform's features, including portfolio management, market data, and earnings reports, on the go.
Both the Android and iOS versions of the app are highly rated. Reviewers of the app note that it provides a user-friendly interface and useful updates on stocks in your portfolio.
Marketplace
The Seeking Alpha Marketplace lets you access additional premium stock analysis and portfolio-building tools. On the Marketplace, you can view a directory of investment services that give you direct connections to experts in the financial industry.
When you subscribe to these services, you normally get an exclusive chat room with other subscribers. Many experts also provide additional newsletters, webinars, and other exclusive content to maximize your experience.
Each expert sets their own rates and offers different services. So, you have to read through each listing to decide if it's right for you. But keep in mind that Marketplace fees are charged on top of your Seeking Alpha subscription.
Crypto Waves
Although Seeking Alpha is primarily a stock market-based platform, the company also offers crypto insights. Crypto Waves is Seeking Alpha's primary crypto-focused service, and it provides information about the latest happenings in crypto.
With Crypto Waves, you get access to a private chat room, charts, nightly crypto market updates, weekly webinars, and spreadsheets of trade set-ups to help you get started.
Keep in mind that Crypto Waves is an additional service that's not included with regular Seeking Alpha subscriptions. A subscription costs $124.99 per month if you pay monthly or $83.25 per month if you pay annually ($999 annual payment).
Videos & Podcast
The final major feature of Seeking Alpha is the company's videos and podcasts.
All subscribers get access to a series of podcasts called AlphaTALKS. These podcasts are free, and they all focus on a certain investing theme, such as ETFs or global markets.
Furthermore, all subscription holders can watch videos from Seeking Alpha. These videos can make it easier to understand complex investing topics or get quick access to breaking news in the financial world.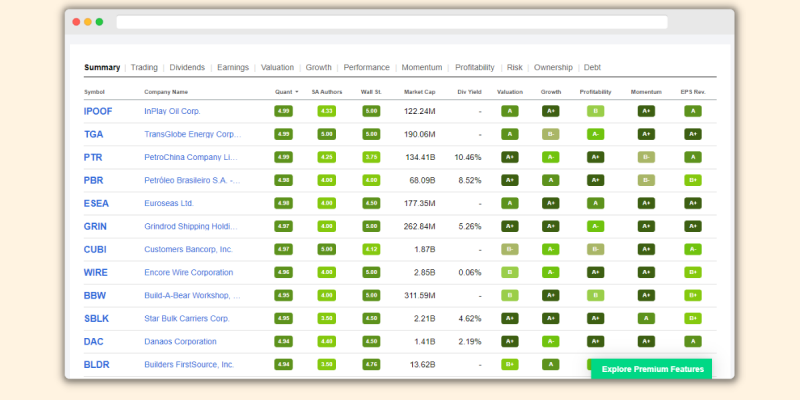 Alpha Picks
Alpha Picks is one of the newest features offered by Seeking Alpha, launched in 2022. This feature is basically a stock recommendation tool developed by the Seeking Alpha quantitative analysis team, and it is tailored to assist users in constructing a high-performing portfolio.
Alpha Picks users receive bi-monthly updates featuring two new portfolio additions for long-term investment, sell alerts for rating changes, and transparent, real-time performance data. Additionally, subscribers gain access to exclusive webinars hosted by the quant team.
Seeking Alpha claims Alpha Picks has a track record of outperforming the market by 20% since its inception.
It you are a buy-and-hold investor, then Alpha Picks may be the right solution for you.
---
Seeking Alpha Pricing & Fees
Seeking Alpha operates on a subscription-based model. Here's what you need to know.
Basic
The free version of Seeking Alpha is called Seeking Alpha Basic. There's no charge to sign up, and you don't have to enter your credit card information to get started. The free version includes allows you to:
Link brokerage accounts and manage your portfolio
Receive personalized stock news updates
Read blog articles and follow authors
Sign up to 15 email newsletters
Review five years of corporate financial statements
Note that you will see many advertisements when using the Basic version of Seeking Alpha. But you can use the Basic version for as long as you'd like without upgrading.
Premium
If you're looking for more advanced investing metrics, Seeking Alpha Premium might be worth considering. It costs $29.99 per month if you pay monthly or $19.99 per month if you opt to pay annually ($239 annual payment).
Seeking Alpha Premium offers all the same features as the Basic subscription, plus:
Reduced advertisements
Access to Premium investing ideas and top-rated stock screeners
Read and write investing blogs
Seeking Alpha author stock ratings
Ability to track investing idea performance and metrics
Full access to company and stock financials
Enhanced stock analysis metrics for your portfolio
Pro
The firm's highest subscription tier, Seeking Alpha Pro, provides additional benefits for experienced traders. It costs $69.99 per month or $499 if you opt to pay annually.
Seeking Alpha Pro offers all the same features as the Basic and Premium subscription, plus:
No advertisements
Access to exclusive newsletters
VIP Editorial Concierge service
Seeking Alpha PRO investing ideas screener
Full access to Top Ideas and short ideas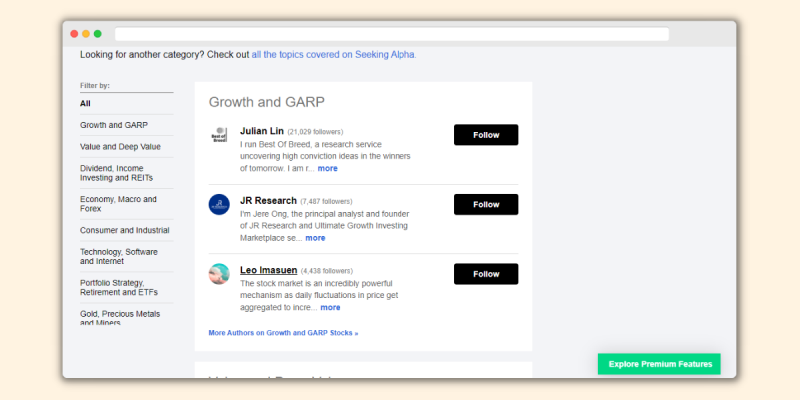 ---
Seeking Alpha Security
As Seeking Alpha is a stock screener, not an online broker, it never actually manages your money. However, it's important that any platform you sign up for provides good security to protect your personal information from hackers.
One of the best security features of Seeking Alpha is its integration with Plaid. Seeking Alpha uses Plaid to create a secure link to all of your brokerage accounts. You never have to provide Seeking Alpha with your brokerage account credentials, so your accounts can stay secure, even if you add them to your Seeking Alpha portfolio.
---
Seeking Alpha Customer Support
If you ever have a question about your Seeking Alpha account, you can search through the company's extensive online help pages.
Additionally, Seeking Alpha has a feedback forum where you can report issues with the site. The company also has email-based and phone-based support for all subscription-related concerns that you might have.
---
Seeking Alpha Pros
Provides in-depth information about stocks and ETFs in a user-friendly interface
Available online, in a desktop app, or on a mobile app
Option to link your brokerage accounts for up-to-date portfolio management
It has a great collection of articles from thousands of authors and analysts
Offers dozens of newsletter subscriptions
Unique stock and ETF analysis metrics for additional insight
Stock Ideas make it easy to screen thousands of stocks
Makes it easy to download and print financials from top companies
---
Seeking Alpha Cons
Free Basic subscription is highly limited
Subscription fees are fairly high
Limited information about mutual funds and crypto
Too complex for first-time investors
Additional fees are required for access to certain services (e.g., Crypto Waves)
---
Seeking Alpha Alternatives
Not sure that Seeking Alpha is right for you? Here are two alternative stock screeners to check out:
Seeking Alpha vs. Motley Fool Stock Advisor
Motley Fool Stock Advisor is a stock screener subscription from the Motley Fool, a popular investment guidance company. The Motley Fool was founded in 1993 by brothers and financial experts David and Tom Gardner.
With Stock Advisor, investors can pay $199 per year for access to two new stock picks each month and the company's current best buys. You can also access the company's historical stock picks, and you can interact with the Motley Fool community using online forums.
Motley Fool's Stock Advisor is cheaper than Seeking Alpha, though it offers fewer metrics and financial analyst tools. Overall, it's better for newer investors who want quick insight into the best-performing stocks on the market. Read our full Motley Fool review to learn more.
Seeking Alpha vs. Morningstar Premium
Morningstar Premium is the paid subscription service for Morningstar, one of the world's leading financial analyst companies. It offers many of the same features as Seeking Alpha but with more emphasis on data and less emphasis on opinion-based blogs.
With Morningstar Premium, subscribers can check out charting tools, stock research reports from 150 expert analysts, advanced financial metrics, and portfolio analytics tools. Morningstar Premium also provides insight into mutual funds, which is a weakness of Seeking Alpha.
Morningstar Premium costs $34.95 per month (or $249 annually), so it's about the same price as Seeking Alpha Premium. However, it doesn't let you sync your Morningstar account with your brokerage accounts, so it's more for research than for portfolio management. Read our full Morningstar review to learn more.
| | | | |
| --- | --- | --- | --- |
| | | | |
| Our Rating | | | |
| Pricing | Long-term data-driven investors | $199/year to $1,999/year | $34.95/month or $249/year (save 41% over a monthly plan) or $399 for two years or $499 for three-years |
| Stock Picking | Yes | Yes | Yes |
| Promotion | Free to join (Basic) and 7-day free trial & 50% off (Premium) | $100 off (Motley Fool Stock Advisor) | 14-day free trial (Premium) |
| Highlight | One of the largest investing communities in the world | Premium stock-picking newsletters | Robust fundamental and portfolio analysis |
| Best For | Intermediate to advanced investors | New investors looking for stock ideas | Long-term data-driven investors |
| | | | |
Compare Seeking Alpha
Find out how Seeking Alpha stacks up against the competition.
---
Who Is Seeking Alpha For?
Seeking Alpha is designed for the intermediate-to-advanced investor who doesn't have a lot of time to devote to market research. Many of the company's tools and metrics are advanced, so they might be overwhelming for a brand-new investor. But, they offer invaluable insight into financial markets with just the push of a button.
Additionally, Seeking Alpha's huge collection of authors, podcasts, and videos makes it easy to access a wide range of financial opinions. All of this comes at a pretty hefty price tag, though, so it's best for investors who are willing to pay more for a platform that provides quality financial research.
---
Seeking Alpha FAQ
Here are our answers to some of your most frequently asked questions about Seeking Alpha:
Is Seeking Alpha Worth It?
Seeking Alpha's subscriptions are definitely worth it if you're looking for quick investing information, data, and recommendations. For investors who don't have the time to do market research, Seeking Alpha's analyst advice and rankings can be very helpful. But if you're happy with the research that you do on your own, you may not need a paid subscription.
Is Seeking Alpha Free?
There is a free version of Seeking Alpha that offers limited access to the platform. With the free version, you can sync your brokerage accounts and get basic analysis, stock prices, and charts. But you don't get access to more advanced features unless you sign up for a paid subscription.
Is Seeking Alpha a Trading Platform?
Seeking Alpha is not a trading platform. It is a stock screener and investing analysis tool that provides you with advanced insight into the world of financial markets. You can use it to find potential investments for growing your portfolio.
Is Seeking Alpha Premium Worth it?
Seeking Alpha Premium is worth it for investors looking to outperform the market. One of their key features is the "Quant Rating," which is Seeking Alpha's proprietary rating system. Stocks that have the highest Quant Rating have been outperforming the market by 5x since 2010.
The other great feature they offer is the Alpha Picks, which has been outperforming the S&P 500 by 11.5% since its launch in 2022.
With all the features Seeking Alpha Premium offers, I think it's definitely worth it.
Service: Investing community, newsletters, stock research, ratings, scanners, and more
Pricing: $0/month (Basic), $19.99/month (Premium), and $69.99/month (PRO)
Promotion: Free to join (Basic) and 7-day free trial & 50% off (Premium)

---
Final Thoughts
Seeking Alpha is a solid stock screener for intermediate-to-advanced investors. The company's research makes it easy for anyone to enhance their portfolio. Plus, the fact that there are thousands of authors on Seeking Alpha means that you can get a wider range of opinions on market trends than are available elsewhere.
But, Seeking Alpha's free Basic subscription is highly limited, and you need a paid plan to maximize your experience. The information available on Seeking Alpha is also primarily for stocks and ETFs, not mutual funds or crypto. It's also a bit too complex for first-time or casual investors.
However, if you want quality, detailed investing analysis and market information, a Seeking Alpha subscription is certainly worth considering.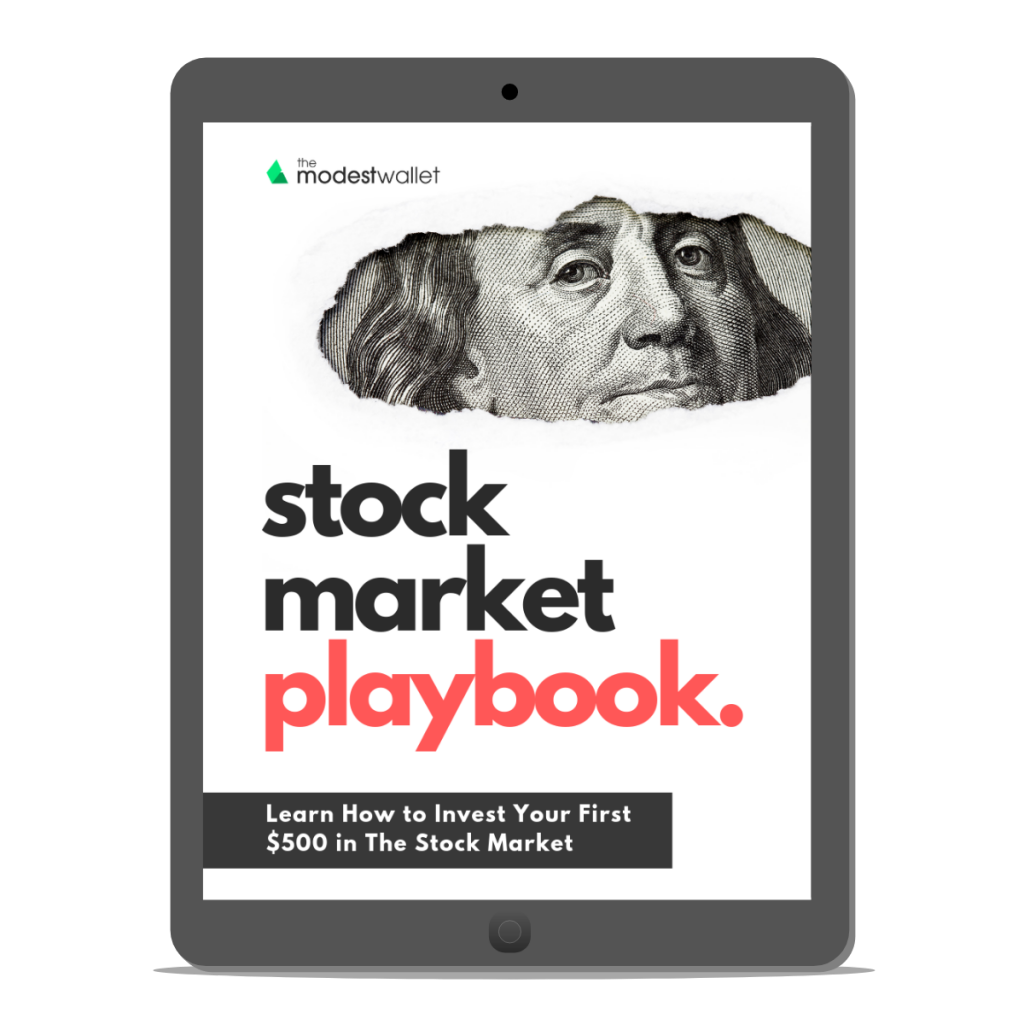 Get our free Stock Market Playbook to learn how to invest your first $500 in the stock market.
Plus our best money tips delivered straight to your inbox.

Gaby is a freelance writer and self-employed business owner with a personal interest in all things finance-related. She has a passion for educating others on how to make the most of their money and loves writing about everything from taxes to crypto.