Rebaid Review 2023: Great Deals & Cash Back
Many or all of the products featured on this page are from our sponsors who compensate us. This may influence which products we write about and where and how the product appears on a page. However, this does not influence our evaluations. Our opinions are our own. Here is a list of our partners and here is how we make money.
---
The information provided on this page is for educational purposes only. The Modest Wallet is a financial publisher that does not offer any personal financial advice or advocate the purchase or sale of any security or investment for any specific individual.
If you like shopping online and saving money, we highly recommend checking out Rebaid. They make it easy to find great products and score deep discounts ranging from 25% to 100% off.
You read that right—some products on the site are free after you redeem your rebate.
In this article, we'll tell you all about Rebaid, how to sign up, and how to get cash back. We'll also go over the site's pros and cons and frequently asked questions.

Quick Summary: Rebaid is an online platform connecting sellers with shoppers looking to get deals when shopping online. Rebaid offer users a way to get cash back rebates of up to 100% back on products from Amazon, Walmart, Etsy, and more.
Promotion: None at this time
What is Rebaid?
Rebaid is a site that works with retailers to offer rebates on a vast variety of products. While it initially worked with Amazon exclusively, Rebaid now has deals on Walmart.com, eBay, and Etsy.
Rebate amounts range from 25% to 100%. Why would a seller offer free products? Because they want to get you, the customer, excited about their products. If you're happy with your purchase, you might write a great review, tell a few friends, or come back and buy more.
Rebaid currently has more than 150,000 active shoppers, and they've paid out over $5 million in rebates.
How Does Rebaid Work?
Follow these four steps to redeem an offer on Rebaid.
1. Create an Account
It's easy to create a Rebaid account. Enter your full name, email address, and a password. Check the box to agree to the terms of use and privacy policy, and click submit.
There's no membership fee or contract, and anyone in the U.S. can use Rebaid.
When you sign up, you'll be limited to ten rebates for your first month. After that, your redemption limit will go up periodically. You can see your limit in your account dashboard.
2. Browse For Offers
Rebaid's homepage shows popular available offers, and you can browse in a few different ways.
Sometimes you'll see offers that aren't available yet. If you only want to see offers that you can purchase now, check the "Show Available Now" box.
Use the dropdown to sort by price, newest deals, most popular, or rebate amount. We recommend sorting by highest to lowest rebate to check out items that are free after your rebate payment.
If you're looking for a specific offer, you can search for a keyword. There are categories like Home & Kitchen, Electronics, Books, and more to help you find what you're looking for.
In addition to rebates, there are sections for discounts and partner promotions. Partners include companies like Society6, Belkin, and Advance Auto Parts.
3. Redeem an Offer
When you find an offer you're interested in, click on it to go to the offer page. You'll see what site is offering the deal (Amazon, Walmart, eBay, or Etsy), along with product ratings and additional details.
Keep in mind that each rebate is limited to a certain number of items. So when you find something you like, act fast.
When you're ready to buy, click the Redeem Offer button.
Select either Mailed Check or Direct Deposit as your payment method. For a check, enter your name and mailing address now. For a deposit, enter your bank account details.
The site takes you to the item on the retailer's product page. Confirm that the product is correct and that the price matches the one shown on Rebaid.
Go ahead and purchase the product just like you normally would. When you're done, copy your order number and navigate back to Rebaid.
4. Verify Your Payment
The final step to make sure you get your rebate is verifying your order. Grab your order number from your purchase. Enter it in the Order # box and click Submit.
If you chose Mailed Check, you'll receive your check in the mail five to six weeks after you redeem an offer. Direct deposit payments are deposited in your account within about five days after redemption.
Rebaid Features
Rebaid has two main features. The first is offering rebates and discounts for shoppers. The other is to give sellers a place to showcase their products and attract buyers.
Rebaid for Shoppers
As we discussed above, there are four easy steps shoppers can follow to save money on Rebaid offers.
Start by creating a free account. Browse for deals, and when you find something you like, click the link to check out on the retailer's site. Rebaid works with Amazon, Walmart, eBay, and Etsy.
Once you've purchased an item, return to the Rebaid page and enter your order number. You'll receive your rebate as a paper check or a direct deposit to your account.
Rebaid for Sellers
Rebaid is just as easy to use for sellers as it is for shoppers. There are four pricing plans for Rebaid sellers. Each one charges a monthly flat fee, ranging from $79 to $479.
There are three steps to create an offer. First, enter product information and photos. Next, choose your rebate amount and other rebate details. Finally, fund and launch your campaign.
Rebaid is also the first major launch platform to offer Amazon Live campaigns. Along with influencer campaigns on Instagram, Tik Tok, and YouTube, Rebaid now offers sellers placements on Amazon Live, for Amazon sellers.
Rebaid Pricing
The original prices listed on Rebaid match those on each retailer's site. In other words, prices aren't artificially raised to make it seem like you're getting a better deal. You can search any product listed on Rebaid on the store's site—you'll see that the prices are the same.
Rebate amounts range from 25% to 100% off the original price.
When you click on any item, you'll see the original price, the rebate dollar amount, and the rebate percentage. Most importantly, you'll see the total amount you'll pay after the rebate.
Rebaid Customer Support
Rebaid has an FAQ on the site that answers common questions. They also have a help center with additional FAQs for shoppers and sellers and an announcement section.
If you need additional help, you can create a support ticket. Most tickets receive an answer within 24 to 48 hours, but complex issues can take longer.
Customers who prefer to speak to support over the phone can schedule a 15-minute call. Find the link to schedule a support call on the Rebaid Contact Us page.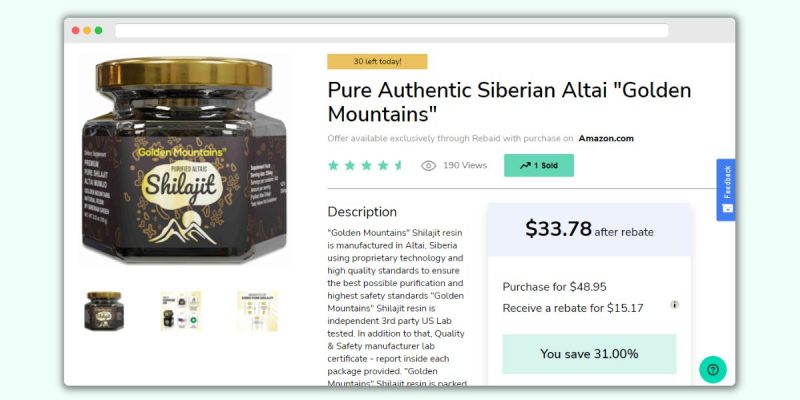 Rebaid Security
Rebaid is rated Excellent on Trustpilot and has an A rating with the Better Business Bureau. User reviews indicate that the site is safe and secure to use.
To log in to the site, you'll need to create a password. You'll also verify your account using two-factor authentication when you first sign up.
If you want to redeem orders via check, all you need to provide is your name and mailing address. You'll need to enter your bank account and routing number for direct deposits. If you're not comfortable providing this info, you can stick to checks.
Rebaid Pros
Here are the biggest benefits of shopping with Rebaid:
Deep discounts after rebate payments, some up to 100%.
Hundreds of offers to choose from.
Straightforward payment methods (choose check or direct deposit).
Easy checkout and rebate process.
No membership fee or contract.
Rebaid Cons
There are also a few downsides to Rebaid that you should consider. Here they are:
Only available in the U.S. at this time.
Deals are limited, and the best offers go fast.
Checks can take five or six weeks to arrive.
Customers can only claim each deal once.
Who is Rebaid Best For?
Rebaid is best for anyone who shops on Amazon, eBay, Walmart, or Etsy and wants to save money. The rebate process is easy to complete; you don't need to be internet-savvy.
You'll need a little patience since it takes time to receive rebate payments. This is especially true with paper check rebates. If you don't like waiting, you can switch to direct deposit and get your payments much faster.
Rebaid Review FAQ
Check out our answers to common Rebaid-related questions.
Is Rebaid Legitimate?
Rebaid is definitely legit. There are pros and cons to the service, but it's safe to use, and there are hundreds of reviews from happy customers.
On Trustpilot, Rebaid is rated Excellent, with over 700 reviewers giving it 4.6 out of 5 stars. The company is accredited with the Better Business Bureau and has an A rating. 
Is Rebaid Available Outside the U.S.?
At this time, Rebaid is only available to shoppers in the U.S. They are working on expanding the service to international users, so keep checking back for updates. 
Are Rebaid Payments Guaranteed?
Yes, Rebaid guarantees all rebate payments.
 
The only time you wouldn't receive a rebate is if you don't confirm your order number after your purchase. And if you return or cancel a purchase, your rebate will be canceled.
How Does Rebaid Send You Payments?
There are two payment options for rebates: Mailed Check and Direct Deposit.
For your first two rebates, you'll need to have checks mailed to you. After that, you can continue with checks or switch to Direct Deposit. There's a fee of $1 per Direct Deposit payment, while checks are free.
Rebaid sends checks four to five weeks after the date you redeem a promotion. Once Rebaid mails a check, it typically takes five to seven days to arrive.
Direct Deposits are sent to your account three to four business days after you redeem a promotion. After that, you should see the credit in your account within 48 hours. 
Can you Receive your Rebaid rebates visa PayPal? 
Rebaid doesn't currently issue rebates via PayPal. However, they offer Direct Deposit rebates, which are sent directly to your checking account.
If you've had your Rebaid account for at least five weeks and have redeemed two promotions, you're eligible for Direct Deposit. All you need to do is select Direct Deposit as your payment method when you redeem a promotion.  
Can I Return Items I purchased via Rebaid? 
You can return any item you purchase through Rebaid. They ask that you report the return and cancel your rebate using the provided link.
If you've already received your rebate payment, just reach out to Rebaid for return instructions.
Final Thoughts
Rebaid is a legitimate way to get rebates on a wide range of products. If you're not a big Amazon shopper, you can check out their Etsy, eBay, or Walmart deals.
The site is easy to use, and it's a breeze to redeem a rebate. All you need to do is enter your order number after you make a purchase. There's no obligation to leave a review, although you're welcome to do so if you're happy with your purchase.
The main downside is that the best deals sell out fast.
You don't have to sign up to view available offers. If you're still on the fence, head over to the site and see if anything catches your eye.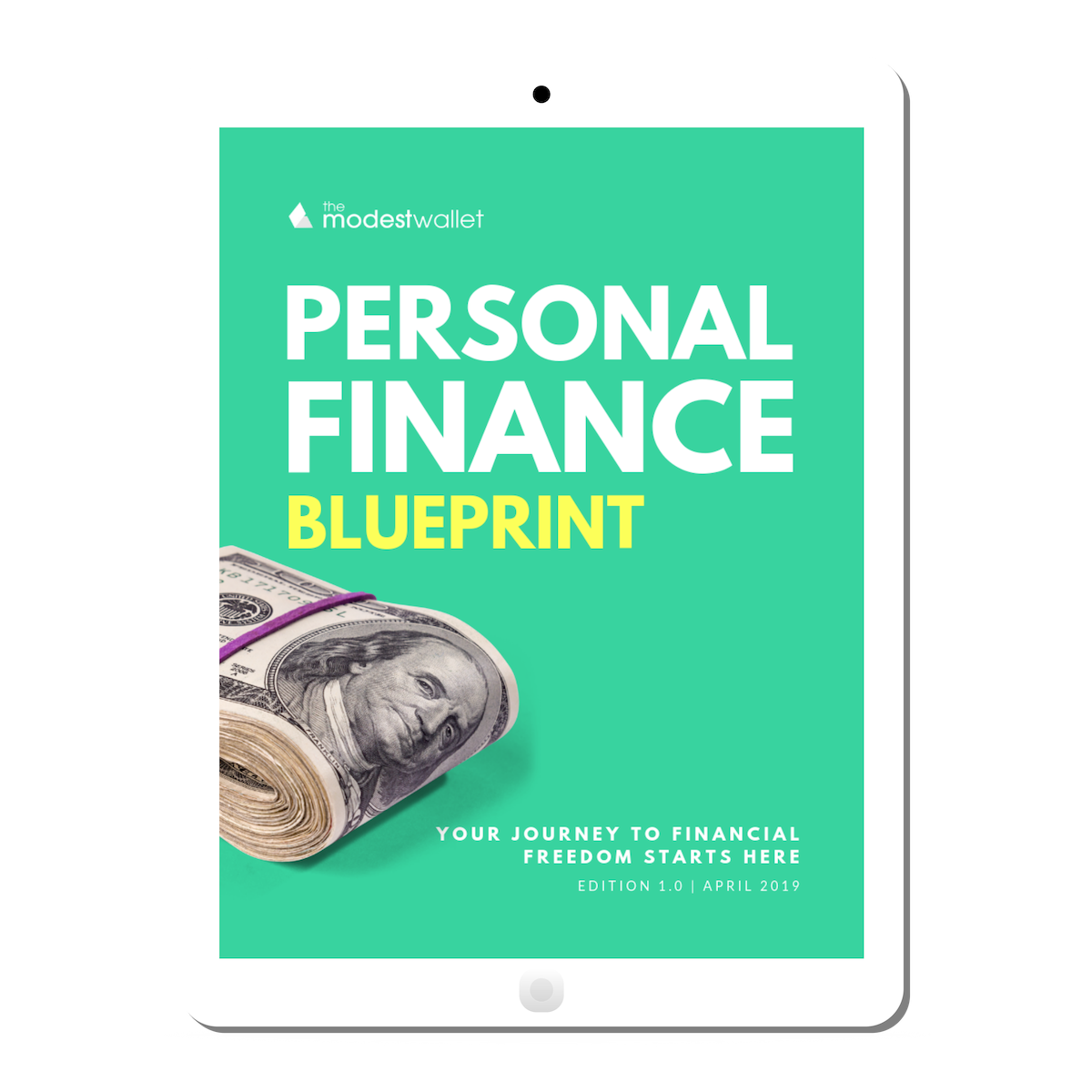 Get our free Personal Finance Blueprint to learn everything you need to know to build wealth.
Plus our best money tips delivered straight to your inbox.

Amy Besen is a freelance finance writer who covers topics including the gig economy, small business funding, and FinTech. Before starting her writing business in 2019, Amy worked in financial services for 12 years. She believes in helping people access the tools and knowledge they need to make better decisions about money.