Rocket Money vs. Mint 2023: Which Service Is Better?
Many or all of the products featured on this page are from our sponsors who compensate us. This may influence which products we write about and where and how the product appears on a page. However, this does not influence our evaluations. Our opinions are our own. Here is a list of our partners and here is how we make money.
---
The information provided on this page is for educational purposes only. The Modest Wallet is a financial publisher that does not offer any personal financial advice or advocate the purchase or sale of any security or investment for any specific individual.
Editor's Note
On October 31, 2023, Intuit Inc., Mint's parent company, announced that Mint would be shut down by January 1, 2024, and prompted its users to move to their other service, Credit Karma. Read the Intuit announcement to learn more.
If the idea of organizing your finances triggers an intense fear response, you're in good company. Recent statistics show that 73% of Americans cite finances as their most significant source of anxiety (which is greater than awkward family gatherings and debating hot-button political topics).
Thankfully, some hi-tech solutions can provide natural stress relief. No, we're not talking about meditation headbands — we're talking about budgeting apps like Rocket Money and Mint.
Rocket Money and Mint offer a plethora of features that help users get a handle on their finances, and they are available on desktop (web-based applications) and mobile devices. While both of these services provide a clear glimpse into spending patterns and savings goals, there are a few distinctions that separate these software solutions.
If you're struggling to choose between Rocket Money and Mint for your budgeting needs, consider their key differences before downloading one.
| | | |
| --- | --- | --- |
| | | |
| Our Rating | | |
| In A Nutshell | Rocket Money (formerly Truebill) is an automated financial assistance service that helps people manage their subscriptions, lower their bills, and track their spending. | Mint is a free budgeting tool that helps you monitor all your financial accounts, including loans, credit cards, investments, and bank accounts. |
| Best For | People looking to lower their monthly bills or cancel unwanted subscriptions. | People looking to create savings goals or track their spending habits. |
| | | |
---
Rocket Money vs. Mint: Overview
Rocket Money and Mint often rank as some of the most downloaded apps in the budgeting category. Let's start our comparison by reviewing the basics of these services before diving into their specific features.
What is Rocket Money?
Originally known as "Truebill," Rocket Money is a financial planning app that's part of the Rocket Companies family. Yes, this is the same "Rocket" behind the popular Rocket Mortgage platform, as well as Rocket Home and Rocket Auto.
Currently, Rocket Money boasts over 5 million users, and it claims to have helped its customers save over $1 million with its money monitoring, subscription canceling, and bill negotiation features. Read our full Rocket Money review to learn more.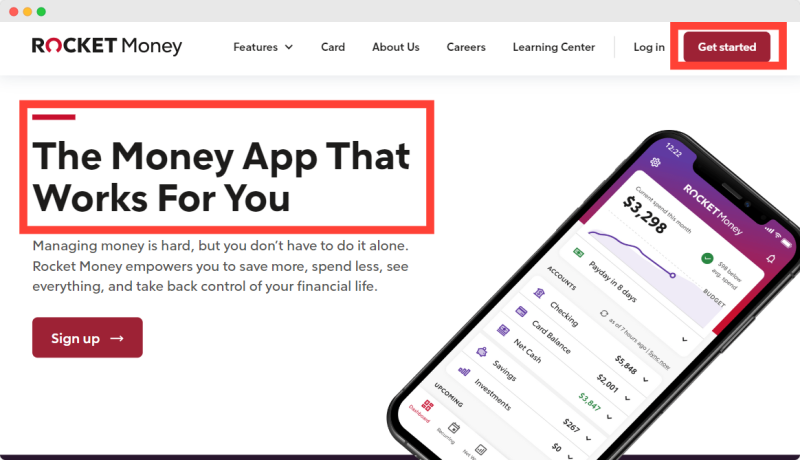 What is Mint?
Owned by Intuit, Mint is a popular budget-tracking app for desktop and mobile devices that has been around since 2007. With an estimated 30 million "Minters," this app remains one of the most successful in the personal finance category with its dozens of money-saving features.
From cash flow tracking and setting financial goals to subscription management and bill negotiation, Mint offers many ways to keep tabs on your finances and spot opportunities to trim expenses.
---
Rocket Money vs. Mint: How Do They Work?
Rocket Money and Mint have the same mission: to help users budget better. So, it's not too surprising both of these companies have very similar offerings and business operations.
How Does Rocket Money Work?
It's free to download Rocket Money onto an iOS or Android mobile device or use it online via their web-based application.
Once you set up your account with a username and password, you must link your bank account and credit card details so Rocket Money can look into your spending.
Once your data feeds connect to Rocket Money, you can see info on your expenses, credit score, and savings. You'll also have the option to use Rocket Money to take action on your finances with bill negotiation, subscription cancellation, and personalized alerts.
Although it's free to download Rocket Money, you will have to pay subscription fees for select "Premium" services. There's also a variable fee Rocket Money charges if you let the company renegotiate your bills and they succeed in getting you savings.
How Does Mint Work?
When you set up a Mint account, you'll either download the app on a mobile device or sign up on your desktop with your email, password, and phone number.
Once you're on Mint, you'll need to link your bank account and credit card details so Mint's algorithms can see your payments and share info about your money habits. Mint helps you see your cash flows, track bills, and create customized budgets and alerts.
Using Mint's calculators and tools, you could monitor your investments and calculate information like retirement funds, credit card repayments, and grocery budgets.
You don't need to pay to download or use most of Mint's services, but there is a Premium tier with a few exclusive features. Mint also offers optional bill negotiation with its partner Billshark for an extra fee of 40% of whatever savings you receive for up to 24 months.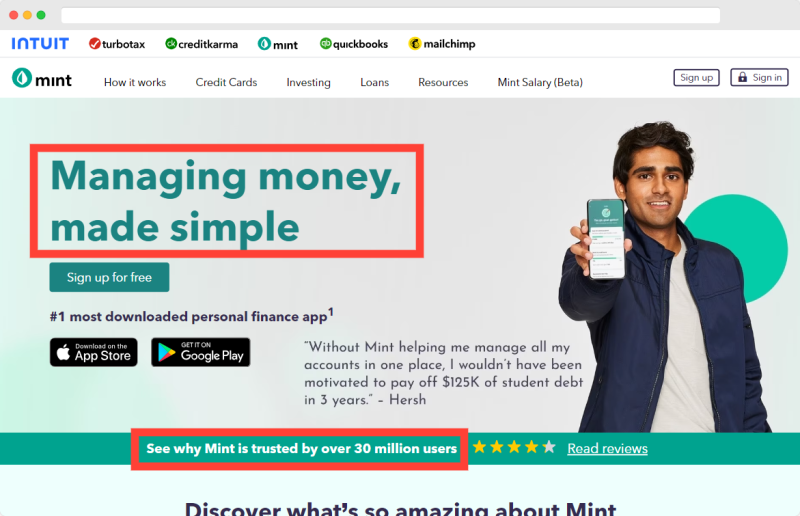 ---
Rocket Money vs. Mint: Main Features
Although Rocket Money and Mint share many features related to cash flow tracking and saving, a few distinctive offerings may sway you toward one service. Carefully review all of the features in these apps to see which one best fits your goals.
| | | |
| --- | --- | --- |
| | | |
| Type of Service | Budgeting, bill negotiation, and cancellation | Budgeting, savings goals, and checking your credit score |
| Cost | Free and premium ($3 to $12 per month) | Free and premium ($4.99 per month) |
| Platforms | Desktop web app and mobile apps (Android and iOS devices) | Desktop web app and mobile apps (Android and iOS devices) |
| Main Features | Budgeting, financial tracking, savings goals, checking credit score, bill negotiation | Budgeting, financial tracking, savings goals, checking credit score, money-saving opportunities |
| Bill Negotiation | | |
| Net Worth Tracking | | |
| Free Plan Available | | |
| Best For | Bill negotiation and cancellation | Financial goal setting |
| | | |
Rocket Money Features
Since Rocket Companies took over Truebill, it has been on a mission to create an "all-in-one" personal finance platform. Therefore, people who download a Rocket Money account can expect many cost-saving tools, including detailed spending reports, savings programs, and subscription management.
However, not all of Rocket Money's features are free. In fact, you'll need to pay for a Premium account to get the most out of this app. For instance, only Premium members can access unlimited budgets, full credit reports, and an FDIC-insured Smart Savings account.
Rocket Money also offers Bill Negotiation on behalf of its users for cable, Internet, and phone providers. If Rocket Money successfully lowers a customer's expected yearly bill payments, they take a 30% – 60% cut of the savings. Here is a list of the main features offered by Rocket Money, as well as an explanation as to how they work.
Subscription management and cancellation: One of Rocket Money's signature features is its subscription tracking software, which helps users visualize recurring payments and adjust expenses. Those with a Premium account could also cancel their subscriptions directly through their Rocket Money portal.
Smart Savings: Premium members who struggle to meet their savings goals could use Rocket Money's automated savings algorithm (aka Smart Savings). With this feature, you set the parameters to automatically transfer extra funds from your linked checking account to an FDIC-insured bank account. For those familiar with micro-savings features on platforms like Acorns, Smart Savings uses a similar model.
Spending insights: On the Rocket Money dashboard, you'll see charts and graphs of your spending habits to help you monitor your cash flows and make adjustments to reach your spending and savings goals. To help you on your journey, Rocket Money provides alerts on upcoming payments and suggestions on ways to bolster your financial health.
Credit score: Rocket Money makes it easy to analyze your credit score so you can figure out actionable steps to boost your rating. In addition to credit score monitoring, Rocket Money provides insights into your score, theft detection, and real-time alerts.
Bill cancellation and negotiation: If you're spending too much on your yearly cable, Internet, or phone bills, Rocket Money's team can negotiate a better rate. Although this feature is free, you'll have to pay 30% – 60% of your expected yearly savings if Rocket Money successfully brings down your bills. Also, if you want to cancel your bills directly through Rocket Money, you need a Premium account.
Budgeting: With Rocket Money's budgeting tool, you'll get a clear insight into how much you're spending per month and where this money is going. Rocket Money offers insights to help you organize your expenses and lets you set up different categories, alerts, and goals so you can budget better.
Net worth tracking: For an overall perspective on your financial life, Rocket Money has a net worth portal to see your total assets and liabilities. This field automatically calculates your current holdings, investments, and debts to give you a clue about your finances.
Mint Features
Like Rocket Money, Mint has been expanding its personal finance offerings recently and creating a "centralized database" for money management. Some of Mint's signature features include monitoring your spending habits, credit score, and investments on your desktop or mobile phone.
Although Mint is a free service, it now offers a paid "Premium" subscription with exclusive features such as advanced data visualizations and subscription cancellation. Recently, Mint partnered with the service Billshark to provide users with an optional Bill Negotiation feature for most Internet, phone, and cable providers.
However, just like Rocket Money, you'll have to pay an upfront fee to Billshark (currently 40%) if they successfully bring down your costs. Here is a list of the main features offered by Mint, as well as to how they work.
Subscription management: Mint's algorithm can easily spot recurring payments in your spending history and point out any notable price increases to your subscriptions. If you have a Mint Premium account, you can ask Mint to cancel subscriptions you no longer want; otherwise, you'll only be able to use Mint to get an insight into your subscriptions.
Budgeting and categorization: With Mint, you can set your budgeting goals and categorize your expenses to monitor your cash flows better. Mint also sends suggestions on your spending habits to give you more options to save money.
Free credit score: Once you log in to Mint, you'll see a clear breakdown of your current credit score with tips on improving your rating. Mint can also send alerts whenever there's a significant change in your credit score via its partner TransUnion.
Bill payment tracker: If you habitually forget what bills are due on which day, Mint can help you set a calendar for your upcoming expenses. Mint's tracking software also helps you see your spending patterns and spot opportunities for savings.
Bill negotiation: With the help of its partner Billshark, Mint offers the option to negotiate bill payments and overdraft fees with cable, Internet, and phone providers. Just keep in mind that Billshark will take 40% of any savings it gets for you for your service period (up to 24 months).
Investment tracker: Mint makes it easier to peek into your total portfolio by tracking all your investments, including brokerage platforms, 401(k)s, and IRAs. Mint also points out any fees you're paying for your investments each month to give you greater insights into your net worth.
---
Rocket Money vs. Mint: Pricing
It's free to download Rocket Money and Mint, but these apps also offer paid subscriptions with extra options. If a feature you want is in a paid tier, you must factor the additional monthly expense into your finances.
Rocket Money Pricing
Rocket Money has a few pricing options for its Premium account, depending on what features you want and whether you want to pay monthly or annually. Currently, you could opt to pay annually for a $3 – $4 monthly schedule. Otherwise, you could pay up to $12 per month, depending on what features you include in your Rocket Money experience.
For those who want to use the Bill Negotiation feature, you'll only need to pay if the Rocket Money team successfully lowers your bills. Rocket Money collects between 30% – 60% of however much they save you in yearly bill payments upfront.
Mint Pricing
Many of Mint's features are free, but it offers an optional ad-free Premium experience for $4.99 monthly. With a Premium Mint account, you'll enjoy more data visualization analytics, in-app subscription cancellation, and a "Premium Arcade" to play games and learn more about budgeting.
Mint also offers a Bill Negotiation feature with its partner Billshark. If Billshark successfully lowers the average payments for your bills, expect to pay 40% of these savings for "up to 24 months."
---
Rocket Money vs. Mint: Ease of Use
The primary purpose of downloading Rocket Money or Mint is to simplify tracking spending and saving. So, it makes sense that both of these apps emphasize their ease of use. Most people who use Rocket Money or Mint typically have high praise for their UI/UX.
Rocket Money Ease of Use
The only way to access all of Rocket Money's features is via its mobile apps on iOS or Android, or alternatively, use its web-based app.
According to thousands of ratings on the App Store and Google Play, most people have an easy time setting up and using this service. Rocket Money also has a high average rating of 4.6 stars on Trustpilot and a "B" score on the Better Business Bureau (BBB).
The current average rating on Rocket Money's BBB page is 3.53 stars out of 5, and many complaints center around getting charged for Premium features customers didn't want. However, Rocket Money replied to hundreds of these comments, and you can read the company's full responses on its official BBB portal.
Mint Ease of Use
Mint's layout is virtually identical to Rocket Money, with mobile apps on Android and iOS that support every feature and a more limited desktop setup.
Judging by App Store and Google Play reviews, Mint is the more popular choice, with hundreds of thousands of reviews and average scores in the 4-star range (for comparison, Rocket Money's pages have tens of thousands of reviews).
However, there's no official BBB page for Mint, and its parent company Intuit doesn't have BBB accreditation. Also, the Trustpilot site for "Mint.com" has a few reviews, most of which are complaints.
---
Rocket Money vs. Mint: Security
One of the issues people have signing up for services like Rocket Money and Mint is sharing financial data like a checking account and credit card number.
While there's always a risk when trusting third-party software, Rocket Money and Mint wouldn't have grown so large without taking security seriously. Both platforms have protocols to protect your data from getting into the wrong hands.
Rocket Money Security
Rocket Money has multiple security features to decrease the risk of a cyberattack and minimize potential damage should hackers break into your account.
For starters, the Rocket Money desktop and mobile app has 256-bit encryption, which is the same security found on most mainstream bank websites. Plus, when connecting your banking info, you'll use the highly-rated third-party software Plaid to give Rocket Money read-only access to the data you choose to share.
For peace of mind, Rocket Money says it stores all customer data on industry-leading Amazon Web Services (AWS) servers.
Mint Security
To protect user data, Mint works with data specialists at VeriSign to ensure the maximum level of protection for sensitive financial data.
The company also highlights a few bonus steps customers could take to enhance the privacy of their accounts. For instance, you could enable "Touch ID" on your mobile device to use your unique fingerprint whenever you want to get into your Mint app.
If you don't choose to use Touch ID, Mint makes you set up a four-digit password to prevent people from hijacking your account even if they get into your phone. As another layer of security, you'll need to complete multi-factor authentication via an SMS message every time you sign in to your account on a different device.
---
Rocket Money vs. Mint: Customer Service
Slow customer support is a common complaint with Rocket Money or Mint accounts. Although there are ways to reach out to Rocket Money or Mint with questions, it often takes a while to address personal issues, especially if you're on a free plan.
Rocket Money Customer Service
Rocket Money has two primary ways to contact its team: live chat or email. You'll find the live chat boxes in your mobile app or desktop account, and the official email address is [email protected]. Keep in mind that Rocket Money prioritizes messages from its Premium subscribers, so people with a free account may need to wait days before hearing back with either of these methods.
Mint Customer Service
Mint offers a live chat feature via this link between 5 AM to 5 PM PT every day of the week. You can also use Mint's Recovery Form if you're having issues getting into your account. Besides these two methods, you'll need to rely on Mint's "Learn" portal to find FAQs and search for questions related to your issue.
---
Rocket Money vs. Mint: What We Like?
If you get easily frazzled organizing your finances, Mint and Rocket Money have dozens of handy tools to use. As a bonus, you can get started using many of the savings and budgeting algorithms free of charge.
Rocket Money Pros
A wealth of "financial health" features: If you subscribe for the Premium membership, Rocket Money's tools will give you a complete picture of your finances. From the Rocket Money app, you'll see how your money is moving and spot opportunities to hit your long-term savings goals.
Easy to navigate on app and desktop: The user interface on Rocket Money's mobile and web-based offerings is intuitive and clean. Add in dozens of handy visualizations, and it's easy to understand your financial life using the Rocket Money app.
High-security standards: Rocket Money uses the same 256-bit encryption standards and AWS servers as major banking companies and government agencies. Also, since Rocket Money has read-only access to your financial transactions, you don't need to fear entrusting the company with too much of your private data.
Free trial to test Premium features: If you're only curious about Rocket Money's Premium features, you don't have to pay for a month to test it. Everyone gets a free seven-day Rocket Money Premium trial to determine whether this fits.
Mint Pros
Offers most features for free: Mint has a paid Premium tier, but you can access most of its signature features on a free account. While you'll have to view ads with a free Mint account, you'll enjoy the core budgeting, subscription monitoring, and savings tools.
One of the most downloaded financial health apps: With roughly 30 million users, Mint is one of the most popular "financial health" options. There are also hundreds of thousands of reviews for the Mint app, giving it one of the highest reputations in the industry.
Multiple extra security measures available: Mint gives users plenty of optional measures to boost their account's security. Features like Touch ID and multi-factor authentication make it difficult for hackers to break into your account.
Seamlessly links with many investment categories: Mint's Investment portal links with dozens of retirement accounts and brokerage platforms to help you see how your portfolio is performing. It's also easy to link to a few alternative investments like cryptocurrency with a Mint account.
Auto-syncs to all accounts: You don't have to wait a day or two for Mint's budgeting and savings tools to "catch up" to your cash flows. Mint promises all of the data you see in your account is in real-time.
---
Rocket Money vs. Mint: What We Don't Like?
Although Rocket Money and Mint have a lot of value to offer customers, there are a few flaws to consider. Learning the weak points in these apps should make it easier to pick which one is better suited for your needs and preferences.
Rocket Money Cons
Many features are only for Premium members: While you can get great value with a free Rocket Money account, this app truly shines with its Premium features. You only get priority customer care, unlimited budgets, and real-time portfolio syncing if you pay for Premium.
Slow customer support: The only way to get a fast customer response is with a Premium Rocket Money account. Rocket Money doesn't offer phone support even if you're paying for Premium.
Auto-sync isn't available on a free plan: With a free Rocket Money account, you need to wait for 24-hour intervals before your payments update. The only way to automatically sync your account is to order Rocket Money Premium.
High cost for Bill Negotiation: If you use Rocket Money's Bill Negotiation, you must prepare to pay 30% – 60% of your projected yearly savings upfront. So, even though you should save in the long run, it will take a significant cut out of your expenses once this goes into effect.
Fewer downloads compared with Mint: Judging by data on the App Store and Google Play, Mint is more popular than Rocket Money. While this doesn't mean Rocket Money is "worse" than Mint, it may sway people who are on the fence towards Mint due to its robust online community.
Mint Cons
Limited customer support: Mint only offers an FAQ portal, an electronic Recovery Form, and limited live chat for those who need help with a specific issue. You may need to wait a few days for Mint to respond to your claim.
High cost for Bill Negotiation: Similar to Rocket Money, you must pay a steep upfront fee if Mint successfully renegotiates your bills. Currently, Mint charges 40% of your projected savings for up to a 24-month term.
No comparable "Smart Savings" feature: If you enjoy rounding up your change to put away extra funds for savings, you can't add this to your Mint account. Rocket Money, however, offers this "Smart Savings" feature for Premium members.
Ads can be annoying: Mint makes a good chunk of its revenue through partnerships and advertisements, so you will see a barrage of e-billboards if you have a free account. The only way to get rid of ads on Mint is to buy a Premium membership.
Fewer Trustpilot reviews and no BBB accreditation: Although Mint has more reviews than Rocket Money on the App Store and Google Play, reviews on other sites like the BBB and Trustpilot are limited. In fact, Mint's parent company Intuit still doesn't have BBB accreditation, which may be a turn-off for some people.
---
Rocket Money vs. Mint: Final Verdict
Rocket Money and Mint have more similarities than differences, but you'll probably need to pay for a Rocket Money Premium account to enjoy its full benefits. By contrast, most of Mint's features are free to use — although you will have to deal with annoying ads with a free account.
Therefore, if you're looking for a comprehensive cost-saving tool without spending extra money, you may prefer adding Mint to your toolkit.
On the flip side, Rocket Money is a feature-rich platform, and many customers are OK paying a little extra per month to take advantage of its distinctive features. Also, don't forget Rocket Money offers priority customer support to Premium members, which isn't currently available on Mint.
If you're torn on which budgeting app to choose, consider starting with Mint, then test Rocket Money's seven-day risk-free Premium trial. Compare both experiences to see whether Rocket Money Premium would be worth the extra cash. You can always delete either of these accounts at any time if you feel they aren't the right fit for your situation.
---
Final Thoughts
Rocket Money and Mint are stellar options for people who need help organizing their finances. While you can't go "wrong" with either of these tools, you'll probably end up paying Rocket Money's subscription fee if you go with this platform.
True, Rocket Money has a free account, but most of its top features are behind a paywall. Mint, on the other hand, relies on revenue from ads and sponsoring deals, so it offers most of its services for free.
Take some time to write down your primary goals to better understand whether Rocket Money or Mint works for you.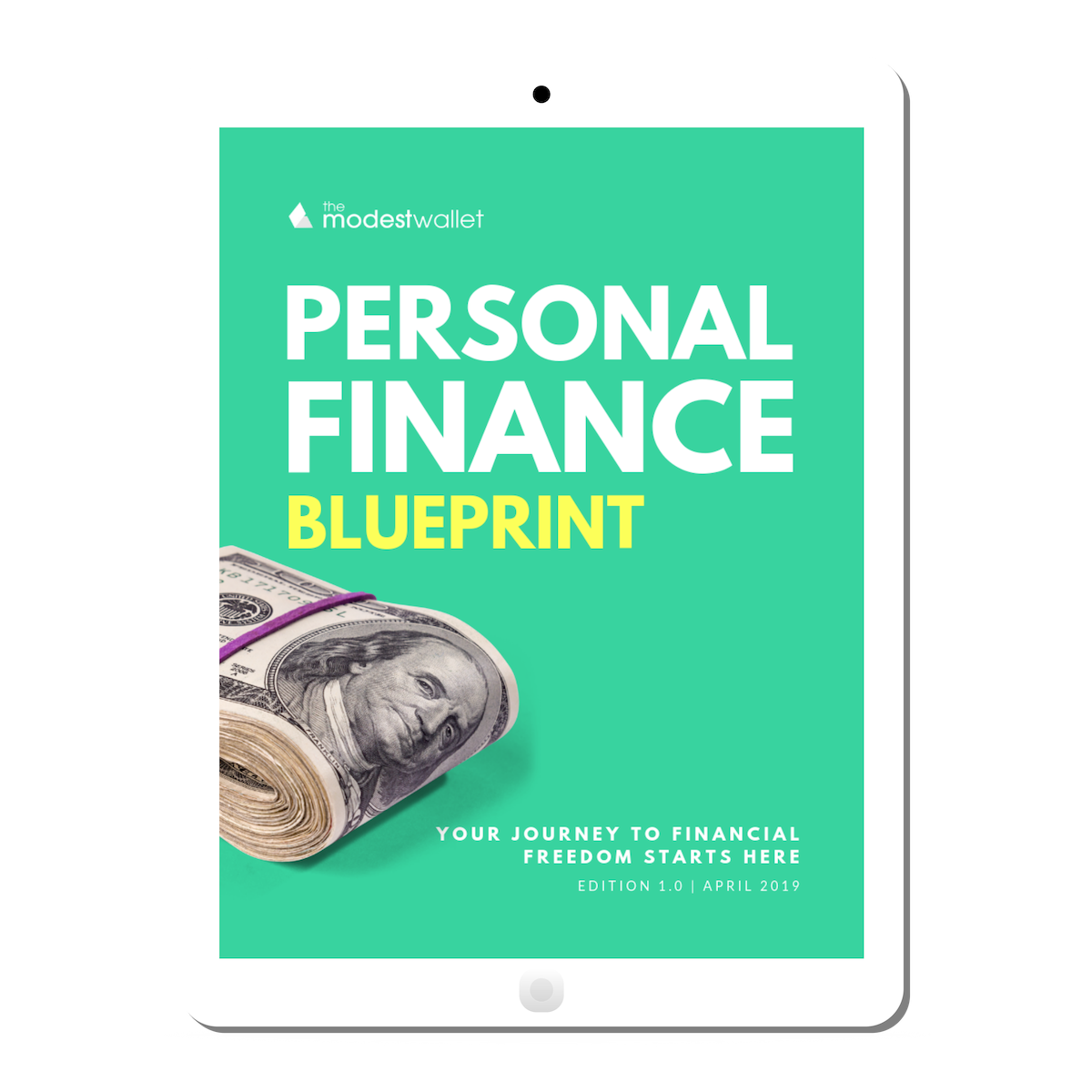 Get our free Personal Finance Blueprint to learn everything you need to know to build wealth.
Plus our best money tips delivered straight to your inbox.

Eric Esposito is a freelance writer, editor, and cryptocurrency enthusiast. Although it took him a few years to grasp the Bitcoin revolution, Eric has become a crypto convert and long-term "hodler." Besides crypto investing, Eric is interested in helping others understand how to safely stack sats with passive income opportunities.