Many or all of the products featured on this page are from our sponsors who compensate us. This may influence which products we write about and where and how the product appears on a page. However, this does not influence our evaluations. Our opinions are our own. Here is a list of our partners and here is how we make money.
The information provided on this page is for educational purposes only. The Modest Wallet is a financial publisher that does not offer any personal financial advice or advocate the purchase or sale of any security or investment for any specific individual.
Farmland is one of the oldest asset classes and has produced a lot of wealth for farm owners and farmland investors alike. However, options for investors used to be minimal. The reasons are that investment opportunities carried high fees, required significant financial resources, and substantial time commitments were necessary.
Enter AcreTrader, an online platform that provides investors access to a wider variety of farmland deals and opportunities. Moreover, the crowdfunding platform operates on low management fees, provides an easy-to-use online investing marketplace, and allows you to diversify your farmland investments nationwide.
In this review, we will dive deeper into AcreTrader, how it works, and its features. We will also look at other aspects like the fee structure, security, pros and cons, and who should invest on the platform.

Quick Summary: AcreTrader is an online farmland investment platform based in Arkansas, United States. Investors can browse through AcreTrader's marketplace to find potential farm deals, review due diligence, and invest online.
---
What Is AcreTrader?
Instead of purchasing a farm and working on it all day to earn returns, you can choose to buy parcels of farmland on AcreTrader. The relatively new online crowdfunding platform specializes in and provides access to investment-grade farmland nationwide.
The company has a rigorous due diligence process, does the entire vetting process to list only the best farmland, and diversifies investment opportunities across the United States. With AcreTrader, accredited investors gain exposure to an alternative asset class that allows them to further diversify their investment portfolio.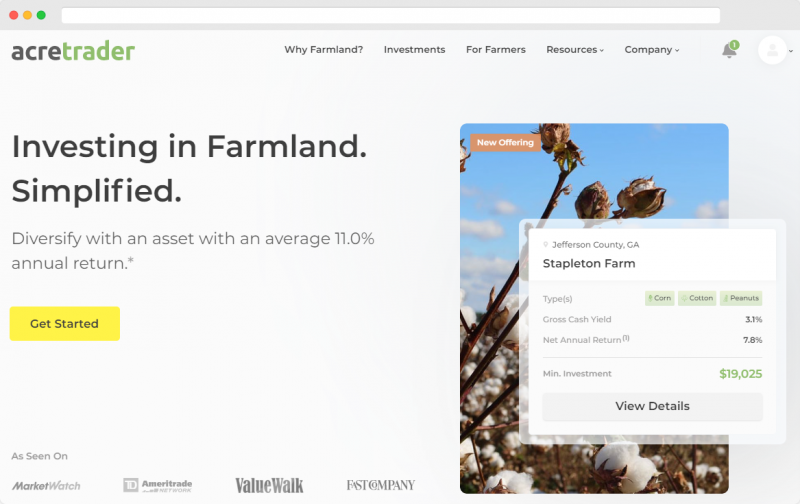 ---
How Does AcreTrader Work?
The entire process starts with AcreTrader finding and selecting the right farmland. According to the website, less than 1% of all reviewed farms will be placed in a legal entity. From there, the entities will be divided into shares and sold to investors on the online marketplace. The company also takes care of everything else, such as property management, insurance, and accounting for you.
In buying shares in the entity that owns the farmland, investors can earn money in two ways: through the land appreciation itself and/or the annual cash distributions in proportion to made investments.
Land Appreciation
Food demand is growing rapidly around the world, while farmland acreage in the United States is shrinking. Therefore, the value of AcreTrader shares is expected to grow over time as the price of the land increases.
Dividend Payments
AcreTrader will lease out the farmland to reputable farmers or farming companies who pay a predetermined cash rent which is collected before the planting season. That way, AcreTrader can generate annual dividend distributions (usually in December) for their investors, which are earned in addition to the land's appreciation.
---
How to Open an AcreTrader Account
Creating your free AcreTrader account can be done within minutes online. Simply click Sign Up on the company's website and sign up with your social media accounts from Facebook, LinkedIn, and Google or fill out a form. The form requires your first and last name as well as an email address. After that, you need to provide personal information, a bank account number for funding, and accreditation status.
At the moment, only accredited investors can invest on the platform. To qualify as an accredited investor, you must meet one of two criteria if you are an individual investor:
$200,000 in annual income per year for the last two years ($300,000 with a spouse)
$1 million in net worth excluding your primary residence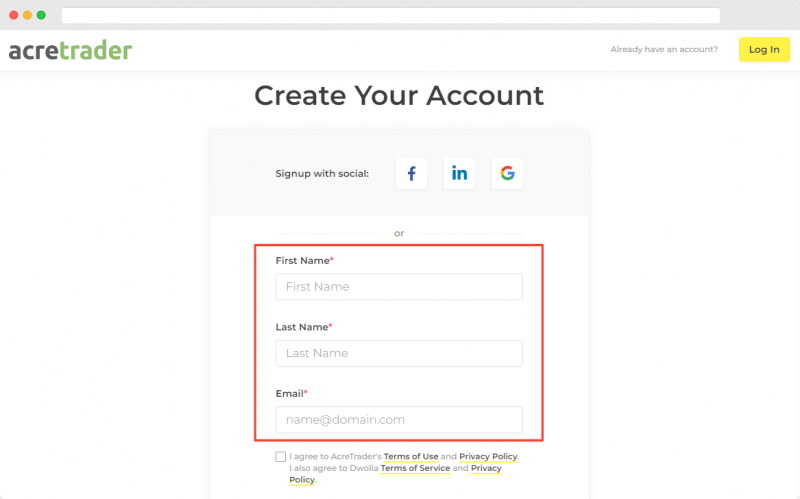 ---
AcreTrader Features
AcreTrader's platform is relatively easy to use and very intuitive. It also has various features that will help investors with their decision-making on potential investments.
| | |
| --- | --- |
| Minimum Investment | Varies ($10,000 - $25,000) |
| Management Fees | Flat fee of 0.75% to 1.00% on the assets invested (*other fees may apply) |
| Investment Types | Real estate (farmland) |
| Account Types | Taxable and self-directed IRA |
| Investment Term | 5 to 20 years (*varies depending on the deal) |
| Returns | Internal Rate of Return (IRR) of 7% to 9% (*advertised) |
| Rent Distributions | Rent payments are annually |
| Apps | No mobile apps available |
| Promotion | None |
| Support | Email (info@acretrader.com) and Phone (+1 888 958-1470), and contact form |
Types of Investments
While there aren't many deals to invest in, investors can choose from different types of farmland and crops. The available deals include tree nuts such as almonds, peanuts, and pecans or citrus fruits like lemons and mandarins. You can also invest in cotton, rice, and barley farms. However, most farms focus on row crops like corn and soybeans.
When browsing farmland investment opportunities, you will be able to take a look at the location, financials, total acreage, and overall farm price. Moreover, AcreTrader lists details such as the estimated ownership duration, targeted cash yield, and targeted annual return.
Accredited Investors Only
Every retail investor can open an account, learn more about farmland investing, and browse the listings free of charge. Still, only accredited investors can invest on the crowdfunding platform.
You have to be a high net worth individual, a bank, an insurance company, a registered investment advisor, a business development company, or a small business investment company to invest on the platform. Employee benefit plans, trusts, charities, and partnerships can qualify as accredited investors.
AcreTrader Marketplace
AcreTrader's easy-to-navigate marketplace is the heart of the action on the platform. Here, investors can browse the available investment offerings, research specific details, and discover the actual minimum investment. By providing all this data, the company makes it easy for investors to determine whether an investment opportunity makes sense for them or not.
Moreover, the marketplace is where investors can sell their shares to other investors in a private transaction if they wish to discontinue their initial farmland investment.
AcreTrader Ratings
When researching farmland investment details, you will come across AcreTrader ratings. These ratings assign every property a rating from A1 to D3. The lower the number of points, the better the rating. The rating includes 12 parameters (see below) that are divided into farm description, financial structure, and other considerations.
The farm description focuses on aspects such as known historical flood problems (resulting in a 10%+ loss of crops), known water access problems (lack of access for irrigation), and direct operations planned. They also check for current tenants (farming the land), local or national government-maintained highway access, and the nearest crop delivery point.
From there, the company looks at financial aspects such as planned improvements during the hold period, any debt involved in the transaction, and whether the loan-to-value-debt ratio will exceed 55%. Ultimately, non-farming leases, non-farming assets, and land sale activities will be looked at.
Here are the criteria used to rate each of the farmland assets:
Known Historical Flooding Problems: In the last 10 years, has the farm lost 10% or more of its crop due to standing water resulting from a non-resolved drainage issue?
Known Water Access Problems: Does the farm lack access to water for necessary irrigation purposes?
Direct Operations Planned: Are any investment funds being applied directly to working capital for day-to-day operations?
No Current Tenant: Is there currently not a tenant farming the land?
No Direct Access to Maintained Roadway: Is there no direct access to a local or national government-maintained roadway?
Nearest Crop Delivery Point > 50 Miles Away: Is the nearest drop-off point for commodity delivery greater than 50 miles away, as measured using direct radius?
Improvements Planned During Holding Period: Is more than 10% of the total offering value being contributed to asset improvement?
Debt Involved in Transaction: Will there be any amount of debt placed on the subject offering?
High Loan-To-Value of Debt: Will any amount of debt being placed on the subject property exceed a 55% loan-to-value ratio?
Non-Farming Leases or Income in Place: Are there leases such as hunting, energy, or other non-farming-related leases in place?
Non-Farming Assets Valued as Part of the Transaction: Are there non-core assets such as grain storage, house, shop, etc. taken into account in the farm's valuation?
Low Activity Land Sale Market: Were there fewer than 10 land sales over $100,000 in value in a 100 mile radius within the last year?
AcreTrader Returns and Cashflow
Every December, AcreTrader typically pays out dividends to their investors. These payments are collected from the farmers before planting season to reduce the risk of default.
The company aims for an Internal Rate of Return (IRR) of 7% to 9%, while historical farmland rates are around 12%. However, AcreTrader factors in depressed commodity prices, as well its conservative approach, in its underwriting. Still, providing realized returns is not possible (yet) as the company closed its first deal in 2019 and the hold periods are usually five to 10 years. As a side note: according to AcreTrader, farmland returns have been positive every year since 1990.
AcreTrader Investment Term
When investing in real estate such as farmland, you should only invest if you can lock up your money for years to come. While farmland is not an indefinite investment, typically expected hold periods and investment terms range from five to 20 years. However, these terms depend on the property and vary for every offer. Market conditions and selling opportunities will also play a role in setting the actual hold period.
Nevertheless, if you don't want to be involved until the property is resold and wish to sell your shares ahead of the required holding period, you can do so on the AcreTrader marketplace.
AcreTrader Learning Center
AcreTrader also has a dedicated Learning Center with various educational resources in the form of blog articles. Accredited investors — as well as those who are non-accredited — have access to this section. They can use the resources to understand this type of real estate investment better.
The platform currently offers five different categories that are all related to farmland investing. Investors can learn more about investing fundamentals to enhance their general knowledge on farmland investing. Moreover, they can read news about AcreTrader and find helpful tips on valuing and selling a farm themselves.
AcreTrader Farm Value Tool
Suppose you want to know more about farmland returns, prices, rental rates, and rankings in the United States. In that case, the AcreTrader Farm Value Tool might come in handy.
You can check the factors mentioned above and see how they have changed over time with the tool. You can do so by selecting a particular state, time frame, or type of farmland you are most interested in. When selecting a state, you will get a brief agriculture overview, including farmland facts and state-based farmland returns, prices, and rental rates.
Further down the Farm Value Tool page, you will also receive additional information on the top-performing states and average returns, prices, and rental rates of the U.S. farmland industry.
Timber Investments (New)
AcreTrader has recently introduced timberland investment opportunities, and while you may think timber is not an agricultural product, it actually is.
Institutional grade investments in timber have been around for a very long time, and they form part of a well-diversified portfolio used by pension funds, university endowments, private equity, and other large institutions. The good news is that platforms like AcreTrader are making it possible for retail investors to get access to these types of investments.
Institutional investors look at timberland investment for the following reasons:
Consistent long-term returns

Lower volatility than traditional asset classes
Lack of correlation with equities and fixed income assets
Inflation hedging
Historical returns for timber investments have been strong, with the National Council of Real Estate Investment Fiduciaries (NCREIF) claiming annualized total returns of 11.82% for its Timberland Index over the past 35 years (since the inception of the index) through Q1 2022.
---
AcreTrader Pricing and Fees
Signing up, learning about farmland investing, and browsing the few available farmland offerings on the crowdfunding platform is free of charge.
Fees only occur when you invest in one of their offerings. However, the AcreTrader fee system is straightforward and transparent. Once you start investing, you will face closing fees for each investment, typically 2% of the amount you want to invest. In addition to these closing fees, the company also charges a flat annual administration fee of 0.75% of the value of your investment.
Moreover, AcreTrader charges a 5% fee when the farmland is sold. However, this fee doesn't have to concern investors though, as they charge the fee to the seller of the farm. This is also their primary source of income.
Looking at the platform's minimum investment, you will find amounts from $10,000 onwards. Still, there is no exact number as the amount varies for each offering.
---
AcreTrader Security
Security is an aspect the company takes very seriously. They use 256-bit encryption, which is the highest encryption method available and a bank-level standard. AcreTrader wants to make sure that every transaction is as secure as possible within its ecosystem.
Also, to maximize security when dealing with client funds, the platform uses ACH and wire transfers to a reputable bank for escrow. They also use well-known third-party services from North Capital Investment Technology (review of accreditation documents) and Plaid (secure bank account linking).
In the unlikely event that AcreTrader will go bankrupt, each farmland entity is bankruptcy remote, so you retain your legal ownership. In this case, the entity would assign external management, which becomes responsible for management and distributions as well as liquidation at the end of the hold period.
---
AcreTrader Customer Service
The team at AcreTrader can be reached via email, contact form, and a toll-free phone number. Unfortunately, other options such as a website chat aren't supported.
AcreTrader has a positive rating from the Better Business Bureau with a rating of "A+" on a scale of A+ to F.
---
AcreTrader Pros
Farmland is a low volatility/ high-return asset class
Lower investment minimum than other real estate standalone deals
Thorough due diligence (that leads to a limited deal flow)
Relatively low fees
Farmland diversification across the country
The AcreTrader Farm Value Tool is helpful for learning more about the industry
Ratings allow investors to understand what they get
Annual cash distributions and expected land appreciation
Educational resources to learn more about farmland investing
---
AcreTrader Cons
Investing is only possible for accredited investors
Relatively illiquid investment with hold periods between five and 20 years
No realized deals and limited company history
Low deal flow compared to other platforms
---
AcreTrader Alternatives
While AcreTrader's offering is pretty solid, there are other farmland crowdfunding platforms you might also want to check out. Read on to find out more about two alternatives:
FarmTogether
Like AcreTrader, FarmTogether is an online crowdfunding platform specializing in farmland investment opportunities across the United States. Both platforms have a similar approach regarding fees, returns, hold periods, and the accepted number of deals. Plus, only accredited investors can buy shares of farmland, which they might resell with the help of the respective company. Investors also make money through annual cash distributions or land appreciation.
Still, a few aspects separate the two platforms. FarmTogether's minimum investment size is $15,000 compared to the sometimes-available $10,000 on AcreTrader. In addition, cash distributions are usually paid out on a quarterly, semi-annual, or yearly basis. Check out our full FarmTogether review to learn more.
FarmFundr
Another real estate crowdfunding platform that focuses on farmland is FarmFundr, which was founded in 2015 by a fourth-generation farmer. However, only accredited investors can buy shares in the farm with a similar minimum investment.
However, investors receive annual returns from crop sales (instead of rent) in addition to the appreciation of the land. This is an interesting twist, as getting cash from crop sales can significantly increase your risk but can make you more money. The reason is that FarmFundr selects farm operators to manage their land and pays them directly.
| | | | |
| --- | --- | --- | --- |
| Our Rating | | | |
| Fees | Flat fee of 0.75% to 1.00% on the assets invested | Varies by deal and product | Management fees 0.75% to 3.00% of the investment |
| Account Minimum | $10,000 to $25,000 | $15,000 (crowdfunding), $1,000,000 or $3,000,000 (sole ownership), $100,000 (fund) | $10,000 |
| Promotion | None | None | None |
| Highlight | Offers a marketplace for selling shares back | Offers ESG investments and low fees | Two ways to profit; annual crop sales and land appreciation |
| Best For | Long term farmland investors | Socially responsible investors | Accredited-investors |
| | | | |
---
Who Is AcreTrader Best For?
Investing in farmland with AcreTrader's makes sense for investors who want to add another asset class to their investment portfolio. Farmland is also an excellent choice if you're going to diversify an existing real estate portfolio.
As investing is only possible for accredited investors, signing up and deploying at least $10,000 to $25,000 per deal is best for high-net-worth investors. However, non-accredited investors interested in farmland investing can think about signing up for the platform.
If you can sustain the risks that come with real estate and farmland investing (weather, diseases, drought, etc.), you can benefit from annual cash flows, solid returns, and potential farmland appreciation.
---
AcreTrader Review FAQ
We have listed several frequently asked questions and our answers concerning AcreTrader's farmland investment opportunities.
Is AcreTrader Legit?
Yes, AcreTrader is legit. The company has already funded and closed various farmland investment opportunities since its launch in 2018. New offerings come to the marketplace every week. Their team has a background in financials as well as agriculture. It also has a clear and transparent approach to farmland investing. Still, we can't say anything about their realized returns yet.
Is AcreTrader a Good Investment?
The company operates in the real estate and farmland investing sector. Generally speaking, these assets have performed very well over the last decades and generated steady returns, leading to a lot of wealth along the way. While we can't promise AcreTrader will generate massive returns as well (there is simply no data available), being in that industry certainly makes the platform an intriguing choice to follow.
Is Farmland a Good Investment?
Food demand is increasing, while farmland acreage is shrinking across the United States. Such a situation is usually a good sign for any investor. If you factor in the steady returns farmland has generated over time, this asset class can be an excellent portfolio addition if you have the financial resources. But keep in mind that farmland investments are illiquid and carry different risks than stocks, for example.
What Is the Due Diligence Process Like with AcreTrader?
AcreTrader conducts a thorough and extensive due diligence and does all the farm vetting in-house. They review land on a state, county, and local level and perform in-person interviews and on-site visits. Moreover, they use technology to account for all aspects of each individual property.
How Do You Sell Your AcreTrader Investment?
Farmland is a relatively illiquid investment. However, in case you need or want to resell your initial investment, you have to wait at least one year before you can do so. After that, you may be able to sell your shares to another investor in a private transaction. Currently, there is no extensive secondary market like with REITs, for example.
Are Non-Accredited Investors Allowed to Invest with AcreTrader?
The answer is no. At the moment, only accredited investors can invest on the crowdfunding platform. To qualify, you must have an annual income of $200,000 ($300,000 with a spouse) per year for the last two years or have a net worth of over $1 million, excluding the value of your primary residence. Still, AcreTrader is looking for ways to make its investments available to non-accredited investors.
---
Final Thoughts
With AcreTrader, investors have the chance to gain exposure to farmland, an asset class that hasn't been in the spotlight for very long. Food demand is increasing worldwide, the world's population is closing in on eight billion, and farmland acreage is shrinking. These aspects make for a good starting point for investors.
Accredited investors can access assets that have produced steady returns over time without correlating with other major assets. While AcreTrader doesn't have a considerable deal flow, the investment opportunities are thoroughly vetted. Still, the company's performance can only be measured in a few years as hold periods are usually five or more years. Moreover, farmland faces entirely different risks than regular asset classes such as droughts, catastrophic weather, or pests. Nevertheless, if you can take the risks, you may be rewarded very well long term.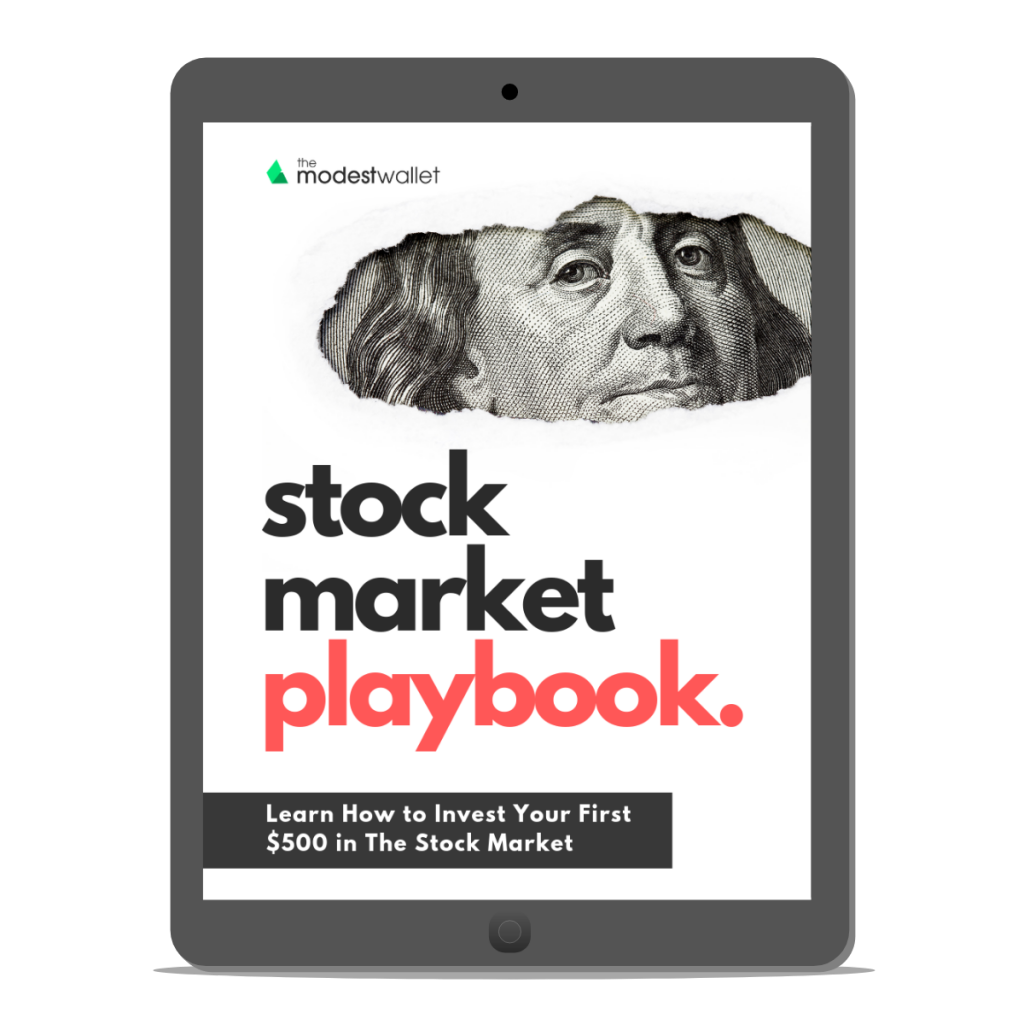 Get our free Stock Market Playbook to learn how to invest your first $500 in the stock market.
Plus our best money tips delivered straight to your inbox.

Carsten is a Freelance Copywriter with a personal interest in money management and investing. Besides taking care of his investments, he loves traveling, reading books, and working out (calisthenics & yoga).