Donut Review: DeFi Powered Savings
Many or all of the products featured on this page are from our sponsors who compensate us. This may influence which products we write about and where and how the product appears on a page. However, this does not influence our evaluations. Our opinions are our own. Here is a list of our partners and here is how we make money.
---
The information provided on this page is for educational purposes only. The Modest Wallet is a financial publisher that does not offer any personal financial advice or advocate the purchase or sale of any security or investment for any specific individual.
Editor's Note
On February 17, 2023, Donut announced that it will discontinue operations as a result of Genesis, one of its core partners, suspending redemptions. The Donut app will be removed from the app stores on March 31, 2023. Donut has also migrated user accounts to a new web dashboard where users can view their balances and statements and make future withdrawals. Read the Donut announcement to learn more. As a result, we do not recommend Donut.
Important Notice
Following FTX's bankruptcy filings, on November 16, 2022, Donut announced via Twitter it was pausing withdrawals due to issues with its primary lending partner, Genesis. As a result, Donut customers will temporarily not have access to deposits, withdrawals, earnings, and automated investments. However, balances will not continue to earn APY. You can read Donut's full statement to learn more. We do not recommend Donut to our readers.
Donut is an investing platform that uses the power of decentralized finance (DeFi) to earn interest for its investors—all without the need for account holders to have any crypto in their portfolios.
But is Donut a legitimate platform? Is it safe to use? Does it actually earn you interest?
In this Donut review, we're going to take a close look at how the platform operates, what the risks are of using it, and its pros and cons. That way, you can decide if Donut is an appropriate option for your investing needs.

Bottom Line: Donut is a DeFi platform allowing its users to earn interest on their stablecoin holdings. Donut only accepts deposits in US dollars. Donut also offers a round-up feature to accelerate user's savings.
| | |
| --- | --- |
| Account and trading fees | |
| Offerings | |
| Features and tools | |
| Security | |
| Customer support | |
| Ease of use | |
---
What Is Donut?
Donut is an investing platform that uses decentralized finance (DeFi) to help you maximize your earnings. It was founded in 2018 by Neel Popat, a former investing professional who has worked with a number of major investment management firms.
The idea behind Donut is that the platform lets you invest US dollar funds that it then converts into cryptocurrency—specifically stablecoins. These stablecoins are then lent out to borrowers on DeFi platforms in exchange for interest payments.
---
How Does Donut Work?
Donut is similar to many other investing platforms, except that it earns money through DeFi lending rather than through traditional assets. Like any investing platform, you first need to open and fund an account with Donut in order to access its features.
Once you have a Donut account, the firm puts your money to work by lending it out on highly collateralized DeFi protocols like Yearn. The specifics of how this works are a bit too complex to discuss here, but the gist is that your funds are converted to stablecoins (like USDC or USDT) and then lent out to borrowers on these platforms.
In exchange for using your funds via these DeFi protocols, borrowers need to pay interest. This interest is then converted back to US dollars on your behalf by Donut and then deposited into your account. The interest you earn is paid out to your account in real-time, too.
Account Minimum
There's no minimum deposit to open a Save account on the Donut app. However, Donut currently pays a base interest rate of 5% APY for those with less than $5,000 in their Save account. If you deposit more than $5,000, you will be eligible for 6% APY.
Requirements to Open an Account
Donut accounts are only open to US citizens and residents over the age of 18 that have the following:
US residential address
US bank account
Social Security Number
Valid government-issued photo ID (i.e., Drivers License, State ID, Passport)
Note that Donut is currently only available in 49 states, with the one exception being New York. Residents of countries other than the US are also not eligible for Donut accounts, even if they are US citizens or permanent residents living abroad.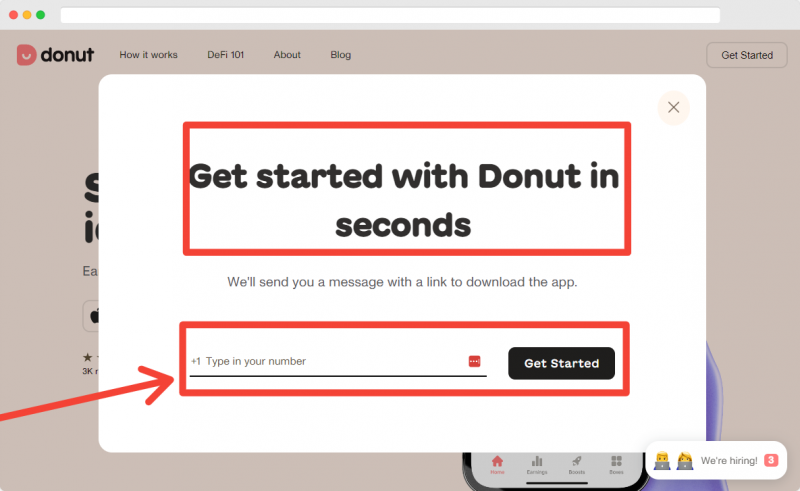 Opening an Account
Opening an account with Donut is relatively straightforward. To create an account, you first need to download the Donut app. From there, you'll go through the account creation process, which involves providing the following pieces of information:
Full name
Birthdate
US residential address
Phone number
Email address
Social Security Number
To start investing with Donut, you also need to complete identity verification, which involves taking photos of the front and back of a government-issued photo ID.
The last step in creating your account is linking it to your bank account, which is done either manually or via Plaid. Once your account is funded, you can start investing your money.
---
Donut Features
Donut is a feature-rich platform that offers a lot to love for DeFi-curious investors. Here's what you can look forward to if you make an account with the platform.
| | |
| --- | --- |
| Account Minimum | $0 |
| Fees | ~ 2% per year |
| Maintenance Fees | $0 |
| Withdrawal Fees | $0 |
| Interest Rates | Between 5% to 6% |
| Security | AES-256 encryption |
| Mobile Apps | iOS and Android |
| Promotions | None |
| FDIC Insurance | |
| SIPC Insurance | |
| Support | Phone (+1 213 377 2982) and Email ([email protected]) |
Donut Plans (Save & Build)
Currently, non-accredited investors can only open a Save account on the Donut app. Donut now offers a base APY of 5% in Save if you deposit less than $5,000. You can earn 6% APY if you deposit above $5,000. Funds in this account are only lent to institutional borrowers for max security. You can withdraw your funds from Save at any time.
In July of 2022, Donut migrated everyone who had a Build account to the updated Save program. Today, Build portfolios are only available to accredited investors. However, Donut says it's working on upgrading its Build and Grow accounts. Plus, the company hinted at a new service called "Donut X."
There's still no news on when these services will be available to non-accredited investors. However, in a recent blog post, Donut claimed it aims to reveal a new Build account sometime in 2022.
Donut states that its advertised interest rates are "guaranteed" and that you will never earn less than the advertised rate. This does sound nice in theory, but it's hard to know if this strategy will hold up in the long term.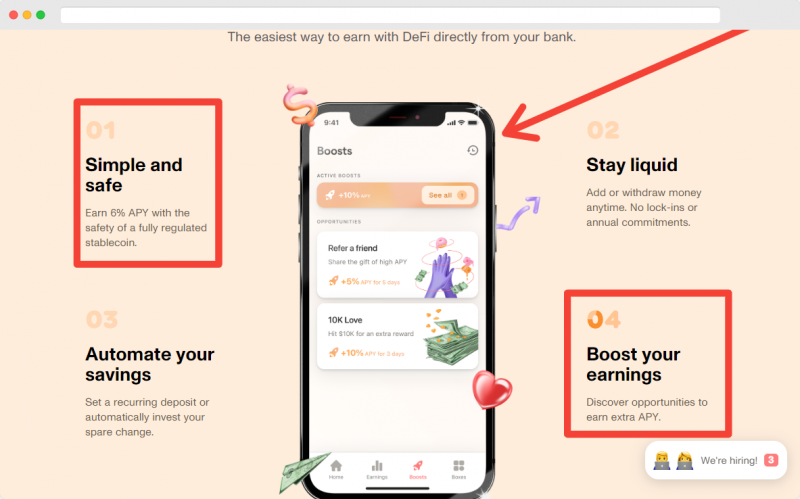 Boosts
Boosts are a Donut feature that helps you increase the amount of interest that you earn by completing certain tasks.
As of the time of writing, Donut offers a Boost of 6% APY on your investment for 6 days after you refer a friend. Note that Boost offers are subject to change at any time.
Recurring Investments
To help you maximize your savings, Donut offers a recurring investment tool. This feature lets you put your investing on autopilot by scheduling automatic transfers from your bank account.
Donut currently lets you set up daily, weekly, biweekly, and monthly investments. You can create recurring deposits of anywhere from $10 to $10,000 to help streamline your savings.
Boxes
If you're struggling to strategize your savings, Donut's Boxes may help you stick to your financial goals. With this feature, you could create up to three financial goals with target amounts and timeframes. Customers could adjust the amount and timeframe in their Boxes whenever they want.
You can allocate funds from your main account into any of these "Boxes" until you achieve your goal. All the while, you will continue to earn the APY associated with your main Donut account.
These Boxes are meant to help people set money aside for major purchases. For instance, many people use Boxes to save for a new car, a vacation, or a mortgage payment. However, you could customize your Boxes for anything you could imagine. As a bonus, you could use plenty of colorful emojis to personalize your Boxes!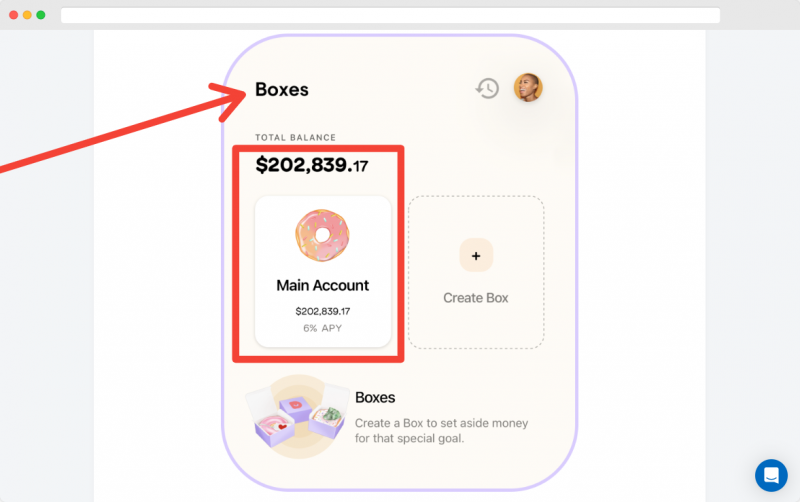 Collect
Collect is another savings tool from Donut that's designed to help maximize your investments. With Collect, you can transfer spare change from your transactions to your Donut account so that you can earn interest on those funds.
To use Collect, you need to link payment methods (i.e., credit and debit cards) to your Donut account so the firm can track how much spare change you accumulate. Once the total of your spare change reaches $10, Donut transfers this money into your account, where it will start to accrue interest.
Plaid Integration
Plaid is a third-party software that facilitates banking integrations for many popular investing apps. It's an easy-to-use software that lets you seamlessly deposit and withdraw funds from your bank account while also keeping your financial details secure.
Donut gives investors the option to connect their bank account using Plaid, which allows for seamless funds transfers from more than 9,600 US banks. Although you can connect your bank account manually, doing it through Plaid removes the need to verify your account through micro-deposits, which can be tedious and time-consuming.
Referral Program
People who use Donut could earn extra interest whenever they get someone to join the app. Under Donut's Referral Program, app users could earn temporary "Boosts" on their interest rate by using referral links.
For every person you get to deposit money on Donut via your referral link, you will get a bonus 6% APY on your funds for six days. Your friend will also get a 6% boost for their first six days.
Donut users could supercharge their boosts by referring more people. These account bonuses "stack" for each new person you get to deposit on Donut with your referral link. For instance, if you get two people to deposit on Donut with your referral link, you'll receive a 12% APY bonus for six days. Donut offers up to a 60% APY boost for those who get ten people to deposit with referral links at the same time.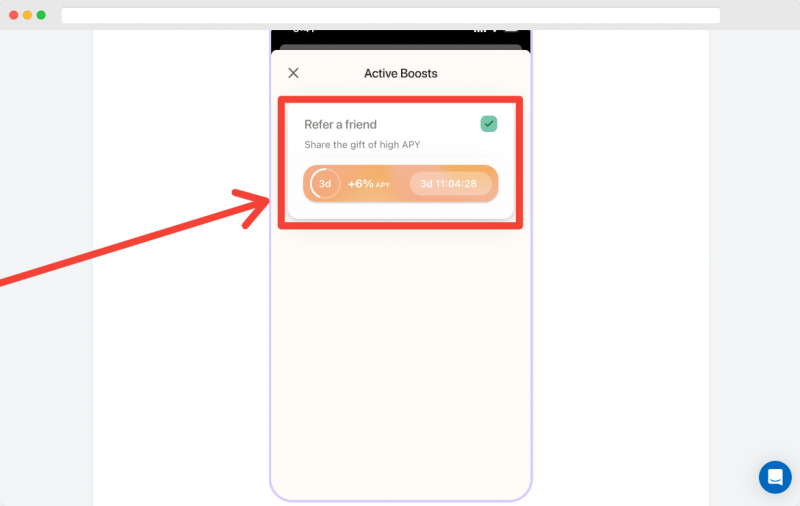 Mobile App
Donut is a mobile app-based software, so you will need to download the firm's iOS or Android app in order to start investing.
The Donut app gets high ratings from users, and many investors note that the platform itself is very easy to use. You can handle all of your account management needs through the app, too, from setting up deposits to viewing your earnings history.
---
Donut Fees
Donut states that it doesn't charge any explicit fees for its services. But this doesn't mean that Donut is free to use—just that your fees are deducted from your investment earnings.
Therefore, while your funds might earn more than the stated interest rate, Donut keeps all of the extra money that your funds earn as a payment for its services. As a result, Donut states that it ends up keeping about 2% of the interest that your funds earn before distributing the rest of your interest to your account.
Again, these fees aren't deducted from your account, but they do reduce the amount of interest you can earn over the long term.
---
Donut Security
Donut offers an interesting opportunity for investors who want to gain access to the world of DeFi lending without the need to do any heavy lifting. However, there are risks to using Donut that potential investors should be aware of.
To its credit, Donut has a security system in place that includes AES-256 encryption on all accounts. However, funds in Donut accounts are not FDIC or SIPC insured, and the company doesn't have private insurance coverage.
Furthermore, there are very large risks to using a platform like Donut even though the company advertises "guaranteed" interest rates and that you'd be able to withdraw your funds at any time.
There's always a possibility that the DeFi protocols that Donut uses will be drained by a hacker, which could cause investors to lose money and is something that's beyond Donut's control. As we saw with the collapse of the TerraUSD (UST) stablecoin in early 2022, there's also no guarantee that the stablecoins that Donut invests in will hold their value, which could also lead to complete financial loss.
It's best to approach Donut's claims of guaranteed returns and low-risk with some skepticism. In fact, Donut actually saw losses of 13.39% in its now-defunct Grow Plan accounts due to the collapse of UST.
So, while it's true that Donut has a good security system in place, it is far from a risk-free investment.
---
Donut Customer Support
Donut has a comprehensive set of online support pages if you ever have a question about your account or a certain feature of the platform.
If you need more specific guidance from Donut's customer service team, you could message the company via the online chat service. Customers could also use Donut's email service at [email protected] or call (213) 377-2982 between 9 AM – 6 PM PST. The last time we checked, we were quoted a one-day wait time for a reply from the company's support team.
---
Donut Ease of Use
Donut's simple UI/UX is one of its key selling points. This app's clean design makes it simple for non-crypto users to deposit funds and start earning interest. Plus, since Donut handles all the conversions between USD and stablecoins, you don't have to have any expertise with crypto trading, exchanges, or wallets. Simply connect your bank with Plaid and send funds to the Donut app.
There are thousands of positive reviews on the Donut app on Google Play and the Apple App Store. Many online reviewers praise Donut's app for its intuitive interface. Plus, the Donut team responds to virtually all customer reviews on these app stores.
---
Donut Pros Explained
It lets you earn interest from DeFi lending without the need to handle crypto: You don't need to be an expert in Web3 or DeFi to use the Donut platform. Indeed, if you can already manage funds in a traditional banking app, Donut should be a breeze to use. The Donut team will take care of all the complex crypto conversions and DeFi lending services. All you need to do is deposit USD into your account.
Relatively high APY on Save accounts: Donut's upgraded Save account rewards investors with a 5% APY base fee, but you could upgrade to 6% APY by depositing $5,000 in your account. Donut also plans to offer more investment options in the future to help clients adjust their APY.
Ability to invest your spare change in your Donut account: Donut allows clients to connect their credit or debit card to seamlessly invest pocket change into their account. This simple feature makes it easier to set money aside for saving without really thinking about it.
Uses Plaid for quick bank account integrations: Plaid is a highly trusted fintech company that helps securely link your bank account to Donut. While you could manually input your banking info, Donut's Plaid integration helps make set-up as seamless as possible.
Supports recurring deposits to help grow your portfolio: If you'd like to set your savings on automatic, Donut can help you consistently deposit some cash into your account regularly. This recurring deposit strategy helps ensure you're always putting some money aside for savings.
Mobile app is highly rated for usability: There are thousands of positive reviews for Donut on Google Play and Apple's App Store. Most customers praise the Donut app's ease of use, often comparing it favorably to top-tier fintech and banking apps.
Only invests in overcollateralized DeFi loans to hedge risk: To mitigate the risks of dealing with DeFi protocols, Donut promises to only invest crypto in overcollateralized loans. According to Donut, they typically invest in loans that have over 125 % over-collateralization, which helps increase the odds they remain solvent even if multiple DeFi borrowers default.
---
Donut Cons Explained
High risk of financial loss due to crypto volatility and DeFi hacks: Even though Donut deals with prominent crypto custodians and overcollateralized loans, there's always a chance they could lose users' funds in crypto. Hacks are still relatively common in the unregulated DeFi space, and high-profile stablecoins like UST have gone to zero. Investors must consider the Donut app a "high-risk" investment strategy.
No FDIC, SIPC, or private insurance on your assets: There are no centralized institutions propping up cryptocurrencies. Therefore, clients shouldn't expect federal insurance protections if something goes wrong on Donut's platform.
Claims interest returns are "guaranteed," but it's always possible this could change in the future: Nothing is guaranteed in the crypto industry. Although Donut markets its APYs as "guaranteed," customers should take these claims with a grain of salt.
Not available in all 50 states (New York is excluded): At this time, Donut app is only available in 49 US states and the District of Columbia. Unfortunately, those who live in New York or outside the USA cannot take advantage of Donut's services.
Account fees are built into the interest rate, so it's hard to know if you're getting a good deal: Donut only gives depositors interest rewards after it takes its cut. While this is standard practice on crypto lending platforms, it's tough to know whether Donut is truly giving customers the best rate. DeFi interest rates constantly fluctuate, yet Donut caps its APYs between 5 – 7 %, depending on your plan.
Limited customer support options with relatively slow response times: Donut doesn't have the best reputation for speedy customer service. It may take days to get in touch with the team via chat or by using the email [email protected]. Also, if you want to use Donut's phone service, you must call (213) 377-2982 between 9 AM – 6 PM PST.
Competing crypto platforms may have higher interest rates: Many competing crypto lending sites like Nexo tend to offer higher interest payouts versus Donut. Also, if people are already familiar with DeFi lending, they may earn more by interacting directly with protocols like Aave, Yearn, or Compound.
---
Donut Alternatives
Don't think Donut is right for you? Here are two Donut alternatives to check out instead.
Donut vs. Nexo
Nexo is a centralized crypto lending platform that offers a suite of tools for investors, from interest-bearing accounts to crypto-backed loans.
Nexo's claim to fame is that it lets you earn up to 10% interest on more than two dozen cryptocurrencies. This is a higher rate than you can get with Donut, but receiving this rate requires holding a lot of the firm's proprietary NEXO token, and it involves buying individual cryptocurrencies.
The advantage of Nexo over Donut is that it offers the potential for higher interest rates, but this comes at the cost of convenience. Nexo also isn't a risk-free platform, so it's only suitable for investors who fully understand the risks of crypto investing.
Donut vs. Outlet Finance
Like Donut, Outlet Finance is an app that primarily lends USDC stablecoin to DeFi projects. Created in 2019, Outlet Finance allows people in most US states to deposit USD from their bank account to start earning interest. Outlet Finance will take care of the crypto conversions and lending, and it promises to pay interest rewards monthly.
One key feature that distinguishes Outlet Finance from Donut is its non-custodial Ethereum wallet. People already familiar with crypto may prefer using Outlet Finance's crypto wallet directly on DeFi platforms.
Outlet Finance also offers a few unique ways to earn extra rewards on its platform. For instance, customers could apply for a MasterCard debit card so you could use your holdings to make real-world purchases. Also, Outlet Finance frequently gives out "crypto airdrops" for people who participate in various tasks in DeFi.
People who feel more comfortable taking a hands-on approach to DeFi investing may prefer the flexibility Outlet Finance offers.
| | | | |
| --- | --- | --- | --- |
| | | | |
| Our Rating | | | |
| Minimum Deposit | $0 | $0 | $0 |
| Interest (APY) | Up to 6.00% | Up to 17.00% | Up to 9.00% |
| Apps | Mobile (iOS and Android) | Mobile (iOS and Android) | Mobile (iOS and Android) |
| Promotions | None | Get up to $100 in BTC | Earn up to $250 in BTC |
| FDIC Insured | No | No | No |
| Web Access | Yes | Yes | Yes |
| | | | |
---
Who Is Donut Best For?
Donut is best for investors with a very high-risk tolerance and an already diversified portfolio who are looking for other ways to increase their earnings. The platform claims to offer a steady stream of income via interest payments, which makes it an interesting investment opportunity for people who already have a portfolio of traditional assets.
However, Donut is not a risk-free investment. DeFi lending comes with huge risks, especially if a stablecoin breaks its peg or a DeFi protocol is hacked. If you're unsure whether Donut is a good choice for you, consult a financial advisor for more specific guidance.
---
Notable Donut Updates and News
In June of 2022, Donut announced an upgrade to its Save program. In addition to increasing the base APY from 4% to %, the team said they would rely on the stablecoin USDC rather than Maker's DAI. Donut also says anyone who maintains a balance of $5,000 in their account or uses other features like recurring deposits will be eligible for a base APY of 6%. Note: Donut plans to use alternative stablecoins like DAI in its other investment plans.
Also in 2022, Donut announced an upgrade to its Referral Program. Anyone who gets a referee to deposit into a new Donut account will receive a 6% APY boost for 6 days. Donut also said users could "stack" their referral rewards and earn a bonus 6% APY for every additional person they get to sign up at the same time. You could earn up to 60% APY boost for six days if you get ten friends to deposit on Donut at the same time.
Donut rolled out Boxes in 2022 to help investors better organize their funds. You can now create up to three Boxes for financial goals such as a vacation, a new appliance, or a rainy-day fund. You can customize all of these Boxes however you want and set the total amount and expected duration. All these Boxes are connected to your main account, so you will continue earning your quoted APY.
---
Donut FAQs
Here are our answers to some of your most commonly asked questions about Donut.
Is Donut Legit?
Donut is a legitimate company that's run by experienced financial professionals, such as CEO Neel Popat and CTO Lukas Kairys. The company also has some big-name venture capital partners like Redalpine and Inventures. However, there is always a risk of losing money while investing using a firm like Donut, regardless of how legitimate the organization is.
Is Donut Safe?
Donut is a relatively well-known DeFi investing platform that uses a number of security and risk management strategies to help you invest with confidence. But there is a sizable risk of financial loss when you invest in Donut as the platform is not FDIC or SIPC insured. Anyone investing with Donut must be willing to accept this high level of risk before opening an account.
Is Donut Available Outside the US?
No, Donut is not available outside the US or in the state of New York. The firm only supports investors who are US citizens or residents with Social Security Numbers.
How Does Donut Make Money?
Donut makes money by taking a percentage of the interest that your funds earn from DeFi lending before it arrives in your account. For example, if your funds actually earn 8% in interest but you signed up for the Save plan, which has a 5% interest payout, Donut will keep the additional interest as payment for its services.
How Is Interest Calculated?
Donut calculates interest in real-time, so it is paid out to your account on a rolling basis. This interest is compound, too, so your past payouts increase your future interest-bearing balance.
Do I Have to Pay Taxes on Donut?
Payouts from Donut are typically considered earned interest and are generally seen as taxable income for US investors. Consult a tax professional for more guidance on how to report your interest from Donut on your tax return.
The app makes it easy for users to generate reports for tax purposes. You can generate account statements and tax summaries (CSV and PDF files). Account statements are more detailed and provide an overview of your activity for a period of time. Tax summaries, on the other hand, are a simplified version of the account statements produced with the intention of them being shared with your tax accountant or advisor.
Interest on Stablecoins: Up to 6.00%
Interest on Bitcoin: N/A
Promotion: None


---
Final Thoughts
Donut is an intriguing platform, especially for investors who want to get exposure to crypto and DeFi without having to buy and manage crypto assets. The company makes earning interest from DeFi lending very easy, and it has a user-friendly platform available for US investors.
But it's hard to know if Donut's "guaranteed" interest rates will stay the same in the future. Additionally, it's definitely not a risk-free platform that people should invest in with little forethought.
If you're an investor with a high tolerance for financial risk and you already have a diversified portfolio, there may be value in Donut. However, for most people, the risks of Donut likely outweigh the benefits, given the volatility of the DeFi industry.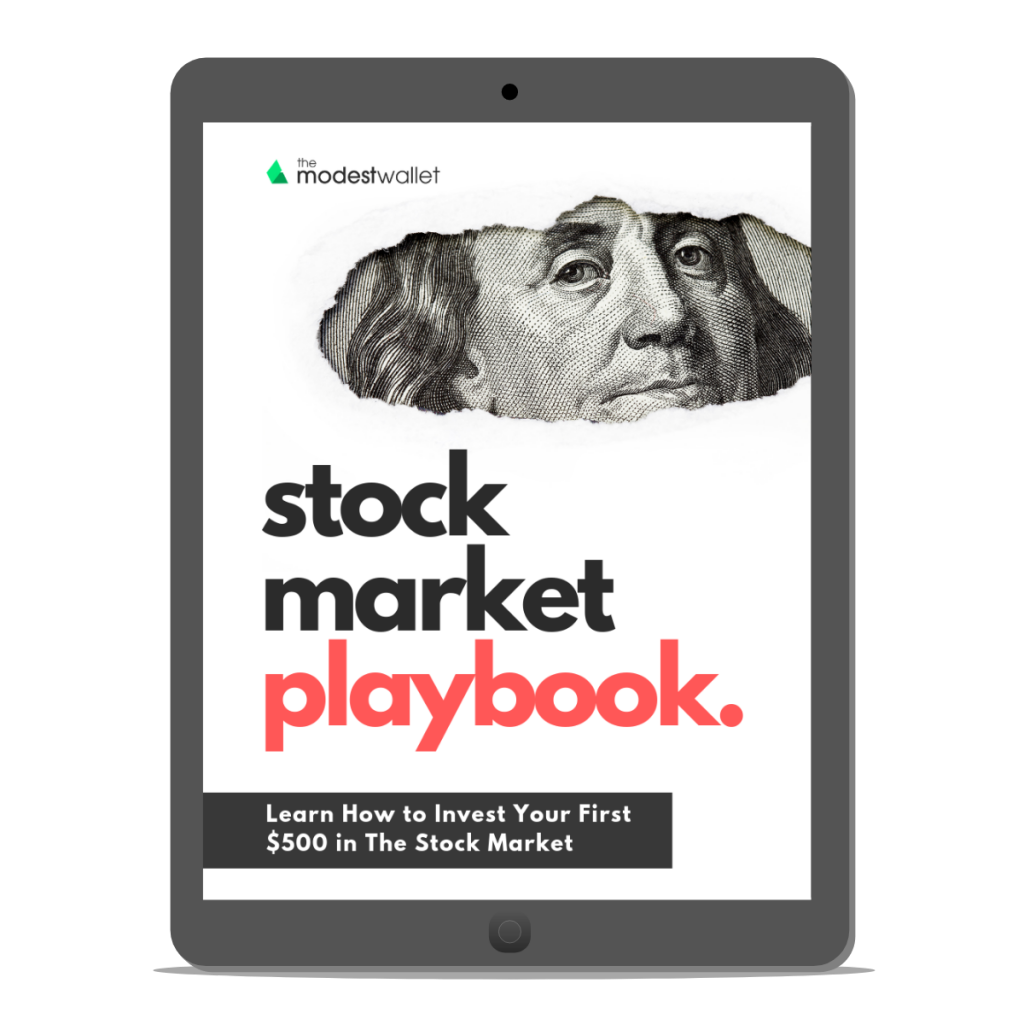 Get our free Stock Market Playbook to learn how to invest your first $500 in the stock market.
Plus our best money tips delivered straight to your inbox.

Gaby is a freelance writer and self-employed business owner with a personal interest in all things finance-related. She has a passion for educating others on how to make the most of their money and loves writing about everything from taxes to crypto.