Empower Review 2023 [Formerly Personal Capital]
Many or all of the products featured on this page are from our sponsors who compensate us. This may influence which products we write about and where and how the product appears on a page. However, this does not influence our evaluations. Our opinions are our own. Here is a list of our partners and here is how we make money.
---
The information provided on this page is for educational purposes only. The Modest Wallet is a financial publisher that does not offer any personal financial advice or advocate the purchase or sale of any security or investment for any specific individual.
Empower, formerly known as Personal Capital, is a California-based online financial advisory firm that provides wealth management, cash management, and other financial solutions to over 1 million people in the United States. Currently, the company oversees over $21 billion in assets.
Empower is led by Founder and Chief Executive Bill Harris, and the company relies on the support of a team of seasoned financial professionals, including former SEC Commissioner Luis Aguilar, former Chair of the CFP® Board Karen Schaeffer, and the father of Modern Portfolio Theory (MPT), Harry Markowitz, Ph.D.


Bottom Line: Empower (formerly Personal Capital) is an online financial advisory firm that provides wealth management, cash management, and other financial solutions. They also offer a free suite of personal finance tools that help users track their net worth and investments.
| | |
| --- | --- |
| Account minimum | |
| Account fees | |
| Portfolio construction | |
| Accounts supported | |
| Customer support | |
| Features and tools | |
| Security | |
| Ease of use | |
| Educational resources | |
---
What is Empower?
Founded in 2009, Empower was initially known as SafeCorp Financial Corp until the year 2010. Subsequently, on July 2020, Canadian-owned"Empower Retirement" announced it would be purchasing Personal Capital for $825 million plus a contingency payout. Since then, Personal Capital has rebranded itself as Empower as of February 2023.
Empower is registered as an investment advisor with the Securities and Exchange Commission (SEC) of the United States. The company offers money management advice to customers across the country through a time-tested investment philosophy that relies on long-term holding periods and broad diversification to deliver steady returns over time.
The company's products and services include wealth management and cash management solutions, and they offer a set of technological tools to assist clients in managing their finances.
One of the perks of Empower is that it offers both free and paid features, which makes it different from traditional online advisors that offer plain-vanilla investment management solutions that charge a percentage of the account balance per year.
---
How Does Empower Work?
Empower offers three different types of services for its clients to assist them in managing their money (i.e., cash management services, financial tools, and wealth management).
Account Minimum
Empower's financial tools and free to use, and users do not require a minimum account balance to use these products.
On the other hand, the minimum deposit to open an investment account with Empower is $100,000. This amount gives the customer the option to enroll for the company's Investment Services package, which includes unlimited financial advice from their team of professionals, a customized, diversified, and actively managed made up of exchange-traded funds (ETFs), and access to Empower's portfolio management systems.
Next up, clients must have an account balance of at least $250,000 to access Empower's Wealth Management service, the next tier in their service offering, which gives them access to two dedicated financial advisors and sophisticated features for their portfolio, such as tax-loss harvesting (TLH).
Finally, a minimum deposit of $1 million must be made to enroll in the Private Client program, which gives investors the possibility of investing in private equity and accessing two dedicated advisors for estate and wealth planning.
Cash Management Services
Empower offers a zero-fee bank account provided by UMB Bank NA called the Empower Personal Cash™ account.
This offering allows users to keep all their money in a single account, providing them with an Annual Percentage Yield (APY) of 4.70% (as of August 2023).
However, the yield goes up to 0.10% for clients who have enrolled in Empower's investment management services.
This account does not require a minimum daily balance and offers an unlimited number of monthly transfers, with a maximum withdrawal limit of $100,000 per day.
The account is insured by the Federal Deposit Insurance Corporation (FDIC) for up to $250,000 per depositor and up to $1.5 million per account. However, this account does not offer a debit card or a bill pay feature as of this writing.
Some of the features offered under the Cash Management Service include:
Available features include:
No minimum balance
High-yield interest savings account
Individual and joint accounts
Link to your checking for monthly bills
Set up direct deposit for your paychecks
Unlimited number of monthly transfers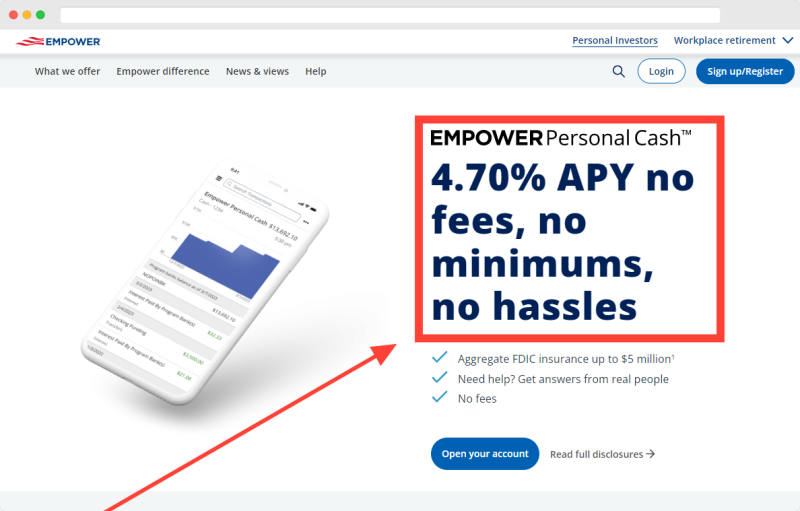 >> Read Also: Best Robo Advisors
Financial Tools
What often attracts clients to the services offered by Empower are the company's free financial and money management tools, designed to help individuals track the evolution of their net worth while also letting them monitor their income, expenses, investments, and other aspects of their personal finances.
The tools made available by Empower to individuals in the United States, as of this writing, include:
Net Worth Calculator
Savings Planner
Budgeting Tool
Cash Flow Management Tool
Investment Check Up
Retirement Planner
Fee Analyzer
Education Planner
All of these tools are available through Empower's platform, which allows users to manage their money via one single solution after linking their retirement accounts, credit cards, bank accounts, and brokerage accounts.
Wealth Management Solutions
Empower provides financial advice to clients with over $100,000 in investable assets through three different programs:
Investment Services: For clients with $100,000 to $200,000 in assets, Empower will build a broadly diversified portfolio consisting of a wide range of asset classes incorporated via exchange-traded funds (ETFs) and offer unlimited investment advice from the company's team of Certified Financial Planners (CFPs®).
Wealth Management: Clients with assets between $200,000 and $1M will have their portfolios monitored by two dedicated financial advisors, and they have the opportunity to take advantage of the tax-optimization strategies offered by Empower.
Private Client: For wealthy individuals with assets over $1M, Empower will offer two financial advisors to oversee the client's portfolio while also extending priority access to the company's Investment Committee members, who can provide in-depth specialist support for both retirement and wealth planning. (Private equity alternatives are also available).
Opening an Account
The process of signing up for Empower's services starts with providing a preferred email, a password, and a phone number to create an account. Sign up can be completed via the company's official website or through Empower's Android or iOS mobile app.
To access the free financial tools offered by Empower, users can link all their bank accounts, retirement accounts, credit cards, mortgage, loans, and investment accounts for the software to analyze. Then, a dashboard is created — and this dashboard can be used to monitor and track the way money is spent and how investments perform over time.
To sign up for one of the company's investment management services, Empower's terms and conditions (which include rolling over any existing account or securities to the firm and acknowledging the fees resulting from the service) must be agreed to.
After agreeing to the service's terms and conditions, Empower will ask several questions to assess the client's financial situation before their portfolio is set up.
---
Empower Free Personal Finance Features
Next, let's dive into the free personal finance tools and features Empower offers its clients.
| | |
| --- | --- |
| Net Worth Tracker | Calculates every significant thing you own (i.e., assets) minus what you owe (i.e., liabilities). |
| Savings Planner | Shows you how much you're saving and how much you should be saving. |
| Budgeting | Easily track income, expenses, and individual transactions over time. |
| Cash Flow | Analyzes how money is spent during a certain period by categorizing expenses and transactions accordingly. |
| Retirement Planner | See if you're on track and what you can do to improve your retirement target. |
| Fee Analyzer | Find out how hidden fees in your mutual funds and retirement accounts impact your portfolio performance. |
| Education Planner | A retirement planning feature to help parents and future students set aside money to cover college tuition. |
| Investment Checkup | An assessment tool that helps users determine their ideal portfolio allocation. |
Net Worth Tracker
The net worth calculator is one of the free tools offered by Empower, and it estimates the value of an individual's equity by accessing the information from his/her financial accounts (including bank, retirement, and investment accounts) along with the value of any other hard assets reported to the platform (such as real estate, vehicles, art, or collectibles).
Additionally, liabilities are deducted from the value of the assets, including any mortgages, credit card, and loan balances currently owed by the account holder.
After gathering and analyzing this information, Empower's software provides an in-depth analysis of the account holder's net worth structure, and can track its evolution over time — the user's accounts remain linked to the net worth calculator, and the net worth figure will adjust as the value of each of the linked accounts fluctuates.
Savings Planner
The Savings Planner is a tool designed to help individuals in achieving their financial goals, whether their goals are related to their retirement, a vacation, building an emergency fund, or saving for their kids' college tuition.
Using the account holder's financial account information, the tool analyzes how much the account holder is saving and how much has to be saved to achieve their savings goals.
For Empower investment management clients, the tool also allows the setup of monthly withdrawals to make sure clients stay on track with their contributions
The Savings Planner also includes a debt management and tracking tool, allowing visibility into how credit accounts have evolved and the progress toward reaching certain debt-reduction goals over time.
Budgeting
A budget is one of the centerpieces of a sound money management strategy. Empower has developed a solution that allows users to easily track their income, expenses, and individual transactions over time, using the information provided from the financial accounts they have linked to the platform.
This solution lets customers monitor their spending, savings, and other similar goals.
Cash Flow
The cash flow feature is related to the budgeting tool described above, though it analyzes how money is spent during a certain period by categorizing expenses and transactions accordingly.
This information is included in Empower's dashboard, and it allows users to track transactions within different time frames.
Retirement Planner
Planning for retirement requires discipline, and a commitment to making regular contributions to meet personal financial goals.
To help users stay on track, Empower has designed a retirement planning tool that uses the information provided by the customer — including retirement age, target monthly income once retired, etc. — to identify not just how much the customer needs to contribute, or the average return the portfolio has to earn, but also view how the progress towards their retirement goals will be impacted by various decisions and scenarios.
With the retirement planning tool, users can model the retirement portfolio to incorporate the impact of different economic scenarios, such as a recession or a stock market meltdown — offering a percentage of probability indicating the likelihood of reaching a desired retirement goal.
The tool also estimates the impact of certain financial decisions, including modifications in monthly contributions, withdrawals associated with college expenses or real estate purchases, and income events such as additional sources of income or windfalls.
Fee Analyzer
The fee analyzer studies how the fees charged by mutual funds, pension funds, and other financial providers impact returns.
The feature works by using the information from the 401(k) account linked to the platform. Once the data is in the system, an overview of how these funds are performing is provided, along with a classification of the 401(k) funds that are charging higher-than-average fees.
Understanding the financial impact that fees can have on returns makes timely and informed decisions easier (such as which funds someone may want to withdraw their money from to take advantage of cheaper alternatives in the market).
>> Read Also: Blooom Review: A Robo-Advisor for Your 401(k) and IRA Accounts
Education Planner
The Education Planner is a tool designed within the Retirement Planning feature to help parents and future students set aside money to cover college tuition.
The education planner will analyze the cost of a college education based on average costs for public in-state colleges, out-of-state colleges, and private institutions (depending on the user's preference) and will determine how much needs to be set aside every month to cover the cost of attending those institutions once the future student reaches a certain age.
Additionally, the tool also determines how much needs to be poured into the account to reach that goal in the future — and progress can be tracked in real-time to make sure things are going as planned.
Investment Checkup
The Investment Checkup feature offered by Empower is an assessment tool that helps users in determining the ideal portfolio allocation that minimizes risks and maximizes the return of their investment account over time.
This checkup relies on Modern Portfolio Theory (MPT), an approach that combines various asset classes and their corresponding risks and returns to determine the optimal percentage of assets that should be allocated in each asset class to achieve the highest return for a certain level of risk.
The feature also analyzes the user's current portfolio allocation mix to determine if it's time to rebalance based on the percentage currently being allocated to each asset class, and whether those percentages have deviated from the target portfolio allocation set by the system.
---
Empower Wealth Management Features
A look into their investment and robo-advisor services shows that Empower actually has lots to offer.
| | |
| --- | --- |
| Account Minimum | $0 for financial tools; $100,000 for investment services |
| Fees | 0.49% to 0.89% |
| Inactivity Fee | $0 |
| Available Assets | ETFs, stocks, bonds, and private equity (*for accounts larger than $500,000) |
| Account Types | Traditional IRA, Roth IRA, SEP IRA, Rollover IRA, Individual Taxable, Joint Taxable, Trusts |
| Mobile App | iOS and Android |
| Assets Under Management | Over $21 billion |
| Interest Paid on Cash Balances | 0.10% |
| Financial Advisor Access | $100,000 to $200,000 (team of advisors) and $200,000+ (dedicated financial advisors) |
| Promotion | Get 6 months of free wealth management (*conditions apply) |
| Socially Responsible Investing | |
| Fractional Shares | |
| Portfolio Rebalancing | |
| Tax-Loss Harvesting | |
| Support | Phone (+1 855 855 8005) and Support Center |
Smart Weighting
The Smart Weighting feature is part of Empower's investment philosophy — and it provides a unique approach to diversification compared to what's offered by broad-market indexes such as the S&P 500.
Empower believes that its portfolios can achieve higher returns — as shown by their back-tests — by giving different sectors an equal weight in the portfolio, apart from what the S&P 500 index does. The weight assigned to each sector increases for outperforming sectors, and this benchmark is market-cap weighted.
Empower's research shows that its Smart Weighted portfolios would have outperformed the S&P 500 by 0.7% during the 30-year period between 1991 and 2019, resulting in roughly $1.8 million in additional gains for a portfolio of $500,000.
The Smart Weighting feature also aims to reduce volatility, and the company's back-test shows that it would have achieved a 16.8% standard deviation during the same 30-year period compared to a 17.6% standard deviation shown by the S&P 500.
Tax Optimization
Empower offers a tax-optimization feature that achieves tax-efficient returns by following these three approaches:
Tax-Sensitive Asset Location
Tax Efficiency
The tax-sensitive asset location uses the client's tax-deferred accounts (401(k)s, IRAs) and taxable accounts and allocates investments within the accounts that can increase the tax efficiency of the portfolio.
This is achieved, for example, by putting high-yield investments in tax-deferred accounts, while tax-exempt securities are allocated in taxable accounts. (Empower estimates that it can save around 0.30% per year for its clients by doing this.)
The tax-loss harvesting feature focuses on liquidating investments that are producing a capital gain loss to offset the capital gains the client has realized during a given year, allowing them to reduce their tax bill to then reinvest those saved funds into other securities.
This strategy can yield an extra 0.2% and 0.4% to the portfolio's annual returns.
Finally, Empower builds its portfolios by investing in exchange-traded funds (ETFs) instead of mutual funds. They believe mutual funds generate higher taxes as a result of higher portfolio turnover ratios.
Portfolio Rebalancing
Empower periodically rebalances its clients' portfolios to maintain their asset allocation mix in line with the targets set for clients when the portfolio was built.
They perform this rebalancing in a tax-efficient way — meaning that they will buy and sell securities by taking into account the taxable impact of transactions, while also achieving the rebalancing's objective.
Dynamic Portfolio Allocation
Empower gathers and periodically analyzes the client's financial situation to suggest potential changes to their portfolio based on their financial goals, stage of life, marital status, net worth, income, tax laws, risk tolerance, and other various elements that may change over time.
Empower uses the information provided by the client, within the platform, and analyzes it by using Monte Carlo simulations and other similar tools to provide timely recommendations that can ultimately assist the client in achieving his/her goals.
Empower's strategies and portfolios are built with the following asset classes in mind:
Domestic stocks (U.S. equities in various market capitalization, sectors and industries)
International stocks (inluding emerging and developed markets)
U.S. bonds
International bonds
Alternatives (including real estate and commodities)
Cash
Socially Responsible Investing
At the client's request, Empower can build a Socially Responsible portfolio that focuses on ESG securities — Environmental, Social, and Corporate Governance — as a way to respond to growing demand from investors seeking to make an impact in the world with their funds.
Empower claims to achieve this by partnering with a firm called Sustainalytics, which researches and ranks firms based on their social impact. They also use certain filters to exclude and include different sectors within the portfolio.
For example, Empower excludes firms in the energy, tobacco, and gambling sectors for its socially responsible portfolios, while it includes firms that provide access to basic services or data privacy and security solutions, among others. This portfolio contains all the features offered for the Personal Strategy® portfolio, including tax-optimization and Smart Weighting.™
Account Types
Empower currently offers the following types of accounts:
Taxable accounts — individual and joint
Trusts
Traditional IRA accounts
Roth IRA accounts
SEP IRA accounts
IRA transfers
Rollovers IRAs
High-interest cash accounts
---
Empower Mobile Apps
Empower has developed a mobile app, available for both Android and iOS, that allows users to keep track of the evolution of their finances through a user-friendly dashboard.
This app provides access to all the features offered by Empower, including the cash account, investment account, retirement account, and all the rest of the tools described above.
>> Read Also: Wealthfront Review: A Well-Rounded, Low-Cost Robo-Advisor
---
Empower Portfolio Construction
Empower builds portfolios for its customers following an approach called Personal Strategy® that follows four steps: portfolio building, strategy selection, dynamic portfolio allocation, and monitoring and maintenance.
Portfolio building: By using a proprietary technology called Smart Weighting™, Empower creates well-diversified investment portfolios that maximize returns for investors for any level of risk.
Dynamic portfolio allocation: Empower has created three approaches and portfolio allocation models that cater to different types of clients. These are the conservative, moderate, and aggressive portfolios. Each of these portfolios has different goals and risk tolerance levels in mind that vary based on the customer's age, liquidity needs, net worth, investment horizon, and other similar factors.
Strategy selection: The algorithm created by Empower selects the best strategy for each customer based on their unique profile. For some customers, the top priority at their current stage of life would be to increase their wealth, build a retirement fund, or plan ahead for their kids' education. Meanwhile, for others, the priority would be to generate supplemental income to cover their living expenses.
Monitoring and maintenance: Empower will keep track of the evolution of each portfolio created for its clients and execute all the required transactions to maintain target allocations in line. In addition, certain service packages come with features such as tax-loss harvesting (TLH) that are designed to increase returns over time.
The Smart Weighting™ solution created by Empower allocates money to different types of US-listed stocks to boost returns for investors. According to the firm's website, the baseline allocation for every portfolio that uses this technology is the following:
30% on Mega-cap stocks in the Value, Growth, and Core group (10% each).
30% on Large-cap stocks in the Value, Growth, and Core group (10% each).
20% on Mid-cap stocks in the Value, Growth, and Core group (6.7% each).
20% on Small-cap stocks in the Value, Growth, and Core group (6.7% each).
Visit Empower's website for a full overview of the performance of each of the portfolios that Empower currently offers to its customers.
---
Empower Pricing & Fees
Empower charges a percentage fee for their Wealth Management services that varies depending on the amount of funds invested by the client.
This is a breakdown of the percentages charged per bracket:
First $1 million – 0.89%
First $3 million – 0.79%
Next $2 million – 0.69%
Next $5 million – 0.59%
Over $10 million – 0.49%
The company's fees are lower than the industry average of 1%, while their financial tools, such as the net worth calculator and budgeting app, are entirely free.
---
Empower Customer Support
There are multiple ways through which customers (both existing and prospective) can reach out to a representative of Empower. On the company's website, there are several phone numbers that can be called to get in touch with different departments.
For individual investors, the phone number destined to service them is 855-855-8005. Meanwhile, to contact one of the company's advisors, customers must log into their Empower account.
In addition, physical e-mail can be sent to Empower to the following address:
8515 E. Orchard Road
Greenwood Village, CO 80111
As far as our investigation goes, it is not possible to reach out to Empower via live chat or e-mail.
---
Empower User Experience
There is not much feedback online from Empower's customers in regard to the platform's ease of use or its features. The company does not display customer reviews or is affiliated with websites like Trustpilot, where users can comment on the quality of its services and platform.
In addition, Empower Financial Services is not a member of the Better Business Bureau (BBB).
The most insightful information regarding the company's investment platform in terms of user experience comes from the two main mobile marketplaces where its application is listed. On the Apple App Store, the Empower app has received 4.7 stars from nearly 140,000 ratings.
Meanwhile, on the Google Play Store, Empower has received positive ratings from most users and currently displays a 4.3-star rating coming out of nearly 13,000 reviews. The app has been downloaded more than 1 million times.
---
Empower Security
Empower and all of its affiliated companies are members of various institutions that regulate the financial services industry in the United States, including the Financial Industry Regulatory Authority (FINRA).
The firm is a registered investment adviser, meaning that they are authorized by the country's regulators to provide professional financial guidance to customers, and they are a member of the Securities Investor Protection Corporation (SIPC).
As members of this organization, all of the accounts opened with Empower are covered by an insurance policy for up to $500,000 per account for both the securities and cash held in the accounts, including up to $250,000 in cash alone.
In addition, Empower customers are protected by the Empower Security Guarantee. This is a program that restores all of the losses caused to an investment account by the execution of unauthorized transactions by third parties with whom the credentials to access the account have not been shared.
As part of its commitment to the security of clients' accounts, Empower encrypts all of the sensitive data they store on their systems and does not sell any information to third parties. Their systems are audited once a year and regular tests are performed on them. The company generates an annual Verizon Business Enterprise Risk Program Certification to showcase the strength of its systems.
The Personal Cash bank account offered by Empower is an FDIC-insured product. The cash held in these accounts is covered by an insurance policy for up to $5 million for each depositor per program bank.
This coverage is achieved by spreading customer deposits across various program banks. These are the banks that sponsor the account offered by Empower and the actual custodians of the money.
---
Empower Educational Resources
Empower has a "Learning Center" where users can go to find answers to their most frequently asked questions about various topics, including retirement planning, saving, and investing.
The materials made available by Empower include videos, slideshows, and blog posts that discuss both basic and advanced topics. For non-customers to access these materials, they must provide some basic contact information like their name, e-mail, and name of their employer.
Empower has also created several calculators that can be easily accessed to be used to create a monthly budget, estimate how much the customer needs to contribute to a retirement account to reach a certain amount, and the impact of refinancing some of its debt.
A glossary is also available with a search tab to find explanations of basic concepts related to investments, retirement planning, savings, borrowing, debt, and other personal finance topics.
Overall, the Empower Learning Center is a great tool for beginners to enrich their knowledge about these subjects, and it is accessible to both customers and non-customers.
---
Empower Pros Explanied
Highly reputable financial advisor: Empower is a highly reputable financial advisory firm managed by world-class industry professionals.
Robust security features: Empower is regulated by the Securities and Exchange Commission (SEC) and is registered as a certified investment advisor.
Uses time-tested investment strategies: Empower follows a time-tested investment philosophy that aims to provide steady returns with little downside risk over a long-term investment horizon.
Provides free financial tools: The company provides free tools for individuals seeking to manage their money more wisely.
Proprietory wealth management solutions: Empower's Wealth Management solutions include interesting features like tax optimization and Smart Weighting.™
Provides high-yield cash accounts: The Empower Personal Cash Account provides higher-than-average interest rates and does not charge any fees.
Human advisors are available: The company relies on technology but provides advice through certified human advisors.
---
Empower Cons Explained
High management fees: The percentage fees charged by Empower are higher than those charged by robo-advisors.
High minimum investment: There's a required minimum investment of $100,000 to be eligible for their Wealth Management service.
No debit card available for cash accounts: The company's cash account does not provide a debit card as of this writing.
No borrowing features: No borrowing alternatives are offered for Wealth Management clients.
---
Empower Alternatives
In order to compare apples to apples, let's compare the best alternatives to Empower for their free personal finance tools, as well as the best alternatives for robo-advisor services.
Empower vs. Mint
Mint is a budgeting and personal finance tool that allows users to keep track of their expenses, income, and transactions by linking their bank accounts to the app.
While Mint offers some of the free tools that Empower incorporates into its dashboard, Mint does not provide the insightful investment management advice and retirement planning advice that Empower delivers, making it more of a budgeting tool than an investment management tool. Read our full Mint review to learn more.
Empower vs. Betterment
Betterment is a robo-advisor. This means that the company builds its clients' portfolios by using algorithms and computer systems, although it relies on a similar investment philosophy.
In addition, Betterment is significantly cheaper than Empower, as the company charges 0.25% on the assets invested and 0.40% for its premium clients. Those lower percentages charged by Betterment could end up resulting in large savings over time.
On the other hand, Betterment offers most of the features available from Empower, except, perhaps, the free financial calculators and tools that Empower provides.
Plus, the cash account offered by Betterment comes with a debit card, and there's no minimum balance required to open an investment account, which is advantageous for Betterment users compared to the $100,000 minimum required by Empower.
That said, the Smart Weighting™ feature offered by Empower is an interesting approach to broad diversification that could provide an edge over Betterment, although it is a bit hard to assess if that offsets the impact of higher fees. Read our full Betterment review to learn more.
Empower vs. M1 Finance
The differences between Empower and M1 Finance are essentially the same when compared with Betterment, except for the fact that M1 Finance has a bigger advantage — even ahead of Betterment — because the M1 Finance robo-advisor does not charge any fees for managing its investment accounts.
But there is a disadvantage: They do not offer any of the advanced features provided by Empower, such as tax-optimization or dynamic portfolio allocation. Read our full M1 Finance review to learn more.
| | | | |
| --- | --- | --- | --- |
| | | | |
| Our Rating | | | |
| Fees | 0.49% – 0.89% per year | Digital — 0.25% per year & Premium — 0.40% per year | $0 |
| Account Minimum | $0 for financial tools; $100,000 for investment services | $0 | $0 |
| Promotion | Get 6 months of free wealth management (*conditions apply) | Get up to 1 year free | None |
| Highlight | Free comprehensive investment management tools and features | Powerful goal-based tools | Automated investing account at no cost |
| Best For | Hands-off investors | Hands-off investors | Beginner investors |
| | | | |
---
Who is Empower Best For?
Empower is probably a better alternative for individuals with a sizable $100,000+ investment or retirement account because the company provides human advice — although it also relies on technology to monitor and keep track of clients' progress in the path towards achieving their financial goals.
Additionally, Empower investment management features such as the net worth calculator, budgeting tool, and retirement planner tool are useful, and they deliver key insights that will help clients determine the best course of action for their financial lives.
Moreover, Empower's Smart Weighting™ approach is very interesting and could be one of the best reasons why investors should consider this firm because research suggests that returns obtained by using this approach are significantly higher than returns obtained from investing directly in generic broad-market indexes.
However, it should be noted that the percentage fees charged by Empower (although lower than the industry average) are higher than those charged by most robo-advisors, which is a disadvantage, especially when considering their impact over a long-term investment horizon.
---
Notable Empower Updates and News
On March 8, 2023, Empower launched a new service called Personal Wealth that emerged from the acquisition of Personal Capital in 2020 and that caters to American individuals and families with a net worth ranging from $100,000 and $250,000.
On May 16, 2023, Empower signed a sponsorship deal with the successful golfer Wyatt Worthington II. Wyatt will become part of the company's roster of sponsored high-performing athletes and will wear the Empower corporate logo on all of his apparel.
On June 27, 2023, Empower renewed its partnership with the City of Austin in the state of Texas to keep offering retirement account management services to its more than 12,000 employees.
---
Empower FAQ
We've found some of the most frequently asked questions about Empower, here are our answers.
Is Empower Legitimate?
Yes. Empower is a US-based investment advisory firm registered with the Securities and Exchange Commission (SEC).
Is Empower Worth the Fee?
That depends. Most of the features offered by Empower are available at a fraction of the cost of some of the most popular robo-advisors. However, if you prefer human advisors over algorithms to manage your investments, you may want to go with Empower.
Is Empower Free?
Yes and no. While Empower offers certain free features for its users, such as a net worth calculator and a retirement planning tool, their Wealth Management solutions are only available for clients with more than $100,000 in assets, and the company charges an annual percentage fee for managing its investment accounts.
Is Empower Safe?
The cash account offered by Empower is insured by the FDIC for up to $250,000 per depositor and $1.5 million per account.
As a disclaimer, investment accounts are subject to market risk, as financial securities can fluctuate in value over time, and there is no protection for market downturns.
With that said, investing with Empower is as safe as investing with any other registered and licensed financial advisory firm.
How Does Empower Make Money?
Empower makes money from the percentage fee it charges on the balance of the investment accounts it manages, and by collecting compensation from the banks that support the cash account they currently offer.
Account Minimum: $0 for financial tools; $100,000 for investment services
Fees: 0.49% – 0.89% depending on account balance
Promotion: Get 6 months of free wealth management (*conditions apply)
---
Final Thoughts
Personal Finance is an interesting alternative for wealthy individuals who prefer a human (over a cold algorithm) to manage their investments.
Empower is backed by world-class financial professionals, and they currently oversee more than $21bn in assets. Their investment philosophy relies on time-tested strategies, and they offer certain compelling advanced features that should significantly boost the returns of their clients' portfolios over time.
Although the company charges higher percentage fees compared to some of its competitors, the advanced strategies and insightful human expertise Empower brings to the table may be worth the extra money.
Up Next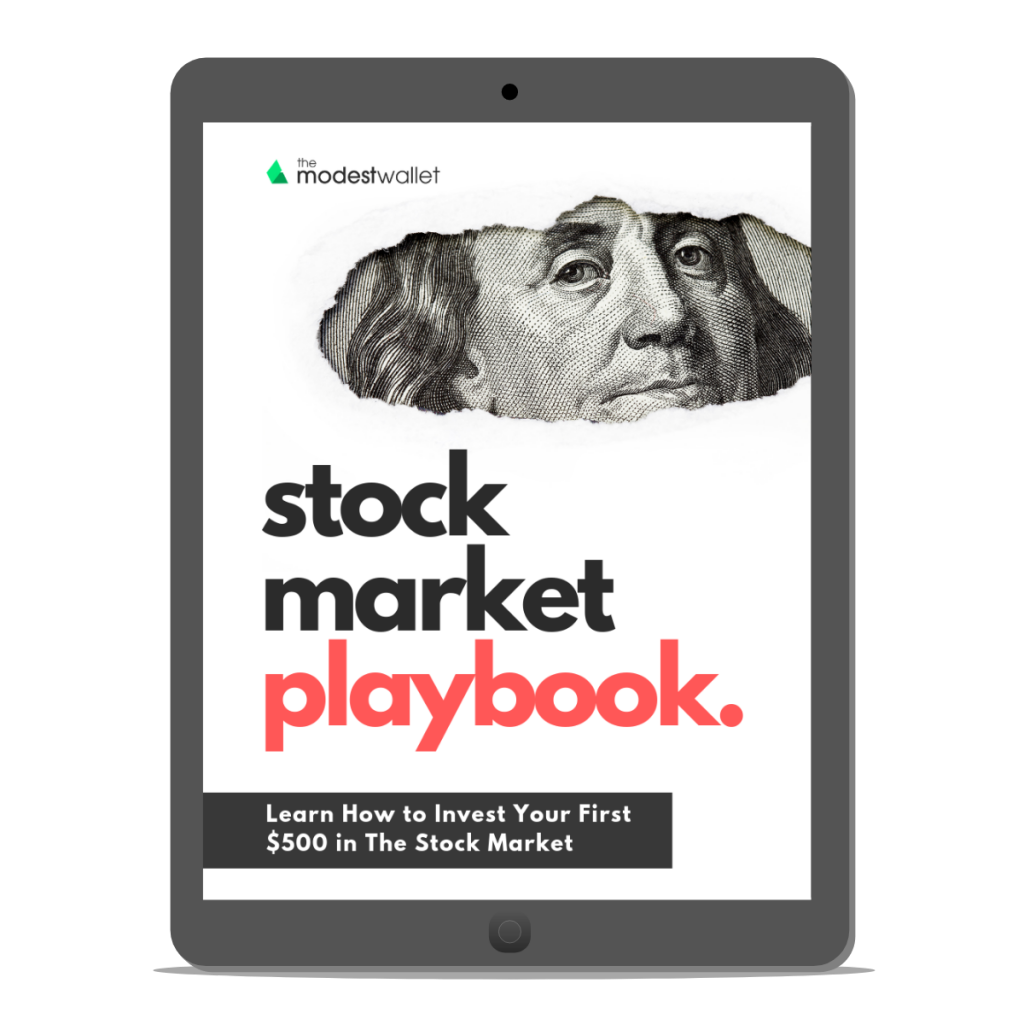 Get our free Stock Market Playbook to learn how to invest your first $500 in the stock market.
Plus our best money tips delivered straight to your inbox.

Alejandro is a financial writer with 7 years of experience in financial management and financial analysis. He writes technical content about economics, finance, investments, and real estate and has also assisted financial businesses in building their digital marketing strategy. His favorite topics are value investing and financial analysis.