Many or all of the products featured on this page are from our sponsors who compensate us. This may influence which products we write about and where and how the product appears on a page. However, this does not influence our evaluations. Our opinions are our own. Here is a list of our partners and here is how we make money.
The information provided on this page is for educational purposes only. The Modest Wallet is a financial publisher that does not offer any personal financial advice or advocate the purchase or sale of any security or investment for any specific individual.
There are over 1.5 billion websites on the internet and that number rises every year. So, if you want to make money building websites, you came to the right place.
Businesses and individuals want to operate websites to reach new customers or to communicate with their existing ones. Websites have become a necessity for many business owners.
This represents a great opportunity for web designers to make money. If you play your cards right, you will have no difficulty turning your passion for web design into cash.
Why Make Money Building Websites?
There is a world of reasons to begin building websites for clients. Whether you're looking to supplement your income or turn your passion into a business, web design is a great side hustle and way to make money online.
See Also: 90 Legit Ways to Make Extra Money on The Side in 2020
Easy to begin
First and foremost, it's easy to start building websites. Don't worry about overhead and upfront costs as pretty much all you need is a computer with an internet connection.
Low capital costs
Capital costs are virtually nonexistent. If you already own a computer you have effectively no capital investments to make!
Also, depending on the services you end up offering you may need to purchase software and tools to help with your designs. The good news is that most tools are relatively cheap and some even offer monthly subscriptions so you can start small while you build up your clientele.
Significant income potential
While you'll need to become proficient in a number of skills, the income potential for those who serve their clients well and market themselves effectively is almost unlimited. This side hustle is even scalable, allowing you to hire other web designers and developers to expand your operations and increase your profits if you manage your business well.
Schedule flexibility
Because all of this work is done online and remotely, you're in charge of your own schedule, and as long as you meet your clients' expectations, you can work around other commitments.
High demand
Web design skills are in extremely high demand and talented designers can expect to find legions of clients waiting to make use of their services.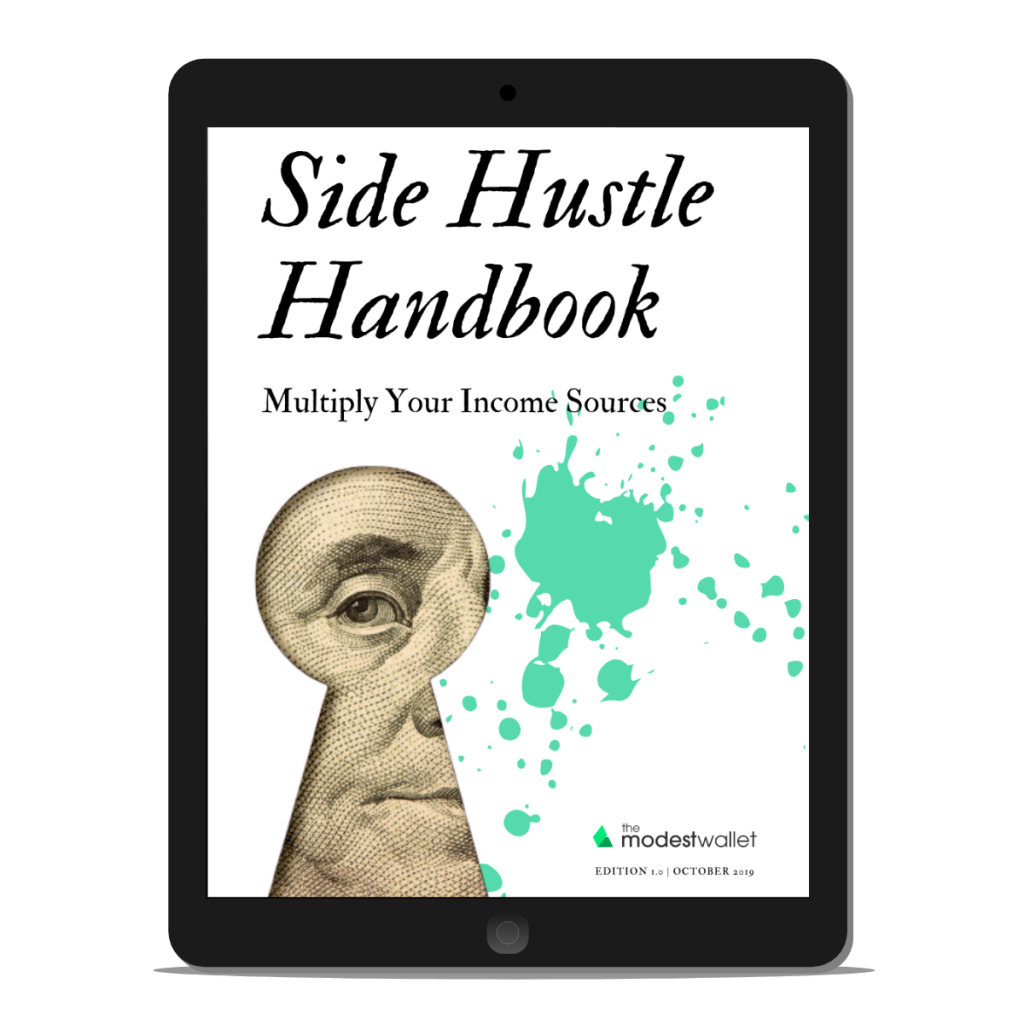 Get our free Side Hustle Handbook with the best strategies to multiply your income sources today.
Plus our best money tips delivered straight to your inbox.
How To Make Money Building Websites
There is no secret sauce to making money building websites for people or businesses. However, here are some steps you can follow to make this endeavor a profitable one.
Step 1: Learn How to Make a Website
To learn the basics of HTML, CSS, and web design, you should get enrolled in one of the many online or offline courses available in places like Udemy, Lynda, Pluralsight, Skillshare, and CodeAcademy. If this is not your cup of tea, then consider learning on your own. There are free guides and tutorials available on Youtube and all over the internet that can help you build your skills.
The good news is that you don't need to learn CSS or HTML to start building websites. There are plenty of platforms offering drag-and-drop features so you don't have to learn how to code to build a beautiful website. The three most popular website builders are:
WordPress
WordPress is a content management system known for its blogging capabilities. WordPress operates on a PHP and MySQL database. The various design elements are modified using a "theme". There are plenty of free and paid mobile-friendly themes available to you. You can find great looking themes at Themeforest.
WordPress allows you to install "plugins" to add features to your site, including integrated tools and eCommerce options. There is a plugin for almost everything you can imagine.
Get yourself familiar with the available plugins and how to install them so you can add all the required features to your site without any trouble.
You may also need to incorporate a page builder plugin like Elementor, Divi or Thrive Architect which replace the basic WordPress editor with a live frontend editor. This allows you to create complex and responsive layouts without knowing a line code.
WordPress is very powerful, but it does come with some disadvantages. The biggest downside of WordPress is that it requires a steeper learning curve than other online websites builders like Wix or Squarespace.
Overall, WordPress is by far the most popular platform with which to build a website.
Wix
Wix is an online website builder that allows users to drag-and-drop elements to build a website without knowing how to code. Wix is a popular option when it comes to designing and publishing your portfolio, blog, online store, or small business website. They literally have hundreds of templates and great tools.
On the downside of Wix is that it lacks some basic features favored by designers and marketing pros. It's also not as customizable as WordPress. However, for what they offer, it has solid pricing and functionality.
Squarespace
Squarespace is a website builder that also simplifies web design and site creation by allowing users to use drag-and-drop elements to create a website. Squarespace is an all-in-one solution website builder that includes domains, eCommerce features, hosting, analytics, and more.
Squarespace is a good solution for people looking to create professional-looking websites without knowing how to code. It has some of the best features on the market.
On the downside is that there is no "plugin" or "app" store at your disposal to add features to your site.
It is best to stick to a platform that works for you and your clients. Consider your personal preference and experience. Also, make sure to opt for a platform that makes migration easy so that you have no problem in shifting from one platform to another should the need arise.
Step 2: Choose a Niche
When you're first starting out, especially if your coding abilities are limited or nonexistent, you'll want to choose a manageable niche. You can narrow your scope in a variety of ways. For example, you may wish to only create websites for gym owners or barbershops. Or you might limit your activities to building with Squarespace or Wix only. You could even restrict yourself to only working with specific themes or page builder plugins inside of WordPress.
The reason behind this is to develop a specialty that you're especially good at and can work on efficiently. As you improve and develop you can build out your capabilities but, in the beginning, you'll want to narrow your focus. Remember that the riches are in the niches!
See Also: 30 Best Gig Economy Jobs That Pay Well in 2020
Step 3: Build a Portfolio of Websites
You may be wondering how you can demonstrate your skills at the beginning of your new career. Your best bet is to build a small portfolio of websites that showcase your talents.
To begin, build your own website. Make sure you build the hell out of it. Make it as incredible and unique as you can because it's your main selling point. This is the property that your potential clients are looking at when they decide whether or not to hire you, so make it spectacular.
That doesn't mean cram as much stuff as you can onto the page. It means that you should give some serious thought to the design and look of your website. Sometimes simpler is better.
Apart from your own site, consider building a sample site or two for the niches you wish to target. For example, if you want to build websites for barbershops, create a couple of mock barbershop sites for potential clients to peruse.
Step 4: Find Clients
There are a number of different places from which you can source clients.
LinkedIn
LinkedIn is a fantastic place to find clients. Virtually everyone on that platform is a professional of some sort and many of them have brands, companies, or even CVs they want to promote online.
You can find clients on LinkedIn by doing a search for the niche you wish to target (say, barbershops) and sending messages to individual users. You may have to purchase InMail credits in order to do this.
Or, you can use the LinkedIn Marketing tool to reach out to many people in a particular category at once. It all depends on the scale at which you'd like to operate.
Local Businesses
You'll find that many local businesses desire an attractive web presence but are too busy with the day-to-day of running their business to actively seek out a web designer. Reaching out to them can be just the push they need to get started building a website.
Don't forget that local businesses might need a slightly different flavor of website that focuses on local SEO and driving foot traffic.
Meetups
Any local event, especially a small business event, can be a fantastic opportunity to network and build your client base. Keep an eye out for any meetups hosted by your local Chamber of Commerce or small business associations.
Freelancing Sites
Sites like Upwork, Fiverr, and Freelancer.com efficiently connect digital professionals with clients. While they'll take a small cut of your proceeds, the fee can be well worth it when these sites open up a world of available clientele to your new business.
Family and Friends
Don't forget about the personal connections offered by your friends and family when you're building a client base. You probably know dozens of people who could use the services of a web designer in your personal network. Make sure you reach out to them and let them know about your new firm.
Just be careful not to pester those close to you. Make sure they know about your new business but don't try to pressure them to buy your services. You don't want to risk alienating those close to you just to make a buck.
Step 5: Start a Business Blog
One of the best ways to attract people to your new website and business is by content marketing. And the simplest way to market using content is to start a blog. Blogs are a necessity because they fill your site with the relevant content that Google and similar search engines use to rank web pages when people conduct searches online.
Make sure that you target your blog content at the sorts of people you hope to attract to your site. So, for example, don't write a blog about your snowboarding hobby on your web design business blog. While you might attract a lot of snowboarding enthusiasts, there won't be many potential customers in that mix.
Consider what topics would be of interest to your ideal client and write on subjects within that area.
When you're creating a blog, it can be hugely helpful to create a content strategy and plan to guide your writing as you move forward. This keeps the information available on your website focused and relevant. Google the phrases "hub and spoke content" and "pillar content" for more fulsome descriptions of what a coherent content marketing strategy looks like.
Pro TIP — Getting Started

: If you're looking for a quick way to get started, head on

Hostgator

and sign up for one of their inexpensive domain hosting plans. You can get a web address for next to nothing and get your website up and running that much faster.
How to Maximize Your Earnings
There are several ways to ensure that you maximize your income from this lucrative side hustle. Here are a few ideas:
Offer Extra Services and Bundles
Remember that what people really want when they hire a web designer isn't just a website, but traffic. They want people to come to their website and sign up for their services or become clients.
You can capitalize on this need by offering services and bundles that increase the chance of a client successfully pointing web traffic towards their website. Consider offering the following services, and perhaps even bundling them together:
Search Engine Optimization
Content strategy
Content writing
Social Media Management
Graphic design
Digital advertising management
All of these services make it easier for potential customers to find your client's webpage, and all of them will inflate your bottom line. You can offer discounts to existing clients or promotional prices for people who buy more than one of your services.
Ongoing Maintenance
Websites, like buildings, require ongoing maintenance. You can improve your top-line revenue and create ongoing streams of income by signing your clients up for monthly, or even quarterly, website maintenance.
Make sure that you don't undervalue these services. Ongoing maintenance and troubleshooting can take a great deal of time so make sure you're charging enough to make the service worth it. At the same time, don't charge so much that no one wants to buy it!
Be Professional
As with all businesses, be professional. Many people make the mistake of treating their side hustle as a side hustle. In other words, they put in less effort than they do at their nine-to-five. Remember that your clients don't care if you've got another job. They just want a professional, efficient, and talented web designer.
So hit your deadlines, be respectful and courteous, and always leave your client happy.
Over Deliver
Never overpromise. If you're unsure of whether you can hit a deadline or meet a milestone, don't claim you can and hope for the best. Ideally, you'll underpromise and surprise your client with at least one extra bonus or feature that they weren't expecting.
Exceeding your clients' expectations can ensure that you'll receive referrals and positive reviews from most, if not all, of your engagements.
See Also: 40 Proven and Legitimate Ways to Make Money Fast
FAQ — Make Money Building Websites
We've found some of the most frequently asked questions about how to make money building websites, here are our answers.
Just how much money can I make designing websites?
There's really no limit to how much you can earn designing websites. But as a general rule, if you recruit two clients per month and it takes you a month to build those two websites (working part-time), you can realistically expect to make $3,000 per month. This is assuming you charge $1,500 per client per a basic three-page website.
How much should I charge to build a website?
Again, it varies significantly but you shouldn't charge less than $1,500 for a basic, three-page website. Ideally, you want to charge between $2,000 to $2,500 per project (three-page website). But it also depends on the complexity and functionality of the website your clients want.
Should I charge a flat rate or an hourly fee?
We suggest charging an amount for each project with your responsibilities and deliverables clearly defined in a contract. You may wish to charge an hourly rate for deliverables that exceed the contracted requirements. You may decide to charge $50 or $60 per hour for additional work beyond the original project.
How do I get paid?
You can arrange to be paid in several ways. If you're using a freelancing portal like Upwork, you'll need to be paid within that service. It's part of their Terms of Service.
If you have found the client outside of a freelancing portal, you may wish to use PayPal. In our view, it's the simplest way to send and receive money online. There are other services, like Venmo, you can use if you and your client are familiar with them.
If you use Quickbooks for bookkeeping, there's an invoicing and payment option built-in to that software you can utilize.
Finally, there are payment processing tools like Stripe and Square that charge minimal fees.
Do I need to learn to code to build websites?
No, but it would certainly help. Learning HTML and CSS would be a great start and neither of those languages is particularly difficult to learn.
Final Thoughts
While there are countless disciplines you can choose from when starting your side hustle, web design just may be one of the most lucrative and rewarding. Because few people have skills in this area, and because so many people are in need of digital services, demand for the craft is sky-high and fees are significant.
So skip the online surveys and paid search bars and jump right into something that can make you real money, real fast.
Up Next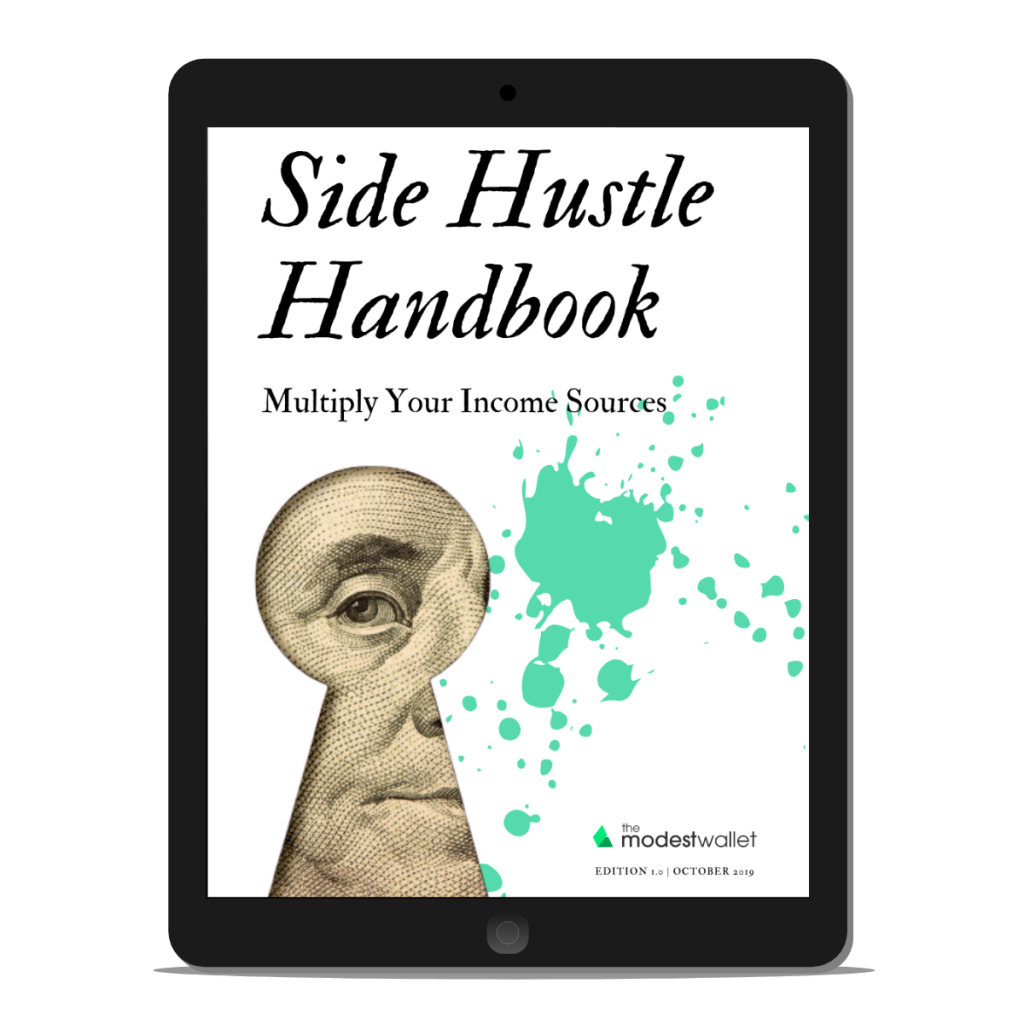 Get our free Side Hustle Handbook with the best strategies to multiply your income sources today.
Plus our best money tips delivered straight to your inbox.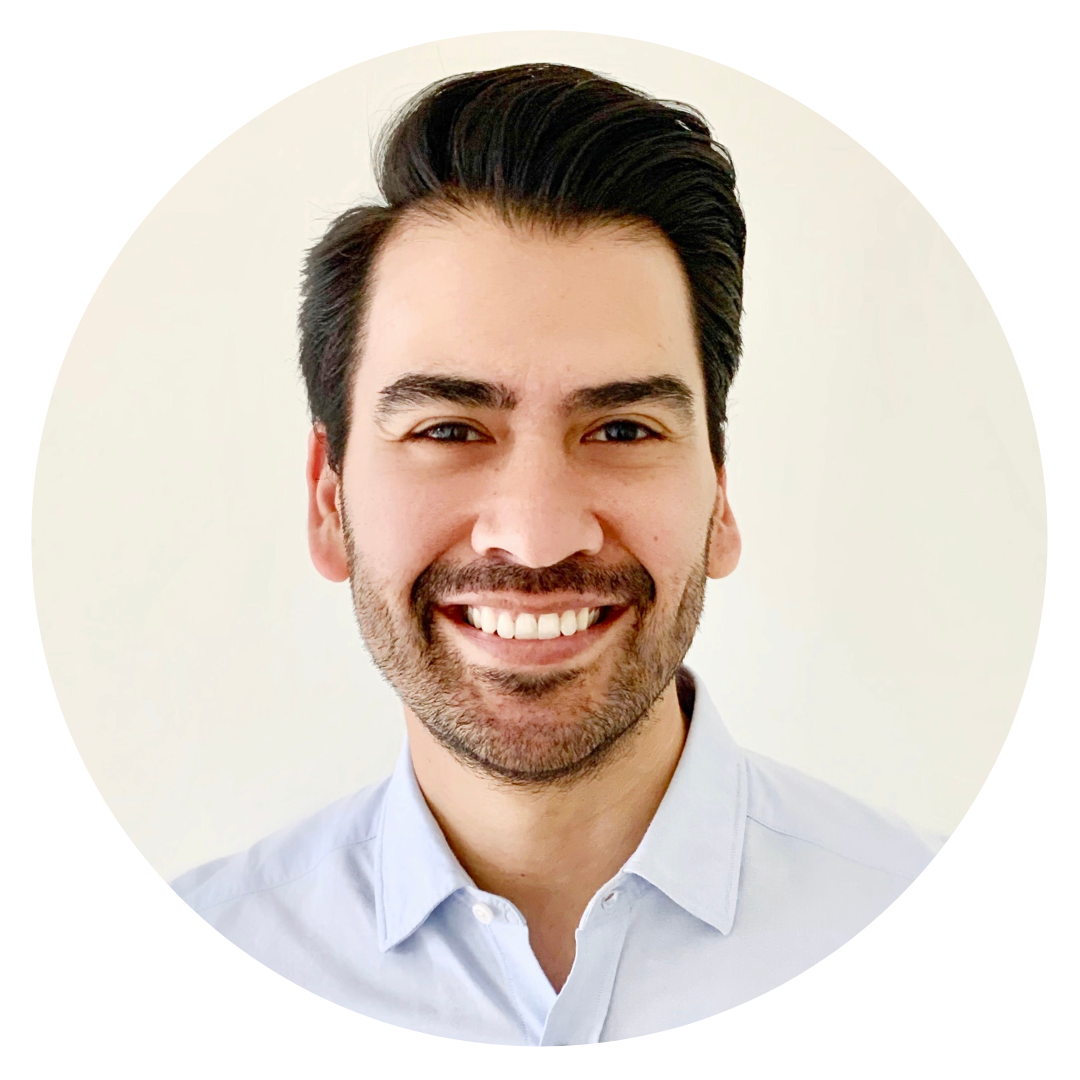 Ricardo is an entrepreneur, investor and personal finance nerd who enjoys spending time with his family and friends, travelling and helping others achieve their financial goals. Ricardo has been quoted as a personal finance expert in several online publications including Healthline, Bankrate, GOBankingRates, MSN Money, Yahoo Finance, U.S. News & World Report, Forbes and USA Today.