Many or all of the products featured on this page are from our sponsors who compensate us. This may influence which products we write about and where and how the product appears on a page. However, this does not influence our evaluations. Our opinions are our own. Here is a list of our partners and here is how we make money.
The information provided on this page is for educational purposes only. The Modest Wallet is a financial publisher that does not offer any personal financial advice or advocate the purchase or sale of any security or investment for any specific individual.
Wondering how to start a blog that actually makes money? You've come to the right place.
Many people dream of making what is sometimes referred to as "passive income". This is money that you make in a steady stream without having to actively "work" for it. That doesn't mean that the money is free. You have to work to create a product or service that provides passive income. But you only need to do it once, and it keeps making money.
A blog is one of the most classic ways of creating passive income in the online sphere. While you have to consistently create new content (so it's not entirely passive), the revenue streams it creates are recurring and, sometimes, the content exhibits impressive growth rates.
But how do you go about creating a blog and monetizing it? Continue reading below for an A-to-Z guide on how to start and perfect your own blog.
What is a Blog?
A blog, short for "weblog", is the internet-based equivalent of a self-published newsletter or magazine. The idea behind it is very simple. On a regular basis, people publish updates about a particular topic or subject area. Hopefully, regular updates begin to draw in visitors and readers.
Blogs can be about anything and anyone. They can have mass appeal or very niche appeal. They can be family-friendly, scientific, fun, educational, or anything in between. Really, the only limit is your ability to create new content for the blog. Anything you can regularly write about will serve as good fodder for a blog.
See Also: 40 Proven and Legitimate Ways to Make Money Fast
Why Start a Blog?
People start blogs for a variety of reasons. The first, and one of the most common, is to make money. Blogs can be monetized via a number of strategies (which we'll explain in more detail later in this article).
Of course, not everyone is out to make a dollar. Some people just like writing about their favorite subjects or connecting with like-minded people.
Regardless of your intentions, there's no doubt that blogging provides several benefits. It's fun. It allows for a great deal of flexibility with respect to timing (you can always write a bunch of posts and then schedule them for later on in the week or month). And you can work from home, or anywhere you can access a laptop, tablet, or even a smartphone in a pinch.
Here are some of the most common reasons why people start blogs.
Make a difference
Share your knowledge and passions
Make money online
Build community
Gain exposure
Become an authority
If you're reading this article most likely you want to start a blog to make money, so keep on reading.
Can You Make Money with a Blog?
The answer to this question is an unqualified "yes". There are several ways to make money from your blog. How much money will depend on how big your audience becomes and the nature of the niche you've chosen. There are blogs that make anywhere from a couple of hundred dollars a month to hundreds of thousands of dollars a month.
At the end of the day, monetized blogging is a form of content marketing. So all of the different ways of making money from blogs focus on a number of things:
The number of readers you regularly draw. (This is the most important factor, by far).
The engagement level of those readers.
The level of trust or authority you've developed with your audience.
Your ability to leverage relationships with suppliers of other products and services.
There are, of course, other important things to consider when trying to monetize a blog. But those are the major factors you'll want to keep an eye on.
How Do People Make Money with Blogs?
We'll describe the specific strategies in detail later in this article but, for now, it suffices to say that people monetize their ability to draw an audience. Just as with television shows, newspapers, or sporting events, anything that draws an audience has the potential to earn money. (And sometimes a lot of money).
You're effectively being paid by sponsors to focus a portion of your audience's attention on products and services of your choosing. So, for example, you might display ads on the pages that your audiences frequent. You might introduce them to products or services they wouldn't otherwise have seen. Whatever method you choose, at the end of the day, you're converting your readership into purchases (or at least trying to).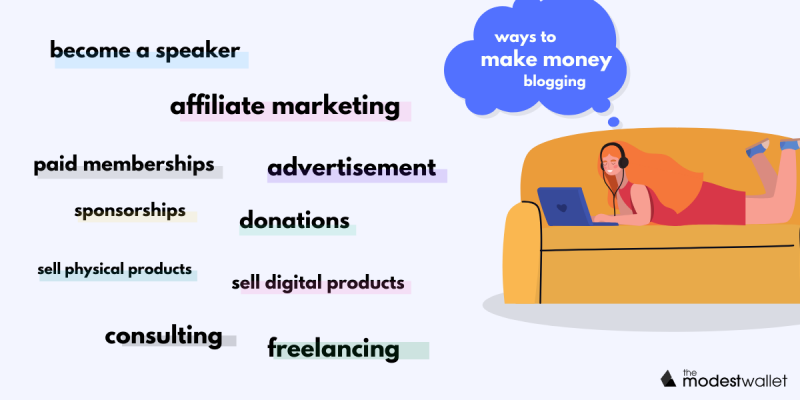 See Also: Free PayPal Money: 20 Legit Ways to Earn PayPal Cash Now
How to Start a Blog: Step-by-Step Guide
And now, without further ado, following is our complete and detailed step-by-step guide to building your own blog.
Decide on a niche
The first thing you'll need to do is to decide on a niche. Very few blogs have no focus. And while some famous people can afford to talk about anything they like, and they still have readers flocking to their blog, our guess is that you're not famous.
But how do you decide on a niche? There's an infinite number of topics out there, and it's tough to choose just one. We've come up with a short list of rules that you should follow that can help you pick a fruitful niche.
Pick something you're passionate about
This is the most important thing to consider. Regularly researching, writing, and publishing material for specific blog articles is a lot of work. You'll give up quickly if you're not passionate about what you're writing about.
So if you're really into roller derby, pick a sub-niche in that area. If you love behavioral economics, go nuts. The exact topic you choose is less important than your level of interest in it.
Find out if people are searching the topic
This rule comes with one caveat. If you're the only one on the planet who's interested in a topic, no one will read your blog. The way to determine if others are interested is to find out through popular search engines if people are searching for what you're interested in.
Gauging user interest in a subject is a science in itself, but there are a few basic ways to do this even if you're unfamiliar with the techniques. First, go to Google Trends and see if searcher interest in your topic is trending up or down on Google.
Pro Tip: Keep geography in mind when you're researching Google Trends. If you hope to attract Americans, stick to the US data. If you want a worldwide audience, expand your search.
There are a number of paid services you can use to see the number of people who are searching Google for particular search terms. Many of these services offer free trials or freemium features. Just google "free search volume tool" and you'll see a list of these services to choose from. If you're serious about blogging, you can get paid keyword research tools to gain a competitive advantage. A good entry-level keyword research tool is KWFinder. It's a powerful tool, yet not too expensive compared to other keyword research tools.
Competitiveness of the topic
Let's say you found a niche you're passionate about. Let's also say that it demonstrates significant search volume, and it's trending up. Have you hit the jackpot? The answer to that question depends on how competitive your area of interest is.
Some subjects have become so crowded that it's increasingly difficult to differentiate yourself from others in those spaces. Think of a subject like makeup and beauty, for example. There are tons of YouTube channels, blogs, and full websites on makeup and beauty topics, from a seemingly endless number of perspectives. These sorts of crowded subject areas are not necessarily recommended because of the limited chances of success.
You can do some preliminary work to find out how competitive a subject or topic is by using paid or freemium services to determine the search competitiveness of popular keywords in the realm you seek to write about. Again, services like KWFinder are great at showing you how tight a market is.
Pro Tip: Consider taking advantage of the free trials offered by these services.
Pick a brandable name
If you're able to find topics of growing interest to readers, and they aren't too competitive, you'll want to pick a name. Not just any name will suffice. Try to find one that will appeal to your target audience, one that's easy to remember, and allows room for growth.
So, for example, rather than "Steve's Blog", a data science enthusiast might consider using something like "Data Mining for Diamonds". The latter allows you to expand past just a blog and contains some keywords that might interest your target audience.
See Also: 33 Best Money Making Apps: Cash at Your Fingertips
Choose a domain name
Once you've chosen a good, brandable name for your new venture, you'll need to pick a domain name suitable for your blog. (A domain name is the text you punch into your browser's address bar to get to your website). www.google.com is a domain name. So is www.whitehouse.gov. The domain is basically the address of your website. In order words, if your website was a house, the domain is the actual address of that house.
There's a ton of services that will allow you to pick a new domain name for your blog, but we prefer HostGator. They've been around forever, and they provide a really slick and easy-to-use site for picking a domain name.
Just go to HostGator and punch the domain name you want into the search box. If the domain name is available, it'll show up in the results, along with the cost of purchasing it. If it's not available, you'll see a list of close alternatives that you might be interested in.
Domain names can be tricky to choose from. You want something that people can easily remember, but that also describes your blog accurately.
Choose a hosting plan
Next, you need to choose a service to host your blog (and other website pages, if applicable). The service providers put the blog you're going to build on a server and make it available to readers. Web hosting is where all the files of your website live. In other words, if the domain was the address of your house, then web hosting is the actual house where that address points to.
As with domain names, there are a large number of services that offer hosting.
We prefer Hostgator. Their prices are amazing, their performance and customer service is really good, and it's super easy to sign up with them.
Pro Tip:

To set up a HostGator account,  first, go to

HostGator

. Once you're there and you have decided which plan is best for you, just click on the "Buy Now" button to get started.
Select a plan that works best for you. At the time of this writing, they're offering a great deal for unlimited websites at 3.95 per month. You also get 1 year of free domain registration on shared annual plans. Hostgator is definitely a great host to get started.
Now, we don't want to spend any more time talking about hosting, but we do think it's important to mention the WordPress hosting service we use, SiteGround.
SiteGround, although a bit pricier than HostGator, is a very powerful hosting service offering the best in class; speed, reliability, performance, and security features. They also have a wicked customer service.
Choose a Content Management System 'CMS'
Some people choose to build their blogs and websites from scratch. For most people, though, this isn't a realistic option. It requires significant knowledge of HTML and other web programming and markup languages.
As an alternative, many choose a content management system or CMS. CMS services allow you to post content without knowing HTML, CSS, or other web-specific languages.
Our favorite CMS, and the most popular one around the world, is WordPress. It's easy to use, cheap, and has a great community of users you can reach out to if you encounter any issues.
Pro Tip:

Go to

wordpress.org

(

not .com

) and download the WordPress platform

(it's free

). Upload the WordPress files to your server. Then, create a MySQL database for WordPress to use. Once that is done, go through the installation process and you're good to go!
We strongly recommend choosing the self-hosted version of WordPress (which is the .org version) if you're serious about blogging and you want greater functionality and flexibility. However, going this route will require some maintenance and tweaking, depending on the template (or theme) you choose and the content you want to include in your blog. (You'll also need to make sure the theme you choose is regularly updated and has good security).
If you just want to write and don't want to have to fiddle with any of the technical aspects of your blog, you may want to use the hosted version of WordPress (wordpress.com).
Pick an appropriate WordPress theme
WordPress allows you to choose from a wide variety of themes to customize the look of your site. The one you choose should depend on the subject matter you've chosen, your own preferences, and your target audience. Try to match the look and feel of your site to what your target audience likes to look at.
Pro Tip: Don't pick a cutesy theme if you're dealing with serious subject matter. Similarly, don't pick a corporate theme if you're writing about something fun. Match your subject to your theme.
There are literally thousands of WordPress themes out there, so it's very easy to feel overwhelmed with the amount of choices. However, for greater flexibility and performance, choose a theme that is lightweight and responsive across mobile devices. This is the most important thing.
You can find really good WordPress themes at Themeforest, they have over 11,000 themes to choose from.
See Also: 48 Legitimate Ways to Get Free Money, Fast and Easy
Write your first blog post
Now the fun part starts. It's time to write your first post! While you could sit down and start writing about anything that strikes your fancy, there's a better way to go about choosing a topic.
You'll want to do some keyword research before you get started on your first post.
First, pick a subject that you imagine people would be interested in reading about. It might be a topic that's trending on Twitter or the news, a topic that hasn't been discussed yet in detail on other blogs, or any other subject that you think your readers would be interested in.
Second, do some specific keyword research (as we discussed in a previous section of this article). Is interest in the topic trending up? Is there significant search volume? Is it reasonably uncompetitive? (Translation: Make sure there aren't tons of articles on the same topic you're about to start exploring in your own writing).
Third, remember to include some of these keywords and key phrases in your article. Do it naturally, though. Don't do what's called "keyword stuffing" where you just cram the keyphrases into parts of the article where they don't make sense. Google doesn't like that and you will get penalized. Most importantly, your readers won't like that.
Pro Tip: "Optimizing" an article for search is a subspecialty of a field known as Search Engine Optimization (SEO). The best practices of SEO could take up a series of articles all on their own. For now, we'll just say that you might be wise to enlist the assistance of an SEO specialist to edit your article for maximum exposure on the web.
Post and promote your article
Now that you've written your first article, you'll want to have people actually read it. So first, post it to your website using the WordPress platform!
Once that's done, there's a variety of ways to get people to go to your article.
Share your post on your social media feeds. Use Facebook, Twitter, Insta, Reddit, and Pinterest to tell people about your new post.
Share your post on relevant message boards. (But don't spam!)
Pay to advertise your post on Facebook or Google Ads. But be warned, this can get expensive. (Especially Google).
As we mentioned above, enlist the help of an SEO specialist to optimize your post for search engines to try and attract organic traffic.
How to Monetize Your Blog
Now we finally get to the good stuff. After all, this site is called The Modest Wallet, not The Modest Writer. You're interested in how you can earn a dollar or two from all the work you just did. And there's a bunch of different ways.
Ads
This is probably the oldest and most popular way to make money from a blog or other website. Monetization by way of banner advertisements has been around almost since the commercial internet began.
The concept is simple. You dedicate X% of your website's screen real estate to advertisements. When people either click or view the ad (depending on the type of program you participate in), you get paid.
Through programs like Google AdSense, for example, the ads your visitors will see depend on their search and browsing histories and the content that appears on your page. This increases the clickthrough and conversion rates which, in turn, increases the money that flows into your pocket.
As with any form of blog monetization, the more visitors you have, the more money you'll make. This is not our preferred method for monetizing a blog as it can be somewhat annoying for the readers.
Pro Tip: Be careful to manage and balance the amount of screen space you're dedicating to ads. People won't return to websites that bombard them with ads. They want a pleasant aesthetic experience, so don't ruin it with gobs of advertisements.
Affiliate Marketing
For many bloggers, affiliate marketing is the holy grail of monetization. The payouts are large, the options are many, and the strategy is flexible enough to allow many different kinds of bloggers to participate.
For those who don't know, affiliate marketing is the practice of companies paying sponsors to direct buyers to their products and services. For every successful sale, the affiliate earns a portion of the proceeds.
Lucrative affiliate partners, especially those offering digital services or products, often pay as much as 25%, 50%, or even 75% of each sale. Even better, many providers of subscription services pay a portion of each monthly subscription that affiliates bring in. This creates recurring revenue for the affiliate.
Affiliate marketers will often work in tandem with the creators of the products they're marketing by providing special deals and offers. It's up to you, as an affiliate marketer, to contact suitable companies and providers to gauge interest in a deal. For example, many companies will be willing to offer extended trial periods or enhanced annual discounts for people who sign up through an affiliate link.
Many major retailers and most providers of digital products offer affiliate programs. Just Google "[name of company] affiliate program" to find their affiliate page.
Affiliate marketing pairs well with a concept called "curation". Increasingly, consumers are looking to advisors, influencers, and well-known people for advice on how to navigate a crowded marketplace. By definition, anyone with a large blog readership is effectively an influencer.
With curation, you create lists, reviews, or other collections of products you've vetted, and you recommend to your readers that they purchase them. If you provide an affiliate link, sometimes attached to a special promotional deal, clickthrough rates and conversions can become surprisingly high.
If you're interested in learning more about how to make money through affiliate marketing, we highly recommend The Affiliate Marketing Video Course by Matt Giovanisci over at Money Lab. This course is hands down one of the best resources to learn the ins and outs of affiliate marketing and make serious money.
Sponsorships
Sponsorships are a great way to earn significant amounts of money with individual deals. If you find that you have a large visitor base or readership, begin to consider what sort of products or services might sell well to them. Then, look into whether any providers of those products or services would like you to sponsor them.
Sponsorship deals can take many forms. Some are simple arrangements in which the sponsored company allows the sponsor to use their product or service for free as long as they're touting the product. Others are more lucrative, allowing the sponsor to take a cut of any sales directly attributed to the sponsorship arrangement. Others are flat-rate deals between the sponsor and the company.
Regardless of the sponsorship arrangement you enter into, always keep your credibility in mind. At the end of the day, people are visiting your page because you have authority. In other words, they trust you and your opinions. If they begin to form the impression that your endorsement can be easily bought and sold, people will trust you much less and your readership numbers will suffer.
Pro Tip: You should only sponsor products or services you can honestly endorse. A key part of keeping your credibility intact is to only sponsor those items or services that are on-brand and that you would realistically use.
Digital Products
Offering digital products is an efficient way to increase the amount of money flowing in through your blog. Just like with sponsorships, this method depends on having a significant readership in order to make an impact.
The beauty of offering digital products is that you don't need to deal with physical inventory. No R&D, no manufacturing, no warehouses, and no logistics. The profit margin on digital products is typically very high, and the largest expenses are those associated with marketing.
There is a whole suite of digital products you can offer to your readers. The type you choose will depend on the sort of topics you cover on your blog. For example, a freelance writer might offer an eBook on how to successfully market a writing service. A graphic artist could offer a collection of her work. A software engineer could write a program related to the topic he or she likes to write about. Templates, photographs, plugins, and themes are all options.
Custom Services
Depending on the subject matter you cover, you may be able to provide custom services to some of your readers. For example, if you're an accountant who writes a blog about small business taxes, you can offer accounting services to your readers. If you're a programmer who has a nature blog, why not offer custom software to state park enthusiasts?
The opportunities are endless, and they're especially numerous among freelancers. Writers, graphic designers, data scientists, photographers, and the like are all perfectly placed to offer custom services to clients online.
Pro Tip:

Don't think narrowly about the services you can offer to your readers. For example, while a writer may be able to offer writing services online, she might also be able to mentor other writers who are just starting out. Or she might offer a class in

becoming a freelancer

.
Expanding Your Readership
Readers don't come from the ether. You must market your blog in order to attract eyeballs. The following are some of the best ways to ensure that you're writing for an audience of one.
Guest blogging
More than any other strategy, guest blogging is a necessity to increase your audience. First, it gets your work on more established blogs, and informs new readers that your blog exists and is worth reading. Second, it creates what the SEO industry refers to as "backlinks". These are links to your page from outside websites. Some (but not all) of these backlinks will increase the ranking of your blog's page on Google.
Facebook and Google Ads
These can be powerful tools, but they must be used sparingly. Ideally, you'll have already successfully monetized your site when you put these into motion. That's because you need to know how much each new reader is "worth" before you can decide if your marketing is showing a profit. Let's consider an example.
Let's say a Facebook Ads campaign cost you $50. It resulted in 1000 new readers being directed to your blog post. 10% of these readers subscribed to your blog. One of these 100 people signed up to an affiliate service which netted you $55. A quick read of these numbers demonstrates that your Facebook Ads campaign showed a profit of $5. Yes! you can make money with paid traffic.
Pro Tip: The example above is woefully incomplete. If you really want to get into the digital marketing game, you should either learn to do it properly or hire someone who can do it properly. There's a lot more to digital marketing than what's described above.
If your up to the challenge and want to learn how to craft converting Facebook ads to drive tons of traffic to your blog from day one, we highly recommend you take the Facebook Ads for Blogger Course by Mike Yanda and Bobby Hoyt over at Laptop Empires. Blogging is hard, it could take months before Google rewards you with organic traffic, so this is a really good video course to start making from your blog with paid traffic using Facebook ads.
Publicity
Related to guest blogging, publicity can come in many forms. Basically, you're looking for mentions of your blog in other media. To accomplish this, you can try a number of avenues. Services like Help A Reporter Out (HARO) will put out calls for expertise that can result in you being quoted in a piece of local or national media. Or you might send out your own press releases to specific media outlets that might be interested in your blog.
Social Media
The skillful use of social media can have dramatic effects on blog readership. Publishing your new posts to your social media outlet of choice, customizing your content for each kind of social media, and ensuring that you're reaching the right audience can all send your daily and monthly numbers skyrocketing.
Pro Tip: Try to target the right form of social media. For example, if you're a photographer, go with an image-focused service like Instagram or Pinterest. If you're a writer, try a more long-form outlet like Facebook.
Final Thoughts
There are a million and one ways to approach the world of blogging. The path we've outlined above is just the way that makes the most sense to us. Feel free to modify any steps that don't apply to your situation.
But please remember the Golden Rule of Blogging: More readers equals more money. You can't successfully monetize a blog that no one's reading. You can, however, work to expand that readership and increase their engagement if you follow the advice outlined above. From there, the opportunities are endless.
Up Next

Ricardo is an entrepreneur, investor and personal finance nerd who enjoys spending time with his family and friends, travelling and helping others achieve their financial goals. Ricardo has been quoted as a personal finance expert in several online publications including Healthline, Bankrate, GOBankingRates, MSN Money, Yahoo Finance, U.S. News & World Report, Forbes and USA Today.