90 Ways to Make Extra Money in 2023
Many or all of the products featured on this page are from our sponsors who compensate us. This may influence which products we write about and where and how the product appears on a page. However, this does not influence our evaluations. Our opinions are our own. Here is a list of our partners and here is how we make money.
---
The information provided on this page is for educational purposes only. The Modest Wallet is a financial publisher that does not offer any personal financial advice or advocate the purchase or sale of any security or investment for any specific individual.
Achieving financial independence and security requires multiple strategies. Before you consider getting a side hustle or part-time job, you need to maximize the net amount of money you're taking home from your full-time job. You can do this by getting your spending under control (and ideally, reduced to a level below your income).
Once you know you are maximizing your income from your full-time job, then you also need to ensure that you're maximizing your opportunities for making money outside of your main source of income. In other words, you need to make extra money.
Thankfully, there are countless ways to save and make extra money on the side. In this article, we'll show you our favorite ways to maximize your income. Continue reading below to find out our best tips!
---
Best Ways To Make Extra Money Fast
Maximizing your earning potential isn't just about making as much money as possible. It's also about making money as quickly as possible (especially if you're strapped for cash). The simple suggestions listed below bring in money fast, so you can focus on other ways to improve your profitability.
1. Get Cash Back While Shopping
There's no sense in making as much money as you can if you're not spending that money wisely. That's where cash back and couponing apps come in. There's a whole slew of options available to the modern consumer that reduces the amount of money you spend on everyday shopping.
Two of our favorites are Rakuten and Capital One Shopping1. Rakuten is a cash-back app that rewards you for shopping at participating retailers. You'll earn cash back as you shop (as long as you have their browser bar installed, or you shop through their app), and once per quarter, Rakuten will send you money. It's that simple.
Capital One Shopping is an online coupon and discount app and browser extension. Capital One Shopping notifies you of any available coupons or discounts for the products in your online shopping cart before you click "Buy." If you are shopping on Amazon, Capital One Shopping will let you know if there is a better deal elsewhere. You can also create watchlists so Capital One Shopping can notify you when prices drop.
Searches thousands of merchants and helps you find incredible deals
Earn credit for purchases on popular sites like Walmart and eBay
Setup price drop alerts for products you've viewed or purchased
Capital One Shopping codes are updated in real-time and applied automatically at checkout
>> Read Also: Capital One Shopping Review
2. Paid Online Surveys
You won't make a killing with paid online surveys, but you'll definitely make more than you would have by just sitting on the couch and watching Netflix. The idea behind these sites is pretty straightforward: Companies pay them to distribute their surveys to consumers like you. The survey company gives you a small cut of the proceeds in exchange for providing consumer data by completing surveys you're eligible for.
There are several different paid survey sites online, including:
Any of these sites will allow you to complete surveys. A few, like MyPoints and Swagbucks, will even allow you to complete other tasks like watching videos or playing games in exchange for small payments.
3. Cut Unnecessary Subscriptions
Unnecessary subscriptions can be a massive drain on your income. Cable TV, mobile phones, magazines, newspapers, and other subscriptions can be inexpensive on their own. When you add them up, however, many people pay hundreds of dollars per month to keep all those subscriptions active.
Luckily, there are services available that will help reduce the costs of your subscriptions. First, there's a service called Rocket Money that will help you identify all of the subscription services you're currently signed up for. Then, if you choose to cancel them, Rocket Money can take care of the process for you.
For those services you don't want to cancel (like your mobile phone, for example), Rocket Money will contact the service provider and attempt to negotiate a lower rate. If the effort is successful, Rocket Money will charge you a portion of the annual savings.
As another option, a company called Billshark focuses entirely on bill negotiation. With your permission, it will contact your service providers and negotiate a lower rate for the services you've purchased. Like Rocket Money, it will charge you a fee based on the annual savings it gains on your behalf.
4. Move Your Money to a High-Interest Savings Account
This one is super simple. If you have a savings balance, check to see how much interest you're earning in the account you keep it in. If it's a low rate, check with your bank or credit union to see if they offer a high-interest savings account.
You may want to check if your bank offers products that are similar to savings accounts, like money market accounts or certificates of deposit. These can bring in higher interest rates without the risk associated with the equity markets.
Aspiration is a financial firm offering competitive spending and savings accounts with a focus on rewarding customers with up to 10% cash back for purchases made from "ethical" companies.
5. Make Money Shopping Online
We mentioned something similar to this in the cash back section, but it bears repeating. When you shop online, be sure to take full advantage of money-saving apps to earn rewards and discounts. An app called Dosh allows you to do just that, rewarding you with money in your PayPal account when you earn $25 worth of cash back rewards.
6. Refinance your Debt
Debt refinancing can be a relatively fast and easy way to save thousands of dollars on interest payments on outstanding debt.
For those who are unfamiliar with the term, debt refinancing refers to the practice of replacing a debt obligation with another one, with different terms. So, for example, your 5% interest loan payable in 3 years might be refinanced at 4% over 2 years.
A service called Credible will show you the various rates and terms you can receive on outstanding student loans. Because Credible's credit inquiry doesn't count as a "hard check," it won't affect your credit score to see what sort of rates you can qualify for from various lenders.
7. Save on Bad Credit
One of the first things you should focus on when trying to earn money quickly is improving your credit score. A score at the lower end of the spectrum will indirectly cost you money because it will negatively affect the rate at which you can borrow funds.
The rules for maintaining an excellent credit score don't change. If you're just learning about what constitutes a good credit score, the primary rules include:
Maintaining a credit utilization rate of 30% or less (increase your credit limits if you have to).
Making every bill payment on time.
Reviewing your credit report for any inaccurate, negative entries, and contacting the credit bureau to have them removed.
A service called Credit Karma will allow you to keep tabs on your credit score over time. They're both free to join, and they provide great informational value.
After you've cleaned up your credit score (which is usually doable in a matter of months if you're focused), then consider refinancing your debt to obtain lower interest rates and more favorable repayment terms.
8. Sell Your Old Textbooks
You wouldn't leave a pile of cash just sitting somewhere in your home, would you? Well, that's what you're doing if you don't make use of your old textbooks after you're done with them.
A quick trip to a website called BookScouter will show you the prices different websites are willing to pay for your gently used textbooks. (Note: you'll find that you get better prices for books in good condition that are relatively recent.) So get on the website the moment your semester ends to maximize your earnings.
>> Read Also: 30 Best Gig Economy Jobs That Pay Well
9. Earn Rewards
If you're looking to earn shopping-related rewards without actually buying anything, you should consider the Shopkick app. This app allows you to collect points, called "Kicks," by completing tasks like walking into a participating store, taking a picture of a specific item's barcode in that store, and linking a loyalty card to the app.
Of course, you'll also earn Kicks when you buy items from the stores listed in the app. You can combine the Shopkick app with other apps that we mentioned earlier in this article (like Dosh, for example) to earn extra rewards.
10. Maximize your Savings While Shopping
If you're looking to stretch your dollar while grocery shopping, look no further than Ibotta. Ibotta is an app that rewards you with cash back when you shop at participating grocery stores (including some of the largest grocery chains in the US).
If you'd like, you can join teams of users on the app to increase your savings and earn team rebates, with rates that depend on how much you and your teammates shop at particular stores.
11. Use Swagbucks as Your Search Engine
In our "Paid Online Surveys" section above, we included Swagbucks in our list of online survey providers. Well, Swagbucks also offers a search bar (powered by Yahoo!) that rewards you with points every time you conduct a search using that search bar. It's a simple and easy way to earn a few cents every time you look for something online.
>> Read Also: Get Paid To Seach The Web
12. Get Money Back on Price Drops
You may not be aware that many retailers will offer you a partial rebate if an item you buy drops in price shortly after you buy it. For example, let's say you buy some shoes from your favorite store for $100. Two days later, those same shoes go on sale for $69. Many shops will refund you $31 in this situation — the catch is that you have to be aware of the price drop and request a refund.
An app called Paribus, now owned by Capital One, will monitor the current price of your recent purchases and inform you if there's a drop in price shortly after. It will even automatically send an email to some retailers to request a refund for you.
---
Best Ways To Make Extra Money Online
There are all sorts of ways to make extra money online. From testing products to creating digital products to sitting on an online jury, the sky's the limit when it comes to making a dollar or two on the Web.
13. Become a Product Tester
Sites like UserTesting and uTest offer digital product testers the opportunity to earn money while trying out new, sometimes unreleased apps and websites.
The premise is simple. App and website designers and developers in need of real customer feedback will pay you to provide that feedback during live, video- and audio-recorded sessions.
At both UserTesting and uTest, your ability to provide feedback is ranked by the paying clients. Actionable, specific feedback regarding the products you test results in higher rankings and eventually, higher pay.
>> Read Also: Get Paid To Test Products
14. Teach English with VIPKid
VIPKid is an online English as a Second Language teaching service headquartered in Beijing. It caters primarily to Chinese youngsters looking to sharpen their English skills with real, native speakers of the language willing to teach them. That's where you come in.
VIPKid takes care of the curriculum, training, scheduling, and marketing. All that's left for you to do is teach.
You're ranked by the students and parents of the students, so in order to get your contract renewed, you'll need acceptable scores from these two groups. As with any online money-making endeavor, customer service is key.
Current users indicate that effective teachers make approximately $20 per hour, which isn't a bad wage for those who enjoy teaching and education.
>> Read Also: 30 Best Online Jobs That Are Legitimate and Actually Pay Well
15. Get Paid to Stay in Shape
It makes financial sense to stay in shape. Lower medical bills, lower insurance premiums, and fewer doctor visits are just a few of the rewards you'll receive from staying healthy. But, in addition to that, there are a few apps that will literally pay you to do healthy things.
HealthyWage is a site on which you can wager on your ability to lose significant amounts of weight in a set period of time. You log on, indicate how much weight you intend to lose (and in what amount of time), and make a deposit. If you're successful, you earn back your deposit plus a reward for meeting your goal. If you're unsuccessful, you lose the money you've wagered.
Another health-focused app, Sweatcoin, pays you for every step you take outside of the house. Using the geolocation and pedometer functions on your phone, Sweatcoin tracks your outdoor movement and gives you rewards corresponding to the number of steps you take outside.
Neither of these apps will replace a full-time job, but they're a great way to be rewarded for engaging in healthy activities.
16. Get Paid to Watch Videos Online
Swagbucks deserves mention again. Not only can you use the Swagbucks website to take paid online surveys or run internet searches, but Swagbucks will also pay you to watch videos online. Most of the videos are short, sponsored content that is super easy to digest. You won't make a ton of money, but with something this easy to do, that doesn't matter. It's a nice way to make a few extra dollars while you're sitting on the couch.
>> Read Also: Get Paid To Watch Videos
17. Create an Online Course
Online courses are an amazing source of online passive income. Once created, a successful online course will continue to bring in money over extended periods of time.
You can create an online course in a variety of subject areas and fields. You need a significant level of expertise in the subject your course covers, and then to make it useful and engaging for others.
Most online courses provide combinations of video, audio, and written material. You'll want to ensure that the production values for the video portions of the course are high enough for what you're offering, that the quality of the audio is good, and that the copy for the written portions is flawless. People pay close attention to the quality of paid online courses, and a few bad reviews can make it very difficult to continue selling the product.
A service called Podia allows you to publish and monetize your online courses.
18. Create an eBook and Sell it
E-books are similar to online courses. You create them once and they can continue to generate income for as long as your target market is interested in the material.
The internet has brought publishing to the masses. A literary agent and established print publisher are no longer required to release a book. An Amazon Kindle Marketplace account, an idea, and some writing ability are enough to become an author these days.
As with online courses, subject matter expertise, product quality, and consumer interest are necessary ingredients for a successful eBook launch.
19. Get an Online Data Entry Job
Online data entry jobs are excellent ways to break into the online freelancing world. Requiring few specialized skills (other than a general level of technological literacy), online data entry clerks can make a decent living entering information for clients who would rather not do it themselves.
Be warned — this can be a grueling job, requiring many hours of close concentration and minute detail. However, if you use it as a stepping stone to other forms of paid online work, it can be well worth it.
>> Read Also: Best Side Hustles That Pay Weekly
20. Be an Online Juror
Attorneys conducting litigation frequently require an indication of the strength of their cases. They use that information to inform whether they will try to reach a settlement agreement with the opposing party or if they'll take the matter to trial.
Online juries offer lawyers a new way to get that information. And there are services that will pay you a fee to sit on an online jury. If you participate, you'll be required to read a fairly lengthy summary of the lawyer's case and render a verdict in the case.
21. Be a Search Engine Evaluator
Many of the services and websites we take for granted every day (Google, Facebook, Twitter, etc.) make heavy use of artificial intelligence (AI). That AI requires training, (usually by human agents) in order to learn how to carry out its functions.
Most of this training takes the form of microtasks. Microtasks involve categorizing images ("hot dog" vs. "not a hot dog"), rating outcomes, or entering data.
A service called Appen (formerly Leapforce) is a website that allows you to perform various microtasks, including the evaluation of search engines, for small fees. As with online surveys, you won't get paid a fortune for performing these tasks, but it is preferable to sitting around not getting paid anything.
22. Work at an Online Call Center
Many call centers have shifted toward offering online and remote work to their agents. The upshot of this is that you can work a full-time job sitting at home and answering calls.
You can find online call center work virtually anywhere on the internet (just search "online call center" or "remote customer service" to see a sampling of the available jobs). The pay is not extraordinarily high but, again, it's more than you would make watching TV.
---
Best Ways To Make Extra Money With A Side Hustle
Here's where we start to get into some real money-makers. A good side hustle can bring in as much, or more, than your full-time job. You'd be amazed at the amount of money you can earn online if you're good at the services you offer.
The side hustles listed below (particularly the digital marketing-related specialties) all have the potential to bring in significant income in short periods of time.
23. Become a Facebook Ad Expert
Facebook Ads are an incredibly powerful form of marketing for small- and medium-sized businesses all over the country. Facebook allows businesses to micro-target tiny, highly responsive subpopulations of potential clients which can generate huge returns on ad spend for companies that have small marketing budgets.
However, many of these small businesses don't have the technical or digital marketing knowledge required to accurately market to their audience. That's good news for you.
You can quickly learn how to effectively create, manage, and optimize Facebook Ads with the FB Side Hustle Course available at Laptop Empires. This online course cuts out the fluff and gets straight to the point, turning you into a Facebook Ads guru within 28 days.
The skills taught by this course are especially useful to market to small service businesses with local reach, like hairdressers, restaurants, lawyers, and anyone else who relies on walk-in traffic from the neighborhood. And the great thing about Facebook Ads is that they can be managed remotely, so your potential accessible markets are literally countrywide.
>> Read Also: Best Food Delivery Service to Work For
24. Get Paid to Drive
Car-sharing services have exploded in popularity over the last 10 years. Both Uber and Lyft offer very competitive rates to drive passengers. Of course, you'll need a smartphone and access to a vehicle (preferably a fuel-efficient one).
Customer service is hugely important in this business. Passengers and drivers rate one another regularly, and those ratings are used to inform future clients' willingness to ride with you.
One thing you should always keep in mind while driving for a company like Uber or Lyft is the cost of vehicle maintenance and fuel. It's important to keep an accurate P&L, or profit and loss statement, to keep track of your maintenance and fuel costs. This will give you a fuller picture of your net income as you drive.
25. Grocery Shop for People
Grocery shopping is one of the many tasks being outsourced to gig economy workers. Many people don't have time or the ability to shop for their own groceries, and instead rely on grocery delivery service apps to have their groceries collected and delivered right to them.
Both Shipt and Instacart allow you to get paid for grocery shopping on behalf of others. Instacart will even allow you to restrict your activities to the actual shopping and leave the delivery to someone else. This is a great option for someone who doesn't have a car or a driver's license.
26. Get Paid to Deliver Food
Delivering takeout is a common side gig for many people looking for extra income. Apps like DoorDash connect restaurants to hungry patrons who don't feel like leaving the house. If you have a car and a smartphone, you can deliver food for those folks.
As with Uber and Lyft, you'll live or die by your customer ratings, so make sure you deliver excellent customer service with the food.
>> Read Also: Best Food Delivery Service To Work For
27. Walk Dogs
Rover is an app that connects pet sitters and dog walkers with busy pet owners who don't have the time (or perhaps the inclination) to walk or supervise their own pets. Perfect for animal lovers, Rover is a service that allows people to spend time with the dogs and cats they love while making money at the same time.
28. Pet Sit
Of course, you don't need an app (like Rover) to pet sit for someone. If you're a reliable caregiver for your neighbors' pets, you'll quickly develop a reputation that leads to customer referrals. While working for your neighbors and surrounding communities doesn't come with an app with a formal rating system, good customer service remains just as important as ever.
29. Babysit
Just as people need others to take care of their pets, many people also need babysitters. People are willing to pay significant amounts of money to those who are willing to take care of their children, whether during the day or in the evening. Platforms like SitterCity provide the opportunity for you to offer your services as a babysitter.
Reliability, dependability, and careful attention characterize a good babysitter. Demonstrating these qualities over time will lead to referrals and repeat business.
30. House Sit
House sitting is an interesting side gig. You get to (occasionally) enjoy lavish homes for free. In fact, you'll get paid to hang out in these houses and basically make sure they don't fall down around you. Sometimes you'll need to watch a cat or a dog at the same time.
Like babysitting and pet sitting, house sitting is a pretty straightforward job. Be dependable, reliable, and consistent, and you'll soon have more referrals than you know what to do with.
31. Start a Blog
Successful blogs are gifts that keep on giving for those looking for consistent extra income. Like good online courses or eBooks, blogs provide fantastic largely passive income for those skilled enough to create and sustain a dedicated following.
It can be difficult to learn all of the skills required to develop a successful blog. Digital marketing, copywriting, technological savvy, and web publishing are all necessary competencies for those interested in adding this tool to their income-earning options.
Luckily, the Full-Time Blogger course teaches all of these skills and more. This course by Larry Ludwig will have you ready to start blogging with purpose in no time at all. Rather than offering the fluff sometimes taught by more bloated courses, the Full-Time Blogger course teaches everything you need and only what you need to get started blogging and become a full-time blogger.
By the way, Larry sold his previous blog (Investor Junkie) for $6 million in 2018. So, he definitely knows what he's talking about.
See Also: 25 Best Side Hustle Apps to Make Extra Cash
32. Start a Podcast
Podcasts are very similar to blogs, in that they rely on the regular addition of new and valuable content in order to bring in an audience. Anyone who's a subject matter expert in an area and can put together reasonably well-produced audio is a great candidate for a podcast.
The key to developing a dedicated following, whether for a blog, a podcast, or a YouTube channel (discussed below) is authority. You need to have expertise and authority on a subject in order for people to want to listen to what you have to say about it.
This authority usually comes from a combination of your experience, education, and demonstrable accomplishments in a specific area, so pick your niche carefully. Choose one where you can demonstrate substantial authority, and you'll be well on your way to nurturing an audience.
33. Start a YouTube Channel
Think of a YouTube channel as a podcast with video. The same principles apply. You need authority in a specific niche. You need to carefully and properly market your channel. And you need to nurture your audience, developing a loyal and consistent following.
YouTube channels are monetized in a variety of ways. Affiliate links, ads, and sponsorships are some of the most common strategies. A full explanation of each of these methods is outside the scope of this article but what we can say here is that a popular YouTube channel can be extraordinarily profitable.
34. Sell Printables with Etsy
Etsy provides remarkable opportunities for income for anyone with a creative bent. But what do you do if you need some inspiration to get started? Our advice is to start with something simple. Use whatever you're talented at to create small and easy-to-make products that people might like.
If you're at a loss for ideas, consider Etsy selling printables. Printables are digital documents that people can print out at home. They include grocery checklists, holiday cards, invitations, gift tags, and anything else that can be printed on paper.
There's a fantastic online course that takes you through all the steps of creating a highly profitable printables shop: The E-Printables Side Hustle Course offered by Gold City Ventures. This course gets right to the point to show you how to turn a few digital documents into cash in your pocket in a matter of hours.
35. Start Your Dropshipping Store
Dropshipping is a relatively new trend that works extremely well for some people. Dropshipping involves several steps:
Creating and nurturing an online following
Curating a product list that's of interest to your following
Sourcing a supplier of each product
Selling those products at a slight markup
Arranging for the products to be shipped directly from the supplier to your customers upon order
As you can see, the bulk of the value-add in dropshipping comes from product identification and curation for your online audience, making it similar to affiliate marketing. Your success depends upon your ability to garner trust and authority in a subject in order to sell items to your customers.
36. Develop an App and Sell It
This suggestion is a little bit more involved than some of the other items on our list. But if you know programming languages that are popular with app developers (like Java and Python), and you've got a great idea for an app, you can make a ton of money developing simple software and selling it to the masses.
The key to making money at app development is finding the right niche. Don't go too broad. Instead, pick a narrow market and find out what problem you can solve for them. Develop a simple and straightforward solution for that problem, make sure it does what you set out for it to do (without crashing or hogging CPU resources), and put it on the app store of your favorite device.
37. Start a Bookkeeping Business
Bookkeeping is an absolutely crucial part of any successful small business. Fortunately for bookkeeping professionals, it's also a skill that many small business owners lack.
The rise of the Web and cloud software has created an explosion in opportunities for remote and online bookkeepers. Virtually all major bookkeeping software now comes in a cloud version that can be accessed from anywhere. In fact, many bookkeepers never set foot in their clients' physical offices.
But how do you take advantage of this niche if you don't know the difference between a balance sheet and a statement of cash flows? There's a fantastic online course at Bookkeepers.com that will take you through launching, growing, and scaling your bookkeeping business. You'll learn all of the skills you need to go from newbie to seasoned professional in no time at all.
>> Read Also: 20 Best Places to Sell Used Furniture for Cash 'Online & Locally'
38. Get Paid to Do Voice-Overs
Do you have a voice made for radio? You just might be perfect for voice-over recording. All sorts of people need scripts read out loud for use in ads, podcasts, and videos of all kinds.
Many freelancing websites are inundated with requests for people who can turn scripts into attractive and enticing audio. If you've got the voice, they've got the money.
39. Write Resumes for People
Resume writers are in high demand right now, with people in all kinds of industries looking for ways to better market their skills to employers. Individuals with a talent for distilling complex information into short and punchy prose are particularly sought after in the resume-writing game.
You may be especially well-suited for this side hustle if you have a background in hiring, recruiting, or human resources. If you have industry-specific experience in a particular area (like software development or law), you might have even more luck attracting clients from that industry.
40. Sell Your Own T-Shirt/Merch
If you have a successful brand or you have a great idea for garment design, selling branded clothing might be a great option. A company called Printful takes care of all of the printing work for you and even operates as a dropshipper for your items.
The value-add in this side hustle comes from originality and niche targeting. If you're able to find an unserved target market and create something original that people might enjoy, you can make a significant profit filling that niche.
---
Best Ways To Make Extra Money As A Freelancer
Depending on the industry, freelancers can make substantial amounts of money serving clients as a side hustle. These side hustles can sometimes become so profitable that they become full-time jobs.
41. Become a Social Media Manager
Social media management has become a necessary component of any complete marketing strategy. However, many small- and medium-sized business owners have no idea how to execute a social media plan. So why not help them out?
Social media managers handle the Facebook, Twitter, Instagram, Pinterest, and YouTube accounts of their clients. You'll need to be well-versed in the intricacies of each social media platform, as well as the paid promotion services offered by each one. You'll also have to know which social media platforms you want to target. Image-heavy brands may want to lean towards Pinterest and Instagram, while personality-based companies may prefer YouTube and TikTok.
42. Become a Virtual Assistant
If your experience doesn't lend itself to working as a freelance writer, or you just plain hate writing, becoming a virtual assistant (VA) may be more up your alley.
Virtual assistants are exactly what they sound like. They perform the duties of an assistant from a distance. Working remotely, they answer calls and emails, arrange schedules, make appointments, and generally keep their employers' lives on track.
They use a variety of tools to make their work happen. You'll either need to be familiar with the necessary tools already, or be willing to become an expert in them. For the latter, you should give serious thought to the Horkey Handbook online course for virtual assistants. This course will take you from a neophyte to an expert in less than 30 days. You'll learn everything you need to know to be a star virtual assistant — and just as importantly, how to start earning real money doing it.
43. Become a Freelance Writer
Freelance writing is the go-to profession for people looking to earn serious money on the side. Freelance writing is especially well-suited for professionals and office workers who regularly work with the written word (whether that's in the form of memos, opinions, letters, or any other short- or long-form text). If you have a talent for clear written communication, produced quickly, then you'll likely find that freelance writing can bring in substantial amounts of money.
The most difficult part of freelance writing, like freelancing generally, is getting started. While freelancing websites and online articles can take you part of the way, there's no substitute for a concentrated and effective course to give you a head start.
That's where the Earn More Writing course comes in. Perfectly suited to the budding freelance writer, Earn More Writing teaches people how to maximize their earnings at the beginning of their new careers. Armed with this course, you won't waste your time with unnecessary timesinks or useless resources. Instead, you'll focus purely on the tasks and strategies that will earn you money today.
>> Read Also: Free PayPal Money: 20 Legit Ways to Earn PayPal Cash Now
44. Become a Freelance Proofreader
Becoming a freelance proofreader is much like becoming a freelance writer. There are important differences, though, even beyond the obvious.
While freelance writing is as much an art as a science, proofreading is highly technical. There are standard notations and rules that every proofreader is expected to use and follow.
This makes an online course like Proofread Anywhere ideal for people just starting out in the field. Proofread Anywhere offers its students a no-nonsense, practical approach, full of concrete strategies you can apply immediately to begin making money as a proofreader. Not only does it teach the skills needed for proofreading, but it also teaches the fundamentals of running a small freelancing business.
45. Become a Transcriber
Transcription is necessary for several industries. Legal and medical professionals have especially found transcription invaluable for the large amount of audio and video data they regularly deal with.
Like proofreading, transcription has a lot of technical rules that clients will expect you to follow religiously. These rules can vary by industry, however, so you'll need to know the standards for the industry in which you're working.
Transcribers with industry-specific knowledge and experience (medical professionals especially) will find their expertise to be invaluable as they pursue clients and complete transcriptions.
Transcription lends itself very nicely to remote work, and a course called Transcribe Anywhere will teach you the foundations of starting and running your own transcription freelance service. You'll quickly learn the technical and business skills you'll need to maintain a healthy side income.
46. Become a Tutor
Perfect for anyone who regularly works with children or in the educational sector, tutoring can be a fantastic way to make extra money on the side. Tutoring is especially well-suited to teachers, professors, and teacher's assistants, although pretty much anyone with a significant degree of in-demand subject knowledge can succeed as a tutor.
You'll need to combine a talent for your area of expertise with a knack for teaching and client service. After all, all the knowledge in the world won't help you if you can't impart it to your students.
47. Become a Graphic Designer
Graphic design is in massive demand on the major online freelancing portals and platforms. Talent for drawing and designing are in short supply and many of those who possess these talents are already fully occupied.
Freelance graphic design is perfect for anyone who has both talent and time on their hands. You don't need to be in a graphic design-related field or even have formal credentials (although these will both help). Instead, what seems to help freelance graphic designers land great clients is a stunning portfolio, a good website, and solid marketing skills.
48. Become a Web Designer
Web design combines elements of graphic design, programming, and copywriting. To succeed in this field, you'll need talents in all of those areas, or an ability to recruit partners with those talents.
Similar to graphic design, formal credentials and professional experience can be helpful, but a lack of those things doesn't mean you can't have a freelancing career. A portfolio of previously designed products that impresses potential clients is the main thing you'll need to attract new work.
If you're just starting out and don't have any previous clients, design an amazing website for yourself to show off your skills.
49. Become a Translator
There are very few people in the market who can accurately translate. The less common the language, the more likely you are to be in high demand. For example, while millions of people may be able to accurately translate German to English, very few will likely be able to translate Tagalog to Arabic.
Simply being able to speak the languages in question, though, doesn't mean you can immediately begin translating. Translation (especially real-time translation) requires a particular skill set. Be sure to systematically develop these skills as you take on newer and more challenging clients.
---
Best Ways To Make Extra Money Renting or Selling Stuff
If it's sitting in your closet, it's a waste of money. So turn that idle junk into income-earning gold by renting or selling your personal property.
50. Rent out your Stuff
A lot of the things we own are valuable to others. Computers, cameras, musical instruments, and the like could all be of interest to people who need to temporarily use them.
A website called Fat Llama allows you to rent out your personal property to other people for a fee that you set. Rarer and more specialty items like high-end cameras and computers will go for higher rates than more popularly available items like inexpensive instruments.
So go through the stuff you own and try to imagine what other people might want to use. Then list it on Fat Llama to see if anyone has any interest in paying you to rent your stuff.
51. Sell Things You Don't Need
Rather than renting things you don't need to other people, why not just sell those things entirely? The market for used goods is much larger than the market for used goods rentals. Sites like OfferUp allow you to list your used items for purchase for people in your local area to buy.
Obviously, a service like OfferUp works much better for people who live in areas with a large population. But even people in rural areas can make use of services that offer used goods for sale online.
If you need to thin out your closet, sites like thredUP and Poshmark will sell your gently used clothes online without any need for you to meet someone in person. If you find yourself with a closet full of clothes you never wear anymore, give ThreadUp and Poshmark a try.
52. Get Rid of Unused Electronics
Decluttr is like the Poshmark of electronics. Decluttr will take your gently used electronics off your hands, and it's perfect for people who like to get the newest phone models every year and are constantly upgrading their personal electronics.
You just punch in the model number and name of your item, along with the condition it's in, and Decluttr will give you an estimate. After shipping the item (shipping costs are on them) to Decluttr, they'll confirm the condition of the item and, if everything's on the up and up, they'll send you the money.
Check out our full Decluttr review to learn more.
>> Read Also: 25 Creative and Legit Ways to Make Money as a Teenager
53. Rent out Your Car
If you're like most people, a car is one of the most expensive things you'll ever own. But how would you like to turn that hunk of metal and plastic into an income-producing asset?
Sites like Turo and Getaround will let you rent out your car to people in the market for some temporary wheels. Both of these services have apps that are similar to Airbnb (discussed below).
As a car owner, you set the price you want (calculated per hour) and list the vehicle for rent on the app. If anyone wants to rent it, they just click the appropriate button in the app, and it's theirs for a little while.
There are small differences in the functionality between Turo and GetAround, but the principle is the same for both. You may be forced to choose one over the other based on your location, because they're available in different countries and cities.
54. Rent Out Your Home
Airbnb has brought the ability to rent out a room in your home, or your whole house, to almost everyone in the world. The more attractive your home, and the more attractive the area in which you live, the more you can charge to people wanting to avoid the high costs and uniformity associated with hotels.
Be careful to adhere to local zoning rules and regulations, though, as some municipalities do not allow short-term rentals.
55. Sell Old Gift Card with Raise
If you're like a lot of people, you have a few old gift cards laying around from businesses you rarely shop with. Instead of throwing them out, you can sell them to someone looking for reward points on a site called Raise. Raise offers you up to 85% of the gift card's store value (which is a much better option than the 0% the trashcan offers).
>> Read Also: How To Sell Amazon Gift Cards For Cash
56. Rent Your Parking Spot
If you got a parking spot with your apartment, but you don't have a car, and the terms of your lease allow for it, you should consider renting your parking spot to someone else. In some areas, particularly densely populated urban neighborhoods, good parking spots are almost impossible to find, and command a high price.
Instead of letting it sit empty, list the spot on Craigslist or Kijiji and see if there are any takers. You can use apps like Pavemint to connect with people looking to rent a space.
57. Flip Domains
If you've got a talent for negotiation, and you can spot a trend before it blows up, flipping domains might be the side hustle for you. You can grab up most domains for just a few dollars a year. And the ones that wind up sitting on prime internet real estate can be sold for thousands (or even tens of thousands) of dollars.
58. Flip Websites
Websites that draw traffic are valuable commodities to the right people. But it can be difficult to know how to value them appropriately and where to find bargains to flip websites for profit.
A course offered by The Website Flip called the Best Deep-Dive Course Into Website Flipping will teach you the right way to sell a blog or other website. You'll learn to properly value the potential of a site based on its historical traffic, and how to market that site to accumulate maximum profit.
59. Flip Houses
Flipping houses is a high-risk, high-reward game. Because each individual investment is so large, you'll need to be sure that you can increase the value of the home you're buying through marketing, structural improvement, or remodeling.
If you have these skills, though, you may find that house-flipping is a highly lucrative profession. It could even replace your full-time job if you're good at it.
60. Flip Furniture
On a smaller scale, flipping furniture is similar to flipping houses. You buy used furniture at a discount, fix it up, and resell it to people in the market for a new couch or table.
Be careful not to discount the incidental costs associated with flipping furniture, like materials, storage, and transportation. They can be significant.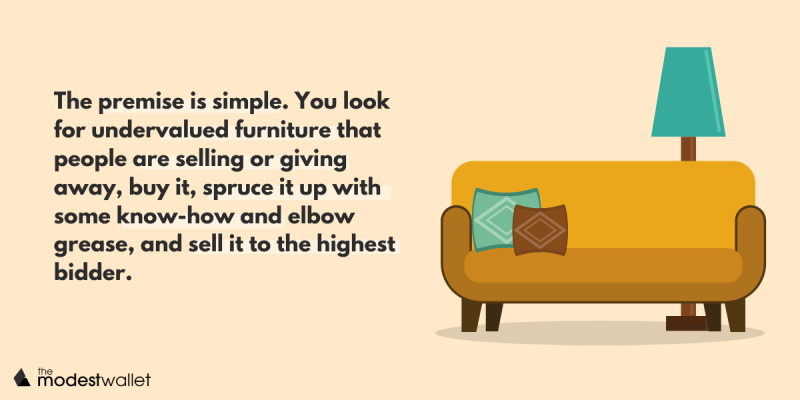 >> Read Also: 33 Best Money Making Apps: Cash at Your Fingertips
61. Flip Cars
Flipping cars is a perfect side hustle for someone who has a head for numbers and automobiles. Because car knowledge is becoming a more and more rarified commodity, those who possess it can spot bargains on the used car market and take advantage of their knowledge to resell cars at a profit.
---
Best Ways To Make Extra Money Investing
Investing is what sets the wealthy apart from the merely comfortable. Intelligent investing will grow your nest egg, make your money earn money, and lead to compounding returns for you and your family.
62. Start Investing in Real Estate
There are a lot of ways to invest in real estate but most of them are reserved for the already wealthy. A site called Fundrise aims to change that. By using the platform, you can invest in commercial real estate going up all over the US. You'll need to use some caution and prudence, but Fundrise can open up new areas of investment you'd never thought possible.
63. Peer-to-Peer Lending
If you'd rather invest in a person than a company, peer-to-peer lending might be for you. Peer-to-peer lending platforms allow you to lend money to people who need loans for a variety of reasons, from credit card debt repayment to margin investing. Most of these platforms will show you how risky the loan is and adjust the interest rate accordingly, allowing you to moderate your level of risk.
Prosper is one of the pioneers of peer-to-peer lending.
64. Micro Invest with Acorns
Not every investment has to be the size of a house. An app called Acorns will let you make investments as small as a few cents by rounding up your credit and debit card purchases to the nearest dollar and depositing the difference in an investment or savings account. Those dimes and quarters will add up quickly when the power of compounding interest is applied to all of your transactions.
>> Read Also: Best Micro Investing Apps
65. Start Investing with a Robo-advisor
Robo-advisors take much of the pain out of investing by significantly reducing the fees you pay to an investment advisor. By relying heavily on technology and AI, brokerages like Betterment and Wealthfront offer near-zero fee retirement and investment accounts. You'll invest knowing that you're keeping all the profits for yourself, rather than sharing them with some broker you've never met.
66. Investing in Stocks with Only $5
Even if you only have $5.00, an app called Stash will let you start investing. Utilizing a super-simple interface and plenty of tips and tricks for beginner investors, Stash makes investing about as easy as it gets. It provides educational content as you begin your investing journey, and charges fees as low as $1.00 per month.
67. Invest in Art
A service called Masterworks will let you own a piece of the classics. It offers fractional shares in fine art and other collectibles. Investing in art is a great alternative for those looking to diversify their holdings even further than the usual mix of stocks, bonds, and cash. Masterworks offers some fascinating and truly desirable pieces that anyone would be proud to call their own.
68. Invest In Rental Properties
A service called Roofstock allows you to purchase homes that already have tenants in them. These income properties can be immensely valuable when they're properly managed and bought at a discount. Take a look at the site to see if there are any motivated sellers, and you could come away with an income property that will bear fruit for years to come.
>> Read Also: 20+ Ways to Get Paid to Drive (Make Up to $25/hr)
---
Best Ways To Make Extra Money Offline
The internet doesn't have to be the only way you make money. There are plenty of ways you can make money offline as well.
69. Sell Plasma
This one's an oldie but a goodie. Sell your plasma to a health agency in your community. You'll be providing a much-needed medical resource and make a few dollars at the same time.
70. Become a Personal Trainer
If you have a knack for working out and looking good while doing it, you can make a fortune as a personal trainer. People everywhere are desperate to get in shape (especially around New Year's), and you can help them do it.
71. Wash Cars
This one is really simple. Wash cars. Make money.
72. Clean Houses
Cleaning houses is difficult work, but you'll never lack for clients, especially in wealthier areas that house a lot of busy professionals. Few people want to clean their own house, and you can take this task off of their hands. If you enjoy cleaning and people, this side gig could be profitable for you.
73. Train Dogs
Dogs are a more popular pet than ever before and people are busier than ever before. This has increased the demand for skilled dog trainers. If you have an affinity for animals and a talent for marketing, post your dog training skills on a service like Craigslist.
74. Become a Life Coach
If you're a good teacher and you've demonstrated a reasonable degree of success, the addition of a little bit of charisma and salesmanship can turn you into a fine life coach. Life coaches seek to help others acquire the success they've attained by teaching them skills that anyone can use to improve their lives.
The best life coaches earn hundreds of thousands of dollars per year and remain in high demand the world over.
>> Read Also: Best Side Hustles For Women
75. Prepare Taxes for Other People
For many, taxes are the bane of their existence. For a select few, however, they're a money-making opportunity. Be a tax preparer for individuals and small businesses, and you'll have more clients than you know what to do with come tax time. Just be careful about the regulations in your area — you may require a license to prepare more than a few tax returns per year.
76. Become a Photographer
If you're a good photographer and you can market your skills effectively, the world is your oyster. Similar to delving into graphic design or web design, the key to success in photography is marketing with an excellent portfolio.
77. Become an Event Planner
Event planners require superhuman organizing abilities, project management skills, and solid negotiation talent. If you have that skill combination,  you'll be able to make a killing as an event planner. Wedding planners, in particular, are in extremely high demand.
>> Read Also: Best Evening Side Hustles To Make Extra Money
78. Snow Removal
A side gig only available in certain climates, those with shovels or snowplows can make a pretty penny removing snow from driveways, parking lots, and sidewalks. To really improve your income, focus your marketing on municipalities and businesses that have larger lots and more land to clear.
79. Make Money Driving
A service called Wrapify will cover your vehicle in advertisements and pay you to display them as you drive around. It's a great way to make money running errands.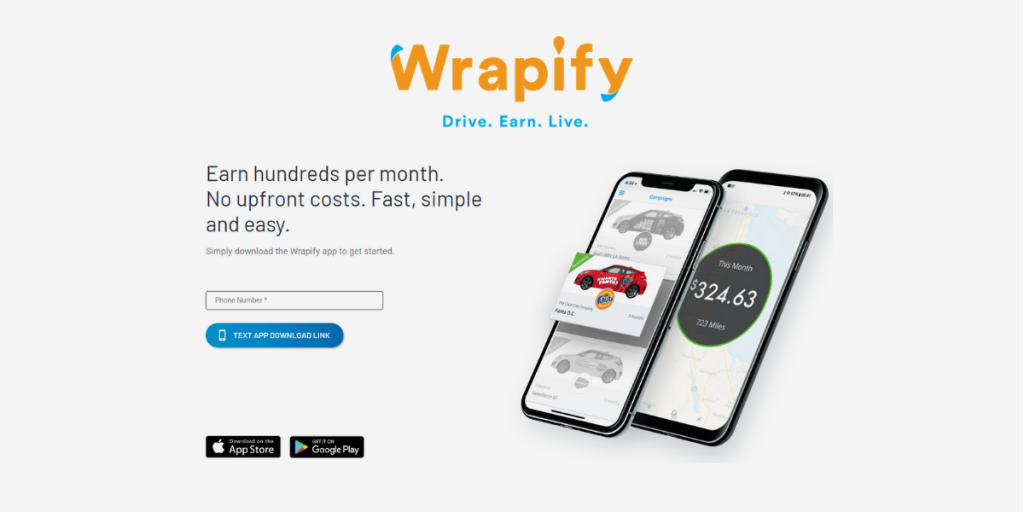 >> Read Also: 23 Best Work from Home Jobs: Start a Career from Your Couch
80. Make Extra Money as a Handyman
A platform called TaskRabbit is every handyman's dream. TaskRabbit matches people with specific skills (picture hanging, small appliance repair, deck building, etc.) with people who need small jobs done.
Especially valuable for people who live in areas with a high population, TaskRabbit rewards those who earn stellar reviews from their clients. Do a couple of well-received jobs, and watch the offers roll in.
81. Medical Transcription
A subspecialty of the transcription gig we mentioned above, medical transcription is in heavy demand because of the common practice of doctors dictating their notes. These notes must later be transcribed by someone, and that someone may as well be you.
If you understand medical jargon and can type quickly, this might be the side gig for you.
82. Become a Tour Guide of Your City
Do you live in a city or town frequented by tourists? Do you know the area well? You might be just the kind of person to become a tour guide. If you have an engaging personality and like to show new people a good time, consider this side gig. It's definitely more fun than data entry!
83. Become a Mystery Shopper
Many retail businesses rely on mystery shoppers to get a realistic picture of what kind of customer service experience their business offers. It's a relatively easy gig, and it's available to anyone with reasonable client interaction skills.
84. Become a Substitute Teacher
Depending on the area you live in and the teachers' union rules around substituting, you may be able to become a substitute teacher to elementary, junior high, or high school students. This job is best for those with significant subject-matter knowledge and who love interacting with kids.
85. Repair Cars
Every neighborhood has a "backyard mechanic" whose knowledge of cars and trucks is unsurpassed in the area. That could be you. If you know cars, and you're great at doing basic maintenance, you can make a lot of money quickly by doing basic repairs for people in your neighborhood.
86. Participate in Clinical Trials
Many clinical trials require members of the public to participate so researchers can gather data on new drugs, techniques, or products. Check the clinical trials going on in your area periodically to see if you meet the demographic criteria for any of them. You can sometimes make hundreds of dollars by participating.
87. Make Extra Money Cooking
A service called Hire a Chef will connect you with people who need a cook, chef, or caterer for a one-time event, or to prepare meals regularly. If you have a talent for cooking and serving food, this app might be a great way for you to take advantage of your skills.
88. Join Rent a Friend
A great service for the highly social and amiable, Rent a Friend will connect you with people looking to hire…friends. Offering a strictly platonic service, Rent a Friend can help you earn money doing what you love — chatting, hanging out, and being friendly. (Editor's note: According to the website, only virtual connections are available as of March 2020. Visit the RentAFriend website for more information and updates.)
89. Window Cleaning
You will be surprised how many businesses and people are willing to pay for someone to clean their windows. You can make great money by cleaning windows in your spare time.
90. Become an Expert Witness in Court
If you have a high level of knowledge in a particular subject area, consider becoming an expert witness for hire at the Expert Institute. This service connects subject-matter experts with attorneys who require expert witnesses to litigate their matters in court.
---
Final Thoughts
There are as many ways to make extra money on the side as there are stars in the sky. The only limit is your imagination. The suggestions we've listed are our favorites, but doesn't mean something that isn't on this list wouldn't work for you.
The important thing to remember is that making money is all about providing value to someone else. How you provide that value depends on your skills and circumstances. Try to match what you're good at with clients who need the talent you offer, and you'll be just fine.
---
1Capital One Shopping compensates us when you get the Capital One Shopping extension using the links provided.
Up Next
Get our free Side Hustle Handbook with the best strategies to multiply your income sources today.
Plus our best money tips delivered straight to your inbox.

Ricardo is an entrepreneur, investor and personal finance nerd who enjoys spending time with his family and friends, travelling and helping others achieve their financial goals. Ricardo has been quoted as a personal finance expert in several online publications including Healthline, Bankrate, GOBankingRates, MSN Money, Yahoo Finance, U.S. News & World Report, Forbes and USA Today.