Many or all of the products featured on this page are from our sponsors who compensate us. This may influence which products we write about and where and how the product appears on a page. However, this does not influence our evaluations. Our opinions are our own. Here is a list of our partners and here is how we make money.
The information provided on this page is for educational purposes only. The Modest Wallet is a financial publisher that does not offer any personal financial advice or advocate the purchase or sale of any security or investment for any specific individual.
Investing can be intimidating for beginners. Luckily, getting started has become easier and more accessible thanks to new online brokers offering commission-free trading, like Webull. In this Webull review, we will go over its various offerings and features and discuss the platform's pros and cons.
Note: Webull is currently offering an amazing sign up bonus for new accounts opened. After you register and fund the account, Webull will give you 2 free stocks worth up to $1,400 to help you get started.

Quick Summary: Webull is an online broker offering commission-free ETF, stock, cryptocurrency, and options trading. Webull provides full extended hour trading, real-time market data, in-depth analysis tools, margin trading, and short selling. Webull falls short when it comes to educational content.
Promotion: 4 free stocks after opening and funding an account.
What Is Webull?
Founded in 2017, Webull is an online broker offering commission-free stock, ETF, options, and cryptocurrency trading. The trading platform provides investors an array of services and tools including economic calendars, technical indicators, and margin accounts.
Webull has many features, but the core of what they offer is individual cash and margin accounts with no inactivity fees. These accounts can be easily opened and accessed online to trade securities on your mobile device. They also offer Traditional IRA, Roth IRA, and Rollover IRA accounts.
Webull is regulated by the Securities and Exchange Commission (SEC) and the Financial Industry Regulatory Authority (FINRA) which means investors are protected up to $500,000 (including $250,000 for claims for cash).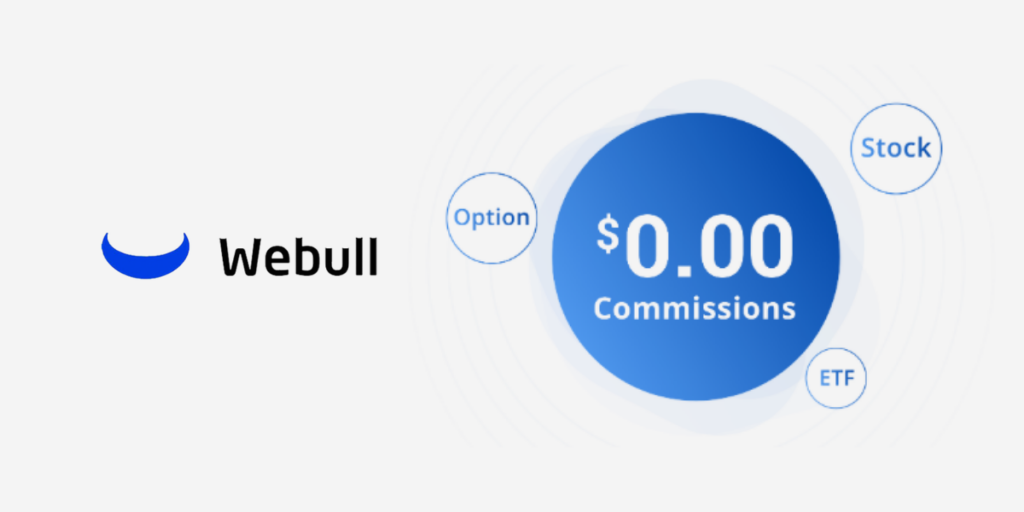 See Also: Investing for Beginners: How to Start Investing the Right Way
How Does Webull Work?
Before getting started with Webull, you need to open and fund an account. The sign up process is simple and fully digital.
Opening An Account
Opening a Webull account online only takes a few minutes. To open the account you need to meet the following requirements:
Be 18 years or older.
Have a valid SSN (Social Security Number).
Have a legal residential address in the U.S. and outlying U.S. territories.
Have a U.S. citizenship, U.S. permanent residency card, or a valid U.S. visa.
Unfortunately, Webull doesn't offer a wide variety of account types. You can only open an individual account (cash and margin accounts) or an IRA account (Traditional IRA, Roth IRA, and Rollover IRA). Once you open an account, it should only take a day for the account to be fully accessible. Account-holders can start trading as soon as they've made a deposit.
Note: At the moment, Webull is only available in the U.S. and China.
Making a Deposit
There is no minimum deposit or minimum balance required to open and maintain a Webull account. However, before you start trading, you will need to fund the account by linking your bank account. (Bank transfer is your only option to fund the account.) You will be required to transfer funds using your mobile device.
Although electronic transfers (deposits and withdrawals) are completely free, keep in mind that deposits and withdrawals via wire transfer have associated fees.
Webull Features
Webull comes with all the typical features you would expect from an online broker and more, including research tools and news, charts, and a wide selection of securities.
| | |
| --- | --- |
| Minimum Investment | $0 |
| Stock & ETF Fees | $0 per trade |
| Options Fees | $0 |
| Mutual Funds Fees | N/A |
| Inactivity Fee | $0 |
| Withdrawal Fee | $0 |
| Investment Types | Stocks, ETFs, Options and Cryptocurrencies |
| Account Types | Taxable, Traditional IRA, Roth IRA and Rollover IRA |
| Platform | Web-based, Mobile (iOS / Android) and Desktop (Windows / Mac) |
| Account Funding | Bank Transfer |
| Paper Trading | |
| SIPC Protection | |
| Banking Services | |
| Support | Email and telephone |
Platform Customizability
Webull's platform is fully customizable to make it suitable for beginners and experienced investors alike. Perhaps more importantly, you can easily customize alerts and notifications.
To customize alerts, you just need to search for the stock you want to set an alert for, then click the bell icon located at the top right of the screen. From there, you can customize alerts for specific prices or other factors.
Real-Time Market Data
Webull offers free real time market data for various worldwide markets. You will be able to access:
5 categories: Equities, ETFs, Indices, Forex, Futures.
100+ exchanges: NASDAQ, NYSE, LSE, HKEX, SGX, NSE, BOM, etc.
100,000+ investment subjects.
Technical Indicators
With Webull you get live data on a number of technical indicators, including:
Volume
Bollinger bands
Exponential moving averages
MACD
Money flow index
RSI
KDJ
There are a lot more indicators from the ones listed above which you can include in your charts.
Knowledge and Research Tools
Webull offers an array of knowledge and research tools easy to use including recommendations, charting tools and fundamental data.
Webull offers "Analyst Rating" for some stock, which are basically opinions from analysts on the outlook of a particular security. The ratings include — strong buy, buy, hold, underperform and sell.
News
Webull offers a live news service dedicated to news relevant to stock and ETF traders. This allows you to keep up with the news you need to know regarding the securities you're trading without leaving the platform.
Revenue Data
Webull uses the most recent data from the companies they list. This allows you to make educated decisions without having to use different platforms and resources.
Stock Screeners
Stock screeners allow you to filter your stocks based on the metrics you choose. If you want to search for new stocks, you can use the screeners to set the parameters.
Virtual Trading
Webull offers you an opportunity to make paper trades. This way, beginners can use virtual money to invest in real stocks.
With this feature, you will still see the real-life results of that trade. The only difference is that you won't make or lose money. You will be able to practice trading with fake money on the real market until you feel you're ready to make a real investment.
Extended Hours
You can't always trade on extended hours with small, commission-free platforms like Webull. Yet, Webull allows you to trade from 04:00 to 09:29. After hours, you can trade from 16:00 to 21:29.
Margin Trading
You can engage in margin trading (within reason) on Webull. The platform allows you to 4x your day-trade buying power, or 2x your off-hours buying power.
It should be mentioned that your ability to trade margins does come with restrictions. Trading on Webull is free, but margin trading requires at least $2,000. The margin rates are variable and depend on the amount of the margin loan.
$0 to $25,000 – 6.99%
$25,000.01 to $100,000 – 6.49%
$100,000.01 to $250,000 – 5.99%
$250,000.01 to $500,000 – 5.49%
$500,000.01 to $1,000,000 – 4.99%
$1,000,000.01 to $3,000,000 – 4.49%
Over $3,000,000 – 3.99%
You will have to pay interest on margin accounts which is calculated on a daily basis and paid on a monthly basis.
Shorting
If you'd like, you can short stocks on Webull. When you place a short order, Webull will be your intermediary. They will borrow the shares you want from an investor and sell them on your behalf.
Being able to short stocks offers a lot more freedom. Shorting allows investors to have more options at their disposal. This is a great benefit to have from a commission-free trading platform.
Cryptocurrency Trading

(New)
You can now trade cryptocurrencies for free, including Bitcoin, via Webull seven days a week. The following cryptocurrencies are available on the platform at this moment:
Cryptocurrency trading is unavailable from 5:30 pm–6:30 pm ET for routine maintenance and account reconciliation.
Webull Account Types
Webull doesn't have a wide scope of account types to choose from. Still, the account types you can choose from, offer different benefits and levels of service.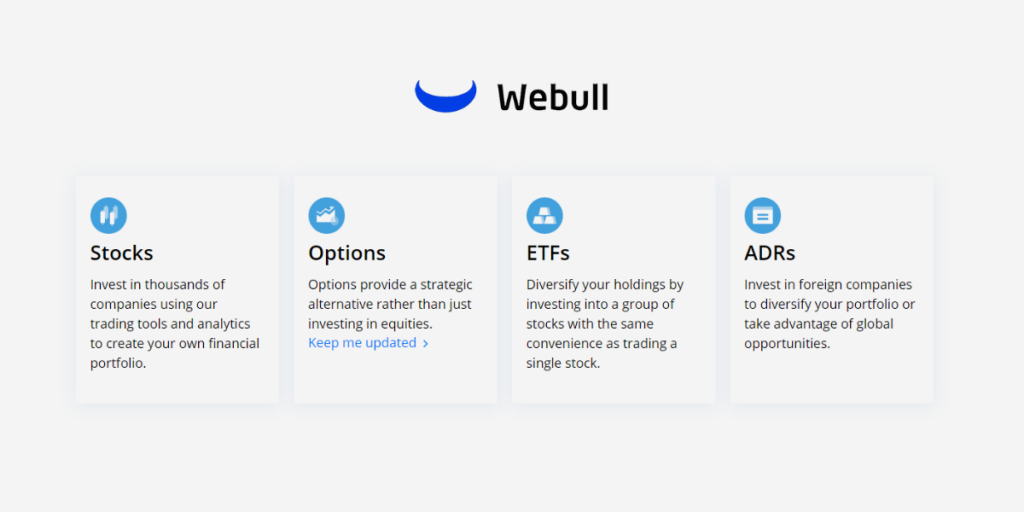 See Also: How Do I Start Investing in The Stock Market
Standard Account
Webull offers only one account that serves as a generically useful investment account. The Webull standard account is, as the name suggests, their standard taxable trading/investment account.
The standard account allows you to conduct your normal trading activities. However, the account comes in two forms: a standard cash account and a margin account.
A standard cash account can handle most beginner and intermediate traders' needs. With this option, you can invest in or short any available stock. So, the standard cash account is the best option for an investor or trader who doesn't need constant access to capital or leveraged positions. If you need leveraged trading access, they have other options for you.
With Webull's standard margin account, you may short stocks and employ leverage. You can even increase your exposure beyond your cash balance with this option. Therefore, margin accounts are a great option for intermediate or advanced investors who want more freedom. The account is almost as easily accessible as the standard cash account. The only requirement is that you maintain a minimum balance of $2,000 in your margin account.
IRA accounts
Webull also offers several free IRA accounts to serve different financial goals.
Traditional IRA
You can open a free traditional IRA account if you want to fund an account with pre-tax money. Deposits into these accounts lower your taxable income and allow you to grow your total IRA balance faster. Once you reach retirement, you can make withdrawals from a traditional IRA account.
Amounts in your traditional IRA (earnings and gains) are not taxed until you retire. Once you retire, you will have to pay ordinary income tax on your withdrawals. IRA holders can defer distributions for a number of years after they retire (until you are 72 years of age).
Roth IRA
A Roth IRA account is a bit different from the traditional option. Your contributions and deposits made to your account are made with after-tax money, but future withdrawals are tax-free. The benefit of this account is that any earnings have the potential to be withdrawn tax-free in retirement.
Rollover IRA
A rollover IRA is an account for when you want to move money from an old employer-sponsored retirement plan into an IRA. The good thing about the rollover IRA is that you can preserve the tax-deferred benefits of your retirement assets, without have to pay taxes now or early withdrawal penalties.
Webull Fees and Limitations
Webull trades are completely commission-free, meaning that every time you buy or sell a stock or ETF you will not have to pay anything. Options trades are also completely free.
There are no caveats to your commission-free trades. Regardless of how much you buy and for how long you hold you will be paying $0 per trade on the Webull platform.
Fees
While Webull doesn't charge its own fees for trading or holding an account, investors may still have to pay regulatory fees. These are fees applied by the SEC, OCC and FINRA. The fees these regulators levy are fairly small and are typically passed down from the broker to the investors.
You don't have to pay any fees to fund your account or make withdrawals from your account using a bank transfer. However, you will have to pay fees when you use wire transfers.
Webull accounts are charged $8 per deposit for a domestic wire transfer deposit and $25 per withdrawal for a domestic wire transfer withdrawal. International wire transfer deposits cost $12.50 per deposit and $45 per withdrawal for all international wire transfer withdrawals. Keep in mind that these fees come in addition to the bank fees you must pay.
In all, Webull fees are not very significant. The only downside is that most other brokers only charge wire transfer fees for outgoing transfers, but Webull charges you for any wire transfer you send or receive.
Limitations
Webull comes with a few noticeable transaction limitations.
For a standard margin account with a balance of less than $2,000, you can only engage in 3-day trades per 5 business days. No leverage or shorting available.
If your standard margin account balance is between $2,000 and $25,000, the same limit applies. However, you have 4x margins on day trades and overnight trades can have up to 2x margins. Shorting is available.
For standard margin accounts with over $25,000, you can trade as much as you want. Day trades can have 4x margins, and off-hours trades can have 2x margins. Shoring is available.
What Can You Trade?
Webull is a bit limited in the types of investments you can make on their platform. At the moment, Webull only facilitates trades of stocks, ETFs, cryptocurrencies, and options. Webull carries over 5,000 stocks and ETFs on its platform at any given moment, so if you are interested in stocks and ETFs, Webull will have everything you need. But, if you want to invest in mutual funds, bonds, forex or futures, you will need to look elsewhere.
You can also trade low-priced stocks on Webull. However, there are limitations for the number of shares you can buy:
Purchases of single shares worth under $0.01 are not permitted.
If the share price is $0.01 to $0.099, you must purchase at least 1,000 shares.
If the share price is $0.10 to $0.999, you must purchase at least 100 shares.
If the share price is over $0.999, you can purchase as many shares as you want.
See Also: What Are Stocks & Why They Should Be Part of Your Financial Plan
Available Order Types
The diversity in order types that Webull offers gives investors plenty of freedom. Webull's platform accommodates the following order types:
Market orders
Stop orders
Limit orders
Stop limit orders
Bracket orders
Take profit orders
One-cancels-the-other orders
Pros of Webull
Beginner trader-friendly
Easy-to-use interfaces
Customization
Useful indicators
Cons of Webull
No debit/credit card account funding
No live chat support
Who is Webull for?
Webull is a great option for all investors because of its low costs. Intermediate and advanced investors are the best-served group.
Beginner traders who don't want to risk too much but want to get their skin in the investing game can benefit from Webull's services. The low-cost, easy-to-use interfaces and overall setup of the platform are beginner-friendly.
Intermediate investors can also gain a lot from Webull. If investing is more than a side-income or a hobby for you, you can still benefit from Webull. Although Webull is free, its advanced options and accounts are meant for those who have already gained some investing experience.
Experienced traders can benefit from the real-time market data and many customizable indicators available on Webull.
Who is Webull not for?
Professional, full-time investors may feel chained down if they use Webull for all their investing activities.
Webull's tools and interfaces are still very good for experienced investors. However, if you have a lot of experience, you may still find more use from other investing tools — It's just a question of personal preference. It's easy to try the app for free and find out if you like what it has to offer.
Webull is a good potential option for investors of all experience levels. The only investors Webull isn't for are those who want access to investments other than options, stocks and ETFs.
How does Webull stack up with competitors?
Let's compare Webull to other low-cost, mobile-friendly investment platforms.
Positives
Webull is stronger than its competition when it comes to the beginner-friendly tools they offer. If you're new to trading, you can learn about investing through Webull's detailed but simple platform. You can practice with the virtual trading pool, a tool that serves as a good bridge for new investors.
The other area Webull excels in is its interface. The interface is good for investors of multiple levels of experience and gives Webull an edge over its competition.
Negatives
The biggest drawback of Webull is that you can conduct trades on Webull, but options are limited. This is true of both trading types and the limits on the trades you can make. You'll need to go to Webull's competitors for low-cost trading options apart from stocks and ETFs. In addition, there are no automated investing options.
The other major drawback of Webull is its limited customer service. There are no phone lines or voice chats available. You can get support through their support email, but reps are slow to respond and not always monitored. The message center will provide needed support faster. Also,
Webull Alternatives
If Webull isn't exactly what you're looking for, there are some similar alternatives you can consider.
Robinhood
Robinhood also allows you to trade stocks and ETFs for free, and you can also trade options and cryptocurrencies on Robinhood.
You will often find Webull compared to Robinhood online. They are similar. They both offer stock and ETF trading on straightforward interfaces, and without commissions. However, Webull offers more interfaces and customization.
Unlike Webull, Robinhood does not offer retirement accounts on its platform. The main area where Robinhood beats out Webull and most of its competitors is its free cryptocurrency trading option. While investing in cryptocurrencies is risky and less popular than other investments, if you trade crypto, Robinhood is a good alternative to Webull.
Check out our full Robinhood review to learn more.
Ally Invest
Ally Invest offers zero commission trading for stocks and ETFs. The platform is also very customizable and caters to both, the newbie investor and experienced stock trader.
We think Ally Invest is best for the seasoned trader as it offers robust research and technical tools. Another good thing about Ally Invest is that they don't charge inactivity fees.
The drawback is that you can only trade on US stock exchanges and also margin rates are fairly high.
Read our full Ally Invest review to learn more.

$500,000 (securities up to $500,000, cash up to $250,000)
$500,000 (securities up to $500,000, cash up to $250,000)

$500,000 (securities up to $500,000, cash up to $250,000)
Webull Frequently Asked Questions
We've found some of the most common questions people have asked about Webull. Here are our answers.
Is Webull Legit?
Yes, Webull is a legitimate company.
Webull is registered with the Securities and Exchange Commission (SEC) and the Financial Industry Regulatory Authority (FINRA). You can find the company's SEC filing online.
How does Webull make money?
Webull and similar non-commission investing platforms make money through back-end revenue streams. Normally, brokerages make most of their money from commissions. With Webull and some other modern platforms, they can keep the lights on by optimizing back-end revenue streams like:
Interest on free credit balances
Margin interest
Order flow payments
Stock loans
Is Webull really free?
The core services that Webull offers are indeed free. However, as discussed, wire transfers cost you money. Unlike many other brokerages, Webull charges you for both incoming and outgoing wire transfers.
Is Webull safe to use?
Webull is safe to use, as far as brokerages go. There is always risk in investing, but Webull places low limits on transactions unless you are investing a lot of money (over $25,000). If you invest responsibly, Webull is no less safe than other brokerages.
How do you withdraw your money?
Withdrawing money from Webull is easy. First, you need to link your Webull account with a bank account. Then, if you have funds available, you just need to click the "trade" icon at the bottom of the screen. The screen that pops up will have a withdrawal option in clear sight.
Does Webull offer fractional shares?
No, Webull does not currently accommodate fractional shares.
Account Minimum: $0
Fees: Zero-commission stock, cryptocurrency, ETF, and per-leg options trading
Promotion: 2 free stocks
Note: Webull is currently offering an amazing sign up bonus for new accounts opened. After you register and fund the account, Webull will give you 2 free stocks worth up to $1,400 to help you get started.
Final Thought
Webull is a tool with a lot of value. Given that it is free to use (apart from wire transfer fees), it serves as a good option for beginners. The interfaces and features are simple enough, and they serve as a learning tool for those getting started.
You don't need to spend a lot of money to use Webull. Because they have no minimum balance requirements, costs are less of a concern. And you can even use their free virtual investment feature to dip your toes into the investment world. Webull may not be the ultimate investment app, but it is certainly a good option, and it's free to try.
Up Next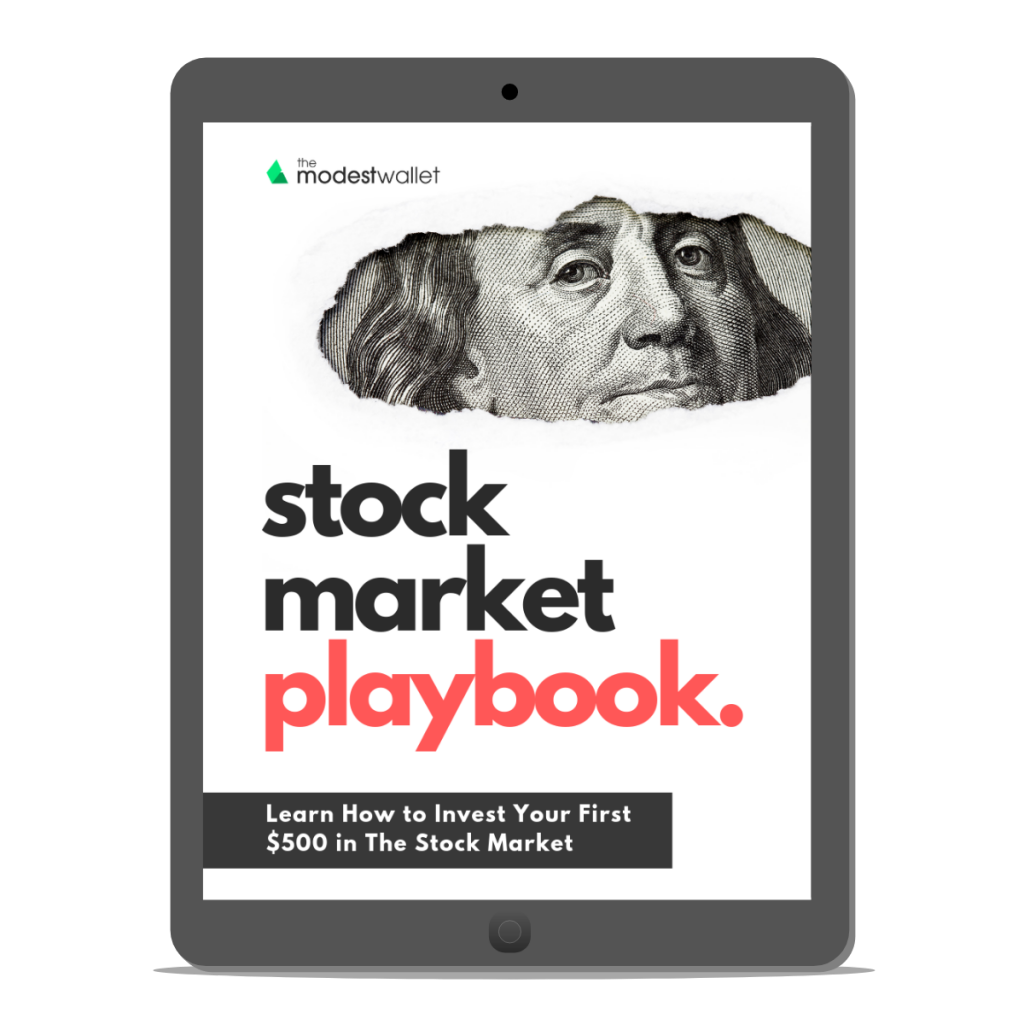 Get our free Stock Market Playbook to learn how to invest your first $500 in the stock market.
Plus our best money tips delivered straight to your inbox.

Ricardo is an entrepreneur, investor and personal finance nerd who enjoys spending time with his family and friends, travelling and helping others achieve their financial goals. Ricardo has been quoted as a personal finance expert in several online publications including Healthline, Bankrate, GOBankingRates, MSN Money, Yahoo Finance, U.S. News & World Report, Forbes and USA Today.