Webull Review 2023: Features, Pros, and Cons
Many or all of the products featured on this page are from our sponsors who compensate us. This may influence which products we write about and where and how the product appears on a page. However, this does not influence our evaluations. Our opinions are our own. Here is a list of our partners and here is how we make money.
---
The information provided on this page is for educational purposes only. The Modest Wallet is a financial publisher that does not offer any personal financial advice or advocate the purchase or sale of any security or investment for any specific individual.
Founded in 2017, Webull is a U.S.-based brokerage firm that offers zero-commission trading alongside numerous other firms that are aiming to democratize access to the financial markets for retail investors.
Webull's platform has been created primarily to cater to beginners, but it can also be suitable for seasoned traders and buy-and-hold investors who are looking for a well-established and regulated provider that can offer low-cost solutions and a user-friendly interface.
In this article, we will be taking a closer look at Webull's products, services, platforms, and resources they bring to the table for those who sign up with them.

Bottom Line: Webull is an online broker offering commission-free and low-cost trading on ETFs, stocks, cryptocurrencies, and options. Webull provides full extended-hour trading, real-time market data, in-depth analysis tools, margin trading, and much more.
| | |
| --- | --- |
| Account minimum | |
| Fees and trading costs | |
| Investment selection | |
| Accounts supported | |
| Features and tools | |
| Ease of use | |
| Trading platform | |
| Security | |
| Customer support | |
---
What Is Webull?
Webull has been in business for more than five years now. It was founded by Want Anquan, a former Alibaba, and Xiaomi executive, and is currently headed by Anthony Denier. This online broker has become the preferred provider for more than 11 million Americans.
Just as many other financial technology companies have made their way in the broker-dealer business, Webull offers zero-commission trading for instruments, including US-listed stocks and exchange-traded funds (ETFs).
In addition, the company offers access to derivatives such as options and a selected number of cryptocurrencies. Moreover, it offers some attractive advanced features for seasoned traders, like Level 2 data for stocks within the Nasdaq stock exchange and a customizable desktop platform for analyzing charts and tracking the portfolio's performance.
---
How Does Webull Work?
In this section, we discuss the details of Webull's trading service, such as how much money is needed to open an account and what kind of accounts are available to investors.
Account Minimum
Investors can open an account with this provider without depositing any money into it. However, to start trading securities, a $1 deposit is the minimum required. Meanwhile, users who would like to access the firm's margin account may need to deposit at least $2,000 into the account, which is the minimum required by regulatory agencies in the United States.
Types of Accounts Supported
Webull supports multiple types of accounts, including taxable and tax-advantaged alternatives that are suitable for prospective retirees. The following is a summary of the characteristics of each account offered by this provider:
Cash account: This account is the traditional taxable alternative for both traders and investors who would like to either speculate or invest in any of the markets to which Webull offers access. No minimum deposit is required to open one of these accounts.
Margin account: A margin account is used to borrow funds to operate in the markets. The minimum deposit required is $2,000 to have access to this account, but traders are expected to meet certain conditions to avoid a margin call. A maximum number of three-day trades can be executed with this account unless the trader deposits more than $25,000 into it. The funds borrowed in a margin account are subject to interest payments.
Individual Retirement Account (IRA): IRAs are tax-advantaged products that allow the holder to avoid paying interest on any gains produced by the financial assets held within the account unless they withdraw money before they reach their retirement age. There is a maximum limit to the amount of money that investors can deposit into these accounts. These limits are typically modified every year. Webull only supports individual accounts at the moment.
Roth IRA: The main difference between a traditional IRA and a Roth IRA is that the contributions made to the latter are after-tax. This allows investors to withdraw money once they reach retirement age without being subject to penalties or taxes.
Rollover IRA: A rollover IRA is an account that is opened with the funds or assets that were held in a previous account held with a different brokerage firm. Webull supports rollovers from existing 401(k)s and IRAs.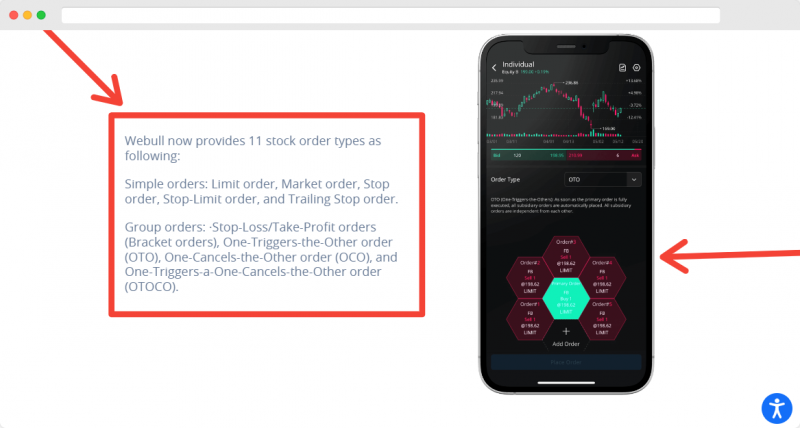 Investment Selection
Webull's portfolio of financial services is quite ample compared to some of its competitors. Webull's bread-and-butter, as with most brokerage firms, are U.S.-listed stocks and exchange-traded funds (ETFs) for which Webull offers a zero-commission trading service.
The company also offers access to the crypto market. At the time this is written, Webull supports trading for over 50 digital assets going from the most well-established, such as Bitcoin and Ethereum, to exotic alternatives like Gala and Loopring.
Moreover, Webull supports trading options. These are derivatives that give the holder the right, not the obligation, to buy (call option) or sell (put option) a certain financial asset at a predetermined price once the expiration date is reached.
Other financial assets supported by Webull include OTC instruments such as penny stocks and foreign stocks like American Depositary Receipts (ADRs).
Webull also supports paper trading. This is a demo account that investors can use to test the waters of the financial markets without using real money.
Finally, this provider offers fractional shares. These are innovative financial instruments that break down a stock or an ETF into many pieces to allow investors who have a small available budget to build widely diversified portfolios.
Getting Started With Webull
Opening an account with this broker is quite easy, and it should only take the user a few minutes. The process starts by clicking the blue "SIGN UP" button located at the upper right corner of its official website.
After that, the user will be prompted to provide a phone number to verify that they currently reside in the United States, or they could also opt to complete the process by using a Google or Facebook account.
With Webull, the signup process can be completed within a day. With some brokers, the process can be lengthier, especially when it comes to verifying the user's ID. The process is completely digital, and all the information required — a valid Social Security Number (SSN) and proof of residency — can be provided via the Webull platform.
Confirmation that a Webull account has been successfully opened will be sent to the email provided by the user during the registration process. Once the signup process is completed, a deposit can be made to the account via ACH or wire transfer.
Webull regularly offers rewards to new users, such as free stocks. At the time of writing, the company is offering up to 12 free stocks to those who open and fund a new account.
---
Webull Features and Tools
Webull was conceived primarily with beginners in mind, but the company has also incorporated advanced features to its service that can be used by experienced market participants who may engage in options trading, day trading, or other similar activities.
In this section, we discuss the company's most relevant services and all of the features that it makes available to both beginner and seasoned traders.
| | |
| --- | --- |
| Account Minimum | $0 |
| Stock & ETF Fees | $0 per trade |
| Options Fees | $0 per trade and $0 per contract |
| Mutual Funds Fees | N/A |
| Inactivity Fee | $0 |
| Withdrawal Fee | $0 |
| Investment Types | Stocks, ETFs, Options and Cryptocurrencies |
| Account Types | Taxable, Traditional IRA, Roth IRA and Rollover IRA |
| Platform | Web-based, Mobile (iOS / Android) and Desktop (Windows / Mac) |
| Account Funding | Bank Transfer |
| Paper Trading | |
| SIPC Protection | |
| Banking Services | |
| Support | Email ([email protected]) and telephone (888-828-0618) |
Stock and ETFs Trading
Webull's stock and ETF trading service is what the platform is best known for. Users can buy and sell thousands of U.S.-listed instruments within the country's most prominent exchanges, such as the Nasdaq and the New York Stock Exchange, without paying any commissions.
This trading platform supports both regular and extended trading hours, including pre-market and after-market sessions. The company's trading systems are available in a web-based version, mobile app, and desktop solution.
Webull supports 11 different types of trade orders, including the basic ones like limit, market, and stop-loss and some more advanced alternatives that may be used by seasoned traders like one-triggers-the-other, one-cancels-the-other, and bracket orders.
Options Trading
Options are financial derivatives used by traders and investors to either speculate in the markets or hedge their portfolios against sharp downturns. Webull supports options trading and charges no commissions or contract fees for doing so.
In addition, this provider offers a solution that allows traders to browse through multiple potential options trading strategies for the instruments it offers. Moreover, the company has an extensive library that contains educational materials for traders who would like to learn more about these fascinating financial assets.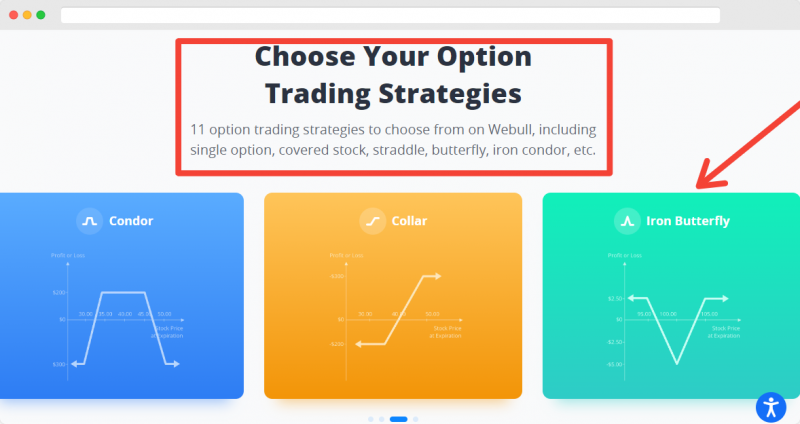 Fractional Shares Investing
Fractional shares are the result of breaking up a stock or ETF into many pieces. Webull offers these kinds of instruments to allow retail investors who don't have that much money to build highly diversified investment portfolios.
With fractional shares, investors are entitled to receive the same benefits as if they were holding the entire unit of the asset but in correspondence to the fraction they hold. For example, a holder of 0.3 Microsoft stock (NASDAQ: MSFT) will be entitled to receive 30% of the dividend paid by the company.
The minimum investment required by Webull to purchase a fractional share is $5. These instruments can also be traded for free, and the list of supported assets is quite large and changes periodically.
Margin Trading
Margin trading involves borrowing funds from a broker to operate in the markets. A margin account can be opened with Webull by depositing $2,000 or more into a traditional cash account.
This type of account allows traders to expand the earnings-generation capacity of their trades by using leverage. Webull's initial margin — the minimum amount of available equity required to open a position — starts at 50% and applies to most instruments except for securities priced below $2.99 and 3X leveraged ETFs.
Meanwhile, the maintenance margin — the minimum amount of equity that investors are required to hold for every position they open – starts at 25% for most instruments but can be as high as 75% for 3X leveraged ETFs.
If the account's equity falls below these levels, it could be subject to a margin call, which could lead to the forced liquidation of some investments.
Crypto Trading
Webull is a U.S.-based brokerage firm that offers access to the crypto market and supports the largest number of digital assets. According to the company's official website, 44 cryptocurrencies can currently be traded via the Webull platform with a minimum amount of $1 per trade.
The service also has a social feature embedded in which Webull users can exchange ideas and strategies through the platform's interface. The crypto market can be accessed 24 hours a day, seven days a week, as blockchain technology is fully decentralized, and the networks that record the transactions made with these assets never rest.
It is important to note that margin trading is not available for crypto assets. Users can only make transactions with their available cash balance. In addition, the platform only supports market, limit, and stop-limit orders for these assets.
The maximum amount that can be traded in a single transaction is $100,000. Finally, Webull does not support short-selling for cryptocurrencies. All of the crypto held with this provider is under the custody of a company called Apex Crypto.
Crypto Wallet
Webull is currently working on launching the beta version of a crypto wallet — software that allows users to safely store their digital assets. According to the company's official website, the initial version will only support three assets — Bitcoin, Bitcoin Cash, and Litecoin.
The official launch date has not been announced by Webull, but once the wallet is live, users will be allowed to transfer their digital assets to and from external wallets so they can trade them by using this broker's platform.
OTC Securities
Over-the-counter (OTC) securities are financial instruments that are not listed in an established exchange, such as the New York Stock Exchange (NYSE) and the Nasdaq. These assets are traded privately via networks established by broker-dealers.
Webull currently supports trading for stocks listed in four specific OTC markets: OTCQX International, OTCQX US, OTCQB, and OTC Pink. Each of these markets permits different types of issuing companies to list their stock.
For example, the OTCQX International is for companies that are already listed in an international exchange. It is typically the go-to-market for foreign stocks such as American Depositary Receipts (ADRs).
Meanwhile, the OTC Pink — also known as the pink sheets — is a market for penny stocks, shell companies, and businesses that have filed for bankruptcy.
Webull supports trading for more than 100 OTC stocks. The companies that issue these common shares have a market capitalization higher than $5 billion, and they are considered the most active within these markets in terms of trading volumes.
Paper Trading
Paper trading is a practice that involves using fake money to make trades in the financial markets with the goal of getting to know how they work and as a tool to test certain investment and trading strategies before committing real money to them.
With Webull, users can paper trade without limits, as there is no maximum number of trades or amount of virtual money available for this purpose. In addition, the paper trading platform features real-time price data and access to Webull's technical analysis features, such as its charting tools and price alerts.
Finally, for those who prefer to engage in options trading, paper trading is available for these instruments too. This is a nice alternative for those who are new to derivatives; they can test different strategies and see the results they come up with before moving to the live markets.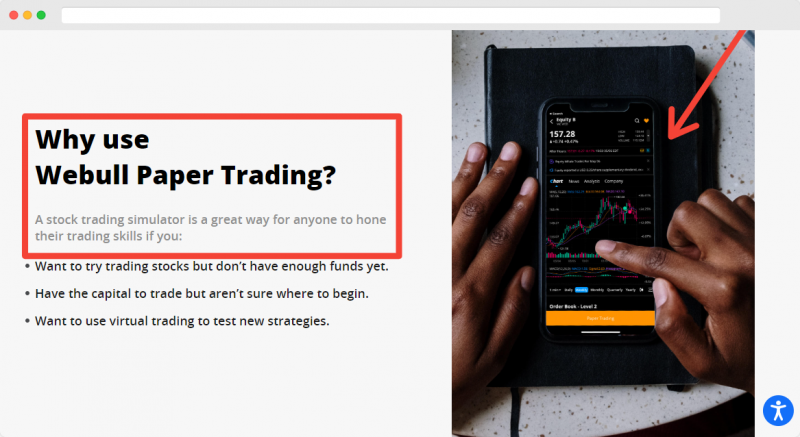 Trade ADRs
Via the OTC markets, Webull supports trading for American Depositary Receipts (ADRs). These are U.S.-listed instruments that represent a certain number of shares of a foreign company with a primary listing overseas.
Typically, a custodian — i.e., a U.S.-based financial institution — holds the foreign stock and issues the ADR for U.S. investors to be able to access the foreign stock without having to pay custodial fees, which typically apply when trading foreign stocks directly with their respective overseas exchange.
Educational Resources
Since Webull was designed primarily with beginner investors and traders in mind, the company has made available an extensive library of educational materials in the form of online courses.
These materials cover basic topics such as what exchange-traded funds (ETFs) are or how options work to more advanced subjects like options strategies and what Level 2 market data is.
Mobile Apps
Like most other brokerage firms, Webull has taken its trading experience to today's most popular devices — the smartphones. Currently, the Webull app is available for both Android and iOS devices.
The Android mobile app has been rated with 4.4 stars in the Google Play Store and counts on more than 177,000 opinions from users and 10 million downloads thus far. Meanwhile, the app is ranked #17 in Finance within the Apple App Store and has been given a 4.7 stars rating after more than 278,900 reviews.
Aside from being able to track the performance of their portfolios and place trades, users who download this broker's mobile app can also enjoy features such as an options screener, price alerts, customizable technical indicators, and charting patterns.
---
Webull Trading Platform
Webull's trading interface is available for multiple operating systems and devices. The firm's desktop version is available for macOS, Windows, and Linux. There is also a web-based version that is supported by most web browsers, including Safari, Firefox, and Chrome.
Moreover, the broker's mobile app is available for both iOS and Android and has received positive ratings from thousands of users.
The web-based version features a highly user-friendly trade ticket, a search bar to easily locate any of the instruments supported by the broker, a reporting module, and in-depth analytical tools, including Level 2 market data and advanced options trading strategies.
The desktop app is called Webull Desktop 6.0, and it has been designed for seasoned traders who prefer something more similar to a Bloomberg terminal. The trading interface is highly customizable. Its charting tool supports more than 60 technical signals from Trading Central and features second-by-second charts for high-frequency and day traders.
In addition, stock and ETF screeners can be created by using more than 40 indicators for filtering purposes, including technical, price, and finance-focused ones for stocks. Price alerts can be set up in the desktop version as well, and traders can play around with the interface to make the trading experience as productive as possible.
Some other advanced features that are available within the desktop app include multi-legged trade orders and options strategies, an ampler selection of trade orders, and hotkeys for moving through the interface.
---
Webull Fees
Webull is best known for being a zero-commission trading service for U.S.-listed stocks, ETFs, and options. However, other instruments that are also supported by the platform, such as cryptocurrencies and OTC stocks, may be subject to regulatory and platform fees.
Here, we provide a detailed list of the charges that users may expect when trading any of these instruments with this provider.
Stock and ETFs Trading Fees
Users can trade U.S.-listed stocks and exchange-traded funds (ETFs) with this provider without paying any fees or commissions. However, some minimum regulatory fees apply, such as the SEC and FINRA fees for sales only.
For OTC securities such as penny stocks whose price is under $1, a $0.0002 per share fee applies for purchases of more than 100,000 shares up to a maximum of 5% charge on the total value of the trade ticket.
Meanwhile, there is a $5 per trade fee for buys involving F-stocks and a $0.05 per trade for sales.
Options Trading Fees
As with stocks and ETFs, Webull users can trade options for free. This is a particularly advantageous offering, as most other brokers charge a contract fee for this activity. Regulatory fees also apply for these instruments, including exchanges and clearing fees for buys and sales.
Margin Interest Rates
Margin trades generate interest expenses applicable to the amount that the investor has borrowed from Webull. This provider's applicable annual margin rate varies depending on the amount borrowed. As of November 2022, the margin rate for these loans starts at 9.49% for $25,000 or less and goes down to 5.49% for amounts exceeding $3 million.
Deposit and Withdrawal Fees
Webull charges some non-trading fees for deposits and withdrawals. In the case of ACH transactions, no fees apply. However, deposits made via wire transfer are subject to an $8 fee per deposit for domestic transactions and a $12.50 fee for international ones.
Meanwhile, domestic withdrawals made via wire are subject to a $25 fee per transaction, and international ones are subject to a $45 fee per transaction.
---
Webull Customer Support
If you are not a registered user, you can only reach out to a representative of Webull via email or phone. However, if you have signed up, you can access a live chat feature within the web-based or desktop platform to solve any issues you may encounter during your journey.
Meanwhile, human assistance for trading is available, but wait times are reportedly high, as speaking to a broker on the phone can take two hours or more. In case users are not satisfied with the company's response to a certain issue, they can also file a formal complaint with FINRA.
As for Webull's online reviews, the company's Trustpilot site shows a 1.4 stars rating resulting from 138 reviews. However, this profile has not been claimed by the company and is not considered the official Webull Trustpilot.
Moreover, the business profile of Webull Financial with the Better Business Bureau (BBB) displays a 1.07 stars rating coming out of 54 customer reviews. Webull is not a BBB-accredited business.
The website's records show that 213 complaints have been closed in the past three years. The business response rate currently stands at 43%. This indicates the percentage of complaints that have been resolved by the company.
---
Webull Ease of Use
Webull is a stock trading service that is primarily designed with beginners in mind. The first indication of this is that the company has slashed its trading commissions to zero to make its services more affordable to retail investors.
Moreover, Webull does not charge any fees for opening an account, depositing or withdrawing money via ACH, or trading US-listed securities. Access to the crypto markets is also a plus and makes this provider more attractive compared to some of its rivals.
Opening an account is quite easy and can be completed in a matter of minutes. The user's ID can also be verified in 24 hours or less. Both the web-based version and the mobile app of Webull are highly user-friendly. They allow investors to easily locate the instruments they would like to trade, check the performance of their account, access historical records, and more.
The mobile apps Webull has made available for both Android and iOS have received great reviews from thousands of users. Many of the options available in the web-based version are accessible via the mobile solution, such as price alerts, charting tools, multiple types of trade orders, and account information.
Overall, Webull's systems and user experience can be viewed positively; the platform achieves its purpose of facilitating access to the financial markets to inexperienced investors.
---
Webull Security
Webull's services are rendered by two subsidiaries. Webull Financial LLC is a broker-dealer company registered with the U.S. Securities and Exchange Commission (SEC) and regulated by the Financial Industry Regulatory Authority (FINRA) as well.
Meanwhile, Webull Advisors is the company's financial advisory arm. However, the firm is not actively offering these kinds of services but may have the intention to offer them in the future.
Webull is a member of the Securities Investor Protection Corporation (SIPC). This entity provides coverage to all brokerage accounts opened with the firm for up to $500,000, including $250,000 in cash claims.
In addition, the company's clearing firm — Apex Clearing Corp — has a separate insurance policy that offers protection for as much as $150 million for the securities and cash held on behalf of the firm.
The firm's crypto trading services are provided by Apex Crypto LLC. This entity is not a registered broker-dealer, and none of the transactions made with crypto or these holdings are insured by either the SIPC or any other insurance policy.
The user data stored by Webull, as per its privacy policy, is hosted in the United States with a cloud-based data storage provider. The company shares user information with many third parties, including vendors and service providers, business partners, and affiliate businesses. Users in the state of Nevada and California can opt-out of having their personal and account data shared with third parties.
Webull has a business continuity plan in place that sets in motion several contingencies, including maintaining live data centers and other similar systems to keep its systems up and running in the event of a natural disaster, terrorist attack, or other force majeure events. In addition, Apex Clearing reportedly backs up Webull's information in a separate geographical location.
---
Webull Pros Explained
Webull Financial is a U.S.-regulated entity overseen by top-tier agencies such as the SEC and FINRA.
This provider offers zero-commission trading services for U.S.-listed equities and options.
Webull does not require a minimum deposit to open an account.
Multiple types of accounts are available to investors, including taxable and tax-advantaged accounts.
Webull supports a large number of financial assets, including stocks, ETFs, cryptocurrencies, and options.
Webull's trading systems can be accessed via a personal computer or mobile phone.
Its mobile trading interface has received positive ratings from both iOS and Android users.
This broker offers access to top-quality educational materials.
A representative of the company can be reached via phone, live chat, or email for registered users.
Webull is a member of SIPC, meaning that customers' funds are insured for up to $500,000.
---
Webull Cons Explained
This provider does not support joint accounts.
Webull does not offer access to some asset classes such as fixed-income instruments — i.e., bonds — or forex.
The crypto funds held with this provider are not insured in any way.
Only U.S.-based individuals are allowed to open an account with this broker.
Webull lacks a guided-investing solution such as a robo-advisor and does not offer any kind of financial advisory services either.
---
Webull Alternatives
Webull is not the only zero-commission trading service that is available to U.S. residents. In this section, we draw comparisons between this provider and others that offer similar services and access to some of the same markets.
Webull vs. Robinhood
Webull and Robinhood are relatively similar in the scope and reach of their services. They both cater to beginner investors and offer zero-commission trading services for U.S.-listed equities and options.
However, Webull is perhaps a better alternative to seasoned traders due to its more sophisticated trading systems, like the desktop version of its software. They support a higher number of trade orders and offer advanced charting tools, price alerts, and analytical tools for options trading. Read our full Robinhood review to learn more.
Webull vs. Coinbase
Coinbase is a pure-play crypto brokerage firm. As so, they offer a higher number of crypto trading pairs and advanced market-specific analytical tools. This is not necessarily a reason to discard Webull as a crypto trading service, as choosing one over the other would depend on what an investor is looking for.
For investors who want to build diversified portfolios made up of both traditional and alternative assets — i.e., cryptos — Webull may be a better choice. However, if the entire balance of the account will be poured into digital assets, Coinbase may be the most suitable provider for that particular purpose. Read our full Coinbase review to learn more.
| | | | |
| --- | --- | --- | --- |
| | | | |
| Our Rating | | | |
| Account Minimum | $0 | $0 | $0 |
| Trading Fees | $0 | $0 | Up to 0.50% |
| Apps | Mobile (iOS and Android) | Mobile (iOS and Android) | Mobile (iOS and Android) |
| Promotions | Get up to 12 free stocks (*when you open and fund a new account) | Get 1 free stock (*after linking your bank account —stock value range $5.00-$200) | $5 worth of free BTC |
| Margin Trading | Yes | Yes | No |
| | | | |
---
Who Is Webull Best For?
Webull is a great alternative for retail investors and traders in the United States — both beginners and seasoned. The web-based and mobile versions of its trading systems are highly user-friendly while the desktop version counts with the kind of features and analytics that more experienced investors will typically enjoy.
In addition, Webull's zero-commission services and its minimum requirements for opening an account and trading in the markets — i.e., fractional shares — make it a great choice for investors who prefer to take a hands-on approach when it comes to building their investment portfolio.
---
Notable Webull Updates
In January 2022, Webull partnered with Cboe Global Markets to offer index options to retail traders, such as the new Nanos S&P 500 index (INDEXCBOE: NANOS) and the Cboe Volatility Index (INDEXCBOE: VIX) options. These products were made available in the first quarter of the year.
In May 2022, Webull released the 8.0 version of its mobile trading app. The new version included updates to the charting tools, price alerts, and financial reporting. In addition, a news feed was added to trending financial instruments, and 20 new indicators were added to its charts.
In July 2022, Webull launched a new feature called Recurring Investments that allow investors to automatically invest a fixed amount in any stock or ETF they would like. This facilitates the implementation of a dollar-cost averaging (DCA) strategy or any other similar approach.
---
Webull Frequently Asked Questions (FAQs)
The following are answers to the most frequently asked questions (FAQs) we get about Webull's services and trading platform.
How Does Webull Make Money?
Webull makes money primarily via payment for order flow. This is a practice that involves routing its customers' trade orders to high-frequency trading (HFT) firms and market-makers. In addition, the company collects interest payments from the loans it offers to margin accounts, from the interest on the cash that customers leave unused within the platform, and from the spreads it charges for trading cryptocurrencies.
Can I Transfer My Crypto From Webull to an External Crypto Wallet?
Currently, it is not possible to withdraw the cryptocurrencies bought via the Webull trading platform to external wallets. Once this provider launches its wallet service, it is highly likely that this feature will be available.
Is Webull Good for Beginners?
Yes. Webull is a good alternative for beginner investors due to its highly user-friendly trading platform, ample portfolio of financial instruments available to be traded, and the low minimum deposit required to open an account.
Is Webull Safe?
Webull is a U.S.-based regulated entity. The assets held with this provider are covered by SIPC insurance for up to $500,000 per account and a separate private insurance policy contracted by Apex Clearing — a third-party provider of market services to the firm. Overall, Webull meets the criteria to be considered a safe brokerage firm.
Account Minimum: $0
Fees: Zero-commission stock, cryptocurrency, ETF, and per-leg options trading
Promotion: Up to 12 free stocks (*when you open and fund an account with Webull)

---
Final Thoughts
Webull is a zero-commission trading service that offers a decent portfolio of financial assets, advanced solutions and analytical tools for options trading, and a seamless registration process.
For new investors, the absence of a guided investing solution is perhaps the most relevant drawback of using the services of this brokerage firm. Aside from that, Webull remains a nice candidate for beginner investors looking to test the waters of the financial markets for the first time.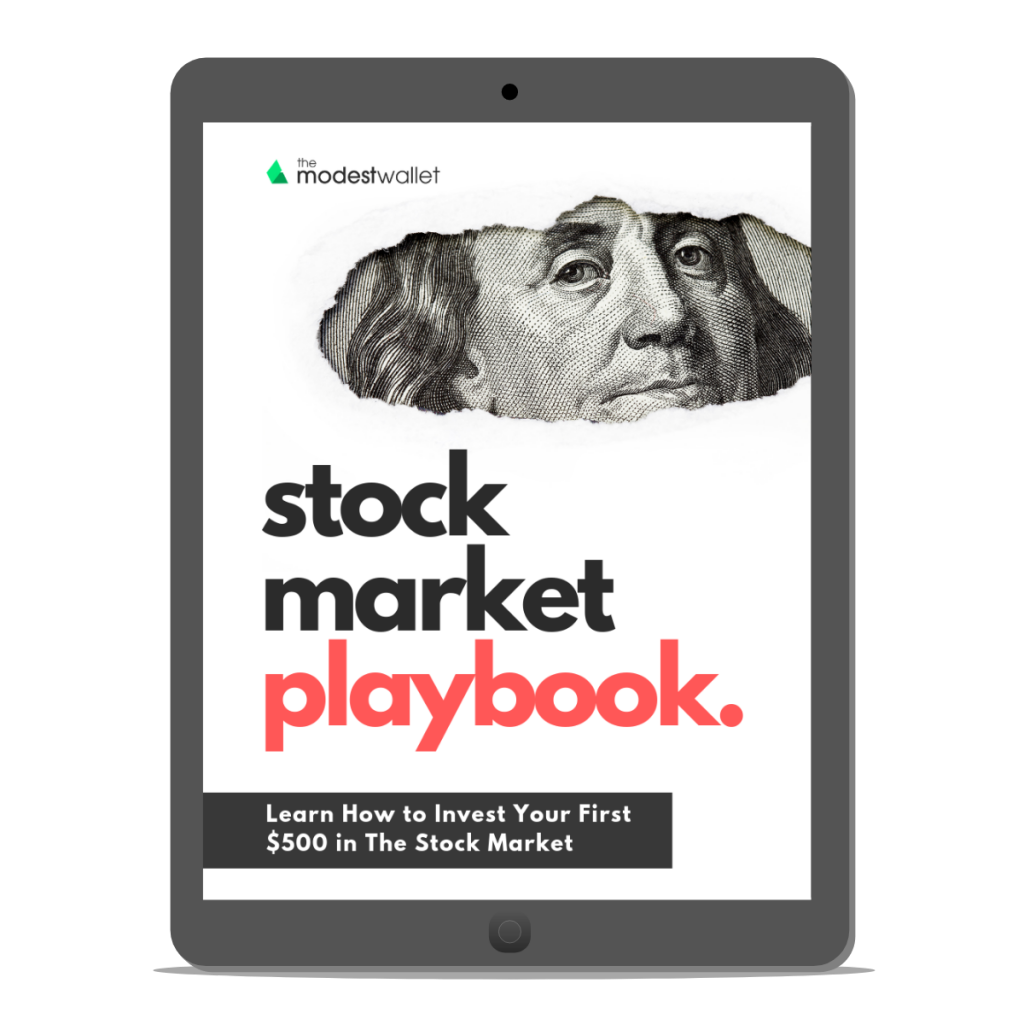 Get our free Stock Market Playbook to learn how to invest your first $500 in the stock market.
Plus our best money tips delivered straight to your inbox.

Alejandro is a financial writer with 7 years of experience in financial management and financial analysis. He writes technical content about economics, finance, investments, and real estate and has also assisted financial businesses in building their digital marketing strategy. His favorite topics are value investing and financial analysis.