18 Best Stock Research Websites in 2023
Many or all of the products featured on this page are from our sponsors who compensate us. This may influence which products we write about and where and how the product appears on a page. However, this does not influence our evaluations. Our opinions are our own. Here is a list of our partners and here is how we make money.
---
The information provided on this page is for educational purposes only. The Modest Wallet is a financial publisher that does not offer any personal financial advice or advocate the purchase or sale of any security or investment for any specific individual.
Need help selecting the right stocks for your portfolio? A stock research website might just be what you're looking for.
With a reliable stock research website, you can get all the information you need to find potential investment opportunities without having to spend hours combing through market data.
Finding the right website for your market research needs is no easy feat, however, because there are so many great options to choose from. To help you out, we've reviewed the best stock research websites available today so you can take control of your portfolio.
TL;DR
---
Best Stock Research Websites
There are dozens of excellent websites and platforms out there that you can use for your investment research. Here are the best stock research websites to consider for all your trading needs.
1. Seeking Alpha: Best for Independent Analyst Insight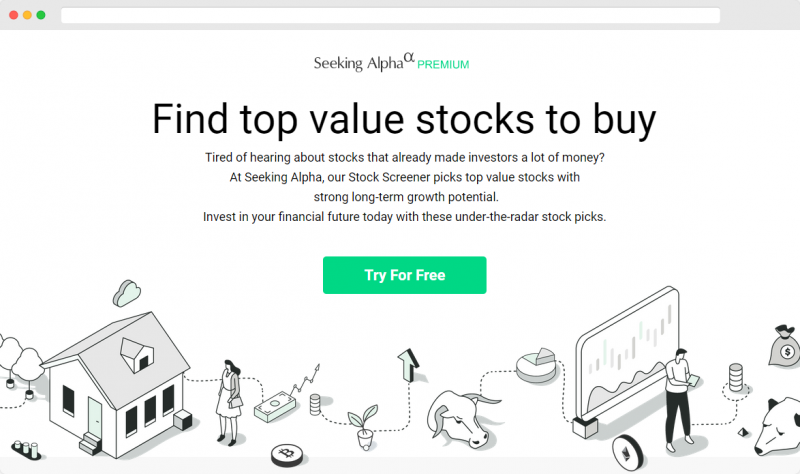 Seeking Alpha is a leading market research and stock screener tool that also happens to be one of the largest investment communities on the internet.
How Seeking Alpha Works
Seeking Alpha is a subscription-based platform that boasts stock screeners, fundamental analysis information, and top-rated stocks lists. It also offers a huge collection of news and opinion articles written by independent analysts. Seeking Alpha even has a great selection of proprietary stock ratings, so you can quickly identify potential winners to add to your portfolio. Read our full Seeking Alpha review to learn more.
Key Features
The basic option is free to use
Find investing ideas and research stocks
Robust investing community
Real-time news updates
Access to investing newsletters
Wall Street ratings for stocks
Get a wide range of stock ideas
Access to a series of podcasts and videos
Ability to manage an investment portfolio
Pricing
In addition to a limited free plan, Seeking Alpha has two paid subscription options:
Basic: Free plan (*limited access)
Premium: $29.99/month (monthly payments) or $19.99/month (annual payments)
Pro: $299.99/month (monthly payments) or $199.99/month (annual payments)
If you want access to all of Seeking Alpha's best features and ratings, you'll need a Premium plan. The Pro plan is ideal for investors that want additional stock screeners and the firm's exclusive investment ideas lists.
Who Is Seeking Alpha Best For?
Seeking Alpha is best for investors who enjoy the convenience of analyst ratings as they search for new investing ideas. The company's collection of news articles is also second to none, so it's a nice option for people who love reading others' opinions on the markets.
Service: Investing community, newsletters, stock research, ratings, scanners, and more
Pricing: $0/month (Basic), $19.99/month (Premium), and $199.99/month (PRO)
Promotion: Free to join (Basic) and 7-day free trial & 50% off (Premium)

2. The Motley Fool: Best for First-Time Investors
Motley Fool is a stock-picking service that offers a range of subscription plans, each of which provides exclusive stock picks and awesome educational resources.
How Motley Fool Works
All of Motley Fool's services are subscription-based. The company has a handful of different subscriptions, most of which provide two new stock or mutual fund picks each month. These subscriptions also include access to an online dashboard where you can get additional investing ideas and connect with other traders via chat rooms. Read our full Motley Fool review to learn more.
Key Features
Weekly stock recommendations
Two new stock picks each month
Access to best stock buys now and starter stocks
Access to previous stock picks
Solid historical performance
Access full history of previous picks
Get text and email stock alerts
30-day money-back guarantee
Community and investment resources
Access to videos and podcasts
Access to news
Access to simulator tools
Pricing
Motley Fool offers many subscription services for different types of investors, including:
Who Is Motley Fool Best For?
Since it offers monthly analyst-recommended stock picks, Motley Fool's subscription packages are best for first-time investors or anyone else that prefers to take a hands-off approach to trading.
Service: Stock picking services, investment newsletters and financial news
Pricing: $199/year (Stock Advisor), $299/month (Rule Breakers) and $299/month (Everlasting Stocks) and $99 (Rule Your Retirement)
Promotion: Stock Advisor (60% Off 1st Year), Rule Breakers ($99 For 1 Year), Everlasting Stocks ($99 For 1 Year)
3. Morningstar: Best for Fundamentals Investors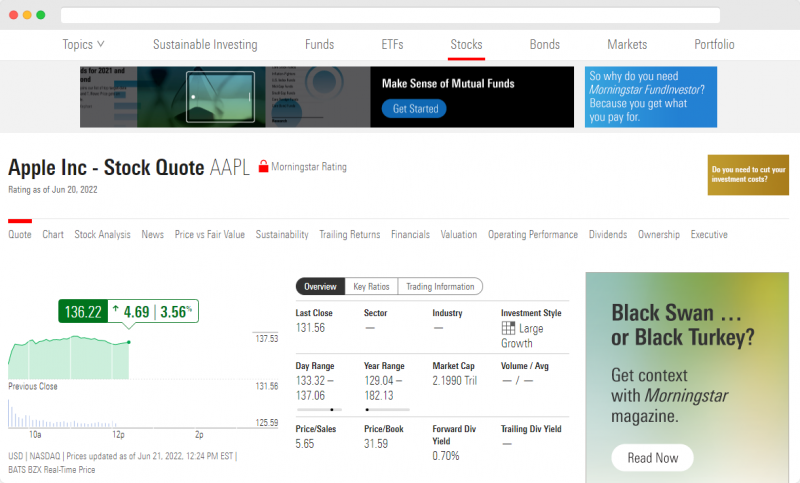 One of the biggest names in the financial services industry, Morningstar is an investment research firm that helps traders learn more about the markets.
How Morningstar Works
When you sign up for a Morningstar subscription, you get an online dashboard where you can read analyst reports, check out lists of recommended assets, create watchlists, and use stock screeners. Morningstar also offers exclusive stock-rating systems and comprehensive fundamental analysis information to help you find the right assets for your portfolio. Read our full Morningstar review to learn more.
Key Features
World-class source of independent market research
In-depth information about stocks and funds
Quick access to potential investment ideas
Portfolio Manager, Monitor, and X-Ray features
User-friendly interface
Access to analyst reports
Cost analyzer feature
Similar funds tools
Robust screening tools
Pricing
Morningstar offers a free basic plan with very limited features. For complete access to the firm's fundamental analysis tools, you'll need a Morningstar Premium subscription:
$34.95/month (monthly payments) or $249/year (annual payments).
$399 for two years
$499 for three years
Who Is Morningstar Best For?
Thanks to its truly impressive collection of fundamental analysis information, proprietary ranking systems, and analyst reports, Morningstar is ideal for investors who primarily focus on the fundamentals but who need help identifying good potential stock picks.
Pricing: Free (basic tracking), $34.95/month (advanced tracking capabilities)
Available: iOS and Android
Highlight: Comprehensive investment data covering stocks, mutual funds, ETFs

4. Benzinga Pro: Best for Intermediate to Advanced Stock Traders
Benzinga Pro is the premium investment platform from Benzinga, a leading financial media outlet, that offers exclusive features and data for the retail investor.
How Benzinga Pro Works
With Benzinga Pro, you get a dashboard where you can find stock screeners, market news feeds, stock calendars, chatrooms, and customizable watchlists. One of Benzinga Pro's best features is its real-time customizable news alerts. The firm also boasts stock scanners that are particularly useful because they let you search for securities using your own custom criteria. Read our full Benzinga Pro review to learn more.
Key Features
Fully customizable platform
Exceptional real-time news alerts
Access to a built-in social network
Powerful stock screener and scanner tools
Solid features for options traders
Stock news alerts, movers, and calendars
Chat rooms
Signals tools
Robust stock screener and scanner
Security widget
Real-time audio news broadcast
Pricing
Benginza Pro currently offers three subscription plans:
Basic: $99/month (monthly payments) or $79/month (annual payments)
Essential: $177/month (monthly payments) or $117/month (annual payments)
Options Mentorship: $347/month (monthly payments) or $281/month (annual payments)
If you want real-time market data and access to Benzinga Pro's sentiment indicators, you'll need an Essential subscription. Meanwhile, Benzinga Pro's aptly named Options Mentorship is ideal for options traders.
Who Is Benzinga Pro Best For?
Thanks to its powerful stock scanners and customizable news alerts, Benzinga Pro is best for intermediate to advanced investors who have a solid grasp of trading fundamentals but need help support when selecting their investments.
Service: Stock Screener, Trade Signals, Newsfeed Access, Real-Time Alerts, Watchlists, Chatroom, and more
Pricing: $27/month (Basic), $177/month (Essential), $347/year (Options Mentorship)
Promotion: 14-day trial (*Get 35% off monthly use code: WALLET35)


5. Stock Rover: Best for Long-Term Investors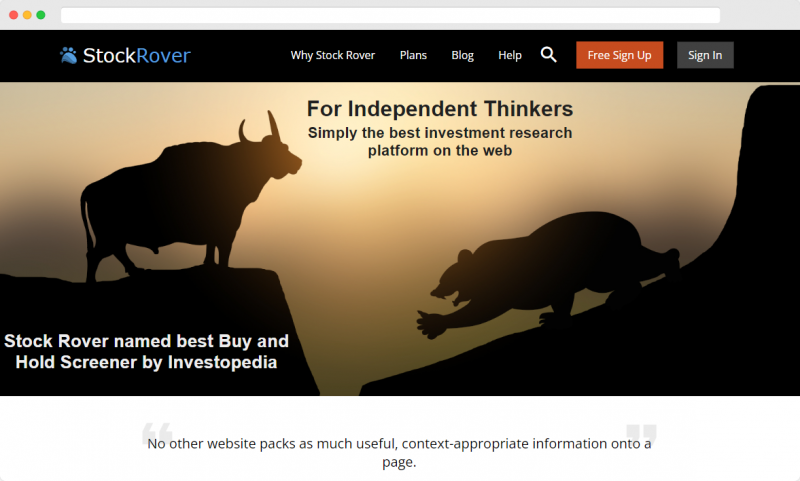 Stock Rover is a market research and portfolio management platform that makes it as easy as possible for you to find your next investment opportunity.
How Stock Rover Works
Once you have a Stock Rover subscription, you get an online dashboard where you can find fully customizable charts, fundamental and technical indicators, exclusive stock insights, screeners and scanners, and even customizable watchlists. Stock Rover also provides portfolio management features, stock alerts, analyst research reports, and a newsfeed. Read our full Stock Rover review to learn more.
Key Features
Wide range of screening tools
Compare stocks, ETFs, and mutual funds
Portfolio tracking
Integration with a number of brokerages
Free accounts available
Investor warning tools
Research reports
Correlation analysis tools
Fair value and margin of safety
Stock ratings
Educational resources and news
Watchlists, notifications, and alerts
Pricing
While Stock Rover does technically have a limited free plan, you'll need one of the following paid plans to use most of the company's tools:
Free: This is a free plan offered by Stock Rover
Essentials: $7.99/month, $79.99/year, or $139.99/2 years
Premium: $17.99/month, $179.99/year, or $319.99/2 years
Premium Plus: $27.99/month, $279.99/year, or $479.99/2 years
Each of these plans offers its own benefits. However, you'll get access to additional stock screening metrics and more advanced charting tools if you have a Premium or Premium Plus subscription.
Who Is Stock Rover Best For?
Stock Rover's comprehensive suite of research tools can serve a wide range of traders, but the company's emphasis on fundamentals and financials makes it a better choice for long-term investors.
Pricing: Free (portfolio management)
Available: Web-based
Highlight: Powerful stock research and screening tools

6. Trade Ideas: Best for AI-Powered Investment Tools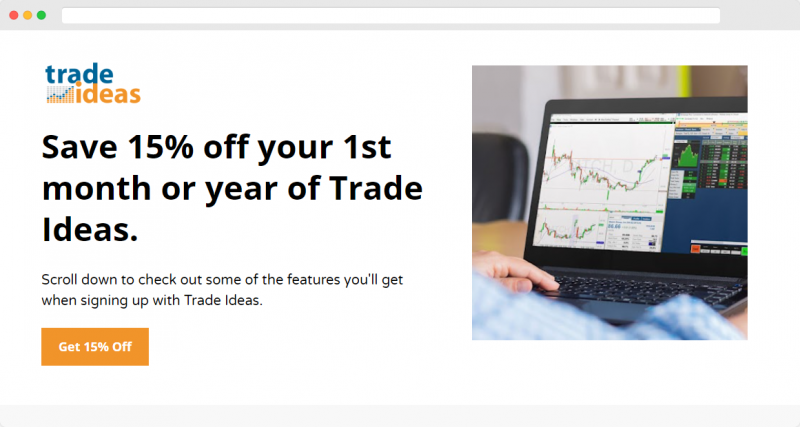 Founded in 2013, Trade Ideas is a fintech company that provides AI-powered stock and investment screening tools for the experienced investor.
How Trade Ideas Works
A Trade Ideas subscription comes with a range of incredible technical analysis features, like customizable charting, AI-powered entry and exit signals, watchlists, and stock alerts. Trade Ideas also lets you practice different strategies with its simulated trading platform, and it offers an extensive collection of educational resources to help you improve your investing techniques. Read our full Trade Ideas review to learn more.
Key Features
Auto-trading capabilities
Brokerage connectivity
A robust collection of indicators
Industry-leading market analysis tools
Simulated trading available
Entry and exit signals
Live trading room
Price alerts and strength alerts
Educational and training resources
Watchlists and indicators
Pricing
Trade Ideas offers two subscription packages:
Standard: $118/month (monthly payments) or $84/month (annual payments)
Premium: $228/month (monthly payments) or $167/month (annual payments)
Note that a Premium subscription comes with Trade Ideas' AI-powered technology (including entry/exit signals) while Standard does not.
Who Is Trade Ideas Best For?
Trade Ideas is best for experienced investors who focus on technical analysis when placing trades. The company's AI technology is some of the most advanced in the industry, so it's a great addition to any technical trader's toolkit.
Service: Stock Screener, Trade Signals, Simulated Trading, AI Trading, Risk Assessment, and More
Pricing: $118/month or $1,068/year (Standard); $228/month or $2,268/year (Premium)
Promotion: 15% off (1st month or year)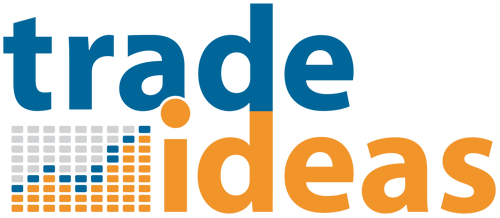 7. Zacks Investment Research: Best for Data-Driven Investors
Zacks Investment Research is a market analysis firm that provides high-end data about the latest happenings in the financial world.
How Zacks Investment Research Works
To use Zacks Investment Research, you need a subscription plan. These subscriptions get you a slew of benefits, including analyst reports, exclusive asset ranking systems, charts, and news articles. Zacks memberships also include data-driven Zacks Rank lists, which showcase analyst-picked assets with a high potential for growth.
Key Features
Zacks Industry Rank to find stocks with the most potential to outperform in the future
Research ETFs and mutual funds
Zacks earnings ESP filter
Equity research reports
Zacks premium screener
Stocks selected by Director of Research Sheraz Mian based on their earnings momentum
Pricing
In addition to a very limited free plan, Zacks has the following membership options:
Zacks Free: Free membership
Zacks Premium: $249/year
Zacks Ultimate: $2,995/year
If you want to use Zack's proprietary stock rankings and read research reports, you'll need a Premium account. Ultimate memberships include bonus features like exclusive commentary on top stocks from expert analysts.
Who Is Zacks Investment Research Best For?
There's a lot for any trader to love with Zacks Investment Research, but the data-heavy nature of the company's offerings makes it best suited for investors who always let the latest numbers guide their trades.
Service: Stock Screener, Research and Reports, Newsletter and more
Pricing: Zacks Premium ($249 per year) Investor Collection ($495 per year or $59 per month) Zacks Ultimate ($299 per month or $2,995 per year) and Newsletters (From $35 per month)
Promotion: None

8. Yahoo! Finance: Best for Portfolio Management & Stock Alerts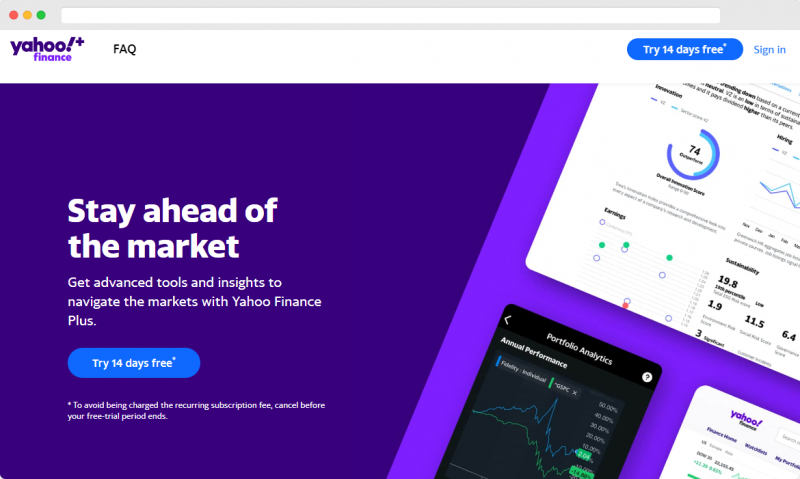 Yahoo! Finance is a financial news and portfolio management tool that's designed to help the retail investor take their trades to the next level.
How Yahoo! Finance Works
Anyone can use Yahoo! Finance's basic features by going to the platform's website. Here, you can read the latest financial news, check market prices, create custom watchlists, and even link your brokerage accounts so you can see all your assets in one place. Yahoo! Finance's paid subscribers also get exclusive analyst reports, portfolio analysis tools, and enhanced alerts.
Key Features
Real-time news and stock quotes
Multiple linked brokers for portfolio tracking
Interactive charts for performance monitoring
Unlimited custom portfolios and watchlists
Fair value analysis for stocks
Daily trade ideas based on your interests
Yahoo Finance community insights
Enhanced charting with auto pattern recognition
Unique company data
Market Digest newsletter
Pricing
In addition to a limited free plan, Yahoo! Finance offers two paid subscription options:
Lite: $35 monthly or $350 annually
Essential: $25 monthly or $250 annually
A free Yahoo! Finance subscription provides basic portfolio management tools and stock alerts. But you'll need a paid plan for detailed stock analytics, suggested trade ideas, and exclusive research reports.
Who Is Yahoo! Finance Best For?
Yahoo! Finance is a solid choice for investors who want both seamless portfolio management and quality stock alerts. Since the company has a quality free subscription plan available, too, it's also a powerful option for traders on a tight budget.
Free to use
Multiple markets available
Historical data
3rd party analyst recommendations
9. Finviz: Best for Visualizing Market Data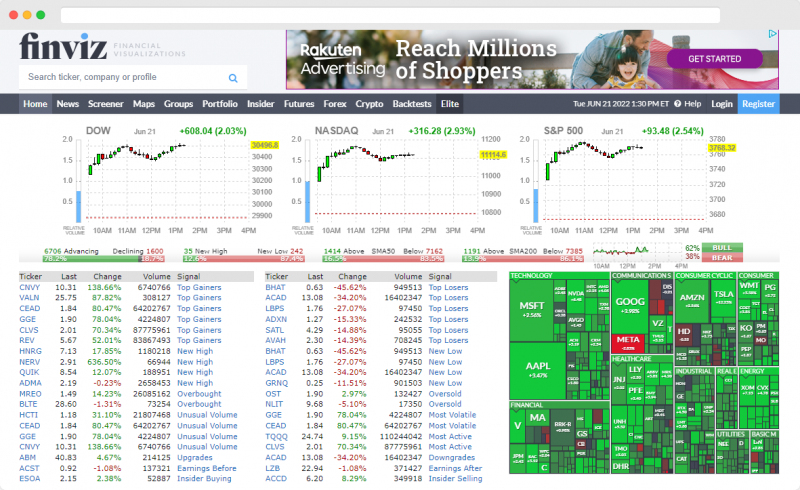 Finviz, or Financial Visualization, is a stock screening and charting website that helps retail investors make more informed trading decisions.
How Finviz Works
To use Finviz, you simply need to head to the company's website. Once there, you can see price quotes for everything from stocks to crypto, create custom charts and graphs, and use the company's stock screener without ever creating an account. Finviz members can also create watchlists, manage portfolios, backtest trading strategies, and get real-time price alerts.
Key Features
Charts and stock quotes
Advanced stock screener
Real-time and extended hours
Backtests
Over 100 technical indicators
24 years of historical data
Advanced charting tools
Find correlated/inversely correlated stocks
Alerts and notifications
Pricing
You can use Finviz for free if you're okay with delayed market data. For real-time price quotes, advanced charts, and full platform functionality, you'll need a Finviz Elite subscription. A Finviz Elite membership costs $39.50/month when paid monthly or $299.50/year when paid annually.
Who Is Finviz Best For?
The Finviz platform excels for investors who like to use charts, graphs, and other tools to visualize market data before placing trades. Its support for crypto, futures, and forex also makes it a suitable option for investors that trade more than just stocks.
Powerful free version
Easy to use
Access to global markets
Wide selection of fundamental & technical metrics
10. TradingView: Best for Charting Tools & Alternative Assets Support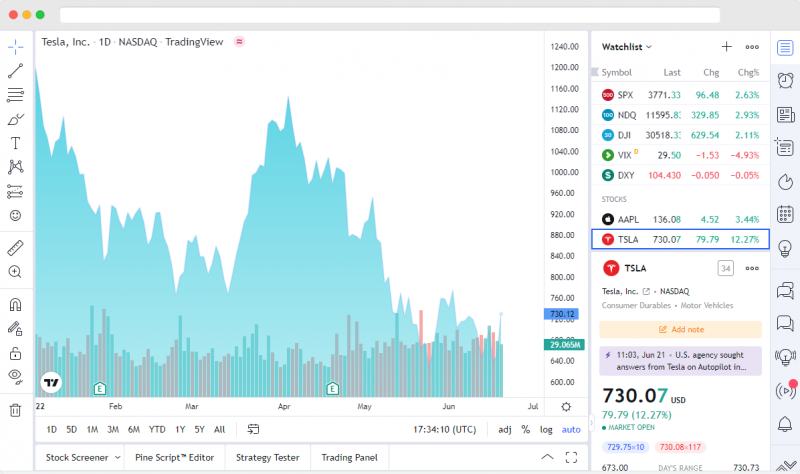 TradingView is a charting and market research platform that's super popular among stock and alternative assets investors.
How TradingView Works
Subscribers to TradingView can use the company's website or desktop and mobile apps. On these platforms, you can create customizable charts for stocks, ETFs, forex, futures, and crypto using hundreds of pre-set indicators. TradingView also provides financial analysis information about thousands of stocks as well as server-side alerts, stock screeners, and paper trading. Read our full TradingView review to learn more.
Key Features
Basic option is free to use
Excellent technical analysis tools
Powerful charting and indicators tools
Extensive educational resources
Robust investing community
Financial analysis tools
Server-side alerts
Screeners
Real-time data
Social features and community
Paper trading
Live trading
Live streams and watchlists
Educational resources
Pricing
In addition to a limited free Basic plan, TradingView offers the following paid subscriptions:
Pro: $14.95/month (monthly payments) or $12.95/month (annual payments)
Pro+: $29.95/month (monthly payments) or $24.95/month (annual payments)
Premium: $59.95/month (monthly payments) or $49.95/month (annual payments)
TradingView's paid plans include increased functionality for alerts, customizable chart layouts, and support for a larger number of indicators per chart.
Who Is TradingView Best For?
TradingView is best for investors who want a powerful charting platform that also includes useful stock screener tools and fundamental analysis information. Its support for crypto and other assets also means it's a nice website for traders with a wide range of investment interests.
Service: Stock screener, charting, social network, paper trading, and more
Pricing: $0/month (Basic), $14.95/month (Pro), $29.95/year (Pro+) and $59.95/year (Premium)
Promotion: 30 day free trial (*paid tiers)
11. Google Finance: Best for Free Market Data & News Headlines
Google Finance is the financial platform for the tech giant Google that provides global market news headlines. It also offers basic market data for stocks, ETFs, mutual funds, forex, commodities, and crypto.
How Google Finance Works
Google Finance is a completely free service that anyone can use to look up market data for individual assets or indices. If you have a Google account, you can also create portfolios and watchlists to track your assets. Google Finance even provides easy access to breaking news headlines from financial media sources across the web so you can stay one step ahead of the markets.
Key Features
Completely free to use
Stock portfolio and watchlists
Real-time stock quotes & charts
Financial news
Market trends
Earnings calendar
Mosty followed stocks on Google
Gainers and losers lists
Discover new stocks
Pricing
There is no charge to use Google Finance. Anyone can use the platform just by heading to the Google Finance website.
Who Is Google Finance Best For?
Google Finance is best for anyone that wants free real-time market data and access to breaking news headlines. Although the platform is fairly basic, it's a solid option for investors who want to keep costs at a minimum.
Free to use
Market trends
Historical data
Mosty followed stocks on Google
12. Stocktwits: Best for Online Investing Community
Stocktwits is an app-based online investing community that's commonly referred to as the "Twitter of trading."
How Stocktwits Works
To use Stocktwits, you first need to download the company's app. Once you have a Stocktwits profile, you can follow other users or publish your own tweet-like posts about the latest market happenings. Stocktwits also offers limited charting functionality, watchlists, earnings calendars, heatmaps, and stock ranking lists so you can keep track of trending stocks on the go.
Key Features
Large trading community
Great social media integration and features
Commission-free trading via TradeApp
Stocktwits earnings calendar
Stocktwits rankings
Stocktwits rooms
Stocktwits heatmap to find the hottest stocks
Market sentiment feature
Intuitive and easy-to-use platform
Pricing
Technically, Stocktwits is free to use and download. But you can pay for Stocktwits Plus for an ad-free experience and the ability to use the app's premium features. A Stocktwits Plus subscription costs $7.99/month or $84.99/year.
Who Is Stocktwits Best For?
Due to its app-based platform and its social media-esque design, Stocktwits is best for traders who want to join an online investing community and anyone else that wants to track market sentiment in real-time.
Service: Stock Heatmaps, Trading Community, Market Sentiment, Chatroom, and more
Pricing: $7.99/month or $84.99/year
Promotion: None
13. The Wall Street Journal: Best for Global Market News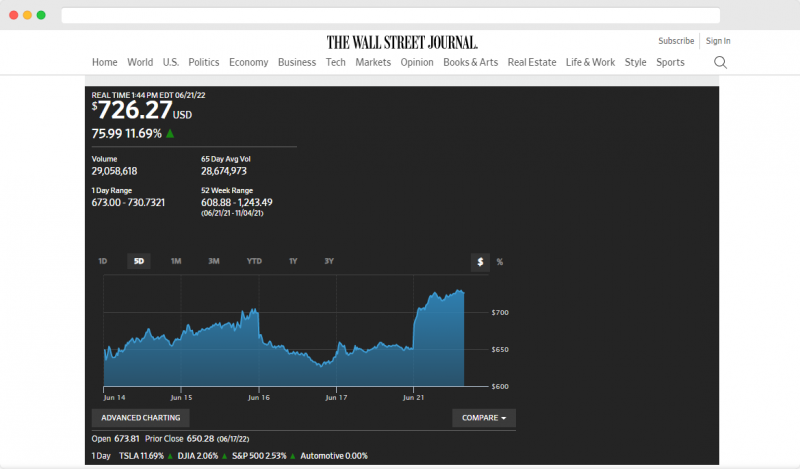 One of the biggest names in the financial industry, The Wall Street Journal is a New York-based publication that provides some of the world's best coverage of global market events.
How The Wall Street Journal Works
If you subscribe to The Wall Street Journal, you'll be able to read all of the paper's articles either online or in print (depending on your subscription plan). The Wall Street Journal doesn't offer much by the way of stock screeners and other similar tools, but it does include countless analyst opinion articles as well as access to subscriber-only events, e-books, and other resources.
Key Features
Access to informative podcasts
Financial news
Advanced charting tools
WSJ analysts ratings
Pricing
The Wall Street Journal's standard subscription pricing is as follows:
Digital Only: $38.99/month
Digital + Saturday Print: $40.99/month
Digital + Monday–Friday Print: $47.99/month
Digital + Monday–Saturday Print: $49.99/month
Who Is The Wall Street Journal Best For?
The Wall Street Journal is best for traders who like to stay up to date on the latest market news from around the globe. Since the paper also covers non-financial events, it's a nice one-stop-shop for investors who want to get all their news in one place.
Access to financial news
Advanced charting tools
WSJ analyst ratings
Robust educational resources and articles
14. TC2000: Best for Advanced Charting & Options Trading Tools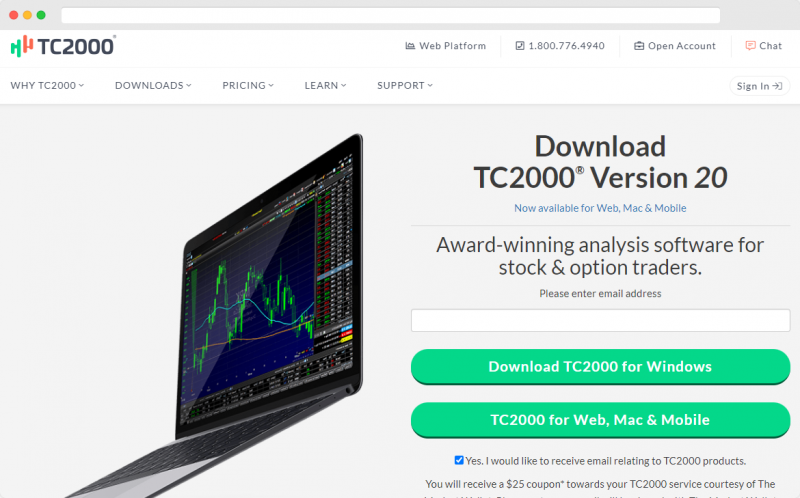 TC2000 is a brokerage firm that also offers a powerful charting and market research platform for experienced stock and options investors.
How TC2000 Works
With TC2000, anyone can purchase a subscription plan that unlocks the company's online dashboard. Here, you can use TC200's industry-leading customizable charts, stock comparison tools, stock screeners, watchlists, and price alerts. TC200 also offers a range of features specifically for options traders, including options-specific charts and built-in trading strategies. Read our full TC2000 review to learn more.
Key Features
Powerful charting and screening tool
Paper trading capabilities
Backtest scans and trading strategies
Customizable watchlists and stock alerts
30-day money-back guarantee
Brokerage integration
Paper trading
Watchlists
Chart templates and indicators
Advanced comparison tools
Stock and options screeners
Personal trading journal
Historical condition testing
Historical scan results
Alerts and reminders
Pricing
TC2000 currently has three subscription plan options:
Silver: $9.99/month (monthly payments), $8.32/month (annual payments), $7.49/month (bi-annual payments)
Gold: $29.99/month (monthly payments), $24.99/month (annual payments), $22.49/month (bi-annual payments)
Platinum: $89.98/month (monthly payments), $74.98/month (annual payments), $67.49/month (bi-annual payments)
Note that you need either a Gold or Platinum plan to access most of TC2000's scanning and charting tools, and you'll need a Platinum plan if you want backtesting functionality. Also, keep in mind that you need to pay extra for real-time price quotes with TC2000 as this data isn't included with subscriptions. Data fees vary from $1.50/month to $50/month.
Who Is TC2000 Best For?
Due to its next-level charting tools and special functionality for options trading, TC2000 is best for traders with a focus on technical analysis or anyone who's particularly active in the options markets.
Starting at $9.99/month (Promo $25 Off)
Customizable layouts of charts
Historical condition testing
Up to 1000 alerts
15. AAII (American Association of Individual Investors): Best for Investor Education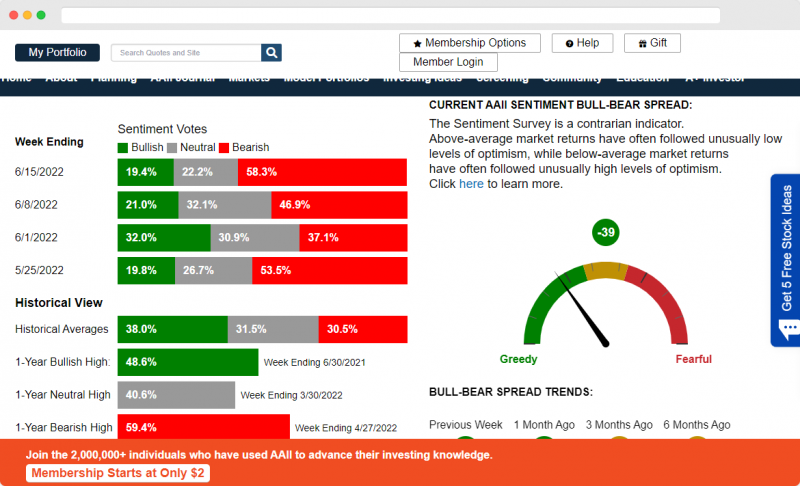 AAII (American Association of Individual Investors) is a non-profit that prizes investor education above all else. The association's website boasts a collection of tools for retail traders to help them maximize their money.
How AAII Works
With AAII, investors can make the most of a comprehensive collection of educational resources that includes model portfolios, news articles, webinars, newsletters, and stock screeners. AAII Platinum members can also get exclusive stock reports, premium investing strategies, and lists of analyst-recommended ETFs, mutual funds, and stocks to invest in to help kick-start their portfolios.
Key Features
Monthly AAII journal
Model shadow stock portfolio
Live webinars and other educational resources
Weekly stock ideas
Pricing
AAII has two different membership tiers:
Basic: $49/year
Platinum: $498/year
Access to AAII's premium features is typically limited to Platinum members. However, you can normally get a discount on your membership if you pay for multiple years at once.
Who Is AAII Best For?
Due to its emphasis on investor education and its easy-to-use interface, AAII is best for traders who are either new to portfolio management or who prioritize the fundamentals when investing.
Service: Webinars, stock ideas, research and newsletters
Pricing: $2 30-day trial (after that subscriptions start at $49 per year)
Promotion: None

16. Barron's: Best for Analyst Insight & Market News
Barron's is a major financial news outlet that provides its subscribers with analyst insight on the latest market news, recommended stock pick lists, and investment ideas.
How Barron's Works
Most of Barron's features are available via its subscription service, which includes complete access to the company's news and opinion articles. Barron's also offers an online dashboard where you can read up on analyst-recommended stocks, listen to podcasts, sign up for newsletters, and get quick guidance on the biggest gainers and losers during each trading day. Read our full Barron's review to learn more.
Key Features
Real-time analysis of global markets
Exclusive market insights and data
Large inventory of articles
Expert stock insights and analysis
Stock picks
Solid customer support
Sleek and user-friendly website and app
Access to a mutual fund screener
Barron's podcast and newsletters
Pricing
To get full access to Barron's, you'll need to sign up for one of the following subscriptions:
Digital: $19.99/month
Digital & Print: $29.99/month
Digital Bundle: $49.99/month
In addition to Barron's, the Digital Bundle also comes with a subscription to The Wall Street Journal and MarketWatch.
Who Is Barron's Best For?
Barron's is best for investors who want news and market insight from a well-established media outlet. It's also a solid option for people who want access to both analyst-recommended stock picks and other exclusive financial data without the need to pay a hefty subscription fee.
Service: Digital and print publications covering U.S. financial markets
Pricing: $19.99/month or $239.88/yr (Digital), $29.99/month or $359.88/yr (Digital + Print) and $49.99/month or $599.88/yr (Digital Bundle)
Promotion: 30-day trial

17. TheStreet: Best for Short- to Medium-Term Investors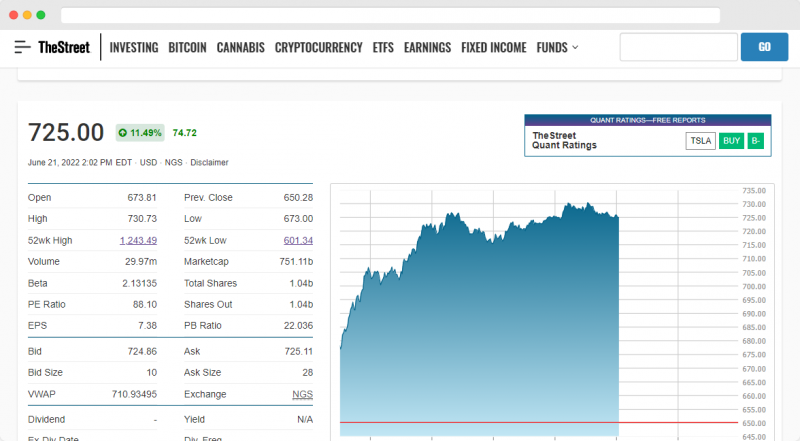 A self-styled financial news and literacy platform, TheStreet is a media outlet that provides easily digestible information about everything that's happening in the global markets.
How TheStreet Works
TheStreet is effectively an online newspaper that focuses on financial news. You can read a portion of the publication's articles for free online or you can sign up for a subscription for exclusive content. Subscribers can get bonus features like analyst-picked stock recommendations and investing ideas as well as real-time trading alerts.
Key Features
TheStreet smarts
Best stocks under $10
Retirement daily
Quant ratings
Real-time trade alerts
24/7 access to the Action Alerts PLUS portfolio
Members-only monthly calls
Pricing
TheStreet offers many subscription packages, each of which caters to different kinds of investors. This includes:
Smarts: $6.99/week
Real Money: $34.99/month
Crypto Investor: $29.99/month
Quant Ratings: $9.99/month
But TheStreet's flagship service is Action Alerts Plus (AAP), which costs $29.99/month or $199.99/year. AAP is TheStreet's membership-based investing club. It gives you real-time trade suggestions and premium portfolio management advice.
Who Is TheStreet Best For?
Every TheStreet membership plan is slightly different, but they all generally have one thing in common: They focus on short- to mid-term trades. This makes it a better option for investors with shorter time horizons or anyone else that wants a constant stream of market news.
Service: Stock ideas and newsletters
Pricing: $249.95 per year
Promotion: None

18. YCharts: Best for Professional-Level Charting Functionality
YCharts is a high-end charting interface that provides investors with the ability to visualize fundamental and technical metrics for any stock with the push of a button.
How YCharts Works
If you sign up for a YCharts membership, you can log into the YCharts interface where you can create fully customized technical and fundamental charts for any stock. With YCharts, you can also look up financial information for different assets, identify potential investments with the firm's screeners, and use the company's proprietary Y-Ratings system.
Key Features
Fundamental & technical charting
Stock & fund screeners
Live news and customizable alerts
Analyst estimates & recommendations
Dashboard for monitoring markets & securities
Dynamic model portfolios
Comp tables & timeseries analysis
Scoring models
Pricing
There are currently two YCharts subscription plans to choose from:
Standard: $300/month
Professional: $500/month
Who Is YCharts Best For?
Since a subscription to YCharts is fairly pricey, the platform is best for traders who are willing to pay premium rates for a professional-level charting and market research terminal.
Service: Stock and fund screeners, technical and fundamental analysis charting and more
Pricing: $300 per month
Promotion: None

---
What to Look for in a Stock Research Website
With so many stock research websites out there, it can be tough to find the platform that's right for your needs. Here are some of the key things to look for before signing up for a stock research website.
Pricing
Price is an important concern when signing up for subscription platforms, and stock research websites are no exception.
We can't tell you what a "good" price is for one of these websites as it all depends on your budget and trading style. Rather than focusing solely on price, consider whether a given website offers enough features that you'll actually use to justify its cost as this information will help you decide if the subscription price is worth the investment.
Free & Paid Plans
Some stock research websites offer both free and paid plans. It can be nice to start out with a company's free plan first to see if you like the feel and functionality of a platform before you spend your hard-earned money.
But keep in mind that free plans are normally quite limited, so you'll usually have to pay for a subscription in order to access exclusive market research tools.
Investment Tools
A stock research platform is only worth paying for if it provides tools that will actually help you with your investment strategies. There are many different investment tools out there, from portfolio management features and watchlists to stock screeners, analyst reports, exclusive ratings systems, and more.
However, the key thing here is not that you get access to every investment tool under the sun. Rather, you need to find a stock research website that gives you the features you actually need so you can get a good value for your money.
Market News & Insight
In addition to investment tools, many stock research websites provide news and opinion articles that can clue you into what's happening in the markets.
Some companies, like Morningstar, source most of their data from professional analysts, while others like Seeking Alpha crowdsource a lot of their articles. Either way, these kinds of news and opinion articles are invaluable for market research because they let you know what others think about specific assets.
Regularly Updated Data
Market data isn't very useful if it isn't updated regularly. Therefore, if you're going to pay for a stock research website, you need to ensure that your chosen platform provides up-to-date information about the markets.
It's worth investigating how often a platform's data is refreshed and how often a company posts news articles. Ultimately, if a company isn't going to give you regularly-updated data and market insight, it might not be that useful of a stock research tool given the volatility we often see in the financial world.
Reputation
When you use a stock research website, you need to trust that the company you're working with is going to provide you with quality information about the markets. This is particularly important with platforms like The Motley Fool that provide specific stock pick recommendations, but it's worth considering for all market research websites.
There's no sure-fire way to assess a company's reputation. But good methods include looking at reviews of the company online from other users, such as through BBB and Trustpilot. For stock picking services, you might also want to check out the company's past performance as this can help you identify whether they've been successful in the past.
---
FAQ Best Stock-Picking Services
Here are our answers to some of your most commonly asked questions about the best stock-picking services.
What Is a Stock Research Website?
A stock research website is an online platform where you can get regularly updated information about the stock market. Every stock research website is slightly different, but most offer finance-related news articles as well as a selection of other features such as charting and portfolio management tools.
How Do Stock Research Websites Work?
Most stock research websites work on a subscription-based model where you have to sign up for a paid account in order to access the company's best news articles and exclusive research tools. However, some of these websites also offer free access to a limited selection of their articles and market research features to help you decide if they're right for you.
What Is the Best Free Stock Research Website?
The best free stock research websites include platforms like Google Finance, where you can get basic stock data and news. You can also get free accounts at many other popular stock research websites like Yahoo! Finance and TradingView.
What Are the Best Stock Recommendation Sites?
Some of the best stock recommendation websites include The Motley Fool, Morningstar, Seeking Alpha, and Benzinga Pro. But there are dozens of stock recommendation companies out there, each of which offers services that are tailored to different kinds of investors.
Why Are Stock Research Websites Important for Your Investments?
Stock research websites are important for your investments because they help you get the data you need to be more informed about your portfolio holdings. Without a quality stock research website to guide you, your investments may be controlled more by emotion and market sentiment than by data, which can hurt your long-term gains.
How Do I Research Stocks as a Beginner?
If you're new to investing in stocks, begin your market research by focusing on the basic fundamentals, such as a company's earnings and profitability history and its plans for future growth. Afterward, focus on technical measurements of a stock's performance, such as P/E, ROE, PEG, and debt-to-equity ratios. These ratios can help you better compare stocks across sectors so you can find the investments that are right for your needs.
---
Final Thoughts
There are dozens of excellent stock research websites out there, each of which caters to a unique type of investor.
When selecting a platform for your market research, it's important that you find a company that offers the right blend of tools and functionality for your investing needs without straining your budget. We hope this article helped you learn more about your options so you can take your portfolio to new heights.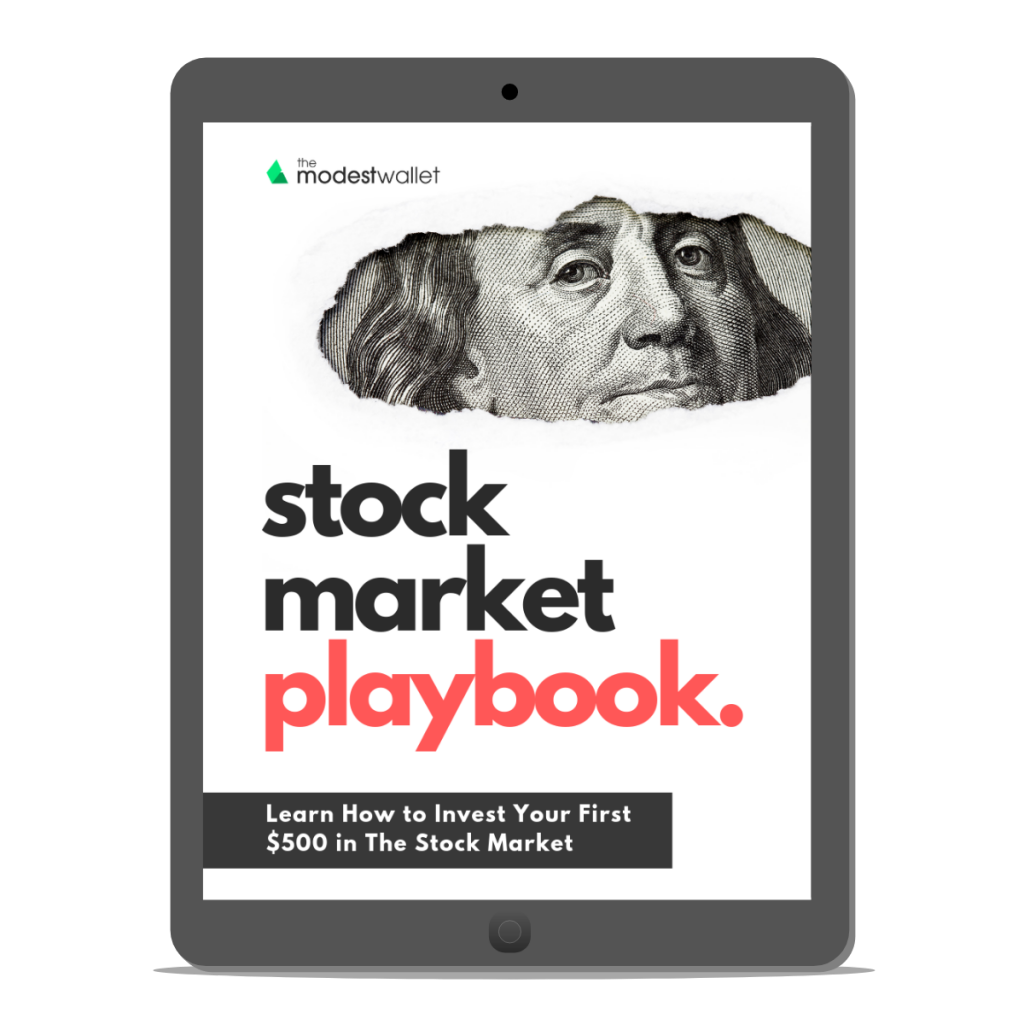 Get our free Stock Market Playbook to learn how to invest your first $500 in the stock market.
Plus our best money tips delivered straight to your inbox.

Gaby is a freelance writer and self-employed business owner with a personal interest in all things finance-related. She has a passion for educating others on how to make the most of their money and loves writing about everything from taxes to crypto.