22 Best Driving Apps to Make Money in 2023
Many or all of the products featured on this page are from our sponsors who compensate us. This may influence which products we write about and where and how the product appears on a page. However, this does not influence our evaluations. Our opinions are our own. Here is a list of our partners and here is how we make money.
---
The information provided on this page is for educational purposes only. The Modest Wallet is a financial publisher that does not offer any personal financial advice or advocate the purchase or sale of any security or investment for any specific individual.
One of the first rules of making money is to work with what you've got. For most Americans, that means figuring out how to turn your smartphone and your car into income-generating assets.
Fortunately, the gig economy offers plenty of opportunities to make money behind the wheel. From food delivery to ridesharing to last-mile shipping, there's an app for every schedule, vehicle, and driver.
Keep reading to discover the best driving app for you based on your income goals, location, availability, and vehicle.
---
Best Driving Apps to Make Money
Curious about how to leverage your car or commute to make some extra cash in a hurry? We've profiled the most popular driving apps to help you decide on the best side hustle for your needs and resources.
1. DoorDash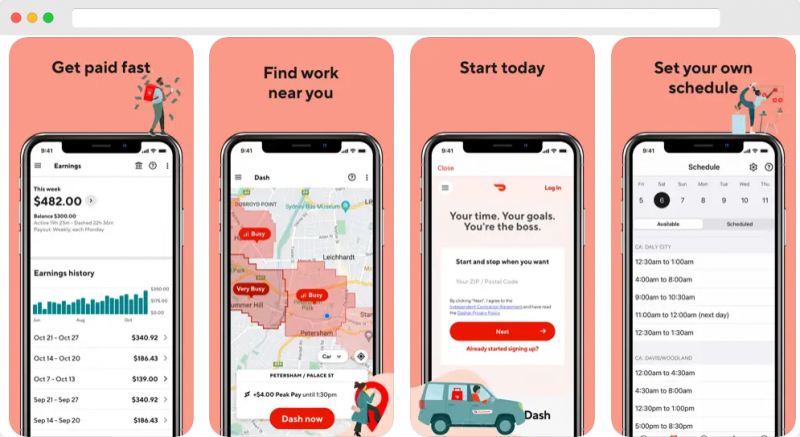 Rated the #1 food delivery app in the US, DoorDash partners with restaurants to help move meals from their kitchens to customers' tables. Delivery people are known as "Dashers" and have the option to use cars, scooters, or bikes to make pickups and dropoffs.
Dashers use the app to schedule blocks of availability in advance and snag popular windows. Demand tends to rise around mealtimes which may pose challenges for those looking to supplement a nine-to-five job or who have small children at home. But for students and new grads looking for extra cash or to pay down debt, it's a great choice.
To drive for DoorDash, you'll need a reliable vehicle, auto insurance, and a clean driving record. The company will also run a background check.
How much can I make? Dashers typically earn between $7.25 to $29.80 per hour in base pay, though rates increase during peak times of high demand (keep in mind that the earnings potential will vary depending on your location and the amount of driving you do). The company also offers challenges that reward Dashers for successfully completing a specific number of deliveries in a set time period. Dashers keep 100% of any tips. Most Dashers agree that you can expect to earn around $16 per hour.
Where can I sign up? DoorDash operates in over 7,000 cities across all 50 of the United States. Canadians can also sign up to deliver with DoorDash in over 80 cities. Read our full DoorDash driver review to learn more.
2. Postmates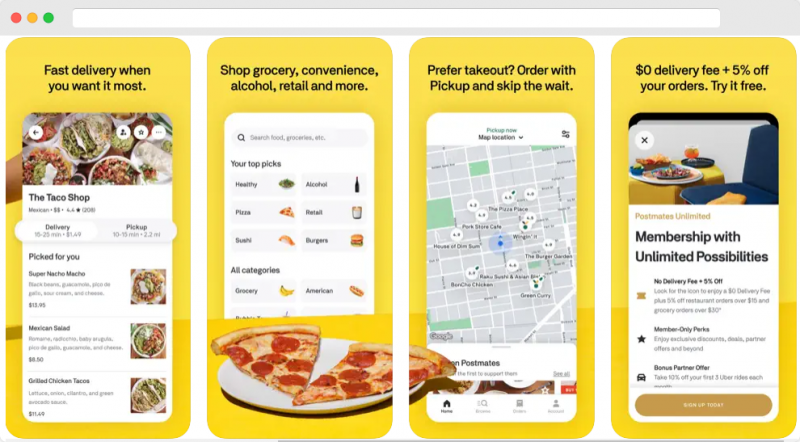 Ever wished you could get your office supplies delivered straight to your desk? What about a last-minute birthday gift? San Francisco app Postmates took that vision from dream to reality in 2011, connecting busy urbanites with local merchants.
Postmates drivers, also known as Fleet Members, can look forward to some exciting requests — the app allows customers to request just about anything. For drivers who'd rather not make small talk or worry about food going cold while sitting in traffic, Postmates is the ideal choice.
Postmates requires drivers to provide a profile photo for ID purposes, as well as proof of address. You'll also need to pass a background check. Postmates isn't picky when it comes to vehicles. As long as it's reliable and you hold a driver's license, you're ready to go.
How much can I make? Postmates Fleet Members report slightly higher earnings than other delivery services, with a national average of $20 per hour. Drivers pocket 100% of any tips which the app prompts customers to make and can benefit from performance bonuses during busy periods.
Where can I sign up? Postmates currently operates in 3,500 cities across the US and all 50 states. Expect to see its reach increase as Uber continues to grow its network. Read our full Postmates driver review to learn more.
3. Uber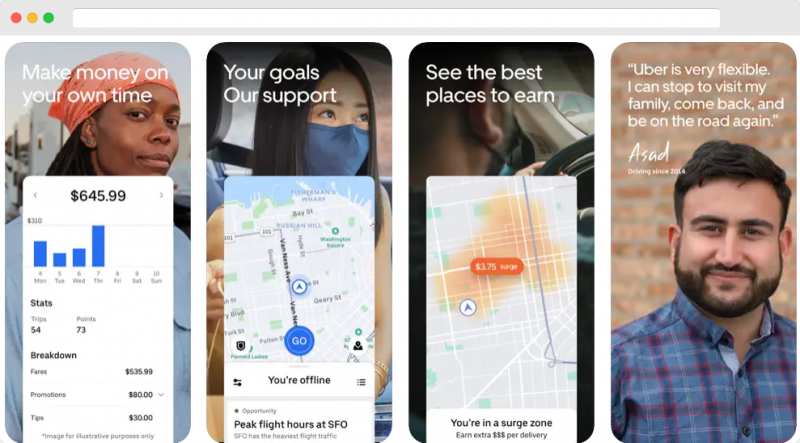 The rideshare app that started it all, Uber, now operates in over 80 countries around the world and claims over 5 billion completed rides. For riders, Uber offers the advantage of competitive pricing; clean, modern vehicles; and on-demand availability. Drivers enjoy flexibility, freedom, and some important perks, like discounts on car maintenance, health insurance, and tax preparation.
If you're a sociable person who enjoys exploring your city, Uber driving may be the side hustle for you. Introverts or those concerned about wear and tear on a vehicle may balk at repeated airport runs. Drivers who identify and present as female have the option to only pick up female passengers, making it a safer choice for those more vulnerable to aggression.
Like most rideshare services, Uber requires a clean criminal and driving record. Drivers must be at least 21 years old with a year of driving experience and, in some cases, carry additional liability insurance. The company also only accepts certain vehicles. You must drive a four-door sedan with no visible defects that is less than 15 years old.
How much can I make? Most drivers report earning between $15 to $22 per hour, but that's before expenses like maintenance and gas. Uber drivers receive a percentage of each fare, as well as 100% of any tips, but the company doesn't pay for time spent searching for an address or idling in traffic. That base rate can easily skyrocket during particularly busy times, however, when Uber institutes "Surge Pricing." The average hourly wage of an Uber Driver in the United States is $18 per hour, according to Salary.com
Where can I sign up? You'll find Uber in almost every city in the United States — over 3,500 at last count, as well as Canada, Australia, and many parts of Europe.
4. Uber Eats
Launched in 2014, the successful younger sibling of the rideshare app, Uber, Uber Eats has helped unite millions of customers with their takeout of choice. Like Postmates and DoorDash, Uber Eats provides third-party delivery services to local restaurants, saving them the time and cost associated with hiring and managing their own drivers.
In addition to meals, Uber Eats drivers may find themselves delivering groceries, flowers, personal care items, and even beer or wine. The wide range of services means more flexibility for riders, which depend less on peak times to snag valuable deliveries. Contactless delivery also makes this a great choice for anyone uncomfortable with transporting passengers.
How much can I make? In busy metropolitan areas, Uber Eats drivers can earn up to $38 per hour. Nationwide, drivers make closer to $18 per hour, excluding tips. Drivers who focus on high-demand periods in the afternoon and evening report bonuses of up to $3.50 per delivery.
Where can I sign up? If Uber serves your city, so does Uber Eats. That means that if you're eligible to drive for Uber, you can also deliver for Uber Eats. Read our full Uber Eats driver review to learn more.
5. Instacart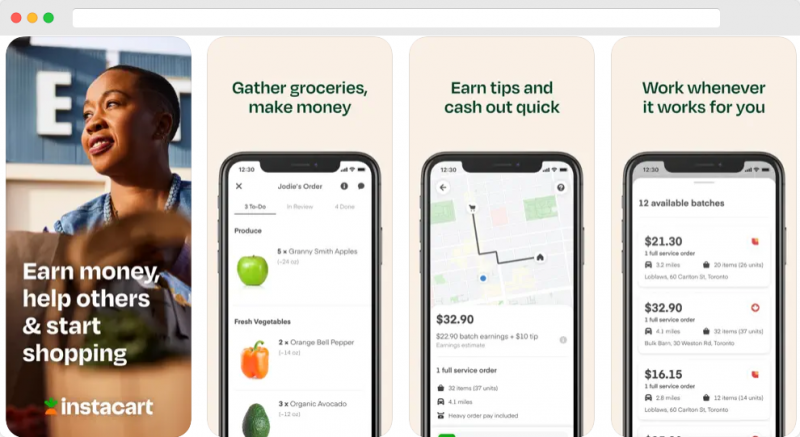 Overscheduled families everywhere love Instacart for simplifying the process of shopping for food. Rather than trek to the grocery store to wander up and down aisles, shoppers use the app to choose from over 500 million products at local and chain grocery stores for same-day delivery.
As an Instacart Shopper, you'll be responsible not only for delivering groceries, but shopping for them, too. If you've ever dreamt of getting paid to shop, this is the side gig for you. The company allows Full-Service Shoppers to accept orders at any time, meaning you enjoy complete scheduling freedom. Great news for anyone with fixed commitments or who prefers to only drive as needed for spare cash.
Instacart asks Full-Service Shoppers to pass a background check and provide evidence of a valid license and reliable access to transportation. The company also indicates that Shoppers should be able to lift 50 lbs without difficulty and own a smartphone.
How much can I make? Instacart Shoppers earn an average of $13 an hour, plus 100% of any tips. Note, however, that this data includes in-store shoppers, who earn less than Full-Service drivers and shoppers. The company does not reimburse for fuel or maintenance.
Where can I sign up? Instacart has service areas in all 50 of the United States, as well as parts of Canada, including over 5,500 cities. Read our full Instacart shopper review to learn more.
6. Shipt
From groceries to household goods to electronics, Shipt helps busy people eliminate the need for weekend errand running or grocery shopping. Technically, Shipt offers two opportunities to make money while driving. Drivers can opt to shop for and deliver groceries and household essentials on a per-order basis, similar to Instacart. Alternatively, drivers can focus exclusively on package delivery for local Target stores based on predetermined routes.
Shipt drivers choose when to work, with no minimum number of hours or orders per year. If your schedule changes frequently, or you're looking to supplement other gig economy income, Shipt can accommodate your needs.
To drive for Shipt, you'll need to be at least 18 years old. The company will also want to see proof of a US address, as well as your auto insurance. Your car must be model year 1997 or newer and have four doors.
How much can I make? According to Shipt, experienced drivers can make between $16 and $22 per hour. Drivers also enjoy perks like discounted health insurance. The company does not reimburse for fuel or maintenance. According to Glassdoor, Shipt shoppers earn around $18 per hour nationwide.
Where can I sign up? A wholly-owned subsidiary of Target, Shipt operates in all 50 states and 5,000 cities, with plans to expand. Read our full Shipt shopper review to learn more.
7. Lyft
Uber's strongest competitor sets itself apart from the other major rideshare service by focusing on the rider experience. Don't let the playful pink and purple branding fool you; Lyft aims for optimal customer satisfaction. For drivers, this means enhanced support, powerful in-app navigation, and mandatory training.
Drivers for Lyft can work whenever and wherever — it's entirely up to you when you drive. That said, driving during Prime Time peak hours often leads to better earnings, especially when the company tacks on bonus pay. If you're hoping to make a large amount of cash in a hurry, driving during busy times can help you reach your goals. The app provides comprehensive driver support, including photos of riders, sophisticated navigation, and direct access to customer support.
In addition to passing a background check, Lyft drivers must have a clean driving record and be at least 21 years old. The company also has strict vehicle requirements: your car must have at least four doors, no body damage, and no more than 35,000 miles on the odometer.
How much can I make? Lyft drivers typically earn around $19 per hour, plus 100% of any tips. Location matters: if you drive in a major metropolitan area during peak hours, it's possible to make significantly more. The company does not reimburse for fuel or maintenance.
Where can I sign up? Lyft boasts coverage areas in all 50 US states, as well as Canada.
8. Grubhub
Another food delivery app, Grubhub, takes a straightforward, no-frills approach to business. Customers place orders, and Grubhub ensures that food arrives hot, fresh, and looking presentable.
Grubhub stands out from other food delivery companies because of its pay structure. Drivers receive compensation for every mile driven, as well as for idling and wait times, rather than per order. This can add up quickly, particularly in less populated or high-traffic areas. Book time in advance to secure coveted prime-time spots or drive on demand, whichever suits your schedule.
To drive for Grubhub, you'll need to be at least 19 years old with a clean driving record and access to a smartphone and reliable transportation. The company also runs background checks on applicants.
How much can I make? Driving for Grubhub can net you around $16 per hour, plus any tips. The company also offers rewards and perks in the form of discounts with major retailers but does not run promotions or bonus programs. Drivers for Grubhub are responsible for their own fuel and maintenance.
Where can I sign up? Grubhub partners with over 300,000 restaurants across 4,000 cities in all 50 US states. Read our full Grubhub driver review to learn more.
9. Caviar
As the name implies, Caviar is all about quality. A food delivery service that partners with premium local restaurants, Caviar prides itself on offering users "the best food in your city." Curated collections like, "Healthy Enough" and "Vegan" make it easy for customers with dietary restrictions to choose appropriate meals, while "scheduled for later" delivery options help guarantee timely arrival.
As a wholly-owned subsidiary of DoorDash, Caviar sources its couriers from the parent company. If you want to drive for Caviar, you'll need to sign up with DoorDash and schedule time slots when you're available to deliver. As with all food delivery apps, mealtimes generate high volumes of orders, so you'll want to be available around lunch or dinner time.
How much can I make? Caviar drivers earn around $18 an hour in base pay, though the company claims that tips and bonuses can add up to $7 for a total hourly rate of $25. The company does not pay for wait time or compensate for mileage, but does allow drivers to participate in DoorDash challenges and other incentive programs.
Where can I sign up? Caviar focuses on cities with a significant number of upscale eating establishments, which limits availability. Currently, the service partners with restaurants in just eight states.
10. Favor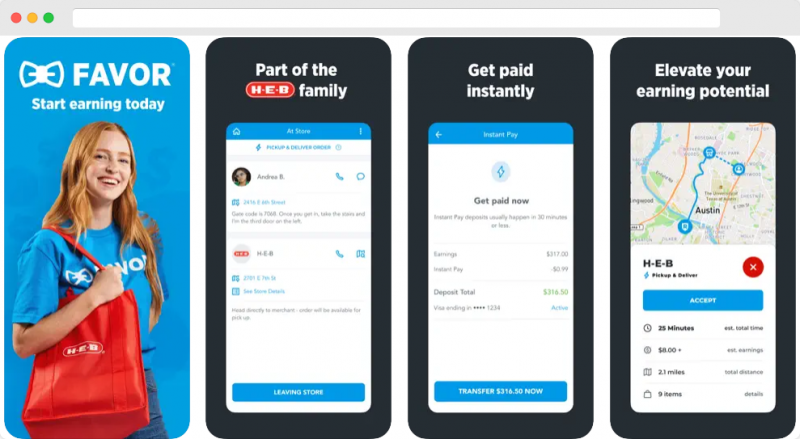 If you're in Texas and need a pair of sneakers delivered to your office? What about urgent dry cleaning pickup? Favor has you covered. This on-demand service claims to deliver anything to anyone within its coverage area within an hour.
Favor couriers or Runners decide when to work by booking timeslots during which they're available to accept orders. Competition for busier blocks can be fierce, however, and not all blocks promise orders. That said, Favor does promise a base rate of pay for every Runner, regardless of demand.
Runners for Favor should be 18 or older and have access to a reliable form of transportation. Drivers need to show evidence of a valid license and have a clean driving and criminal record. Otherwise, all you need to accept orders is a smartphone.
How much can I make? Favor drivers receive a guaranteed base pay of $9 an hour, plus any tips. Most Runners report making closer to $12 dollars an hour. However, the company does not pay for fuel or other car-related expenses. According to Glassdoor, the average Favor runner makes around $18 per hour, however it can go as low as $12 per hour and as high as $27 per hour.
Where can I sign up? Favor is available in Texas.
11. Saucey
Whether you prefer to sip whiskey or wine, alcohol delivery app lets you enjoy your tipple of choice without ever leaving the house. Founded by two former liquor store couriers, Saucey stands out for its high standards: drivers must arrive within 30 minutes and maintain a 4.8/5.0 customer rating to continue driving.
The nature of Saucey's business means drivers need to be available nights and weekends — the company accepts orders from 12 pm to 11 pm, Monday to Thursday, and until 1 am on Friday and Saturday. You'll also need to feel comfortable interacting with customers, whom you'll need to ID before handing over the goods.
To drive for Saucey, you'll need to be at least 21 years old with a reliable vehicle with a model year 2007 or later. The company also runs a background check to confirm a clean driving record with no DUIs.
How much can I make? Saucey drivers earn a flat fee of $5 per delivery plus an extra $0.50 for each item in the order. Pick up five bottles of wine, and you're looking at $7.50 total, plus tips. Saucey does not reimburse drivers for fuel or maintenance. Some couriers report earning close to $18 an hour with the service.
Where can I sign up? Saucey currently takes orders in over 25 cities, with plans to expand. The company reports that San Francisco, Los Angeles, and Chicago account for over 75% of orders.
12. goPuff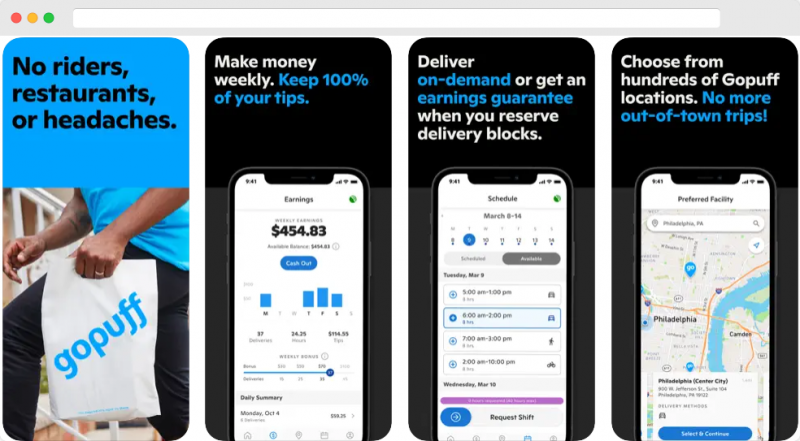 Designed for those "Oh, no!" moments when you realize you're out of milk (or beer) at 10:00 PM, goPuff operates as a kind of online corner store. Customers purchase pantry staples and household essentials directly from the company, which then dispatches delivery drivers from fulfillment centers with the goods.
In order to guarantee coverage, goPuff Driver Partners work in shifts. That means you'll need to commit to showing up at a company warehouse at set times to wait for orders. Drivers, not the company, select their shifts. Popular timeslots can fill quickly, however, and there's no guarantee that orders will come in during a given shift.
The company has no vehicle requirements, but drivers who may need to deliver alcohol will need to complete a mandatory training course and be comfortable ID-ing customers.
How much can I make? goPuff drivers report an impressive hourly rate — close to $20 per hour, plus any tips. The company pays a guaranteed hourly minimum to drivers and also offers mileage compensation for longer routes.
Where can I sign up? goPuff has fulfillment centers in over 1,000 US cities and continues to expand.
13. Amazon Flex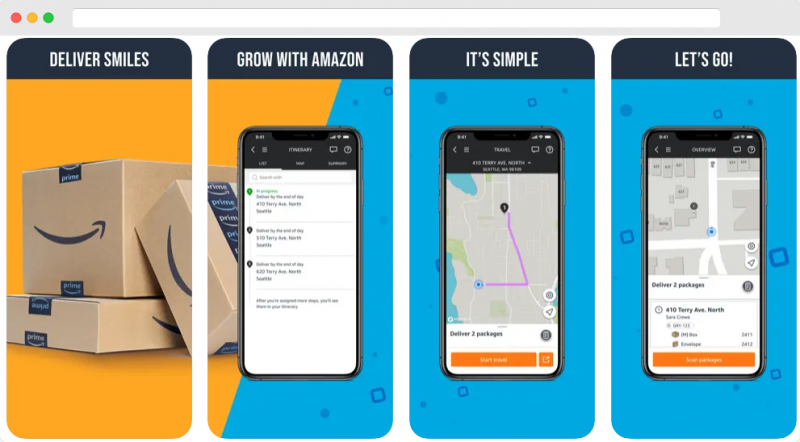 Want to cash in on the driving gig economy but struggling to meet the vehicle requirements for better-known apps like Uber or DoorDash? Amazon Flex, a last-mile delivery service for — who else? — Amazon might be your best bet.
Similar to DoorDash, Amazon Flex asks drivers to sign up for delivery "blocks" or shifts, during which they have the option to accept or decline deliveries. If you're comfortable committing in advance, the block system may suit you. Those who need more flexibility, however, may find Amazon Flex challenging.
Once you receive your orders, you'll head to a fulfillment center to collect your packages. Amazon suggests a route, but there's no penalty for improvising. Be aware, however, that failure to complete your deliveries by the end of your block will mean working without pay.
Amazon Flex drivers must be 21 years of age or older with a valid driver's license and clean driving record. Due to the size and number of packages you may need to deliver, Amazon requires that you drive a four-door sedan, SUV, or truck with a covered bed.
How much can I make? Amazon Flex reports that most partner drivers take home between $18 and $25 an hour — though earnings will vary based on location. According to Indeed, the nationwide average wage for an Amazon Flex driver is around $16 per hour, but it can go as high as $26 per hour.
Where can I sign up? While Amazon continues to recruit drivers actively, the Flex program is currently available in just 50 cities.
14. Roadie
Intrigued by the idea of package delivery but reluctant to invest the time and miles rushing from one side of town to the other to fulfill orders? Unable to work during lucrative "peak" and "surge" hours? Roadie could be just the app for you. This "crowdsourced" delivery platform matches drivers with pickups and dropoffs along routes they intend to travel, meaning you never have to go out of your way.
An ideal platform for busy parents or regular commuters, Roadie offers all the flexibility of similar apps like Postmates without the pressure to maintain a constant stream of deliveries. Choose jobs that match your regular routine or, if you're road-tripping, snag high-ticket gigs moving packages from state to state.
Lesser known than some of the more established apps, Roadie has a more limited customer base. This can mean fewer opportunities to deliver, but Roadie clearly isn't targeting semi-professional drivers. Roadie does not perform background checks or have minimum vehicle standards.
How much can I make? According to Roadie, the average trip nets a driver $13, which one source estimates works out to $23 an hour. Roadie does not compensate drivers for mileage or wait times. Longer trips can lead to higher compensation.
Where can I sign up? A subsidiary of UPS, Roadie operates in all 50 states.
15. BiteSquad
While most food delivery apps first gained momentum in major metropolitan areas and scaled by partnering with national chains, underdog BiteSquad took a different approach. Founded in Minneapolis, MN, BiteSquad partners with small, local restaurants in less cosmopolitan cities, like Boone, NC, and Lawton, OK.
BiteSquad aims to differentiate itself from other food delivery apps by providing a top-notch customer experience. That means food needs to arrive hot and in perfect condition. Dispatchers monitor drive times and dock points on ratings for slow progress, which can impact a driver's ability to claim new jobs.
Note that if you drive for BiteSquad, you'll receive your Form 1099 from Delivery Logistics, a third-party company contracted by the company to manage its drivers. Delivery Logistics allows drivers to work when available and does not require a set schedule.
How much can I make? The median rate for a BiteSquad driver is around $17 per hour, on par with other food delivery companies. Drivers earn a base rate per order plus 100% of any tips.
Where can I sign up? BiteSquad operates in 14 US states, including South Dakota, Mississippi, Hawaii, and Arkansas.
16. Eaze
Talk about a special delivery! Eaze connects licensed dispensaries with vetted drivers who transport cannabis products to patients in states that allow therapeutic marijuana use. As you might expect, the hiring process with Eaze includes some additional steps, including phone and in-person interviews, as well as background checks and additional insurance. Because Eaze drivers are desirable targets for theft, drivers must have a working car alarm.
Drivers choose a preferred delivery zone at the time of sign-up, which can help cut down on lost time and fuel costs. That said, if your delivery zone goes quiet for weeks or months, you won't have the option to pick up jobs in busier areas. Shifts also tend to coincide with a standard workday, which makes this particular gig less flexible than other driving opportunities.
How much can I make? Despite the unique nature of their cargo, Eaze drivers earn about the same as their colleagues working with more conventional delivery services. Rates hover around $21 per hour, but the company does offer mileage reimbursements.
Where can I sign up? Due to regulatory restrictions, Eaze is only available in California and Oregon.
17. Delivery.com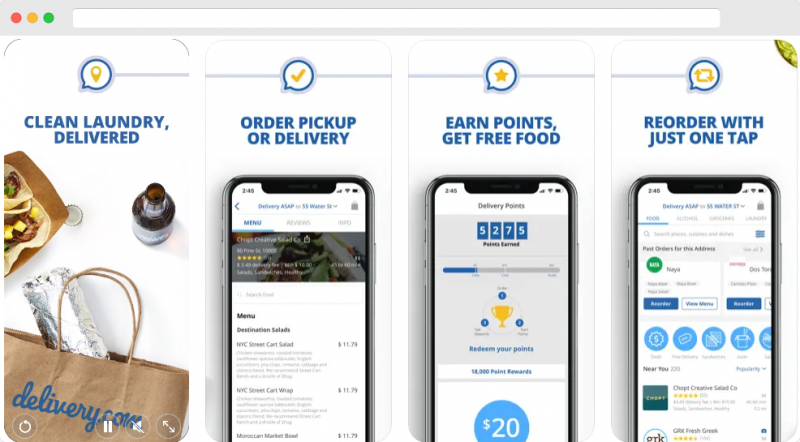 You name it, Delivery.com most likely bring it to your door. From groceries, alcohol, meals, laundry, and dry cleaning, this app sets itself apart by offering a wide range of items for pickup and delivery.
Delivery.com follows the Postmates model for driver scheduling. Couriers decide when to work and can begin accepting orders immediately upon approval. No competing for schedule blocks or idling during lulls with fewer orders.
Driving for Delivery.com doesn't take much: you'll need a reliable vehicle, a valid driver's license, and a smartphone. Depending on location, the company may run a mandatory background check.
How much can I make? Compensation for Delivery.com drivers follows industry trends. Most drivers earn around $21 per hour. Drivers are entitled to 100% of any tips, but the company does not pay for gas or waiting time.
Where can I sign up? Delivery.com has its headquarters in New York, and operates in over 100 US cities, including Boston, Chicago, Los Angeles, San Francisco and Washington DC.
18. HopSkipDrive
HopSkipDrive is a service very similar to Uber. The rideshare service was founded by three working moms who understand that parenting today can feel like it needs a teleportation device. The app allows parents to schedule rides in advance or on demand, including recurring pickups and drop-offs. 
Current CareDrivers praise HopSkipDrive for providing a balance of flexibility and predictability. You choose when and how much you want to work but have the option to book rides up to seven days in advance. Parents take note — most rides will follow school pickup and dropoff schedules. Teachers, on the other hand, can make some extra cash while commuting to work.
To become a CareDriver, you'll need to have five years of experience in a caregiving position. The company also runs multiple background checks, including fingerprinting. Your vehicle must be model year 2012 or later, have four doors, and be fully insured. Finally, you can't drive for this service if you're under 23.
How much can I make? HopSkipDrive tops the list of rideshare apps when it comes to compensation: CareDrivers typically earn between $21 and $40 per hour. The company does not compensate for gas or maintenance, however.
Where can I sign up? HopSkipDrive offers services in 11 states and 16 cities. California and Texas account for the bulk of the company's operations.
19. Point Pickup
Enjoy the flexibility of driving for rideshare and delivery apps but need a break from chatty passengers or the smell of takeout? On-demand parcel delivery service Point Pickup might be for you.
Every day, Point Pickup will notify you of available deliveries in their area, which you can then accept or decline depending on your availability. Unlike Postmates, which may have you driving across town to deliver one package and then back to pick up a new job, Point Pickup functions more like a typical courier service. Drivers collect multiple parcels from a single location and then deliver them to customers in the surrounding area.
How much can I make? Point Pickup drivers report earning around $15 an hour, comparable to rideshare services like Uber or Lyft. Drivers do receive 100% of gratuities, however the app does not prompt customers to tip. Payouts arrive within 48 hours via Stripe.
Where can I sign up? Point Pickup works with retailers and drivers in all 50 states.
20. Wingz
Developed with business travelers in mind, Wingz specializes in airport transfers for busy professionals turned off by surge pricing and anonymous drivers. The company prides itself on fostering relationships between regular riders and drivers and highlights the importance of safety training and background checks in its hiring process.
Unlike other rideshare platforms, Wingz caters to passengers who prefer to pre-book car service and book directly with trusted drivers. While this can limit earnings initially as drivers build a client base, many appreciate the stability and predictability of regular fares. In some states, Wingz partners with eldercare and non-emergency medical transport (NEMT) services to provide regular transport to vulnerable populations.
As a premium service, Wingz rhas specific vehicle requirements. The company accepts only SUVs and premium sedans less than five years old. Drivers interested in participating in the NEMT programs will need to pass a drug test.
How much can I make? Wingz drivers can make between $20 and $40 per hour, with bonuses for 'favorite driver' jobs where a passenger specifically requests the driver. The company charges flat rates and shares the estimated payout with drivers for each ride, so you can make an informed decision.
Where can I sign up? At the moment, Wingz serves just 16 cities in the US, however the company has plans to expand.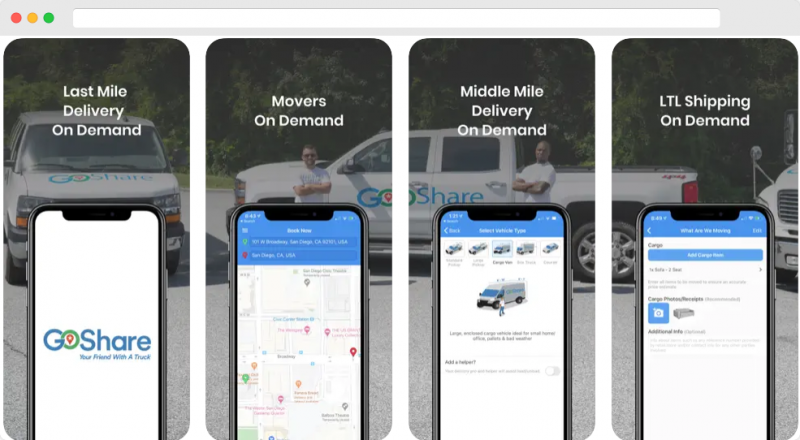 Like a B2B version of Postmates, logistics solution GoShare connects couriers and delivery drivers with companies in need of last-mile and middle-mile assistance moving items from Point A to Point B.
While you don't need to be a professional to drive for GoShare, be aware that this gig comes with some extra requirements. For starters, you'll need to pass — and pay for — a background check and submit your vehicle for inspection. And while the company does have work for sedans and SUVs, many jobs call for cargo vans, box trucks, and other large vehicles.
Approved drivers will receive notifications of available jobs and can opt to accept or pass based on the projected payout and timing. Because the company partners primarily with businesses, drivers face steep penalties for no-shows and tardiness.
How much can I make? GoShare has formally committed to ensuring that gig workers receive a fair wage for their work, and drivers typically make between $48 and $76 an hour, according to the company. Rates vary based on the type of job, your vehicle and the distance you'll need to drive.
Where can I sign up? To drive for GoShare you'll need to live in one of the 43 US cities where the company has operations.
22. Dolly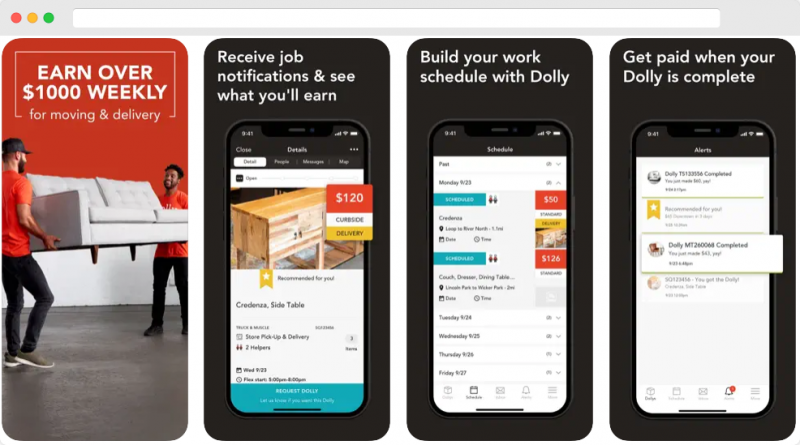 Like the idea of driving for money but not sure you're up for hours of sitting in traffic? Say hello to Dolly, the on-demand moving service that helps individuals and small businesses with cross-town transfers. Due to the specialized nature of the work, you'll need to drive a pickup truck, box truck, cargo van, or trailer with a hitch from model year 2000 or later to qualify as a Helper. Don't fret, though, if your ride doesn't make the cut. Dolly also needs Hands to assist with moves, as well as Assistants.
How much can I make? Dolly Helpers average around $35 per hour, while Dolly Hands earn closer to $17 per hour. Top performing Helpers can make up to $90, however it's important to remember that Helpers must have access to a large vehicle able to accommodate furniture. Dolly pays its Helpers and Hands weekly via PayPal, and contractors keep 100% of any tips.
Where can I sign up? Dolly currently operates in 45 cities across the United States, primarily on the East and West Coasts. Acquired by end-to-end moving startup Updater in 2021, the company may expand in the future, but has yet to confirm any explicit plans.
---
Ways to Make Money Driving or With Your Car
Whether it's your morning commute to the office or the endless errands that come with full-time parenting, most people spend a lot of time in the car. Why not make those hours on the road work for you by earning some extra cash?
Ridesharing
A great choice for sociable folks who know their surroundings well, ridesharing offers drivers the opportunity to meet new people and share some local knowledge. As a rideshare driver, you'll contract with a booking company to pick up passengers on an on-demand basis and get them where they need to go.
Food Delivery
You don't need to be a foodie to make extra cash delivering meals — just an efficient navigator. As long as you ensure that customers receive hot pizza — or unmelted ice cream — you can earn a healthy supplemental income transporting food across your city. Contactless delivery makes this an ideal choice for side hustlers with limited time or lower social bandwidth and may be safer for people presenting as female.
We recommend: DoorDash, Uber Eats, and Grubhub.
Grocery Delivery
Help time-starved (and hungry) neighbors cross grocery shopping off the to-do list. As a personal grocery shopper and driver, you'll be responsible for visiting local grocers and big-box stores to purchase pre-selected items and deliver them to customers. Ideal for parents with children in school and others whose schedules don't align with peak and surge hours that make other apps lucrative. Grocery delivery requires efficient time management — the more you shop, the more you earn — but removes the time pressure associated with delivering hot food meals across town.
We recommend: Instacart and Shipt.
Package Delivery
When UPS, DHL, and USPS just can't guarantee on-time delivery — or charge hefty fees — private delivery drivers can fill the gaps. If you're comfortable committing to a set schedule – most services require drivers to input blocks of available time — and visiting some lesser-known neighborhoods, package delivery may be the side gig for you. Similar to grocery delivery, the predictable schedule and higher base rates make this an attractive option for parents with reliable childcare.
We recommend: Amazon Flex.
Renting Out Your Car
If your car or truck spends more time in the garage or driveway than on the road, why not make some extra cash renting it for a few hours? Or, if you've got slightly bigger ambitions, founding your own car-sharing service? You provide the transport, while platforms like Turo and Getaround handle the booking and insurance components in exchange for a commission on each rental. Renting out the family car might not work for everyone, but if you've got the money to invest in an extra vehicle or a working car collecting dust, it might be just the ticket (to ride).
We recommend: Turo and Getaround.
Car Advertising
Already driving for a rideshare or delivery service but looking to maximize your income? Turn your car into a mobile billboard for some of the country's most well-known brands with services like Carvertise and Wrapify. No more anonymous four-door sedan — now your car is a traveling advertisement. Depending on your location and vehicle type, earnings can be significant, making this a great option for drivers who can't always take advantage of peak or surge pricing.
We recommend: Carvertise and Wrapify.
Help People Move
Earn more than just pizza and a few cold beers helping people move. Not everyone has the cash or the time to hire professionals to schlep their furniture, which is where you come in. If you're in good health and enjoy the prospect of a good workout hauling boxes, this car-based side gig can be a great way to burn calories and make new friends in your spare time. Most services pay extra for drivers with trucks or vans, making this even more lucrative if you've got a larger vehicle.
We recommend: Dolly and GoShare.
Transport Kids
If you enjoy the company of children and have the patience to complete a lengthy vetting process, working as a driver for a rideshare company focused entirely on transporting kids might be for you. Faced with bus driver shortages and increasingly complex student scheduling needs, some school districts have contracted with private companies catering exclusively to parents and schools. Pay can significantly exceed that of typical rideshare companies, but you'll need to be available immediately after and before school hours.
We recommend: HopSkipDrive.
Transport Seniors
Similar to transporting kids, you can also put your wheels to work by helping seniors to transport from point A to point B. Luckily, there are plenty of platforms connecting seniors with drivers. If you're looking to make extra money helping elders to move around, this side hustle might just be what you're looking for.
We recommend: GoGoGrandparent and ElderCare.
Get Paid to Test Drive Cars
Car dealerships, market research companies, and even manufacturers — a surprising number of players in the automotive industry are willing to part with cold, hard cash in exchange for your honest opinion on the test drive experience. While the most well-remunerated gigs do require some knowledge of cars and focus on the vehicle itself, others aim to help dealers and salespeople improve their technique and don't need specialist knowledge.
---
FAQ on The Best Driving Apps to Make Money
We've found some of the most frequently asked questions regarding the best driving apps to make extra money.
What Are the Best Apps to Make Money Driving?
The best app to make money driving will vary from person to person based on availability, location, and even personality. A single parent responsible for providing after-school care for children, for example, would likely find more success with Instacart or DoorDash than other platforms, which pay a premium for evening and night driving. Likewise, a chatty extravert might enjoy the prospect of meeting new neighbors driving for Uber, while introverts may prefer the contactless element of Uber Eats.
Do I Have to Report Income for Making Money Driving?
Yes, any money you earn from driving or renting out your vehicle is taxable and should be reported. If you're in the US, the app or platform for which you're driving will provide you with a Form 1099 that you can use to verify your income. 
How Much Money Can I Make Driving?
The amount of money you make driving for a rideshare or other app depends on a number of factors. If you live near a major metropolitan area where many people rely on rideshare and delivery services for transportation and are able to drive during peak hours, you can make up to $34.00 per hour. 
Are Ridesharing Apps a Good Way to Make Money Driving?
Ridesharing apps can be an excellent way to supplement your income, provided your base pay and tips can cover the associated expenses. Remember to consider the cost of fuel, car maintenance, and extra insurance when calculating your potential earnings.
---
Final Thoughts
Learning how to make money with your car might mean trying out a few different apps and services before you really find your groove. Don't be afraid to switch it up if you spot opportunities across sectors or platforms.
Once you've found the best app — or combination of apps! — for your car and your lifestyle, you may just find you're ready to transition to driving full-time.
Get our free Side Hustle Handbook with the best strategies to multiply your income sources today.
Plus our best money tips delivered straight to your inbox.

Laura Wolfe is a freelance writer covering topics including personal finance, retail investing, and FinTech. Before transitioning to writing full-time, Laura worked as a lawyer specializing in cross-border disputes. She believes in empowering individuals to make smart decisions with their money in a rapidly-evolving economy.