Uber Eats Driver Review 2023: Is It A Good Side Hustle?
Many or all of the products featured on this page are from our sponsors who compensate us. This may influence which products we write about and where and how the product appears on a page. However, this does not influence our evaluations. Our opinions are our own. Here is a list of our partners and here is how we make money.
---
The information provided on this page is for educational purposes only. The Modest Wallet is a financial publisher that does not offer any personal financial advice or advocate the purchase or sale of any security or investment for any specific individual.
Uber Eats is one of the most popular food delivery platforms worldwide. According to a recent study by Bloomberg Second Measure, Uber Eats had a market share of 23% in the US meal delivery market in September 2023, making it the second largest food delivery service just after DoorDash.
So, If you're thinking about delivering food to earn extra cash, you'll want to check it out.
Driving for Uber Eats offers similar perks to other delivery services. You get to choose your schedule, and you get paid for each delivery you complete. It's easy to sign up with the app and get started. If you don't have a car, no problem; you can deliver via bike, scooter, or even on foot.
There are also a few differences between Uber Eats and its competitors. In this Uber Eats driver review, you'll learn everything you need to know before you sign up.

Bottom Line: Uber Eats is an online food ordering and delivery app launched in 2015 by Uber. The platform allows people to make money as a side hustle or part-time job. On average, drivers can expect to earn anywhere from $15-$24 an hour.
| | |
| --- | --- |
| Flexibility | |
| Company support | |
| Earnings potential | |
| Ease of use | |
| Perks | |
---
What Is Uber Eats?
Uber Eats is an app and food delivery platform that connects people with restaurants. The company works with delivery drivers who pick up food from restaurants and deliver it to customers. The service operates in over 6,000 cities in 45 countries, so there's a good chance it's available near you.
Drivers work as independent contractors, which means they set their hours and use their vehicles. The company pays its workers weekly and there's an Instant Pay option for daily payments.
To start delivering for Uber Eats, you'll need to download the app on your smartphone and meet the platform's requirements.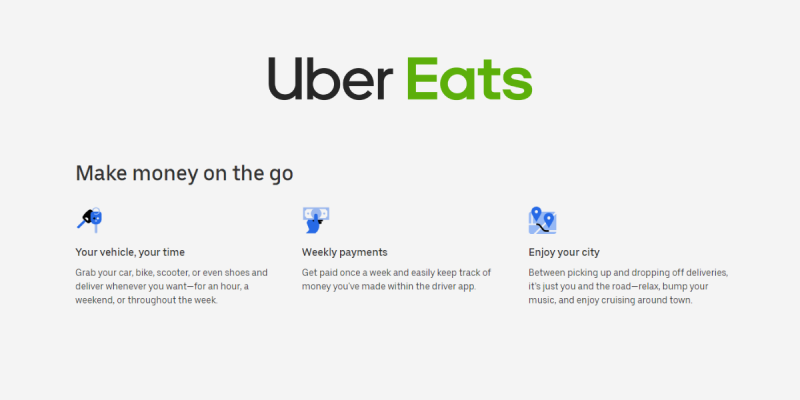 >> Read Also: 32 Best Gig Economy Jobs That Pay Well
---
How Does Uber Eats Work?
Uber Eats works similarly to other delivery apps, such as Grubhub and DoorDash. Customers order food from local restaurants using the app. Drivers decide which orders to accept. They then pick up the food from the restaurant and bring it to the customer.
Drivers receive payment for each order. The pay varies based on how many miles you drive and the tip amount, among other factors. Before you accept an order, you can view the minimum amount you'll make.
---
What Do Drivers That Deliver for Uber Eats Do?
Drivers that deliver for Uber Eats pick up food from restaurants and bring it to customers. Here's what a typical shift looks like:
Start by signing in to the app and indicating that you're available for deliveries.
When an order comes in, you'll get a notification. You can see information about the order, including the pickup and dropoff locations and base pay. Tap Accept to take the job.
If you prefer, you can update your settings to auto-accept orders. Only do this if you're willing to take any order.
Travel to the restaurant to pick up the food. The app will give you directions to get there as quickly as possible.
When you arrive, tell the restaurant staff you're picking up an Uber Eats order. Confirm the name and order number to make sure you have the right order. Customers pay ahead of time, so you won't need to pay.
Once you have the food, use the app to let the customer know you're on your way.
Head to the delivery location and follow the customer's instructions if there are any. You might need to hand the order to someone or leave it outside.
Mark the order complete in the app by swiping the Delivered icon. Now, you're available for more jobs.
---
How to Deliver for Uber Eats
The signup process is simple, and you can complete it right from your phone. Just make sure you meet the requirements before you start.
Eligibility to Sign Up to Deliver for Uber Eats
If you've thought about driving passengers for Uber, you might notice that the requirements for Uber Eats are less strict. If your car is too old to meet Uber's standards, for example, Uber Eats might be a better fit for you.
All drivers for Uber Eats must:
Live in an area where the service is available.
Own a phone that can run the Uber Eats app.
Pass a background check.
The other eligibility requirements depend on your delivery method.
To deliver via car, you must:
Be old enough to drive legally in your area
Have a two- or four-door car
Have a driver's license, insurance, and registration in your name
Have one year of driving experience
To deliver via bike, you must:
Be 18 years old or older
Have a government-issued ID
To deliver via scooter, you must:
Be 19 years old or older
Have a motorized scooter with a motor under 50cc
Have a driver's license, insurance, and registration in your name
Sign up & Approval Process
You can sign up online or through the app. Start by creating an account and selecting your city. If you have an invite code, you can enter it. You'll need to choose your delivery method (car, bike, scooter, or on foot).
Next, you'll agree to a background check and provide a photo of your license, registration, and proof of insurance. Uber Eats drivers report that it usually takes about three days for the company to review your information.
The company will notify you if your application is accepted and they'll send some training materials you can review. After that, you can sign in to the app and get started.
>> Read Also: 40 Proven and Legitimate Ways to Make Money Fast (Make $100 or More)
---
Uber Eats Payment
Uber Eats updated its payment model in 2020. Now, drivers can see an estimated tip upfront, and some orders feature a trip supplement.
The total payment for each order includes the following:
Base Fare: Includes pickup, dropoff, and pay for estimated time and distance
Trip Supplement: Additional pay for orders that involve extra time or miles
Promotions: Certain orders include Boost or Surge payment, which we'll cover in more detail below
Tips: Tipping is optional, but many customers choose to tip for good service
When you accept an order, you'll see the tip amount the customer entered in the app. Keep in mind that they can change this amount later.
There are two ways to collect your earnings from Uber Eats: bank transfers and Instant Pay. For bank transfers, you enter your bank details in the app. The company automatically transfers payments to your account on Thursday of each week. It may take a day or two to receive your money, depending on your bank.
If your account is in good standing and you've made one successful trip, you'll be eligible for Instant Pay. This method lets you instantly transfer your money to a debit card or bank account. You can cash out up to five times per day.
---
Things Uber Eats Offers Its Drivers
Uber Eats hires people as contractors, not employees. That means you won't get traditional benefits like health insurance or paid time off. However, there are several perks the company offers to its workers.
Drivers get:
Guaranteed Pay: Aside from any tips, drivers can see the amount they'll earn before accepting an order.
Complete Flexibility: You can work whenever and wherever you choose.
Driver Support: If you have trouble during a delivery, you can call for support 24/7.
Supplemental Insurance: Uber Eats offers coverage for drivers while they're on deliveries or waiting for orders to come in. Learn more here.
---
Things Uber Eats Drivers Have to Consider
Working as an independent contractor for Uber Eats gives drivers a lot of freedom. However, there are downsides to this type of work. Here are some things you should know.
Manage Income Taxes
Uber Eats doesn't withhold any money for taxes, but you still need to pay them. The amount you owe depends on how much money you make and your expenses.
It's important to keep track of your mileage for when you file. Apps like Stride and Everlance can help you track your income and miles to make tax time easier.
Pay Self-Employment Taxes
In addition to income tax, drivers are responsible for paying self-employment taxes. These payments cover things like Social Security and Medicare.
Pay for Expenses
Drivers have to pay for their expenses. Costs include gas, vehicle maintenance, and parking. You'll also need phone data so you can access the app while you're out on deliveries.
Unlike other delivery services, such as DoorDash and Postmates, Uber Eats doesn't provide a delivery bag. These insulated bags keep hot food hot and cold food cold. If you decide to deliver through Uber Eats, you should consider purchasing one yourself.
Pay for One-off Expenses
Unexpected costs can significantly reduce your pay. If your car breaks down, you'll have to pay to get it fixed. You also won't be able to keep earning until repairs are complete.
Speeding or parking tickets are another cost to consider, especially if you're rushing to make deliveries.
As an independent contractor, you won't get paid for sick or vacation time. If you're sick or take a few days off, you won't earn money.
>> Read Also: 55 Hobbies That Make Money: Get Paid to Have Fun
---
How Much Can You Make Delivering For Uber Eats?
The amount you earn depends on how many jobs you complete and the rate for each one, plus any bonuses or tips. Base rates vary from city to city.
Posters on Glassdoor and Indeed say that they earn an average of $15 per hour. A small percentage of drivers report earnings of only $7 per hour, while others make $20.
Remember that your expenses, such as vehicle wear and tear, will reduce your pay. On the other hand, some strategies can help you earn more.
---
How to Maximize Earnings As An Uber Eats Driver
There are a variety of tips for maximizing your earnings with Uber Eats. Here are some of them:
Drive During "Surge" Times
Surge deliveries are available when there's high demand in your area. If you accept these orders, you'll earn an additional amount.
Accept "Boost" Orders
Boost promotions mean that your earnings are multiplied by a specific amount for certain orders. If the Boost multiple is 2x, you'll earn $30 for a job that usually pays $15. You can see eligible orders in the app.
Complete "Quest" Promotions
With Quests, you can earn more for meeting specific trip goals. For example, if you complete ten orders between 9 p.m. and midnight on a designated Friday, you could get $20 extra.
Focus on Customer Service
With Uber Eats, you keep 100% of your tips. Since customers can change their tip after the delivery, you have a chance to impress them. Excellent customer service is the best way to get a good tip.
Know Which Orders to Reject
The best way to make money driving for Uber Eats is to complete a high number of trips. Try to focus on orders that you can finish quickly.
Once you've been at it for a while, you'll get a feel for restaurants that are slow to fill orders. You can then decide to decline those jobs.
Track Mileage & Other Expenses
Taxes are often a hefty expense for contractors. By deducting expenses from your income, you can save a significant amount. Keep track of your costs, including mileage, so that you can deduct them.
Use Curbside Delivery to Your Advantage
This feature is only available in some cities, but curbside delivery helps drivers finish orders much faster. The customer will meet you outside to grab their food. You don't even have to get out of your car; just pull up to the curb at the delivery address.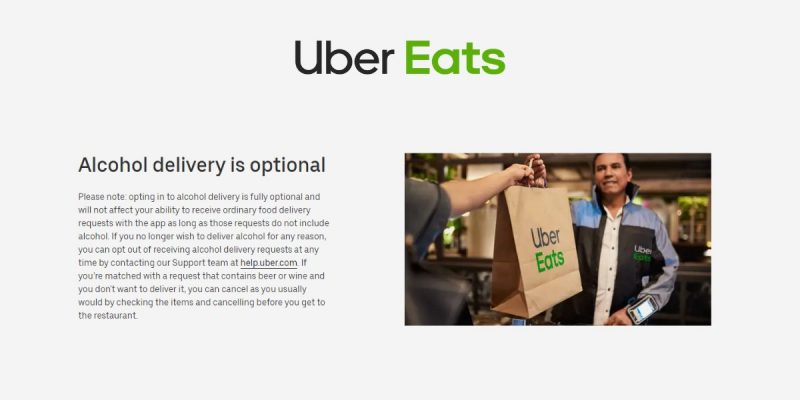 >> Read Also: 33 Best Money Making Apps: Cash at Your Fingertips
---
Uber Eats Driver Pros Explained
Flexibility: You choose when, where, and how many hours you work.
Accessibility: The eligibility requirements are easy for many people to meet. You don't need experience or a car.
Keep Your Tips: Drivers keep 100% of their tips.
Payment Guarantees: Before accepting an order, you can see the minimum amount you'll earn.
Consistent Payments: Drivers receive payments automatically each week. You can request Instant Pay if you want to cash out more often.
---
Uber Eats Driver Cons Explained
Lack of Benefits: Since you aren't an employee, you won't get health insurance or sick time.
Taxes: Uber Eats doesn't withhold money for taxes. Drivers need to set aside money and track their income and expenses.
Pay Your Expenses: You'll need to pay for both ongoing expenses, like gas, and one-offs, like repairing a flat tire.
Lack of Structure: If you prefer a set schedule or have a hard time motivating yourself, delivery work might be challenging.
---
How the Uber Eats Rating System Works
Uber Eats ratings are based on the last 100 orders. Both restaurant staff and customers can rate drivers with a thumbs up or thumbs down. They can also provide written feedback to help you improve.
You can see your average satisfaction rating within the app. If your score drops too low and doesn't improve, you might lose access to the service.
According to Uber Eats, customers' ratings include the following criteria:
Speed and efficiency
Customer service
Following instructions for handoff
Care taken during delivery
Communication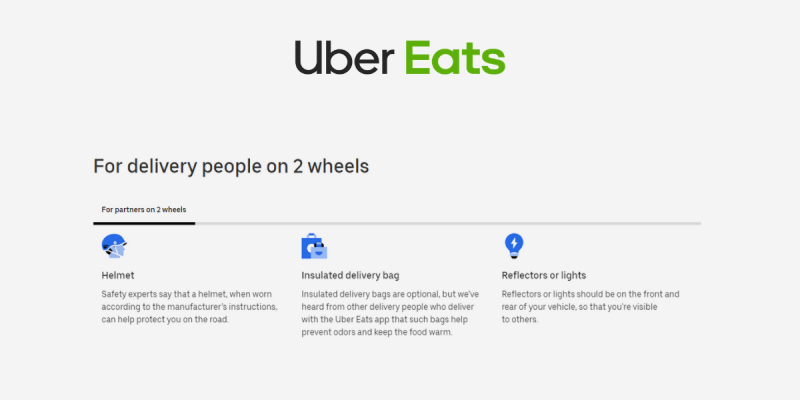 >> Read Also: Best Food Delivery Service to Work For
---
Uber Eats Alternatives for Drivers
There are several delivery apps to choose from. Some drivers work for two or more at a time, switching from one app to another when things are slow. Here are two alternatives.
Uber Eats vs. DoorDash
DoorDash is the most popular app for food delivery in the U.S. The two platforms work similarly, and drivers report similar pay.
This app is currently more widely available than Uber Eats in the U.S. If you live in a smaller town or city, there's a better chance that DoorDash is an option.
Learn more about DoorDash in our Doordash driver review.
Uber Eats vs. Grubhub
Grubhub offers drivers an average pay range of $12 to $20 per hour, with a guaranteed minimum earnings offer. The actual earnings can vary depending on factors such as tips and market conditions. Grubhub has similar driver requirements to Uber Eats, such as having a valid driver's license and reliable transportation.
When comparing Grubhub with Uber Eats in terms of making money, both platforms can be lucrative. However, on average, Uber Eats pays slightly more. It is also important to consider that Uber Eats is larger than Grubhub in terms of market share.
Read our full Grubhub driver review to learn more.
| | | | |
| --- | --- | --- | --- |
| | | | |
| Our Rating | | | |
| What You Will Deliver | Meals from local restaurants | Meals from local restaurants | Meals from local restaurants |
| Age Requirements | 18+ years old | 19+ years old (21+ in Chicago and Las Vegas) | 18+ years old |
| Vehicle Requirements | Have a car, scooter, or bicycle with relevant insurance | Have a car (or bicycle in selected areas) with relevant insurance | Have a car, scooter, or bicycle with relevant insurance |
| Earnings Potential | Average pay is $15 to $24 per hour (includes per pickup fee, trip supplement, promotions, and tips) | Average pay is $12 per hour to $20 per hour (includes mileage per order, time spent on the road, special offers, and tips). | Average pay is $15 to $25 per hour (includes base pay, promotions, and tips) |
| Working Hours | 24/7 on-demand | 24/7 on-demand | 24/7 on-demand |
| Rating System | Driver rating (0 to 5 stars) | Driver recognition program (0 to 5 stars) | Driver rating (0 to 5 stars) |
| What We Like | Easy to sign up for if you are already an Uber driver | Driver recognition program | Ability to see minimum earnings for each job |
| | | | |
---
Uber Eats FAQ
Here are some of the most common questions about delivering for Uber Eats.
Is Driving For Uber Eats Worth It?
If the hourly rate and flexible schedule work for you, it's worth considering.
Do Drivers for Uber Eats Make Good Money?
Driving for Uber Eats won't make you rich, but you can earn around $15 an hour. If you follow our tips to maximize your earnings, you might make even more.
How Much Do Delivering for Uber Eats Typically Make You?
The amount you earn depends on where you live and how fast you complete orders. The average person that delivers for Uber Eats reports earnings of $15. Some workers report earning $24 or more per hour. Keep in mind that you'll pay for expenses, such as gas and parking fees.
Do You Get Tips Delivering For Uber Eats?
Uber Eats customers can tip through the app or in cash. Drivers get to keep 100% of their tips.
---
Final Thoughts
The pay and experience of driving for Uber Eats are comparable to other driving apps. The perks include a flexible schedule and access to promotions that can help you earn more.
There are some downsides, as with all delivery platforms. You won't get traditional benefits, and you'll have to track your income and mileage for your taxes. If those concerns aren't a dealbreaker, consider giving Uber Eats a try!
Up Next
Get our free Side Hustle Handbook with the best strategies to multiply your income sources today.
Plus our best money tips delivered straight to your inbox.

Amy Besen is a freelance finance writer who covers topics including the gig economy, small business funding, and FinTech. Before starting her writing business in 2019, Amy worked in financial services for 12 years. She believes in helping people access the tools and knowledge they need to make better decisions about money.