Many or all of the products featured on this page are from our sponsors who compensate us. This may influence which products we write about and where and how the product appears on a page. However, this does not influence our evaluations. Our opinions are our own. Here is a list of our partners and here is how we make money.
The information provided on this page is for educational purposes only. The Modest Wallet is a financial publisher that does not offer any personal financial advice or advocate the purchase or sale of any security or investment for any specific individual.
If you've ever considered making some extra cash by driving for Grubhub, then this review guide is for you.
Maybe you've wondered:
How to successfully qualify to become a Grubhub driver;
How much money you can make as a Grubhub driver; and
How to maximize your earnings as a new Grubhub driver.
If so, then you're going to love this guide. We'll cover everything you need to know to start making money with Grubhub.
Quick Summary: Grubhub is an online food-ordering and delivery app founded in 2004 allowing people to make money as a side hustle or part-time job. On average, drivers can expect to earn anywhere from $15-$20 an hour.
What Is Grubhub?
Grubhub is an online food-ordering and delivery app founded in 2004. It has a large network of partners. Today, Grubhub has strategic partnerships with more than 300,000 restaurants in over 4,000 cities across the United States.
The Grubhub family of brands includes Seamless, LevelUp, AllMenus, and MenuPages.
To fulfill the orders, Grubhub employs independent contractors to take the food from the restaurant to the customers. This makes it a great opportunity for people looking to make extra money on the side or for a full-time job.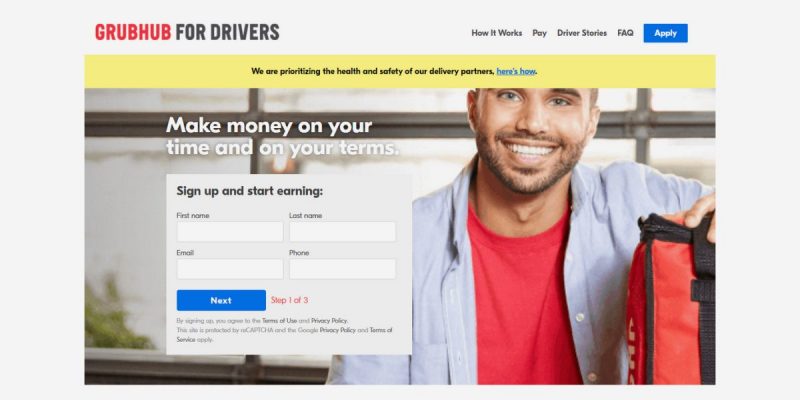 See Also: 32 Best Gig Economy Jobs That Pay Well
How Does Grubhub Work?
Ordering food through Grubhub is a very simple process. You start by entering your address in the app or website. Grubhub will then let you know which restaurants deliver to your location. Users can then search and filter their results based on the type of food they are craving. They can also look at reviews and coupons to help make their decision.
Grubhub doesn't just help you to find nearby delivery and pickup restaurants. They facilitate the entire process, including taking the order, tracking it with their 24/7 customer care team, and helping to ensure you get exactly what you want. Simply put, you order and Grubhub picks up and delivers the order to you at your preferred time and location.
The Grubhub app also offers a bunch of time-saving features like the ability to save your order history at favorite restaurants and allowing you to plan ahead by pre-ordering up to four days in advance. You'll also have the ability to track your order live, and receive push notifications about the status of your order and when it should be delivered.
What Do Grubhub Drivers Do?
Grubhub drivers are the key link that makes the entire Grubhub experience work. Grubhub drivers are responsible for picking up the food that a customer orders from a local restaurant and delivering that order to the customer.
Grubhub drivers pick the hours they are available to work, so it's as simple as signing up to work a scheduled block of time or indicating in the Grubhub driver's app that you are now available to make deliveries.
How to Become a Grubhub Driver
Taking the first step to becoming a Grubhub Driver is as simple as visiting their website and clicking the Apply button. You'll be asked for some basic contact information, as well as, the city and state where you live.
Once you've entered your basic info, you'll be taken to the full application page where you'll set up your profile, authorize a background check, and work through the new driver paperwork and onboarding system.
Grubhub Driver Eligibility
There are a few simple things you'll need to become a Grubhub driver:
A car (or bike in select urban areas)
A valid driver's license (or state I.D. for bike riders)
Auto insurance
Smartphone (i.e., iPhone with iOS 11 or higher or Android with 5.0 or higher)
A data plan
A checking account for direct deposit
You must also be at least 19 years old or 21 years of age if you live in Las Vegas.
No prior delivery experience is required, so if you can check off these few requirements, then you're in a great position to apply.
Sign Up & Approval Process
As you start completing the Grubhub Driver's application process, you'll be asked to verify that you meet a few of the requirements of becoming a Grubhub driver. You'll be asked if you're at least 19 years old (21 if you live in Las Vegas), which form of transportation you own (car or bike), and which zip code you reside within.
At this point, Grubhub will let you know if there is currently an opening for new drivers in your area. If they do not have openings available, you'll be added to a waitlist to be notified when availability opens up in your area or a nearby region.
In the next step, you'll authorize Grubhub to run a background check on you through the third-party company, Chekr. They will look at your driving record and criminal record over the past seven years. As long as you don't have felonies, violent crimes, major violations, or a large number of small violations on your record, then you should be able to pass.
Once you pass the background check, you'll fill out some new driver paperwork and set up your direct deposit information that Grubhub will use to pay you. There is also an online onboarding process that includes watching a slideshow that will teach you how to use the Grubhub app, set your schedule, and make deliveries.
This entire application process typically takes three to five days and once you're approved Grubhub will send you an insulated bag to keep food hot or cold while you're out on delivery. You'll also receive a Grubhub Driver Card that allows you to pay for orders that haven't been paid for in advance by the customer.
See Also: 40 Proven and Legitimate Ways to Make Money Fast (Make $100 or More)
Grubhub Payment
Now let's take a look at one of the most important parts of this entire guide, how you get paid and how much you can make with Grubhub.
The Grubhub Delivery Pay uses a very straightforward formula to determine driver pay and it takes into account four different things that contribute to the total compensation of the Grubhub drivers:
Mileage per order: this provides compensation for the distance to travel to reach each delivery order
Time spent on the road: depending on traffic and other issues on the road, the mileage may not adequately represent how long it takes to complete the order. This allows you to be compensated for your full amount of time on the road.
Tips: you'll always keep 100% of your tips in addition to your total pay. Grubhub's app recommends to diners that they tip either $5 or 20%, whichever is more.
Special offers: Grubhub offers bonuses, challenges, sweepstakes, and more to help boost their drivers' pay.
Before you accept a delivery offer from Grubhub, you'll be able to see the total you'll earn if you complete the delivery, and you'll then have the opportunity to accept or reject the offer.
In some markets, Grubhub offers something called "Grubhub Contribution." If you're delivering during a block of time and make less than a set amount of dollars per hour for that day, then Grubhub will pay "the Grubhub Contribution" so that you receive a set minimum hourly rate. There is a set percentage of deliveries that you must accept out of the offers you receive on that day to receive this contribution.
Once a delivery is completed, you can see a breakdown of Delivery Pay and tips within the Grubhub app, and your pay will be deposited to you weekly via direct deposit on Thursdays. You can also use the Instant Cash Out feature, which allows you to cash out your available earnings into your bank account whenever you want.
Things Grubhub Offer Its Drivers
Grubhub offers its drivers quite a few appealing reasons to partner with them:
A quick application that doesn't require a resume, interview, or previous delivery experience;
100% of all tips go to drivers;
A flexible schedule that doesn't require passengers or small talk to make money; and
Contact-free delivery and access to personal protective equipment.
Grubhub also has a dedicated app for its drivers to assist you in completing your deliveries in a smooth process. There will be buttons for you to tap at each stage of the delivery process. This helps to keep the restaurants and the diner well-informed about the status of the order, which helps to provide a better experience (and better tips for you!)
If you ever have a problem during a delivery, you can click the button "There's a Problem" within the Grubhub App, or click on Help in the navigation bar to contact Grubhub's support team.
In California, under Prop.22, if you drive a certain number of hours, you'll also receive a guaranteed earnings minimum and a health insurance stipend.
Things Grubhub Drivers Have to Consider
As a Grubhub Driver, you must understand how tax laws affect your pay, as well as what expenses you're responsible for during your deliveries.
Manage Income Taxes – Grubhub will not withhold any taxes for their drivers, which means you're responsible for managing your income taxes. You'll want to check both the current federal income tax rate, as well as any income tax that your state requires, to clearly understand how much you should set aside from your Grubhub earnings for taxes.
Pay Self-Employment Taxes – Grubhub drivers are responsible for reporting and paying their taxes. When you drive for Grubhub, the IRS considers you self-employed, meaning you'll have to pay self-employment tax that includes your FICA taxes, social security, and Medicare taxes.
Pay For Own Expenses – It's important to remember that by driving for Grubhub you're running your own business, and working as an independent contractor for Grubhub. As a business owner, you're expected to pay for your expenses that come up during your work. That means you need to plan on paying for your fuel, parking fees, car maintenance costs, and anything else that may come up during your delivery work.
Pay For One-Off Expenses – You'll also want to take into account the possibility of getting into a car crash while driving for Grubhub or receiving a parking ticket when picking up an order. As an independent contractor, you will also be responsible for these types of expenses. While car insurance is a requirement for driving for Grubhub, it's smart to double-check with your car insurance company to ensure you have the coverage you need while making deliveries.
How Much Can You Make as a Grubhub Driver?
According to Glassdoor, the average Grubhub driver makes about $12 per hour, but it can go up to $20 per hour depending on your area. According to Indeed, the average hourly pay for Grubhub drivers is $11.05. The more availability you have to work delivery blocks during popular times that people order food, the more you can typically make.
See Also: 55 Hobbies That Make Money: Get Paid to Have Fun
How to Maximize Earnings?
So what can you do as a Grubhub driver to make sure you're maximizing your earning's potential? Here are five pro tips to help you keep more of your money:
1. Scheduled Blocks
By scheduling a block of time during which you'll be working Grubhub deliveries, you'll have the opportunity to receive more orders and potentially higher earnings as well. When you schedule a block, you will be the only Grubhub driver working that block of time in your area, so you'll want to be sure that you will be available. Blocks are available on a first-come-first-serve basis, as well as being based on your Grubhub Driver Level.
2. Grubhub Recognition Program
The Grubhub Recognition Program allows drivers to gain entry into one of three different program levels. As a new driver, you'll automatically be assigned a level after you complete 20 deliveries and have active history in all of your stat categories (attendance date, acceptance rate, and block drop rate).
As you work your way up to higher levels in the recognition program, you'll have more opportunities to pick first what scheduled blocks you want to work, as well as gaining access to larger catering orders if they are available in your region.
3. Focus on Customer Service
By focusing on good customer service, you can develop a good rapport with the restaurants where you pick up deliveries. It will also provide an excellent experience to the diners, often resulting in a great tip.
Experienced GrubHub drivers say that they get the best results when they treat the food as if it was theirs and try to give people the same experience they would if they were sitting down at a restaurant. Things like keeping the food hot by arriving quickly to pick up the order and keeping the food secure in your car in the passenger seat can go a long way.
4. Keep Track of Mileage & Other Deductions
As a business owner and independent contractor for GrubHub, you will want to keep a record of the mileage that you travel to and from deliveries, as well as other expenses that you incur on the job. When filing your yearly taxes, there is a standard mileage rate that allows you to take a specific deduction per mile driven for your delivery work.
There are also quite a few other deductions that you may be able to take as a Grubhub driver, such as:
Gas expenses
Parking fees and tolls
Car payments and insurance
A portion of your phone bill
Car or bike maintenance
Accessories needed for your work (phone charger, etc.)
A bike (if applicable)
The best idea is to keep careful records of your expenses while making deliveries so that you have that data ready and available at tax time.
5. Plan Your Routes
Since Grubhub does not directly reimburse you for gas expenses, it's important to make smart decisions as to which deliveries you accept, as well as planning your routes efficiently. Every $10 order is not the same within Grubhub. There may be significant differences in mileage and the time it will take to complete the order based on the area and time of day. It's best to always double-check the route before accepting any order.
You do have the ability to pick up multiple orders from different restaurants and the Grubhub for Drivers App will automatically sequence your pickup and delivery orders to create the best experience for both you and the diner.
Grubhub for Drivers Pros and Cons
Before you consider signing up as a Grubhub driver consider all the pros and cons
Grubhub Driver Pros
Minimum hourly rate: Make some money even on slow days.
Work flexibility: Choose when and where you want to work.
Instant cash out: Cash out your available earnings directly into your bank account whenever you want
Keep all tips: Being able to keep all tips increases your earning potential.
You don't need a car: You can use bikes in selected areas.
Choose your orders: You get to choose which orders to accept.
Grubhub Driver Cons
Lack of benefits: Being a contractor and not an employee means you'll lack benefits such as paid time off and healthcare.
Extra financial responsibility: You have to track income and expenses yourself so you can pay your taxes.
No expense budget: Paying for expenses on the job can quickly eat into your earnings.
Lack of consistency: While flexibility is a great benefit for some, other people may prefer more consistent work.
Lack of transparency: You can't see the total mileage or estimated time for an order before you accept it. This can make it difficult to see if an order is worth it.
Vehicle Wear and Tear: Grubhub as any other delivery job can take a toll on your vehicle.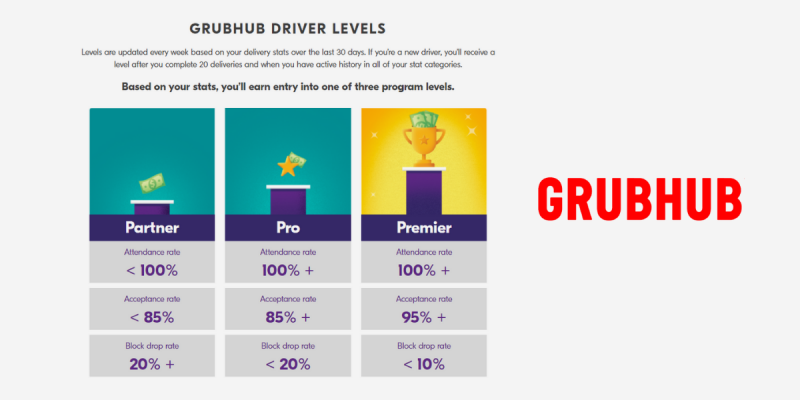 See Also: 33 Best Money Making Apps: Cash at Your Fingertips
How The Grubhub Driver Rating System Works?
The Grubhub Recognition Program is a way to award drivers for high attendance and acceptance of delivery rates and low block drop rates. After completing 20 deliveries, and having an active history in all of your stat categories (attendance date, acceptance rate, and block drop rate), you'll be assigned a level in the program.
The three program levels are Partner, Pro, and Premier, and each week your level will be updated based on your stats from the previous 30 days. The top level, Premier, requires a 100% attendance rate, 95%+ acceptance rate, and less than 10% block drop rate.
By earning higher levels in the Recognition Program, you'll unlock more opportunities like getting to pick your blocks for delivery first and access to larger catering orders.
Grubhub Drivers in California
The Protect App-Based Drivers and Services Act (a.k.a. Proposition 22) has taken effect in California. As such, Grubhub has implemented new new benefits and protections for California drivers, including:
Guaranteed minimum earnings of at least 120% of California's minimum wage for active delivery time before tip. In addition, drivers will receive $0.30 per active mile driven.
Healthcare subsidy from Grubhub after a minimum of 15 hours of active driving per week, and a higher subsidy if a driver has 25 or more hours of active driving.
Mandatory rest periods of six hours after 12 hours of active driving (within a 24 hour period).
Grubhub drivers will continue to receive 100% of tips they earn.
Grubhub Alternatives for Drivers
Driving for more than one delivery company is something that drivers who make the most money typically do. It's the best way to maximize your potential earnings as a delivery driver. Two alternatives to consider driving for are DoorDash and Postmates.
DoorDash
DoorDash is a highly rated delivery service company to work for due to its demand. DoorDash works similarly to Grubhub in the sense that drivers, called Dashers, will deliver food from local restaurants as well.
DoorDash demand increases greatly during nights and weekends, so your ability to work during those times will maximize your ability to make better profits. According to Indeed, the average hourly pay for DoorDash drivers is $15.16.
Read our full DoorDash Driver review and our DoorDash vs. Grubhub review to learn more.
Postmates
Postmates is a little different from the other delivery services mentioned here, as they don't only deliver food. You could be asked to pick up from electronics stores, home repair stores, or other similar stores.
According to Indeed, the average hourly pay for a Postmates driver is $13.88. Postmates puts less focus on time blocks, and instead, you can just log in to the Postmates app whenever you're ready to do some deliveries and make money.
Grubhub, DoorDash, and Postmates are all similar in that they don't have any fees, you take home 100% of your tips, and you have the option for a weekly direct deposit payment or quicker cash-out option.
Read our full Postmates Driver review and our Postmates vs. Grubhub review to learn more.
See Also: Best Food Delivery Service to Work For
Grubhub Driver FAQ
We've found some of the most frequently asked questions around the web about making money driving for Grubhub, and here are our answers:
Does Grubhub Offer Benefits to Its Drivers?
Since Grubhub drivers are working as independent contractors, they do not receive benefits from Grubhub. The exception is in California, where drivers who clock a certain amount of hours will receive a healthcare stipend and guaranteed minimum pay.
Is Being a Grubhub Driver Worth it?
If you're looking for an extremely flexible gig that allows you to make extra money in shifts that you pick around your schedule, then Grubhub could be a great option for you. Plus, with delivery becoming a more popular and well-known option with diners, companies like Grubhub will likely continue to expand to more regions with a larger volume of orders available for drivers.
Do Grubhub Drivers Make Good Money?
When considering the level of freedom that a Grubhub driver has to fit this gig around their life and other commitments, it's a great way to make some extra cash on the side. The more availability you have and the more often you can schedule blocks to work, the higher your pay will likely be.
How Much Do Grubhub Drivers Typically Make?
According to Glassdoor and Indeed, Grubhub Drivers typically make around $11 to $12 per hour, but you can make up to $20 per hour depending on your area. Of course, that is only an average, and when you consider the ability to make bigger tips based on your level of customer service provided, there is the opportunity to make more.
Do Grubhub Drivers Get Tips?
Yes, Grubhub drivers receive tips and they get to always keep 100% of their tips received. The Grubhub app prompts diners to tip either $5 or 20%, whichever is more. Of course, the diner can also pick a tip amount.
Final Thoughts
If you're looking for a flexible side-hustle that allows you the flexibility to create your schedule each week, then Grubhub is a good option to consider. If you want to maximize your earnings, sign up for DoorDash and Postmates, along with Grubhub, and you'll be ready to make deliveries whenever you have some extra time available.
Up Next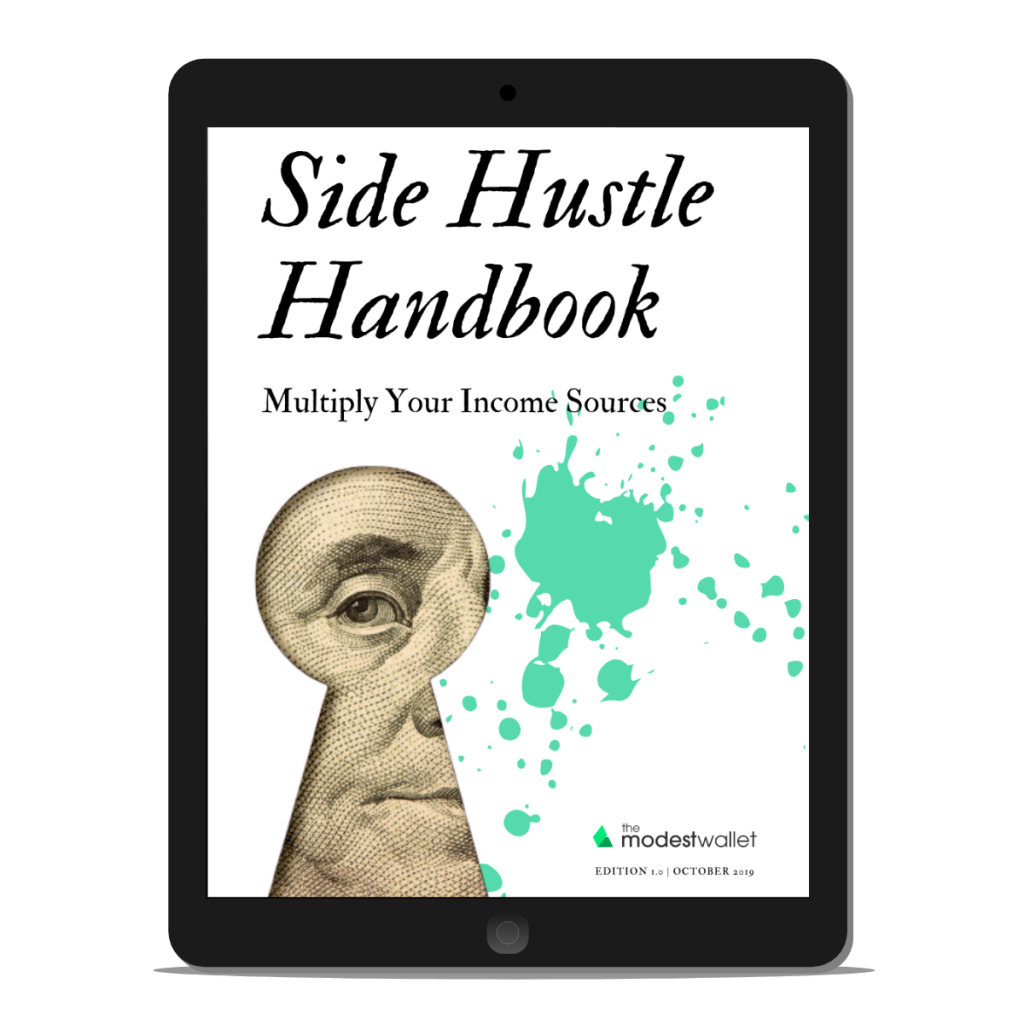 Get our free Side Hustle Handbook with the best strategies to multiply your income sources today.
Plus our best money tips delivered straight to your inbox.
Summer Tannhauser is an entrepreneur, online educator, and freelance writer who is passionate about helping others to create additional income by leveraging their life experiences and passions. Summer works with budding entrepreneurs through her online courses and workshops and has appeared in numerous online publications and podcasts including Inc., Teachable, and USA Today.