E*TRADE Review 2023: Commission-Free Trades with A Powerful Platform
Many or all of the products featured on this page are from our sponsors who compensate us. This may influence which products we write about and where and how the product appears on a page. However, this does not influence our evaluations. Our opinions are our own. Here is a list of our partners and here is how we make money.
---
The information provided on this page is for educational purposes only. The Modest Wallet is a financial publisher that does not offer any personal financial advice or advocate the purchase or sale of any security or investment for any specific individual.
If you're looking to invest while keeping your expenses at an absolute minimum, you need a commission-free brokerage to get you started.
While there are dozens of different brokerage services and trading platforms out there, one stands out among the rest in terms of commission-free trades: E*TRADE.
Having pioneered the concept of hassle-free trading nearly 40 years ago, E*TRADE is all about making investing as simple and accessible as possible. However, is the company the right brokerage for your investing style?
Check out our comprehensive E*TRADE review, complete with everything you need to know about the company's direct investing features before you start trading. We'll clue you into the brokerage's various advantages and disadvantages so you can determine if it's the best platform for all your investing needs.

Quick Summary: E*TRADE is an online brokerage offering zero-commission trades on stocks and ETFs. The broker offers an array of features worth checking out and low fees on almost all bonds and options transactions. E*TRADE also comes with powerful and sophisticated trading platforms.
Promotion: Get up to $2,500 in welcome bonuses (Promo code BONUS21)
What Is E*TRADE?
E*TRADE is an online brokerage based in the United States. The company got its start in Silicon Valley back in 1982 when William Porter and Bernard Newcomb decided to create the first-ever fully-online brokerage service.
In the nearly 40 years since they sent the world's first online transaction on a listed exchange, E*TRADE has continued their pioneering mindset, creating an investor-friendly platform that anyone can use. The company was acquired by Morgan Stanley in October of 2020, but the investment bank plans to continue using the E*TRADE name.
While the company does technically have 30 brick-and-mortar branches, the vast majority of their work is online. Using their website and mobile apps, individual investors can buy and sell stocks, ETFs, options, bonds, and other securities on US stock exchanges with ease.
What sets E*TRADE apart from the pack, however, is that they have $0 commissions on nearly all online stock and ETF trades, as well as low fees on almost all bond and options transactions. They also have some of the most sophisticated trading platforms out there, which makes E*TRADE a solid choice for active investors of all experience levels.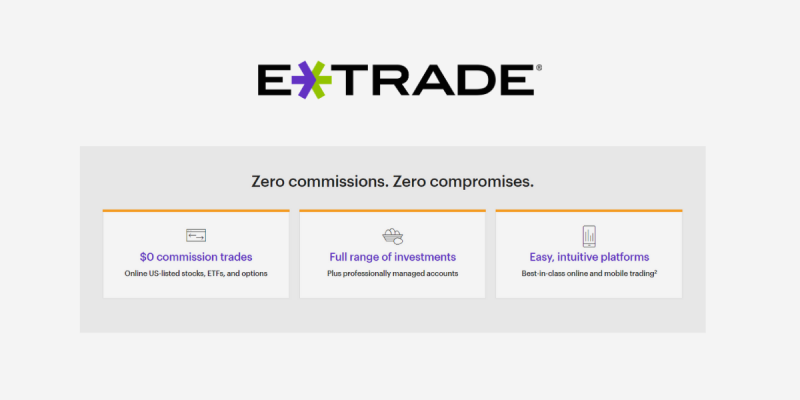 See Also: 12 Best Online Brokers for Stock Trading
How Does E*TRADE Work?
As an online brokerage, E*TRADE works similarly to other trading platforms, such as Charles Schwab and Robinhood. Accounts with the company are available to US citizens and residents, who can use the platform to buy and sell securities on US markets.
Here's how E*TRADE works for investors just like you:
Investing Account Types
With E*TRADE, you have a few different account types to choose from. Each of these account types is designed to meet a specific financial goal and some even offer tax breaks depending on your financial situation. Here are some of the many accounts you can open with the company:
Individual brokerage: Your standard investing account, individual brokerage accounts allow you to buy and sell securities without any annual contribution limits.
Joint brokerage: Essentially the same thing as an individual brokerage account, joint accounts let you share your account's funds and responsibilities with another person, such as your spouse or partner.
Traditional IRA: A tax-advantaged retirement fund available for US residents and citizens, traditional IRAs allow you to trade securities while also getting a tax break on your contributions.
Roth IRA: Similar to a traditional IRA but with tax-free distributions at retirement, Roth IRAs are a great option for building tax-free wealth for later in life.
Rollover IRA: A solid choice for anyone that wants to maintain the tax-advantaged status of a 401(k) or 403(b) from a former employer, rollover IRAs are a solid choice if you're looking to revitalize funds in an old retirement plan.
Coverdell: This is an account to save for your child's education.
Custodial: This account is managed by a parent or other legally designated custodian until the child comes of legal age.
Small Business Retirement Account: These accounts include SIMPLE IRA, SEP IRA and Solo 401(k)s.
The majority of E*TRADES accounts are cash-based, so you can only buy and sell securities with funds that have already been credited to your account. However, most accounts at E*TRADE can also be upgraded to include margin trading depending on your personal goals and risk tolerance.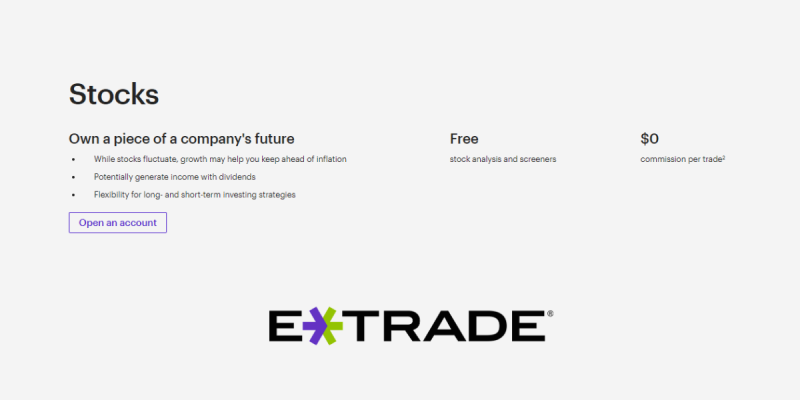 See Also: 12 Best Robo-Advisors: Automate Your Investments
Opening an Account
Once you've decided that E*TRADE is the right brokerage for you, it's time to open an account. The good news is that opening an account with the company is a pretty straightforward process.
As we've mentioned, you need to be a US citizen or resident to be able to open an account with E*TRADE. Additionally, for the vast majority of E*TRADE accounts (with the exception of IRAs for minors, which require a custodial agreement), you also need to be 18 years or older to start investing.
If you meet the above-mentioned two requirements, you can create an account with E*TRADE online at their website using a digital application. Alternatively, you can call the company directly to open an account or send in a paper application.
Filling out the online application is easily the fastest way to open an account as many investors will find that they're approved within a few minutes. As soon as your account is approved, you can either transfer assets from another firm or you can fund your account with an electronic transfer, check, or wire.
Except for core portfolios and managed portfolio accounts, none of E*TRADE's brokerage accounts (including IRAs) have minimum funding requirements, so you can start trading with as much or as little money as you'd like.
E*TRADE Features
E*TRADE prides itself on being a feature-heavy brokerage, so it comes as no surprise that they offer a wide range of trading benefits for investors. These are some of the most important features you can expect with an E*TRADE account.
| | |
| --- | --- |
| Minimum Investment | $0 |
| Stock & ETF Fees | $0 |
| Options Fees | $0 per trade + $0.65/contract ($0.50/contract with 30+ trades per quarter) |
| Mutual Funds Fees | $19.99 |
| Inactivity Fee | $0 |
| Withdrawal Fee | $0 with ACH transfers ($25 with wire transfers) |
| Investment Types | Stocks, ETFs, Options, Mutual Funds, Forex, Futures and Bonds |
| Account Types | Individual Taxable, Joint, Traditional IRA, Roth IRA, Rollover IRA, SEP IRA, SIMPLE IRA, Solo 401(k), Coverdell, Custodial and Trust |
| Platform | Web-based, Mobile (iOS / Android) and WatchOS |
| Account Funding | Bank transfer |
| Paper Trading | |
| SIPC Protection | |
| Banking Services | |
| Support | Branch, Phone, Email and Live Chat |
Commission-Free Trading (ETFs and Stocks)
Perhaps the company's most popular feature, all E*TRADE accounts now have commission-free trading on all ETFs and stocks. You also get commission-free trading on the majority of mutual funds and bonds as well as advantageous rates on most other securities.
Options Trading
Options trading is a type of investing where you purchase a contract that gives you the right to buy or sell an asset at a specific price by a given date. Although options trading is best for experienced investors, E*TRADE does offer fairly good access to options trading, offering lower fees per contract than many other brokerages.
Additionally, the company's various trading and research platforms, including Power E*TRADE Pro, offer great analysis tools for options traders as well as the ability to build various options strategies.
Mutual Funds Investing
With E*TRADE, you have access to more than 9,000 mutual funds, at least 4,400 of which are no-load, no-transaction-fee investments. Plus, there are no commissions on mutual funds trades for no-transaction-fee funds, which are the most popular among individual investors.
Bonds and CDs Investing
E*TRADE offers an impressive array of bonds and CDs for investors to choose from. The company provides access to more than 50,000 offerings from at least 200 providers and all transactions on US Treasury and new issue bonds are commission-free. Moreover, they offer a range of different FDIC-insured CDs.
Futures Investing
If you invest with E*TRADE in a brokerage account (and most IRAs), you have access to futures listed on the CFE, ICE US, and CME as well as 24/7 support from licensed specialists. Plus, the company allows you to seamlessly trade futures alongside other securities on its desktop and mobile-based platforms.
IRA and Retirement Accounts
Depending on your financial goals, you can open several different retirement account options with E*TRADE. In addition to the standard traditional, Roth, and rollover IRAs, E*TRADE also offers a beneficiary IRA for inherited retirement assets and an IRA for minors.
The company also offers the E*TRADE Complete IRA for people over the age of 59.5 who want to convert their IRA to a cash-based checking account.
See Also: Public.com Review: Making The Stock Market Social
Core Portfolios and Managed Portfolios
For investors who take a more hands-off approach to their trading, E*TRADE offers core portfolios and managed portfolios. Both options are quite similar as they provide you with a professional that oversees your portfolio.
With core portfolios, a financial expert will build your account portfolio based on your goals. Then, the portfolio will get monitored and rebalanced using a combination of active and automated management for an annual fee.
Additionally, there are also many other managed portfolios with E*TRADE that have higher investment minimums ($25,000 to $250,000) and larger annual fees. But, these managed portfolios offer more personalized account management and financial advising, which makes them ideal for hands-off investors.
Margin Trading
Trading on a margin allows you to buy and sell securities by using your current assets as leverage. Essentially, you borrow money from your brokerage, using your assets as collateral.
Since margin trading involves extra risk, it's best for more experienced investors. Nevertheless, E*TRADE offers margin trading on most of their accounts, though their margin rates of 8.95% for accounts with less than $10,000 and 5.45% for accounts with more than $1,000,000 are fairly pricey.
Power E*TRADE Platform
Designed for active investors, the Power E*TRADE Platform is a desktop and mobile-based application that provides powerful trading tools, though it can seem overwhelming at first to new traders.
The platform provides a whole host of different features such as technical pattern recognition, the ability to set up exit plans, spectral analysis, and several customizable charts. Plus, the mobile app allows you to make trades and perform securities analysis on the go so you can take advantage of prime market conditions.
E*TRADE Web Platform
A simpler trading platform for passive or newer investors, E*TRADE Web provides much of the trading functionality of Power E*TRADE in a much more user-friendly design. Although the analysis tools on the company's web platform are relatively limited, it has everything you need to process transactions and do research on potential investments all from your online account.
Education and Research Tools
E*TRADE offers its investors a slew of different educational and research-based tools to help them make informed decisions with their money. Although there is a fee to use the company's managed brokerage accounts, their prebuilt portfolios and online resources are free and available to all investors.
While the brokerage's research tools aren't as robust as what you'd get from, say Zacks Trade, they're suitable for the majority of investors.
See Also: 7 Best Micro-Investing App
Customer Service and Support
If you ever have questions or issues with your account, E*TRADE offers 24/7 phone and live chat support for all investors as well as email-based support.
While their brick-and-mortar locations are more limited than some other brokerages like Fidelity, the vast majority of investors will find that E*TRADE's online and phone-based support is more than sufficient for their needs.
E*TRADE Pricing and Fees
One of E*TRADE's major selling points is its commission-free tradition. But, just how much does the company charge in fees outside of trading commissions? Here's what you need to know:
Fees
E*TRADE markets itself as a low-fee brokerage firm and, for the most part, they stay true to this promise. With E*TRADE, there are no account opening fees, inactivity fees, or monthly service charges.
One of the very few times you'll pay a fee to have a self-managed E*TRADE brokerage account is if you want to transfer your assets away to a different brokerage. Should you choose to transfer assets elsewhere, you'll pay $75 for a complete transfer or $25 for a partial transfer.
That being said, E*TRADE's managed portfolios, like their core portfolios and robo-advisor services, have their own fee schedules.
Like with any other brokerage, you can expect to pay extra fees for things like wire transfers, paper statements, checkbook orders, and stock certificate requests. However, these fees are common among all financial institutions and can't generally be avoided by most individual investors.
Trading Commissions
Whether you're an active trader or someone who takes a more passive approach to investing, keeping fees at a minimum is essential. This is what you can expect when it comes to trading commissions on E*TRADE based on their 2021 fee schedule:
Stocks, Options, and ETFs
The vast majority of stocks, ETFs, and options trades on E*TRADE are commission-free when bought and sold on an exchange. The primary exceptions to this rule are broker-assisted trades, which cost $25 each, and over-the-counter stocks which have a commission of between $4.95 and $6.95 each.
Additionally, the company charges options contract fees, which are between $0.50 and $0.65 each, depending on your quarterly trading volume.
Mutual Funds and Bonds
Most bonds on E*TRADE can be bought and sold for $0 in commission, except online secondary trades, which are $1 per bond. The company also charges an additional $20 commission for broker-assisted trades on bonds.
As far as mutual funds go, there are no commission fees on no-load, no-transaction-fee funds. Meanwhile, transaction fee funds have a $19.99 commission fee and load funds are charged a commission based on the fund's load amount.
Additionally, there is a $49.99 early-redemption fee on no-load, no-transaction-fee mutual funds that are held for less than 90 days.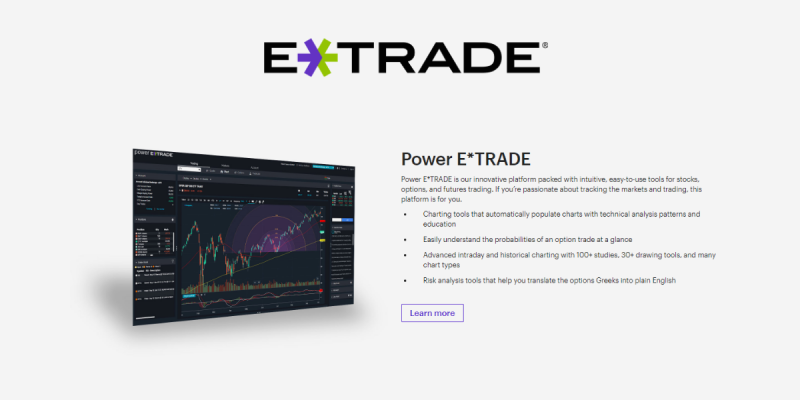 See Also: Zacks Trade Review: An Online Broker for Active Traders
Margins Rates
If you're interested in margins trading, it's important to know what rate you'll pay during your trades. With E*TRADE, you can expect to pay between 5.45% and 8.95% margin rates depending on your debit balance.
E*TRADE Security
Like most major brokerages, E*TRADE accounts are protected by multiple levels of security.
In particular, the company protects all accounts with their 24/7 fraud monitoring system and they will cover you for any losses that result from unauthorized use of your account. They also offer a multi-layered defense system that includes encryption and two-factor authentication.
As far as protecting your assets goes, while it is possible to lose money while investing, your E*TRADE account is protected against any broker-related financial issues. The company is a member of SPIC and FINRA, demonstrating a high level of protection for investors against fraud.
E*TRADE Pros
Large list of different account options
No commission fees on stocks, ETFs, and options
Great assortment of fee-free mutual funds
24/7 phone and live chat support
All investors get access to two great platforms
No minimum deposits for most self-managed accounts
Free access to prebuilt portfolios for guidance
Ability to set up automated investment management
Mobile app available for on-the-go trades
High-quality security and account protection
E*TRADE Cons
Margin rates are among the highest in the industry
No access to foreign markets
Sizable fees for selling mutual funds within 90 days of purchase
Limited brick-and-mortar locations
Contract fees for options are higher for less frequent traders
See Also: 12 Best Investment Apps: For Beginners & Pros
E*TRADE Alternatives
Not sure that E*TRADE is the platform for you? Here are two other alternatives to consider before you open an account.
Robinhood
A relatively new trading platform for self-directed investors, Robinhood is a web and mobile-passed brokerage that prides itself on its commission-free trades. Robinhood doesn't offer retirement accounts nor the ability to trade mutual funds and bonds.
However, all their stock and ETF trades are completely commission-free and can be completed on their intuitive interface. Plus, with no minimum deposits and the ability to buy and sell both options and crypto, Robinhood is ideal for investors who want access to low-cost trading tools and securities that you can't get on many other platforms.
To learn more about Robinhood, check out our full Robinhood review.
TD Ameritrade
One of the largest brokerages in the United States, TD Ameritrade (now part of Charles Schwab) is a beginner-friendly trading platform that makes it easy to buy and sell securities from anywhere. Like E*TRADE, TD Ameritrade has done away with commissions on stock, ETF, and per-leg options trades.
In addition to having multiple platforms for investors to choose from, including thinkorswim, one of the biggest benefits of TD Ameritrade is their extensive educational resources. Moreover, now that the company is part of Charles Schwab, investors can get access to Schwab's massive collection of investment products, including more than 13,000 mutual funds, forex trades, and penny stocks.
Ultimately, while E*TRADE and TD Ameritrade are quite similar, TD Ameritrade is ideal for folks who want more educational tools and access to a wider range of investment products.
Minimum Investment
$0
Fees
$0
Promotions
Stock and ETF Trades
$0
Options Trades
$0 + ($0.65/contract)
Investor Protection
$500,000 (securities up to $500,000, cash up to $250,000)
Minimum Investment
$0
Fees
$0
Promotions
Stock and ETF Trades
$0/trade
Options Trades
$0/contract
Investor Protection
$500,000 (securities up to $500,000, cash up to $250,000)
Minimum Investment
$0
Fees
$0
Promotions
Stock and ETF Trades
$0/trade
Options Trades
$0 + ($0.65/contract)
Investor Protection
$500,000 (securities up to $500,000, cash up to $250,000)
Who Is E*TRADE Best?
E*TRADE is your one-stop-shop for active and passive traders who want broad access to the US market without exorbitant fees. With the ability to buy and sell stocks, ETFs, mutual funds, and other securities online or on a mobile app, E*TRADE is perfect for people who like hassle-free investing that doesn't cost a fortune.
Nevertheless, their high margin rates and lack of access to the international market means that very experienced investors may find themselves limited with the brokerage. But, for the majority of traders who want a low-cost way to buy and sell stocks, ETFs, and most mutual funds, E*TRADE is a solid choice.
E*TRADE FAQ
We've found the most frequently asked questions with regards to E*TRADE, here are our answers.
Is E*TRADE Legitimate?
E*TRADE is a legitimate online brokerage that's been in business since 1982. The company is a member of both FINRA and SIPCA, which are considered the gold standards in terms of market, investor, and securities protection. Additionally, the company's banking branch is a member of the FDIC, which protects non-securities assets held in non-brokerage accounts.
How Much Does It Cost to Use E*TRADE?
Most E*TRADE accounts are free to open and maintain. Except for a few managed portfolio accounts, E*TRADE has no account minimums or annual fees. The majority of stock, ETF, bond, and mutual fund trades on the platform incur no commission fee. However, the platform does have some trading fees for processing certain types of securities and transactions.
Is E*TRADE Safe?
E*TRADE is a reputable online brokerage service with a track record of reliability. The company uses many different security features, such as encryption, two-factor authentication, and fraud protection to help shield your account from identity theft and cybercrime. Nevertheless, trading securities is an inherently risky pursuit and it is possible to lose money in your brokerage account based on current market conditions.
Account Minimum: $0
Fees: Zero-commission stock, ETF and per-leg options trading (+$0.65 per contract)
Promotion: Up to $2,500 in welcome bonuses (promo code: WINTER21)
Final Thoughts
If commission-free investing is your goal, E*TRADE is a sure bet. While they don't lead the industry in more advanced investment tools, such as margins trading and access to international markets, E*TRADE's low fees, accessible platform interfaces, and wide range of account options make it an excellent choice for the vast majority of investors.
Up Next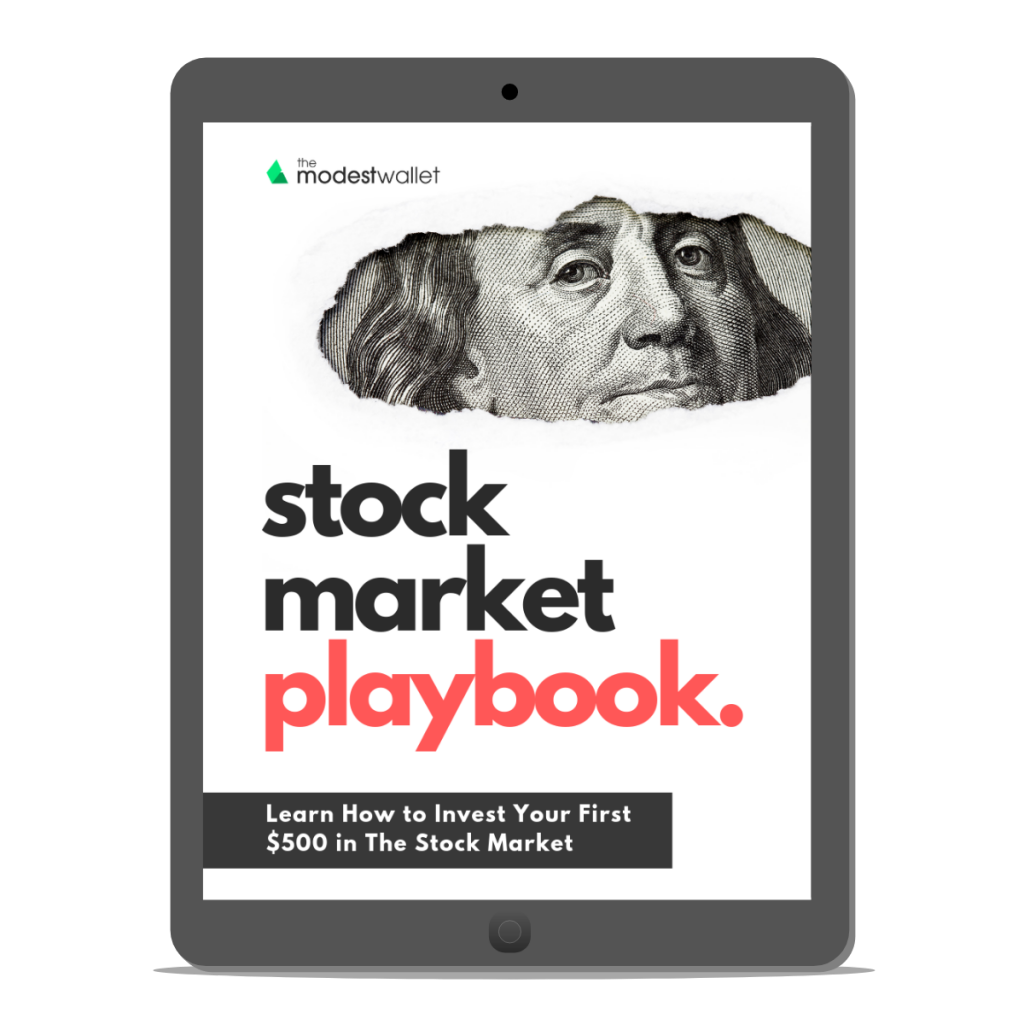 Get our free Stock Market Playbook to learn how to invest your first $500 in the stock market.
Plus our best money tips delivered straight to your inbox.

Gaby is a freelance writer and self-employed business owner with a personal interest in all things finance-related. She has a passion for educating others on how to make the most of their money and loves writing about everything from taxes to crypto.