28 Best Side Hustle Apps in 2023
The side hustle movement is continuously growing, and with this growth comes so many new opportunities for people to make some extra cash on the side.
Applications are developed and launched that are specialized for the side hustlers of the world. They provide different ways for people to leverage their extra time to earn extra income with a side hustle.
In this article, we will be highlighting the best side hustle apps today. Read on to find out which ones may work best for you.
TL;DR
---
Best Side Hustle Apps for Online Tasks
Online tasks involve completing surveys, questionnaires, and other data-collecting tasks that provide valuable consumer insight for businesses.
The following is a list of the best side hustle apps for online tasks.
1. Survey Junkie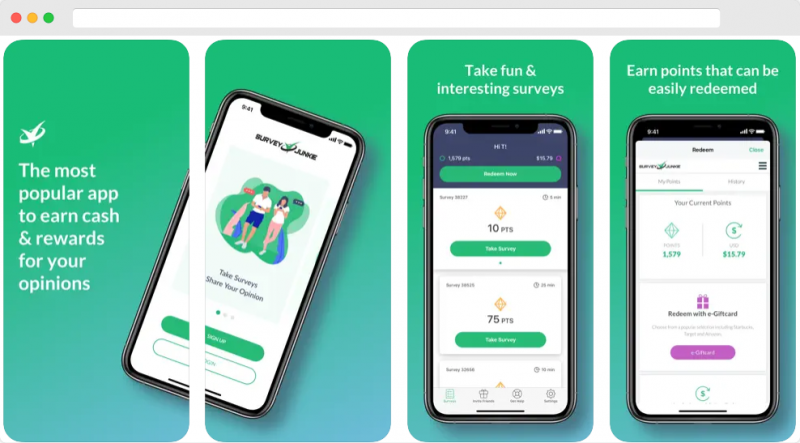 Survey Junkie is an online survey platform and app that allows users to complete surveys and receive compensation in return for their time and information.
Each survey pays out a certain number of points, which can then be redeemed in Survey Junkie. One point is equal to one cent — for example, a survey with a 200-point reward will earn you $2, which accumulates in your wallet.
There is a minimum withdrawal limit of $5, which means you will need to have accumulated 500 points by completing surveys before taking your money out. Users can withdraw via PayPal or direct bank transfer or by redeeming electronic gift cards. Read our full Survey Junkie review to learn more.
2. Swagbucks
Swagbucks is an online platform and app that gives users the opportunity to earn money by completing various tasks delivered by their platform. The app has been around since 2005 and has since paid out upwards of $700 million worth of prizes.
Swagbucks pays users in points they call "swagbucks." One swagbuck is equal to one cent, so 100 swagbucks would equate to $1 in cash. Swagbucks can be redeemed for Swagbucks rewards which include a cash PayPal transfer, gift cards, a prepaid Visa, or even a check sent in the mail.
This online task platform has a variety of survey tasks to complete, but it also offers a number of other tasks that users can partake in to earn swagbucks. These include:
Scan receipts
Use the Swagbucks search engine
Play games online
Try new offers for products and services
Dine out with Swagbucks partners
Watching videos
Printing grocery coupons
Cashback shopping
Special offers
Book your travel via Swagbucks
Swagbucks is a great side hustle app as it offers an array of ways to earn. Read our full Swagbucks review to learn more.
3. InboxDollars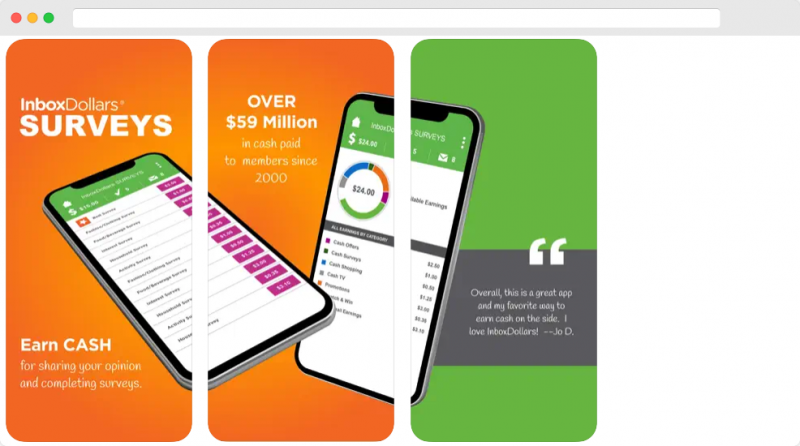 InboxDollars is an online task platform and app that connects brands with consumers and allows its users to earn money by completing a variety of tasks that provide valuable consumer information.
Earning cash with InboxDollars can be accomplished in a number of ways:
Completing surveys
Shopping online
Watching videos
Playing different games
Completing scratch cards
Testing online offers
Using InboxDollar's search engine
Completing tasks earns you cash that is deposited into your wallet. Tasks can pay anywhere from 50 cents to upwards of $5, depending on what it entails.

One thing to remember is that InboxDollars does require users to have a wallet balance of at least $15 before they can request a withdrawal. Payouts are made via PayPal, gift card, or prepaid Visa. Read our full InboxDollars review to learn more.
4. MyPoints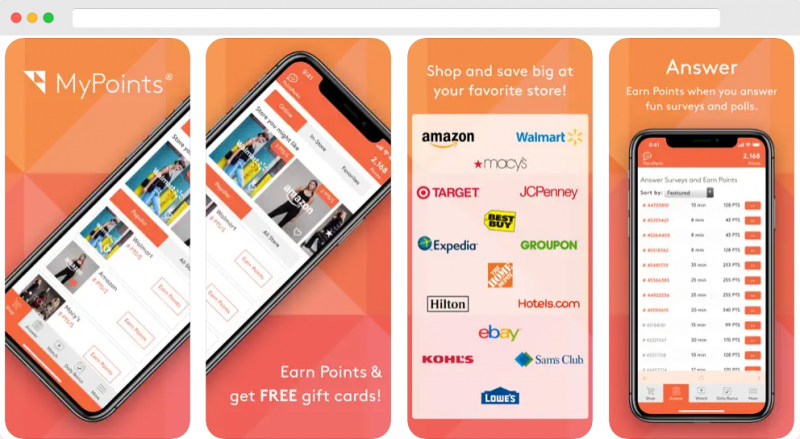 MyPoints is a well-known online rewards app and marketplace that compensates its users for completing different tasks on its platform. It is a great way to earn some extra cash in your spare time.
MyPoints offers a variety of ways to earn cash — some involve making purchases using their shopping platform, while others are different tasks that are completely free. These include:
Answering surveys
Watching videos
Playing games
Reading emails
Printing and redeeming coupons
Referring friends
Once you have accumulated enough points in your MyPoints wallet, you can redeem them for compensation of your choice. If you are okay with getting a gift card, you can redeem as little as 700 points for a $5 card.
However, if you want cash, users must build up at least 3,970 points, which can then be redeemed for a $25 dollar PayPal payout. MyPoints work out to be a little bit over half of a cent per point. Read our full MyPoints review to learn more.
5. LifePoints
LifePoints is an online market research platform and app that pays users to complete a variety of survey-style tasks. It is a great way to make some extra money in your free time.
LifePoints has well over five million members worldwide who provide valuable opinions and information by filling out surveys that LifePoints delivers to brands and businesses.
In order to earn real cash, users must complete surveys on the platform. Each survey will pay out a certain amount of points, depending on the length of the survey — they will typically take between 10 and 60 minutes.
Users can cash out their earnings starting at a value of $5 — one LifePoint is around one cent. Payouts can be completed via a PayPal deposit (within 10 business days) and can be redeemed for gift cards from a variety of popular retailers (e.g., Amazon, iTunes, etc.). Read our full LifePoints review to learn more.
6. Steady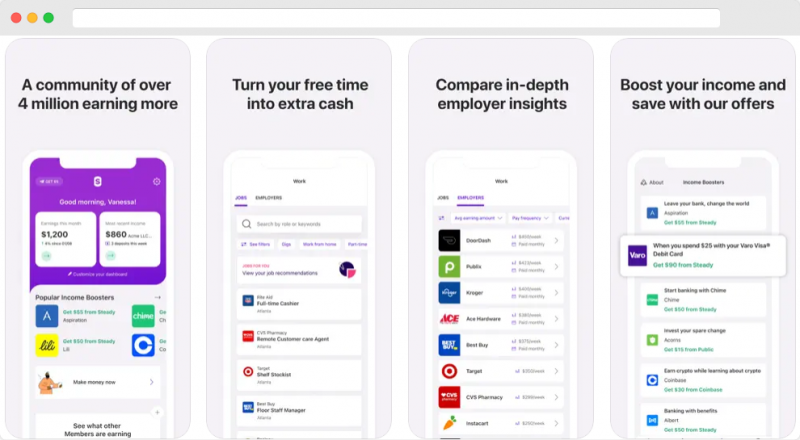 Steady is an app that provides users with a strategically curated list of side hustle opportunities that can be leveraged to make some extra cash on the side.
Steady works by allowing users to search for gigs by using different filters to specify their specific work desires. The app showcases everything from side hustles and smaller side gigs to larger-scale jobs.
The four main "types" of work users can choose from include:
Remote work/work from home
Anytime work
Part-time work
Full-time work
In terms of earnings, Steady allows you to track and manage the income you make from gigs found on Steady using their built-in "Income Tracker." Steady also offers an "Income Boosters" section on their platform that helps users maximize their income by:
Finding extra tax savings
Locking in lower insurance rates
Getting bonuses from certain work (e.g., ridesharing)
Getting discounts on everyday purchases
---
Best Side Hustle Apps for Drivers
The gig economy is constantly expanding and creating new job opportunities for people to take advantage of. Driver and delivery apps have seen massive growth over the past few years, and with that, the availability of driver jobs has skyrocketed.

Here are a few of the best side hustle apps for drivers.
7. Postmates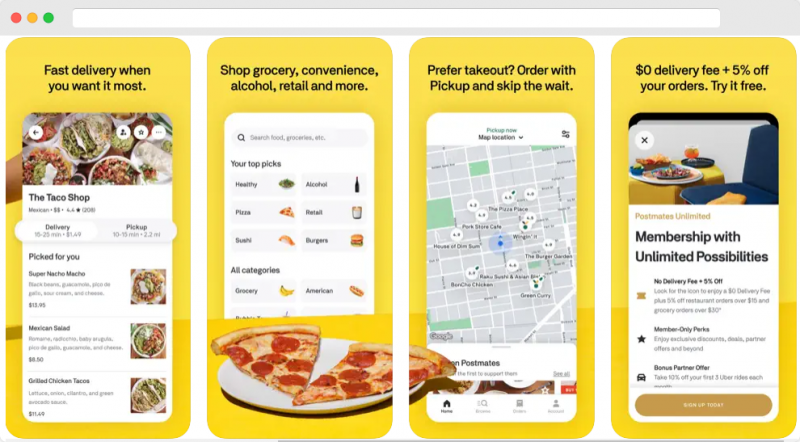 Postmates is a delivery app that employs couriers to deliver a variety of products to Postmates customers. These products include restaurant takeout, groceries, and some other personal items.
Postmates drivers or "couriers" earn around $19 per hour (the average hourly rate will vary depending on your location and how much driving a courier does). The company charges a delivery fee on each order, typically ranging from $3.99 to $9.99, depending on order details.

Postmates keeps 20% of delivery charges, while the remaining 80% goes directly to the drivers. Therefore, on a delivery that charges $5 for delivery, the driver will pocket $4.
Drivers also keep 100% of the tips that customers provide. Earning potential for Postmates drivers has been reported to be upwards of $25 an hour in ideal situations.
In order to become a driver, there is a set of eligibility requirements:
18 years of age or older
Valid driver's license and a vehicle that is insured (bicycle accepted for urban areas)
Smartphone capable of running the Postmates app
Complete a successful background check
Check out our full Postmates driver review to learn more about this side hustle.
8. DoorDash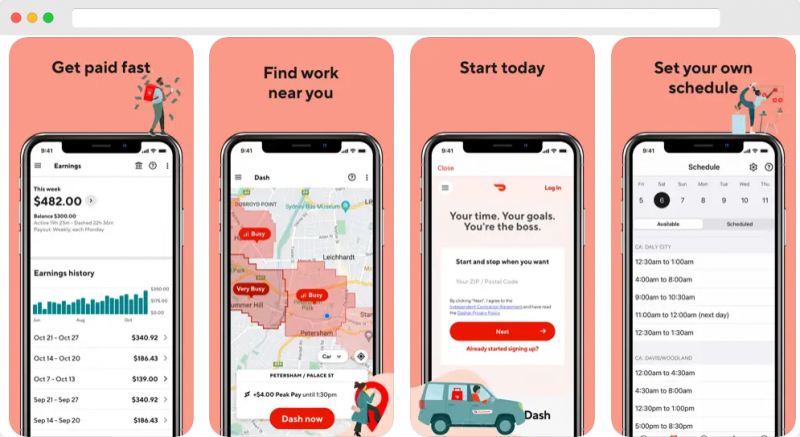 DoorDash is an online food delivery platform that is based out of San Francisco, California, and was launched back in the year 2013. It is currently the largest food delivery company in the United States, with a market share of over 50%.
DoorDash provides drivers who are approved to work on their platform with the opportunity to earn income by delivering from thousands of restaurants and other merchants across North America.
Requirements to be a DoorDash driver include:
18 years or older
Access to a vehicle of some sort (car, bicycle, scooter, etc.)
Documentation (driver's license, SSN, background check)
Decide when, where, and how often you want to work — create your own schedule based on how much free time you have each week. Drivers can also choose which deliveries they accept in order to have even more control over where and when they deliver.

In terms of making money, drivers can earn in a number of ways. These include:
Base Pay (each delivery): calculated in relation to the estimated time, distance, and order desirability
Tips: Most deliveries include a tip built into the cost. Customers can also choose to tip their delivery driver; 100% of customer tips go directly to the driver.
Promotions: DoorDash offers promotion-style events that help boost earnings. This includes Peak Pay for delivering during peak delivery times, as well as specific challenges that can be completed for extra cash.
Read our full DoorDash driver review to learn more about this gig.
9. Instacart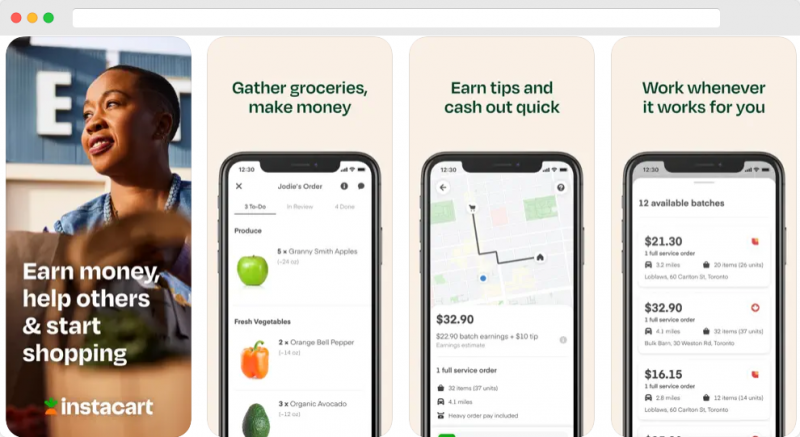 Instacart is an online grocery delivery service app that provides customers with a platform to browse grocery store items, fill up a cart, have the order put together by grocery store staff, and then have it delivered by an Instacart driver to their door.
There are two "roles" that Instacart has available for people to start earning money.

Full-service Instacart Shopper
Responsibilities

Enter grocery stores
Shops for the items ordered (referred to as a "batch")
Deliver Instacart order to the customer's location

You are an independent contractor and set your own schedule.
Delivery-only Instacart Shopper
Responsibilities

Accept order deliveries in your area
Pick-up orders from the Instacart in-store shopper at participating grocery stores
Deliver orders to customers at their location

You are a part-time employee of Instacart.
In-store Shopper
Responsibilities

Work on-site at Instacart operating grocery stores
Fulfill orders (batches) by shopping for all of the requested items
Bagging and labeling (staging) orders for pick-up

You are a part-time employee of Instacart
Work a minimum of 15 hours a week, but no more than 29
Instacart earning potential varies based on the service you provide. Full-service shoppers are guaranteed $7–10 dollars minimum per order depending on the region, while driver-only shoppers are guaranteed a minimum payment of $5.
There are also bonuses that can be earned on top of base pay for things like delivering during peak order hours and quality bonuses for receiving a 5-star review. Workers will also receive 100% of all tips provided by customers.
Ultimately, the number of hours worked and the number of orders fulfilled within those working hours will dictate your earning income. Read our full Instacart shopper review to learn more.
10. Amazon Flex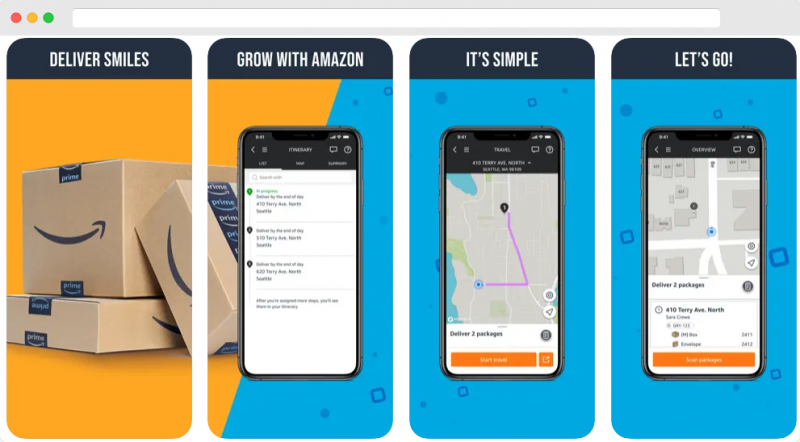 Amazon Flex is a style of independent contractor job in which drivers are tasked with delivering packages to customers on behalf of Amazon. It is a great side hustle to take on and make some extra money in your free time!
Some of the deliveries that drivers will be handling include:
Amazon.com orders: Drivers will pick up orders from an Amazon warehouse delivery station and deliver them to their designated locations.
Amazon Fresh & Prime Now: Drivers will pick up and deliver household supplies and grocery orders from an Amazon delivery station
Store orders: Drivers pick up orders for delivery from local stores instead of from an Amazon delivery station.
Amazon Flex drivers are guaranteed to make anywhere from $15 to $19 an hour in base pay and will also be earning tips from each delivery.
Total earning potential will depend largely on your location, as well as what times you choose to complete a delivery, customer tips, and a number of other logistical factors.
11. Uber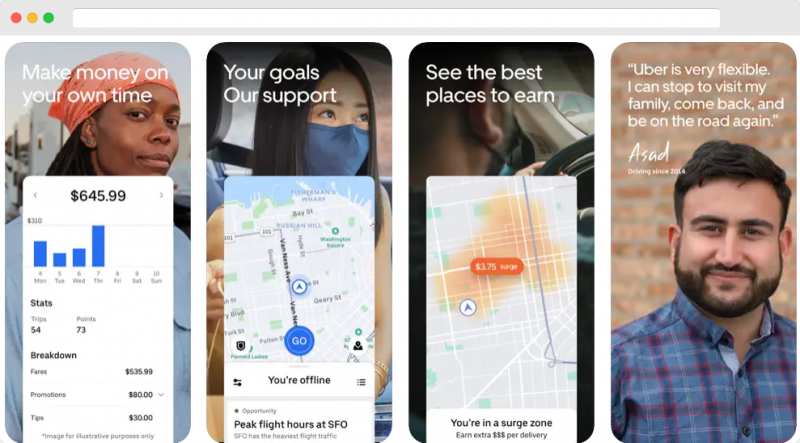 Uber is a service provider that connects drivers and deliverers with riders, restaurants, and eaters. Uber offers opportunities for people to drive and/or deliver on their platform and earn some extra money.
In order to become a driver, there are a few requirements:
Meet the minimum age requirement to drive in your city
Have at least three years of driving experience
Complete a successful background check
Have a valid driver's license & proof of residency in your city
Have insurance if you are driving your own car
Earning is based on a few key factors:
Upfront earnings:
Base fare: pay for pickup, dropoff, time, and distance
Trip supplement: added by Uber to increase earnings
Promotions: can include things like increased surge pricing on rides or increased boost payouts on specific locations (more $ for drivers)
Drivers will also receive 100% of tips provided by customers after the ride has been completed.
---
Best Side Hustle Apps for Local Tasks
There is another subset of side hustle apps that are built specifically to connect people looking to earn money on the side with paid local tasks.
The following is a collection of the best side hustle apps for local tasks.
12. Rover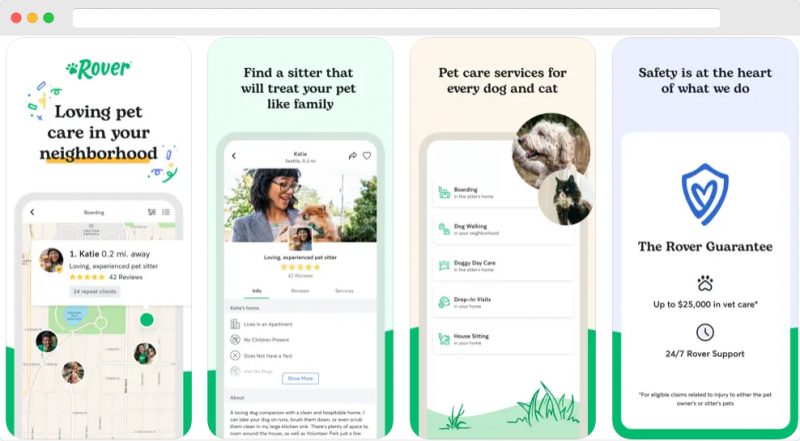 Rover is a technology company that built and launched an app that connects pet sitters with pet owners who are in need of pet-related services.
As an independent contractor for Rover, you can earn up to $1,000 a month providing pet-related services, and in some cases, those who choose to offer the more extensive dog boarding services can earn even more.
Pet care services that people working for Rover can provide include:
Dog walking
House-/Pet-sitting
Drop-in pet visits
Day-care services
Dog boarding
Rover clients pay for their services through the app after you have completed their duties. However, they do take a significant cut of your fee that ranges from 20% to 25% of your total earnings.
If you are able to put in a good chunk of hours and book consistent jobs during those hours, your earnings will reflect that. Rover is completely cashless — payments are made by way of PayPal deposit or by check. Withdrawals can be two days after service has been completed.
Maximize earnings by offering multiple services, including pictures in your advertisements, to increase credibility and provide exceptional service that warrants great reviews.
13. SitterCity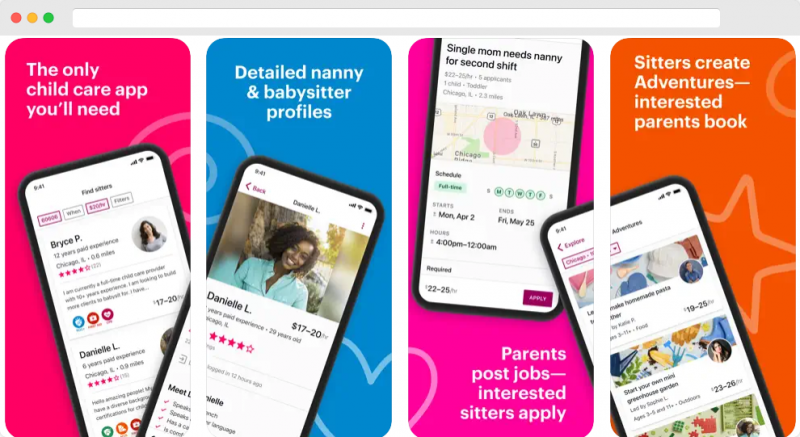 SitterCity is an online "sitting" platform and app that pairs guardians with babysitters, dog sitters, nannies, and housekeepers for an exchange of services.
SitterCity allows you to set your own rates and does not take a cut of the income generated on hired jobs — workers keep 100% of the funds earned. They do not employ any of the sitters but instead provide a job board-like platform.
Applying for and landing jobs is done by searching your location and surrounding areas for clients who are hiring. Job listings will provide all relevant information, including payment range, time commitment, and other job details.
Once you have found a job that you would like to apply for, you can choose to pass your profile along to that client for review. If they would like to connect with you, they can reach out on the app, at which point negotiations for payment and job details can be made.
When it comes to payment for services, the client themself is responsible for compensating the sitter directly — SitterCity does not handle the hiring or payment aspect of the relationship.
Potential earnings depend on your location, the number of available jobs, how much clients are willing to pay, and, of course, the effectiveness of your advertisements and the quality of services.
14. TaskRabbit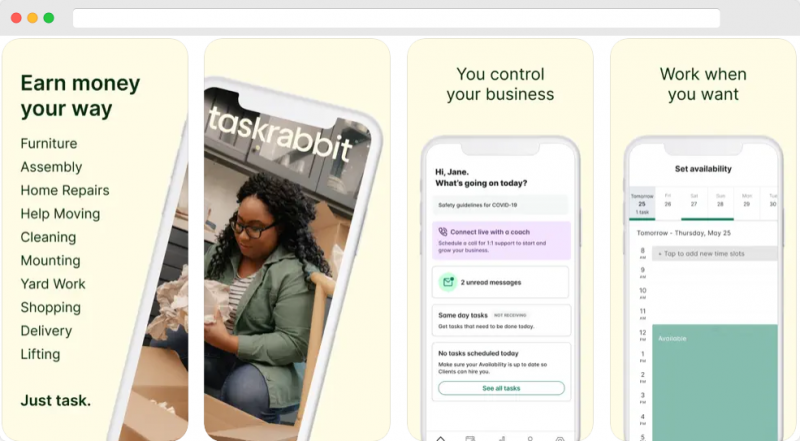 TaskRabbit is an online platform that helps to connect people who are looking for work with people who are willing to pay to have work done.
Tasks include everything from dog-walking, hanging a picture, or waiting in line, to larger projects like landscaping, house cleaning, and car detailing.
In order to become a "Tasker," you must sign up on the app, create a profile, verify eligibility, set your location and work schedule, and then pay the one-time $25 registration fee. Taskers keep 100% of their earnings plus any tips provided by customers.
Once you have been approved, you can start offering as many services as you would like, setting a custom rate for each service. When someone in the area posts a task that corresponds to one of your offered services, you will receive a notification on the TaskRabbit app.
All communications, negotiations, and exchanges of funds can be done through the app. Taskers are paid by direct deposit to their bank account after completing a task. This can take anywhere from 24 hours up to 5 days.

Earning potential on TaskRabbit is based on the rates that you set for yourself, as well as the availability of tasks in your area. It is important to be aware of the going rates that other taskers in your area are charging for different services.
For example, the average hourly rate for furniture assembly in the downtown Buffalo area may be $30, whereas, in New York, it may be closer to $40. Ensure that you are being competitive with your rates in order to have the best chance at finding clients and earning income.
15. Thumbtack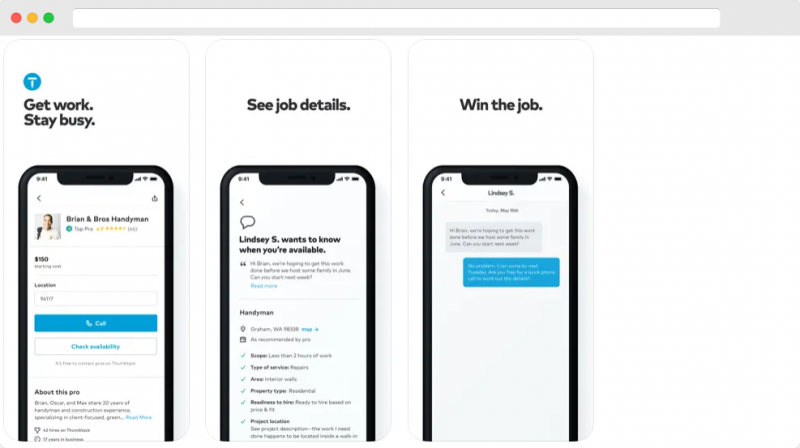 Thumbtack is an app that was designed to help people discover, hire and review local service providers. Founded in 2008, it has become a great way for people to start a side hustle and earn some extra cash.
The app works by providing contractors, freelancers, and businesses with a platform to showcase their services, find clients, and gain a reputation in their area. When a client lands on your profile, they can contact you through Thumbtack in order to discuss their needs.
Thumbtack is free to use and requires no subscription fee. However, you are required to pay a fee for every lead that the app helps you to generate.
The fee is calculated based on how closely the customer's needs match your services. If it is only a moderate match, Thumbtack offers a 20% discount on the lead fee. If it is a strong match, the full lead generation fee will be charged.
Service categories found on Thumbtack include:
Home Improvement
Pets
Business
Lessons
Design & web
Photography
Technical support
Writing, editing, translation, transcription, etc.
One of the platform's best features for finding new business is the "opportunities" section. Here you can see customers who are connecting with service providers and the quotes that are being requested.
You can reach out to customers who are hiring for services you can provide, as well as gauge the market and gather valuable pricing information for your own service suite.
16. Handy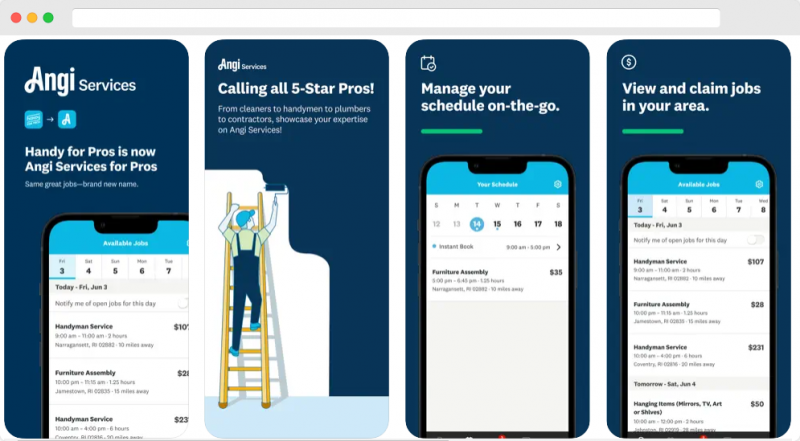 Handy is a gig-based online platform that connects house cleaners and handymen with homeowners who are in need of help and are looking to hire for services.
The application offers a variety of services:
House cleaning
Furniture assembly
Electrical work
Furnace & A/C repairs
Painting
Home renovating
Handy states on its website that you can earn up to $22 per hour for cleaning services and up to $45 per hour for handyman services. Some of the top professionals are reported to earn upwards of $1,000 a week through the platform.
Obviously, the type of services that you provide will affect your earning potential, as well as the availability of jobs in your area. Handy pays workers by direct deposit to their bank within a few days after completing a job.
It is important to remember that Handy does charge for showing up to a job late or for canceling/rescheduling a job in certain situations. Only accept jobs that you will show up for on time and have the ability to complete properly.
---
Best Side Hustle Apps For Freelancers
Diving into the online freelancing world is a great side-hustle option. However, the process of getting started and finding clients can be a bit of an overwhelming experience.
Here are two of the best side hustle apps for freelancers that will help you start earning extra money in no time
17. Fiverr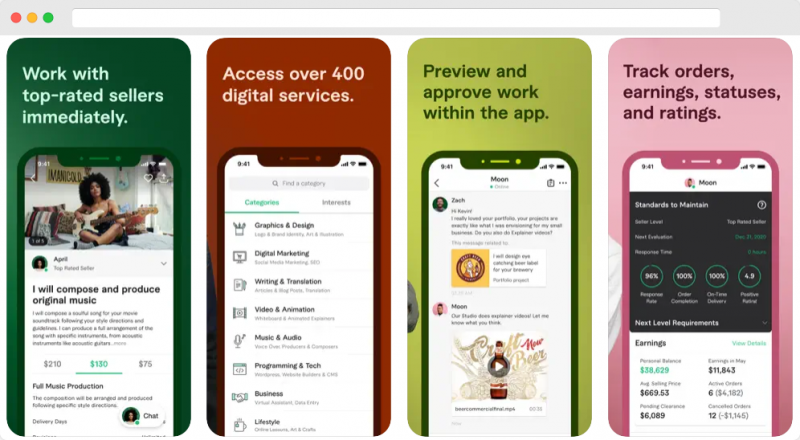 Fiverr is an app and an online gig-based marketplace that provides a platform for freelancers to connect with clients and exchange a wide range of potential services. It is a great way for freelancers, both new and experienced, to find clients and earn an income.
Fiverr hosts freelancers that provide services in fields like writing, editing, graphic design, web development, and so much more.
Once you have created a user profile, you must set up a "gig" or job posting that showcases the specific service(s) that you are offering. The gig will include deliverables, pricing, timelines, and any other important service information.

You can set up multiple gigs if you have different services that you would like to have offered on the Fiverr marketplace, each with its own set of chosen "tags" that will categorize the job accordingly.
Customers search the platform for freelancers by specifying what services they need. If they find your gig and like what you offer, they can start a conversation with you.
When you build a gig, you will be prompted to create set-price offers so that clients can make an order without the need for a conversation. There is also the option to create custom offers, which can be discussed through Fiverr's messaging system.
When a job has been completed, and work has been delivered, earnings are deposited into your Fiverr wallet. Fiverr has a resolution center that deals with all potential order issues to protect both sellers and buyers.
It is important to remember that Fiverr takes 20% of the proceeds generated by every order, which is fairly substantial. However, it is one of the most widely used platforms and can provide a huge client base.
Fiverr offers a number of payment methods:
PayPal transfer
Fiverr Revenue Card
Bank transfer
Direct deposit
18. Upwork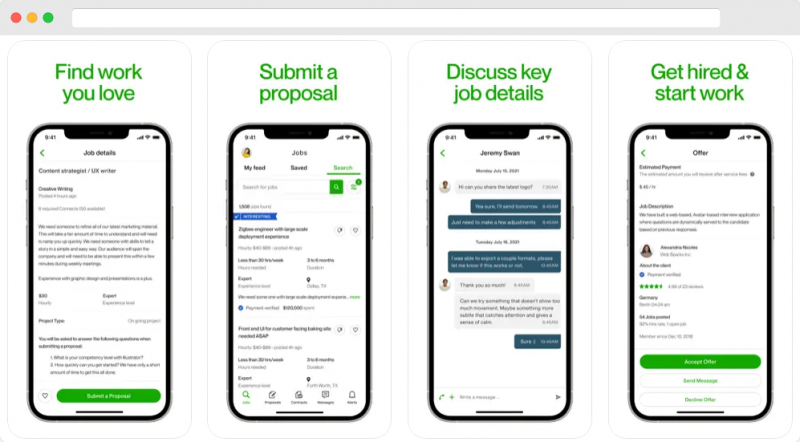 Upwork is another great app and online marketplace for freelancers to connect with new clients to provide their services and make good money on the side.
To start, users will need to fill out an application in order to gain access to the Upwork freelancer platform. Once your application has been accepted, you can set up your freelancer profile and then begin posting job proposals and finding work!
Upwork offers two freelancer memberships:
Basic membership:
The basic membership is free, but freelancers will pay $0.15 for each "Connect," Upwork's platform token that is used to submit proposals to clients.
Freelancers can roll over up to 140 Connect tokens each month.
If a client reaches out to you first, you do not need to use any Connect tokens.
Plus membership:
Costs $14.99 per month
Provides freelancers with 70 Connect tokens each month, with the standard 140 Connects monthly rollover included in the basic membership
Insights into price competition on specific jobs
Ability to keep earnings confidential
Profile is never hidden due to account inactivity
As a freelancer on Upwork, you can choose to be paid in one of two ways: hourly wage or a fixed price per project.
Hourly
All hourly projects are logged into your "Work Diary," which is built into the Upwork desktop application.
This functionality tracks your work time in 10-minute billing cycles by recording keystrokes, scrolling, clicks, and window activity.
Fixed-price
Fixed-price projects involve the customer paying a certain amount of money upon the initial work agreement.
Customers can set milestones or checkpoints that are accompanied by concrete deliverables throughout the work process.
Freelancers are paid the initial deposit in increments as milestones are completed. When everything has been delivered, the remainder of the total project price is paid out.
Upwork freelancers can receive payments by way of direct deposit, wire transfer, or via PayPal transfer.
---
Best Side Hustle Apps For Selling Stuff Online
Selling stuff online is actually a great side hustle option and one that can be quite profitable if done right. From clothes and accessories to books, playing cards, and everyday items, there is money to be made selling online.
There are so many online platforms that have been created to help connect with buyers and sellers. Here are some of the best side hustle apps for selling stuff online.
19. Poshmark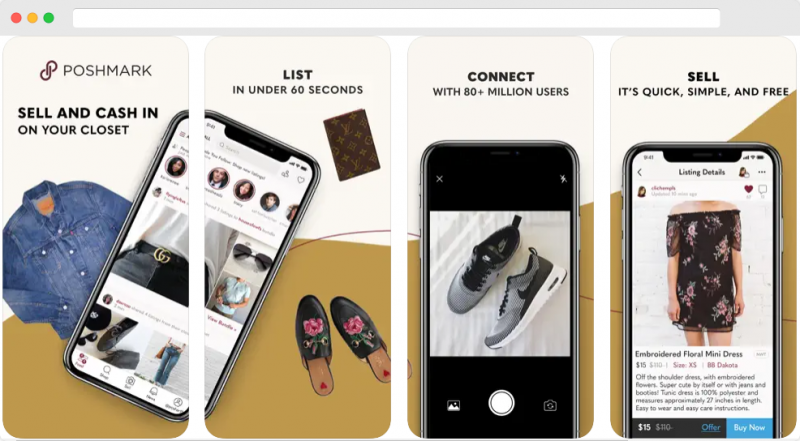 Poshmark is one of the most popular online marketplaces for the selling of used clothes, shoes, accessories, and household goods. The cool thing is that it also comes with a handy app.
With over 80 million registered users, Poshmark's platform is a great resource for people looking to sell their stuff online and maybe even turn it into an income-earning side hustle.
To get started on Poshmark, simply sign up and create your own account. Once you have provided some basic information and verified your account, you can start selling.
List items using the streamlined item description form provided by Poshmark. Input item details like size, color, and brand, and then upload your highest-quality photos to help your things sell quickly and for the best possible price.
Once your item has been listed, buyers can choose to buy for the listed price or make an offer that you, as the seller, can accept or counter with another offer.
When you have successfully sold an item, Poshmark sends you an email that contains a pre-paid, pre-addressed shipping label. Affix the provided shipping label to your package and drop it off at your local post office within 72 hours.
Upon the buyer's confirmation of receiving their item, Poshmark will release earnings into your account's wallet within three days. Sellers can withdraw their money via direct deposit to their bank account.
Poshmark takes a cut of each sale for selling and shipping, depending on the item and the sale:
Sales under $2.95: Poshmark takes $2.95.
Sales over $15: Poshmark takes 20% of the listing price.
Shipping items up to 5 lbs: Poshmark charges $7.11.
Shipping items above 5 lbs: Seller pays for shipping cost.
20. OfferUp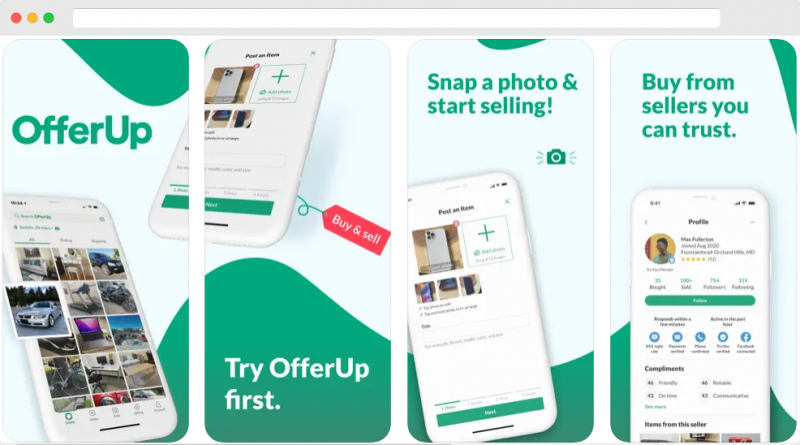 OfferUp is an app and an online marketplace that specializes in providing a platform for people to buy and sell their stuff. From clothes and electronics to toys, books, and even vehicles, OfferUp is a great place to start up a side hustle.
Create an account on OfferUp by providing some basic personal information, providing an email and location, and indicating your preferred payment method(s).
Start posting your items by creating a listing and filling in all of the necessary item information:
Description
Price
Location
Shipping cost
Item photos
Once the listing is complete, it will be posted on the marketplace and made available to customers based on your location. Buyers can either pick the item up locally or have it shipped to them after paying your shipping cost.
OfferUp is free to sign up for and use; however, sellers must pay a service fee whenever a shipped item sells. They can either choose to pay a minimum of $1.99 or 12.9% of the item's sale price.
Sellers will have set up their desired deposit method/account by adding a debit card or their bank info in their OfferUp account section.
Once the buyer has accepted an item, the sale is marked as complete. Payments are typically deposited within five to seven days of the sale being marked complete.
21. Decluttr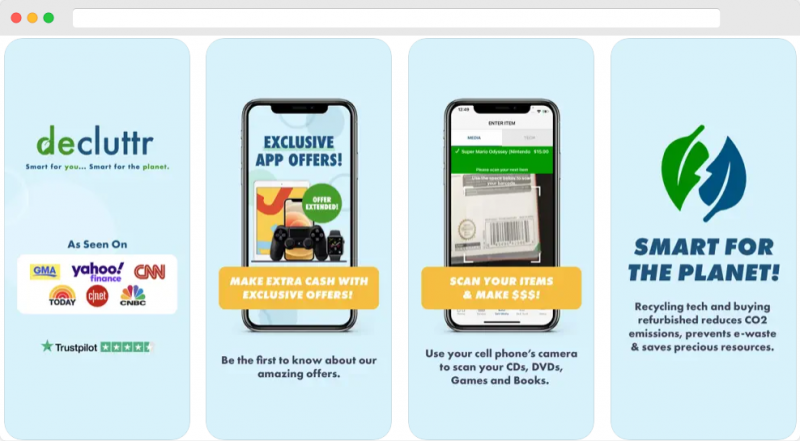 Decluttr is an online marketplace platform and app that specializes in helping people sell used or refurbished technology. Sold items include everything from video games, DVDs, and CDs to tablets, smartphones, laptops, and other larger items.
Once you have created an account, you can start selling your items by having a free instant valuation on whatever you would like to sell.
Depending on the item you would like to have valued, there are different processes.
For CDs and DVDs:
Enter the barcode found on the back of the item.
Decluttr will provide a value based on current market sales and demand.
For Legos (Decluttr specifically accepts Legos):
Pack your Legos in a plastic bag and seal it.
Weigh the bag and round to the nearest pound.
Indicate the total weight.
Electronics:
Enter the product description.
Indicate the condition of the item (Good, Poor, or Faulty).
Once you have entered all of the items you wish to sell, you can confirm your order and proceed with the transaction.
Decluttr will ask you how you would like to be paid, at which point you can choose a PayPal transfer or direct deposit to your bank account, or you can choose to donate your earnings to charity.
Next, you will be emailed your "welcome pack," which contains basic instructions for packaging, labeling, and getting the package sent out for delivery.
Once your items have been sent to Decluttr, there is a short waiting period for your items to be assessed and accepted. When this has all been completed successfully, sellers will be paid via their method of choice, typically within two to three business days.
22. BookScouter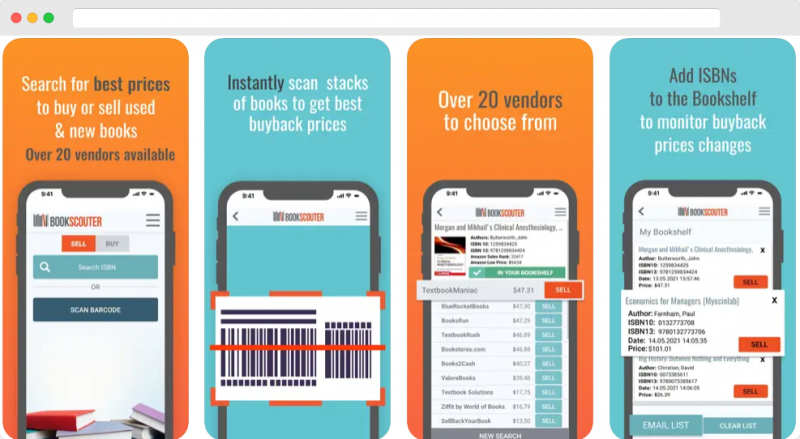 BookScouter is an online platform that provides a great place for people to buy and sell used books. Leveraging this app can be a great way to get rid of your used books in exchange for some extra cash.
Selling your books on Bookscouter is a relatively simple process. Visit the Bookscouter website and navigate to the "vendors" tab. Here, you will see a list of all the vendors that BookScouter works with.
You will then see an ISBN code search bar, in which you can enter the ISBN of your book(s) in order to find out what prices different vendors on the platform are offering.
Compare pricing between vendors, and be sure to read reviews from previous sellers to ensure you are dealing with a reputable vendor before making your decision. When you are ready to proceed with a sale, the vendor will send a free shipping label for you to use.
Once the vendor has received the package, they will release payment to the seller directly. Payment methods can vary from vendor to vendor but will typically include PayPal or written checks.
23. eBay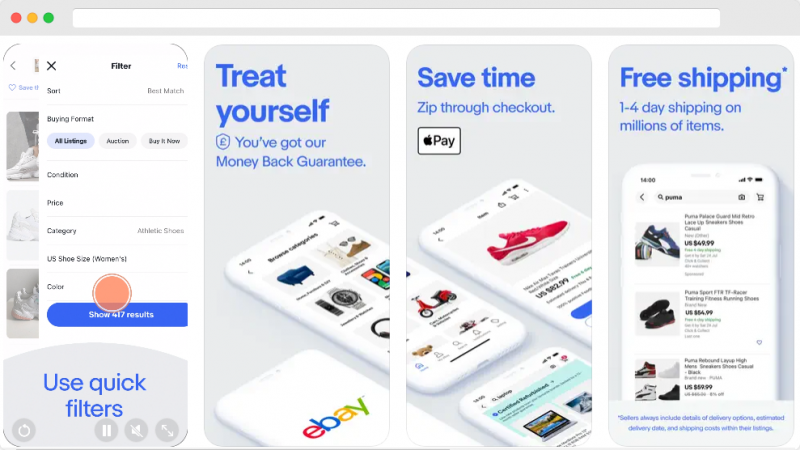 eBay is one of the most popular online marketplaces in the world, boasting well over 180 million active users. The platform provides a way to connect buyers and sellers for the exchange of goods and, as a result, provides a great way to make some extra money selling your stuff!
To start earning on eBay, you will first need to create an account and register as a seller. This process involves confirming identity, providing location information, and setting up your payment method(s).
Once you are registered, you can start listing your items on the marketplace! eBay has a comprehensive walkthrough guide for new sellers to learn how to use the listing tool properly and optimize results.
When a buyer's order is confirmed, you will be prompted to ship the item to their location. Selling fees and other costs are deducted from the total price, and your proceeds will show up on your eBay account as "processing funds."
Once the buyer's payment has been confirmed, your funds will be tagged "available for payout." Depending on the payment schedule you choose to set up, your proceeds will be paid out to the checking account linked to your eBay account accordingly.
---
Best Side Hustle Apps for Renting Stuff
The sharing economy offers a great way for people to leverage their things to make some extra money by renting stuff to people willing to pay. It can be an awesome side hustle that has the potential to bring in significant income.
Here are some of the best side hustle apps for renting stuff:
24. Airbnb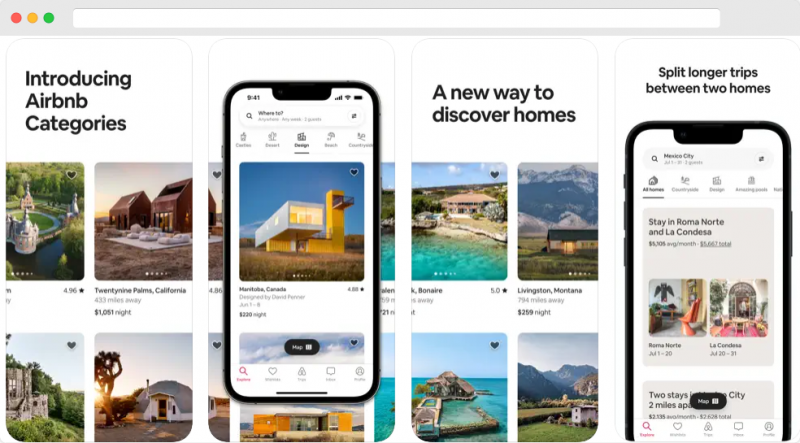 Airbnb is an online marketplace that is designed specifically to pair people who want to rent out their homes with people looking for accommodations. It is a great tool that people can use to turn renting out their spaces a side hustle.
Once you have created an account and become a host, you can start the process of listing your property on the Airbnb marketplace. Listing involves a number of steps:
Define your home type (e.g., full home, private room, shared room, etc.)
List the capacity of the space (number of guests)
Mention the location & location details (e.g., proximity to stores, attractions, etc.)
Take high-quality photos to showcase the space to potential renters
When someone books your rental, you will be notified of the dates that they will be arriving and departing so that you can set up the space in preparation.
Money earned on bookings will typically be sent out 24 hours after your guest's scheduled check-in time. Depending on the payout method you have set up, your money will arrive in your account within one business day (PayPal and Payoneer) or up to seven business days (bank transfer).
25. Turo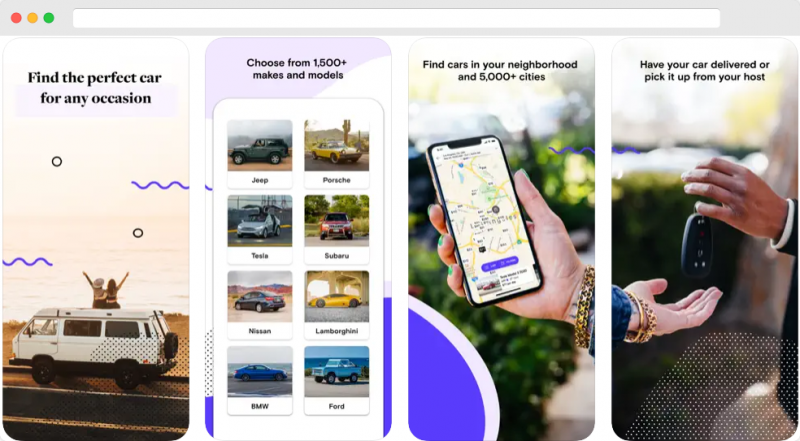 Turo is one of the largest peer-to-peer vehicle-sharing marketplaces that is currently in operation. It has been deemed "the Airbnb of cars" and is a great way for people to earn some extra cash by renting out their vehicles.
Here is how it works:
Create a free Turo account.
Get an estimated daily rental price using Turo's built-in calculator.
List your car on the Turo marketplace for free (take high-quality photos and an accurate vehicle description).
When someone requests to book your vehicle, you will receive a notification.
If you accept the request, you will then be directed to meet your guest at a predetermined location.
When you arrive, perform a license check as well as a walk around the vehicle.
Note the fuel level and mileage before handing over the keys.
When the trip has concluded, meet your guest and confirm that the car is in good condition.
Get paid via PayPal (for international hosts) or direct deposit (for U.S. hosts) within 72 hours after the trip has been completed.
26. Getaround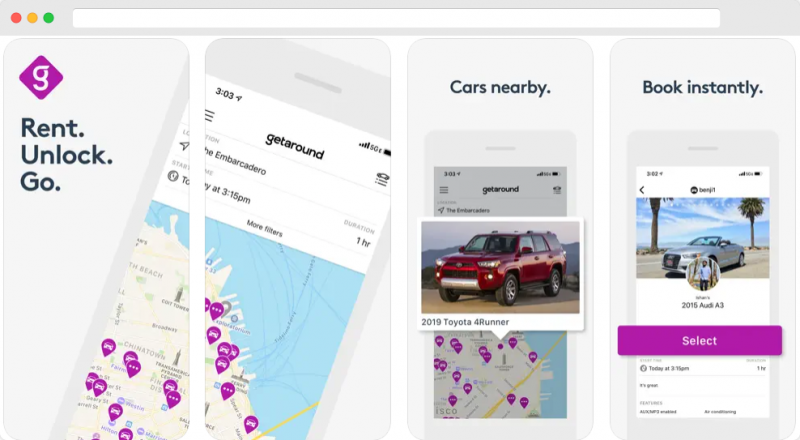 Getaround is another car-sharing platform that allows people to rent out their cars for cash. It has become a great side hustle option for people to leverage their vehicles for extra income.
First, you will need to sign up for a Getaround account. Once you have been approved, one of their representatives will install a physical "Getaround Connect" device in your car.
You will be enrolled in a free 30-day trial — if you decide to continue with Getaround after the 30-day period, you will be required to pay a $99 one-time installation fee for the device, as well as a $20 monthly subscription fee going forward.
The Getaround Connect device provides extra convenience, security, and tracking for all of your vehicle renting endeavors.
When it comes to getting paid, Getaround does take a 40% commission on rental earnings. The remaining 60% is paid to renters by bank transfer, which will appear in their account approximately four to five days after the rental date.
27. Neighbor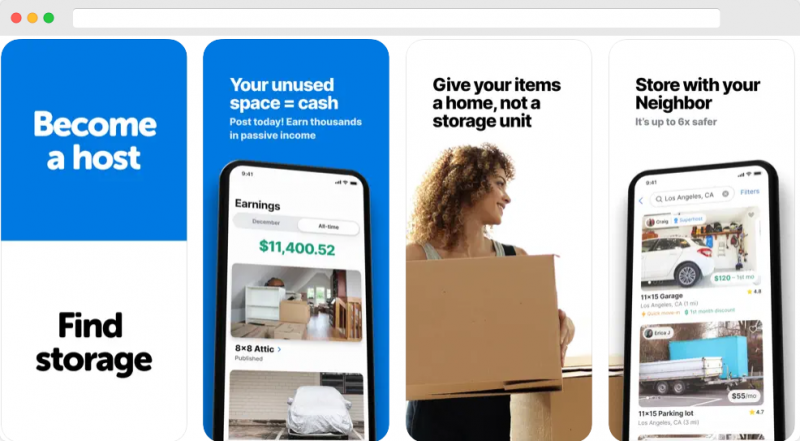 Neighbor is an online marketplace for self-storage. It provides a great way for people to connect with others for storage services and make some extra money doing it!
To start, sign up as a host on Neighbor by creating a profile and linking your bank account in order to receive future payments. You will then be able to list your storage space (e.g., parking spot, shed storage space, storage unit, etc.).
When you receive a reservation request, the renter will have already paid for the space. Neighbor will then start automatically billing the renter on their agreed-upon renewal date. They offer payout protection which means that payments are guaranteed, even if the renter does not pay.
Neighbor charges hosts a 4.9% processing fee as well as 30 cents for every reservation made on their platform. They make their payouts via direct deposit to your bank account.
28. SpotHero
SpotHero is an online marketplace that is designed specifically to connect people that have empty parking spaces with drivers in the area in need of a space. This is a great side hustle app for people looking to make some extra money by leveraging their parking space(s).
Register as an independent seller on the SpotHero platform by submitting the location, pricing, and availability of the parking spot you would like to rent. Sellers can choose to rent their spot hourly, monthly, or for events in their area.
SpotHero will then collect all earnings from spot reservations and send them as a lump sum payment at the end of each month via direct deposit or check. The service charges a commission of between 15% and 20%, plus a 99-cent flat fee on each reservation.
---
Side Hustle Apps FAQs
We've found some of the most frequently asked questions about the various side hustle apps. Here are our answers.
---
Final Thoughts
Finding a side hustle that can provide another source of income is a great way to get on the right track and strive for financial freedom. Find which one(s) work best for you and start earning some extra cash.
Up Next