Many or all of the products featured on this page are from our sponsors who compensate us. This may influence which products we write about and where and how the product appears on a page. However, this does not influence our evaluations. Our opinions are our own. Here is a list of our partners and here is how we make money.
The information provided on this page is for educational purposes only. The Modest Wallet is a financial publisher that does not offer any personal financial advice or advocate the purchase or sale of any security or investment for any specific individual.
Being a stay at home mom can be tough. Whether you're normally an employed woman who happens to be on maternity leave, you're self-employed, or you're a full-time homemaker, staying home with a child can be stressful at the best of times. For a couple, the financial stress of being on one income can be especially hard. If you're on your own, it's even harder.
But luckily, in 2020, there are myriad ways you can make ends meet while you stay-at-home with your child or children. We've compiled the 24 best stay at home mom jobs that combine income potential, flexibility, and remote working potential. Read on below!
Best Stay at Home Mom Jobs
Building this list was tough. There are so many great stay at home mom jobs out there that we found it really hard to winnow this list down to just 24 of our favorites, but we managed to do it after plenty of deliberation. So now we proudly present the 24 best stay at home mom jobs of 2020!
Freelance Writing
When we say "writer" you may have a mental image of a disheveled novelist typing away on his parent's typewriter in a dusty old attic. What we're actually talking about is a copy and/or content writer creating content for businesses of all sizes.
All of the words you might notice on a company's website, pamphlets, billboards, blogs, and more have to be written by someone. And, very often, that someone is a freelance writer who charges good money for their skills.
Freelance writers can bring in serious money in a very short amount of time. You will, however, need to know how to string a sentence together. That's where the Earn More Writing online course comes in. This no-nonsense web-based course teaches you the ins and outs of running an online writing business. You'll be up to speed in no time!
See Also: 35 Passive Income Ideas to Make Money While You Sleep
Proofreading
As with writing, proofreading is a niche skill that not a lot of people have. Proofreaders use specialized techniques and markup to rid written work of errors and inconsistencies not caught in previous editing passes. Similar to writers, this specialized job allows them to charge a very reasonable rate for their services. In our experience, it's not as much as good writers charge, but it's a fair wage.
If you're looking to learn how to proofread from scratch, Proofread Anywhere will show you how to do it. Not only will you learn the actual skill of proofreading, but you'll also learn to start and operate an online proofreading business in 30 days or less.
Blogging
You may wonder how blogging can earn you any money. Isn't it just writing about what you're interested in?
Well, bloggers don't exactly make money from blogging. They make money by monetizing their audience through the use of sponsored content, ads, affiliate links, and other tools that convert audience attention into dollars and cents.
Blogging is all about picking an underserved niche in which you're an authority and running with it. But you'll also need specific skills that can be tough to learn through trial and error. That's why we recommend the Full-Time Blogger Coaching Program by Larry Ludwig. This guy sold his blog for a cool $6 million back in 2018. Will you be the next one to strike it rich?
Virtual Assistant
As people everywhere get busier and busier, the demand for helpful and productive assistants has continued to grow . As the Web has become a more central part of our lives over the last 20 years, many of those assistants have moved online to become virtual assistants, or VAs.
VAs help lawyers, accountants, real estate agents, and other office-based professionals with their day-to-day tasks like answering phones, responding to emails, scheduling meetings and appointments, and so on — pretty much everything except for brewing coffee.
To learn all the skills you'll need to juggle in an average day as a VA, why not take the Horkey Handbook: 30 Days to Virtual Assistant Success course? We'd say more, but the name really tells you everything you need to know.
Run Facebook Ads
Facebook advertising can be one of the most lucrative forms of marketing for small and local businesses. Many of them, however, do not know how to effectively use the platform to draw customers into their business.
Becoming a remote facebook ad manager can be hugely lucrative if you have a knack for it. The best way to develop that skill is to make efficient use of the FB Side Hustle Course over at Laptop Empires. These folks will teach you how to properly manage small to medium-sized companies' Facebook ad accounts to deliver real results for your clients.
See Also: 45 Side Hustle Ideas to Boost Your Income
Virtual Bookkeeper
They say finance is the language of business. Unfortunately, many people in business, especially small businesses, don't speak "finance." For that, they need a bookkeeper and an accountant. While becoming an accountant is a long-term commitment, becoming a bookkeeper is a much faster process.
As a bookkeeper, you'll handle the double-entry journals that make up the foundation of any small- or medium-sized business. You'll definitely need to know what you're doing, so have a look at the Bookkeepers.com online course if you need a primer in how to learn this lucrative skill.
Social Media Manager
Social media managers do exactly what their title suggests: They manage social media accounts for their clients. This stay at home mom job requires some writing skill, a natural talent for knowing what sort of posts have the tendency to be shared the most, and an ability to keep content relevant and interesting without being reactionary or needlessly controversial.
Not everyone possesses these skills naturally, which is why we recommend the Social Media Management Boot Camp at Udemy. This online course will give you all the tools you need to succeed at managing the social media accounts of small- and medium-sized businesses.
Transcriptionist
There is a huge mountain of video and audio data in the world today, and many industries need that data reduced to the written word. Lawyers and medical professionals, in particular, rely heavily on written transcripts of audiotaped and videotaped statements and recordings. While automated, AI-driven software has made great strides in converting the spoken word to a written transcript, humans are still needed to do the bulk of transcription work.
If you're not familiar with how to transcribe material (and most people aren't — there are a lot of specialized rules and conventions that need to be learned), check out the Transcribe Anywhere online course. It will teach you the fundamental and advanced topics you need to understand how to make a living with this highly sought-after talent.
See Also: 90 Legit Ways to Make Extra Money on The Side
Online Tutoring
Tutoring and teaching children can be one of the more rewarding jobs on this list. The web has given rise to at least two new services that allow you to do this relatively easily. VIPKid and Outschool both allow you to register to teach youngsters on the internet. Of course, you'll need to pass a background check and demonstrate that you meet their other requirements.
At VIPKid, you'll primarily be teaching Asian students the English language, whereas Outschool can have you teaching anything from java programming to improv. You'll only be teaching what you're qualified to teach, but the range of relevant teacher competencies is broad.
Web Developer
Developing websites for clients is a gig with extraordinary potential. Talented and efficient web developers can make a fortune creating websites, especially when those clients are corporate entities with big online marketing budgets.
You'll need to know your way around a computer, however, and you'll likely need to learn one of several markup languages. If you have no idea what we're talking about, check out The Web Developer Bootcamp at Udemy. It will walk you through the technical skills you need to develop in order to start your new career.
Graphic Designer
Graphic designers create everything from logos to desktop backgrounds and more. The job requires immense creativity, and allows for large amounts of personal and professional freedom.
But while the job carries with it a number of perks, it can also be extremely difficult. Demanding clients and technical and artistic challenges can combine to create an intimidating learning curve.
Do your best to practice your skills (both creative and client management) and remember to manage your workload to give yourself an easier time when you're first starting out.
Participate In Market Research
Participating in market research merely involves answering questions. Of course, because it's so easy, you may not make as much money as you'd like from it. There are many companies offering paid online survey services.
Sites like Survey Junkie, InboxDollars, and Branded Surveys are all great options for you to get started in the survey answering game. Just register for free, fill out some demographic information and start answering questions.
This can be a great way to make a few dollars in your downtime while you're watching Netflix or just hanging out.
See Also: How to Start a Blog: A Step-by-Step Guide to a Profitable Blog
Life Coaching
Life coaching is the practice of advising clients on a wide range of life decisions, from career planning to relationships. You'll need a broad range of people skills to do this job well, and it certainly wouldn't hurt to have a background in the helping professions, like psychology or social work.
One of the main mistakes people make when they enter this field is overpromising and overselling their ability to deliver results. Remember to manage expectations with your clients. Keep your promises modest and, when you surpass them, your clients will be delighted.
Fitness Coaching
Fitness coaching, also known as personal training, is a little more focused than being a life coach. This job is all about practicing what you preach. You'll need to live the fitness goals you intend to help your clients achieve. To put it bluntly, no one ever hired an out of shape personal trainer.
But personal fitness is just one part of the equation here. You'll also want to be expert (or at least competent) at running your own small business and managing clients.
Pet Sitter
Working as a pet sitter is a great job for any animal lover. You get to hang out with dogs and cats, take them for walks, play with them and keep them entertained, and generally keep an eye on them. Apart from walking, it's not a terribly physically demanding job.
While you used to have to put up flyers and take out ads in the paper to connect with clients in this gig, you can now utilize an app called Rover to find clients. Rover connects pet owners with pet sitters in a review-driven app that's super easy to use. Creating an account is free, so it can't hurt to give it a try. Check out our Rover review to learn more.
See Also: 30 Best Online Jobs That Are Legitimate and Actually Pay Well
Babysitter
Much like Rover, but for humans, SitterCity connects families with children in need of babysitters with sitters in their immediate area. Like Rover, SitterCity is free to sign up for, so you can check it out at no risk.
You'll need to pass a basic background check (which makes sense) but the requirements are not extremely steep. It can be extremely helpful if you have substantial babysitting experience or if you have relevant credentials (especially medical credentials, like a nursing degree).
Your ability to get clients on the platform will depend on the reviews you get from past clients, so make sure your client management skills are well honed.
Data Entry
Data entry might be the most entry-level job on this list. It consists of entering data from one source into another format. So you might convert a list of scanned numbers into an Excel spreadsheet, for example. The job requires very few prerequisite skills or experience.
For that reason, though, data entry jobs usually don't pay that well. You'll struggle to find people willing to pay more than a few dollars an hour at this gig unless you have extremely good references and connections with fantastic clients.
That said, this is one of the most accessible jobs you'll find anywhere.
Test Products Online
Have you ever wondered how software gets from the design and programming stage to launch-ready? Well, it typically goes through a large amount of user testing.
User testing involves taking software on a test run and seeing if it breaks or behaves in unexpected ways. While this job used to get farmed out to specialized firms, the advent of a new site called UserTesting.com allows almost anyone to become a user tester.
You can sign up for free, and assuming you meet their qualifications, you'll be ready to test software in no time. You'll need to provide valuable and actionable feedback to the client, so be ready to clearly communicate what you learned about the software.
Sell Stuff on Etsy
Etsy is a godsend to creative people with a knack for running their own home-based business. It's an online marketplace dedicated to handmade goods and knick-knacks made by people all around the world.
If you have a product to make and sell, all you need to do is sign up (that part's free) and get going. And if you have no idea what sort of product you might sell, take a look at the Etsy Printables course on Gold City Ventures. That course will have you creating awesome printable designs you can sell for a profit on Etsy in no time.
Deliver Food
Similar to grocery delivery, take-out delivery services like DoorDash and Postmates connect hungry people with delivery agents willing and able to bring their restaurant orders to them. In most areas, you'll need an insured car and a driver's license, and you'll need to be able to pass a background check.
Remember that most of your success on these platforms will depend on the reviews you get from your customers, and one too many one-star reports will sink your ability to make money. So treat your customers well, be friendly, be fast, and always keep a smile on your face. Check our best food delivery service to work for article to learn more.
See Also: How to Make Money Building Websites: A Step by Step Guide
Deliver Groceries
If creating handmade goods isn't your cup of tea, have you considered being a delivery person? There are tons of apps available right now that connect customers with people willing to deliver their items.
One of these apps, Instacart, is the go-to service for delivering groceries to customers across the United States. Even if you don't have a car, some areas will let you deliver orders via bicycle. And if delivery isn't your thing, you can always become an Instacart in-store shopper. These folks fulfill orders that are then delivered by other members of the Instacart team.
Start a Dropshipping Business
Dropshipping is an interesting phenomenon that's gotten a lot of traction over the last few years. It involves selling a curated list of products that are held in inventory by a third party. When you receive orders, you arrange for the item to be shipped directly to the customer. You never actually hold any inventory yourself.
The key to this business is knowing where to find efficiencies, and the eCommerce BluePrint online course will help you do exactly that. This course will show you everything you need to know to master the dropshipping game.
Flip Products Online
Have you ever seen an amazing bargain online and thought to yourself, "I could sell this for a profit…"? Well, you're not alone. The problem is that it's harder than it sounds to find good deals and simultaneously turn them into sales. It takes hard work, experience, and a good deal of training to develop an eye for product selection and strategy.
You'll be well served if you take the Flea Market Flipper online course. This invaluable set of lessons will show you how to go from online shopping enthusiast to profiteering shark before you know it.
Become a Photographer
Photography is a skill that everyone needs at one time or another, and most of us will need to hire out to get it. That's great news for you if you have a knack for taking beautiful photographs. Whether you specialize in portraits, weddings, or nature shots, you're bound to have a large market to choose from if you can deliver consistent results at a reasonable price.
This business is all about niching down to a profitable market segment. Don't try to do wedding shoots and nature photography and school portraits. Instead, pick a focus and stick with it.
Finally, you'll need to invest at the outset in some reasonably good photography equipment, including a decent camera. It doesn't have to be top of the line, but you probably don't want to take photos with your 5-year-old iPhone.
FAQ for Stay-at-Home Mom Jobs
We thought we'd include some of the most common questions in a list here at the end of this article for easy reference. Take a look!
How Can I Make Money as a Stay at Home Mom?
As the above list proves, there are a variety of ways to make money as a stay at home mom. The bulk of these options, however, can be found on the internet. The Web has been a fantastic equalizer for people whose skills can be traded virtually. You don't need to post flyers around the neighborhood or limit your search for clients to within driving distance to your home.
You now have access to a world of clients and opportunities. All you have to do is get online and start searching.
How Much Can I Make with a Stay at Home Mom Job?
The sky's the limit with a stay at home mom job. Many people build entire careers, and very lucrative ones at that, from their home office chairs. Others build more modest livelihoods, while others still simply use a stay at home mom job as a way to make a few dollars while someone else acts as the primary breadwinner.
What you'll find is that the more skilled you are at something and the less common that skill or combination of skills is, that skill is, the more money you'll make with a stay at home mom job. For example, a freelance writer in the right niche can make a six-figure income without a lot of trouble. That's because good writers are hard to find. Online surveys, on the other hand, will only net you a few dollars an hour. That's because survey takers are always available.
Who Should Try Stay at Home Mom Jobs?
This one's kind of obvious — stay at home moms! Beyond the obvious, anyone who finds themselves unable to crack the local job market, who has to stay at home to watch a child or other loved one, or simply prefers self-employment to the rise-and-grind of the 9 to 5 world might benefit from a stay at home "mom" job.
Not everyone falls into a neat little category like those above, though. Your situation may be unique. You may have a disability that makes it difficult for you to retain employment outside the home. You may prefer to work with people in another geographic area than where you currently live. Who knows — you might be in the Witness Protection Program!
The long and short of it is that anyone can try a stay at home mom job.
Where Can I Find Stay at Home Mom Job Opportunities?
As we wrote in response to a previous question, the best place to find stay-at-home job opportunities is online. We can get more specific here, though.
For beginners, online freelancing websites like Upwork.com and Fiverr.com can be great places to start. For most people, their earnings on these sites will be modest, but they can be a great way to get your foot in the door and start learning the tricks of the trade.
Others might do better building their own website that hawks their service and buying some PPC (pay-per-click) ads or social network ads to direct traffic to it.
Final Thoughts
Hopefully the above list has given you some idea of how broad your options are if you're trying to find a stay at home mom job. The internet has opened up so many opportunities that it's difficult to list even a fraction of them without leaving out some really great options.
In closing, always keep the golden rule in mind. Your pay will only be as good as your work. If you deliver a good product or service and manage your clients and your business well, you can be successful. Now get to it!
Up Next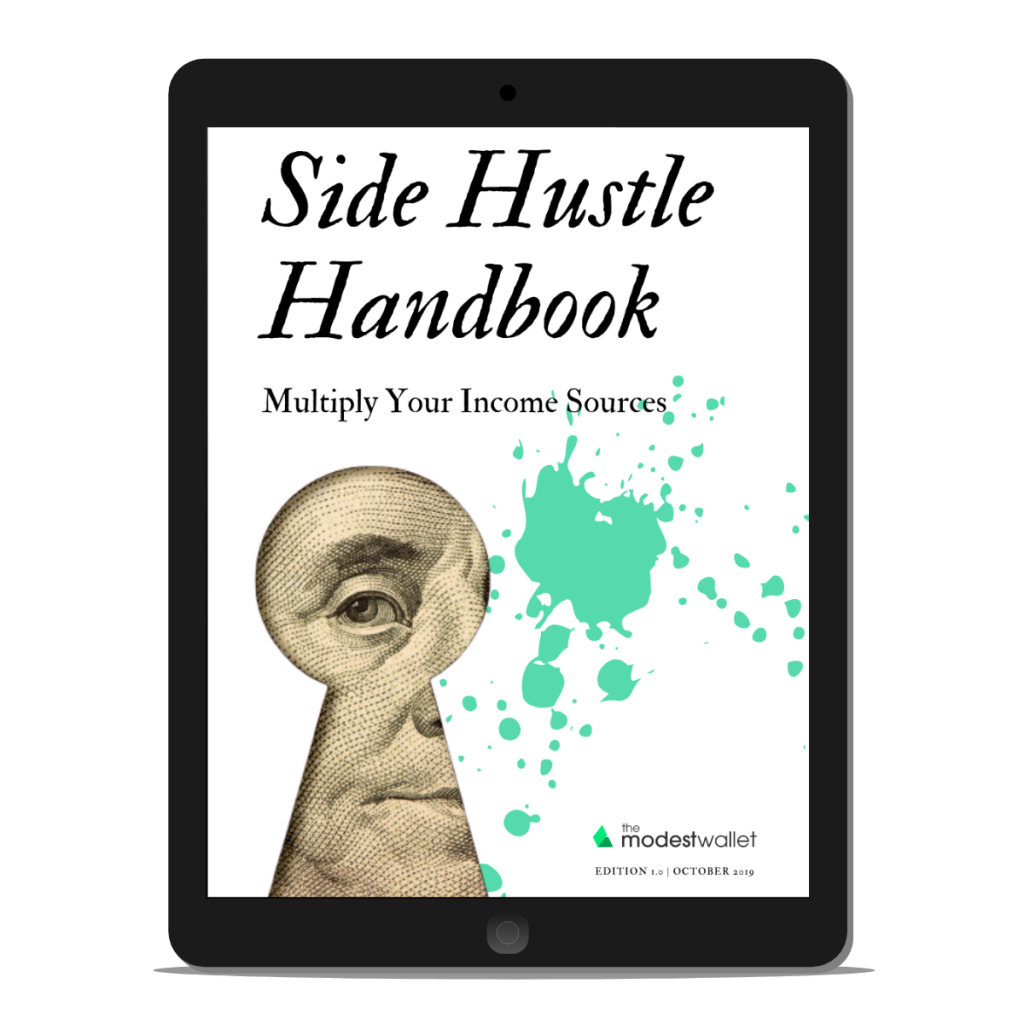 Get our free Side Hustle Handbook with the best strategies to multiply your income sources today.
Plus our best money tips delivered straight to your inbox.

Ricardo is an entrepreneur, investor and personal finance nerd who enjoys spending time with his family and friends, travelling and helping others achieve their financial goals. Ricardo has been quoted as a personal finance expert in several online publications including Healthline, Bankrate, GOBankingRates, MSN Money, Yahoo Finance, U.S. News & World Report, Forbes and USA Today.