Many or all of the products featured on this page are from our sponsors who compensate us. This may influence which products we write about and where and how the product appears on a page. However, this does not influence our evaluations. Our opinions are our own. Here is a list of our partners and here is how we make money.
The information provided on this page is for educational purposes only. The Modest Wallet is a financial publisher that does not offer any personal financial advice or advocate the purchase or sale of any security or investment for any specific individual.
For many, getting paid to work from home is the holy grail of employment. There's no long commute to contend with, and you get to work in your pajamas (if you choose). While it's not perfect (other responsibilities still have to be managed, of course), working from home does have several huge benefits, and data entry jobs are one work-from-home option.
Online data entry jobs are some of the most sought-after jobs available. The requirements are relatively straightforward, there are a number of jobs available, and the barriers to entry are pretty low.
There are a multitude of options available to a prospective remote data entry clerk. If you're ready to start looking, there are ways to go about a data entry job search that make it easier to land the right gigs.
Read on below the fold to find out our best tips and tricks for finding your dream online data entry job. We'll explain the ins and outs of the field, identify the most reliable providers of jobs and gigs, and show you how to land plum positions.
What Are Online Data Entry Jobs?
So what exactly does "online data entry job" mean, and how can you get paid to work from home?
Basically, an online data entry job is any job in which you get paid to enter textual or numerical data into a computerized document. For example, you may be entering names, addresses, and phone numbers from a Word document into a spreadsheet. Or you may be scanning photographs for text that you then type into a word processor.
The exact kind of task could be almost anything, as there's a universe of possible jobs for a data entry clerk. The important thing to remember is that you'll be entering the information you find from one source or another into a digital file.
What Experience and Education Do I Need?
Luckily for those searching for online data entry jobs, the education and experience required for the work are usually commensurate with the complexity of the job itself. By that, we mean that less complicated entry-level jobs will not necessarily require particular education or experience, while more complex and involved jobs might require some amount of experience or, in some cases, higher education or specific training.
For those without specialized credentials or industry experience, it's best to restrict your search to less complicated tasks at first. Once you've gotten your feet wet with your first few jobs, you can move on to more complex (and higher-paying) jobs.
What Skills Do I Need for Home Data Entry Jobs?
Just because there are no regulated job requirements for general data entry clerks doesn't mean that no skills will be required for entry-level jobs in this industry. Several habits and talents will serve you well if you want to move up in this field. They include:
Superb client service. Freelance data entry is a highly competitive field. There's always someone willing to take your job or compete with you for your next gig. The way to make sure you come out on top is by providing stellar customer service to all of your clients at all times. Be polite, respectful, responsive, and communicative. Never leave a client hanging. And if you promise a deliverable, make sure that you keep your word. ( A happy client is a long-term client.)
Conscientiousness. Related to the concept of superb client service is conscientiousness. You must have the desire and motivation to do your job well, without a supervisor's guidance and oversight. When you're working online data entry jobs, you'll be largely on your own. The motivation to do a great job has to come from within.
Organization. In this industry, you likely won't have the luxury of working for a single client. To make a significant amount of money, you'll need to juggle multiple jobs from several clients at any given time. Make sure that you either have or can develop the skills necessary to organize and meet several competing deadlines simultaneously.
Typing. Unless you're using some sort of text-to-speech solution, you'll be typing a lot. In fact, a huge amount of your day will involve you typing as fast as you can in order to make the most of your time. If you can't already type with the best of them, learn how. There are a number of online typing classes you can take to speed up your data entry.
General computer skills. Because you'll be using your computer consistently, you'll need some general computer knowledge. While you shouldn't be expected to know how to write code, repair hardware, or install new networks, you will need to know how to install and use popular programs used by businesses — particularly word processing and spreadsheet software. Software suites like Microsoft Office, G Suite (by Google), iWork, or LibreOffice could all be required by your next employer. You'll be expected to adapt to their software of choice — not the other way around.
Communication skills. This industry requires a lot of communication with clients. Your ability to speak and listen professionally will be tested early and often. Successful communication will depend on your ability to clearly and adequately communicate your business capabilities and needs.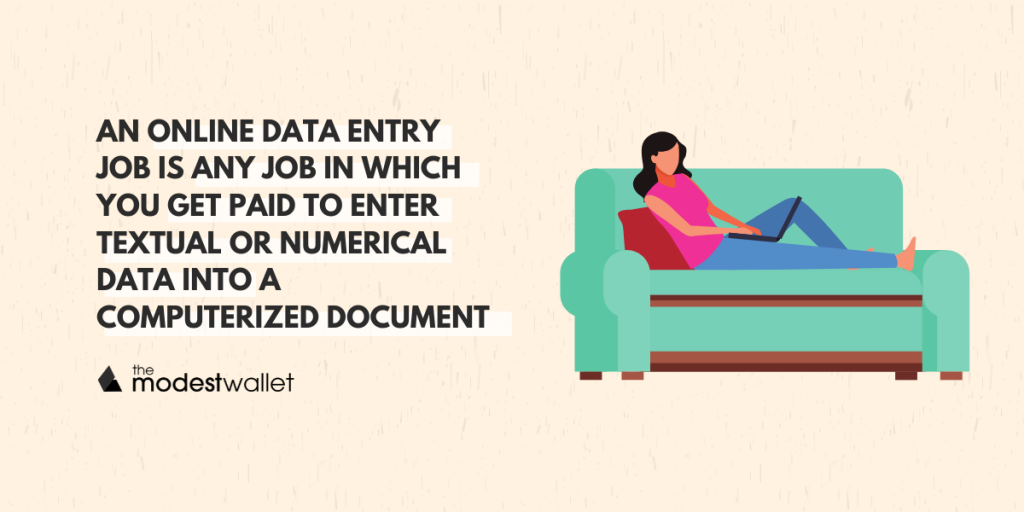 See Also: How to Make Money Flipping Cars: Can You Actually Make Money at It?
Where Can I Find the Best Online Data Entry Jobs?
The best online data entry jobs can be found all over the internet. From job sites that focus on remote and freelance work to transcription services always on the lookout for good transcribers, your next great gig is just around the corner.
Flexjobs
Flexjobs is an online job portal that specializes in helping people find online, remote, and freelance work. There is a small fee of just under $15.00 per month to sign up (though you'll pay less if you sign up for a longer period). The fee is well worth it. There are plenty of pre-screened remote jobs listed daily on the website, almost all of which offer flexible employment arrangements.
Microworkers
Microworkers offers its users individual tasks to complete, rather than entire jobs. The tasks usually take only a few minutes and each job pays a small amount of money. For those who have a few minutes to spare and are looking to make a quick buck, Microworkers just may be up your alley. It's free to register for an account as a user.
Amazon Mechanical Turk
Amazon Mechanical Turk is similar to Microworkers in that it allows its users to select from amongst a large list of tasks. Surveys, image analysis, and text parsing are among the wide variety of small jobs available on Amazon Mechanical Turk. It's free to join and use (Amazon receives payments from those who create and distribute the tasks, rather than from the individuals who complete them).
Clickworker
Clickworker is another task distribution service that allows you to complete small, manageable jobs in very short amounts of time for small amounts of money. Like Microworkers and Amazon Mechanical Turk, the service is free to join and use as a worker.
SigTrack
SigTrack is a crowdsourced data entry solution for grassroots campaign organizers. In order to work for them, you need to be able to prove that you're a US resident. The job consists of transcribing handwritten signatures into text.
The Smart Crowd
The Smart Crowd distributes small, manageable tasks for its users to perform. In order to be assigned tasks, however, users will need to complete at least one "placement evaluation" (basically, a small test) to determine what sorts of tasks they will be assigned. Users are paid once per month and there are no registration fees.
GoTranscript
GoTranscript is an online transcription service that pays users to transcribe a wide variety of audio and video files. Rates vary depending on the skill required to transcribe a file.
Scribie
Scribie is another online transcription service that pays transcribers to reduce audio and video files to text. The types of audio and video the transcriber is asked to process depend on their skill and experience level, as does their pay.
Kendall Creek Communications
Kendall Creek is yet another online transcription service. Like GoTranscript and Scribie, your pay and assignments vary depending on the nature of the audio or video being transcribed.
DionData Solutions
DionData Solutions provides a wide variety of data entry roles. (Unfortunately, at the time of writing, they are not accepting any new contractors. The website was last updated in 2018).
Capital Typing
Capital Typing offers transcription, translation, and data entry solutions for small to large businesses seeking efficiencies in their business processes. Your pay and assignments will vary depending on your skills and experience level.
Xerox from Home
A large and established company, Xerox offers a wide variety of work-from-home positions in roles ranging from data entry clerk to image tagger to programmer. Your rate, just as with the other companies in this list, will depend on the specific task you're expected to perform and your experience and education levels.
See Also: 48 Legitimate Ways to Get Free Money, Fast and Easy
How Can I Do Data Entry Jobs from Home?
You may be wondering how these jobs can be done from home if you're required to access the information that you must enter on-site. Or you may be wondering how you can possibly be supervised from a remote location?
Happily, remote-work and telework software have evolved to the point that it's possible to have fully cooperative and supervised work experiences from a remote location. Jobs like online data entry are perfectly suited for remote work because the data to be entered can be sent electronically, just like the work product that you'll eventually create.
However, you will need some equipment. You'll need a reasonably up-to-date computer with sufficient memory that's capable of running multiple office programs at the same time. You'll need a reliable internet connection that won't go down when you need to send or receive data. And you'll need a quiet place to work, as concentration and focus are necessities when trying to accurately enter data.
Once you have those few things, you should be ready to begin your first online data entry job. But you're probably wondering, How much can I earn as a data entry clerk? The next section will answer that question.
How Much Will I Earn Entering Data Online?
The compensation for online data entry clerks varies tremendously between jobs. Basic entry-level jobs can pay as little as a few dollars an hour, all the way to about $15 per hour. More complex work requiring specialized training, certification, or education can bring in even more.
Data entry won't make you rich, but it can pay the bills. (And all from the comfort and safety of your own home.)
There are ways to maximize your income when pursuing this kind of work. We recommend that you:
Keep track of your hours spent and money earned on each contract. That way, you'll be able to identify your most valuable contracts and drop the ones that aren't worth your time.
Don't undersell your services. The internet is full of "employers" who are actually just seeking to exploit newbies. Remember that your time is valuable and that you shouldn't work for less than what you're worth.
Always be on the lookout for new, lucrative work. If you keep your eyes peeled for new, lucrative contracts, you won't miss out when they become available. By continually taking jobs that are worth more than what you're making at the moment, you'll continually improve your pay.
Use multiple services to locate new work. Don't rely on a single source of jobs and contracts. Diversify, and you'll find that you're exposed to a much larger number of higher-quality jobs.
How to Avoid Online Data Entry Scams
While most of the people advertising for data entry clerks online are legitimate employers looking for a little bit of help, there are a few you will need to watch out for. These scam artists are looking to deprive their victims of their money, personal info, or time. Here's how to avoid most of these shady operators:
Avoid unrealistically generous offers. Some jobs online will promise hundreds or even thousands of dollars in exchange for virtually no effort. These offers are almost invariably scams. In the real world, real money requires real work. If you see an offer of employment that promises wages well in excess of the industry standard, be on your guard.
Don't provide your personal info. Online data entry jobs do not typically require you to provide your social security number or other personal information beyond your name and location. Be extremely cautious about anyone who is requesting personal information about you, as that same info may later be used to steal your identity or be sold for a profit to a criminal. Of course, if you enter into an employment relationship with a regular client, they may require more information from you. In these cases, use your judgment. If you've been working for a client for a long time and you have an established and trusting relationship, it may be safe to share more with them than with someone you just met online.
Never pay to land a gig. Never pay money to an "employer" who promises a job in exchange for cash. Scam artists sometimes promise jobs in exchange for "processing fees" or "onboarding fees" that must be paid prior to starting employment. In virtually all cases, the person on the other side of the screen is just a scammer looking to separate you from as much money as possible.
Be wary of probationary periods. Some clients will indicate that you will be paid a "probationary" rate for the first few days/weeks/months before a regular (and much higher rate) kicks in. While not all of these situations are scams, people who structure these kinds of arrangements frequently seek to exploit a freelancer at the probationary rate only to fire them once the probationary period is over. Be on your guard for this.
Is This a Legitimate Way to Make Money from Home?
In short, the answer to this question is a resounding, "Yes!" As we've discussed in this article, even though these jobs are not likely to make you independently wealthy, there is real money to be made in online data entry.
In addition to that good news, keep in mind that the low barriers to entry in this industry guarantee that virtually anyone who can speak, listen, and type well has a reasonable shot of qualifying for online data entry jobs. This is not an industry that requires a huge amount of education, training, or certification. As long as you have, or can learn, the basic skills required, you may have what it takes to succeed.
Alternatives to Home Data Entry Jobs
If data entry doesn't sound like it's for you, you may want to consider some of the following related side gigs. Some of them are even more lucrative than data entry.
Transcription Services
For those who don't know, transcription is the practice of reducing speech contained within audio or video files to text. So, for example, a transcription of a full podcast would simply be a full "script" of everything heard by the transcriber while listening to the podcast. Transcribers may also transcribe videos featuring multiple people talking amongst one another.
Transcription services are really more of a subcategory of data entry jobs than a true alternative. The reason we say that is because the transcriber is simply entering data he or she hears from an audio file or sees in a video.
Transcription can be even more lucrative than regular data entry because of the specialized skills and equipment required in the upper echelons of the profession. Various subfields of transcription require industry-specific knowledge to understand the unique words and phrases used by professionals in those fields. Those fields include:
Legal. From depositions to witness interviews to court proceedings, legal proceedings must almost always be transcribed. Transcribers of this material are usually required to have specific knowledge of legal terms. They're also usually required to sign confidentiality agreements regarding the material they hear.
Law enforcement. Related to the legal field, police interviews with victims, witnesses, and suspects must often be transcribed so they can be used by legal professionals involved in the resulting cases. Transcribers will need to be familiar with local slang, common legal terms used by police, and a wide variety of accents.
Medical. Medical professionals frequently create audio recordings of their observations and notes to have them transcribed later. Transcribers will need to be familiar with a huge array of medical terminology. This field is specialized enough that transcribers will likely require special training to be able to competently convert doctors' audio to text.
Business and Corporate Affairs. Board meetings of both nonprofit and for-profit companies are usually "on the record," meaning that they're recorded and often transcribed. Transcribers should know general business terminology as well as specialized corporate terms. Like medical and legal transcription, specialized training will go a long way towards ensuring a transcriber is competent to transcribe the proceedings.
Professional transcribers also often make use of a foot pedal that modulates the speed of the audio they're listening to. The pedal allows them to dynamically speed up and slow down the pace of the recording so they can keep up with what's being said. High-quality headphones and voice-isolating software are also frequently used to reduce the number of spoken words the transcriber is unable to decipher.
A final barrier to entry in this industry is the existence of a general style guide for transcribers. The style guide sets out the proper way to use commonly required tags (for example, "[inaudible]"). Additionally, depending on the source of the audio, different styles may be required. For example, court proceedings must be transcribed verbatim, while a podcast might require a more editorial touch.
In summary, transcription can be a lucrative area of online data entry. However, you need to be prepared for both a learning curve and a financial barrier to entry, as the equipment, education, and software needed for the job can cost real money.
See Also: 30 Best Online Jobs That Are Legitimate and Actually Pay Well
Writing
If you'd like a little bit more creative flexibility than what data entry or transcribing can offer, you may wish to consider freelance writing. For those who possess talent and skill with the written word, freelance writing can be a lucrative side hustle or even a full-time job.
The market for freelance writers is as broad as it is deep. Tens of thousands of potential clients pay anywhere from less than one cent to over a dollar per word. Available niches vary widely, but there are two categories of work that stand out:
Blog content creation. Blogs, like the one you're reading now, frequently turn to online freelance writers to meet their demand for fresh, new content that will help drive traffic to their websites.
Copywriting. Companies seeking to get the word out about their services are constantly looking for writers. Whether they want to create email marketing blasts, web page copy, or case studies to distribute to potential clients, companies and brands frequently utilize freelance writers to craft compelling messages.
Much like data entry specialists, freelance writers need to have the skills necessary to succeed in a remote, mostly online role. They must also have a flair for the language in which they write. Both skills can be learned, although the former is easier than the latter.
Proofreading
For those who are expert in grammar, spelling, and structure, proofreading can be an excellent source of income. Proofreaders review text to ensure it adheres to both the basic and complex rules of the language in which it's written.
While it can be a gruelling task requiring significant concentration and strict adherence to a standardized style guide, a good proofreader can command a surprisingly high price in the online marketplace. People from all walks of life, including academics, executives, professionals, and students can all benefit from a skilled proofreader.
Virtual Assistant
Virtual assistants are the online equivalents of administrative and office assistants. These people assist various businesspersons and executives with a wide variety of office-related tasks, from answering emails and phone calls to entering data.
The skills required for a good virtual assistant are similar to the skills required of any good office assistant. Impeccable organization, good computer skills, and a flexible schedule all contribute to professional success.
Final Thoughts
The internet has been a boon to data entry workers. No longer chained to a specific desk, online data entry clerks can work with a huge number of clients from all over the world on their own schedule. If you choose to enter this field, you'll see a wide variety of opportunities.
Up Next

Ricardo is an entrepreneur, investor and personal finance nerd who enjoys spending time with his family and friends, travelling and helping others achieve their financial goals. Ricardo has been quoted as a personal finance expert in several online publications including Healthline, Bankrate, GOBankingRates, MSN Money, Yahoo Finance, U.S. News & World Report, Forbes and USA Today.