Many or all of the products featured on this page are from our sponsors who compensate us. This may influence which products we write about and where and how the product appears on a page. However, this does not influence our evaluations. Our opinions are our own. Here is a list of our partners and here is how we make money.
The information provided on this page is for educational purposes only. The Modest Wallet is a financial publisher that does not offer any personal financial advice or advocate the purchase or sale of any security or investment for any specific individual.
Most of us wouldn't mind some extra spending money. Unfortunately, money doesn't fall from the sky. Most of us have to earn it.
But thankfully, the internet makes earning extra money a realistic goal. Part-time jobs that can boost your income are easy to find, both offline and online, and they can seriously enhance your financial well-being.
But how do you go about choosing which part-time job to take on? Where do you even start looking? Continue reading below to find out our picks for the 30 best part-time jobs to boost your income in 2020!
30 Best Part-Time Jobs to Boost Your Income in 2020
There are plenty of part-time jobs available online for anyone with a solid work ethic and a willingness to learn. The following are our favorites among the seemingly endless options available.
Facebook Ads Manager
Facebook Ads is a powerful digital marketing platform that has the potential to transform the advertising efforts of countless small- and medium-sized businesses. Yet endless entrepreneurs don't know how to use this powerful tool.
That's where you come in. The FB Side Hustle Course will teach you how to create and manage a Facebook Ad campaign for companies, anywhere in the world. The income potential is almost limitless.
See Also: I Need Money Now: 35 Ways to Make Cash Right Now
Bookkeeping
They say accounting is the language of business, and nowhere is that more apparent than in the world of small business and small-business bookkeeping. Bookkeepers are absolute necessities for small business owners who want to make sense of their operations and to be able to access the information they need to make intelligent decisions.
The bookkeeping course offered at Bookkeepers will teach you how to bring tremendous value to your clients —and in the process, make a great deal of money for yourself. You'll learn the fundamentals of double-entry bookkeeping and journaling, taking a practical approach to the info you'll need to perform at a high level for your clients.
Proofreader
Proofreading is a specialized skill, which means that many of the people in this industry charge a pretty penny for this service. Utilizing specialized forms of knowledge and markup, proofreaders review content for missed errors and inconsistencies and make any necessary corrections in the last stage of the writing process. Proofreaders ensure that content is free of potentially embarrassing errors, clear, and ready for the world.
You can't just dive into proofreading and expect to do well. If you've thought about working as a proofreader, you'd be wise to consider this Proofread Anywhere course. It'll teach you the fundamentals of starting and running your very own online proofreading firm from scratch.
Freelance Writer
Content marketing and copywriting have taken off in a big way since the Web grew to mammoth proportions. And no one is better suited to take advantage of the revenue opportunities presented by that growth than freelance writers.
The Earn More Writing online course will teach you not just how to write, but how to run a successful online freelancing business. Before you know it, you'll have more clients than you know what to do with. Demand really is that high.
Transcriptionist
Everywhere there is audio or video, there is someone seeking to reduce that media to text. That's where transcribers come in. These folks turn audio clips and video into accurate text recordings of what was said.
Particularly important in the legal and medical fields, transcription is absolutely central to such fields as criminal justice and diagnostic medicine.
The online course Transcribe Anywhere will get you up to speed on exactly how you can go from 0-60 in the world of online transcription freelancing.
Online Tutoring
If you love teaching and tutoring, VIPKid might be the platform for you. VIPKid connects you to students from all over Asia who want to learn to speak, write, read, and understand English. You'll have the opportunity to earn bonuses, and people with educational qualifications will sometimes be eligible for additional pay.
You'll have to pass a background check (given that you'll be working with children), but there are surprisingly few barriers to entry in this rewarding and exciting part-time gig.
Blogging
Blogging has become one of the most popular forms of communication on the internet. But what many people don't realize is that it has tremendous potential monetization. (In other words, you can make a lot of money writing about what you love.)
The Full-Time Blogger course by Larry Ludwig teaches you how to go from randomly throwing words up on a webpage to crafting a coherent strategy for growing your readership and monetizing your monthly views. You'll learn to create a solid foundation while focusing on a niche that will continue to offer income over time.
By the way, Larry sold his previous blog (Investor Junkie) for $6 million in 2018. So, he definitely knows what he's talking about.
See Also: 15 Simple Ways to Get Paid to Watch Videos Online
Virtual Assistant
People everywhere are busier than ever, and that has put virtual assistants in the spotlight. Virtual assistants are more affordable, and help simplify the lives of the clients they serve.
The Horkey Handbook online course can teach you the skills you'll need to master the work in just 30 days. and learn the ins and outs of an expanding field that's sure to bring in a significant amount of extra income.
Social Media Manager
Properly run social media accounts can be the difference between week-over-week sales growth and complete silence. If you're interested in managing the social media accounts of others, you can help them avoid the quiet that comes from marketing failure while making a real living for yourself in the process.
From Twitter to LinkedIn to Facebook, there's no end to the options available to talented social media managers who want to bring in business for their clients.
Udemy offers a great course called the Social Media Management Bootcamp for anyone who's interested in getting up to speed on this increasingly important area of marketing.
Graphic Designer
Are you a wiz with images? A genie with JPEGs? Then working as a graphic designer in your spare time might be just what the doctor ordered. Skilled graphic designers can make large amounts of money relatively quickly with the right clients. This is especially true for graphic designers who can land lucrative corporate clients with graphic design budgets that can dwarf what many people earn at regular nine-to-five jobs.
It's extremely important for budding graphic designers to avoid underpricing themselves, because many people make the mistake of charging too little for their services. Know your worth, know the value you're bringing to your client, and make sure to charge what you deserve.
Web Designer
Designing and developing websites might be one of the most rewarding and interesting part-time jobs available on this list. If you want to start a career in web design, you'll be exposed to a variety of clients and different kinds of work from a variety of industries and fields. Most importantly, you can make a difference in the lives of customers every day.
But you can't just jump in head-first and expect to be successful. Check out Udemy's Web Developer Bootcamp to learn the skills you'll need to deliver value to your clients. You'll learn how to develop high-end websites in just hours or days (instead of months) with this illuminating class.
Deliver Groceries
Both Instacart and Postmates offer great opportunities for drivers and shoppers to make a few extra dollars helping clients receive deliveries of groceries and other necessities. At both companies, you can expect to earn between $10 and $20 per hour. Sometimes your wage will be even higher if you can make deliveries quickly, safely, and provide excellent service, resulting in higher tips.
If you're using your car for one of these gigs, though, make sure you keep an eye on your maintenance, fuel, depreciation, and insurance costs. They can add up quickly and eat into your profit margins. Check out our best food delivery service to work for article to learn more.
See Also: 18 Best Paid Online Surveys Sites: Make an Extra $300 Per Month
Dropshipper
Dropshipping is one of the newest and most exciting business models to hit the Web in recent years. Rather than offer their own inventory for sale online, dropshippers curate a list of products, take orders, and arrange for those products to be shipped directly to the consumer. There's no dealing with large inventories, warehouses, or logistics.
A course called the E-commerce Blueprint will teach you the ins and outs of dropshipping in no time at all, allowing you to get involved in this intriguing and accessible new business model.
Copywriter
Virtually every piece of media on and off the Web requires copywriting. From brochures to business cards to landing pages and email sales letters, someone has to write all the words attached to all the promotions you see. Why can't that person be you?
You don't need to be the next Faulkner or Hemingway to be a copywriter. You just need a solid understanding of the English language, an ability to market yourself, and an ability to deliver quality customer service.
Online Data Entry
One of the more accessible jobs on this list, online data entry clerks are needed by so many small- and medium-sized businesses that it's almost impossible to gauge the size of the market. With few barriers to entry, almost anyone can become an online data entry clerk. (This is especially true today, where online freelancing portals have created new ways for data clerks to connect with potential clients and save on marketing costs.)
Online Customer Service
Similar to online data entry work, almost anyone can be an online customer service agent. Online (or remote) customer service reps are hired by many companies who want to save on the costs associated with staffing brick and mortar stores and on-site call centers. Just like in-person customer service, online customer service agents help people with the issues they encounter when using a business's product or service.
Obviously, first-rate customer service skills are a necessity in this field, and you'll need to be able to demonstrate to your new employer that you're reliable and dependable enough to follow standards and represent the company in a positive way — including from home.
Deliver Packages
If you have a larger vehicle (like a van or a covered truck), you can make deliveries for Amazon Flex. These guys pay even more than most other delivery gigs, and pay can hover around $25 per hour, depending on your vehicle, qualifications, and the competition in your area.
If you want to try and make a living driving for Amazon Flex, you should possess better-than-average driving skills, because you'll be expected to safely maneuver your vehicle in crowded neighborhoods with a lot of traffic. You should also watch out for depreciation costs on your vehicle to ensure they're not eating up any wages you might earn.
Deliver Food
If you don't want to deliver large boxes and items for Amazon, why not deliver takeout orders? It's a lot easier on your back, and in total, you can make almost as much money. DoorDash offers people with a smartphone and a vehicle the opportunity to earn around $15 per hour bringing people's restaurant orders to them.
This gig is all about maximizing your earnings with tips, so make sure you're providing friendly and prompt client service with all of your orders. Good service will also ensure your driver rating stays high, so you'll kill two birds with one stone.
See Also: 20 Sites Like Craigslist to Buy or Sell Used Stuff
Drive People Around
If delivering groceries, food, or Amazon packages isn't your thing, what about helping people get where they want to go? Uber and Lyft have been offering ride-share services for a long time now, and people are head over heels for the service they offer.
Be aware that customer service is absolutely paramount in this business. Keep your car spotless, be thoughtful and courteous, and make sure your driving is excellent. The 5-star reviews you earn will get you your next fare. Check out our make money driving article to learn more.
Etsy Store
Selling your handmade crafts and artistic creations on Etsy can be a lucrative side hustle. Even if you're not particularly skilled at most arts and crafts, you may still be interested in an Etsy sub-niche called Printables.
These digital creations are sold to people who want custom designs for things like letters, postcards, and flyers. And they take very little knowledge to make.
Check out the Etsy Printables Course to learn the basics of how to make these profitable little gems.
Sell Online Courses
Creating an effective online course can be a fantastic way to earn regular, passive income. Podia is a service that takes much of the grunt work and technical labor out of the online course creation process, and allows you to focus on the quality of the material you're putting online, setting you up for repeat customers and students.
The success of an online course depends heavily on the credibility and authority you can develop as an expert in your field. If you are extremely good at something, and can prove it, you might be well-served by creating an online class and selling it.
Fitness Instructor
If you have a passion for fitness and exercise, you may want to consider becoming a fitness instructor or personal trainer. This can be an extremely lucrative part-time job, especially if you're able to pair it with expert use of social media to advertise your services. There's nothing like a compelling before-and-after collage to bring in new clients.
People tend to want personal trainers and fitness instructors who "walk the walk," so you'll probably need to be in great shape before you can even begin to consider this line of work.
Dog Walker
Given that so many of us treat our pets like furry children, it's unsurprising that there are a lot of jobs in the pet-care industry today. An app called Rover aims to connect potential dog-walkers and pet-sitters with pet owners. Check out our Rover review to learn more.
This job is all about trust and credibility, because pet-owners are entrusting you with what is, in many cases, their most precious companion. So make sure you make your profile shine with any credentials and qualifications you have that will put your potential clients' minds at ease before they leave little Fido in your care.
Babysitter
Much like working as a dog-walker or pet-sitter, being a successful babysitter depends on you being able to communicate a sense of reliability, dependability, and trustworthiness to potential clients.
This job is especially great for young people who may have limited opportunities for after-school jobs. Babysitting can develop and instill a strong work ethic for the professional world. Check out Sittercity as they are one of the best marketplaces out there to offer these types of services.
See Also: 40 Best Ways to Make Money Online (Legitimately)
Photographer
Everyone takes at least an occasional photo. With the advent of the camera phone, it's never been easier to snap a shot or two while you're on the go. But few of us have a real talent for taking beautiful photographs.
If you happen to have the gift, then becoming a part-time, professional photographer can be an extremely lucrative gig. Whether your business focus is shooting a new couple's anniversary photos, taking pictures at a wedding, or selling nature photography on stock photo websites, there's plenty of ways to make money at this side hustle.
Sell Your Skills
TaskRabbit is an extremely interesting app and site that allows you to sell all sorts of services to paying clients. From house cleaning to home repair, TaskRabbit will connect you to people who need something done fast and done right, the first time.
You won't be shocked to learn that your success in this job will hinge on how good you are at meeting or exceeding client expectations. Do your job well and quickly, and you'll soon be raking in the five-star reviews that can be so important on sites like TaskRabbit.
Voice-Over Artist
Have you ever been told you have a voice for radio? Well, being a voice-over artist might be an even better gig than being a radio personality. There are legions of people out there who need someone to bring written material to life in a pleasing baritone or soothing tenor.
From corporate communications to Youtube videos and commercials, voice-over artists lend their god-given talents to companies and help copy jump off the page into the real world.
Video Editor
Similar to graphic designers, good video editors are worth their weight in gold. And the amounts they can charge prove it. Video has become the standard-bearer for effective marketing and corporate communications because of its proven ability to engage viewers and drive sales.
If you have a knack for turning raw video into a thing of beauty, consider turning that talent into a paycheck. As with graphic design, pay careful attention to what you're charging. Don't underestimate the demand for your services and charge too little.
House and Office Cleaner
Home and office cleaners make the world go round. These people are absolutely essential to the proper functioning of commercial and personal real estate. Whether you're cleaning a large home, a small apartment, or a small company's office space, you can rest assured that your services will always be needed by someone, somewhere.
Keep in mind that this is very difficult work. Ensure that you charge enough to make it worth your while, but not so much that you price yourself out of a job.
Personal Chef
We all eat several times per day, but many of us don't know how to cook to save our lives. That's where personal chefs come in. People everywhere are turning to the services of personal chefs to cater special events and dinner parties, to help feed busy professionals, or help people navigate special dietary requirements without the stress of food preparation. If you have a culinary background or a strong reputation as a great cook, this can be a great way to help others and bring joy through food.
FAQs Best Part-Time Jobs
We've uncovered some of the most frequently asked questions regarding part-time jobs. The following are our answers to help.
Where Can I Find Part-Time Jobs?
How you look for part-time jobs changes depending on whether you're looking online or offline. If you want an offline job, you'll obviously need to search somewhere close to where you live.
You won't see that restriction with online work, however. Online freelancing and remote work sites offer tens of thousands of listings for people looking for a part-time job. They include:
Upwork
Fiverr
Freelancer
Flexjobs
Craigslist
Indeed
All of these sites will be of significant help to anyone looking to boost their income with a new part-time job.
How Much Can I Make Working Part-Time?
How much you can make working part-time depends primarily on the answers to two questions:
How hard are you willing to work?
How much value can you bring to your clients and customers?
Since you're currently looking for part-time work on top of your nine-to-five, we're guessing it's a safe bet that you're willing to work pretty hard.
The answer to the second question depends on the kinds of skills you can offer. Do you have highly specialized skills in high-demand industries like copywriting, design, or programming? If so, you stand to make thousands of dollars per month in the right part-time job.
But don't despair if you don't have a rare skill. You can add value to your client's lives, and earn good money, by focusing on stellar client service and solving your clients' most pressing problems. Even in less-specialized fields, a good reputation and excellent customer service go a very long way.
What Are the Differences Between Online and Offline Part-Time Work?
We've already touched on one of the downsides of offline work. In order to find offline work, you'll be limited to searching in your immediate area. (After all, you can't take an in-person part-time job in Finland if you live in Iowa.)
On the other hand, you can take a remote job anywhere, as long as you can speak the language and have the necessary skills.
Online work has a few other advantages. It's typically highly mobile, insofar as you can often do it from anywhere you can set up a small office. The hours are often flexible. Finally, it often pairs well with a full-time, offline job.
All of those benefits come with a few drawbacks, however. The biggest drawback is that because online work can be done from anywhere, you're typically competing with the entire world when you apply for one of these jobs. While your local post office may not be able to hire an employee from halfway around the world who will do the job at half the price, an online virtual assistant position might be filled regardless of distance.
Offline, part-time work can be a great gig. It's usually much more social, insofar as you're not sitting in front of a computer through your entire shift. You'll meet locals and often form friendships. And it sometimes pays more than an online job because of previously mentioned geographic limitations.
Final Thoughts
There's never been a better time to be in the market for a part-time gig. The Web and your local businesses are likely all hiring at a furious pace, and businesses everywhere are desperate for quality employees who they can rely on (especially those who can work online).
No matter what job you're looking for, remember that providing quality, reliable service is the key to positive work relationships that will form the stepping stones to your next job.
Up Next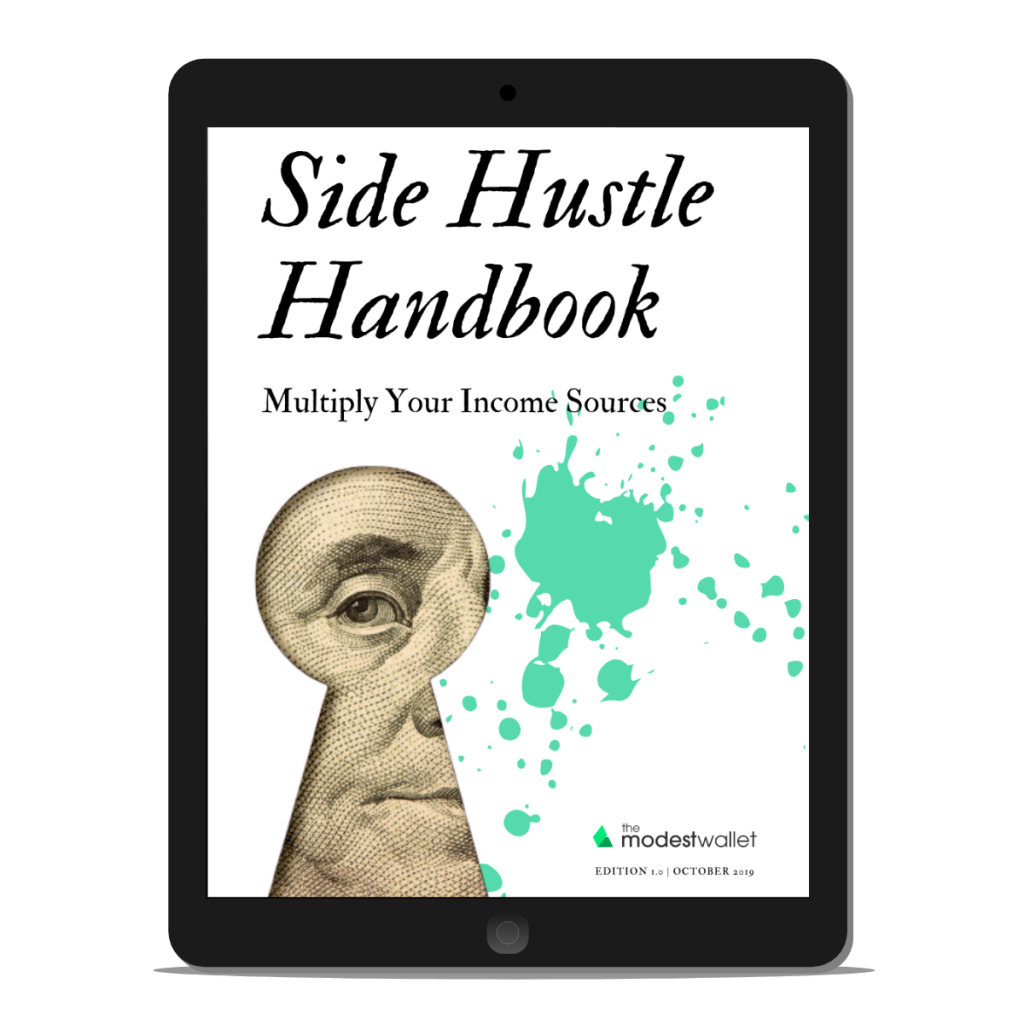 Get our free Side Hustle Handbook with the best strategies to multiply your income sources today.
Plus our best money tips delivered straight to your inbox.

Ricardo is an entrepreneur, investor and personal finance nerd who enjoys spending time with his family and friends, travelling and helping others achieve their financial goals. Ricardo has been quoted as a personal finance expert in several online publications including Healthline, Bankrate, GOBankingRates, MSN Money, Yahoo Finance, U.S. News & World Report, Forbes and USA Today.