16 Best Places To Participate In Paid Research Studies [2023 Update]
Many or all of the products featured on this page are from our sponsors who compensate us. This may influence which products we write about and where and how the product appears on a page. However, this does not influence our evaluations. Our opinions are our own. Here is a list of our partners and here is how we make money.
---
The information provided on this page is for educational purposes only. The Modest Wallet is a financial publisher that does not offer any personal financial advice or advocate the purchase or sale of any security or investment for any specific individual.
Everyone has an opinion about almost everything. Our opinions may not be the most authoritative or even the most informed, but we can all be forgiven for having our own point of view on almost everything under the sun. From toothbrushes to the latest election, we have our favorites and our not-so-favorites.
Lucky for us, there's a way to monetize our opinions. Did you know there are paid research studies? In other words, we can turn our opinions into cold, hard cash. A wealth of online companies conduct surveys, focus groups, product tests, and other opinion-measuring processes, and many of them consistently take on new members.
---
Best Companies That Offer Paid Research Studies
Not all research study companies are alike. Some offer what amounts to peanuts for your valuable consumer intelligence, while others don't pay anything at all. We've weeded those out of this list, so you'll only see reputable companies that pay the most green for your opinions.
1. Survey Junkie
Survey Junkie is primarily an online survey company. After you register (which is free, by the way) and enter your demographic and profile information, you'll be sent multiple survey offers that you may or may not qualify for. The pay for these is on the low side, averaging out at approximately $1.00 to $1.50 per short survey.
What's really interesting about Survey Junkie is that they also offer options like phone surveys, in-person focus groups, and product testing to qualifying participants. These options don't come around that often (about once per month or less), but when they do, they're a great way to increase your income from this site.
You can check our Survey Junkie review to learn more.
>> Read Also: 18 Best Paid Online Surveys Sites: Make an Extra $300 Per Month
2. User Interviews
User Interviews does exactly what the company's name says. When conducting user interviews, a company conducts and collects user interviews about companies and services from all sorts of industries. If you qualify, you'll participate in focus groups, 1-on-1 meetings, multi-day studies, and task-oriented studies (where you complete a task and give your opinion about the experience).
You can be paid in cash, by check, PayPal, or by gift card for completing paid research studies via User Interviews. In fact, certain studies will pay up to $450 for as little as an hour of your time. Of course, the majority of the studies pay significantly less than that, but it's good to know that the potential to make real money is always there.
3. Respondent
At Respondent, you can participate in online and offline focus groups and earn up to $250 per study. They accept participants from all over the world. All you need to do is complete their free sign-up process and apply to the studies that interest you via a short questionnaire. If the companies choose you, you'll get to participate in the study and earn your fee.
Respondent.io does take a 5% cut of your earnings for helping to facilitate the connection between you and the researcher, but that's not half bad considering how big the checks can be.
4. American Consumer Opinion
American Consumer Opinion is a lot like Survey Junkie. It's an online survey company that provides lots of relatively low-paid surveys that are short and quick to take. So, while you won't make a huge amount of money off any one particular survey, you can take a ton of them in a short amount of time and make up the difference.
American Consumer Opinion pays by PayPal deposit and check. Be aware, though, that you can only request a payment once your balance hits $10.00 or more. So be prepared to earn at least that much from the site before you collect your first paycheck.
>> Read Also: 21 Ways To Get Paid To Play Games (Real Money)
5. Focus Group
At Focus Group, you can find all sorts of consumer-related focus groups. Research on topics ranging from children's products to cell phones, pet products, sports products, entertainment, and more all find a home on this site. You can also find the occasional business or medical topic available for a focus group here.
You'll have to watch out for the fact that their payment methods vary depending on which study you select. So, for example, one focus group might offer payment in the form of a prepaid Visa card, while another may send you a check. Keep an eye out for the payment method before you sign up.
6. Mindswarms
Mindswarms is an interesting kind of online paid research company. They've created a form of crowdsourced paid research. From the participant side, the effect of this structure is that you'll be paid $50 to answer seven questions by recording a short video with your mobile device. You can also be paid $10 to answer one question.
You'll have to qualify for the surveys they offer and have a mobile camera that works well enough to fully capture your responses, but assuming you meet these qualifications, Mindswarms can be a fantastic way to make significant amounts of money.
7. Experienced Dynamics
Experienced Dynamics is a specialized user interface (UI) and user experience (UX) market research firm. This means you'll be testing out the interfaces of a variety of digital products on offer from a ton of companies. You'll also be giving feedback on the overall user experience you had when using a product.
The company offers online surveys, phone interviews, online focus groups, field studies, and diary studies. Field studies are one- to two-hour interviews that take place in your home or where you work, while diary studies involve creating a record of your thoughts regarding a product over the course of a week or two. Incentives are between $50 to $150 dollars per study, depending on the scope of the study.
8. Find Focus Groups
Find Focus Groups isn't a paid research service in and of itself. Instead, it acts as an aggregator for other focus groups and paid research companies you can access online. They've got a fantastic online user interface (if you can ignore the ever-present banner ads), and it allows you to simply and easily connect to the paid research companies of your choice.
You can use this site if you'd like to compare the offerings of different paid research companies on this list or if you're just not sure where you'd like to head first.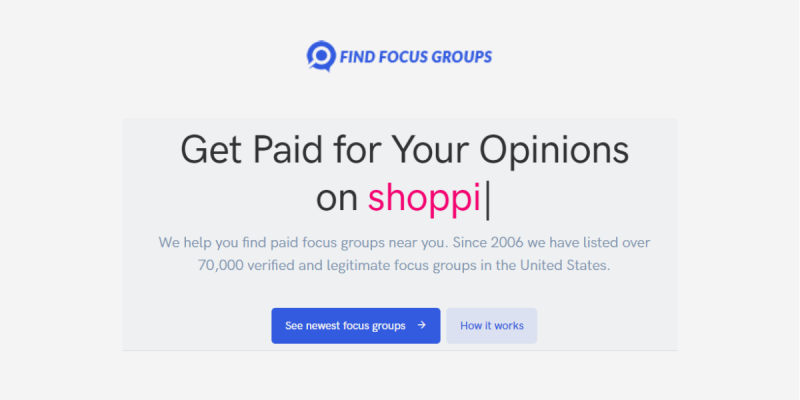 >> Read Also: 14 Ways to Get Paid to Test Products (from Home)
9. Probe Market Research
Probe Market Research conducts focus groups on a wide variety of industry topics and pays up to $400 per study. Many of their focus groups are done in person, but during unique times (like the COVID-19 pandemic of 2020), the company offers some focus groups via videoconference. So you can do focus groups and get paid from your very own office chair!
Focus groups can include anything from a company's new advertising campaign to a new product or service.
10. watchLAB
watchLAB offers three different kinds of paid research studies. You can participate in online focus groups, in-person research studies, and in-home studies. You can ignore the old-school flavor of their website. We assure you that this company is legitimate.
They pay by check after you complete the studies you qualify for. You can also elect to be paid in person if you choose to attend one of their in-person research studies.
11. UserTesting
At UserTesting, you'll try out apps, websites, and other digital products currently under development by startups and other companies that seek feedback on their product design. One minute, you might be trying out a new website, and the next, you might be clicking around on a new delivery app. There's a lot to keep things interesting here.
Usertesting.com offers mostly short user tests (in the range of 20 minutes or so) and pays approximately $10 for a single test. The tests tend to be snatched up pretty quickly, so you'll need to move fast to get into one.
12. PingPong
PingPong is a relative newcomer to the world of online user testing and focus groups. They connect companies who need opinions on their websites and apps. They service mostly smaller startups and small businesses that are in the midst of product or app development.
You'll need to try out their app on a live video feed and provide feedback after your usage session in which you address your experience with the app or website. The clearer and better your feedback, the more likely you'll be invited back for more sessions.
13. Recruit and Field
Recruit and Field is a United States-based focus group company. What sets Recruit and Field apart from its competitors is that it offers unique opportunities for professionals, like nurses, doctors, and lawyers, to profit from high-paying research studies. Many companies are desperate for information from this highly paid and highly knowledgeable group of folks, and Recruit and Field can help connect qualified people with them.
>> Read Also: 30 Easy Ways to Make $1,000 Fast (Legally)
14. Brand Institute
Brand Institute is a survey company that offers paid surveys for qualifying members. You simply sign up for free on the website, enter your demographic and profile info, and then wait for invitations to surveys you qualify for. You'll be paid by PayPal or check after you've completed a survey.
One of the nice things about waiting for invitations to surveys you qualify for is that it minimizes the experience, common on some other survey sites, of clicking on a survey only to find out you're disqualified for some reason. It's a great advantage that Brand Institute has over its competitors.
15. Fieldwork
Fieldwork conducts in-person focus groups in the following US locations: Atlanta, Boston, Chicago-Downtown, Chicago-O'Hare, Chicago-Schaumburg, Dallas, Denver, Fort Lee, NJ, LA-Orange County, Minneapolis, New York City, Phoenix, San Francisco, and Seattle.
Most focus groups pay by Visa gift card, but you should be sure to check the payment method of your particular focus group before you sign up.
This company pays particular attention to the opinions of medical professionals like physicians, nurses, nurse practitioners, and technicians. They pay extra for the viewpoints offered by medical professionals, so be sure to check them out if this describes you!
16. Engage in Depth
Engage in Depth's website looks reminiscent of an early 2000s Netscape browser. But don't worry. There's nothing shady about this operation. They've been in business for ages and have a sterling reputation. They specialize in finding people with uncommon jobs in the healthcare industry and the upper echelons of business.
They take participants from a huge number of countries, so give this one a shot, even if you're not based in the United States.
---
Universities Offering Paid Research Studies
There are numerous universities in the United States that offer paid research studies as a way for students and participants to make extra money.
While the specific universities may vary, many institutions have psychology departments or research centers that conduct paid studies. These studies can include a variety of opportunities, such as online surveys, taste tests, mock juries, focus groups, and more.
It's advisable to check with individual universities or research institutions in your area to find out about their specific paid research study programs. Here is a non-exhaustive list of universities offering paid research studies:
---
Risks Associated With Participating in Paid Research Studies
Participating in paid research studies, such as clinical trials, may involve certain risks. These risks can vary depending on the type of research being conducted. Here are some common risks associated with participating in paid research studies:
Physical Risks: Participating in research studies can sometimes involve physical discomfort, pain, injury, or even the possibility of developing an illness or disease as a result of the research procedures. However, it's important to note that these risks are typically minimized and closely monitored by the research team.
Psychological Risks: Some research studies may involve psychological tests or interventions that could potentially lead to negative emotional states or altered behavior. Researchers are expected to minimize these risks and ensure the well-being of the participants.
Social/Economic Risks: In certain cases, participating in research studies may have negative impacts on relationships, reputation, or financial status. However, these risks are generally minimized and carefully considered by the research compliance services and review boards.
Loss of Confidentiality: There is a risk of loss of confidentiality when personal data is collected and stored as part of the research. However, researchers are obligated to securely collect and store personal data to minimize this risk.
Legal Risks: Certain research methods may have the potential to lead to violations of the law by the subject or others involved, resulting in legal risks. Researchers are responsible for ensuring that their research methods comply with legal regulations.
It's important to note that these risks are typically discussed with study volunteers before they participate in a research study. Additionally, research compliance services and review boards assess these risks in relation to the potential benefits of the research, and researchers are expected to minimize these risks.
---
FAQ For Paid Research Studies
We've been asked the same questions about research studies over and over again, so we thought we'd put together a Frequently Asked Questions section just in case any of you ladies and gents had the same queries. We're guessing that many of you do.
What Are Paid Research Studies?
Paid research studies are exactly what they sound like. They are research studies in which the subjects (or participants) receive payment for participating in the study. You'll be forgiven for wondering if that distorts the outcome of the study. You're not the only one thinking that.
In fact, payment for answers in a survey or focus group does distort the sample (the collection of people who participate in the data collection) somewhat, but not enough to drive away hundreds of thousands of companies from participating in this process. At the end of the day, from your perspective, your paycheck won't change.
How Do Paid Research Studies Work?
In paid research studies, a client (usually a for-profit company) engages a paid research company to collect data on a particular issue, product, or brand. The paid research company uses a part of the fee they receive to pay subjects to participate in the study, keeping what's left over as profit for themselves.
In a roundabout way, the corporate client is paying you for your opinions on whatever it is the client wants to collect data about.
How Much Can You Make with Paid Research Studies?
The amount you can make with paid research studies varies significantly depending on a wide variety of factors. First, the company you choose to engage with will have a big impact on how much you get paid. For example, a broad-based survey company like Survey Junkie will pay less than a more specialized opinion company.
Second, the rarer your qualifications and demographics are, the more valuable your opinion can become. For example, if you're an American store clerk in her late 20s, you may command less for your opinions than a medical doctor in her 50s from the United Kingdom.
Finally, your rate will depend on how profitable the industry you're dealing with is. Educated opinions and feedback about the finance industry might bring in more than opinions about cement mixing or the latest children's toys.
How Can I Find Legit Paid Research Studies?
Use this list! Seriously, we've included all the best options in the above list so that you don't have to search up and down for the latest opinion polls or research studies.
If you're intent on doing it the hard way though, you can't go wrong with a good, old-fashioned Google search. Just punch in "paid research study" into the search bar, and you'll be on your way.
You might also want to keep an eye out in your local neighborhood for signs advertising things like opinion polls, surveys, and focus groups. These often pop up when the research client is looking for local intelligence, and they don't need a sample from across the world that the internet might provide.
---
Final Thoughts
Hopefully, we've been able to enlighten you on the topic of paid research studies to a point where you feel comfortable striking out on your own. Using the above list, you should be able to find at least one or two research companies that are a good fit for you and your situation.
Always keep in mind that you should be careful, to be honest and forthcoming when it comes to the surveys and feedback you provide. You're being paid for your truthful opinions, not to scroll through a survey as fast as you possibly can. Plus, you don't want to get disqualified from lucrative research studies just because you weren't paying attention!
Up Next
Get our free Side Hustle Handbook with the best strategies to multiply your income sources today.
Plus our best money tips delivered straight to your inbox.

Ricardo is an entrepreneur, investor and personal finance nerd who enjoys spending time with his family and friends, travelling and helping others achieve their financial goals. Ricardo has been quoted as a personal finance expert in several online publications including Healthline, Bankrate, GOBankingRates, MSN Money, Yahoo Finance, U.S. News & World Report, Forbes and USA Today.