21 Ways To Get Paid To Play Games (Real Money)
Many or all of the products featured on this page are from our sponsors who compensate us. This may influence which products we write about and where and how the product appears on a page. However, this does not influence our evaluations. Our opinions are our own. Here is a list of our partners and here is how we make money.
---
The information provided on this page is for educational purposes only. The Modest Wallet is a financial publisher that does not offer any personal financial advice or advocate the purchase or sale of any security or investment for any specific individual.
As a kid, was making money to play games — especially video games — your idea of a dream job? There's nothing quite like a good game, and getting paid to play games would be the icing on the cake for gamers everywhere.
It turns out that there are very real and very lucrative ways to get paid to play games in real life. Whether you're looking to entertain yourself for a few minutes while waiting for your ramen to cook in the microwave, or while you're taking a break from studying for your new career, video games can be a serious way to improve your financial outlook. Continue reading below to find out our favorite ways to get paid real money to play games.
Best Ways to Get Paid to Play Games
We've included a lot of options in the following list, and we've ordered the list so that the most difficult (and most rewarding) strategies are at the bottom, while the simpler, easier, and more straightforward approaches are at the top. No matter what you're looking for, you should be able to find something that suits you in the list.
Swagbucks
Swagbucks is a service that offers a wide variety of ways to get paid. You can watch videos, take surveys, and search the Web, among other things. But one of the best options they provide is their "get paid to play" service. It's exactly what it sounds like. If you play one of a few pre-selected games, you get paid in Swagbucks (the sitewide rewards credit), and you can cash out for PayPal deposits or gift cards.
The games are simple and easy to play (at the time of writing they included Solitaire and Mahjong), and they're easy to get into while you're watching Netflix or just killing time on the couch.
See Also: Postmates vs. DoorDash: Which Side Hustle is Best For Drivers?
InboxDollars
InboxDollars, like Swagbucks, offers multiple ways to get paid while you're online. You can sign up for paid promotions to land in your email inbox (which is where the site gets its name), or take online surveys and share your consumer and personal opinions.
More fun than the surveys, however, are the games you can play on the site in exchange for rewards. As on Swagbucks, the games are pretty simple and straightforward, and you can easily play them while you're binge-watching your favorite show on your streaming service of choice.
Lucktastic App
The Lucktastic app is a completely free-to-play app that gives you points and rewards for playing several different games of chance. It's powered totally by advertisements (which is how it stays free-to-play) so you'll definitely see more than your share of ads while you're on the app.
The app is a ton of fun, however, and you'll come to appreciate the Daily Rewards and Mystery Rewards you can win. Because it's a mobile app, they unfortunately don't have an option for people to play on PC or Mac (as of this writing).
Mistplay App
The Mistplay App is an app that offers a ton of games that reward you with "Units" you can redeem in exchange for gift cards. Those gift cards include vouchers to companies like Visa and Amazon, so they're almost as good as cash.
Like with Lucktastic, you'll likely enjoy the feeling of progression and advancement as you're rewarded with Units for playing your favorite games and apps. You can also progress within many of the video games themselves as well, so you constantly feel like you're moving forward.
See Also: 11 Ways to Get Paid to Watch Ads (In Your Spare Time)
AppStation App
The AppStation App shares much in common with Lucktastic and Mistplay. Importantly, however, it pitches itself as completely ad-free. As a result, you might make a little bit less money than you would make on an app like Mistplay (since the app operators have less money to throw to users), but you can still have a ton of fun.
As with the other "get paid to play" apps, you won't be able to quit your job and make playing games your full-time gig. It's just not lucrative enough for that. But it can be a great way to make a few dollars while you're not doing anything else and have some fun at the same time.
Solitaire Cube App
The Solitaire Cube card game app is a super-fun way to make a dollar or two playing the card game we all know and love. You can enter cash tournaments worth hundreds of dollars to the winner, and if you're good enough at the game, you can actually take that money home. You can also play head-to-head against live opponents.
The real stakes tournaments aren't enabled in all states because of the way that different states regulate online gaming. But if you're in a state where you're eligible to win cash prizes, this can be one of the most exciting ways to play Solitaire.
Rewarded Play
Rewarded Play rewards you for playing games, through gift cards to a variety of online and offline retailers. They pay out their gift cards really quickly, with most users reporting that they receive their electronic gift cards within two days of redeeming their points.
Rewarded Play also offers a ton of games for you to choose from, including all the old favorites: Mahjong, Wheel of Fortune, Yahtzee, and more.
Those gift cards we mentioned? They're from major retailers like Best Buy and Amazon, so you'll be able to get stuff from pretty much anywhere you can think of when you redeem your rewards.
Second Life
You may have thought that Second Life, the massively popular multiplayer online world from a few years back, was no longer a thing. After all, it's been around since 2003 and most games have a shelf life much shorter than that. But millions of people still play Second Life, and many of them make some money while they do it. In fact, some people make over $1,000 per month on the game alone.
There are a variety of ways to make cash in the game, but they all boil down to earning the in-game currency (Linden Dollars) and exchanging it for real money on the Linden Exchange. Exactly how you make those Linden Dollars will be up to you!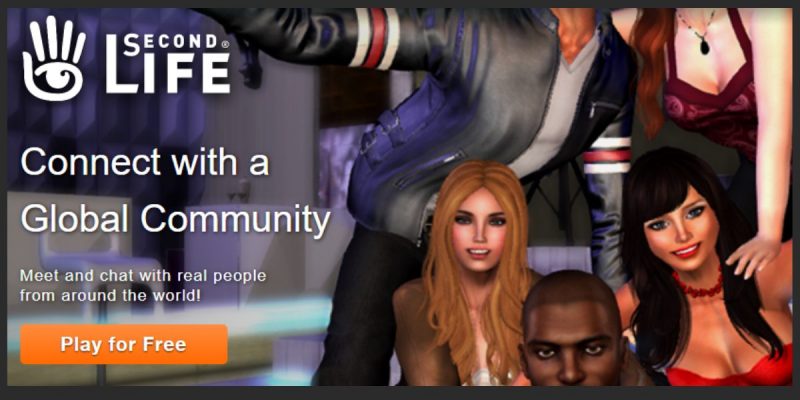 See Also: 12 Creative Ways to Help You Pay Rent This Month (All Legit!)
Blackout Bingo App
Blackout Bingo is one of the most fun ways we've ever found to play bingo. You'll be able to play against real people and use power-ups and boosts to make the game even more exciting. In eligible states, the games reward players with real cash prizes.
The games are super fast — It only takes about two minutes or so to play a full round. This is a great game to play when you're standing around waiting for the toaster oven to ding or waiting for your friend to call.
TapChamps
TapChamps is a "get paid to play" app that rewards you with in-game currency for playing a huge variety of online games and apps. The rewards currency is called "Diamonds." You can exchange Diamonds for PayPal deposits, gift cards, or if you're feeling generous, charitable donations.
The charity donation ability is a really nice touch. It provides an opportunity to turn what would otherwise be some idle gaming into an act of selflessness. We also like the fact that you can redeem your Diamonds for real money, rather than just gift cards.
GamerSaloon
GamerSaloon doesn't require you to settle for playing an online version of Mahjong or another Match-3 game to make some cash. This service connects you with online tournaments for games like NBA2K21 and Mortal Kombat 11 to win real cash. And we're talking big money — sometimes thousands of dollars — if you win.
The service works by having people set up tournaments with real prize money and allowing qualifying gamers to play for the top prize. It takes the atmosphere of Las Vegas directly to your favorite game and really adds an extra layer of excitement to whatever you happen to enjoy playing.
World Winner
World Winner is a lot like GamerSaloon, although its focus is more on casual games than hardcore sports and shooting games. So, for example, you might find yourself playing in an Angry Birds tournament rather than playing a round of Apex Legends for that cash you covet.
World Winner runs some excellent deals. Right now, they're offering a free play with your first deposit (you need to pay to enter many of the cash tournaments). World Winner does its best to match you with gamers of similar skill and experience, so you shouldn't feel too outgunned, even if you're not an experienced gamer.
HQ Trivia
HQ Trivia combines the fun, excitement, and challenge of online trivia with the rush of winning real cash. This app boasts live shows and has featured A-list celebrities like The Rock, Robert DeNiro, Gordon Ramsay, and Alicia Silverstone.
You can even be rewarded for inviting your friends to play. When they sign up using your referral code, you'll get extra lives that you can use in the game itself. You can set the difficulty level to any point between Easy and Savage, so no matter what your level of trivia skill is, you'll be able to find a challenge here.
Become a Twitch Streamer
Here's where we get to the real money. The apps and services above might offer you a few dollars here and a few dollars there, but becoming a Twitch streamer can turn into a full-time job (and a lucrative one at that). The most popular online Twitch streamers bring in tens of thousands of dollars per month in sponsorships and ad views just for playing their favorite games online.
Of course, you'll need to know how to draw an audience. After all, no one's going to watch if it's not entertaining to watch you play. So, as in any entertainment job, you'll need to be an engaging presence with a keen eye for what makes your audience tick in order to succeed in this role.
See Also: 14 Ways to Get Paid to Test Products (from Home)
Become a YouTuber
Being a YouTuber is very similar to being a Twitch streamer. Of course, most YouTube videos are not live, so there are important differences, but at the end of the day you'll still need to be an entertaining person in order to make any progress and get views.
There are plenty of personalities who have made gaming the centerpiece of their YouTube channels.
The key is to find a niche that's been underserved and cater to that audience. The niche might be a particular demographic, or a group with a particular interest. If you find one, you'll know, because you won't be able to keep track of your view count.
Become an Esport Player
Esports have blossomed into legitimate sports leagues in their own right, seemingly overnight. Games like Defence of the Ancients (DOTA) and Starcraft bring in audiences that number in the tens and hundreds of thousands. At the same time, they attract huge amounts of ad revenue that get passed on to the successful players in these leagues.
The key to becoming a successful Esports player is simple: skill. You'll need to be amongst the best of the best in order to compete at this level. Best get practicing!
Become a Game Developer
Far from a get-rich quick-scheme, becoming a game developer involves the same sacrifices and challenges as any other challenging career. You'll need to study hard, probably get a degree in Computer Science, and work a lot of long hours doing the work that no one else wants to do as you rise through the ranks.
As a reward, however, you'll get the opportunity to be intimately involved with some of the best games the market has to offer, well before they launch. If you're willing to put in the time, effort, and work, this can be an extraordinarily rewarding career.
Start a Gaming Podcast
Starting a gaming podcast is a lot like starting a gaming YouTube channel. It's all about building an audience. In the beginning, that means showing your few listeners that you're an authority on the subject you can be trusted. You'll need to really know your stuff, inside and out.
If you are an expert in the field, or at least a sub-field of the gaming genre, people will begin to take notice. Keep your production values high and your content professional, and you'll see your audience grow.
Start a Gaming Blog
Bad gaming blogs are a dime a dozen on the internet. Sometimes it seems as if everyone who's ever picked up a Playstation or Xbox controller has started a gaming blog, and the content is lacking. Good gaming blogs, however, are like diamonds in the rough. You can tell these apart from their less entertaining peers by the fact that their writers really know what they're talking about and have a passion for the subject.
If you meet the latter criteria, and you know how to string a sentence together, you should give blogging a shot. It's a fruitful area in which to build an audience, and once you've got a following, the opportunities for monetization are endless.
Become a Game Tester
Game testing is not for the faint of heart. You'll spend countless hours running the same parts of the same games over and over again. You'll look for bugs, test out endless variations in a wide variety of games, and basically drive yourself crazy.
At the same time, you'll get to play the games that everyone will be talking about long before they launch to the general public. You'll basically have a ringside seat to some of the most celebrated entertainment products in popular culture, and you'll get paid for your trouble. There are definitely worse gigs.
See Also: 14 Ways to Get Paid to Test Products (from Home)
Become a Game Sales Rep
If you have a talent for sales and a passion for video gaming, becoming a game sales rep might just be the career path for you. Not everyone is built for sales, but for people who are (or are willing to learn the craft), game sales can be an excellent way to make a lot of money while staying close to the industry you love.
Game sales reps typically get early access to the games they sell and often get a big head start on that newest RPG or shooter whose release date is just around the corner.
Final Thoughts
If nothing else, this list proves that there are a ton of different ways to get paid to play games. From playing simple apps to going into full-blown careers, for many people, gaming is no longer just a simple hobby that's mostly good for killing time. There are billions of dollars in the air, and plenty of people around the world have found a way to make their primary living from video games.
However, as is the case with most things in life, you'll typically be rewarded in proportion to how much effort you put in. If you just feel like playing a quick mini-game on an app, you probably won't earn much. If you're willing to dedicate yourself to gaining the education and experience you need to become a game developer, you can make a real living. The choice is yours.
Up Next
Get our free Side Hustle Handbook with the best strategies to multiply your income sources today.
Plus our best money tips delivered straight to your inbox.

Ricardo is an entrepreneur, investor and personal finance nerd who enjoys spending time with his family and friends, travelling and helping others achieve their financial goals. Ricardo has been quoted as a personal finance expert in several online publications including Healthline, Bankrate, GOBankingRates, MSN Money, Yahoo Finance, U.S. News & World Report, Forbes and USA Today.