14 Ways to Get Paid to Test Products (from Home)
Many or all of the products featured on this page are from our sponsors who compensate us. This may influence which products we write about and where and how the product appears on a page. However, this does not influence our evaluations. Our opinions are our own. Here is a list of our partners and here is how we make money.
---
The information provided on this page is for educational purposes only. The Modest Wallet is a financial publisher that does not offer any personal financial advice or advocate the purchase or sale of any security or investment for any specific individual.
Wouldn't it be nice to get paid to test products? Product testing from home is an excellent way to earn cash and try out upcoming products.
The way it typically works: You sign up to a website and fill out your demographic information. Then, you'll potentially be matched with companies looking for people with specific profiles to test their products. If you're selected, then the company will send you their product for feedback.
You'll use the product for a set amount of time before providing feedback on your experience with it, and you'll usually give your feedback through a short survey or review.
The way each service works is slightly different. For example, you'll often get to keep the product at the end, but not always. Sometimes you'll get paid, and other times you won't. Some product testing services provide opportunities to meet in person and take part in focus groups alongside home-based work.
---
14 Ways to Get Paid to Test Products
Below, we've listed 14 websites you can use to find product testing opportunities. Sign up for multiple services to have the best chance of getting work.
Many of the platforms on the list are also survey sites, which means you can earn money by answering questionnaires, even if you don't qualify as a product tester.
1. Vindale Research
Vindale Research is a well-known survey site that pays users to answer questions about products and brands. It occasionally provides product testing opportunities. There isn't much information on the website about this, although there is an option on the application for "product tester."
The exact work you have to do when testing products will depend on the item and company requirements. Beyond surveys and product testing, Vindale Research also pays you for watching videos, which can be a cool way to earn some cash. The site pays via PayPal or check, and you can expect to receive up to a few dollars per survey. However, they do pay up to $50 per completed survey.
Vindale Research currently offers a $1 welcome bonus when you sign up. Read our full Vindale Research review to learn more.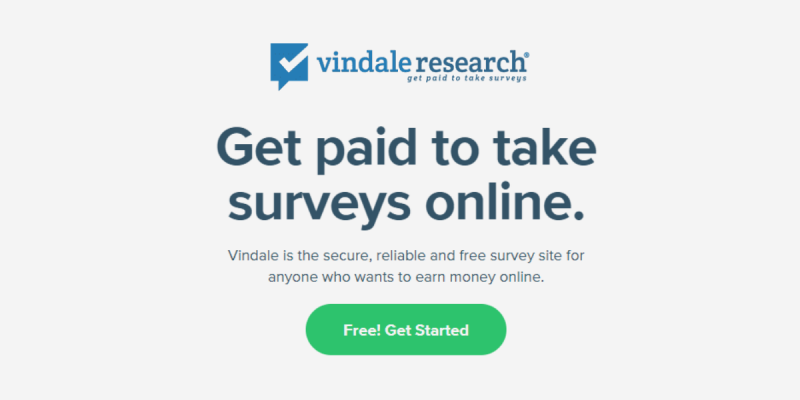 See Also: 18 Best Paid Online Surveys Sites: Make an Extra $300 Per Month
2. Toluna
Toluna is a survey site that provides the chance for people to test products. Opportunities show up in the product testing section of the website, and the company typically creates a forum post.
If you see a task you like, apply to be a tester. The Toluna team chooses which applicants receive products, which means there is no guarantee you will be selected.
Past products available for testing have included cosmetics, beauty, and online services. If selected, you have to try the product and then leave a review, or answer some questions about the experience.
The site also offers paid surveys, which can help you earn money if there aren't any product testing opportunities available. You earn rewards that you can exchange for PayPal credit or gift cards. Surveys on the site typically pay anything from a few cents to a few dollars. Read our full Toluna review to learn more.
3. Pinecone Research
Pinecone Research provides companies with market research for new products they plan to release. If you are accepted to work for them, you'll sometimes answer surveys, and sometimes test a product and give your opinion.
When you complete a survey, you receive points that you can exchange for cash or prizes. As with other sites on this list, you have to input demographic information so the company can show you surveys you qualify for. Read our full Pinecone Research review to learn more.
4. Nielsen National Consumer Panel
The Nielsen National Consumer Panel lets you earn points for sharing your opinion on shopping. Rather than being sent products to test, when you sign up to the platform, you'll receive access to an exclusive mobile app. You'll then scan the barcodes of items you buy and share this data with the company.
While you won't receive free products to test, the more you shop, the more points you earn. These can be redeemed for merchandise and rewards. Occasionally, you may get the opportunity to take a survey to share more information about your shopping habits.
Nielsen also owns the Nielsen Computer and Mobile Panel that allows you to earn money by allowing the app to collect data in the background and help researchers understand how people use the internet. They give away up to $10,000 to users every single month.5.
5. Usertesting
Usertesting.com is a website with opportunities to test websites and apps. While testing web-based products might not be as exciting as testing physical ones, there are typically more opportunities to earn, and the pay is better. You earn $10 per test, with each one typically taking 20 minutes to complete.
A test usually involves navigating the website or app and providing your opinion on the user experience. Signing up is easy, although you'll have to complete a practice test before your application is accepted. If you pass the test, you can download an app that will give you access to mobile earning opportunities as well as desktop-based ones. UserTesting pays via PayPal.
6. American Consumer Opinion
American Consumer Opinion is a survey site with opportunities for product testing. When you complete a survey or project, you earn points. Each point is worth a penny, and tasks pay between 100 and 5,000 points, depending on the length of time a task takes. You can redeem your points (once you have collected 1,000 points for cash) PayPal, or Hyperwallet — or you can donate them to charity.
If the company chooses you to take a survey, it sends an email with further information. Occasionally, you have to complete a screener of under 20 questions to let American Consumer Opinion know if you qualify. While screeners aren't technically surveys, you still receive between 5 and 50 points when you complete one. The site says its members receive survey invitations a few times per year.
7. Product Report Card
Product Report Card is another site that specializes in surveys while providing occasional opportunities for product testing. Just sign up, and the company will begin sending you any surveys or testing opportunities you qualify for.
Another way of making money on the site is through adding information about existing products. This platform uses the data you input to help people make better purchasing decisions.
You get paid for every task you complete, and you can see a roundup of all your rewards in the site's dashboard. You can swap your rewards for Amazon gift vouchers once you hit $25.
See Also: 20+ Ways to Get Paid to Drive (Make Up to $25/hr)
8. Clicks Research
If you sign up to Clicks Research, you'll become a volunteer product tester. Just press "Join" — then, fill out some personal information, and the site will begin sending you relevant products to test. The products come from categories like cosmetics, food and drink, pet products, and more. Clicks Research typically sends products with branding information removed so your opinion stays impartial.
Once you complete the test, you need to fill out a short survey and you get to keep the products. The site also has a section for paid surveys. Each study gives you between 25 and 200 points, and the company will transfer $25 to you when you collect 25,000 points.
9. Johnson & Johnson Friends and Neighbors
Friends and Neighbors is the product testing department of consumer product company Johnson & Johnson. Because the business frequently develops and releases new products, they have an ongoing need for consumer opinions. U.S. residents who want to help should register on the site and then fill out contact information and a membership survey.
If your application is approved, you'll start receiving invitations, or you can check the site for opportunities. The site has six main types of study, which are: product testing, online surveys, online discussion groups, focus groups, consumer panels, and sensory panels. Johnson & Johnson doesn't offer guaranteed payment, but the website says you may receive an honorarium. This differs depending on what is required.
10. McCormick & Company, Inc.
McCormick & Company is a leading food company that mainly produces spices, seasonings, and condiments. If you love trying new and exciting flavors, then you should sign up to become a product tester through its consumer testing program.
Participants in the U.S., Canada, or U.K. can register on the website and receive invites to relevant tasting sessions. These could be in person at the company's offices, or from your home. Along with being a way to taste some new flavors, you will also receive a payment. The amount will depend on the type of test and how long it takes.
11. Daily Goodie Box
Daily Goodie Box is a service that sends out boxes of products for you to test. You need to sign up on the website to see if you qualify. If you do, the company will send a package filled with various goodies to your home. Your job is to try out the items in the box, and then let Daily Goodie Box know what you think.
There is no payment, but the company will send you the products for free, and you keep them at the end. Each box is different, but previously, the company has sent out snacks, drinks, supplements, and cosmetics. (The word "Daily" in the company's name comes from the fact that they send out boxes on a daily basis to different users, not that you'll receive products every day.)
12. BzzAgent
BzzAgent matches people with companies that want to generate buzz about their products on social media. To get started, sign up on the website and complete your profile.
Once you're up and running, the company will occasionally send out surveys, which helps them match you to products. If you get chosen to test a product, you have to use it and then post to social media about your experience.
Be sure to follow the campaign's specific instructions when posting. When the campaign finishes, you'll have to take a quick survey. You don't need to have a large following to be chosen, but the company says that its most influential users receive more campaigns, so keep that in mind when creating posts.
13. Influenster
Influenster is like a social media site for product testing. When you sign up, you can leave reviews of the products you like and use. Occasionally, the site sends product boxes to members that qualify for certain campaigns. (Simply being an active member of the community does not guarantee that you'll receive products).
To increase your chances, follow the instructions on this page, including filling out your profile, answering snaps, and connecting your social accounts. The products you qualify for will vary, although Influenster typically sends out products from beauty brands and food companies.
See Also: 30 Easy Ways to Make $1,000 Fast (Legally)
14. BetaTesting
BetaTesting is a site that pays users to test the latest apps, websites, and even hardware. To get started, sign up to the website and fill out your profile. You'll then be sent tasks you are eligible for. In addition to getting to test new and upcoming products, you'll earn $10 to $20 per test.
The site says that you'll typically receive up to five opportunities per month. During testing, you have to complete tasks and give feedback about the project. The company sends payment via PayPal seven days after your task is approved.
---
Get Paid to Test Products FAQ
We've found some of the most frequently asked questions about making money online through testing products. Following are our answers.
How do I become a product tester?
The easiest way to become a product tester is to sign up for one of the sites we've recommended in this article. You don't need any prior experience — the companies typically want regular people to test their products.
Companies like to know the right people are using their new releases. Be sure to fill out your demographic information and any other details the service needs to effectively match you with brands.
Opportunities for product testing can be slim, which means you may have to wait for them to become available. Many sites offer other paid tasks, like watching videos and filling out surveys. If you want to maximize your chances of becoming a product tester, sign up to as many different platforms as you can.
If you get the opportunity to test a product, be sure to follow the instructions properly and adhere to any guidelines the company sends. Becoming a trusted tester may lead to getting more work.
How do I get paid to test products?
To get paid to test a product, be sure to choose a site that says it offers a reward for testing. While some of the sites pay in cash, others will pay you with gift vouchers for stores like Amazon, or with PayPal credit. Some sites don't pay at all. Instead, they'll let you keep the product at the end of the trial.
Be aware that different platforms have different withdrawal limits. Some will pay you after every task, while others require reaching a predefined amount before you can access your rewards. If this is the case, it may take some time before you reach the limit, although you can often supplement your product testing income by answering surveys.
How much can I make testing products?
You won't make much money testing products. The sites on this list typically provide a token amount of points, worth up to a few dollars. You can use these points alongside points earned via surveys to cash out for gift cards, cash, or other rewards.
The most significant benefit is typically receiving a free product, so this should be your main motivation for product testing, rather than earning money.
The main exception to this is software testing sites like Usertesting and BetaTesting, which pay $10 and up to people who complete tasks.
What kind of products do I need to test?
Product testers usually try out consumer products that are new or in development. This commonly includes food and drinks, as well as cosmetics and beauty products. The exact products you can be offered will depend on your demographic info.
The other main category of product tester is people that try out new apps, websites, or software. People who go this route can test the products from the comfort of their homes and may earn slightly more per task than physical product testers.
---
Final Thoughts
Product testing isn't a career or a full-time job, but it can be a good way to earn some cash or get some free products outside of your regular work. This side hustle could potentially earn you over $100 a month if you stick with it and choose the right programs.
There are many platforms that offer paid tasks, and you aren't limited in the number of sites you can sign up to, so you have a lot of options. The biggest benefit of product testing, ultimately, is that it is a fun thing to do.
Up Next
Get our free Side Hustle Handbook with the best strategies to multiply your income sources today.
Plus our best money tips delivered straight to your inbox.

Ricardo is an entrepreneur, investor and personal finance nerd who enjoys spending time with his family and friends, travelling and helping others achieve their financial goals. Ricardo has been quoted as a personal finance expert in several online publications including Healthline, Bankrate, GOBankingRates, MSN Money, Yahoo Finance, U.S. News & World Report, Forbes and USA Today.