13 Easy Ways to Get Paid for Searching the Web [2023 Update]
Many or all of the products featured on this page are from our sponsors who compensate us. This may influence which products we write about and where and how the product appears on a page. However, this does not influence our evaluations. Our opinions are our own. Here is a list of our partners and here is how we make money.
---
The information provided on this page is for educational purposes only. The Modest Wallet is a financial publisher that does not offer any personal financial advice or advocate the purchase or sale of any security or investment for any specific individual.
If you need an easy way to make money online, then getting paid to search the web is a great option.
There are three main ways you can accomplish this: using a different search engine, installing a data collection app on your phone or computer, or getting a job as a search engine evaluator.
Each of these strategies has its pros and cons and will suit people in different circumstances. Here is a rundown of how each one works.
---
Best Strategies To Get Paid For Searching The Web
Getting paid for searching the web involves various strategies that offer opportunities to earn money or rewards for doing so.
Strategy 1: Replace Your Default Search Engine
Several services pay you to use a search engine they provide rather than the one you currently use. You can typically set this up by replacing your default browser search engine or setting your homepage as the search page.
If you choose to earn money this way, you will typically earn a few cents every day. While it isn't a lot, it does result in extra cash in your pocket every month. The main benefit is that you do not have to do anything other than use the search engine to get paid. This is one of the best strategies to get paid for searching the Web.
Strategy 2: Join Data Collection Apps
Data collection apps are programs you install on your computer or mobile device(s) that collect information about how you use the web.
Once the info is collected, it's used for research. These apps are easy to use, and once they're up and running, you don't have to do anything to get paid. You can install the apps on multiple devices to maximize your earnings.
Strategy 3: Become A Search Engine Evaluator
A search engine evaluator is an individual who assesses and evaluates the quality and relevance of search engine results. Search engines like Google, Bing, and Yahoo! constantly strive to improve the accuracy and usefulness of their search results, and they hire search engine evaluators to help achieve this goal.
These evaluators provide valuable feedback on the effectiveness of search engine algorithms by analyzing search queries and the corresponding search results, ensuring that the results match the user's intent and are free from spam or irrelevant content.
Working as a search engine evaluator is a part-time job or side hustle that typically pays per hour. If you are hired for this job, you will analyze and provide feedback on the relevancy of search results. Search engine evaluator jobs pay more than the two options listed above, but they are not passive income. The main benefit of these jobs is that you can work at home, around your own schedule.
The earnings of search engine evaluators can vary based on several factors, including the company they work for, the region or country they are located in, and the specific terms of their contract or employment.
According to ZipRecruiter, hourly rates for search engine evaluators ranged from around $8 to $49 per hour, with the average being around $24 per hour.
---
Best Ways to Get Paid for Searching the Web
Here are the best options you can explore to get paid to search the web. We have included several platforms from each of the above categories.
1. Swagbucks
Swagbucks pays you when you search the web using Swagbucks Search, the platform's Yahoo! powered search engine. The site pays you in Swagbucks (SB) Points, which it gives out randomly. This means you won't get paid for every search you make. When you earn points, a notification pops up, and you need to click on the notification to claim them.
It's incredibly easy to get set up, and it works on the main browsers. Just sign up for Swagbucks, then set Swagbucks Search as your default search engine in your browser settings. Once that's done, every time you search using your browser search bar, you will have the chance to earn.
Pros: You earn money passively by searching the web as you normally would. The ability to switch your default browser makes earning super easy.
Cons: You will have to get used to slightly different search results.
How Much Can You Make? Swagbucks are awarded randomly, in amounts ranging from 1SB to 1000SB; 1000SB is typically worth $10.
How Do You Get Paid? You can exchange SB Points for gift cards from popular brands or PayPal credit.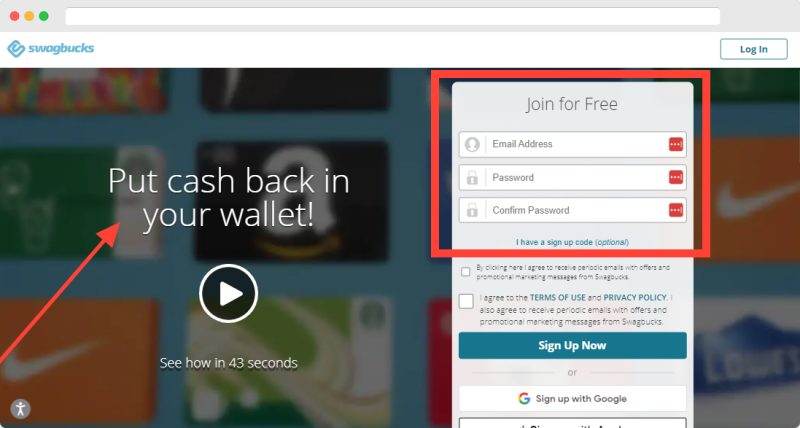 >> Read Also: 30 Legit Ways to Make $500 Fast (Within a Week)
2. InboxDollars
InboxDollars has a search engine that lets you win scratch cards for searching. Every four searches, it adds a little to your progress bar, and when it is full, you get a card. These can pay up to $100, although typically, you will get anything from just a few cents to $0.25.
The easiest way to use the platform is to set up the InboxDollars search page as your homepage. That way, whenever you need to perform a search, you can open a tab and search right away. You can also use this search page on your mobile device to increase your earning potential.
Pros: Works on mobile and desktop. It'd be easy to see your progress toward rewards. Our second favorite way to get paid for Searching the Web.
Cons: You need to remember to use the InboxDollars search page.
How Much Can You Make? People have claimed to earn two or three scratch cards per day, which results in $0.05 to $0.25 in daily earnings.
How Do You Get Paid? You can exchange points for gift cards, PayPal, or even a check.
3. Qmee
Qmee is a good option if you'd rather stick with your existing search engine but still want to get paid. When you search the Web with the platform's browser extension installed, it shows you additional results in the search bar. You earn when you click on one of these results.
It works because brands pay the platform to advertise to you. Qmee gets paid per click and passes on some of that money to the user. To get started, you just need to sign up for the service and then install the Qmee browser extension.
Pros: You can keep using your regular search engine.
Cons: Not all searches provide earning opportunities, and you only get paid when you click on a sponsored result. Overall not the best way to get paid for searching the Web.
How Much Can You Make? You typically earn a few cents per click.
How Do You Get Paid? Either via gift cards or PayPal.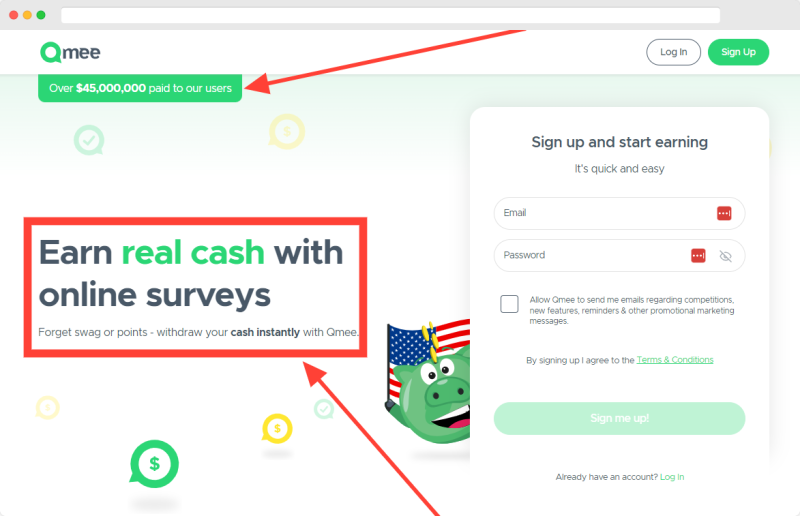 4. iRazoo
iRazoo pays users to search when they use the platform's Yahoo-powered search engine. You can search via the website search bar or by changing your default search engine to iRazoo. This works with Chrome, Firefox, Internet Explorer, and Microsoft Edge. When you win a reward, just click on the box to claim it.
Pros: Works on popular browsers. You can set iRazoo search as your default engine.
Cons: Daily earnings are capped at 25 points.
How Much Can You Make? You can earn between 1 and 25 points per search, and you can win up to 25 points each day.
How Do You Get Paid? Once you have 3000 points, you can claim a $5 reward. Rewards are gift cards or PayPal credit.
5. Microsoft Rewards
Microsoft Rewards lets users collect points for searching with its Bing search engine. Users earn five points per search, and you can collect points on desktop, mobile, or tablet.
You can search via Bing on any browser — although you can reach higher levels (with higher point limits) faster by using Bing and the Microsoft Edge Browser. As long as you are signed into your Microsoft account, you'll collect points. You can also earn points on mobile by searching in the Bing app.
Pros: As long as you are signed in, you can earn points, and Microsoft is a well-known brand name.
Cons: Level One members are limited to earning five points per day.
How Much Can You Make? Level two members can earn up to 20 points per day. The company says that 5,000 points will typically let you get a reward worth $5. This is another good way to get paid for searching the Web.
How Do You Get Paid? You can choose gift cards, sweepstake entries, or non-profit donations.
>> Read Also: 20 Best Under The Table Jobs That Pay Cash
6. Publishers Clearing House
The way you earn with the Publishers Clearing House search engine is a little different compared to the other options on this list.
Instead of earning a few cents whenever you search, you have the opportunity to win prizes. While this means you are more likely to receive nothing for your efforts, the overall larger prizes could be worth it.
The way it works is simple. You just need to sign up for Publishers Clearing House and then use its search engine.
The company's instant win engine randomly chooses winning times every day, and the first person to search after a randomly chosen time wins a prize. Prizes could include cash, gift cards, and electronics. You can access the search engine on both desktop and mobile devices.
Pros: You have a small chance of winning large prizes.
Cons: You may end up with nothing.
How Much Can You Make? The company gave one sweepstakes winner $100,000. But a win this large is unusual.
How Do You Get Paid? Prizes under $600 are in the form of either online gift cards or prize checks sent via mail. Prizes over $1,000 are sent via overnight mail or in person, while prizes of $1 million or more are awarded in person.
7. Wonder
Wonder is a service that provides research to companies. You can earn money by searching the web to find answers to questions.
To begin working for the company, go to this link to send in your application and take a practice test. If you are accepted, you can head to the dashboard, where you will see all available research tasks. Then, just complete the task and send in your findings. It's a good way to earn extra money around your existing schedule.
Pros: Work according to your own schedule. Earn more money than other options.
Cons: This is a job. This is not getting paid for your own searches.
How Much Can You Make? According to Wonder, researchers can earn $15-$25 an hour, depending on the tasks they complete and how quick they are. (This rate isn't guaranteed, though.)
How Do You Get Paid? Wonder researchers get paid every two weeks by PayPal.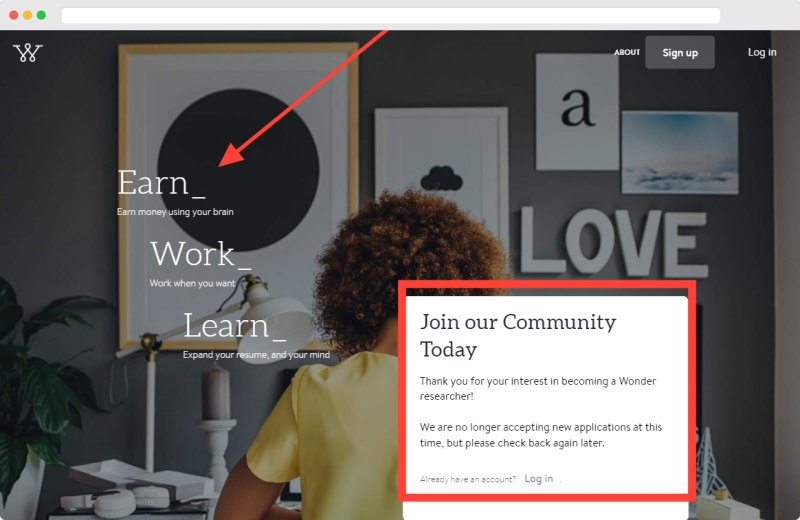 >> Read Also: 20 Best Online Jobs for Teens
8. Nielsen Computer & Mobile Panel
Nielsen Computer and Mobile Panel is a market research firm that collects data on how people browse the Web. You just need to sign up and then, if accepted, download the app to your devices.
Once set up, you will be entered into sweepstakes for your desktop browsing. Nielsen says it gives away $10,000 to users each month. If you install the app on a mobile device, you will collect points, and the company says you can earn up to $50 per year. There is a mobile app that lets you keep track of earnings.
Pros: Easy to use across multiple devices. Completely passive income.
Cons: Your online activity is shared with the company.
How Much Money Can You Make? You can earn up to $50 per year for mobile browsing, plus prizes from sweepstakes.
How Do You Get Paid? You can cash out for gift cards from brands, including Amazon.
9. MobileXpression
MobileXpression is an app that you can download to your phone that analyzes how you use the mobile internet. This information helps companies understand trends and how people use the mobile Web.
Once the app is on your phone, you don't have to do anything other than use your device as you normally would. This makes it among the easiest ways to earn passive income.
Pros: You don't have to do anything other than install the app.
Cons: Your online activity is shared with the company, although the company says research reports never contain personal information.
How Much Money Can You Make? The site doesn't say other than mention that members are guaranteed rewards for their participation.
How Do You Get Paid? You can earn gift cards, although the site does not specify the store brands.
10. SavvyConnect
SavvyConnect is a service from SavvySurvey that pays you to participate in market research by browsing the Web.
You can install the software on desktop and mobile devices. The company pays $5 per month for each device as long as you adhere to the company's terms and conditions. The service collects data about how you use the Web on different devices, which it uses for market research. You can also complete surveys using the tool.
Pros: The income is completely passive, and you receive money for up to three devices.
Cons: Your online activity is shared with the company.
How Much Money Can You Make? You can earn $5 per month per device for surfing the Web.
How Do You Get Paid? You get paid by check. You can request payment once you have accrued a minimum of $1.
11. Honeygain
Honeygain is a crowdsourced network data-sharing platform that allows users to monetize their internet connection. It works by utilizing your idle internet bandwidth and securely sharing it with Honeygain's network partners. The company then uses this shared network data for various purposes, such as web intelligence, content delivery, and market research.
As a user, you earn credits or "Honey" for sharing your internet connection. The amount you earn depends on factors like the amount of bandwidth you contribute, the demand for network resources, and the region you are in.
You can convert your earned Honey into real money or gift cards once you reach the minimum withdrawal threshold set by Honeygain, which is currently $20.
Pros: The biggest advantage to using Honeygain is the ability to earn cash passively while the app is running in the background.
Cons: There are a few downsides to using Honeygain. The limited earnings potential has to be at the top of the list, followed by the potential impact on your internet speed, and lastly, the data usage and privacy concerns.
How Much Can You Make? On average, for every 1GB of data that your app downloads, you make about $0.10.
How Do You Get Paid? You will get paid via gift cards from major retailers as soon as your account reaches the minimum payout threshold of $20.
12. Test Websites
UserTesting and uTest are sites that pay you to test websites and apps. To sign up, just fill out the application and complete the practice test.
Be sure to follow the instructions properly to have the best chance of being accepted. Once your application is approved, just log onto the website to check out the latest opportunities.
If there are none available, the company will email you when tasks arise. There is also a mobile app you can use to get opportunities on your phone.
Pros: Relatively high pay. Work when you want, around your schedule. This is a great way to get paid for searching the Web.
Cons: The income is not passive.
How Much Can You Make? This will depend on how quickly you complete the tasks and how many tasks you qualify for. Each task typically pays $10 and consists of a 20-minute video plus answering some questions. Occasionally, you may be able to do a live call, which pays $120.
How Do You Get Paid? The only payment option is PayPal.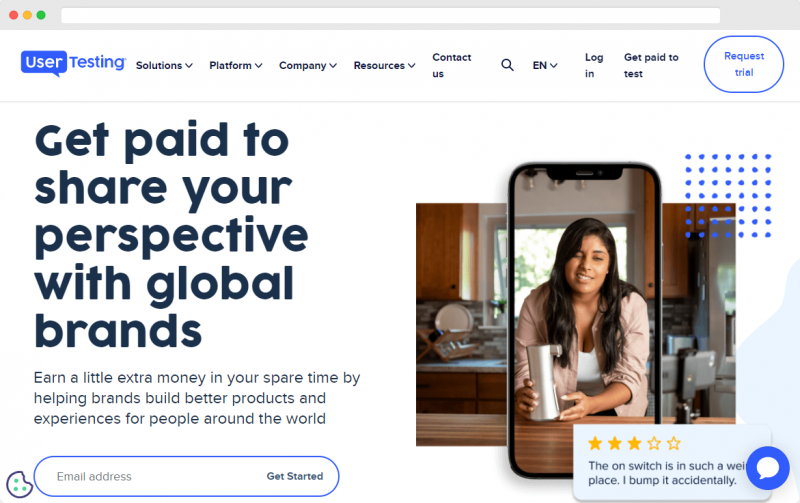 >> Read Also: 30 Best Part-Time Jobs to Boost Your Income
13. Search Engine Evaluator Jobs
Search engine evaluators analyze search results to improve results pages. You will typically work part-time from home and earn an hourly wage. The content you'll evaluate depends on your role. Some people use their second-language skills to assess search results not in English. Some assess ads on social media platforms. And others review and evaluate video search results. You can find search engine evaluator jobs at Lionbridge and Appen.
Beyond Lionbridge and Appen Connect, you can also find search engine evaluator opportunities on the following websites:
iSoftStone: iSoftStone is a global IT services provider that occasionally offers search engine evaluator positions.
Teemwork.ai: Teemwork.ai offers various online micro-tasks, including search engine evaluation.
5CA: While primarily known for customer support jobs, 5CA sometimes offers roles related to search engine evaluation and web content moderation.
Pros: Earn an hourly wage. Work around your schedule.
Cons: Not passive. Some jobs have specific requirements you may not meet.
How Much Can You Make? This will depend on the role and the hours you work. Jobs typically start at around $10 per hour.
How Do You Get Paid? You get paid by bank transfer.
---
Final Thoughts
The options in the list above won't make you rich. But they do pay. Many of them require little to no effort. And you may be able to earn more by using multiple services.
The highest-paid tasks on our list are working as a search engine evaluator or a Wonder researcher. These are more like typical jobs that you can do at home around your own schedule. They can be a good source of extra income, although you will have to put in some effort to get paid.
Up Next
Get our free Side Hustle Handbook with the best strategies to multiply your income sources today.
Plus our best money tips delivered straight to your inbox.

Ricardo is an entrepreneur, investor and personal finance nerd who enjoys spending time with his family and friends, travelling and helping others achieve their financial goals. Ricardo has been quoted as a personal finance expert in several online publications including Healthline, Bankrate, GOBankingRates, MSN Money, Yahoo Finance, U.S. News & World Report, Forbes and USA Today.