Many or all of the products featured on this page are from our sponsors who compensate us. This may influence which products we write about and where and how the product appears on a page. However, this does not influence our evaluations. Our opinions are our own. Here is a list of our partners and here is how we make money.
The information provided on this page is for educational purposes only. The Modest Wallet is a financial publisher that does not offer any personal financial advice or advocate the purchase or sale of any security or investment for any specific individual.
Postmates and Instacart are solid delivery services that you should consider if you're looking for a side hustle. 
There are various similarities between the two apps. Perks include choosing when you work, a simple application process, and pay that can be competitive. There are also some differences between these platforms, which we'll go over in this article. Keep reading to decide which one is best for you.
---
Postmates vs. Instacart: An Overview
Postmates and Instacart are two popular delivery services that cover items besides restaurant food. One significant difference between them is that Instacart focuses on groceries. Postmates delivers takeout, groceries, and retail items, like clothes or electronics.
Working for each platform is a similar experience. Delivery drivers use an app to accept customers' orders, then pick up and drop off the items.
| | Instacart | Postmates |
| --- | --- | --- |
| Our Rating | | |
| What You Will Deliver | Groceries. | Just about anything. Whether it's food, new headphones, or a new shirt. |
| Driver Requirements | 18+ years old , live in an area where the company operates, pass a background check, own a vehicle with insurance, own a smartphone, be able to lift 30 lbs., and have a bank account to receive payments. | 18+ years old, live in an area where the company operates, have a social security number, pass a background check, own a vehicle with insurance, own a smartphone and have a bank account to receive payments. |
| Vehicle Requirements | Have a vehicle with relevant insurance. | Have a car, scooter, or bicycle with relevant insurance. |
| Pay | Average pay is $13 per hour (includes: number of items, type of items, driving distance, and effort involved in shopping/delivering, and tips). | Average pay is $15 to $18 per hour (includes: per pickup rate, per drop off rate, per minute rate, per-mile rate and tips). |
| Working Hours | Delivery windows depend on the stores you work with. | 24/7 on-demand |
| Earning Potential | Around $57,000 (*Indeed estimate). | Around $50,000 (*Indeed estimate). |
| Rating System | Instacart customers rate shoppers on a scale from 1 to 5 stars | Customer rate delivery as a whole (thumbs up or down). |
| What We Like | Option for in-store shopping if you don't have a vehicle. | Payment guarantees when you complete a certain number of jobs. |
| | | |
What Is Postmates?
Postmates is a delivery platform that works with a network of drivers to deliver just about anything. Customers can order takeout food, alcohol, groceries, and items from retail stores. The service is available in dozens of locations in all 50 U.S. states. If you live in a big city, there's a good chance Postmates operates near you.
The service partners with some shops, but customers can also order from non-partner stores.
Postmates drivers, sometimes called Postmates themselves, are part of the Postmates Fleet. Their pay includes a fee for each pickup and dropoff, a per-minute and per-mile rate, bonuses, and tips. Drivers set their schedules and work as much or as little as they prefer.
In July of 2020, delivery service Uber purchased Postmates. Uber also operates Postmates competitor Uber Eats but reportedly plans to keep both platforms.
Visit our full Postmates driver review to learn more.
What Is Instacart?
Instacart is a grocery delivery service. Customers order groceries online or through an app, and Instacart connects them with a local delivery person. The platform operates in hundreds of cities in the U.S. and Canada. It partners with a wide variety of grocery stores, including Costco, Kroger, Sprouts, Albertsons, and Publix.
Instacart delivery workers, called Instacart Shoppers, earn a base rate along with bonuses and tips. They choose the hours they work, although work is only available when grocery stores are open.
Check out our full Instacart shopper review for more details.
See Also: 14 Best Food Delivery Services to Work For
---
Postmates vs. Instacart: How Do They Work?
Working with each of these apps follows the same basic process. Below, we'll go into more detail on what signing up and delivering orders looks like.
How Postmates Works
One difference between Postmates and other services is that there is no option to schedule a shift—you just start working when you're ready. Once you've signed up, log in to the app to view orders. As you work, you can accept or reject each available job
Once you accept an order, the app will help you navigate to the restaurant or store. Customers can prepay in the app, but sometimes you'll need to use your prepaid Postmates card.
After you pick up the customer's food or other items, deliver them to their location. You can then mark the order complete in the app.
How Instacart Works
Instacart offers two different ways to work. The first is as an in-store shopper. If you choose this option, you'll be an employee of Instacart. You'll fill orders for customers to pick up and you don't have to deliver anything yourself.
Working as a full-service shopper is more like other delivery jobs. These shoppers are independent contractors. With this option, you shop using the guidelines in the Instacart app.
To get started as a full-service shopper, sign up and agree to a background check. Once the company accepts your application, log in to the app to schedule a shift. You can schedule as fast as one hour ahead or further out. You may also be able to begin a batch right away if there's one available.
Use the app to travel to the store and buy the items in the batch. Instacart requires that shoppers be able to lift 50 pounds with or without accommodations. Sometimes there are heavy items in an order, such as kitty litter.
Once the batch is complete, deliver it to the customer.
---
Postmates vs. Instacart: Requirements
Postmates and Instacart have relatively similar requirements. To work for either one, you'll need to live in an area where it's available. If Instacart doesn't have a presence where you live, you can try Postmates and vice versa.
Keep in mind that for Instacart, the requirements are a bit different for full-service and in-store shoppers. If you're working in-store only, you don't need a vehicle as long as you have a way to get to work. For deliveries, you'll need a car to bring customers' groceries to them.
For Postmates, some markets allow workers to deliver using a bicycle or scooter or on foot. In other areas, you'll need a car.
Neither platform requires you to have previous experience before you get started.
Postmates Requirements
To work for Postmates, you must:
Be 18 or older;
Have a social security number;
Agree to a background check;
Have a vehicle and a driver's license, registration, and insurance (unless you deliver on foot); and
Have a smartphone that can run the Fleet by Postmates app.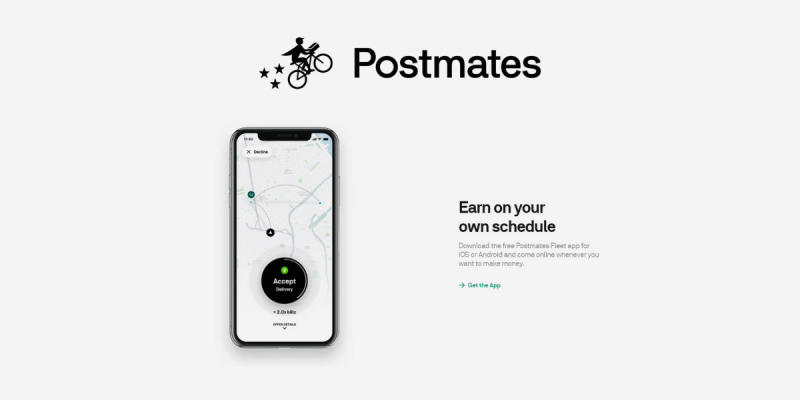 See Also: 7 Ways to Get Paid to Advertise on Your Car
Instacart Requirements
Instacart shoppers (full-service shopper) must:
Be at least 18
Be eligible to work in your location legally
Have access to a smartphone
A functioning, registered vehicle
Vehicle insurance, in accordance with local laws
Be able to lift 30 pounds
Consent to a background check
Instacart shoppers (in-store shopper) must:
Be at least 18
Be eligible to work in your location legally
Have access to a smartphone
Be able to lift 30 pounds
Consent to a background check
---
Postmates vs. Instacart: Sign-Up Process
Signing up for either app is a straightforward process. You'll need to pass a background check, which is usually the part of signing up that takes the longest. In general, you can get started with Instacart or Postmates in a week or less.
Postmates: Signing up & Getting Approved
To sign up for Postmates:
Head to the application page and create an account, then enter some info about yourself.
Download the app and agree to a background check.
Upload a selfie for your profile photo.
Once your background check is complete, Postmates will send you a prepaid card and bag.
Activate the prepaid card.
Enter your banking information to receive payments.
Begin taking orders.
Instacart: Signing up & Getting Approved
To sign up for Instacart:
Go to the Shoppers page and enter your zip code.
Enter profile information to create an account.
Download the app and follow the instructions.
Agree to the background check.
Once the background check is clear, you'll get a prepaid card to use for customer orders.
Start shopping.
---
Postmates vs. Instacart: Pay
Like other delivery platforms, your pay for Postmates and Instacart depends on how fast you complete orders. How quickly you make the deliveries is a factor, as is the quantity of orders available where you live. Your base pay will also vary from location to location.
One benefit of these two services is that you aren't just delivering restaurant food. That means there are often orders outside of mealtimes, which can boost your earnings.
Both apps consider delivery drivers independent contractors. That means you'll need to pay for most of your expenses, including gas and car maintenance. The companies also don't withhold any money from your pay to cover taxes. Workers need to set money aside for tax time and keep track of income and mileage.
Postmates Pay
Postmates Fleet drivers earn the following:
Pickup fee;
Drop-off fee;
Per-minute rate for time spent at the pickup location;
Per-mile rate for the distance between pickup and dropoff;
Promotions and bonuses; and
Tips (drivers keep 100% of tips).
One nice thing about Postmates is that they offer different incentives and bonuses. For orders you complete within a specific timeframe and area, you'll get a bonus. For example, you might see a notification that you can make an extra $70 for your next 15 deliveries. The map will show the area that the deliveries need to be in.
There's also a guaranteed minimum for finishing a certain number of orders within a specific timeframe. If your earnings don't reach the minimum, you'll get bonus pay. Postmates often offers this type of promotion to new drivers.
Instacart Pay
In-store shoppers are employees, not contractors, and receive a set hourly wage.
For full-service shoppers, Instacart pays for each batch you complete. Payments include the following:
Base pay is determined by the number and type of items, how far you drive, and the effort involved in shopping and delivery; and
Tips (you keep 100%).
Instacart used to offer bonuses based on five-star ratings, but that program ended in 2019.
---
Postmates vs. Instacart: Working Hours
Drivers for both apps can choose the hours they want to work. However, one difference between the two is that Postmates operates 24/7, while Instacart doesn't.
Postmates Working Hours Available
Postmates is available around the clock. The only limitation is that the store or restaurant the person wants to purchase from needs to be open. Otherwise, you can deliver at any time.
As an independent contractor, you make your schedule. You can work as many or as few hours as you like. During busy times, you can complete batched or chained deliveries, where you deliver to multiple people in one trip.
Instacart Working Hours Available
Instacart shoppers create their schedules. Delivery shifts start as early as 9 a.m. and end as late as midnight. The specific hours you can work depend on your local stores. Keep in mind that holidays can impact available hours.
You typically need to schedule a shift, which can be from one hour to several days in advance. If there are on-demand orders available, you can start on them right away.
---
Postmates vs. Instacart: The App
Workers for both platforms rely heavily on their apps. Both are easy to use and offer a ton of helpful guidance. It's a good idea to get familiar with how they work before you dive in.
One thing that sets the apps apart is that with Postmates, you can't schedule a shift in advance. Instead, you'll log in whenever you're ready to work.
Postmates App
The Postmates app is called Fleet by Postmates. You'll use it throughout the signup process and each order you complete.
When you're ready to work, use the app to view and accept available delivery requests. The app doesn't show a guaranteed minimum for each order, which several similar apps do. However, you'll get a feel for what you can earn for each job once you get up and running.
Once you accept an order, follow the instructions to navigate to the restaurant or store and make purchases. After you've dropped off the order, mark it complete in the app.
You can also use the app to review your earnings and request an instant deposit. If you prefer to wait, automatic payments occur every week.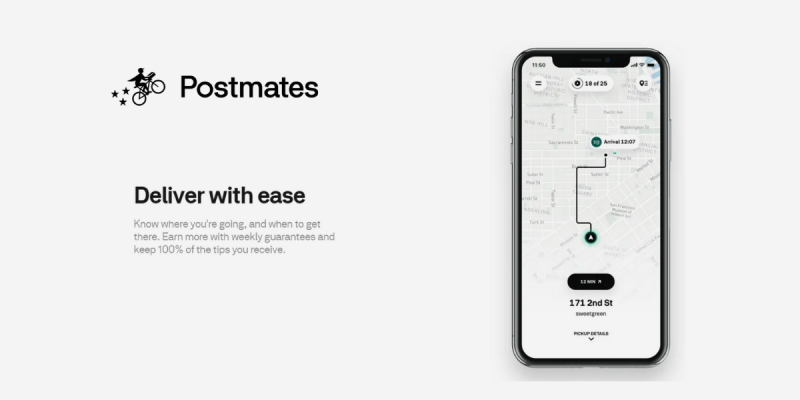 See Also: 45 Side Hustle Ideas to Boost Your Income
Instacart App
Instacart's app is called Instacart Shopper. You'll download it during the signup process.
When you want to start working, use the app to schedule a shift or accept an on-demand batch. There's a map you can access to see high-demand areas.
The app provides instructions as you shop. You'll need to check it frequently to make sure you're adding the right items to the order. If you need to communicate with the customer, there's an option to send a message.
You can view your earnings or request an Instant Cashout whenever you like.
---
Postmates vs. Instacart: Earning Potential
The two apps calculate pay a bit differently, but your overall earning potential is comparable.
Some drivers work for both, switching back and forth from one to the other during slower times. If you're in a bigger city and you're a night owl, you could work for Postmates overnight when Instacart isn't available. Then, work for Instacart during the day when you have time.
Keep in mind that your location and how fast you complete orders will significantly impact your earnings.
Another crucial factor to consider is that as a delivery driver, you're an independent contractor. You're responsible for your expenses, such as gas, vehicle maintenance, and parking. Instacart and Postmates don't withhold money from your pay to cover taxes, so you'll need to set some cash aside yourself.
Most delivery companies don't offer traditional benefits, such as health insurance and paid time off. Make sure you consider those costs when signing up with either of these services.
The best way to see how much you can earn from these apps is to give them a try. Over time, you'll get a feel for which one you like best, or you can keep working for both.
How Much Can I Make with Postmates?
According to posters on Indeed, the average pay for Postmates drivers is $15.22 per hour. Compensation listed on Glassdoor varies between $12 and $18 an hour.
How Much Can I Make with Instacart?
Instacart shoppers on Indeed say they make $11.30 an hour. On Glassdoor, the listed pay ranges between $11 and $15 an hour.
---
Postmates vs. Instacart: Rating System
Both platforms offer a way for customers to rate their experience. With Postmates, the rating system is more general and doesn't reflect directly on drivers. Instacart's ratings are more detailed.
Postmates Ratings
Postmates customers rate their delivery as a whole with either a thumbs up or thumbs down. Ratings include factors that drivers can't control, such as food quality in a takeout order. As a result, they don't impact your standing or your ability to keep using the app.
The company does judge your performance by whether you follow the terms in their Fleet Agreement. For example, you need to be careful not to deliver alcohol or cigarettes to someone who's underage.
Instacart Ratings
With Instacart, customers can rate shoppers from one to five stars. The company calculates ratings based on the last 100 orders. The highest-rated shoppers have priority access to batches.
The Instacart app tracks how long it takes you to complete each batch. While your speed doesn't contribute to your rating, you can lose access to the app if you shop too slowly.
Customers can rate the quality of their order and provide written feedback if they choose to. If you're unhappy with your rating or other feedback, training is available on the "How Am I Doing?" page. These lessons are completely optional, but they can help you improve.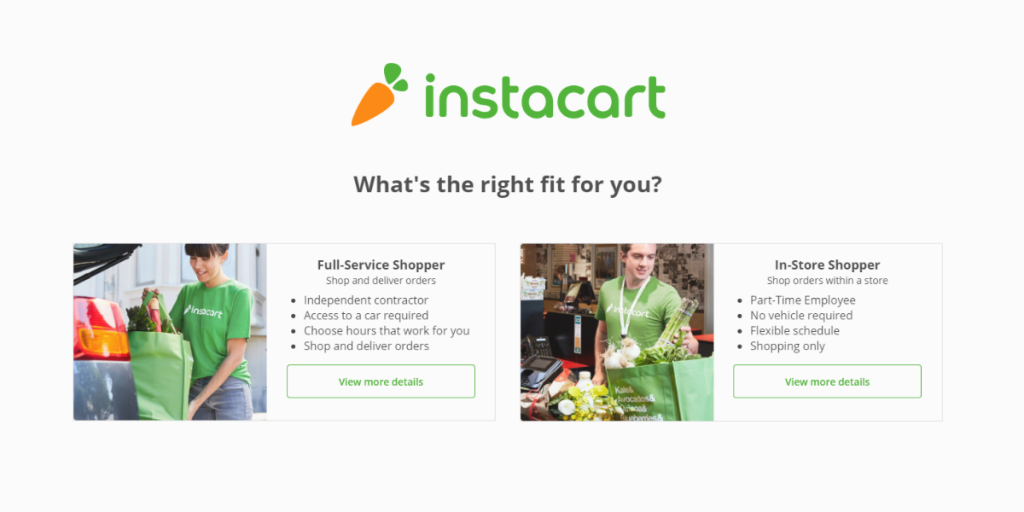 See Also: 32 Best Gig Economy Jobs That Pay Well
---
Postmates vs. Instacart: What we Like
There's a lot to appreciate about both apps. You don't need experience and you can sign up and get started quickly in most cases. You choose your schedule and how many hours you work. Both options pay out each week. You can also request an instant payment. On top of those perks, you're essentially getting paid to shop.
Here are some specific things we like about each app:
What We Like About Postmates
Bonuses and guaranteed minimum payments
No vehicle requirements
24/7 deliveries
Different types of deliveries keep things interesting
What We Like About Instacart
Choose between in-store and full-service shopping
Schedule shifts in advance or complete on-demand batches
"How Am I Doing" page with feedback and training options
---
Postmates vs. Instacart: What We Don't Like
For any delivery app, there are a few drawbacks to consider. As a contractor, you need to pay for your expenses and taxes. Your earning potential varies greatly depending on where you live and how fast you work.
Below, we've listed some other negatives specific to each platform:
What We Don't Like about Postmates
No option to schedule shifts in advance
No minimum pay shown before accepting an order
Available in fewer cities
What We Don't Like about Instacart
No set bonuses/promotions
Some shoppers feel that the rating system is too harsh
Have to lift heavy groceries
---
Final Thoughts
If you need a side hustle or even to work full-time making deliveries, Postmates and Instacart are both great options. The main deciding factor is which service is available where you live.
Consider Instacart if you want to stick to one type of delivery, and you have a reliable car. The ability to schedule shifts in advance can help you stay motivated.
If you'd like more flexibility, enjoy working overnight, or want to deliver via bicycle or on foot, try Postmates.
Remember, you can always try out both apps and see which one is a better fit for you. You might end up sticking with both to maximize your earnings and keep things interesting.
Up Next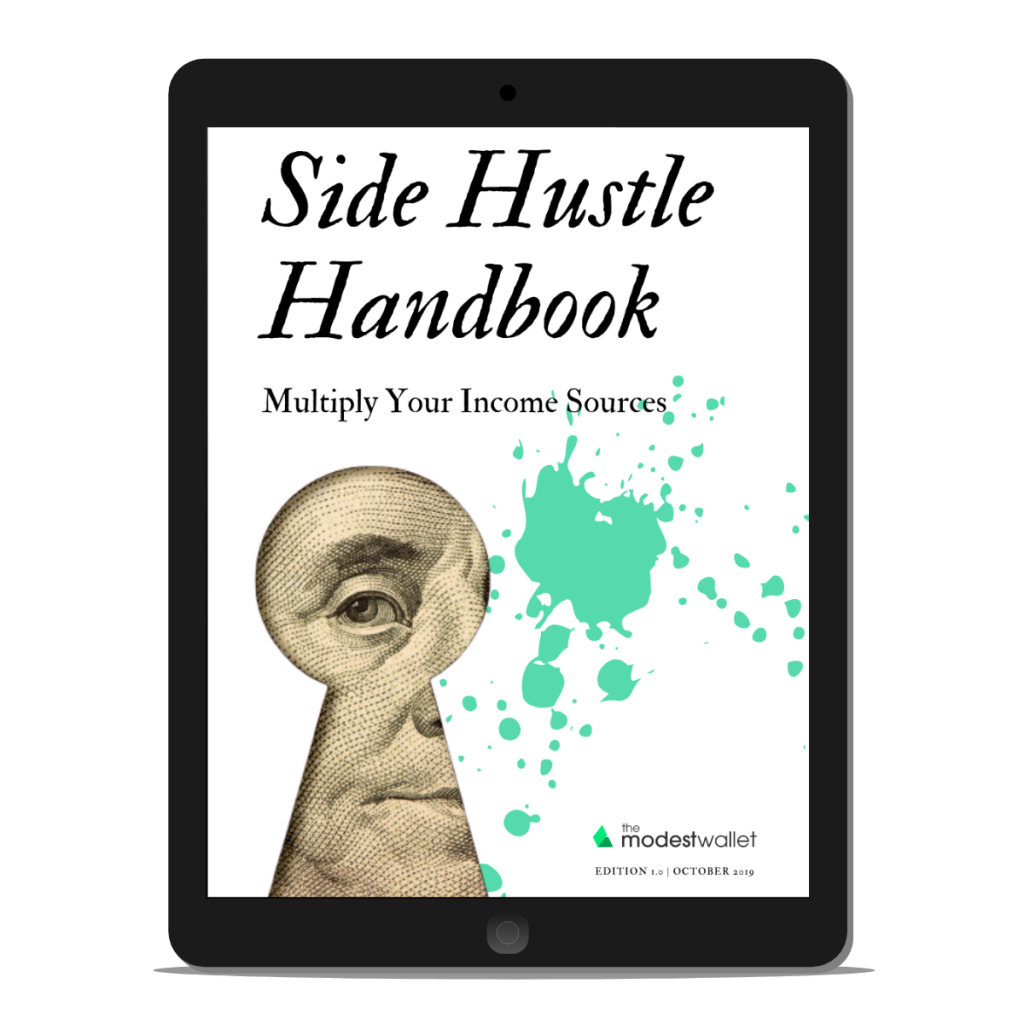 Get our free Side Hustle Handbook with the best strategies to multiply your income sources today.
Plus our best money tips delivered straight to your inbox.

Amy Besen is a freelance finance writer who covers topics including the gig economy, small business funding, and FinTech. Before starting her writing business in 2019, Amy worked in financial services for 12 years. She believes in helping people access the tools and knowledge they need to make better decisions about money.