Many or all of the products featured on this page are from our sponsors who compensate us. This may influence which products we write about and where and how the product appears on a page. However, this does not influence our evaluations. Our opinions are our own. Here is a list of our partners and here is how we make money.
The information provided on this page is for educational purposes only. The Modest Wallet is a financial publisher that does not offer any personal financial advice or advocate the purchase or sale of any security or investment for any specific individual.
Most of us spend quite a few waking hours in our cars each day. We also put a lot of money into them for gas, repairs, and other maintenance. Car ownership can get expensive fast!
But, what if there was a way to get paid for driving your car? How great would it be to make enough money to offset car-ownership expenses and bring in extra income on the side?
If you don't mind turning your car into a moving billboard (at least for the time being) getting paid to advertise on your car is a unique way to make some additional cash.
7 Ways to Get Paid to Advertise on Your Car
If you're thinking about advertising on your car to make extra money, these are seven companies that you'll want to consider.
1. Wrapify
Wrapify is a company that helps large brands place rolling billboard-style advertisements on cars. Wrapify keeps a database of drivers that would like a full or partial wrap applied to their car in exchange for payment and notifies these drivers when an advertising opportunity becomes available in their area.
To become a driver for Wrapify, the first step is to download the Wrapify app and sign up to be a driver. You'll create a driver profile and complete the Wrapify onboarding process. Next, you'll drive 50 qualifying miles of your typical commute and track it through the Wrapify app. Based on your driving habits, you'll be presented with advertising offers as they become available in your location.
Once you've accepted an advertising offer, you'll select an install shop location, drop your car off for its appointment to be wrapped, and then you'll be ready to earn based on the miles that you drive.
Pros:
Choice of advertisement offers: You'll always have a choice of whether to accept or decline an advertisement offer for your car.
Consistent weekly payments: Wrapify is one of the few companies that pay weekly. They process payments every Friday via direct deposit.
Short-term commitment: Most Wrapify campaigns are between one to three months, so you don't have to make a long-term commitment if you don't want to. However, Wrapify does offer campaigns that are up to 12 months long.
Cons:
Mileage cap limits and coverage area: Only the first 25-35 miles of your daily commute in your specified Wrapify coverage area will be compensated. That means if you take your car on a road trip, you won't be paid for those miles.
Newer model car required: You must drive a 2010 model or newer car that doesn't have major body damage. Over 95% of personal passenger style vehicles are eligible for Wrapify.
Fees for early termination: If you break your contract with Wrapify or remove the wrap early, there will be early termination fees. You can also incur costs if you don't wash your car the night before it's wrapped or if you don't show up to your install appointment.
Earning Potential: Earnings are based on the size of the wrap that you accept, as well as how many miles you drive per day during the campaign period. Wrapify estimates that drivers will make between $196 and $452 per month.
See Also: 32 Best Gig Economy Jobs That Pay Well
2. Carvertise
Carvertise offers brands the opportunity to advertise on the cars of Uber, Lyft, and Doordash drivers, as well as other drivers with long daily commutes. Carvertise focuses on recruiting rideshare and delivery drivers due to the number of people that typically see their cars during the day, however, anyone can apply. They have a slightly different pay model from Wrapify in that you are typically paid a set amount per month, rather than based on the miles that you drive.
To sign up as a driver, you'll fill out Carvertise's driver application answering some simple questions about where you normally drive, and once approved they will match you with a brand that likes your driving habits. Carvertise wraps your car for the campaign period, and you'll be paid monthly through direct deposit.
Pros:
Carvertise perks program: Carvertise has a perks program that gives its drivers nationwide discounts at stores like PepBoys, Jiffy Lube, and Take5 Oil Change.
Choice in accepting campaigns: With Carvertise, you will have a choice of which campaigns you accept and which brands you are willing to advertise on your car.
Cons:
Daily mileage requirement: Carvertise requires that you drive a minimum of 30 miles per day to qualify for their program.
Newer car & factory paint finish: You must have a 2008 model car or newer, as well as a factory paint finish.
Earning Potential: Carvertise starts most campaigns at a base of $100/month, but there are cash contests that can potentially increase your earnings up to $300/month.
See Also: 40 Proven and Legitimate Ways to Make Money Fast (Make $100 or More)
3. StickerRide
StickerRide is an app that helps drivers save on car-related spending through discounts, as well as allowing drivers to make driving profitable with car advertisements. With StickerRide, you'll download the app, estimate your earnings potential, and then complete the application to have advertisements applied to your car.
Pros:
Calculate potential earnings before applying: Instead of filling out an entire application to only find out that it's not a fit, with Stickerride, you can calculate your potential earnings before beginning your application.
Income-increasing fun tasks: StickerRide provides interactive tasks like participating in a flash mob or going on a quest to find hidden tips. They are not required but are a fun way to increase your earnings.
Control the look and placement of stickers: StickerRide provides you with several different sticker placement options that you can pick from, including on your car hood, car sides, rear window, or on all of them.
Cons:
App must be launched: You must launch the StickerRide app and keep it running while driving for your miles to count. Some drivers find this hard to remember to do each time.
Varying car model requirements: StickerRide doesn't have specific car model requirements. However, each of their brand partners has specific requirements. So you won't know if you qualify until applying for the campaign.
Earning Potential: Payments vary per campaign and are based on miles driven, location, time of day, class of car, and the stickers you have displayed. StickerRide says the perks of becoming a driver in their program are compensation for car washes, parking, and auto fuel. So, you're probably not going to get rich with StickerRide, but it's a great opportunity for passive income.
See Also: 33 Best Money Making Apps: Cash at Your Fingertips
4. Nickelytics
Nickelytics is another service that lets you earn money while you drive. You'll download the Nickelytics app to sign up and then activate the app when you're driving so that it can find the brands and designs that best fit your driving habits. With Nickelytics, you have either a custom install or self-install option once you've accepted an advertising offer.
Pros:
Variety of advertising options: Nickelytics provides three different advertising options for your car: vinyl car wraps, AdShields, and decals. AdShields are plastic barriers designed to protect rideshare drivers and their passengers.
Cons:
Preference given to high-mileage drivers: Nickelytics gives preference to drivers who also drive for Uber, Lyft, Postmates, or Doordash, as well as for high-mileage drivers that cover 900 miles per month or more in a metropolitan area.
Newer car model required: You must own, rent, or lease a vehicle that is a 2010 model year or newer to qualify to drive for Nickelytics.
Minimum mileage requirements: You'll also need to maintain an average of 42 miles per day, six days a week on the road to qualify to display advertisements for Nickelytics.
Earning Potential: Pay varies per advertising campaign, however, Nickelytics says that most drivers earn between $175-250 per campaign. Some campaigns can pay up to $500.
See Also: 19 Best Places to Sell Used Electronics for Cash
5. Free Car Media
Free Car Media is another company that works with brands to place advertisements on your car. Free Car Media focuses mostly on rear window advertisements that you can install yourself, however, they do also offer full car wrap campaigns. Their online application is the primary way that they match drivers with campaigns.
Pros:
Ability to reject advertisement offers: You can reject advertisement offers that you're not comfortable with placing on your car.
Choice of rear window campaigns: Free Car Media primarily works with rear window campaigns, so if you're looking for a bit more of a discrete advertising option for your car, this company could be a good fit.
Cons:
No choice of colors or design: When accepting a campaign, you must use the exact decal or wrap offered, with no choices on color or configuration.
Longer campaigns: The length of campaigns is typically between two months and two years, which can be a fairly long commitment.
Must apply decals: If you accept one of the rear window campaigns, you will be expected to apply the decal yourself following step-by-step instructions.
Earning Potential: Most of Free Car Media's advertising opportunities are for rear window decals, which typically pay out $50+ per month. If your entire vehicle is wrapped, you can get up to $400 per month.
See Also: 14 Best Food Delivery Services to Work For
6. Referral Cars
Referral Cars runs a different style of car advertising program in that they pay their drivers on a commission-only basis. You place a rear window decal on your car with a unique phone code and anytime someone makes a purchase using your code, you get paid.
Pros:
95%+ driver match to campaigns: Out of the people that have applied to Referral Cars, over 95% have been matched to an advertising campaign.
See-through rear window decals: Referral Cars mostly offer small, see-thru rear window decals, so this is a more discrete style of car advertising.
$100 gift card guarantee: If you have not made any income after 90 days of having the decal on your car, you are entitled to a $100 Restaurant.com gift card.
Cons:
Recurring and shipping fees: By signing up, you are agreeing to an annual renewal fee of $35 for your unique phone code. There is also a shipping fee to receive your decal.
Commission-based: You'll only receive a payment if someone uses your phone tracking code when purchasing the offer on your decal. So there is no guarantee of income when placing a decal on your car.
Smaller and less known advertisers: Since this is a commission-based program, smaller and lesser-known advertisers to participate in the program. You may end up with a decal advertising a brand that most people haven't heard of before.
Earning Potential: Since it is a commission-based program, you will only receive payment when someone uses the unique phone code on your advertisement. As an example, one driver received $12 for each person who signed up for the advertised service on his car.
See Also: 55 Hobbies That Make Money: Get Paid to Have Fun
7. Car-Bucks
Car-Bucks is a web service that matches advertisers with drivers who are willing to place display ads on their car rear window. These advertisements are typically a peel-and-stick "see-through" vinyl banner. Drivers are paid monthly on their average commute time, which is tracked through the Car-Bucks phone tracking app.
Pros:
Options on the length of campaign: CarBucks offers three, six, and 12-month campaigns, and you can renew your campaign as many times as you want. The longer the campaign, the greater the payout.
Small ad banners: Car­Bucks ad banners are 6″ x 30″, which is about the size of a super­sized bumper sticker. If you're displaying one banner, it will be placed along the top edge of the rear windshield.
Multiple banners at a time: You'll have the option to display multiple banners at a time depending on the size of your rear windshield. You can carry up to three ad banners.
Cons:
No choice of ads: At this time drivers do not have the option to choose between multiple brands or ads. You'll only be able to either accept or reject the specific ad that you are offered.
Smaller income possibility: With $20 to $25 being a typical amount earned per ad per month, this company offers one of the lower-income potentials out of the ones we've looked at.
Earning Potential: Car-Bucks pays $1 per driving hour, per banner. So for a 30-minute daily commute with a single banner, you would earn $20/month for a three-month contract or $25/month for a yearly contract.
See Also: 22 Best Places To Sell Your iPhone For Cash
FAQ on Getting Paid to Advertise on Your Car
We've found some of the most frequently asked questions on the internet with regards to getting paid for advertising on your car, here are our answers.
What Sort of Ads Do I Have to Display?
Each car advertising company offers different styles of ads to its drivers. Ads that are placed on the rear windshield are normally less intrusive and typically pay less. Drivers are often asked to apply this style of sticker on their own.
Other companies use full or partial vinyl car wrapping or decal application, which typically are some of the higher paid styles of advertisement offers. Car wrapping can easily be removed when a campaign ends, and should not cause any damage to your car. Wraps are normally applied and removed by a professional who knows how to do it right.
How Much Can You Get Paid to Advertise on Your Car?
The companies that we looked at in this article paid as little as $20 per month for a small rear window banner and up to $450+ per month for a complete car wrap in a highly sought-after urban area. It seems that around $100 to $200 per month is an average payout amount for advertising on your car.
Is Advertising on Your Car Safe?
One of the biggest concerns if you're considering placing advertising on your car is likely whether your car will be damaged in the application or removal process. Legitimate car advertising companies will document the condition of your car prior to and after the install process so that you'll be able to prove any damage caused by the advertisement. While it's rare that a wrap or decal will cause damage to a car, you can reduce your risk by making sure that your car has a factory paint finish, minimal scratches or dents, and a clean surface before the ad is applied.
How to Spot Legitimate Car Advertising Companies?
Unfortunately, there are quite a few car advertising companies that are scams. Advertising on your car is a legitimate way to make money, however, you must properly vet the company that you want to partner with. There are several things you can look for to help ensure you'll be dealing with a legitimate company.
Easy to find contact information: Legitimate car advertising companies should have easy-to-find contact information on their website. Ideally, this contact info includes a phone number.
Application & screening process: There should be some kind of application and screening process that you'll have to work through before being accepted to advertise with a company. You'll likely be asked about your car model, make, year, and typical driving habits.
Car insurance requirement: A legitimate company will require you to show your car insurance information to ensure that you're a legal driver in your state.
Transparent pay rates: Once you've completed your application, there should be no question in your mind about exactly how you are paid, when you are paid, and what factors influence your pay rate. A quality company will provide clear information regarding all parts of the payment process.
No upfront fees: Legitimate companies will not ask for a fee to sign up as a driver. They will also cover all costs associated with applying the decal or wrap to your car.
How to Avoid Car Advertising Scams?
You can avoid car advertising scams by doing your research first to ensure you're dealing with a quality company. Do they have a professional-looking website? Is there an application for you to fill out? Is there contact information easy to find? Are they active on social media?
You can also check for reviews of the company on Google, or check their rating with the BBB. Remember, that any company that contacts you out of the blue regarding car advertising is likely a scam, and you should never have to pay upfront costs to start advertising on your car.
Are There Other Ways to Make Money with My Car?
There are quite a few ways to make passive income with your car and the people who make the most money typically combine several of them. You can work for a ride-share company like Lyft or Uber, transporting people to where they need to go. Or, you could partner with a food delivery company like UberEats, Shipt, or DoorDash. You can even look at renting out your car if you have other transportation options available.
The good news is that the car advertising opportunities that we profiled in this article are a perfect match for food delivery or rideshare drivers. Brands love to display their ads on cars that are used for these purposes because they are seen by so many people during the day and often driven in busy areas of the city.
Final Thoughts
Imagine that your car is no longer a necessary expense in your budget and instead is something that offsets your car-ownership costs and even makes you additional passive income. If you don't mind the idea of driving around town while promoting a brand, advertising on your car is a great way to make money without any extra work on your part. Getting paid to do something you were already going to be doing sounds pretty great!
Up Next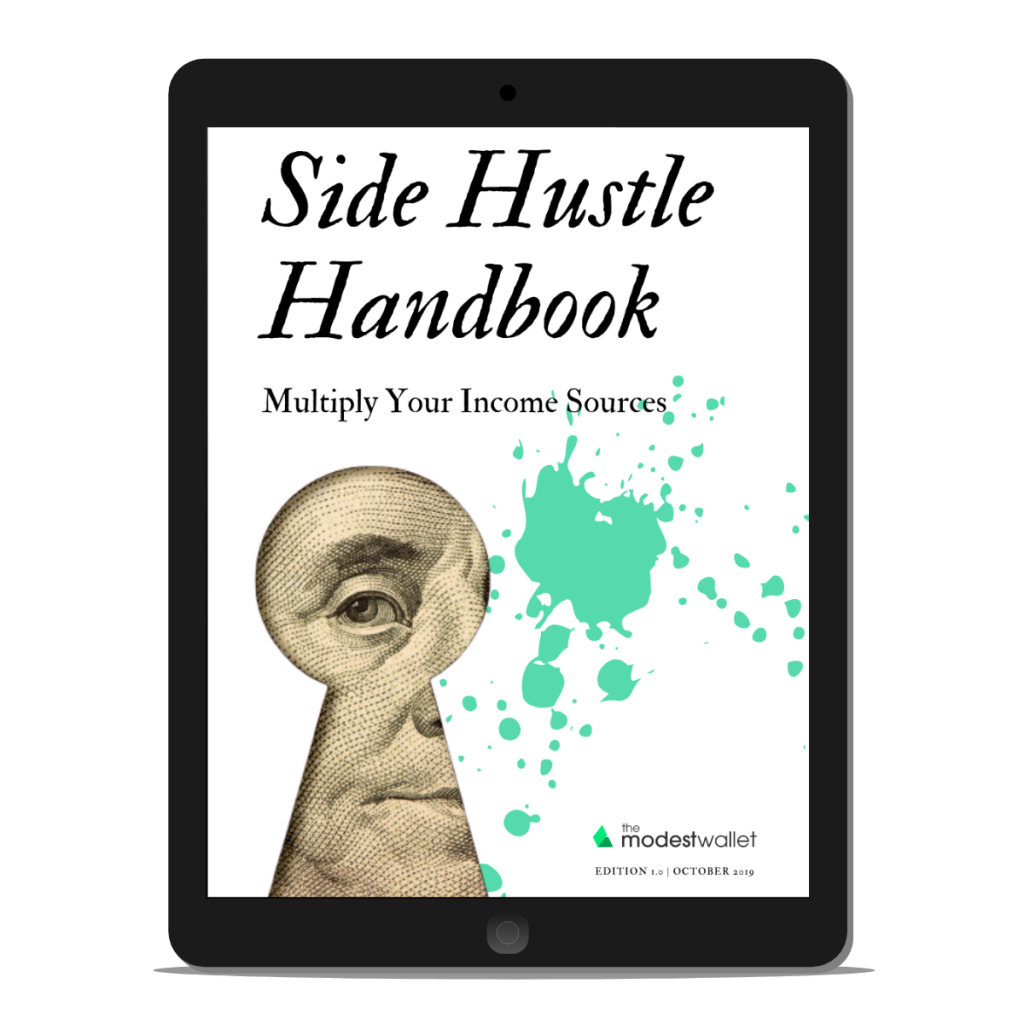 Get our free Side Hustle Handbook with the best strategies to multiply your income sources today.
Plus our best money tips delivered straight to your inbox.
Summer Tannhauser is an entrepreneur, online educator, and freelance writer who is passionate about helping others to create additional income by leveraging their life experiences and passions. Summer works with budding entrepreneurs through her online courses and workshops and has appeared in numerous online publications and podcasts including Inc., Teachable, and USA Today.