11 Ways to Get Paid to Watch Ads (In Your Spare Time)
Many or all of the products featured on this page are from our sponsors who compensate us. This may influence which products we write about and where and how the product appears on a page. However, this does not influence our evaluations. Our opinions are our own. Here is a list of our partners and here is how we make money.
---
The information provided on this page is for educational purposes only. The Modest Wallet is a financial publisher that does not offer any personal financial advice or advocate the purchase or sale of any security or investment for any specific individual.
You may be surprised to learn that you can get paid to watch ads online. After all, we're used to being forced to watch advertisements on TV, listen to them on the radio, and read them on web pages and in magazines and newspapers on a daily basis and for free. But some companies actually offer their users real money to watch short commercials for a variety of products and services.
Unfortunately, many of these companies are on the shady side of the spectrum, or they're even outright scams. So how can you know who to trust and who to avoid? You check out this list!
In this article, we present you with the best ways to get paid to watch ads online. And we've included only well-established and reputable companies on this list. That way, we can be assured that you and all our loyal readers get the money you deserve.
Best Ways to Get Paid to Watch Ads
We've selected the most reputable companies over the ones that make the most extravagant promises — for the simple reason that the latter tend not to pay you what they owe you. In contrast, the reputable companies on this list can all be counted on to pay you what you earn.
Swagbucks
Swagbucks makes getting paid to watch ads super easy. While they offer a ton of other ways to make money in your spare time (like trying out products, scanning your grocery receipts, shopping through their provided links, filling out surveys, and more), there's likely nothing simpler than watching ads in exchange for cash. Their user interface is a breeze to use and they have an extremely straightforward sign-up process. They offer a $5 dollars sign-up bonus as well, so keep your eye out for one of those if you're thinking of signing up. Read our full Swagbucks review to learn more.
Users love Swagbucks, and they've been around for years. Chris, at Trustpilot, reports:
"[I] have been using for over 3 months to complete surveys and have made over $350 that has been deposited via paypal giftcards. Usually get the money deposited within 2 business days. Will keep using as long as I have extra time."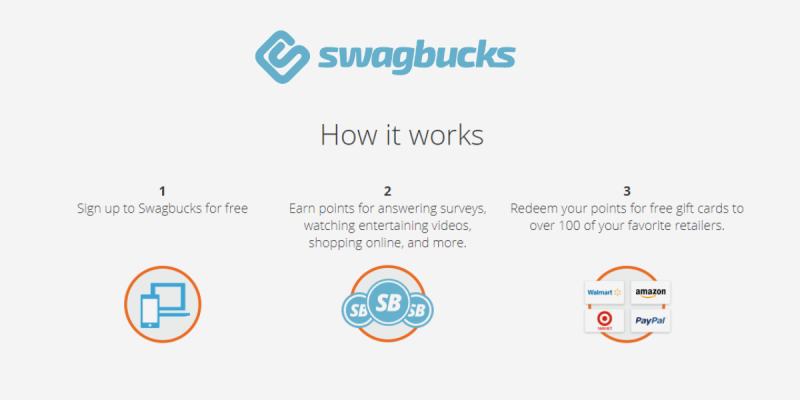 See Also: 12 Creative Ways to Help You Pay Rent This Month (All Legit!)
InboxDollars
InboxDollars has built its reputation on paying its users to receive advertisements in their email inboxes. But they offer a ton of other ways to make money online, too. Like Swagbucks, they offer a variety (online surveys, listening to radio and podcasts, online shopping, and more). But you're here because you're interested in getting paid to watch short advertisements online. And InboxDollars definitely delivers. You get paid real cash to watch short ads online. Read our full InboxDollars review to learn more.
Shannon at Trustpilot had a great experience with InboxDollars (as so many do). She said:
"I had a wonderful experience with my cashout being sent to my PayPal account! I am so glad that you can do it that way every time you make $30.00!!! Thank you so much Inboxdollars!!!"
MyPoints
MyPoints is a reputable and well-known online service that offers a variety of ways for you to get paid online in your spare time. The sign-up process is a breeze, and even though the company was recently acquired by Swagbucks, it appears that there hasn't been any interruption in service or quality.
MyPoints users can take online surveys, play online games, shop through participating retailers, and more. But what they're best known for is allowing you to watch short videos and ads in exchange for real cash deposited into your PayPal account. You can also choose to be rewarded in gift cards if you would prefer that option.
MyPoints also offers a mobile app that you can use to earn money while you're on your phone. So you don't even need to be at home while you earn! Read our full MyPoints review to learn more.
A user on Trustpilot shared his experience with MyPoints and said the following:
"I have used MyPoints for years, and love it so much! It's so easy to use, and I've never had any difficulties redeeming points. I love the many choices available for shopping and redeeming gift cards, as I especially love the many different ways you can earn points!"
Nielsen TV Ratings
Nielsen TV Ratings is the famous Nielsen program that measures the TV-watching habits of pre-selected individuals and families who have a set-top box attached to their television. While you can't sign up to be a Nielsen member (they base their selections on scientific algorithms to maintain the statistical integrity of their data), if you happen to be selected, this program is a great way to make money while you watch TV.
Nielsen TV Ratings members get paid $200 per year just to watch TV! As if that wasn't enough of a reward, TV producers and companies keep a close eye on the viewing habits of Nielsen TV Ratings members and change their programming to better suit the tastes of the viewing public.
As we mentioned above, this isn't a traditional service you can just sign up for. You'll need to be selected by the Nielsen Company in order to qualify. But if you are selected, make sure you don't pass on the opportunity!
See Also: 14 Ways to Get Paid to Test Products (from Home)
Caddle
Caddle is a Canadian cash back and rewards company that allows you to watch ads online in exchange for cash. It's a great option for people looking for a Canadian-specific option in the "ads-for-cash" space.
The service works much like many of the other services on this list. You sign up with their smooth-as-silk sign-up process and then click on the Ads option. The service has a bunch of money-making options they put at your disposal. You can get cash back for shopping or even do online surveys. And while those are great options, and we encourage you to try them, you'll want to click through to the online ads and videos option.
Users love the Caddle service. On a review posted on their website, this user reports:
"Gets right to the point, which is exactly what you want with this app. Simple and elegant, it's super easy to make money and unlock great deals. Love it!"
Another satisfied customer wrote that Caddle is:
"A great way to learn and interact with brands knowing you're a valued customer."
We couldn't agree more.
iRazoo
According to its website, iRazoo has paid its members over $100,000,000 (that's one hundred million dollars!) in cash for a variety of tasks it offers online: taking surveys, playing games, and more.
It has an amazingly simple user interface that's a breeze to use. If you want to use the service to watch ads and videos online (and we strongly suggest that you do), you just click through to the iRazoo TV option and start watching.
After you earn enough points, you'll be eligible to cash out for a gift card or a PayPal deposit. On the popular review site, Trustpilot, Toni says that, "I love Irazoo. I have been visiting Irazoo for about two years now, and I really love it."
SlideJoy
SlideJoy is an Android phone app that rents out your lock screen to a variety of advertisers. You'll earn "carats" based on how many ads run on your phone while the screen is active. The service will then pay you for your trouble based on how many carats you earn. With SlideJoy, you only have to earn 2,000 carats, which translates to $2.00, in order to cash out for a PayPal deposit or gift card to a popular retailer.
SlideJoy is a great way to monetize a normally free activity — namely, locking your phone. While you won't earn as much as you might if you sat down and dedicated your time to some of the other services on this list, you can combine this service with others on this list to boost your income even further!
Success Bux
Success Bux is yet another app you can sign up for to watch online ads in exchange for cash. This one allows you to get your payout after earning just $1.00 in credits for watching ads or taking surveys. So you won't have to wait a significant amount of time before getting your hands on the money that's rightfully yours.
As with all of the services on this list, the sign-up and registration process is absolutely free and super easy. You just provide some basic information and you're registered to watch ads and take surveys.
You-Cubez
You-Cubez was established in 2007. While you can earn money for a wide variety of activities on this site, including referring friends and taking surveys, the centerpiece of the service is definitively the ability to watch videos and advertisements online for cash.
While many of the services on this list are somewhat similar, You-Cubez is unique insofar as it focuses really heavily on the viewing of ads and videos for money. While you're able to take surveys and refer friends, the bulk of your time will undoubtedly be spent watching the many videos available on the site.
See Also: 30 Easy Ways to Make $1,000 Fast (Legally)
Quick Rewards
Like You-Cubez, Quick Rewards has been around for many years — since 2002, in fact. This has been plenty of time for the service to establish itself as one of the go-to "get paid to" websites. You can take surveys, watch videos, play games, and take advantage of the many offers contained on the site to make money.
One of the distinguishing features of Quick Rewards, and, frankly, the feature we love the most, is that there is no redemption minimum. In other words, no matter how many credits you've accumulated on the site, you can apply for immediate redemption to your PayPal account whenever you want! Considering how high some of the redemption minimums are with competing websites, that's pretty incredible.
CreationsRewards
In addition to the opportunity to watch ads in exchange for cash online, CreationsRewards offers a free $5 sign-up bonus to all of its new members. On top of that, they've been in business for over 18 years, so you can be sure that you're dealing with a reputable company that doesn't mess with scams or hokey nonsense.
This site is available to those living in the United States, Canada, the United Kingdom, and Australia. So it's not just our American friends who can take advantage of the great rates offered on this site.
See Also: 13 Easy Ways to Get Paid for Searching the Web (Real Money)
FAQ Get Paid to Watch Ads
The "get paid to watch ads" industry generates a lot of questions. And we totally understand why. After all, it does seem too good to be true. Who in their right mind would pay you just to sit and watch a couple of ads? Here are just a few of the most common questions we get asked about this fun and profitable side hustle.
Can You Really Make Money Watching Ads?
Absolutely, 100% yes! You can definitely make money by watching ads online. You might be wondering how and why this actually works. Basically, companies pay marketing firms to get their ads in front of real people like you. Sometimes this involves the marketing firm paying a consumer a small piece of what they got from the advertiser to market the advertisement.
Essentially, the money flows from the advertiser to the marketing firm, and to you. The advertiser is hoping that enough of the people who see the ad will "convert," and buy the product or service. But either way and whether you buy the product or not, you get paid for watching the ad.
How Much Do You Get Paid to Watch Ads?
People who watch ads online for money can make varying amounts of money. Because the payout for each video is relatively low, you'll want to watch a large number of ads if you hope to earn a decent amount of money. So, while different users report different levels of income, it's not outrageous to claim that you could make between $5 and $100 per month if you watch enough ads online.
We know this isn't enough to replace your full-time job, but it can be a nice little boost to your income if you're trying to pay down debt or save for something nice.
How Do I Get Paid to Watch Ads?
You get paid to watch ads by going to the website or app of any of the services we've listed above. All of these are reputable companies you can safely entrust with your personal information, and you can rely on them to pay you what they promise.
That latter point is especially important when you consider that the "get paid to watch ads" industry is full of fly-by-night operations and shady operators who promise to pay but never do. If you stick to the above list, however, you should be able to avoid the hucksters and stick with only legitimate businesses who will pay you on time, every time.
What is the Best Place to Get Paid to Watch Ads?
In our opinion, there's no single best place to get paid to watch ads. Your selection of a favorite will undoubtedly depend on where you live, your other income options, your favorite kind of ads, and other factors that are unique to you and your situation.
That said, we love each of the companies we've included on this list. They all offer reputable, honest, and lucrative options, and you can count on them to pay you what they owe you, every time. And while you won't get fabulously rich with any of the above options, you can definitely make enough to have a significant impact on your monthly take-home.
Final Thoughts
There's a lot of variety on the sites in this list. Some of them focus almost exclusively on watching videos and ads for cash, while others deal in a wide variety of other money-making activities, like surveys and games.
You can be assured, though, that every single one of the services on this list holds up its end of the bargain when it comes to watching ads for cash online. In other words, you can know that when you sign up to watch a video, you'll receive a cash payment or a gift card soon after.
You should keep one eye on the minimum redemption amounts for each service though. Some are higher than others, and you don't want to end up in a situation where you haven't received the minimum payout amount and you need the cash right away.
We hope that you've found this list as useful as we think you will. Remember that your downtime doesn't have to be unprofitable. If you monetize the time you spend relaxing at home, you can make a significant contribution to your take-home pay every month!
Up Next
Get our free Side Hustle Handbook with the best strategies to multiply your income sources today.
Plus our best money tips delivered straight to your inbox.

Ricardo is an entrepreneur, investor and personal finance nerd who enjoys spending time with his family and friends, travelling and helping others achieve their financial goals. Ricardo has been quoted as a personal finance expert in several online publications including Healthline, Bankrate, GOBankingRates, MSN Money, Yahoo Finance, U.S. News & World Report, Forbes and USA Today.