22 Best Places and Apps to Sell Clothes Online or Locally In 2023
Many or all of the products featured on this page are from our sponsors who compensate us. This may influence which products we write about and where and how the product appears on a page. However, this does not influence our evaluations. Our opinions are our own. Here is a list of our partners and here is how we make money.
---
The information provided on this page is for educational purposes only. The Modest Wallet is a financial publisher that does not offer any personal financial advice or advocate the purchase or sale of any security or investment for any specific individual.
If you want to make extra money, there aren't many more surefire bets than selling your clothes. So, we've compiled the ultimate list of apps to sell clothes online or locally.
Just search in your closet for items you no longer need, and then put them up for sale. Depending on the platform you use, you can have the money in your hands in just a day or two.
The best places and apps to sell your clothes will depend on two factors. First is the type of clothing you are selling. Some marketplaces are great for mainstream fashion brands, while others are good for premium fashion or hype streetwear. Matching the clothes you want to sell with a platform that has suitable buyers will result in a quicker sale.
You'll also want to consider how much control you want over the selling process. While consignment platforms take care of everything, other platforms require you to create your listing and ship your items. The general rule is that the less you do, the more you will pay in commissions.
---
Best Places and Apps to Sell Clothes Online
When it comes to selling clothes online, you need to take into consideration the shipping costs in your selling price. If you forget about this, you will effectively be making less money. The good news is that some services offer free shipping, so you should consider using these apps and services first.
1. Flyp
Flyp is an app that allows you to sell your clothes across different selling apps without doing any of the selling work yourself. It basically connects you to a network of vetted Pro Sellers who will sell your stuff on your behalf.
After you download the Flyp app, you'll be able to create a "lot" where you will put all your clothes, shoes, and handbags that you wish to sell. Pro Sellers will offer you a price estimate and set their commission rate. All you have to do is pick your favorite seller, print off a shipping label, and mail it to them at once. Pros will pay you as soon as they sell your goods and you're always covered by Flyp's protection policy.
The coolest part is that you don't have to worry about any of the usual back and forth with buyers, pricing, photographs, packaging, and shipping. You just send your stuff and let them handle the rest.
Pro Sellers will aim to sell everything you send them, but in the case, some items don't sell after 90 days, your Pro Seller will offer you several options: You can get the items shipped back to you, have them donated on your behalf for a nice tax write-off, or extend the selling period and try to sell the items at a discounted price.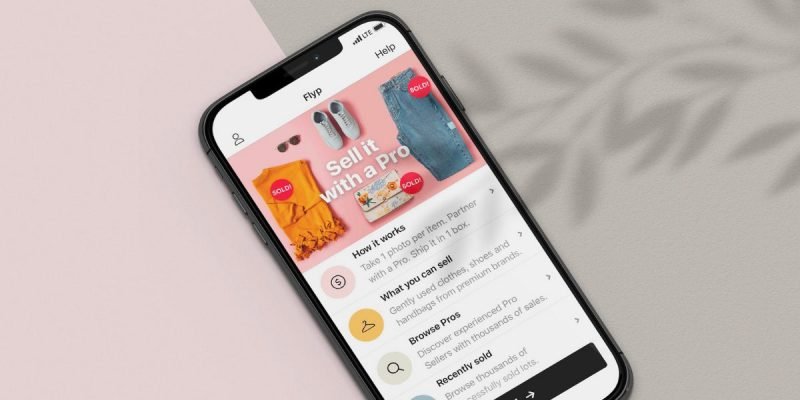 See Also: Free PayPal Money: 20 Legit Ways to Earn PayPal Cash Now
2. ThredUp
ThredUp is an easy way to sell the clothes you no longer wear. Just order a clean-out kit from the company, fill it up with all the items you want to get rid of, and then send it off.
When your package arrives at the ThredUp office, they will sort through the items you sent, and either accept or reject them. The company pays you a fee for the items they accept.
If you use ThredUp, you don't have to worry about selling your items. The company photographs, lists, and ships all the clothes it accepts, which can save a lot of time. It also has a large customer base, which means your clothes will likely find a buyer.
However, there are downsides. When you send your clothes, you don't know how much cash you will receive, or even if ThredUp will accept them. In fact, the company states that, on average, it only accepts 40% of the items in each package it receives.
To increase your chance of an item being accepted, your clothes should be new with no signs of wear, damage, or alterations. While ThredUp will send unaccepted clothes back to you, the company charges $10.99 to do so. This will eat into the profits of any items you sell.
The other downside is that ThredUp takes a large portion of the amount an item sells for. Depending on the cost, you will receive a payout of between 5% and 80%.
If you are looking for a quick way to sell a high number of items in good condition without much hassle, ThredUp is one of the best apps to sell clothes online. If you want to maximize your earning potential and don't mind spending some time listing your items, then there are better options.
3. Tradesy
Tradesy is a secondhand marketplace that makes it easy to sell your used designer items.
To get started, you have to sign up for the platform, upload images of the items you want to sell, and add product details to your listing.
When you sell an item, you take care of shipping. Tradesy helps the shipping process by providing a prepaid printable label that you can use to send your clothes to the buyer.
Tradesy lets you set your own fee for each item. Make the price competitive if you want a quick sale, or set it higher if you don't mind waiting and seeing if anyone bites. There are no listing fees, which means there is no risk if your item doesn't sell.
You also don't need to worry about returns — Tradesy takes care of them.
The downside is that the platform charges a 19.8% commission for items over $50. There is also a 2.9% fee for withdrawing your earnings to cover payment processing.
Lastly, the company has the right to hold earnings for up to 21 days after delivery, which can be frustrating if you want the money fast. Overall, Tradesy is also one of the best apps to sell clothes online.
4. The RealReal
The RealReal is a consignment shipping company that specializes in designer brands.
Users send their clothes to The RealReal by postal mail — or they can visit a consignment office or schedule an at-home pick-up. Then, the company takes care of the selling process.
The RealReal's team of experts verifies that items are authentic before pricing, photographing, and listing the items online.
The amount of money you earn will depend on your annual sales figures. New sellers earn 55% of the selling price, while those who've sold over $10,000 earn 70%. (Sellers in the middle get 60%.) Individual items have different rates, ranging from 40% to 85%. You get paid after an item sells.
Like other consignment sites, you don't choose your price. The company also only accepts items in good to pristine condition and from certain brands. The RealReal is a great option if you want to sell clothes online.
5. Poshmark
Poshmark is a good place to sell mainstream fashion. The company says you can begin selling in less than 60 seconds by uploading a photo within the app and creating a listing. It will then be available to the platform's millions of users.
Once your item sells, Poshmark sends you a prepaid, pre-addressed shipping label that tracks the package and covers you in the event it's lost.
If the buyer wants to return the item, a prepaid label is offered again so that you can track the return package. This is a nice way to keep you protected even if you lose a sale.
Poshmark has a simple fee structure — the cost is $2.95 for items priced under $15, or 20% for items priced over $15. There is no fee to list items, and as mentioned above, shipping is free.
See Also: 25 Creative and Legit Ways to Make Money as a Teenager
6. Vestiaire Collective
Vestiaire Collective is a platform that makes it easy to sell your used designer clothes. It has users based in countries all around the world.
To get started, you have to sign up, upload a photo of your item to the site, and add item details to your listing.
If an item sells, you ship it to Vestiaire Collective, where experts check the quality and authenticity of the item before sending it to the buyer. The site lists all kinds of items, including clothes, bags, watches, and even men's fashion.
Vestiaire Collective's commission structure starts at a flat fee of $17 and goes up to 20% of the total item price for pieces priced at less than $8,500. Users set their own prices, so you can get a good idea of the amount you will earn before listing. If you are unsure how much an item is worth, you can use the company's resale calculator to get an estimate.
7. Bonanza
Bonanza is a marketplace website like eBay or Amazon where sellers can list and sell a large variety of items — not just clothes.
Bonanza gives users a lot of control over the selling process. (You'll have to create listings, take photos, organize delivery, and handle returns.)
Each seller gets a rating from customers, which could make it difficult for new sellers or those with bad ratings to make sales.
Perhaps the best thing about Bonanza is the cost. Listings are free, and the site commission is just 3.5% with a minimum fee of 50 cents. If you sell a high-priced item, the fee for the item that sells for over $500 is just 1.5%.
Bonanza also offers an advertising option to boost listings, which costs between 9% and 30% of the total fee (if your item sells). A plus of this option is that items are promoted through different online channels, without any additional effort on your part.
That said, if you like to have control over the selling process and would rather do more work in exchange for a lower fee, then Bonanza is a good bet.
8. Listia
Listia is a trading platform where instead of selling your clothes for money, you sell items for credit — which you can use to buy other products on the site.
The good news is that the site doesn't just list clothes. That means you have more choices about what to spend your Listia credits on. There are also plenty of offers you can take advantage of to get free credits.
Ultimately, Listia isn't a good option to earn money, but it can be worth a look if you like the idea of trading your clothes for other items.
9. Depop
Depop is a platform that connects buyers and sellers. It is targeted at creatives, and the platform has a minimalist design reminiscent of Instagram. The site also has a follow feature that lets users follow each other. Sellers can use the "follow" feature to build an audience, which can make future sales easier.
You list items by taking a photo and then filling in information about your product. There is also the option to add a location (that will enable in-person transactions).
Buyers and sellers use PayPal to process transactions, and Depop takes a 10% fee of the total sale amount (including delivery).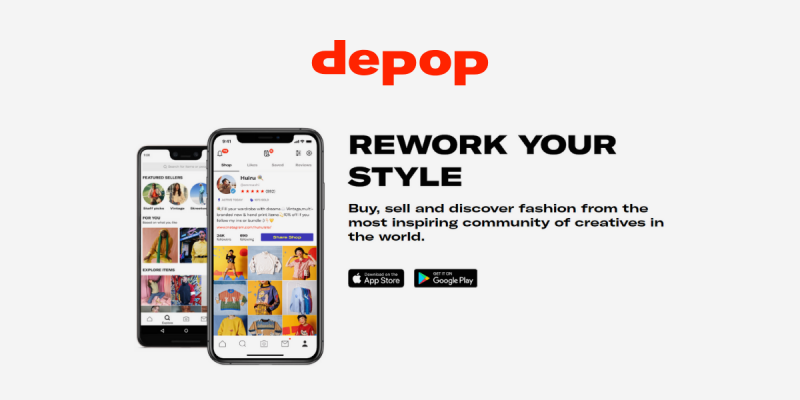 See Also: 33 Best Money Making Apps: Cash at Your Fingertips
10. Carousell
Carousell is a Singapore-based marketplace that lets users sell a variety of products.
You sell items by downloading the app, snapping a picture, and filling out your product details. You can set your own fee and choose whether you want to sell in person or by mail.
If a buyer is interested in your product, they send you a message so you can discuss the deal. They then make an offer for the product, which you can accept or reject.
Other than certain business services, listing a product on Carousell is free. The platform uses ads and special services to make money. This is good news for buyers and sellers.
The downside is that Carousell doesn't handle payments. Instead, you'll have to rely on your own payment methods. Buyers and sellers can use each other's ratings to get an idea about how trustworthy they are.
If you want to avoid service fees and don't mind taking care of the payment on your own, Carousell could be a good option.
11. Vinted
Vinted is a platform that connects buyers and sellers of used clothing (from designer brands to high-street and mainstream labels). Users list items by taking photos of their clothes and then creating a description. According to the company, listing multiple items will help you sell faster. You can also build out your seller profile as well as individual listings.
If a buyer likes something, they can ask you questions about the product and then make an offer, which you can accept or reject.
The seller has to ship the parcel within five days. Once the parcel has been delivered and the buyer acknowledges that the clothing is as expected, the money for the payment will become available in your Vinted account. You can then send this money to your bank account.
For sellers, a good thing about Vinted is that listing and selling is free. The buyer pays a service fee of between 3% and 8% of the price of the item, as well as a small fixed fee.
12. Swap.com
Swap.com is a consignment store. To sell on the platform, gather up the clothes you want to get rid of and send them to the company.
If your clothes meet Swap's criteria, they will sell your items on the site and you'll become a premium seller, which means you can keep sending in more items. (However, if 40% of your box is rejected, Swap charges a fee, so be careful with what you send.)
The first time you send in items is a test that will determine whether you can keep using the platform. You'll have to check out the company's acceptance criteria for clothes before sending them.
Like other consignment stores, Swap takes care of most of the selling process, which includes listing, photographing, and delivering your items. You don't have a say in how much the company sells your clothes for.
The fee for items depends on the list price. You'll get 15% of the total for items that sell for $8 and under, or 70% of the total for items listed at over $8. Swap pays via store credit, bank transfer, or check, and has a minimum payout of $10.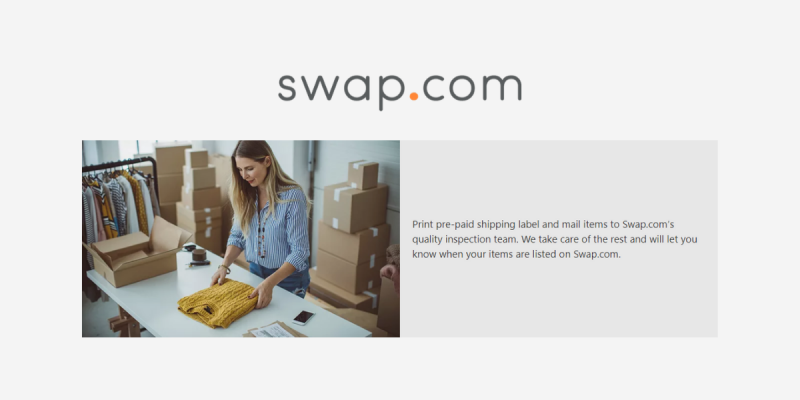 See Also: 15 Legit Ways to Get Paid to Walk, Fast and Easy
13. eBay
Despite the influx of new competitors, eBay is a must for this list. eBay has an audience of millions and a reputation as being a good place to buy and sell pretty much anything — which means you have a great chance of someone finding your listing.
eBay charges sellers to list products, but users get 50 free listings every month, so unless you are selling a high number of items, you won't have to pay any listing fees. eBay charges a 10% fee of the total selling price for items up to $750.
If you're unsure about the value of your item, consider selling via an auction to let buyers decide how much it is worth.
14. Craigslist
Like eBay, Craigslist is a long-established platform with a large audience. To use it, just choose the board for your local area and list your items.
Posting on Craigslist is free. It is a good option if you want to sell your clothes to people in your local area. You will have to take care of payments and delivery yourself, and it is common for people to meet in person when buying or selling items.
15. Kijiji
Kijiji is a classified marketplace, much like Craigslist, that is only active in Canada. Users can select their local area and list their products alongside a photo.
Users can have 23 clothing items listed at a time for free. If you want to add more, you will have to pay a listing fee.
When selling products, you will usually meet up with the buyer. If the buyer pays in cash, there's no fee, though you also have the option of accepting payment via PayPal from within the Kijiji app. (If you use PayPal, you will have to pay a 2.9% fee plus 30 cents per transaction.)
16. Grailed
Grailed is a used clothes marketplace specifically for menswear. It has sections for high-end designers, hype streetwear, and mainstream or high-street brands.
Users list products by taking photos of the items and then filling in the description. You can select a price for your item — and Grailed has a handy price comparison button you can use to check how much similar items have sold for.
Grailed takes a commission of 6% for each item it sells, and there is also a fee for using PayPal. Listing an item on Grailed is free.
While the seller has to take care of shipping, Grailed offers seller protection as long as you provide tracking information.
There aren't many sites that specialize in menswear, which makes Grailed a good option if you want to sell men's clothing.
See Also: 23 Best Work from Home Jobs: Start a Career from Your Couch
17. OfferUp
OfferUp is a similar service to Letgo. You list your item and then sell it to people who live nearby. It is a popular app, so it has a lot of potential buyers.
Once you've listed your item, people will contact you from within the app if they are interested in buying.
While many people choose to meet up in person to sell items, OfferUp has recently introduced a shipping option. If you choose to ship your items, OfferUp will give you a prepaid label and process payment from within the app. It should be noted that OfferUp charges a 12.9% service fee, with a minimum charge of $1.99 if you choose to ship items. But there are no listing fees.
18. Facebook Marketplace
Facebook has a marketplace section where you can list items for sale in your area. It works in a similar way to classifieds in that you list your item on the service, but you have to take care of processing the transaction. For most people, this will mean meeting up in person.
You can access the Marketplace at facebook.com/marketplace or from within the Facebook app. There are no fees for listing items and no transaction fees.
Along with Facebook Marketplace, many local areas have buyer and seller Facebook groups where people actively search for new items. Your area may have one or more news and classified pages.
19. Etsy
Etsy is most well-known as a platform that sellers use to advertise homemade and custom gifts. However, they also have a section for vintage clothing. Etsy defines vintage clothing as clothing that is over 20 years old. You can also sell clothes online if you've made them yourself.
Selling on Etsy isn't quite as simple as some of the other platforms because you have to create a virtual shop. But the benefit of this is that it allows you to build a brand.
There is a $0.20 fee to list items, as well as a 5% transaction fee and a PayPal processing fee. Etsy offers shop managers some useful tools to manage their stores, including analytics and social. You have to take care of shipping and returns yourself.
Etsy is a good service for people who want to build a vintage clothing brand. If you just want to sell a one-off item, other services are probably better.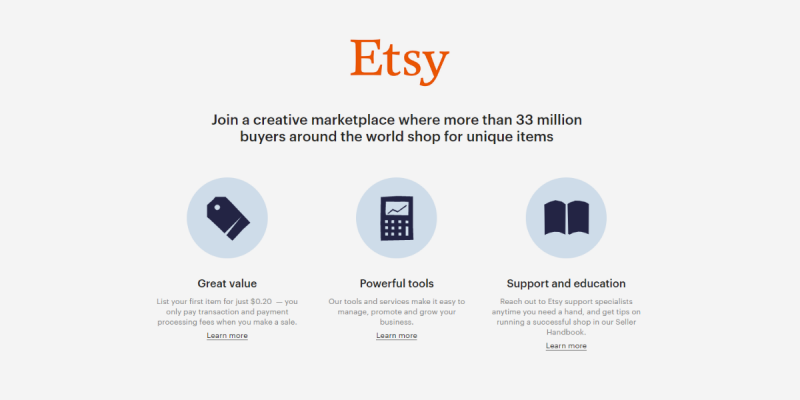 See Also: 26 Easy Ways to Get Free Amazon Gift Cards
20. Mercari
Mercari is a platform that has all kinds of used items, including clothes. It's easy to list an item by snapping photos and then setting a description and price. Once you sell an item, Mercari will send a printable shipping label to your email address which you can use to send your item to the seller.
Listing products is free on Mercari, but there is a 10% fee on the total cost of successful transactions. You get paid into your Mercari balance once the buyer has confirmed the transaction.
From here, you can either spend the money on Mercari or transfer the balance to your bank account. Instant Pay allows you to receive the money within minutes (for a $2.00 fee). Direct deposit takes longer but is free for over $10.
21. VarageSale
VarageSale is a local selling app that requires users to verify their identity both through Facebook and a manual verification process, which makes in-person transactions safer.
To get started, you first have to sign up for the site. This takes a little longer than on other sites (due to the previously mentioned verification process). Once you have been approved, you can list items by adding photos, a description, and a price.
If someone is interested in your product, they contact you from within the app via a private message or a comment. Once you have agreed on a price for the item and arranged a meetup, you can change the item's status to "reserved" and hand the item over to the buyer in exchange for cash.
22. Crossroads
Crossroads is a consignment store that only accepts on-trend items. To sell with Crossroads, you request a bag, fill it with your goods, and then mail it to them. Like other consignment stores, Crossroads only accepts items in good condition.
When your item sells, you can choose to receive either 30% of the total price in cash or 50% of the total price in-store credit.
See Also: 42 Legitimate Ways to Make Money From Home in 2020
---
Tips on How to Sell Clothes Online
So now that you know where to sell your used clothes, you need to know how to maximize your earnings. Here are some actionable tips you can use to make the most money.
Understand the Real Value of Your Clothes
The value of your clothes depends on the condition of your item and the demand for it.
In general, relatively new items in good condition sell for around 50 percent of the retail price. This can decrease to 30 percent or even lower for anything older, though you may be able to ask more if the clothing is in particularly good condition, or if it is on-trend or timeless.
There are some exceptions. Limited edition items in excellent condition, like sneakers, watches, bags, and other products from high-end designers hold their value or can even rise in value. This is especially true with sneakers.
The best way to find out the value of your product, other than asking an expert, is to simply look at similar products on different secondhand marketplaces and set your price accordingly.
Take Good Pictures
The photo you use is perhaps the most important part of your listing. It is what will catch the attention of buyers, and it's how they will decide whether they are interested in the clothing before checking out further details.
If you don't have a DSLR camera, the good news is that most current smartphones can take photos that range in quality from very good to excellent.
There are several things you can do to improve the pictures you take to sell your clothes online. The following are some of them.
Make sure the product you want to sell is in focus. This is the most important element of your photos. Most phone cameras have autofocus that will do the focusing for you, but be sure to double-check your image to ensure the item you want to sell is crystal clear.
Lighting can make a huge difference in the quality of your photo. Take your pictures in a space with even light — perhaps a room with a large window. Make sure that the light source isn't behind the item you are photographing, or you risk creating a silhouette effect that will make it difficult for buyers to see the image clearly. Try not to use the camera flash.
Photograph your clothes in front of a plain, light-colored background. This will help your items stand out more.
Don't be afraid to take multiple photos of each item and then choose the best ones for your listing. Additionally, take photos from multiple angles so potential buyers know exactly what your clothes look like.
Write Good Product Descriptions
Along with a great photo, you should include a detailed description of your item. Try to answer all the questions a buyer may have. Talk about the sizing and the fit of the item, and mention if there are any signs of wear.
Where possible, mention the specific collection the product is from. If the product has any unique features the buyer may not be expecting, mention them in the description.
Depending on the service you use to sell your product, be sure to also include information about shipping, returns, or payments.
Be Honest!
Be honest when creating your listing. Hiding signs of wear in photos or claiming an item is like new in a description can result in a faster sale, but dishonesty opens the door to customer returns and bad ratings. Both of these things can be costly for your business.
---
FAQ on The Best Places To Sell Clothes
We've found some of the most frequently asked questions with regard to the best places and apps to sell clothes online or locally, here are our answers.
How Much Can I Make Selling Clothes?
Commissions vary depending on the type of platform you use,  Consignment stores take up to 80% of the total price. Classifieds let you list for free and keep all your profits. Other platforms are somewhere in between.
While you may wonder why anyone would use a consignment store, there are pros and cons, which we will look at in the section below.
What is the Best Way to Sell Your Clothes?
There are three main ways to sell your clothes: consignment stores, online marketplaces, and local classified sites.
Consignment services pay relatively little — sometimes just 20% of the total selling price. But they do most of the work for you, including delivery, taking photos, and creating the listing. This can be useful if you just want to get rid of a large number of items and you aren't too worried about maximizing profits.
In the middle are marketplace sites that allow you to sell individual items directly to the buyer. If you use one of these sites, you'll take care of most of the process of selling the item, including taking photos and delivery.
The platform will usually let you list for free but will take a commission on the final sale. In exchange for the commission, the seller may get benefits, such as free delivery, payment protection, and access to the platform's audience. The exact benefits vary from site to site.
The final option is local classified sites. These are often free to use, so you can keep 100% of the profits. But your audience is limited to people in your local area. You'll usually have to take care of the entire selling process, including either shipping the item or, in many cases, meeting up with the buyer to complete the transaction.
---
Final Thoughts
If you want a way to make money fast, there aren't many better options than selling your clothes. While it isn't a long-term money-maker (you'll run out of clothes eventually) it can generate short-term cash while clearing up some space in your closet.
When choosing a platform, be sure to consider the type of clothes you are selling, and whether the platform has an audience that is going to want what you offer. Also consider how involved in the process you want to be, and whether you are willing to give up some of the profits for a smoother selling process.
Up Next
Get our free Side Hustle Handbook with the best strategies to multiply your income sources today.
Plus our best money tips delivered straight to your inbox.

Ricardo is an entrepreneur, investor and personal finance nerd who enjoys spending time with his family and friends, travelling and helping others achieve their financial goals. Ricardo has been quoted as a personal finance expert in several online publications including Healthline, Bankrate, GOBankingRates, MSN Money, Yahoo Finance, U.S. News & World Report, Forbes and USA Today.