17 Ways to Get Paid to Walk, Fast and Easy [2023 Update]
If you're looking for ways to make extra money while staying active, this is for you. There are several ways you can get paid to walk.

Reviewed By

Vanja Petrovic

Many or all of the products featured on this page are from our sponsors who compensate us. This may influence which products we write about and where and how the product appears on a page. However, this does not influence our evaluations. Our opinions are our own. Here is a list of our partners and here is how we make money.
---
The information provided on this page is for educational purposes only. The Modest Wallet is a financial publisher that does not offer any personal financial advice or advocate the purchase or sale of any security or investment for any specific individual.
There are many health benefits to walking. Walking can help people lose weight, get in shape, reduce the risk of disease, and even boost happiness. Wouldn't it also be nice to get paid to walk?
However, not everyone gets as much exercise as they should — often because they lack the intrinsic motivation to work out.
If you need the motivation to stay active, this list is for you. The apps listed below will all push you to work out more by letting you get paid to walk.
---
Best Apps to Get Paid to Walk
There are three types of apps that will pay you to walk.
The first type — apps like Sweatcoin and Lympo — literally pay you for the steps you take. They work with the step counter in your phone or an external fitness tracker to measure your activity. The more active you are, the more you'll earn.
The downside is that even if you walk a lot, you won't earn much through this type of app. However, over time, you can claim some cool rewards.
The second type of app (like HealthyWage and Stepbet) requires you to bet on fitness goals, like losing weight or reaching a predefined number of steps each day.
With these apps, you join a group by placing a wager — and at the end of the period, the wagers of those in the group who were unsuccessful are split amongst those who reached their goals.
These apps can provide larger rewards, but you risk losing money if you fail to hit your target.
The final type of app that pays you for walking is dog walking apps — like Rover or Wag! If you like dogs and are looking for a reason to exercise more, dogs are a great excuse to walk more. These apps also pay better than the other two types of apps.
1. HealthyWage
HealthyWage is a platform that allows users to place bets to encourage them to reach their weight loss goals.
You choose the amount of weight you'd like to drop, a period of time, and the amount of money you'd like to bet each month. HealthyWage then calculates a prize based on this data. Once you verify your weight, you can start the challenge.
You then have to go through the process of losing weight. If you are successful, you'll win your prize. If not, the money you bet will go to successful competitors.
The website lets users sign up in teams. This can provide extra motivation if you want to lose weight with friends, family, or work colleagues.
If you are successful, it's possible to win large prizes with HealthyWage. The website has plenty of examples of people winning thousands of dollars. The downside is that you'll lose all the money you bet if you aren't successful.
If you have long-term weight loss goals, HealthyWage is an excellent platform that can provide the extra motivation you might need. It is also a potentially good way to win some extra cash — just be sure you can afford to lose the monthly fee if you don't hit your target.
See Also: 23 Best Work from Home Jobs: Start a Career from Your Couch
2. Rover
Rover matches pet owners with people who are willing to provide a variety of pet-related services. One of these services is dog walking, which makes it a good way to get paid to walk.
To get started, you have to sign up for Rover and select dog walking as your service. Then, enter your address and availability so people nearby can find you.
One of the best things about Rover is that you set your price for your dog-walking service. This means you can earn as much as you like. Of course, the higher you go, the less competitive your price will be, which will make it harder to find customers.
When setting your price, consider a price within the range of other dog walkers in your area. Dog walkers typically charge between $15 and $30 depending on their location, rating, and experience. Most dog walkers have a fee of around $20 per walk.
You should also consider that Rover takes a cut of 20% per booking. While this is a significant amount, you may find it worth it because of how easy the app is to find customers. Rover's guarantee covers your dog-walking activities.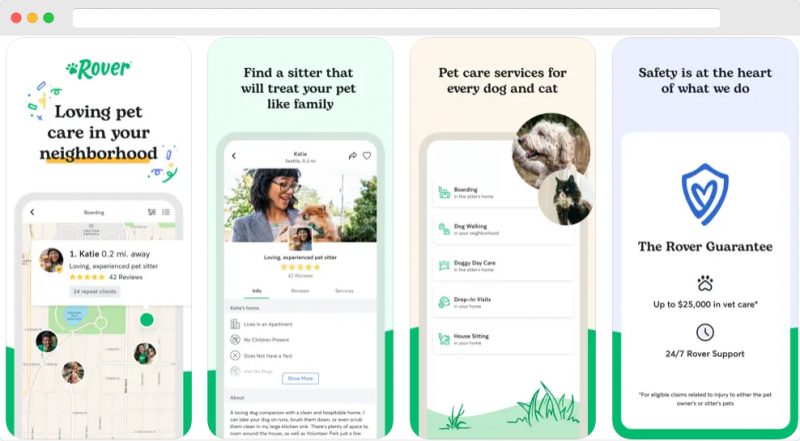 3. Sweatcoin
Sweatcoin is an app that pays you to walk. Users sign up for the service and then use the app to track their steps. For every 1,000 outdoor steps you take, you earn 0.95 Sweatcoins.
It is also possible to earn Sweatcoins by watching marketplace ads or inviting friends to the service.
The value of a Sweatcoin varies, depending on the offers the company has available. According to its FAQ, the value has settled at around $1 for 50 Sweatcoins.
The downside is that you can't exchange these coins for real money. Instead, you use these coins to buy products from the app's marketplace. What you can buy will depend on the offers the company's partners provide when you want to trade out.
Over 160 brand partners offer products on the Sweatcoin marketplace and have at least one new offer daily. This means there should always be plenty of choices when it comes to things to buy.
Sweatcoin makes it possible to earn money passively through the steps you take daily. It can also serve as good motivation to become more active — the more steps you take, the more coins you can earn.
You won't get rich with Sweatcoins. But you can earn some decent prizes if you are consistently active over a long period of time.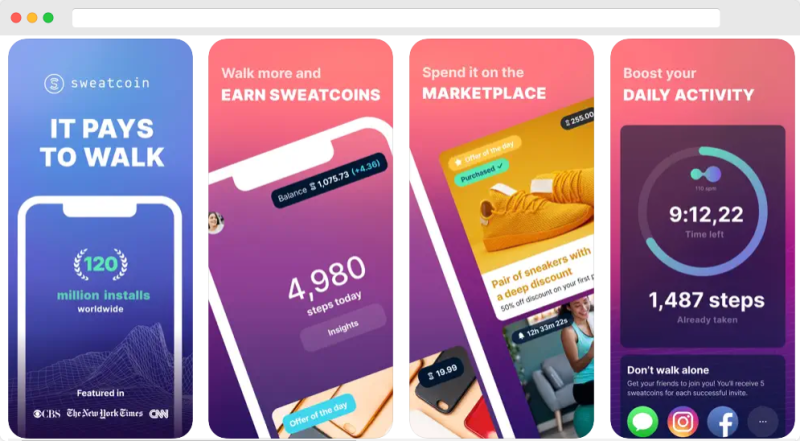 4. Evidation (Previously Achievement)
Evidation is a health-tracking app that lets you earn points for each of the fitness-related activities you monitor.
Activities you can track include the steps you take, cycling, swimming, running, logging food, meditation, and sleep tracking. You can also earn points by sharing your achievements on Twitter.
The app integrates with a range of fitness-tracking apps, so if you already track your activity through an app like Samsung Health or Strava, you can continue to do so while earning points.
Users can earn up to 80 points per day for each type of activity they track (walking, running, cycling, etc.), plus an extra 6 points for each health-related activity (weighing yourself, sleep tracking, etc.). Once you collect 10,000 points, Evidation will pay you $10, which you can cash out via PayPal or Giftrocket or donate to charity.
Achievement is a good way for people who already track their daily activity to get paid to walk. It is also good for people at the beginning of their fitness journey who want a bit of extra motivation to get started.
See Also: 26 Easy Ways to Get Free Amazon Gift Cards
5. StepBet
Stepbet lets you bet on hitting a daily step goal. If you hit these daily goals, you win a cash prize; if you don't, you lose the money, and it is split up between other successful competitors.
To get started, you have to connect Stepbet to your fitness tracker. Options include Fitbit, Garmin, Google Fit, and Samsung Health. The app then uses your history to calculate the goals that you have to reach to win a prize. You can then join a game by placing a wager to get started. Most of the bets last six weeks and have an average wager of $40.
The games have a mixture of stretch and active days. Different days have different step targets, which you'll have to hit. The amount you win will depend on the number of people in your group who reach their goals and the size of your wager. If everyone reaches their goal, Stepbet will forfeit their cut, so you'll at least get your money back.
Stepbet is a good option for people who want extra motivation to take more steps. But you have to accept the chance you may lose your initial investment.
The company behind StepBet also has an app for losing weight and one for running. There's one coming soon for working out if that's more your thing.
6. Charity Miles
Charity Miles is a step-tracking app that lets you donate the money you earn to charity. The company works with over 40 charities, and you can choose the one that you want to give your earnings to.
You can track a variety of exercise types with Charity Miles, including walking, dancing, and cycling.
Users can earn up to $0.25 per mile for walking or running and up to $0.10 per mile when biking. This is a decent payout and makes it possible to earn (relatively) significant amounts for your chosen charity.
The app also has a teams option that lets users join groups to help them stay motivated and work out communally. Teams have leaderboards that show the total number of miles a team has run and the top athletes in the team.
Charity Miles is an excellent choice for those motivated by donating money rather than earning it for themselves.
See Also: 42 Legitimate Ways to Make Money From Home
7. MapMyFitness
MapMyFitness is an app that tracks your activity. It has a large community of users who use it to find new exercise routes and track their activity.
It also has challenges that let you win prizes. As of this writing, the only one available is to run ~633 miles (1,020 KM). The winners will receive prizes from Under Armour.
Ultimately, the challenge aspect of MapMyFitness is just a minor part of the app's experience. If you already use the app or if you want to find new routes for exercise, signing up for a challenge on the service can be an extra way to stay motivated and possibly win some new gear.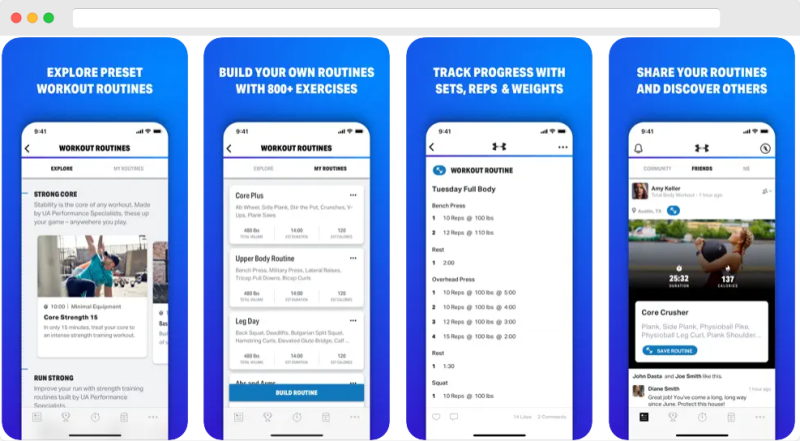 8. Walgreens
The Walgreens app has a built-in fitness tracker that lets users complete challenges in order to earn Walgreens points.
Users earn 100 points for each successful week. People who successfully complete all four weeks receive a bonus wheel spin which pays out up to 2,000 points (1,000 Walgreens points are worth $1, and the points can then be used in Walgreens stores).
Challenges include hitting certain step targets or eating healthier. The challenges run over four weeks, which means they are meant to help you make meaningful changes to your lifestyle rather than focus on quick fixes.
Users can integrate the Walgreens app with their existing fitness tracker, which makes it easy to use.
The Walgreens health challenges are a good way for Walgreens customers to earn an extra points boost.
Editor's Note
The Walgreens Cash rewards program through the myWalgreens® Health Goals service has been discontinued as of November 16, 2022.
9. Care
Care.com is a platform that allows users to advertise (and find) various care-related services, including dog walking.
A look at the top dog walkers on the platforms shows people offering their services for between $10 and $40 an hour.
If you want to advertise on Care.com, you have to sign up and fill out a profile. You will then appear in the results pages when people search for your service. Whether or not you get offers will depend on how attractive your profile is, how competitive your area is, and the demand for your service.
10. Wag!
Wag! is a dog-walking app that pays users to take dogs for walks. Dog walkers sign up for the service and are matched with people who need someone to walk their dogs.
Wag! differs from Rover (number two on the list) in that it sets your fee for you (as of this writing, it's $20 for a half-hour walk or $30 for an hour). While this price is good, the company takes a significant cut — 40% of the total fee.
To become a Wag! dog walker, you need to fill out an application that will assess your knowledge of dogs by asking questions about your previous experience. The questions will also test your knowledge of collars, harnesses, and unpredictable situations.
Like Rover, Wag! is a good way for dog lovers to get paid to walk. Whether it is a good option for you will depend on the demand for the service in your area and if the company accepts your application.
See Also: 12 Online Data Entry Jobs: Get Paid to Work from Home
11. Fit For Bucks
Fit For Bucks is an app that connects exercisers with local businesses. These businesses offer rewards to people who walk a predefined number of steps. Awards that are currently on offer include a free cup of soup for 10,000 steps, bubble tea after 20,000 steps, and a free massage after 30,000 steps.
Users can track up to 10,000 steps on the app per day, which means you can start collecting awards after just one day. While there is no option to exchange points for cash, the value of the rewards that are available for relatively little work makes Fit For Bucks an attractive service.
There is a pretty big issue with the app, however. As of this writing, availability is currently limited to iPhone users in Los Angeles, though the company says it is expanding weekly.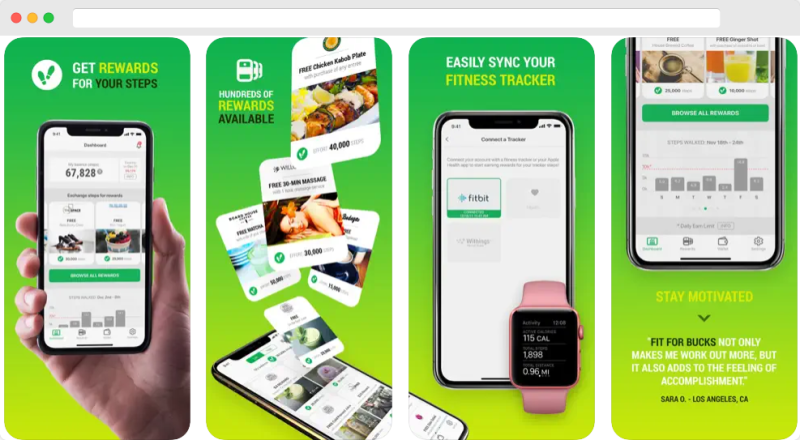 12. PK Rewards
PK Rewards lets you track your workouts and convert your effort into coins. You can then spend the coins on rewards in the app's store. Rewards include gift cards, travel coupons, fitness equipment, and more.
Instead of just tracking steps, the app tracks "effort," which is a score based on the intensity of your workout. This makes tracking stationary workouts like weightlifting, yoga, or spinning possible, assuming you have a heart rate monitor.
If you want a way to monetize stationary workouts as well as walking, then PK Rewards is a good way to do so. Once you have accumulated enough coins, you can exchange them for rewards from a number of brands like Lululemon, Amazon, Nike, and more.
The biggest downside is that this app is only available for Apple users.
See Also: 48 Legitimate Ways to Get Free Money, Fast and Easy
13. Higi
Higi is a tracking app that integrates with Higi stations (located in grocery stores and pharmacies) to help you track a variety of health metrics.
You can measure your steps and pulse using your phone or fitness tracker. Using the Higi station allows you to track your blood pressure, body fat percentage, and more. Higi users can win prizes by participating in challenges that revolve around tracking these metrics. If you complete a challenge, you have a chance to win a prize.
However, the overall focus of Higi is more on staying healthy rather than earning money or winning prizes. There is no guarantee that you will win a prize, even if you complete a challenge.
If you want a way to keep track of your general health, the Higi app and Higi stations are a good way to do so. But Higi probably isn't your best option if your focus is on earning cash or rewards.
14. Runtopia
Runtopia is a GPS-based mobile app designed to help users track their running and fitness activities. The app is available to both iOS and Android users.
The app offers a number of features that can help runners set and achieve their fitness goals, including GPS tracking for runs, personalized training plans, audio coaching, social sharing, and a built-in community of runners.
What makes Runtopia unique is that you can enable a walking step counter which converts steps into currency units called SPC coins. These coins then be redeemed for sports gear, prizes, and services on the in-app shop.
Runtopia also offers personalized training plans tailored to your goals and fitness level and other premium features. If you like walking and running, you should check out this app.
15. Optimity
Optimity is a relatively new health and wellness app that allows users to create personalized plans to improve their overall well-being. Optimity comes with many features out of the box, including health tracking, goal setting, coaching, and gamification to incentivize users to live healthier lifestyles.
Users earn rewards for their physical activity, nutrition, sleep, and stress behaviors. People can also earn rewards by completing challenges with family and friends. Users can then redeem those rewards for gift cards, loyalty points (like Petro-Points and More Rewards points), charity donations, and more. Optimity also features special prizes every month to keep people motivated. It goes without saying that the more active you are, the more chances you have to earn rewards and win prizes.
In terms of earnings potential, you need 20,000 gems to get a $5 gift card and 40,000 gems to get a $10 gift card. At the moment, gems can be exchanged for Amazon, Walmart, Starbucks, Uber Eats, and AMC gift cards in the United States, while in Canada, you can exchange them for Amazon, Walmart, Starbucks, Canadian Red Cross, and Cineplex gift cards.
Overall, Optimity aims to provide a comprehensive and personalized approach to health and wellness while earning rewards for staying healthy.
16. LifeCoin
LifeCoin is a very similar app to Sweatcoin. In a nutshell, users earn rewards ("LifeCoins") by running, walking, hiking, or moving their legs in some shape or form. Users can then redeem their LifeCoins for gift cards from major retailers like Amazon, Lululemon, and iTunes or exchange them for gadgets (e.g., drones, headphones, etc).
You can also earn LifeCoins with your friends and family. LifeCoin gives you 5 LifeCoins for every person you refer to the platform. This is another way to accumulate points.
LifeCoin is a freemium service, meaning that you can only earn up to 5 LifeCoins a day on the free version. If you don't want a cap on what you can earn, then you have to subscribe to their premium subscriptions.
One of the biggest downsides of the app is that you need more than 10,000 LifeCoins to be able to withdraw using PayPal cash. The payout threshold for their PayPal withdrawal is currently $100.
17. Miles
Miles is an interesting app as you cannot only get paid to walk or run, but you can also earn cash by tracking all sorts of miles, including car, carpooling, ride-hailing, train, boat, bus, bike, and even plane. For walking or running, a minimum distance of 0.2 miles must be traveled without a break in order for it to count. This feature is only for outdoor walking and running.
Once the app is installed and set up, your trips are automatically tracked, and miles (Miles' rewards currency) are awarded for each valid trip. The cool thing is that you don't need to log your trips or miles. You don't even need to open your app before, during, or after you complete a trip. It's all done automatically in the background.
Miles can be redeemed in a variety of ways, including gift cards (from companies like Lego, Walmart, Amazon, Starbucks, Garmin, and more), exclusive offers, discounts, credit, or complimentary offers on products and services from Miles' partners. You can also donate your miles to charity.
If you want to earn rewards for all sorts of trips and activities, Miles is worth checking out.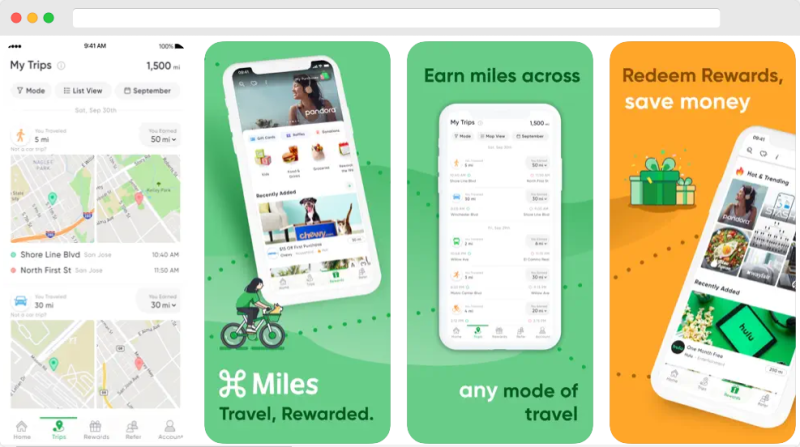 ---
Final Thoughts
The apps on this list all make it possible to get paid to walk.
Dog walking apps are the most lucrative activity, although these apps also require you to take on more responsibility. Next are the betting apps, which can get you a good return on your investment, assuming you are successful.
Step-tracking apps provide the smallest reward, but they also require almost no extra effort from you if you're already walking around three miles a day. If you decide to walk a bit more because of the app, then that can only be a good thing.
Up Next
Get our free Side Hustle Handbook with the best strategies to multiply your income sources today.
Plus our best money tips delivered straight to your inbox.

Ricardo is an entrepreneur, investor and personal finance nerd who enjoys spending time with his family and friends, travelling and helping others achieve their financial goals. Ricardo has been quoted as a personal finance expert in several online publications including Healthline, Bankrate, GOBankingRates, MSN Money, Yahoo Finance, U.S. News & World Report, Forbes and USA Today.