Many or all of the products featured on this page are from our sponsors who compensate us. This may influence which products we write about and where and how the product appears on a page. However, this does not influence our evaluations. Our opinions are our own. Here is a list of our partners and here is how we make money.
The information provided on this page is for educational purposes only. The Modest Wallet is a financial publisher that does not offer any personal financial advice or advocate the purchase or sale of any security or investment for any specific individual.
So…you're young and broke. It's a rough situation to be in. Life can be fun, but fun sometimes costs money — and you don't have any. How can you make money as a teenager to do the things you'd like to do?
Luckily for you, there are dozens of great ways to make money as a teenager. From mowing lawns to blogging, there are more opportunities than ever to earn a few bucks. Continue reading below to find the best solutions to earn money while you're still young.
Why Do I Need to Make Money as a Teenager?
Teenage life is expensive. Friends, girlfriends, boyfriends, cars, restaurants, phones, and everything else you need can wind up costing a pretty penny. Sure, you could hit up your mom and dad for everything. But let's be honest. They're not going to give you everything you want. You're going to have to earn your way to what you want.
You're better off all around if you make your own money. That way, you can spend it on what you like, make as much or as little as you like, and basically be the master of your domain. Even the small amounts of money you earn early in life can be worth a lot if you can save and invest it long enough.
Learning how to make money as a teenager is an incredibly important skill for adulthood. Except for those lucky few born with silver spoons in their mouths, we all need to make a living. Whether we make that living at a 9 to 5 job, by freelancing, or with a collection of side hustles, the skills we learn in our youth can serve to sustain us throughout life.
Quick Caveats and Warnings
You'll need to watch out for a few things if you set out into the world with the intention to make money as a teenager. First, not all jobs are safe. You need to be careful that you don't put yourself in danger. Some of these gigs could have you working in other people's homes, by yourself, or with heavy machinery. Danger can come from both things and people. So watch out for yourself and don't take any jobs that make you feel unsafe, uncomfortable, or uneasy. And if you're under 18, absolutely talk to your parents about any work you're thinking about doing.
Second, keep an eye out for the age restrictions on this list (and out in the world). Some jobs are only available to those over 18 or 21. You'll need to check with the website you're visiting (if you're using a site) and any applicable bylaws and regulations.
Best Ideas to Make Money As a Teenager
Aside from the obvious (getting a regular job, which we'll cover in a moment), there are countless ways for you to make money as a teenager. Apart from age restrictions (depending on what you're interested in, there are lots of ways to make and save money.
Stuff Seller
There are some really easy ways to get started making money as a teenager. The first is so basic that you've probably already thought of it. But in case you haven't — Sell the stuff you don't want anymore!
Do you have old phones, tablets, DVDs, or other items you no longer use? There are businesses both online and offline that will take these items off your hands and give you cold hard cash in exchange.
To go the offline option, just look for any secondhand stores, thrift stores, or consignment stores in your neighborhood. If you prefer an online alternative, check out Decluttr. Decluttr will buy your used electronics and media. You just scan the barcode with their app, check out their offer, and if you accept it, print out the shipping label, box up the item (carefully), and send it to Decluttr.
When they receive the item, they'll confirm whether it's in excellent condition. If it is, they'll send you money! Check out our best selling apps article for more ideas or check out our full Decluttr review to learn more.
See Also: 33 Best Money Making Apps: Cash at Your Fingertips
Online Survey Taker
Paid online surveys are a great way to earn a little bit of extra cash during your downtime. You can simply go to the sites mentioned below and start taking surveys. You'll want to make sure that you meet the age restrictions on each website (which is 13 at minimum, unless otherwise specified).
The following sites can get you started on your survey-taking journey:
Keep in mind that you won't make a ton of money on these websites. But you will be able to pocket some spare change.
Survey availability can be limited to certain demographics. However, since companies are always desperate to find out what the teenage demographic is up to, you should qualify for more than your fair share of consumer surveys and start to make money as a teenager.
Watch Ads for Money
If you want something to do that's even easier than taking surveys, how about watching videos in exchange for rewards and money? Both Swagbucks and InboxDollars let you watch video ads in exchange for money and rewards points.
As with online surveys, you won't make very much. But it's still better than nothing, right?
Babysitter
Babysitting is a tried-and-true method to make money as a teenager. The key here is all about demonstrating reliability. You want your clients to trust you completely. (After all, they'll be putting their children in your care.)
The internet has allowed babysitters to expand their reach and contact more potential clients than ever before. Care.com and SitterCity are two online platforms that connect people willing to babysit with clients who need their help.
Care.com allows (with parental permission) babysitters as young as 14 to use the site. SitterCity, however, requires that all babysitters be 18 years of age or older.
Petsitter
For many people, their pet means the world to them. And a good pet sitter is hard to find. So when these folks find a reliable petsitter, they'll often pay that person very handsomely.
Care.com, in addition to connecting babysitters with clients, connects people looking for petsitters to qualified caregivers. So if you register with the site, you'll be able to look for clients who need babysitting or petsitting services.
Dog Walker
In the realm of pet sitting, dog walking is a fantastic service to offer to people who live near you and a fantastic way to make money as a teenager. There are hundreds of thousands of busy professionals who don't have the time to exercise their dogs. They're willing to pay quite a bit to people who can perform the service for them.
If you want to take this business online, you can go to a site called Rover, and sign up to be connected with clients who need their dogs walked. Keep in mind that you'll need to be 18 years of age or older in order to use the site.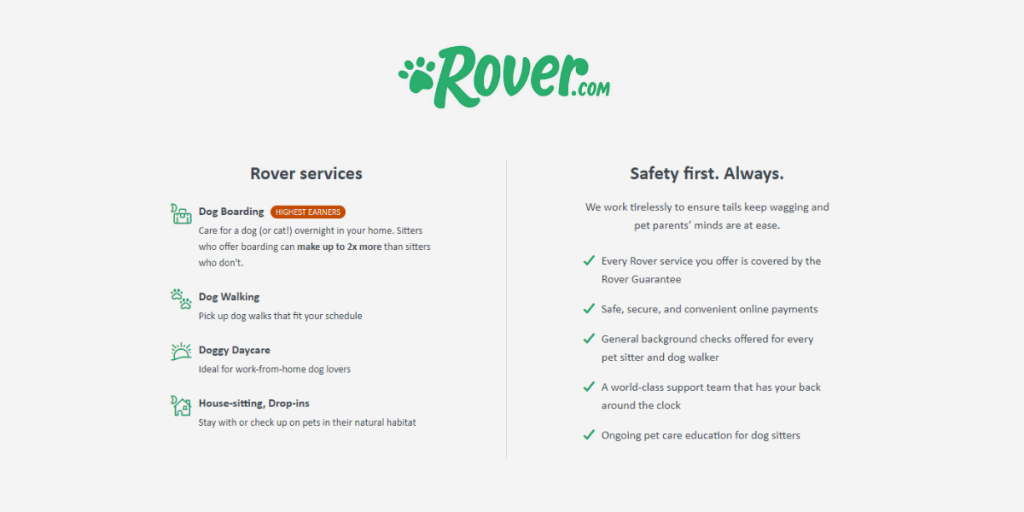 See Also: 15 Legit Ways to Get Paid to Walk, Fast and Easy
Housesitter
Housesitting can be a very lucrative service to offer to people in your area. You'll be paid to watch their home while they're away on vacation or on a business trip to ensure no security or maintenance concerns arise.
Like with petsitting, babysitting, and dog walking, some online services have sprung up to connect would-be housesitters with clients who require their services. Just do a quick Google search for "house-sitting app" to find a number of ways to connect with clients.
Blogger
For those looking for a more passive form of income, becoming a blogger can be just the ticket. In the blogging world, the key to making money is authority — informational and moral authority.
People are attracted to bloggers who have established themselves as authorities on a given topic. Whether that's youth fashion, tutoring, or graphic design, people flock to those who can teach them about a specific area or niche.
Once you've attracted a significant audience, you'll need to monetize your blog. You can do this in a variety of ways:
Affiliate marketing
Dropshipping
Sponsorships
Consulting
Affiliate marketing is probably the simplest way to earn money through your blog. You provide links to products that you mention on your blog, and when someone clicks on the link to buy the product, you get a cut of the proceeds.
Dropshipping is similar, although you offer the product directly for purchase, and then have it shipped from a supplier to the customer.
Sponsorships usually come only to those who develop significant followings online. In these arrangements, companies will pay money to a blogger in exchange for them publicizing and using the company's products.
Consulting can be a lucrative way to earn for those who have developed large amounts of authority online. Depending on the niche, people will often pay for individualized advice and consulting from an established blogger.
Vlogger
A vlogger is like a blogger but on video. YouTube is by far the most popular online vlogging outlet, with thousands of famous influencers and personalities using the service. If you have a talent for on-camera work, or you're not a fan of writing, you may find vlogging preferable to blogging. This is yet another great way to make money as a teenager.
Vloggers monetize their vlogs in ways that are similar to the ways bloggers monetize. They have one additional option, though: in-video ads. YouTube offers vloggers the option of having ads appear during eligible videos. If a vlogger takes advantage of that option, YouTube will pay a small amount of money for every ad that's watched by the video's audience. Obviously, the larger the audience, the more money a vlogger will make.
Podcaster
Podcasters are a lot like vloggers, but use audio to spread their message rather than video. The same rules apply to monetize a podcast as apply to a blog or vlog. You'll need to develop significant authority and a wide audience to take advantage of the monetization options available to you.
Podcasters mostly monetize by having ads play during the podcast, or by offering sponsorship deals with various companies.
Digital Author
Do you have valuable knowledge in a specific area or niche? Can you put pen to paper (or, more accurately, finger to keyboard)? Then writing an ebook might just be a great way for you to make money as a teenager.
The explosion of e-readers and online booksellers (*cough* Amazon *cough*) has created a massive marketplace for digital authorship. There are only a few criteria needed for you to be successful at producing your own ebook:
Pick a valuable niche
Have specialized and valuable knowledge in that niche
Establish credibility
Write with skill
As with any other line of independent business, you'll need to pick a niche that will allow you to differentiate yourself from the crowd. Ideally, you'll have a great deal of individual knowledge in that niche. This will allow you to provide value to your readers and garner good reviews from them, driving further sales.
You'll need to establish credibility. This can be difficult to do in the beginning. After all, when you publish your first book, you don't have any satisfied readers or customers. Instead, focus on what you do have. Perhaps you have an online following on a blog or vlog. Or maybe you have particularly impressive accomplishments in the field you're writing about. Whatever claim to authority you have, plaster it all over your marketing.
Finally, learn to write with skill. You can't be a writer if you can't write. The best way to learn to write is to practice a lot. If you need grammar help, you can read books like Eats, Shoots & Leaves. There are also free online classes and books and textbooks available that can teach you the principles of good writing. But at the end of the day, there's no substitute for practice.
Having an editor to work with helps a lot, too. Enlist a family member or family friend with writing and editing experience, or ask a parent for help finding (and paying for) a good editor who can give you real feedback, guidance, and a real chance at your book earning you some cash.
Online Freelancer
Do you have a skill that can be performed online? Can you write, design graphics, or scrub data with the best of them? Then online freelancing might be for you.
A number of platforms have opened up online that can let you offer your service to the world via the internet. These online services reach millions of prospective clients. Two of your best options include Fiverr and Upwork.
Fiverr allows you to post an offered service and charge as little as $5 for it (hence the name). Interested buyers can contact you via the Fiverr platform.
Upwork is a full-service freelancing website. Everyone from data scientists to writers can offer their services, or request services, via this online platform. In order to freelance, you'll have to apply to and be admitted by the site. They'll look at your qualifications and check to see if your area of expertise is in demand on the site.
While Fiverr requires that people be a minimum of 13 years of age, Upwork allows only people aged 18 and up to use their platform.
Freelancing can be extremely lucrative. The work is usually flexible, so you can work around school hours and study time, and the services demanded by clients are wide-ranging and plentiful. (Make sure you're clear about your availability to avoid conflicts with your class schedule.)
You can find posts seeking everything from graphic designers to digital marketers.
Here's just a couple of ideas of things you could do on a freelance basis:
Proofreader
Editor
Graphic Artist
Bookkeeping
Inbound customer service
Outbound telephone marketing
Tech support
Web development
Obviously, you need to be really good at the service you're offering and find a specific niche for your services. So, for example, if you're a great front-end web developer, and you have an interest in e-commerce, you might want to market yourself as an e-commerce website developer.
eBay Item Trader
For those with an eye for value, eBay item flipping can turn a handsome profit. You (like everyone else) are probably already familiar with the online auction website, eBay. Some people have turned finding bargains on eBay into an art form by buying the item, then turning around and selling it for a profit.
This works best if you pick a niche. The trick to making money by selling previously undervalued items is providing information. (In other words, you want to have more information about the products you're buying than the seller (which can be a challenge).
So, for example, let's say you're an expert in early '90s memorabilia. You find out that someone is selling a bunch of POGs on eBay for a cut-rate price. You happen to know that some collectors will pay a pretty penny for mint condition POGs. You can turn that knowledge into profit by buying the items and targeting your listings toward people who know their actual value and will pay it..
Etsy Seller
Do you have an artistic streak? Perhaps you're an excellent designer, crafter, painter, or graphic artist. Maybe you can crochet with the best of them. Whatever your talent happens to be, the website Etsy has opened up the world of unique, homemade crafts to everyone. The site connects the makers of original and one-of-a-kind crafts and pieces with buyers looking to acquire them.
Note that Etsy account owners must be at least 18 years of age, and that people under the age of 13 are not allowed on the site (at all). But if you meet Etsy's age requirements, you can open an account and start selling your creations.
As with flipping eBay items, it's best to find a specific niche and excel in it. For example, if you make jewelry, maybe you can choose to design fantastic unicorn earrings. If you're a woodworker, you could create the most ornate Harry Potter-themed bookends available on Etsy.
The more specific your niche, the more likely you will be able to differentiate yourself and charge a decent price for your product.
This brings us to our last point — Don't undercharge for your items! You'd be surprised what people will pay for quality goods. So if you've created a standout product, charge a high price and see if anyone bites.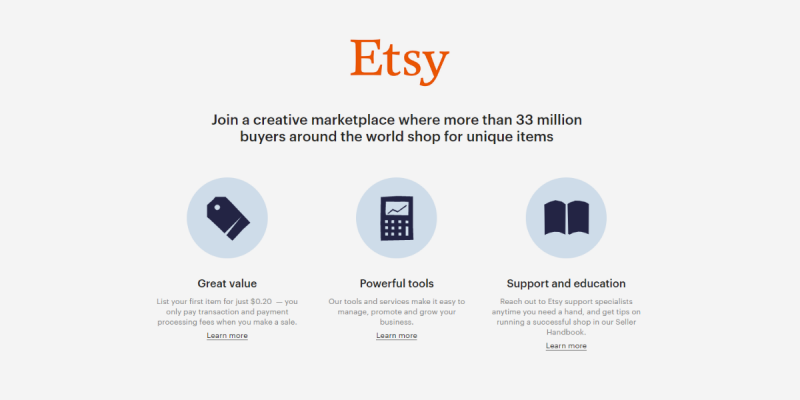 See Also: 23 Best Work from Home Jobs: Start a Career from Your Couch
Dropshipper
Dropshipping is an interesting new way of making money that's become especially popular online. Rather than stock your own inventory, dropshippers source suppliers that offer the products they want to sell. They put up an online store with those items for sale, and when someone buys the item, the dropshipper has the product shipped directly from the supplier to the customer.
This online fulfillment model eliminates the need for the dropshipper to stock and manage their own inventory. It's effectively a product curation service, since the added value comes from the recommendation being provided by the dropshipper to the customer. It functions well for those who have built up some online authority on a particular product online.
Housekeeper
People are busy with work, school, family, and errands. As a result, many people will pay you to clean and tidy their houses if they don't have the time or inclination to do it themselves.
Housekeeping is a good choice because there are few qualifications, the job is relatively straightforward, and there is a large pool of potential clients everywhere you look.
Keep in mind, though, that like many jobs on this list, housekeeping can be genuinely hard work.
Car Washer
People may have trouble finding time to wash their cars, and established, well-known car wash businesses may charge far more than people are willing to pay. This creates a business opportunity if you're interested in working as a car washer.
Most towns do already have one or more car washing services available. But there are ways to differentiate yourself. As an example, you could offer to go to client's homes to wash their cars. Maybe you can offer a subscription service, with one wash per week or month for a set fee.
Food and Drink Seller (Treats, Lemonade, etc.)
There are few images more emblematic of young entrepreneurship than a lemonade stand. It turns out that lemonade stands can be profitable for teenagers, too.
The trick is to catch people when they want what you're offering. (It doesn't make sense to just put up a lemonade stand on a street corner if it's 60 degrees outside and there's no foot traffic.) However, if you can identify an event or location that you know will have hungry or thirsty people, then you might consider putting up a sign offering baked goods and/or refreshing drinks for sale.
Note: Of course, you'll need to comply with any zoning or business regulations that govern the sale of food wherever you choose to work.
Tutor
If school is your thing, you're crazy if you're not tutoring. There are countless students who need tutoring. More importantly, there are countless parents with struggling children who are willing to pay for a good tutor. Why not lend your subject matter expertise to kids and make a bunch of money in the process?
The key to tutoring is to establish credibility. Clients need to believe and know that you have the academic chops to deliver results. You'll need to advertise your fantastic grades, impressive extracurriculars, and comprehensive subject knowledge when you market yourself.
Platforms like SameSpeak and Skimatalk allow you to make money as a teenager.
See Also: 26 Easy Ways to Get Free Amazon Gift Cards
Personal Concierge
Some people just need a lot of stuff done for them. Whether they're too busy, too rich, or too lazy to do it for themselves, there's an opportunity here for you — Advertise your services as a personal concierge.
Personal concierges are like UberEats for your whole life. A personal concierge will pick up dry cleaning, drop off the kids at soccer practice, and clean the kitchen all on the same day. While there are apps that attempt to connect available people with clients, it's likely that a personal relationship will be a much more effective way to make real money at this gig. (In other words, talk to people you know, and use your network.)
Virtual Assistant
Like a personal concierge (but more focused in scope) is a virtual assistant. Virtual assistants are exactly what they sound like. They're assistants to professionals, and they provide their services online. Services could include taking calls, answering emails, and preparing documents for a businessperson, all from home.
This job can be difficult to qualify for if you're under 21, especially if you're still in school or you don't have an extensive work history. However, if you have the time and a space to work from, working as a virtual assistant might be the job for you.
Landscaper
Yard work for money. Young people have been doing this for as long as people have had lawns and a lack of spare time.
You may initially resist the idea because the work is hard and the pay is reputedly low. But while the first part is definitely true (this work can be backbreaking), the pay doesn't have to be low.
It's all about picking the right clients. Your target market is people who are cash-rich and/or time-poor, and desperate to outsource the more mundane and time-consuming parts of life.
Snow Remover
Snow removal is very useful work, and it's similar to yard work in terms of effort. But it is season-limited (though you may have a longer snow season depending on where you live).
As with yard work, your best bet is to find clients in the right demographic. Advertise your services in publications you know people who need your services might read, or advertise in places you know they might frequent. "Old-fashioned" flyers are great advertising tools. Post them near high-traffic office buildings and businesses in busy districts so that they'll get optimum attention.
Work for Someone Else
The simplest way to make some extra money as a teenager is to get a regular job. It's not glamorous, but it's a steady paycheck with guaranteed hours.
Note that in many states in the U.S., you need to be at least 16 to be eligible to work for an employer. (Check your state laws before you start filling out applications.)
That said, there are a few options for young people trying to kick-start their careers:
Fast food restaurants
Retail
Theaters
Small businesses
The wonderful thing about "regular jobs" is that they're reliable. You know you'll get paid, and you don't have to go out and hustle for more work.
Additionally, working a regular job doesn't mean you can't look into a side hustle. Combining the reliability of a day job with the added income potential of a side hustle can be a great way to get the best of both worlds.
Personal Shopper
Shopping for others has taken off as a source of income for teenagers. Like so many chores and errands that require regular trips, shopping has been outsourced by lots of people always on the go.
This line of work has a lot of potential for value-added services. Beyond shopping from a list provided by a client, you could also offer to:
Collect ingredients for recipes you provide with the groceries
Create meal plans for busy clients with kids
Offer pre-cooked and prepared healthy meals for busy families
There's almost no limit to the services you could offer if you're interested in shopping and delivery services.
If you're looking to get in with an established business, Instacart allows those who are 18 and over to grocery shop for, and deliver food to people who are signed up for deliveries through them. Check out our full Instacart Shopper review to learn more.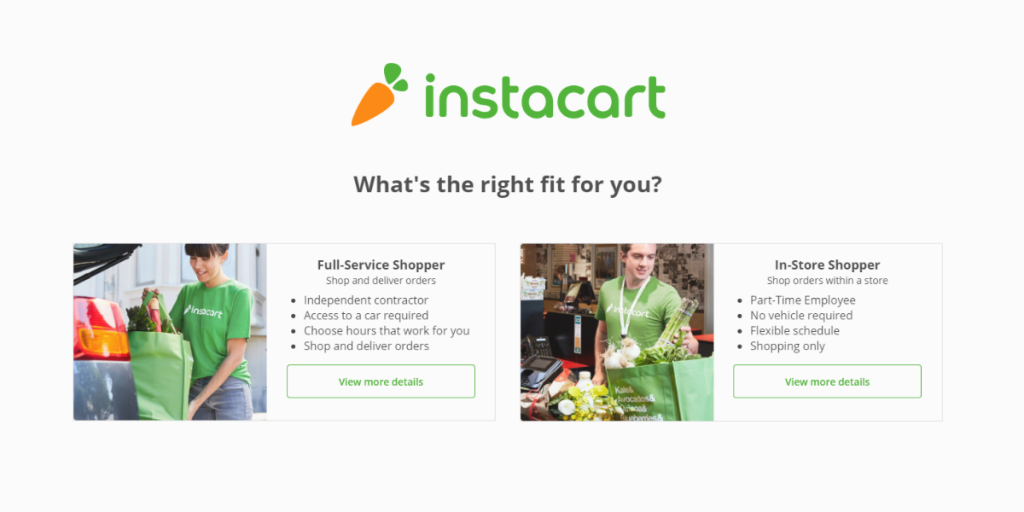 See Also: 42 Legitimate Ways to Make Money From Home
How to Maximize Your Earnings
The right mindset and certain behaviors are necessary to be a successful worker, whether you decide to work for yourself or someone else (or both). Be someone who people want to hire and work with. Demonstrate your willingness to work (and do a great job) with the following tips:
Be Professional
Professionalism is a wide-ranging term that covers everything from dress to speech to mannerisms. Professionalism refers to behaviors that convey a level of respect to your clients and colleagues.
There are obvious things you want to avoid, like cursing or shouting. One of the not-so-obvious (and sometimes challenging) is avoiding speaking negatively about a client — especially to other potential clients or employers. The key to professionalism is to behave as if every word you utter and every action you carry out will be on social media or on tv broadcasts the next day. If you keep that rule in mind, you'll do well.
Be on Time
Timeliness and punctuality are crucial, and they are also key components of professionalism. Have you ever heard the expression, "being on time is being five minutes late?" When someone says they're going to be somewhere for work by a certain time, from a managerial perspective, that means they'll arrive to start working on time, when they are scheduled to start. Being five (or more) minutes early allows you extra prep time to get ready to start your workday.
Being on time demonstrates a level of respect for your clients, colleagues, and supervisors. Being late communicates (whether it's true or not) that you simply didn't care enough to make your work and customers a priority.
Of course, everyone is late sometimes. Traffic can occasionally be really heavy, an appointment can run unexpectedly long, or you just overslept. When this happens, no matter what the reason was, apologize clearly and directly. Take responsibility for your lateness, and don't deflect blame.
Don't make being late a habit — and be sure to communicate with people when extraordinary circumstances create an issue. Again, show your commitment to your work. Beyond money, people will generally be more considerate when you're sincere.
Be Honest
Honesty is a necessary component of making money on your own. If no one trusts you, no one will hire you, regardless of the industry or field.
So always keep your word. If you say that something will be done by Friday, make sure it's done by Friday (or even earlier). If you say that you'll be somewhere, be there at the agreed-upon time. Be honest about what you're offering. Be honest if issues arise. And if you make a mistake, be sure to admit it and resolve the problem right away.
Always Give More than Expected
While putting in 110% effort is technically impossible, the extra 10% really refers to that extra little bit of effort you can put into every task you perform.
There's a world of difference between someone who does just enough to complete a task and a person who gives their best effort regardless of the circumstances. The latter's work is usually better than the former's — and it almost always shows.
This is especially true in situations where you could be earning tips, gratuities or bonuses. People are much more likely to part with extra money when you put in the extra effort.
Don't Underprice Yourself
Many people are worried about "charging too much" for their services. Teenagers especially are often unwilling to charge significant amounts of money because they mistakenly believe that people won't value their services because they haven't reached adulthood.
But if you're following our advice about giving it your all and being professional, people will value what you do. Never be afraid to ask for what you think the job is worth to the client.
This means you should be pricing your service based on its value to the client, not on how long it takes you or how difficult it is for you. If you happen to be a great landscaper and you can finish a lawn in a couple of minutes, that's great. But don't charge less because you can do it faster. If anything, charge more because the client is getting better service.
Spend Wisely
You can make all the money in the world, but if you don't save, you won't have anything to show for your work. Set yourself a savings goal of X% of your total earnings and stick to it. It doesn't have to be a very high percentage. Even 10% or 15% will add up reasonably quickly if you stick to it.
Savings can contribute to a lot of things, from big purchases (like a car or a brand-new phone) to retirement.
Which leads us to our next point …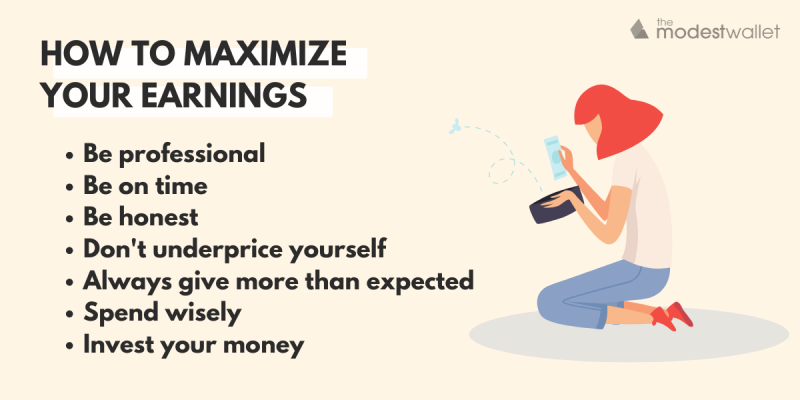 See Also: 48 Legitimate Ways to Get Free Money, Fast and Easy
Invest Your Money
This is so important — Don't waste the money you earn. And here, we're not actually referring to spending it unwisely. Everyone deserves to have some fun once in a while, so go ahead and splurge when you have room in your budget for it.
What we mean is, Don't waste the money you've saved by sticking it in a low-interest savings account. Invest it!
One of the most powerful resources you have is your youth. Because you're so young, you have more ability than almost everyone to take advantage of a lot of years of compound interest. Here's an example to illustrate our point:
If an 18-year-old person invests $1,000 per year in the S&P 500 index (at 8% interest) until they're 65, they'll have $560,113.96 saved up when they retire.
If a 35-year-old person does the exact same thing, they'll only have $135,132.35 when they retire.
A tiny little bit of money saved and invested in your youth is worth huge amounts of money later when compound interest is taken into account. Of all of the items on this list, investing is probably the most important one. If you learn nothing else from this article, remember to invest your money wisely.
Some people object to investing on the basis that they don't know anything about it. For people who'd like to get started, there are legions of financial planners, investment advisors, brokers, and robo-advisors who are willing to offer guidance and help set you up for the future. Better yet, you could just invest in an index fund and leave your money there. An index fund is a great way to invest your money if you're not comfortable picking individual stocks. It's a little bit outside the scope of this article but google it. You won't be sorry.
Final Thoughts
Making money as a teenager can be one of the most fun and rewarding things you do with your time. Not only are you earning money you can use to spend on yourself and the people you most like and love, but you're also learning skills that will last your entire life. Unlike some obscure algorithmic equations taught in math class, money-making skills can come in handy no matter what stage of life you're in.
Up Next

Ricardo is an entrepreneur, investor and personal finance nerd who enjoys spending time with his family and friends, travelling and helping others achieve their financial goals. Ricardo has been quoted as a personal finance expert in several online publications including Healthline, Bankrate, GOBankingRates, MSN Money, Yahoo Finance, U.S. News & World Report, Forbes and USA Today.