48 Ways to Make Money in College [2023 Update]
Many or all of the products featured on this page are from our sponsors who compensate us. This may influence which products we write about and where and how the product appears on a page. However, this does not influence our evaluations. Our opinions are our own. Here is a list of our partners and here is how we make money.
---
The information provided on this page is for educational purposes only. The Modest Wallet is a financial publisher that does not offer any personal financial advice or advocate the purchase or sale of any security or investment for any specific individual.
College can be a blast, but not every part of the experience is great. The lack of money, for one, is a definite downer. Many of us find that our expenses keep piling up while our ability to make money in college is seriously restricted by our classes and social lives.
To make matters worse, we see the balance on our student loans adding up, semester after semester, virtually guaranteeing us a difficult struggle when that interest-free grace period expires.
But it doesn't have to be that way. There are a ton of legitimate ways to make money in college. So, without further ado, here are our favorite ways to earn some extra cash while you're going to school.
---
Quick Ways to Make Money in College
A lot of jobs and side hustles mean significant start-up time and money, or they require waiting a significant amount of time before you get paid. You may not have the luxury of time. So what do you do if you need to get paid yesterday?
Have a look at these quick and easy jobs that will ensure you get paid quickly and without too much hassle.
1. Take Paid Online Surveys
Paid survey platforms are the gold standard of "get paid quick" sites and can be a great way to make money in college. These sites allow you to take surveys about your consumer habits, political views, or religious affiliations (among other things) in exchange for cold, hard cash. The money is usually paid out via PayPal once you hit a preset minimum payout level, which is usually pretty low (between $10 and $25).
You'll need to be careful about scam sites when you're navigating the online survey world, so you're best off if you stick to sites with long histories of regularly paying their users on time and in full. We'd recommend the following sites:
You can't go wrong with any of these services. They've all been in business long enough to prove they're reliable sources of income.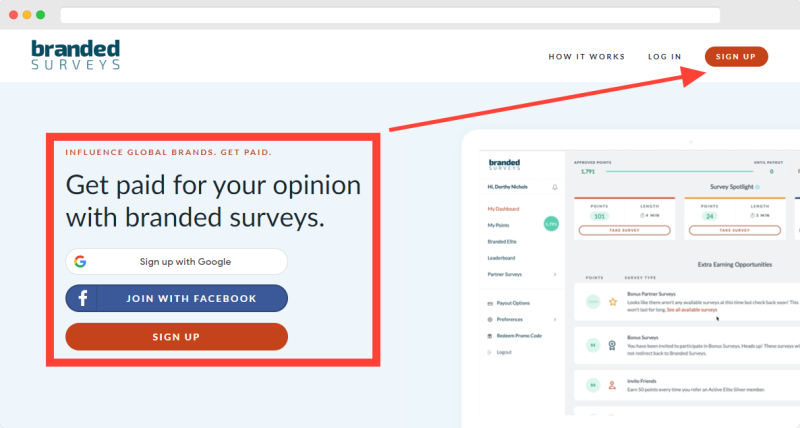 >> Read Also: 18 Best Paid Online Surveys Sites: Make an Extra $300 Per Month
2. Get Paid to Watch Videos
If doing surveys isn't your thing, why not get paid to watch videos? Alright — so you won't be taking in the latest masterpieces of French cinema or the latest Hollywood blockbusters. Instead, you'll be watching short, digestible, sponsored content in exchange for small payments.
Effectively, you're being paid to watch advertisements during your time off. While you won't be paid gigantic amounts, you'll certainly make more doing this than you would watching Netflix or going out for drinks with friends.
As with online surveys, you'll need to be careful to go with a video provider who's guaranteed to pay you when (and in the amount) they promised to pay. We recommend a service called InboxDollars. They're reputable, have been around a while, and always pay when they say they're going to.
3. Deliver Food
Do you have a car? Do you have a smartphone? Can you pass a basic background check? If you answered yes to all of those questions, then you're probably qualified to deliver takeout for DoorDash, one of the leading food delivery companies.
This side hustle is great for people who don't like to be cooped up at home all evening after a long day of classes. At the same time, it's not so mentally taxing that you won't be able to focus on your studies the next day.
You will want to keep an eye on the expenses associated with operating your vehicle, however. Gas, maintenance, depreciation, and insurance have to be considered when you're putting together your Profit & Loss (P&L) statement. Delivering food can be a good way to make money in college.
>> Read Also: Best Food Delivery Apps To Work For
4. Deliver Groceries
If you're not down with delivering take-out, but you still want to make money behind the wheel of your car, consider Instacart or Shipt. Instacart is a grocery delivery app that pays shoppers and drivers to collect and deliver groceries for paying clients.
The app actually separates out the shopping and delivery tasks, so if you like one of them more than the other, you can focus on just that one. For example, if you don't have a car, you can park yourself at your local grocery store, gather items that people order, and have them waiting for the delivery driver when they arrive. Or, you can stick to driving and leave the shopping to someone else.
Postmates promises to deliver everything from office supplies to alcohol, so be prepared for more variety if you agree to drive and deliver for this app.
5. Deliver Packages
If you own a slightly larger vehicle (say, a van, SUV, or covered truck), you might want to consider driving and delivering for AmazonFlex, which lets you deliver Amazon packages to people in your local area.
You'll be a "last mile" delivery person, acting as the final link in the supply chain between Amazon and the customer.
AmazonFlex pays slightly more than you'd get from a company like DoorDash, Instacart, or Shipt, even when you figure in the tips you might earn with those companies on an average day or evening.
Working for AmazonFlex is also significantly harder on your back than working for DoorDash, Instacart, or Shipt. The work will require you to deliver large, bulky packages and go up and down flights of stairs. This is another good option to make money in college.
6. Sell Used Textbooks
Every college student has piles of barely used textbooks from past semesters just gathering dust — and possibly acting as doorstops. Why not turn those perfectly good books into perfectly good cash?
BookScouter will scour the Web for the best prices currently being offered for the books you have on hand. And while you won't get rich in the process, selling your books can provide you with a surprisingly lucrative new income stream.
If you're going to go this route, your best bet is to sell your books immediately after your class is over. Even new editions of most textbooks go out of date very quickly.
Books with accompanying digital resources can pose a problem for people selling books on the secondhand market because these supplements often don't transfer to the new buyer. This reduces the price you can get for your gently used book.
7. Get Cash Back
If we've said it once, we've said it a thousand times — saving money is as good as making money. And there's no better way to save money than to earn cash back on everyday purchases through the Rakuten browser extension.
Rakuten pays users what they have accumulated in savings each quarter when they spend money on things like clothes, consumer electronics, and other day-to-day items.
Cash back apps like Rakuten are great to combine with a cash back credit or debit card. That way, you can make money twice over. It's not unusual for people who stack rewards like this to earn as much as 10% of their shopping bill in cash back.
8. Walk People's Dogs
People have gone dog-crazy. From cute little pocket dogs to hulking huskies, it can seem that dog owners will stop at nothing to make sure that their barking and drooling bundles of joy have the best care possible.
Rover is an app that connects dog walkers and pet sitters with pet owners. If you're a pet person and you like to spend time with animals, this might be just the app for you. Check out our Rover review to learn more.
As with all gig economy service apps, your user rating will determine whether you're able to book more jobs after your first one. Be sure to treat your little canine (and feline) charges like royalty, and you'll see your positive reviews roll in. If you like doggies, this is a great way to make money in college.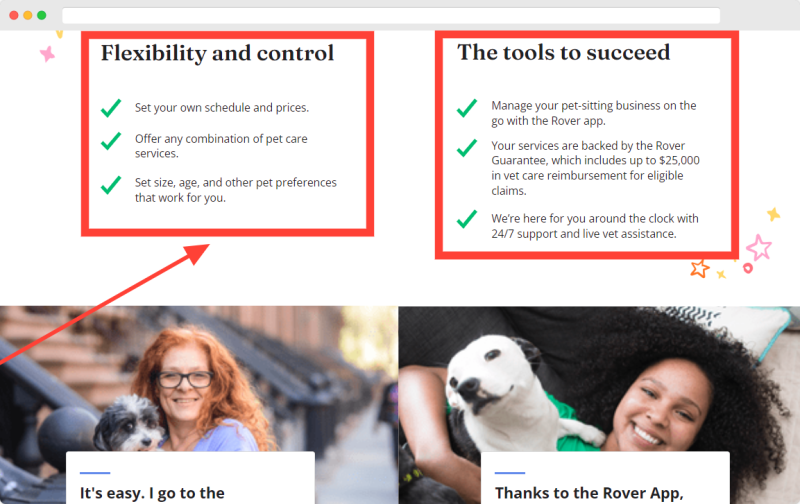 >> Read Also: 15 Simple Ways to Get Paid to Watch Videos Online
9. Sell Used Stuff
If you find yourself short on cash and long on random stuff, why not trade the latter for the former? A site called Decluttr aims to make your life a little easier (and wealthier) by offering cash for CDs, DVDs, games, books, phones, tablets, and similar items.
You just scan the barcode of your item (if you're using the app) or key in the barcode number (if you're using the website), and Decluttr will give you an instant quote that's good for 28 days.
If you take Decluttr up on their offer, they'll send you a box and a shipping label to send your item to them. If the item is what you said it would be, you get your money! It's as simple as that. And it beats having a bunch of stuff you never use just lying around your apartment or dorm.
Check out our full Decluttr review to learn more.
---
Best Ways to Make Money Online in College
Of all the items on this list, the strategies in this section will help you make the most money. In the right hands, all of these approaches are real money-makers. While they'll all take some effort to get up and running, these hustles can turn into lengthy careers with tons of opportunities for advancement if you play your cards right.
10. Virtual Assistant
People are busier than ever. To deal with their inboxes and growing to-do lists, many are turning to virtual assistants (VAs) to help organize their lives.
VAs handle all the same tasks that regular assistants do (minus getting the coffee) but do tasks remotely and online. They answer phones, return emails, manage schedules, and more.
It's one of the best fields for a beginner online freelancer to consider joining because the barriers to entry are relatively low. You don't need to possess any special certifications or unusual skills to be successful in this line of work.
Before you dive into this option, however, you should seriously consider learning and sharpening your VA skills. Coming into this field with the skills you might otherwise learn only from experience can give you a huge leg up on the competition.
We recommend you take this online class offered by the Horkey Handbook. In 30 days or less, this class will teach you to stand head and shoulders above your competition by showing you the VA ropes. And it's a tiny investment when you consider how much money you stand to earn in the VA industry.
11. Freelance Writing
There are few skills that are as lucrative as the ability to write solid copy and content for businesses. While the authors of novels and non-fiction books get all the glory, there's a small army of professional freelance writers making very good incomes by making sure that businesses everywhere have the web copy, blog content, and ad copy they need to market their services effectively. Freelance writing can be profitable and a great way to make money in college.
Unless you already possess the writing chops you'll need to succeed in this field (and few do), we recommend the Earn More Writing course. It will teach you not only how to write effectively but also how to manage your new small business to maximize profits and minimize your administrative overhead.
12. Become a Proofreader
Along with all of the content and copy created by the freelance writers we mentioned in the previous section, there's a need for adequate proofreading of their work. (Writers might be great at writing, but catching errors in their own writing can be challenging.)
You can offer proofreading services to businesses (or even the writers themselves) if you become familiar with the special notation and markup used by proofreaders around the world. One of the best ways to become familiar with proofreading rules is to take the Proofread Anywhere course.
This no-nonsense and no-fluff online course will give you the skills you need to become an expert proofreader in record time. Short on filler and long on actionable, effective guidance, Proofread Anywhere can help you earn thousands of dollars to help pay for those expensive courses and nights out.
13. Start a Blog
Starting and running a successful blog can be your ticket to a rewarding and exciting new income stream and a good way to make money in college. But how can you make sure that you succeed where so many people fail?
We have a few pieces of advice. First, and as we'll discuss with a few of the other strategies on this list, it's important to "niche down" to a manageable audience. Few bloggers, if any, can appeal to everyone at once, so it's important to identify a distinct niche within which to operate. While you don't want to go so narrow that you unnecessarily deprive yourself of readers, a sufficiently focused approach will make it much easier to retain and increase your audience.
Second, you'd be wise to consider this Full-Time Blogger online course offered by my friend Larry Ludwig. This more-than-reasonably priced course will teach you to effectively start, grow, and nurture your new blog. He will also teach you the monetization strategies you'll need to convert readers into customers and become a full-time blogger in no time.
By the way, Larry sold his previous blog (Investor Junkie) for $6 million in 2018. So, he definitely knows what he's talking about.
14. Design Websites
The explosive growth of the Web is obvious to everyone. The Web is especially crucial for small- and medium-sized businesses that need websites to manage their reputations and grow their businesses.
But most of these businesses don't have any idea how to build a website themselves. That's where you come in. You can learn to develop websites from scratch or by using popular content management services (CMSes).
This Web Development Bootcamp does an amazing job of teaching you the fundamental skills needed to develop websites quickly and skillfully. Udemy has put together a fantastic boot camp that can get anyone from 0-60 in record time.
>> Read Also: How To Make Money Building Websites
15. Run Facebook Ads for Businesses
Few marketing tools are as powerful as a properly used Facebook Ads account. The ability to specifically target local and global audiences by interest and a wide variety of demographic variables gives businesses a huge advantage over traditional print and TV ads.
But using this tool properly requires a lot of know-how and some digital marketing savvy. You can provide these skills to businesses that don't possess them in-house. But before you do that, you'll want to master the art of managing Facebook Ads.
To get a huge head start on running Facebook Ads for businesses both locally and globally, we strongly recommend you consider this FB Side Hustle Course offered by Laptop Empires.
It teaches you everything you need to know about creating and managing Facebook Ads for small- and medium-sized businesses. From segmenting your target audience to best practices in writing Facebook Ad copy, this course will have you managing ads like a pro in no time. This is one of the most profitable ways to make money in college.
16. Social Media Manager
Effective social media use has never been more important to the success of many small and local businesses. At the same time, a large number of businesses acknowledge they don't have the resources to capitalize on the opportunities presented by social media.
You can step in and help manage the social media accounts of these same businesses. You'll be offering a valuable service to deserving small businesses who hope to increase their bottom lines and drive revenue.
Before you dive in, however, why not consider brushing up on your social media skills with this Social Media Manager Bootcamp? Udemy offers a great collection of courses at a very low price to help you get up and running as a social media manager (in very little time).
17. Offer Transcription Services
Millions of hours of audio and video are being produced every day in a wide variety of industries and fields across the world. In many of these industries, the words spoken in that audio and video content must be reduced to writing.
For example, medical doctors need to have their audio notes transcribed. Lawyers need audio and video statements in written form. And courts need transcripts of proceedings.
If you have a talent for typing and an ear for language, transcription services might be for you. While it can be difficult to initially learn the special rules that apply to various fields of transcription work, once you've got the hang of it, you can make money quickly.
To help get a handle on the special rules governing transcription, you should consider the Transcribe Anywhere online course. This course will rapidly get you up to speed on the ins and outs of transcribing audio and video so you can quickly get to work offering your services to clients.
---
Best Ways To Make Money in College (Off-Campus)
Do you want to get off campus? How would you like to make a few dollars while you're galavanting around? These jobs take place either virtually or someplace away from the place you'll be spending most of your waking (and sleeping) hours.
18. Babysit
Babysitting isn't just for clubs of preteen girls. Anyone who's reliable and trustworthy can babysit, and there are apps to make it easier. This is a great side hustle if you want to make money in college.
Sittercity connects aspiring babysitters with parents everywhere who need someone to watch their youngsters while they do whatever it is that parents do when their kids aren't around.
Of course, you'll need to have access to transportation that can get you to and from your clients' residences, a smartphone to stay connected to the app, and the ability to pass a background check. But if you meet those criteria, and you're good with kids, you're well on your way to earning a few dollars in your off-time.
19. Rent Out Your Car
In most cases, your car is a pure liability. It depreciates quickly, requires maintenance and fuel, needs insurance, and doesn't do much while you're not using it. Why not put it to work?
Turo and Getaround are two different apps that both allow you to monetize your vehicle while you're not using it by renting it out to people you connect with on the companies' apps.
Just like you would if you were using your car to deliver food or groceries for a company like Instacart or DoorDash, you'll need to keep track of how much the use of your vehicle costs you in fuel, maintenance, depreciation, and insurance in order to get an accurate read on how much money you're making.
20. Monetize Your Unused Space
Just as cars sit around doing nothing most of the time, unused space is just, well, unused space — until now. Do you have an extra closet, shed, room, or garage that's sitting empty? Why not rent it out for a set fee to someone who needs to store some of their stuff?
Neighbor is an app that lets you do just that. (Think of it as the Airbnb for unused stuff.) While the idea might take some getting used to, once you wrap your head around it, it actually becomes an attractive proposition to allow people to store things in your space. After all, if it's just going to sit empty, why not put it to work?
21. Test Products Online
Every reputable software product that has ever been released, from websites to mobile apps to downloadable programs, has been user-tested. And while many of these user tests were probably conducted by interested early adopters, many more have been carried out by paid testers. This could be a good option to make money in college.
UserTesting allows you to become one of these paid testers. It also connects you to software and web developers who need testers for their products.
The interface and process are simple and easy to learn. What takes a bit of practice is providing polite and specific feedback to developers. You're rated on the quality of your feedback if you use this site, so make sure you have (or can develop) a knack for delivering quality advice promptly and diplomatically. (Note: Any technical knowledge you have can be very helpful during communication.)
>> Read Also: How To Make Money Testing Products
22. Become a Server at a Local Restaurant
For some, this may be one of the most lucrative jobs available to college students, and not because of the base salary. Servers often earn less than minimum wage. However, as you may have already learned, many server jobs more than make up for that low base salary in the form of tips.
The amount of money you earn in tips will depend heavily on a wide variety of factors: the restaurant at which you work, the clientele you serve, the location you're in, and your personality and skills. However, the right person in the right job can easily earn hundreds of dollars per night in tips.
Remember always to report your tip income to your national taxing authority. Failure to do so can result in penalties, interest, and orders for retroactive payment of deemed income taxes.
23. Graphic Design
If you have a knack for graphic arts, you may wish to become a freelance graphic designer to make money in college. These skills are highly sought after both online and offline and can be financially rewarding. Additionally, this job can be just plain fun. A lot of people like to do graphic design work as a hobby, so being paid for it feels like a free bonus.
If you're going to go into this line of work, we'd strongly recommend you go online and check out some of the freelance markets that have sprung up over the past few years. Upwork and Fiverr are just two examples of sites that will connect you with clients relatively quickly. Another website, 99Designs, is specific to graphic designers and will also hook you up with people who need your skills.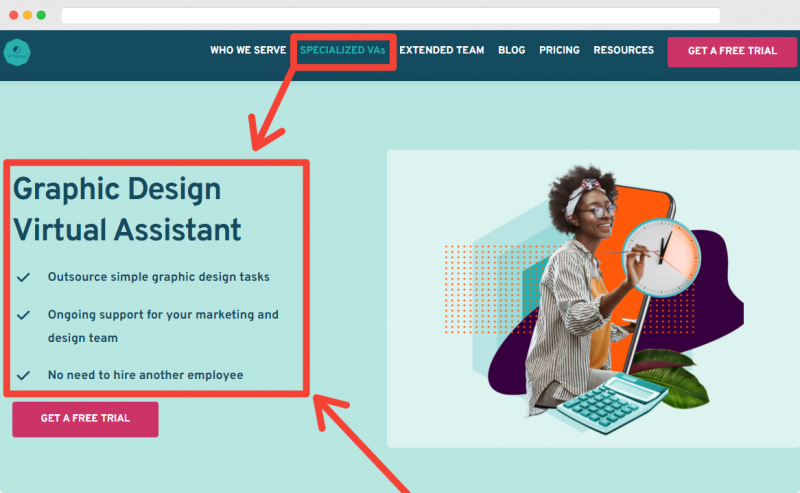 >> Read Also: 30 Legit Ways to Make $500 Fast (Within a Week)
24. Become a Barista
While not quite as lucrative as most server jobs, becoming a barista can be quick, painless, and profitable. Because of the explosion of growth in coffee shops, both chain and independent, these jobs are everywhere, and the market for them isn't terribly competitive.
Be prepared to work hard, however. As you probably already know, coffee shops are busy places and often understaffed. On top of that, orders are often complex, and baristas are expected to memorize and be intimately familiar with expansive drink menus.
If you happen to become employed by one of the larger chains (like Starbucks), do your best to take advantage of their managerial and academic training programs. A lot of these companies will pay you to take useful courses in business and leadership. Don't miss out on the opportunity for free education.
25. Sell Your Crafts on Etsy
If you're more into crafts than graphic design, you might give Etsy a try. Etsy is a global online marketplace for hand-crafted goods. People with all sorts of skills and ideas can succeed on this platform, from painters to jewelry makers to knitters (and nearly every crafty endeavor in between). Selling crafts can be a great way to make money in college.
As with many areas of small business and online freelancing, one of the tricks to making an excellent living on markets like Etsy is to find an underserved niche and give the clients in that niche what they want at a premium price. While you don't want to narrow your offerings unnecessarily, you do want to "niche down" to a point where you can outcompete other crafters and effectively market to your clients.
>> Read Also: How To Make Money Selling Etsy Printables
26. Work in Retail
Retail jobs aren't glamorous, but they are almost everywhere. Even better, getting a retail job is not terribly difficult, given how desperate companies in this industry are for qualified employees. The hours are generally flexible, and you'll almost always be allowed to work part-time around your class schedule. An increase in retail work-from-home opportunities can give you some extra flexibility, too.
If you do take one of these jobs, keep in mind that in a sector like retail with high employee turnover, a willingness to put in a solid day's work and stay with the same employer is a positive. Supervisors in retail are often used to dealing with flaky or unreliable employees, but they'll fall head over heels for someone who can be counted on to show up on time and do their job well.
27. House Sitter
Taking care of someone else's house while they're away requires trustworthiness and reliability. Of course, people who know you well might be willing to let you house-sit for them, but would a perfect stranger?
That's where MindMyHouse comes in. If you've got a smartphone, access to reliable transportation, and can pass a background check, you just might qualify to house sit for people with the help of this service. As a bonus, you'll be able to save time marketing to people in your local area.
Be aware that positive reviews are crucial if you use the MindMyHouse platform. You'll need them if you're looking for a steady stream of new clients.
28. Become a Handyman
My grandfather used to talk about how, in the old days, everyone used to be able to fix everything. But the realm of repair has changed in the 21st century, so people who can (genuinely) fix things are valuable.
If you happen to have a specialized skill — or if you're good at fixing a variety of things— and you'd like to connect with clients without spending a fortune on marketing, check out the TaskRabbit platform. Like Uber for service people, TaskRabbit will show you where to find people who need help with basic tasks, from grocery shopping to small appliance repair to basic carpentry. Performing micro tasks for other people can be a good choice for you to make money in college.
---
Best Ways To Make Money in College (On-Campus)
Would you rather stay on campus to make some extra cash? Maybe you love the feeling of being where the action is. Maybe you like staying close to home, or maybe you just like the convenience of earning a few dollars without going too far. Take a look at these jobs that should be just around the corner.
29. Campus Security
While this job certainly isn't for everyone, it can be fantastic for the right person. If you have a passion for keeping people safe and you have the ability to de-escalate difficult situations, then campus security guard might be the role you've been looking for.
This can be a difficult and occasionally dangerous job, however. You'll need to be cautious and alert and take care of yourself. You'll also likely have to work some strange hours, given the prevalence of night shifts in jobs like this one.
The nature of this job can vary pretty significantly. It's one thing to be working the night shift at a rowdy campus bar. It's another thing to work the day shift at a campus library. You'll need to learn what you're capable of, what your local campus requires, and where you're most comfortable.
30. Research Assistant
This job is common for people with an academic bent and aspirations for higher learning. Many PhDs started out as "lowly" research assistants in campus labs all across the country.
While you won't be doing the more glamorous work associated with academic research (insofar as any of it can be called glamorous), you can meaningfully contribute to the advancement of knowledge in any number of fields.
We recommend picking a field you have a real passion for. The work can sometimes be monotonous and difficult at the same time, so truly enjoying what you're doing can make this job a heck of a lot easier. Overall, this can be a good way to make money in college if you're into research.
31. Write Resumes for People
A specific sub-niche of the writer job we described in an earlier section, writing resumes for clients can be a highly lucrative side hustle for people with the specialized knowledge and skills necessary to write an appealing resume or CV.
And you can't find a more client-rich environment than a two- or four-year college. Virtually everyone who matriculates is going to want and need to find a job after, or even before, graduation.
If you're really serious about making a go of it with this hustle, consider joining the National Resume Writers' Association. Founded in 1997, this group provides mentoring, education, and certification in the practice of resume and CV writing. Joining the group can be the difference between writing decent resumes that make a little money and writing amazing resumes that make a ton of money.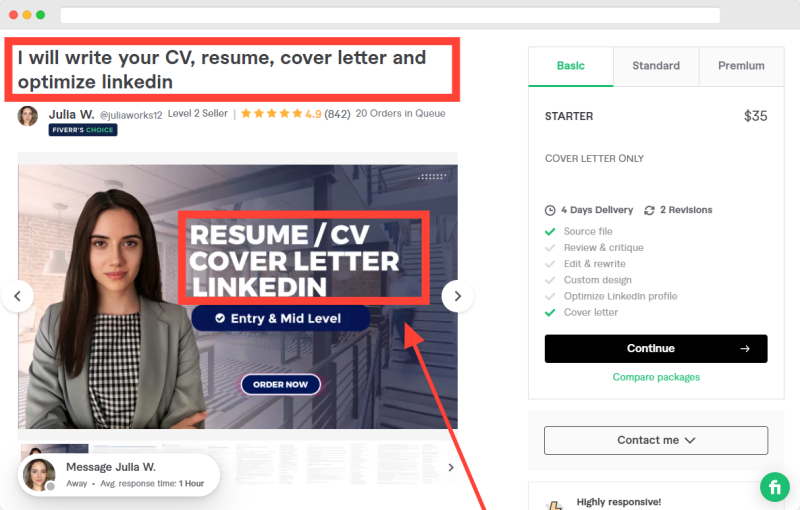 >> Read Also: 20 Best Under The Table Jobs That Pay Cash
32. Become a Teaching Assistant
Being a teaching assistant (TA) isn't easy. You'll grade a lot of papers, tests, and exams. You'll field a lot of questions. And you'll interact with some stressed-out and less-than-happy students on occasion. But, on balance, this is a pretty great job for college students and a great way to make money in college.
You can do it on-campus (and even remotely if your professor is set up for it) and won't need to do any heavy lifting or manual labor. The pay is usually quite fair. However, be ready for strict deadlines in your work. Students don't like waiting for exams or paper grades, which means professors don't like waiting for those grades. Make sure you get your materials graded on time (or early).
33. Private Tutor
Regardless of the school you attend, you can be sure that a good number of the students there are struggling to hand in quality work and get good grades. Many of these students turn to private tutors to help them achieve academic success.
Before you dive into this job head-first, however, make sure that you're actually an expert in your subject. Your success will hinge on word-of-mouth and your students' feedback.
Finally, make sure you don't undercharge for this service. Keep in mind that, especially at more expensive four-year colleges and universities, students (and/or their parents) have invested tens of thousands of dollars in their education. They'll be willing to shell out quite a bit of cash to a quality tutor.
34. Become a Library Assistant
Library assistant is one of the most coveted jobs on campus. It's not a particularly easy job, but it is extremely laid back and quiet. You'll spend most of your time doing organizational and clerical work and helping students find resources in the library. Unlike a job in campus security (for example), you won't deal with a lot of conflict or angry people.
This is a popular job with a limited number of openings, and there is usually a competitive application process. Be sure to emphasize if you have any other relevant experience. Because this is an on-campus job, point out if you have an excellent academic record. That kind of thing can make a difference when you're applying to a campus library.
35. Become a Campus Tour Guide
Are you a social animal with a knack for speaking to groups of people? Do you know your way around campus? Becoming a campus tour guide might be the job for you.
This is an ideal role for "social butterfly" types who like to get out into the world and talk to people. You need to be friendly, approachable, knowledgeable, and informative. If you have all these qualities, then this can be a great way to make money in college.
A great way to land one of these jobs is to speak with your local student union. They're usually sufficiently plugged into campus goings-on to give you some good guidance on where and how to get a job like this one. They sometimes even put on their own tours so they might be able to give you the job directly.
36. Become a Resident Assistant
The resident assistant (RA, for short) assists students in adjusting to the social and academic world of university or college. As this transition is frequently a difficult one, RAs must be empathetic, friendly, and supportive.
While it helps to be a socially extroverted type in this sort of role, introverts aren't necessarily disqualified. A willingness to lend an ear to a student who's having a hard time and needs some support is more important than making tons of friends and connections around campus.
This job might be ideal for someone going into one of the "helping" fields (like social work) that require an ability to facilitate the well-being of others.
---
Unique Ways to Make Money in College
You may not have thought of any of the money-making ideas listed here. While they may be a little bit off the beaten path, all of them can be excellent ways to make some extra money before you graduate.
37. Flip Furniture for Money
Not a lot of people have thought about flipping furniture for money. But there's a surprising amount of money in it for those willing to put in the time and effort. It also helps to have a high level of natural ability or skill in woodworking, painting, refinishing, and other talents you'll need to restore the furniture to its glory.
This side hustle works by finding bargains on furniture online or in second-hand stores, refurbishing and refinishing pieces, and reselling them for a profit.
You'll need access to a space that allows you to use paints, varnishes, and small tools. That means the room will need to be well-ventilated, insulated for sound (so you don't bother your neighbors with hammering and sawing), and be able to accommodate lots of permanent paints and stains. If you're living in a dorm room and you don't have access to a second space, this job probably isn't for you.
38. Start a YouTube Channel
A successful YouTube channel can bring in loads of cash. The top operators on YouTube are, quite literally, multi-millionaires, earning hundreds of thousands of dollars in ad revenue and sponsorships for each video.
Of course, you won't start out being one of these top YouTube stars. You'll need to begin at the bottom, with zero subscribers.
There are several keys to building a lucrative YouTube channel. You'll need to choose a profitable niche that's specific enough to lend itself well to marketing but not so narrow that you limit the number of subscribers you can get.
You'll also need to establish authority and credibility on a subject you know well. Since you're a student, you may want to choose something related to school or your field of study. If you have an extroverted personality, this can be an amazing way to make money in college.
>> Read Also: 30 Best Part-Time Jobs to Boost Your Income
39. Start a Podcast
Starting a podcast is similar, in a lot of ways, to starting a YouTube channel. You'll need to have (or build) a great deal of credibility and authority on a niche subject. You'll need to market yourself effectively. You'll need to publish content on a regular basis to establish consistency for your followers and listeners.
One thing you'll definitely not want to overlook is production value. Don't record your podcast on an old phone microphone, and expect it to do well. Invest in a decent mic and setup before you start podcasting to the world. A professional setup, even on a budget, can make all the difference when you're trying to gain traction and gain subscribers.
40. Design and Sell T-Shirts
While this used to be a labor-intensive process, there are now tons of businesses online that will allow you to make and sell custom t-shirts in bulk. All you need is a design that you think will sell well and a few dollars to get the t-shirts made.
This idea pairs well with many of the other ideas on this list. Custom t-shirts make great gifts for company giveaways and marketing. Trying to launch a new YouTube channel or podcast? Why not give away a t-shirt to the first 10 or 50 subscribers to your channel?
Be careful when you're crafting the design of your t-shirt. You don't want to infringe upon any trademarked images or copyrighted phrases. The last thing you want to have to do is pull the t-shirts because you've made an intellectual property booboo (that's a technical legal term).
41. Sell Photos
If you have a talent for taking photos, there's a world of opportunity out there for you. You could go the traditional route, taking wedding and baby photos. Or, you could take the road less traveled and sell pictures to stock photo websites.
This side hustle works especially well for people who travel frequently or those who have domain over the course of their day (which can lead to colorful opportunities). (Selling photos can be a great accompaniment to hosting a travel or lifestyle blog, for example.)
You should be aware that this can be a highly competitive industry. Many people believe they're excellent photographers, and they've crowded the marketplace with subpar photos and pictures. You'll need to clearly demonstrate that you can rise above the rest and differentiate yourself before making any real money at this gig.
42. Create an App
For those who are successful at this, creating an app can be a life-changing experience. Popular apps can bring in hundreds of thousands, if not millions, of dollars. And, while that level of success would surely be amazing, you don't need to rise to those heights to earn substantial profits on a new Apple or Android app.
Niche apps consistently earn money on their own or in conjunction with some of the other money-making ideas on this list. For example, a person who wishes to sell their photos online might create an app to facilitate access to previews or samples of those photos.
As with so many of the other strategies on this list, the trick to succeeding in app creation is to niche down sufficiently to reach an identifiable market, but not so far that you unnecessarily restrict the size of your audience.
43. Launch a Course
Creating and selling an online course is a fantastic way to make largely passive income with something that you're passionate about. As with podcasting, blogging, and creating a channel on YouTube, authority, and credibility are key to developing a successful online course offering. Basically, you'll need to be able to convince an audience why you're the best person to listen to on your chosen topic.
If you'd rather not deal with the myriad technical and technological aspects of starting up and running your own online course, give a service called Podia a try. Podia will take care of all the "boring" stuff and let you focus on building a great course that appeals to the masses.
44. Mow Lawns
This one might not be the most exciting of ideas but believe us — it works. Every homeowner in the country needs landscaping and yard work done, and many of those folks will do anything to avoid doing it themselves. Most of all, these people are looking for someone reliable and trustworthy to get the job done week in and week out.
You'll need a little bit of equipment before you get started, though. What exactly you'll need will depend on the size and complexity of the yards you take on. Simple, suburban yards might only require a push mower, while larger jobs might require a riding lawn mower, gas-operated trimmers, leaf blowers, and more. Before you invest in that equipment, make sure that the market in your area justifies the investment.
45. Shovel Snow
Just as people hate cutting their own lawns, they also hate shoveling their own snow. It's hard, backbreaking work. If you have the strength and stamina for it, you can make a decent amount of money just by making sure that people's driveways are clear in the winter.
Make sure you don't undercharge for this job. It's difficult, even dangerous at times, and provides a lot of value to the purchaser. While you won't be able to charge more than the market will bear, squeeze every cent you can out of each job to really make a dent in those student loans.
Of course, this job will only be available in places where it regularly snows, so if you're reading this in Florida or California, you're out of luck on this one.
>> Read Also: I Need Money Now: 35 Ways to Make Cash Right Now
46. Private Chef
If you have a real talent for cooking, you should consider becoming a private chef. Private chefs allow people planning small events to put on a great spread to impress their friends. And you'd be surprised how much they'll pay to impress.
Distinct from event caterers, private chefs focus on preparing custom meals for small groups of people. As such, the job comes with a lot less stress than a full-on catering position. There's typically no staff to worry about, and the scale is much smaller.
You should be aware, however, that the job does come with a little bit of stress. After all, burning the roast chicken is not an option when you're being paid to impress a client's guests.
47. Paint Houses
Painting houses can be lucrative work for the right person. It's a skill that most able-bodied people can learn quite quickly, and it's a task that most homeowners and landlords need to complete every few years.
If you're going into this line of work, you'll need to decide if you want to strike out on your own or join an existing company. There are tons of large companies that rely on student labor to staff their painting businesses, so you can always apply to one of them. In fact, this might be your best bet when you're just learning the ropes.
Once you know what you're doing, however, you may consider starting your own company. When managed properly, your own painting business can bring in more money than you would earn working for someone else. If all this sounds good to you, this can be a great way to make money in college.
48. Fix Cars
Amateur mechanics who are good at fixing cars are often referred to as "backyard mechanics" or "neighborhood mechanics." When they're good at what they do, these folks quickly earn a reputation as people who can help save car owners a substantial amount of money by avoiding pricier dealership garages.
As cars become more complex, the people who can reliably fix them become harder to find. Consequently, the amounts that amateur mechanics can reasonably charge have increased substantially. While they can't charge what a licensed mechanic at a regulated garage might charge, they can still make a decent amount of money in a short amount of time.
---
Final Thoughts
Hopefully, we've shown you a few ways to make money in college that can work for you. Given the variety and number of options we've included above, we're sure that at least one of these strategies will be up your alley.
As with all things finance-related, taking a quick self-assessment is a good idea before you dive into one of these options. Which of your skills are the most rare and/or valuable? Which ones can you best use to provide the most value to customers?
If you need to make money quickly, we recommend relying on your most monetizable skills rather than the things you most enjoy or what you're most used to doing (unless you know those options can help your finances with a shift in focus and some promotion).
One more thing — even when you've found a profitable avenue to keep those student loans low, don't forget to enjoy the rest of your time in college. Most of us will only be there once, so try not to spend all of your time chasing a dollar. Have fun!
Up Next
Get our free Side Hustle Handbook with the best strategies to multiply your income sources today.
Plus our best money tips delivered straight to your inbox.

Ricardo is an entrepreneur, investor and personal finance nerd who enjoys spending time with his family and friends, travelling and helping others achieve their financial goals. Ricardo has been quoted as a personal finance expert in several online publications including Healthline, Bankrate, GOBankingRates, MSN Money, Yahoo Finance, U.S. News & World Report, Forbes and USA Today.