Many or all of the products featured on this page are from our sponsors who compensate us. This may influence which products we write about and where and how the product appears on a page. However, this does not influence our evaluations. Our opinions are our own. Here is a list of our partners and here is how we make money.
The information provided on this page is for educational purposes only. The Modest Wallet is a financial publisher that does not offer any personal financial advice or advocate the purchase or sale of any security or investment for any specific individual.
If you're like the rest of us, you've got old electronic devices like phones and tablets lying around, gathering dust, and not doing a heckuva lot for you. A couple of companies have popped up over the last decade or so promising to let you unlock some of the cash that's tied up in those old devices.
Gazelle is just one of those companies, but is it all it's cracked up to be? Is Gazelle legit? Is using Gazelle worth it? We'll endeavor to answer these questions, and more, in the article below. So continue reading to find out if it's worth it to sell your old electronics on Gazelle!
Quick Summary: Gazelle is an online service that buys and sells old electronics, like phones and tablets. You can sell your used iPhones, Samsung phones, Google Pixels, iPads, and more. You are also able to buy certified pre-owned electronics like Apple MacBooks.
Promotion: None at this time
What Is Gazelle?
Gazelle is an online service that buys and sells old electronics, like phones and tablets. You can sell your used iPhones, Samsung phones, Google Pixels, iPads, and more. You are also able to buy certified pre-owned electronics through the platform.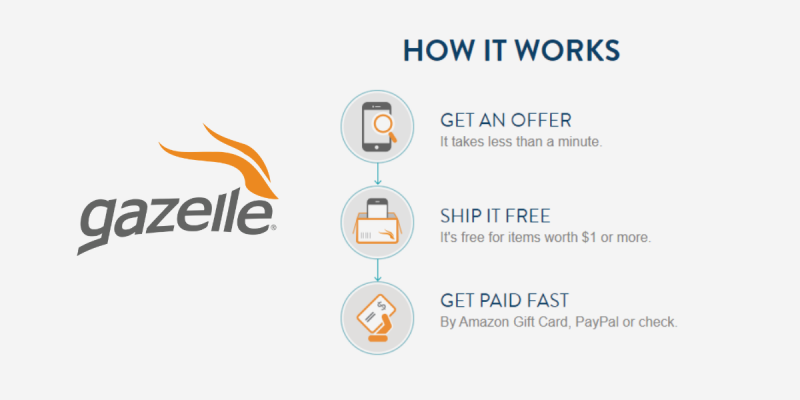 See Also: 30 Legit Ways to Make $500 Fast (Within a Week)
How Does Gazelle Work?
Gazelle is a straightforward electronics buyer and seller. It buys electronic devices from people like you, gets them all spic and span and makes sure they work, then resells them at a slight markup to consumers.
As a device seller perspective, once you're at the site, you will enter the make and model of the device you're selling. You'll then indicate the condition it's in as well as if it's unlocked or paired to a specific carrier. You'll get an instant quote that's good for thirty days and, if you accept the offer, you'll get a prepaid shipping label to place on a box or padded envelope.
Next, you will send your device to Gazelle and wait for them to verify that it's what you said it would be. A few days after that, you get your money via PayPal, check, or Amazon gift card.
There's not a lot to their business model. It's very simple, but it works, as they and their competitors in the space have been around for quite a while.
Gazelle Features
There are a ton of features that Gazelle can boast of that you'll be happy to have access to. These are just a few.
Sell Old Tech
Obviously, their main selling point is that they allow you to get rid of your old tech for a profit. As we said above, you can sell more than just your old phone. Gazelle will take your old MacBooks, iPods, and tablets. And while they won't take as many different categories of things as a service like Buyback Boss, if you have a Samsung, Apple, or Google device, odds are good that Gazelle will buy it from you.
Gazelle Fees
Gazelle doesn't charge any fees when you sell a phone or other device to them. Instead, they make their money when they resell your device at a markup to someone else.
Packaging and Shipping
When you accept an offer on Gazelle's, you'll be emailed a prepaid shipping label. Affix that label to an appropriate box or padded envelope (we recommend a properly packed box, to make sure your tech doesn't break on the way there) and send your device to Gazelle. All shipping and handling fees are on them.
Gazelle Payments
Gazelle will pay you for your phone or other device by check, PayPal, or Amazon gift card. We prefer PayPal because of how convenient it is, but keep in mind that you'll have to pay significant fees if you go that route. You can always take a check instead, but if you choose this option, you'll have to wait longer to receive your money. Amazon gift cards don't involve paying any fees but, of course, these aren't as good as cash.
See Also: 45 Side Hustle Ideas to Boost Your Income
Bulk Sales
If you're an employer who's upgrading his or her employee's phones, or a parent with a lot of kids due for a phone upgrade, you can always make use of Gazelle's bulk sales option. You'll get a custom quote if you're offering more than nine devices for sale at one time. Just drop them a line and they'll get back to you ASAP.
Customer Support
If you run into a snag or unexpected event while dealing with Gazelle, you can utilize any of their well-reviewed and reputable support options. You can chat with them live between 6am and 5pm Pacific Time seven days per week or call them during the same hours. You can also email them anytime.
Loyalty Program
The Gazelle Loyalty Program offers you the opportunity to earn points. Each point you earn is worth $0.02, which doesn't seem like a lot, until it gets you a few hundred bucks off your next phone!
Gazelle for Good
Gazelle for Good is a collection of charitable programs. Gazelle donates electronic devices to schools and programs, runs an affiliate tech donation program, and encourages its employees to donate their time to charitable organizations in their off-time.
Enterprise Trade-in Program
The Enterprise Trade-In Program is for businesses who regularly deal in large numbers of devices. Essentially, if you're a business and you have 10 or more devices to sell to Gazelle, you can get in touch with them directly for a custom quote on your phones, tablets, iPods, or other devices.
Gazelle Kiosks (ecoATM)
Gazelle partners with ecoATM to allow you to drop off your old tech at any participating automated e-waste recycling kiosk. These machines are pretty much what they sound like. They're automated, stand-alone machines into which you deposit your device in exchange for cash.
It's an environmentally-friendly way to ditch that old phone and get rewarded in the process.
Pro Tips to Make the Most Money with Old Tech
There are a few things you'll want to keep in mind if you're considering selling your old phone to Gazelle.
Sell Fast
First, don't hang on to your old technology for too long. The longer it sits on a shelf in your closet, the more it will depreciate until, finally, you'll no longer be able to sell it.
Instead of letting your old tech languish, consider selling it as soon as you get a new device. That way, you'll make the most money possible and the person that buys your old device can get the most use out of it. It's a win-win!
Sell Honestly
When you're describing your device to Gazelle, make sure you're as honest as possible. Gazelle will check the device when they receive it and make sure its condition, make, and model match your description. If it doesn't, they reserve the right to reduce your offer.
So be straightforward about the condition your item is in. Honesty is the best policy.
See Also: 90 Legit Ways to Make Extra Money on The Side
Things to Consider
If you're wondering if Gazelle is right for you, consider the following.
Who Is Gazelle Best For?
Gazelle is best for people who've got some old tech lying around and don't feel like going through the hassle of trying to sell it independently. If you value convenience and simplicity but still want to get a few dollars out of that old iPhone, Gazelle might be for you.
Who Should Avoid Gazelle?
If you're looking to squeeze every last cent out of your old phone, Gazelle might not be the best way to go. They're basically a middleman for used devices, so they're going to shave off some of that profit for themselves.
Therefore, if you want to make the absolute most money possible, look for a buyer yourself and hold out for the best price.
Gazelle Alternatives
There are a ton of alternatives to Gazelle these days. These are just a few of them:
Swappa
Swappa isn't a phone reseller so much as it is a service that matches phone buyers and sellers. They charge a fee to phone buyers who connect with sellers on the site. They don't charge sellers fees at all, which is great news for you.
Read our full Swappa review to learn more.
Buyback Boss
Buyback Boss is very similar to Gazelle insofar as they buy used phones and devices. What's cool about Buyback Boss is that they buy broken phones as well. So if your old phone or device is cracked and won't turn on anymore, give Buyback Boss a try.
Read our full Buyback Boss review to learn more.
Decluttr
Decluttr's focus is on helping people declutter their closets and shelf space by buying their old tech. They buy a wider range of old devices and collectibles than Gazelle does, but otherwise, they offer a very similar service.
Check out our full Decluttr review to learn more.
Gazelle Pros and Cons
The pros and cons you notice and experience with Gazelle will depend on your own personal circumstances and expectations from the service.
Pros
Excellent reputation
The company has been around a long time
Gazelle offers fair prices for old tech
Gazelle pays you when it says it will in the amount it promises
Cons
Some people have complained about having their offers unfairly lowered when the company receives their phone. (We're skeptical of this, as many people don't describe their phone's condition accurately, but we thought we'd note it to be safe.)
See Also: 18 Best Paid Online Surveys Sites: Make an Extra $300 Per Month
Gazelle FAQ
We noticed that we were frequently being asked the same questions by our readers about Gazelle. So, we thought we'd add an FAQ section to this article in case you were wondering the same things.
How does Gazelle make money?
Gazelle makes money by buying and reselling phones at a small markup. They're able to do this because they refurbish and improve the phones before they sell them and because they operate at scale, which allows them to capitalize on some efficiencies in the process. They don't charge any fees to buyers or sellers, unless you consider a small markup to be a fee.
Is Gazelle legitimate?
Yes, Gazelle is 100% legitimate. They've been around for a while and have a good reputation overall. According to Trustpilot users and reviews, some people claim that they've been cheated by the company, however these claims are always hard to prove. As we mentioned above, we suspect that these folks were less than forthcoming about the true condition of their device.
Gazelle is an accredited business by the Better Business Bureau (BBB), with anA rating as of this writing. The company has been rated since 2017 under the legal entity (EcoATM LLC).
Is Gazelle safe?
Gazelle is definitely safe to use. Since, as a seller, you're dealing directly with the company, you don't have to worry about getting messed with in the deal. Contrast this with trying to sell your device to an unknown person and you'll immediately see why Gazelle is an appealing option.
While the average person you might find on Craigslist or Facebook will probably be honest (because, on average, most people are honest), you always run the risk of finding a less scrupulous buyer who's just trying to part you from your hard-earned money.
What Percentage does Gazelle take?
Gazelle doesn't take a percentage. They do mark up your device when they sell it in order to make a profit, however. So, in a manner of speaking, they do collect and keep a percentage of what your phone is worth after they have worked on it.
This is no different than what any other for-profit company does, though. After all, everyone's gotta make a living.
Final Thoughts
Gazelle can be a great way to get rid of some of your old tech that's just laying around your house or apartment. You don't have to mess about with finding the right buyer in your area or pay to ship your device across the country to someone you only know from Craigslist.
Instead, you get an instant quote, a prepaid shipping label, and a PayPal deposit right into your account pretty soon after Gazelle verifies that the device is what you promised it would be. It doesn't get much simpler than that.
You pay a little bit of money for the convenience of the process. But hey, nothing's free, right?
Up Next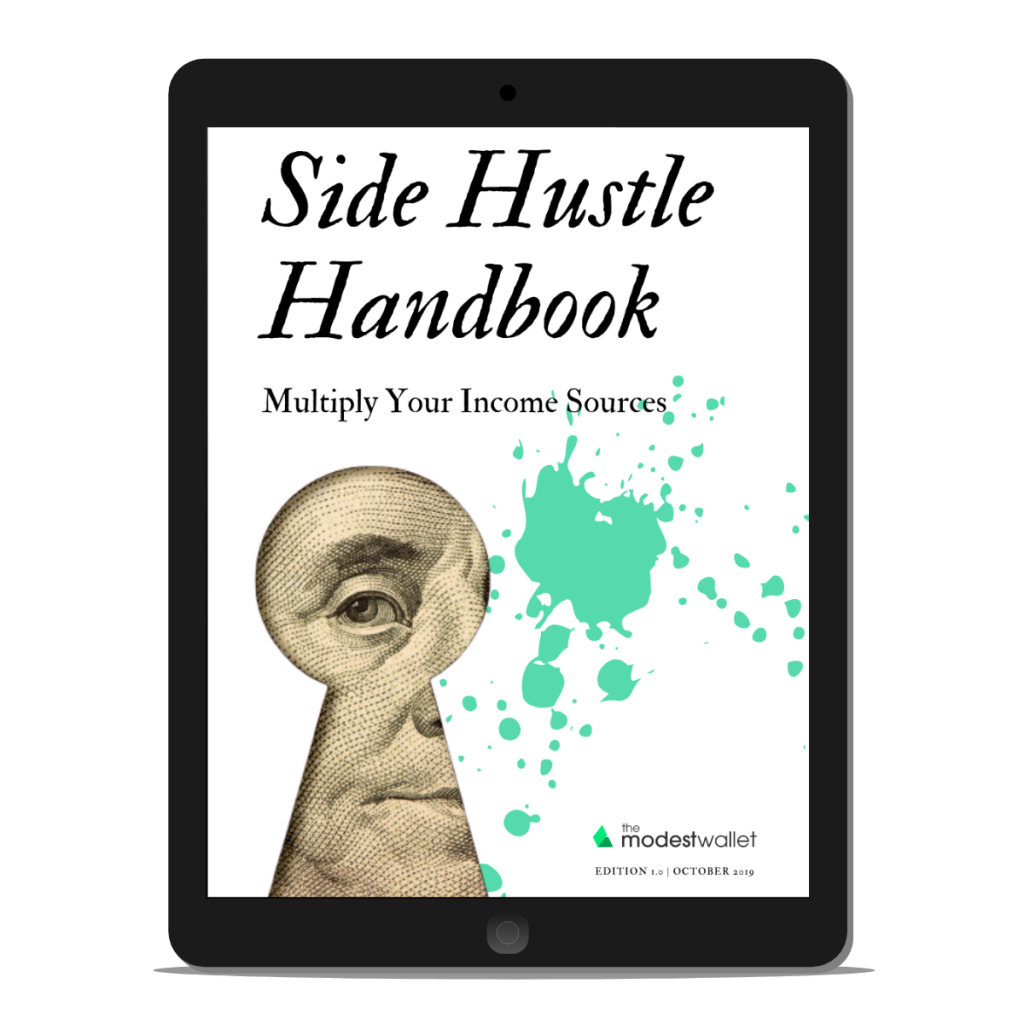 Get our free Side Hustle Handbook with the best strategies to multiply your income sources today.
Plus our best money tips delivered straight to your inbox.

Ricardo is an entrepreneur, investor and personal finance nerd who enjoys spending time with his family and friends, travelling and helping others achieve their financial goals. Ricardo has been quoted as a personal finance expert in several online publications including Healthline, Bankrate, GOBankingRates, MSN Money, Yahoo Finance, U.S. News & World Report, Forbes and USA Today.