23 Best Places To Sell Your iPhone For Cash in 2023
Many or all of the products featured on this page are from our sponsors who compensate us. This may influence which products we write about and where and how the product appears on a page. However, this does not influence our evaluations. Our opinions are our own. Here is a list of our partners and here is how we make money.
---
The information provided on this page is for educational purposes only. The Modest Wallet is a financial publisher that does not offer any personal financial advice or advocate the purchase or sale of any security or investment for any specific individual.
Getting a new iPhone is great. What's less great is that after you buy your new phone, your old phone will sit around collecting dust unless you find a way to extend its useful life. You can do that by passing your phone on to someone new. You can trade in or sell your current or old iPhone with the help of several services we've found on the internet.
But how can you know which services are scams that just want to grab your hard-earned cash and which ones are legit? The answer: You can find out by reading this list!
We've separated the wheat from the chaff with our up-to-date list of the best places to sell your iPhone for cold, hard cash.
TL;DR
---
Best Places to Sell Your iPhone
This list of the best places to sell your iPhone is in no particular order. We've tried to include all sorts of options, from the official Apple Trade-In service to third-party resellers and even auction sites. We've got something for everyone on this list.
1. Buyback Boss
Buyback Boss is a phone buying, refurbishing, and selling service that promises to pay top dollar for your used iPhone. The process is simple. You go on the site, indicate the name and model number of your device, select the condition it's in, and you'll get a quote. If you accept the quote, they'll ship you a box and email you a label that will let you send the phone to their location. (Shipping cost is on them.)
Finally, assuming the item you sent them is what you promised, they'll deposit the money in your PayPal account or send you a check.
Buyback Boss is a relatively new arrival on the tech-buying scene, but it has some great perks, like offers that lock in for 14 days and bulk sales for folks who have multiple phones to sell at once. They also offer a highest-price guarantee, so if another site on this list offers you a better price for your phone, just email them a screenshot, and they'll match it.
Check out our full Buyback Boss review to learn more.
>> Read Also: 17 Paid Research Studies You Can Join Today To Make Extra Cash
2. Decluttr
Decluttr works very much like Buyback Boss. It's been around a bit longer, but the idea is the same. You go on the site, select the name and model of your phone, indicate what condition it's in, and either accept or refuse the offer. If you accept, you're sent a box and a label for shipping. Once Decluttr receives the item and verifies its condition, you get paid!
One of the cool things about Decluttr is that they accept a wide range of electronics. They'll take non-Apple phones, other Apple items like iPads, and a variety of other gadgets.
Check out our full Decluttr review to learn more.
3. Swappa
Swappa is similar to the first two services on our list, but it works a little differently on the backend. Instead of directly buying your used iPhone, Swappa connects you with people looking to buy a used iPhone and acts as a middleman in the process. It adds value by verifying that your iPhone is unlocked, undamaged, and the correct model. Basically, Swappa makes sure that you're selling what you claim to be selling.
The inclusion of an independent buyer can complicate the process somewhat. However, you'll also find that it increases the price, especially on late-model iPhones.
Read our full Swappa review to learn more.
4. Backflip
Backflip (Formerly Whistle) is a selling app that helps you sell your personal electronics on a network of highly vetted resellers. You can sell your old phones, Apple watches, MacBooks, headsets, game consoles, and more.
First, you get an instant offer from Backflip by selecting the device you want to sell. If you are okay with their offer, you then get a free shipping label or a free shipping kit. Lastly, you ship the device to them, and the cool thing is that all expenses, in-transit insurance, and tracking are paid for by them. Once Backflip receives the device and is able to verify the condition as described by you, you get paid within 24 hours after they receive the device via debit card, direct deposit (ACH), gift card, or check.
The price they offer is always guaranteed, or else they will return the device to you for free.
5. BuyBackWorld
BuyBackWorld is a phone buying service that tries to entice customers away from the aforementioned competitors by offering a few added bells and whistles. For example, BuyBackWorld will pay you in a wide variety of ways, including check, PayPal, direct deposit, BuyBackWorld gift cards, and Prepaid debit cards.
Significantly, BuyBackWorld doesn't charge phone sellers any fees. Instead, they make their money on the price differential between the refurbished phones they sell and the used phones they buy. While this might sound great at first glance, it does seem like they have an incentive to reduce the price they'll offer you to pad their profit margins.
6. QuickSell
QuickSell is a website where you can sell your old tech. From iPhones and iPads to Apple Watches. Selling on QuickSell is very simple; you basically select the model of your device, the carrier, capacity, and condition, and you will receive an immediate cash offer. Once the trade-in order is placed, you'll receive an email confirmation explaining the following steps.
The cool thing is that you don't even have to include a charger or any other accessory to get a quote.
7. uSell
Instead of buying your iPhone from you directly, uSell connects you with "professional buyers" of used iPhones and lets you choose from among them, selecting the one with the best price or best terms.
Apart from that, they function much like a service like Decluttr or Buyback Boss. One thing to watch out for is their shipping. While it's free (like most of the other services on this list), some users have reported that their devices were in significantly worse shape when they reached their buyers than when they left the seller's hands. So make sure you get an extra layer of bubble wrap around that iPhone.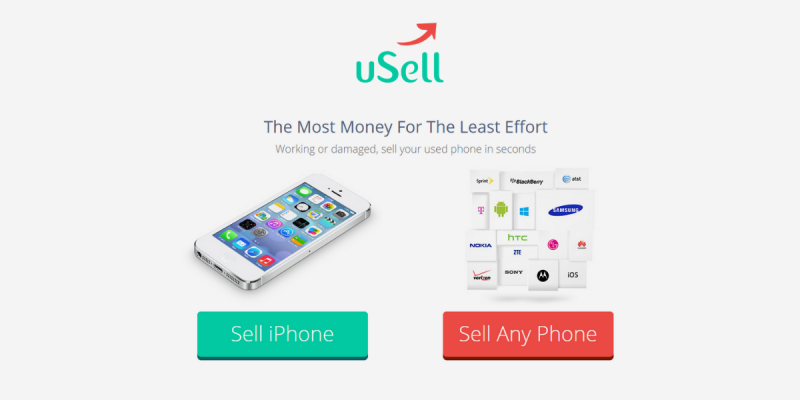 >> Read Also: 21 Ways To Get Paid To Play Games (Real Money)
8. Buy Back Pros
Buy Back Pros is another straightforward phone buying service. It operates almost exactly like Decluttr or Buyback Boss. After you select your iPhone model number, you enter its condition, and if you like the quote you get from the site, accept it and await your free shipping box and label. Once Buy Back Pros receives your iPhone, you get paid.
Buy Back Pros offers bulk/business deals as well as individual iPhone payouts. So if you have a bunch of the same model of iPhone lying around, perhaps because you just upgraded your employees' phones, Buy Back Pros will take them all off your hands in one fell swoop.
9. SellCell
SellCell is another phone reseller aggregation service. In other words, they collect and display the prices many of the other services on this list (and then some) will offer you for your used iPhone and compare them with one another so you can see who's willing to offer you the best deal.
They claim to review over thirty-five other phone-buying services, which, if true, would include the bulk of the reputable phone buyers out there. And they don't just match iPhone buyers with iPhone sellers. They offer listings for all kinds of tech, from Samsung watches to XBoxes.
10. GadgetGone
GadgetGone is a phone reseller with a twist: They only deal in iPhones. No iPads, no iPods, no Android phones, and no random tech like Playstations or smartwatches. The upshot of this is that they can focus entirely on iPhone products and, theoretically at least, offer you the best price possible for your used iPhone.
In fact, a lot of users report that GadgetGone regularly beats sites like uSell and Gazelle in their initial offered price.
One minor hiccup that we weren't expecting when we used their site was that they don't send a box to use for shipping your iPhone to them. You have to supply your own. It's not a huge deal, but still annoying enough to notice.
11. OfferUp
OfferUp isn't exactly a place to sell your iPhone. It's a place to sell almost anything, iPhones included. The site connects you with people in your area who are looking to buy what you're selling.
The lack of specialization, local focus, and reliance on third-party buyers results in a hit-or-miss quality to selling an iPhone on the site. Sometimes, you'll luck out and find a buyer willing to pay top dollar. Other times, no one will bite.
We strongly advise you to request cash on-site since OfferUp's built-in Stripe functionality and user fees wind up costing almost 20% of the sale price.
12. eBay
We're guessing that we don't have to explain what eBay is (but we will anyway). The most popular auction site on the Internet, eBay, has been around seemingly since the launch of the Web. Its popularity really took off when it partnered with PayPal to create a truly seamless online auction experience.
These days, you can buy and sell iPhones on eBay pretty easily. All the usual rules apply, so make sure you stay up to date on eBay's Terms of Service.
One thing we'd be remiss not to tell you is that things are competitive on eBay for used iPhone sellers. Many of your competitors will be professional resellers who might be able to take advantage of economies of scale that you won't have access to. So bring your A-game.
13. Craigslist
Craigslist is almost as popular as eBay in some circles. It started out as a small classified ad listing site for people living in California and has since grown to become one of the biggest buy-and-sell sites on the internet.
If you sell your iPhone on this site, you'll need to exercise a great deal of care. Users are encouraged to accept cash for their devices and to meet buyers in public. Craigslist has limited options available to protect you from fraud or shady practices, so be prepared to protect yourself. While most people are honest, there are a few shady operators who might try a check scam or other malevolent strategy to separate you from your iPhone without paying you real money.
14. Walmart CExchange
To use Walmart CExchange, head on over to their website, select your device from their list, answer a few questions about its condition, and wait for an offer. If you accept the offer, you can ship it to Walmart with FedEx for free, and after the product is evaluated, you'll receive a Walmart eGift Card pretty much instantly.
You'll notice that this site works much like some of the other electronics resellers on this list. However, none of the other similar sites can boast of having a brand name as well recognized and trusted as Walmart. You'll definitely know you're in good hands with this reseller.
>> Read Also: 11 Ways to Get Paid to Watch Ads (In Your Spare Time)
15. Glyde
Glyde is an electronics reseller that buys Apple iPhones for cash or credit towards another used device you can get from their service. It functions virtually identically to the other electronics resellers on this list. However, there's a major change coming down the pipe that will set Glyde apart from the other resellers.
Glyde is becoming the first partner of the TessaB Ecosystem, which will introduce smart contracts, mobile diagnostics, and digital assets to its online marketplace. This innovation promises to make it safer, easier, and faster to buy or sell a used iPhone with the Glyde service.
16. Amazon
While virtually everyone knows you can buy pretty much anything on Amazon, many don't know about its Trade-In Store that allows you to send them your gently used iPhone.
While the Trade-In store functions much like the other electronics resellers on this list, there's a nice little touch when it comes to how to handle situations where you and Amazon disagree on the condition of your device. If you send Amazon your used iPhone and they state that its condition doesn't match what you reported, you can choose, in advance, what Amazon should do: send it back (at no charge to you) or provide you with an alternative price.
17. SellBroke
SellBroke accepts your used iPhones in virtually any condition possible. They get their name from the fact that they even accept broken devices! This is one of the only services that will accept devices in truly terrible condition. Of course, the price they offer you will reflect the condition the device is in, so you're better off if you do everything possible to maintain your device in good condition.
SellBroke works in much the same way as other electronics resellers. Go to the site, select your device, report its condition, receive a quote, and send them your phone. You get paid via Google Pay, Paypal, or a Bank of America check shortly after they inspect the product and confirm it matches your self-report of the device's condition.
18. OCBuyBack
OCBuyBack is another iPhone buyer and reseller. At this point in the article, you already know how they work. What sets OCBuyBack apart is that if you disagree with their appraisal of a phone you send them, they'll do another inspection to ensure that they're not in error. If the appraisal of your device's condition doesn't change, they offer to return it to you without any shipping cost.
19. SellShark
SellShark is an iPhone buyer and reseller with some interesting tools on their website. They have got a Payment Forecaster, which, you guessed it, forecasts the kind of payment you can expect to receive with specific products and bulk and custom quote tools. They also offer instructions on how to remove your Apple iPhone from the cloud before sending the device to them for inspection.
>> Read Also: 12 Creative Ways to Help You Pay Rent This Month (All Legit!)
20. Facebook Marketplace
Facebook Marketplace has a bit more of a "Wild West" vibe than some of the other electronics resellers on this list. Rather than sell directly to Facebook, Facebook simply facilitates your connection with other Facebook users so you can sell your device directly to one of them. There aren't a lot of consumer protections on this site, so, as with Craigslist, you'll want to be careful about how you accept payment and how you send your device to a buyer.
21. Gazelle
Gazelle is an online marketplace that provides a convenient and secure platform for selling used iPhones. Users can easily sell their old iPhones through Gazelle by following a simple process.
Firstly, users need to visit Gazelle's website or app and provide details about their iPhone, such as its carrier, model, storage capacity, and overall condition. Gazelle determines the value of the iPhone based on these factors.
Once the value is determined, users receive an offer for their iPhone trade-in. If they accept the offer, Gazelle sends them a box to use for sending in their iPhone. After receiving and verifying the device, Gazelle provides payment to the seller. This process ensures that users can sell their old iPhones hassle-free and receive a quick payout
22. Apple (Trade-In)
If you would rather skip dealing with a third-party company and remain in the Apple ecosystem, Apple will facilitate an iPhone trade-in directly. Assuming your device is in good condition, and assuming you want a new iPhone or an Apple Gift Card, you can use the Apple Trade-In service.
Apple offers pretty great trade-in values for many of their newer models of phones, so this can be a great option for those who are continually upgrading to the newest model phone every year.
23. Best Buy (Trade-In)
The Best Buy Trade-In service works very similarly to Apple's. You just log on to their site, answer a few questions about your device, and get a free quote. Best Buy will offer you up to $600 in eGift Cards for your gently used iPhone.
Best Buy Trade-In can be a great option for those who are looking to unlock the most value from their phone and want to trade it for something outside of the Apple ecosystem (which isn't an option with Apple Trade-In).
---
Pro Tips to Consider
Regardless of where you eventually choose to sell your phone, adhering to the pro tips we list in this section will increase the value you receive in exchange for your iPhone.
Newer Models Sell Quicker
As is always the case in the electronics industry, demand for older model iPhones is relatively low, while demand for newer iPhones is usually high. Plus, the drop in demand between iPhones of subsequent generations is pretty steep. In other words, it's much easier to sell an iPhone 11 than it is an iPhone X, which is much easier to sell than an iPhone 8.
So keep in mind that the newer your iPhone is, the faster it's (probably) going to sell.
Keep Your iPhone in Good Shape
Very few people want a scuffed-up, cracked, broken, or otherwise damaged iPhone. While there are services that specifically take items like these (see SellBroke above, for example), they definitely don't pay top dollar. In fact, you're likely to see a precipitous decline in the value you get for your iPhone for even slight damage. So keep that case on your phone and be careful with it during its life if you plan on reselling it later.
Include Accessories
A lot of people don't think of this handy little tip. Almost as important as the phone itself are all of the things that make it useful. Charging cables, headphones, stands, and cases are all important accessories for iPhone users. You can seriously increase the price you command for your iPhone by simply including all these things with your product and save the buyer from the hassle of tracking them down one by one.
Compare Fees Between Services
Of course, keep a close eye on the fees charged by all of the reselling services we've listed above. Some of them take a healthy chunk of the eventual sale price of your iPhone, which can eat into your ultimate profit.
---
FAQs About Places to Sell Your iPhone
We've received a lot of questions about selling your iPhones over the last few months, and we thought we'd address some of the most common ones right here in our FAQ section.
Where Can I Sell My iPhone In Person?
A number of different apps that connect you with local buyers allow you to meet your buyer in person. For example, OfferUp will connect you with people in your area looking to buy a used iPhone. If you'd prefer to deal with a reputable company rather than a stranger you just met on the internet, the Best Buy Trade-In program offers in-person service.
How Can I Sell My iPhone?
Any way you want! You can use a third-party electronics buyer and reseller. You can use a service that connects you with individual buyers. You can use an online auction site or a site like Facebook Marketplace. You can even go directly to the source and use Apple's Trade-In service. The choice is yours.
Is It Safe to Sell iPhone?
Selling a used iPhone is as safe as you make it. If you're worried about getting ripped off or scammed, we'd suggest using an extremely reputable company like Apple, Best Buy, or Walmart. Even the lesser-known third-party sites on this list are all fairly reputable, with mostly positive reviews on sites like Trustpilot.
The least safe method is to sell to an individual you don't know over a site like Craigslist or Facebook Marketplace. Even if you do that, however, you can take steps to protect yourself, like meeting in a public and crowded place, and accepting only cash at the time of transfer.
Who Pays the Most for Old iPhones?
The answer to this question depends on the condition your phone is in. We've found that if your phone is in as-new condition and it's a very recent model, your best bet is with one of the large companies like Apple, Best Buy, and Walmart. Their economies of scale allow them to be competitive with the highest prices available, and their reputation allows you to rest easy and know that you're going to get paid what they promise.
If your phone is in less-than-great condition, it really becomes a bit of a free-for-all with respect to price. Shop around, and use one of the aggregator services we listed above to find out who's offering the best deal.
Can I Sell My iPhone If It's Broken?
Absolutely. You can use a service like SellBroke to sell your broken iPhone. You won't get a lot of money for it but you can rest assured that there's someone out there who will take your phone.
---
Final Thoughts
iPhones are a bit like new cars. They lose a big chunk of their value when you drive them off the lot/take them out of the package. But they still retain decent value if you keep them in good condition.
The options we've listed above have something for everyone. You can use a top-tier company like Apple or Best Buy, go with a third-party reseller, sell to an individual, or even sell a broken phone.
Which one you choose is up to your personal preference and your own unique circumstances. Good luck!
Up Next
Get our free Side Hustle Handbook with the best strategies to multiply your income sources today.
Plus our best money tips delivered straight to your inbox.

Ricardo is an entrepreneur, investor and personal finance nerd who enjoys spending time with his family and friends, travelling and helping others achieve their financial goals. Ricardo has been quoted as a personal finance expert in several online publications including Healthline, Bankrate, GOBankingRates, MSN Money, Yahoo Finance, U.S. News & World Report, Forbes and USA Today.