Decluttr Review 2023: Sell Old Tech, LEGO®, & More for Cash
Many or all of the products featured on this page are from our sponsors who compensate us. This may influence which products we write about and where and how the product appears on a page. However, this does not influence our evaluations. Our opinions are our own. Here is a list of our partners and here is how we make money.
---
The information provided on this page is for educational purposes only. The Modest Wallet is a financial publisher that does not offer any personal financial advice or advocate the purchase or sale of any security or investment for any specific individual.
If you're anything like me, you've got a ton of old CDs, movies, phones, and other tech or media just lying around collecting dust. But what if there was a way to turn those glorified paperweights into actual cash?
Decluttr is a tech and media reselling service that promises to do exactly that. But is it legit? Is it safe to use Decluttr? And do they give you a fair deal? I'll get answers to those questions, and more, in the article below.

Bottom Line: Decluttr is a second-hand tech and product buyer and reseller. They buy your old phones, tablets, LEGO®, books, DVDs, and similar products and resell them at a profit. They act as a convenient and reputable middleman for anyone trying to sell their old electronics.
| | |
| --- | --- |
| Features | |
| Seller fees | |
| Earnings potential | |
| Payout process | |
| Customer service | |
| Ease of use | |
| Security | |
---
What Is Decluttr?
Decluttr is a second-hand tech and product buyer and reseller. They buy your used phones, tablets, LEGO®, books, DVDs, and similar products and resell them at a profit. They act as a convenient and reputable middleman for anyone trying to get rid of old and unwanted products and make a bit of money in the process.
Decluttr is based in Kennesaw, Georgia, and was founded in 2014 by Steve Oliver and Walter Gleeson. The company uses proprietary technology and AI to support the growth of its own online store and remain the largest seller on platforms like Amazon and eBay.
To sell items on Decluttr, users can get a free instant valuation for their items, pack them into a box, and ship them to the company. Once the items are received and inspected, users get paid.
Decluttr has mixed customer reviews and ratings from sites like Trustpilot (4.3 out of 5.0), ResellerRatings (1.0 out of 5.0), and Sitejabber (1.1 out of 5.0). They also have an A rating with the Better Business Bureau and a 3.7 our 5.0 customer rating.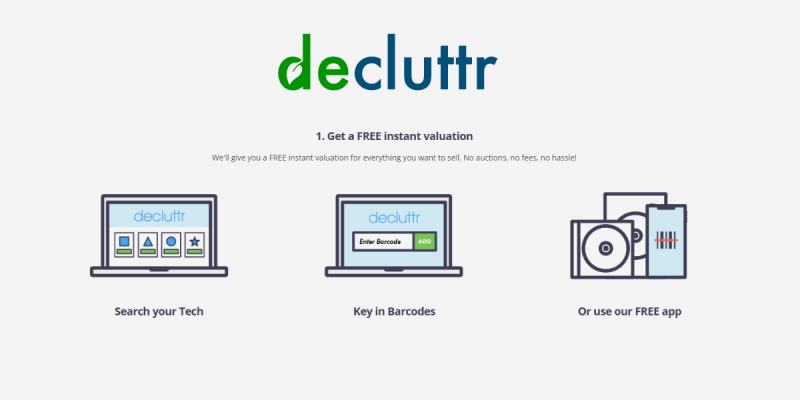 >> Read Also: 40 Proven and Legitimate Ways to Make Money Fast (Make $100 or More)
---
How Does Decluttr Work?
Decluttr is about as simple as it gets. If you're looking to sell, say, an old phone, you'd first log on to the site. There's no need to create a user account or a profile. You select the model of phone you want to sell, tell them the condition it's in, indicate whether it's tied to a carrier or if it's unlocked, and tell them how much storage the phone has.
Once you've provided enough information about the phone (which, honestly, only takes about one minute if you're reasonably familiar with your device), you'll receive an offer. If you like what you see, click Accept and you'll be sent a free and pre-paid shipping label.
You pack your item into a box (be sure to pack it well so it doesn't break during shipping) and send it to the Decluttr warehouse. Once they verify that the item is what you said it is, you'll be paid the next day by direct deposit or PayPal.
>> Read Also: 33 Best Money Making Apps: Cash at Your Fingertips

To help you navigate through the selling process, let's assume you want to sell your used iPhone, here is what you need to do.
Select the device you want to sell: Visit Decluttr and select your iPhone device on the homepage, you will find a search bar. Enter the details of your iPhone model, such as the model number or name. Select your device from the list of options provided.
Provide details of your device: Answer a few questions To provide an accurate valuation, Decluttr will ask you a series of questions about your iPhone's condition, such as whether it is working, if it has any damage, and if it is locked to a specific network. Answer these questions truthfully.
Get a valuation: Get an instant valuation Based on your answers, Decluttr will provide you with an instant valuation for your iPhone. This valuation is the amount that Decluttr is willing to pay you for your device.
Accept or decline the valuation: Add to basket If you are satisfied with the valuation, click on the "Add to Basket" button to proceed with the selling process.
Complete the checkout process: You will need to provide your personal details, such as your name and address, as well as choose the payment method you prefer.
Ship your iPhone once you have completed the checkout process: Decluttr will provide you with a prepaid shipping label. Package your iPhone securely and attach the shipping label to the package.
Send your iPhone: Take your packaged iPhone to your nearest shipping location, such as a post office or courier service, and send it to Decluttr using the prepaid shipping label provided.
Wait for payment: After Decluttr receives and inspects your iPhone, they will initiate payment. The payment can be made through several methods, including direct deposit or PayPal.
Receive payment: Once Decluttr has processed your iPhone and completed the necessary checks, you will receive the agreed-upon payment for your device.
---
Decluttr Features
Decluttr has a ton of cool aspects that make it convenient to use.
Sell Old Tech
You're not limited to just selling old phones on Decluttr. You can sell all of the following on their service:
CDs, DVDs, and Blu-rays
Textbooks and other books
Tablets
Smartwatches
Kindles
Video games
Consoles
LEGO®
The range of products you can sell on the site is huge and there are a ton of eligible makes and models in each category of product. Odds are, you've got at least one or two old items lying around that you can sell on Decluttr.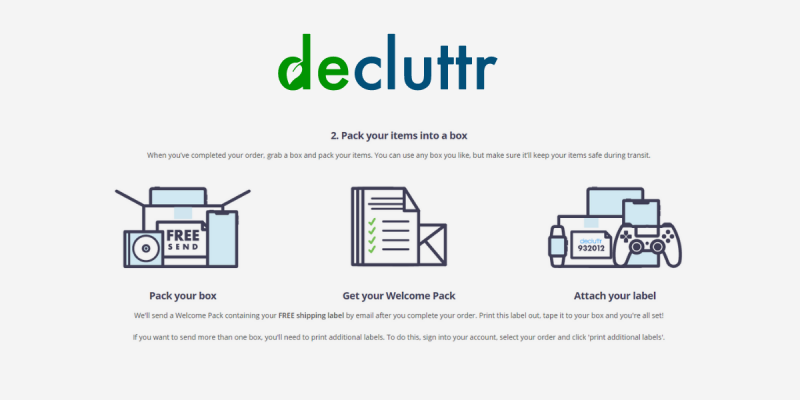 >> Read Also: Swappa Review: Sell Old Tech for Cash
Sell Broken Phones
Even if your phone doesn't work properly, there's a good chance you can sell it on Decluttr. By selecting the "Faulty" condition, you can indicate to Decluttr that there's something seriously wrong with your phone.
Of course, you'll make far less money for a faulty device than you would for a device in mint condition. For example, a used iPhone 12 Max will sell for $480 less if it's in faulty condition than it would if it was in good condition.
Quality Control
When Decluttr receives your old phone or another piece of tech, they'll have a human inspect the device to make sure it matches the condition you described when you got your estimate.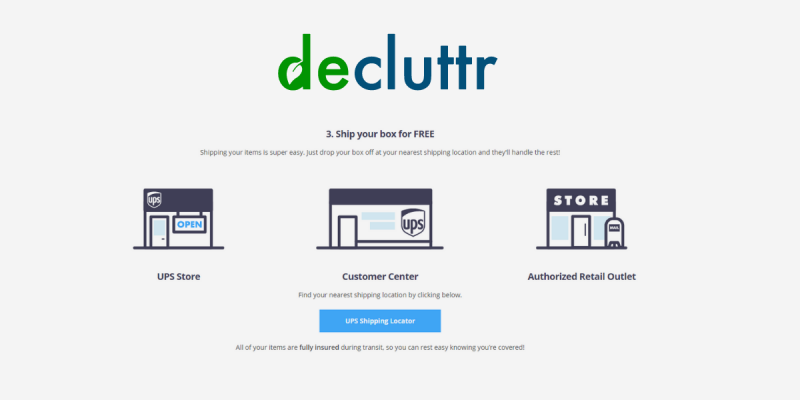 >> Read Also: Gazelle Review: Sell Old Electronics Online for Cash
Packaging and Shipping
When you accept the offer made by Decluttr, they email you a prepaid shipping label. You'll need to find your box or padded envelope to ship your items in. We recommend you pack and secure the item(s) well, lest they be damaged during shipping and Decluttr's inspection reveals the damage.
In case it's not clear from that description, the pre-paid shipping label guarantees that you don't pay any money to ship your item(s) to Decluttr. It's on them!
Refer a Friend
Refer-a-friend is a simple feature offered by Decluttr where they'll give you a cool five bucks just to refer a friend to their site. The friend gets $5 too! Of course, the person you refer will have to use the site to make a sale. And they'll need to use the referral link you're provided as well.
Student Discount
If you're a student, you'll get an extra 10% when you sell your stuff on Decluttr. To make use of this "discount," (which isn't really a discount, but more of an incentive) you just register your student status with Student Beans, a third-party registration service, and use the code you got from that service on Decluttr's site.
Mobile App
The Decluttr mobile app is a great way to make it even easier to sell your old CDs, games, movies, and books on the site. You can use your phone's camera to scan the items' ISBNs and barcodes to automatically get a free offer on your products, rather than keying in the barcode numbers on the Decluttr website.
---
Decluttr Customer Service & Support
Customer support on Decluttr is accessible via web form email. We would have preferred that they have an easily visible phone number or text option as well, but a review of the site doesn't reveal one of those.
Live chat support is accessible during the hours of 9 a.m. to 3:30 p.m. EST, Monday through Saturday, excluding Sundays and holidays.
That said, the reviews for their customer service are adequate. While some people report Decluttr taking a while to get back to them, most are satisfied with the support they got from the team over at the company.
---
Decluttr Fees
Decluttr doesn't typically charge fees. The offer you're quoted when you enter the make, model, and condition of your device on their website is the amount you'll receive (assuming Decluttr's inspection reveals that you were accurate in your description of the item).
Decluttr will turn around and sell your item for more than they paid you, however, which we suppose you could think of as a kind of fee. In reality, though, this is really just the nature of commerce so we're not going to hold it against a for-profit company to try to, you know, make a profit.
Shipping your device to Decluttr is free of charge. After accepting Decluttr's offer, you will receive a welcome kit via email, which includes a prepaid shipping label. All you have to do is pack your items in any box and print the provided shipping label.
---
Decluttr Payment
Decluttr pays you via direct deposit or PayPal, the day after your item clears their inspection and you indicate your acceptance of their final offer.
You can even elect for them to pay a charity instead of you if you're feeling philanthropic.
>> Read Also: Buyback Boss Review: Sell Your Used Tech for Cash
---
Pro Tips to Make the Most Money with Decluttr
We've got some pro tips for you to keep in mind when you're using Decluttr to maximize your income and minimize any headaches you experience.
Sell Quickly
The faster you sell your old tech, the more money you'll make for it. This is common sense since the rate at which old technology depreciates is extremely high. So make sure to sell that old phone the second you get a new one, rather than wait a couple of months or years while its value deteriorates.
>> Read Also: 55 Hobbies That Make Money: Get Paid to Have Fun
Take Good Care of Your Stuff
In addition to selling your old tech quickly, make sure to take good care of it while you're using it. Items in mint and good condition sell for much more on Decluttr (and its competitor websites) than their cousins in fair or poor condition. So use a good case, refrain from scratching it up, and, for goodness' sake, don't break it.
Be Honest
When you're describing the condition of your items to Decluttr, make sure you're scrupulously honest. If it has scratches, disclose that. If the device doesn't turn on, tell them. The goal is not for you to get the highest estimate you can get (after all, it's only an estimate), it's to describe your device accurately so that Decluttr doesn't revise your payment downwards when they receive and inspect it.
At the same time, don't be overly negative about the condition of your item. You're trying to be honest, not pessimistic. So just call a spade a spade and you'll have far fewer problems than someone who plays fast and loose with the truth.
---
Who Is Decluttr Best For?
Decluttr is best for people who have a ton of old tech and products lying around and gathering dust. It's especially good for folks who have taken good care of their devices and who's products are still relatively new. These are the people who'll get the most use and value out of Decluttr's services.
Anyone whose old tech and products are in terrible shape because of overuse or misuse should think twice about using a service like Decluttr. After all, the poor condition of their products will prevent them from getting a whole lot of money for their devices.
This is also true for those folks whose tech and devices are extremely old. They won't get a lot of value from Decluttr's offers simply because their products have aged so significantly.
---
Decluttr Alternatives
The last few years have seen the proliferation of a ton of new Decluttr-like businesses that promise to pay you for sending in your used tech and products. We've listed just a few of Decluttr's competitors here so you can get an idea of what the industry landscape looks like.
Decluttr vs. Swappa
Unlike Decluttr, Swappa is more like an online marketplace for buyers and sellers. It connects you with third-party buyers, rather than buying your used products directly. This can be both good and bad. It's good insofar as it allows you to get one of the best possible prices available on the web for your stuff. After all, without a middleman buying your stuff, you can charge more upfront.
However, it does involve more risk as you're relying on an unproven third-party to treat you fairly and pay you promptly, which can always be a sketchy proposition.
Read our full Swappa review to learn more.
Decluttr vs. Buyback Boss
Buyback Boss is much more like Decluttr. It's a middleman that offers to buy your used tech and then resells your products at a slight markup. One of the things that sets Buyback Boss apart is that it buys broken tech and devices. Of course, you'll get much less money for a broken iPhone or smartwatch than you will for one that works perfectly, but hey, beggars can't be choosers, right?
Check out our full Buyback Boss review to learn more.
Decluttr vs. Gazelle
Gazelle, like Decluttr, buys your used tech and devices and then resells them at a small markup. Unlike Decluttr, however, it buys a narrower range of devices. So, for example, you won't be able to sell your old LEGO® at Gazelle the way you'd be able to at Decluttr.
Apart from that small difference, Gazelle works pretty much the same as Decluttr does.
Read our full Gazelle review to learn more.
| | | | |
| --- | --- | --- | --- |
| | | | |
| Our Rating | | | |
| Seller Fees | No fees | No fees | No fees |
| Shipping | Free shipping | Free shipping | Free shipping |
| Highlight | No middleman to sell your device | 14-day price lock guarantee | Bulk pricing and instant offers available |
| Best For | Bulk pricing and instant offers are available | Selling smartphones | Bulk pricing and instant offers are available |
| | | | |
>> Read Also: 21 Best Places To Sell Your iPhone For Cash
---
Decluttr Pros Explained
Decluttr is convenient to use. The estimation process is easy, they take care of the shipping fees, and even send you a label. It takes very little work on your end.
Decluttr is safe to use. You don't have to worry about using an unproven and untrustworthy third-party buyer.
With the offered price, what you see is what you get. Since there are no listing fees, you'll be paid what Decluttr promises, unless the condition of your item doesn't match your description. But that's another story.
---
Decluttr Cons Explained
There's a small risk involved with using Decluttr. If they revise your offer downwards, and you don't want to accept it, they won't pay to return your item.
Some users have reported taking a while to receive their money, especially when they choose the check option. You can expect to wait up to three weeks to be paid.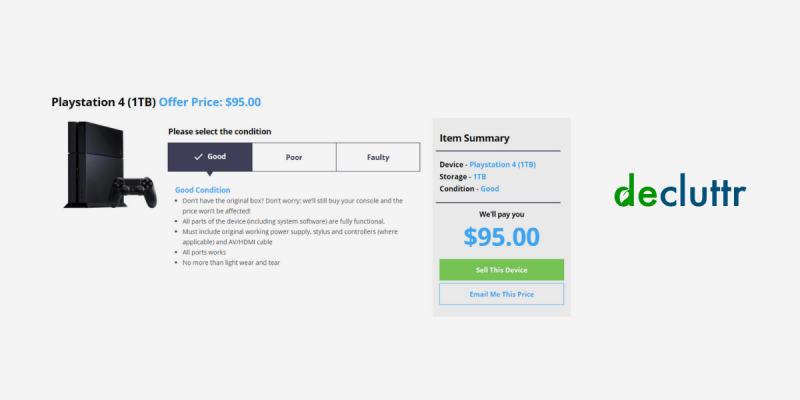 >> Read Also: Best Food Delivery Service to Work For
---
Decluttr FAQ
Since we first wrote about Decluttr, we've received a ton of questions from our readers about it. How do they make money? Is Decluttr legit? Is it safe? What sort of cut does Decluttr take?
We kept getting the same questions over and over again about the business so we thought we'd add a Frequently Asked Questions section to this article to address all the recurring questions that readers like you tend to have about this company.
How Does Decluttr Make Money?
Decluttr makes money by buying used tech and other products from folks like you, refurbishing them, and reselling them at a slight profit. Of course, since Decluttr pays for shipping and presumably has significant overhead, their sale price has to be significantly higher than what they pay sellers for their used gear.
Nevertheless, the business model must work decently since numerous competitors to Decluttr that operate in the same way have sprung up over the last five years or so.
Is Decluttr Legitimate?
This was, far and away, the most common question that we've seen from readers like you. We can confidently say that Decluttr is 100% legit. It's been around since 2014 and has hundreds, if not thousands, of positive reviews scattered all across the web, borth in Trustpilot and the Better Business Bureau (BBB).
Of course, it also has its share of negative reviews, but many of these fall into the same categories of complaints. A common complaint goes something like this:. "The company rated my phone's condition lower than I did," which suggests that the review writer doesn't fully grasp how the service works.
At the end of the day, Decluttr is not a service that's going to take possession of your used tech or products and ghost you. They'll pay you what your device is worth, on time, every time. And while things might occasionally be delayed or go sideways (as can happen with any company), they'll do their level best to make it right.
Is Decluttr Safe?
Yes, Decluttr is 100% safe to use. One of the main advantages of a site like Decluttr over sites like Swappa or Craigslist is that you don't need to personally deal with any third-party buyers for your products. You get your money as soon as Decluttr has verified the condition of your tech and you don't have to worry about a stranger not paying you on time (or at all).
As we mentioned above, Decluttr is an established and proven company that's on the up-and-up. When it comes to selling your used tech and other products, it doesn't get much safer than this.
What Percentage Does Decluttr Take?
Decluttr doesn't really take a percentage. After all, they pay all shipping fees and you get the full amount they quote you (assuming the condition of your item matches your description of it).
We suppose that, in a manner of speaking, by selling your device at a markup later on they might be considered to be charging a fee. After all, you're getting less for your item than you might otherwise have gotten if you sold it directly to a third-party. However, once you consider the costs involved with finding a buyer and the risks involved in dealing with a stranger, we're confident that Decluttr offers a fair deal.
---
Final Thoughts
All things considered, Decluttr is a handy service to make use of whenever you've got old tech or media you need to unload. If you use the company wisely, you'll be able to recover much of the cost of your old devices. You can then use that money to put towards a new device or add to your savings.
We love the convenience and safety inherent in using Decluttr. It sure beats selling your stuff to a stranger on Craigslist. We recommend giving them a shot if you're looking for a quick infusion of cash!
Up Next
Get our free Side Hustle Handbook with the best strategies to multiply your income sources today.
Plus our best money tips delivered straight to your inbox.

Ricardo is an entrepreneur, investor and personal finance nerd who enjoys spending time with his family and friends, travelling and helping others achieve their financial goals. Ricardo has been quoted as a personal finance expert in several online publications including Healthline, Bankrate, GOBankingRates, MSN Money, Yahoo Finance, U.S. News & World Report, Forbes and USA Today.