Many or all of the products featured on this page are from our sponsors who compensate us. This may influence which products we write about and where and how the product appears on a page. However, this does not influence our evaluations. Our opinions are our own. Here is a list of our partners and here is how we make money.
The information provided on this page is for educational purposes only. The Modest Wallet is a financial publisher that does not offer any personal financial advice or advocate the purchase or sale of any security or investment for any specific individual.
Do you have an old phone that's in good condition but isn't doing anything other than collecting dust? Are you pretty sure that someone else might be able to get some use out of it but aren't sure how to go about selling it?
Swappa is a service that promises to connect buyers and sellers of used technological devices.
But, can you trust it? Is Swappa legit? And is it worth the hassle of trying to sell your old device? We've got answers to all those questions in the article below. Read on!

Quick Summary: Swappa is a website and platform you can use to sell used phones, laptops, tablets, and other electronics for cash. The marketplace allows you to buy used tech as well. They have an option to buy and sell items offline for people that prefer to keep it local.
Promotion: None at this time
What Is Swappa?
Swappa is a website and platform you can use to sell used phones, laptops, tablets, and other electronics for cash. It's a pretty straightforward concept; you post an item for sale and interested buyers will contact you to buy it directly. The marketplace allows you to buy used tech as well.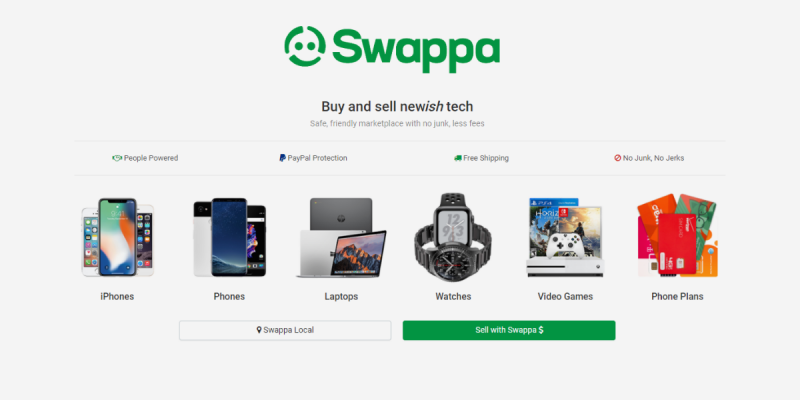 See Also: 21 Ways To Get Paid To Play Games (Real Money)
How Does Swappa Work?
Swappa is a marketplace for used electronics. Unlike some of its competitors, the company does not buy your device directly from you and attempt to resell it on their own. Instead, they act as a middleman to facilitate your connection with interested buyers. You then sell the item directly to a third party over the site.
Swappa Features
Swappa has a ton of great features you can take advantage of to sell your old tech. From local delivery options to instant PayPal payments, Swappa does everything it can to make the seller's experience as easy and painless as possible.
Buy and Sell Old Tech
Swappa accepts a huge variety of listings. Smartwatches, tablets, smartphones (including iPhones), laptops, video games, cameras, and smart home devices are all eligible to be sold on Swappa.
If it has a microprocessor and has been used, you can sell it on this site.
Swappa Screening Process
Swappa reviews each listing before they post it on the website. They're looking for obvious signs of fraud and to ensure that the device offered for listing meets all their requirements. Swappa requires that devices sold on its platform:
Function properly
Can be activated
Have not been reported lost or stolen
Don't have any cracks or water damage
Have a functional battery included
Additionally, they ban devices with:
An ESN (electronic serial number) that cannot be activated
An outstanding balance to a carrier that must be paid before using the device
Most of these criteria are met by providing the site with the ESN of your device and stating that it is not damaged in any way.
Swappa Fees
Swappa takes a flat fee is built into the listing price and paid by the buyer at the time of purchase. The flat fee increases proportionally to the value of the item being sold. You can check out their market fees right here.
You should also note that some taxes may apply as well depending on the state you live in. You should always take this into consideration while selling via Swappa.
Swappa also lists the PayPal fees you can expect to pay when you receive your payment. At the moment, PayPal is the only payment option available on the site.
See Also: 12 Creative Ways to Help You Pay Rent This Month (All Legit!)
Swappa Payments
As a seller, you'll be paid via PayPal. As we mentioned above, it's the only way you can be paid on Swappa. Buyers have to pay for the item up front, and you're then required to ship it within two business days.
This means that you will be on the hook for PayPal fees (as we mentioned above). Those fees can be significant, especially on larger payments. Unfortunately, at this time, there is no alternative to using PayPal on Swappa. In our opinion, though, the convenience of using an established and trustworthy service like PayPal outweighs the drawbacks.
Packaging and Shipping
As a seller, you're responsible for everything related to shipping your item. You need to print or prepare a shipping label, pay for shipping, and prepare your package properly for transit to ensure it doesn't break on the way.
Buyers can pay extra for express shipping if they want to get the item extra fast. Just how fast will depend on where the device is coming from and where it's going.
Swappa Local
Swappa Local enables you to facilitate a meeting with a buyer in a mutually convenient location somewhere in your area to exchange the item and avoid having to ship it. At the time of this writing, Swappa Local only supports cash payments during the meetup process. However, you can arrange payment with the buyer via PayPal at the time they make the purchase, as they would with any other Swappa purchase. This is something you will have to arrange with the buyer.
The Swappa sale fee will be paid at the time a listing is purchased, and this can be done using PayPal or Stripe.
You'll need to exercise common sense and extra caution when you're utilizing the Swappa Local process. Meet your buyer in a public place in the middle of the day when and where you're sure you'll be safe. Trust your gut. If your buyer is recommending you meet somewhere that gives you pause, don't feel bad about canceling the meeting or suggesting an alternative meeting place.
Swappa Customer Service
Virtually all customer reviews of Swappa customer service are positive. In the rare cases where buyers have had trouble with a Swappa phone, they typically report that customer service acted promptly and diligently to solve their problem.
Of course, as a seller, you won't have to worry about receiving anything defective. And since people pay up front, you won't have to worry about getting stiffed.
You can contact them easily on their website via their accessible contact form. They'll get back to you very quickly.
Return Policy
The applicable Swappa return policy depends on the reason for the buyer's intention to return the item. If they claim that the item they received was materially different from what was described by the buyer, you are required by the Swappa terms of service to refund the buyer's money in full. Of course, they are required to return the item to you as well.
If the buyer intends to return the item for an unlisted or unapproved reason–buyer's remorse, for example–whether or not you refund their money, and in what amount, is up to you.
See Also: 30 Easy Ways to Make $1,000 Fast (Legally)
Pro Tips to Make the Most Money with Old Tech
We've got a couple of tips to help you to get the most out of Swappa when you're selling your used technology. This advice can be the difference between making just a few cents on the sale of your old device versus making a killing.
Take Good Photos
You know the old cliche, "A picture is worth a thousand words?" Well, it's true. Good pictures of your devices, ones that are in focus, with good lighting, and clearly show the condition of the item, will go a long way toward selling your device for a good price.
Poor pictures or, what's worse, no pictures at all, will decrease your ability to ask for the best possible price for your item. That's because people assume that you're trying to hide something about the condition or quality of your device, even if you're not.
Keep Your Tech in Good Shape
The better condition your device is in when you're trying to sell it, the more money you'll get for it. Even minor damage can seriously impact the selling price of a used device.
You should also be careful not to minimize any damage your device has in your description of the item. Be completely forthright and honest about any damage always. Otherwise, you may find yourself returning the buyer's money at a later date, after having paid shipping fees.
So, if you plan on selling a device after you're done with it, it can be a good idea to plan for that at the outset. Use a screen protector, a case, and other protective gear to keep your device in great shape!
Sell Fast
Even the best technology depreciates fast. To get the most value from your used items, don't hang on to them for too long. The older a phone or a laptop gets, the less likely you are to be able to ask for a good price for it.
This is especially true if you're no longer using the item. In other words, there's no reason to let a device you plan to sell sit around and collect dust when you could be selling it on Swappa or a competing service. Once you're done with a device, sell it immediately.
Things to Consider
You'll want to consider a handful of things when you're deciding if Swappa is right for you.
Who Is Swappa Best For?
Swappa is best for people who have used devices in good condition lying around the house and want to make a quick buck selling them for some cash. Because you'll be dealing directly with third-party customers, you'll want to be familiar with the Swappa platform and its return and shipping policies.
Who Should Avoid Swappa?
If you're in an out-of-the-way location that has high shipping fees and a small population, you may not wish to use Swappa. Because the seller is responsible for getting the item to the buyer, high shipping fees can eat into your profit margins and eliminate any value you see from the sale. Also, a small population can mean that you'll have a difficult time using Swappa Local to find willing nearby buyers.
See Also: 30 Legit Ways to Make $500 Fast (Within a Week)
Swappa Alternatives
There are a ton of alternatives to services like Swappa these days. Let's take a look at a few
Buyback Boss
Buyback Boss is similar to Swappa except the company buys your phone directly and resells it themselves. They even buy broken and non-functional phones and devices!
Because there's a middleman between you and the eventual buyer, you likely won't make as much money as you might on Swappa. On the upside, Buyback Boss pays for shipping and eliminates the hassle of dealing with a customer directly.
Read our full Buyback Boss review to learn more.
Gazelle
Gazelle is much like Buyback Boss in that it buys phones directly from people like you. You should know that they don't offer international shipping, however, so if you live outside the United States, you're out of luck. You are also able to buy old tech via Gazelle.
Check out our full Gazelle review to learn more.
Decluttr
Like Gazelle and Buyback Boss, Decluttr buys your devices directly. So, if you're looking for a hassle-free way to rid yourself of some devices, you may wish to give this service a try. They even take DVD players, video game consoles, and similar devices (although the prices they offer for those items are not very high).
Read our full Decluttr review to learn more.
Swappa Pros and Cons
There are a ton of pros and cons you'll want to consider when you're thinking about using a service like Swappa. Which ones are most important to you will depend on your circumstances.
Pros
Connecting directly with a buyer means you can cut out the middleman (mostly) and get the best possible price for your device
Using Swappa Local eliminates any shipping fees you might otherwise pay during your sale
Swappa's reputation is solid and they're a well-established company, not a scam
Cons
Dealing directly with third-party customers can be kind of a hassle, especially when it comes to shipping
Dealing with returns can be frustrating, especially if you wind up with a fussy customer
You're on the hook for shipping costs
See Also: I Need Money Now: 35 Ways to Make Cash Right Now
Swappa FAQ
In our experience writing about and using Swappa, we kept getting the same questions over and over again from our readers. So, we decided to create this FAQ section to address some of those questions in case you were wondering about the same things as our readers.
How Does Swappa Make Money?
Swappa makes most of its money from listing fees. As we noted earlier in this article, they have a flat fee built into the selling price. This flat fee increases proportionally to the value of the time being sold. Generally speaking, the fees typically amount to no more than 5% of the selling price, which is quite low, compared to eBay and other similar marketplaces.
Of course, the seller will have to pay PayPal fees as well, but that money doesn't end up in Swappa's pockets.
Is Swappa Legitimate?
Yes, Swappa is 100% legit. This is an established company that has been around since 2010, with thousands of satisfied customers and plenty of great reviews. Naturally, not everyone is always 100% percent satisfied so a few negative reviews are kicking around the web. But, generally speaking, people are happy with the services Swappa provides and are comfortable using their website. Swappa is not a scam.
Is Swappa Safe?
Swappa is generally safe to use. You should use caution whenever you're dealing with a third-party buyer, however. There's no guarantee that the person you're dealing with isn't running a scam through no fault of Swappa's.
Your likelihood of being bilked out of your device is low, however, since buyers have to pay up front for your tablet, computer, phone, or other devices. That's not to say that a dishonest customer might not ask for a return for a fake reason, but there's not much that Swappa can do about that. In the second-hand market, buyers and sellers both take their chances. Just do your best to protect yourself.
What Percentage Does Swappa Take?
Swappa charges buyers approximately 5% of the listing price for facilitating the sale of your device (Note: Swappa has a flat fee structure built into the selling price paid by the buyer. Generally speaking, the flat fee is no more than 5% of the item being sold). Note that we said buyers and not sellers. As the seller of a device, you won't be directly charged any fees by the website.
Final Thoughts
A lot of people have a ton of money sitting around in the form of old technology and used devices. Many of them don't even realize that they can make some quick cash by putting these devices on the second-hand market.
If you have relatively recent technology just lying around, collecting dust, you'd be well-served to give a service like Swappa a try. That's especially true if that technology is made by a quality brand, like Apple, and is in relatively good condition. You'd be surprised what you can get for it!
Up Next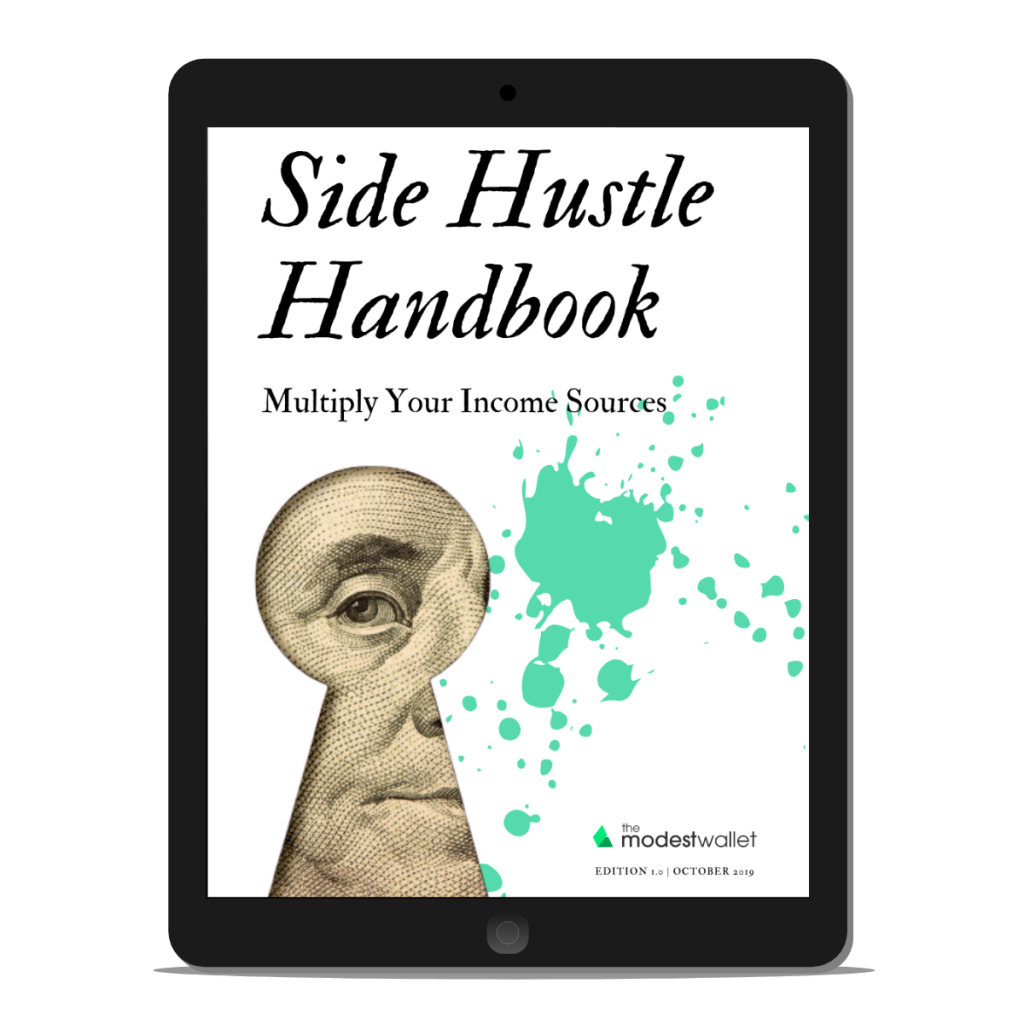 Get our free Side Hustle Handbook with the best strategies to multiply your income sources today.
Plus our best money tips delivered straight to your inbox.

Ricardo is an entrepreneur, investor and personal finance nerd who enjoys spending time with his family and friends, travelling and helping others achieve their financial goals. Ricardo has been quoted as a personal finance expert in several online publications including Healthline, Bankrate, GOBankingRates, MSN Money, Yahoo Finance, U.S. News & World Report, Forbes and USA Today.