25 Ways to Make $50 Fast in 2023
Many or all of the products featured on this page are from our sponsors who compensate us. This may influence which products we write about and where and how the product appears on a page. However, this does not influence our evaluations. Our opinions are our own. Here is a list of our partners and here is how we make money.
---
The information provided on this page is for educational purposes only. The Modest Wallet is a financial publisher that does not offer any personal financial advice or advocate the purchase or sale of any security or investment for any specific individual.
Nearly everyone has experienced a time in their life when they needed money fast. Whether you've been invited out to dinner with friends or you've ordered takeout just a few too many times this week, having an extra $50 in the bank certainly doesn't hurt. But just how realistic is it to expect to be able to make that kind of cash within a day or two?
The answer is easier than you think.
Thanks to the sheer number of apps and sites dedicated to paying you for your daily activities, it's simpler than ever to start making money fast. There's no shortage of options, either.
In this article, I'll cover the top ways to make $50 fast. From getting paid for things you already do to selling unused or unwanted items, here are the best ways to start making money right now.
---
Best Ways to Make $50 Fast
Whether you have a day job or not, having a reliable way to trade your time for money is a great way to fund your bank account. Not to mention, if you're someone who can't work a full-time job, these tasks are flexible and can be done on your own schedule.
1. Take Paid Online Surveys
Depending on how quickly you need to make that $50, taking paid online surveys could be a great way to get you there.
Sites like Survey Junkie, Branded Surveys, and KaskKick are all web platforms that pay users to provide brands with feedback via online surveys. With each survey you complete, you're awarded a certain number of points that are credited to your account. Better yet, these sites are transparent about the point-to-cash conversion rates and how much you'll make with each completed survey.
Once you've made your $50 (or at least met the minimum payout amount), you'll be able to deposit the money you've made. Depending on what site you're using, you might be able to have the money sent to you via PayPal or direct bank transfer. Or, if you need the money for something specific, you can have it turned into a gift card and sent to your email.
To get started earning money via survey completion, all you need to do is pick one of the above platforms and sign up. The sign-up process is usually quick and easy, and you'll be able to start earning immediately. Additionally, most platforms provide a $5 to $10 sign-up bonus, so you'll already be making progress toward your goal.
Earning Potential: Online surveys don't pay much, so you can expect it to take a while to reach your $50 goal. If you're in a pinch and need the money within an hour or even a day, this might not be your best bet.
All in all, most surveys pay between $0.10 to $0.50 per survey completed, and the time they take varies accordingly. If you're persistent, though, you can realistically reach $50 within 2 to 4 days.
2. Get Paid to Watch Videos
If you're someone who spends much of their free time watching TV or browsing YouTube, this side hustle is the perfect way to earn $50.
Companies like InboxDollars and iRazoo will pay you for performing small tasks, including watching videos. Most of the time, these videos involve brands and their products. You may also see ads for services or previews for upcoming movie releases. Similar to taking surveys, each video you watch will earn you a certain amount of points that can later be converted to cash.
Getting started earning money via these websites isn't difficult, either. There's no waiting process, interview, or otherwise. All you have to do is complete the sign-up process and start watching videos. You'll be eligible to get paid as soon as you have earned enough points.
Earning Potential: Most sites that offer quick cash for video viewership don't pay much per video, so you can expect it to take a while before you reach your $50 goal. In general, the earnings are similar to taking surveys, so reaching your goal will take anywhere from 2 to 4 days of persistent progress.
>> Read Also: Ways To Make Money Watching Videos
3. Make Money Playing Games
If you have a talent for gaming and are interested in turning it into a profitable side hustle, look no further. Game apps like Bingo Cash, Solitaire Cash, and Blitz Win Cash (available for download on your smartphone) will pay out real money every time you win.
To get started, choose one of these apps to download from your phone's app store. All three apps mentioned here are available for Android and iOS devices, so you won't have to worry about compatibility. They all have different features and objectives, so pick the one that interests you the most.
As you might guess, Bingo Cash revolves around the user playing Bingo games, Solitaire Cash, on the other hand, is for users that want to play Solitaire, and Blitz Win Cash provides the user with an assortment of games to choose from.
Once you know what you want to play, download the app and complete the sign-up process and tutorial. Once you're free to start playing, you may have to take special steps to be able to earn money, however.
For example, Bingo Cash has both free and paid game modes. To be eligible to win cash prizes, you'll have to select one of the paid game modes. You can either pay money to enter these game modes or use the gems you win by playing the free modes. The other two apps work similarly.
Earning Potential: Given that these apps/games are primarily based on whether you win or lose, there's no guarantee when (or if) you'll hit your $50 goal. On the flip side, however, you may be able to earn that amount within just an hour or two. It all depends on your skill and luck within the game.
4. Deliver Food
If you've got a car less than 20 years old and decent gas mileage, then you're eligible for one of the best side hustles out there: food delivery. By signing up for platforms like Uber Eats and/or DoorDash, you can get paid to pick up restaurant orders and drop them off at peoples' houses.
Choose your preferred delivery app and find the driver-specific version to get started. For DoorDash, this will be the Dasher app; for Uber Eats, it will be Uber — Driver: Drive and Deliver. Download the app and provide the requested information, such as your name, age, car make and model, etc. Most people are either approved or denied instantly, so you won't have to wait long for an answer on whether you're eligible to deliver.
Once your account is set up, you can start making cash by delivering restaurant meals and certain grocery orders. Initially, you'll be offered lower-paying orders as you get used to the app, but as you complete more deliveries and receive high reviews, DoorDash will begin pushing higher-paying orders your way.
Earning Potential: How much you can make on DoorDash depends heavily on where you live. In small towns, you may only make $5 or $10 for every hour you dash. In smaller cities, you can expect anywhere from $10 to $30 per hour, and in large cities, you can make up to $50 per hour by delivering food orders. Ultimately, however, your earnings will be influenced most by how well buyers tip in your area.
5. Deliver Groceries
Similar to delivering restaurant orders, anyone above 18 years of age can deliver groceries for extra cash via companies like Instacart and Shipt.
As a personal grocery shopper, you're responsible for going into stores, finding and checking out all the items on a given order, and then delivering them to the customer's door. So long as you have a phone to accept orders, a valid driver's license, and a reliable mode of transportation, you could be earning extra cash as soon as today.
Truth be told, there are only a few small differences between delivering restaurant food and grocery orders. For some people, however, these distinctions are important, and most delivery drivers have a preference one way or the other.
The first major difference between the two is that shopping for a grocery order takes a lot longer than picking up a food order. Because of this, food delivery drivers can complete between 3 and 5 jobs in an hour, whereas a personal shopper may only be able to complete one. Though, personal shoppers are paid more per order than delivery drivers to make up for this discrepancy.
The second major difference is that personal shoppers need to be able to lift more than their food delivery counterparts. This is because certain shopping orders will include heavy items like kitty litter, dog food, or even furniture items. Generally, it's recommended that personal shoppers be able to lift at least 30 pounds comfortably.
Earning Potential: Ultimately, your earning potential is determined by how many orders you can complete and how well your buyers are tipping. Additionally, people who live in areas with higher order volumes will make more than those who have to wait several hours for an order to come through.
In terms of reaching your $50 goal, you can expect to reach that amount within about 2 to 5 deliveries. How quickly those deliveries go is up to your personal speed and the local order volume.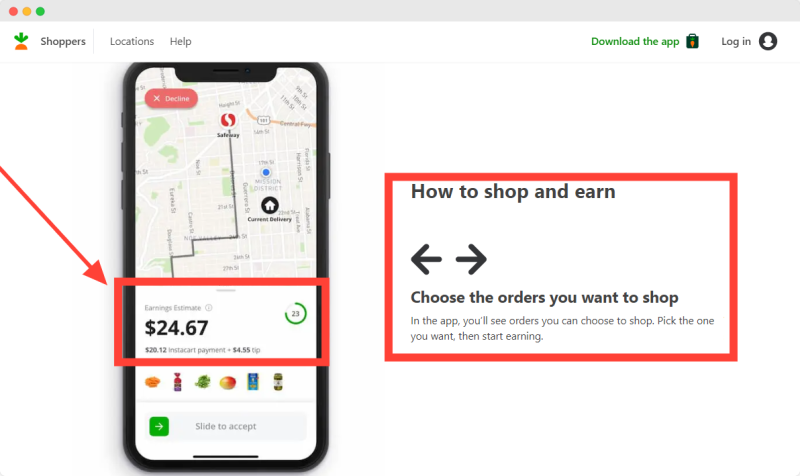 6. Deliver Packages
Amazon Flex is a service offered by Amazon similar to DoorDash that allows individuals to deliver packages in their free time to make extra cash. Those interested can download the app, set up their account, and then browse available delivery opportunities in their area.
Every time you open the Amazon Flex app, you'll be given a list of available delivery blocks in your area. Each offer will come with a time estimate for how long you can expect the delivery to take and your expected earnings. You can also set your availability status on the app to receive instant offers.
Once you sign up for a delivery block, you'll wait for the date and time assigned and drive to the corresponding Amazon location to pick up your packages. Use the app to navigate to each address, deliver the assigned package, and get paid.
Before you get started, however, it's crucial to bear in mind that there are some requirements for who is eligible to deliver for Amazon. For example, you must be at least 21 years old to be an Amazon delivery partner.
In addition, you must also have a valid driver's license, social security number, and a mid-sized or larger vehicle. Because most deliveries have several packages on the roster, you need at least a 4-door, midsize sedan or larger.
Finally, you need to live in a city where Amazon Flex operates. Currently, there are only 12 states and 14 cities offering the service. You can search this list to find out if your city is one that supports the Amazon Flex program.
Earning Potential: According to Amazon, most Flex package couriers make between $18 and $25 per hour. How much you make will depend on your delivery block, location, and how badly drivers are needed.
7. Get Paid to Search the Web
Swagbucks is a company dedicated to paying individuals who wish to participate in market research. Users on their site can take surveys, watch videos, and even search the web. This is one of your best options if you want to make $50 fast.
When you sign up for a Swagbucks account, you'll immediately receive a $10 bonus credited instantly to your account. To make the remaining $40, you can navigate to the web search feature using the navigation bar at the top. You'll be randomly awarded points every 1 to 2 hours as you explore the internet. The amount you'll receive varies, but generally, you can expect between 5 to 50 points (for reference, 100 points is equal to $1).
While this may not be the fastest way to earn $50, it is one of the easiest. This goes a long way if you already spend a lot of time searching the web.
Earning Potential: If you sign up to Swagbucks and only use the web search feature, you can expect it to take a while to reach your $50 goal. However, if you fully utilize Swagbucks and couple your web search efforts with surveys, videos, questionnaires, etc., you can expect to reach $50 within just a few days.
>> Read Also: Ways To Get Paid For Searching The Web
8. Walk Dogs or Pet Sit
If you're someone who wants pets but can't have them, pet-related side hustles could be the perfect way to curb that desire. By signing up for platforms like Rover and Wag!, you can get paid to take care of others' pets.
Rover and Wag! match pet owners with sitters looking to make extra money. For example, if dog walking is listed on your profile, you'll be matched with people looking for that specific service. Depending on your flexibility, you may also be hired to pet sit while the pet owner is away from home, or the owner may just want you to drop in twice a day to feed and check up on the animals.
To get started, choose a site and create your profile. Before you can take on jobs, you'll need to populate your account with the services you're willing to provide and the corresponding prices.
Once the account has been set up, pet owners will approach you with jobs they want to hire you for. You can choose to accept or decline each offer based on your schedule and preferences. This feature is great because you can earn money while maintaining control over your time.
In most cases, you'll receive payment a few days after the job is complete. Clients also often tip, so you may be able to earn more beyond just your base charges.
Earning Potential: Depending on what jobs you want to take on, you could earn anywhere from $10 to $50 per hour for each job. Pet sitters typically earn more than pet walkers, and this goes double if you are pet-sitting for multiple animals at a time.
9. Make $50 By Selling Your Jewelry
Nearly everyone has old jewelry they don't wear anymore. Instead of letting it sit in your jewelry box collecting dust, consider turning it into a side hustle by selling your jewelry online.
Worthy is a jewelry auction site where you can post your old jewelry and ship it off to the highest bidder. Worthy has categories for just about anything, including diamond rings, gemstone earrings, name-brand bracelets, necklaces, platinum, watches, and much more. For each item you submit for auction, you'll also receive a GIA-certified appraisal free of charge.
Additionally, if your jewelry is gold or silver, you can sell your jewelry without the hassle of auctioning it on sites like CashforGoldUSA.com. At over $1,600 an oz for pure gold, this can result in some serious profits.
Earning Potential: Depending on what jewelry you have and where you decide to sell it, you could be looking at anywhere from $100 to $1,000 per item. Sites like CashforGoldUSA.com will also give you a $50 bonus for being a first-time seller.
10. Make Money Driving
For those with gas-efficient vehicles who don't want to deal with the hassle of picking up restaurant orders or shopping for others' groceries, you can cut out those extra steps and turn your driving time into some extra money.
Although signing up with rideshare apps like Uber and Lyft comes with prerequisites, drivers who meet the requirements can take ride requests at any time and at their own convenience.
Furthermore, drivers can choose to set in-app alerts for promotions and high-volume areas so they never miss high-earning opportunities. Uber, in particular, also comes with additional perks drivers can take advantage of, such as discounted car maintenance, cell plans, free music subscriptions, access to discounted healthcare, financial management help, and more.
Currently, the requirements to become a rideshare driver are as follows:
Uber: To drive with Uber, you must meet the minimum age to drive in your city, have at least one year of licensed driving experience (3 years if you are under 25), possess a valid driver's license, and be using an eligible 4-door vehicle. You must also have up-to-date copies of the following documents: driver's license, proof of residency, proof of vehicle insurance, and a driver profile photo.
Lyft: Requirements to drive with Lyft vary by state and city, but there are some universal requirements a driver must have to be considered eligible to drive anywhere. First, you must be 25 years or older, pass a driving history and criminal background check, have a smartphone that can run the Lyft Driver app, have current vehicle insurance, and possess a valid driver's license. Some states will also require you to pass a vehicle inspection. If your car is considered high-end, you may also be eligible to earn more by signing up as a Lyft Lux or Lyft Lux Black driver.
Earning Potential: Uber drivers earn an average of $19.27 per hour, while Lyft drivers gross around $22.10 per hour. If you qualify for Lyft Lux or Lyft Lux Black, you could potentially earn closer to $30 per hour.
11. Make $50 or More Selling Your Old Tech
It isn't hard to imagine you've got some old tech items lying around your house that you no longer use. If you think this may be the case for you, you can easily make $50 fast just by getting rid of it.
Sites like Decluttr and Gazelle make it easy to make money selling items like old CDs, video games, consoles, gaming peripherals like keyboards and headphones, and much more.
If you go through Decluttr, all you have to do to get started is go to their website and enter the ISBN number of the item you're selling. Decluttr will give you an immediate offer which you can then decline or accept.
The company will email you a prepaid shipping label if you accept the offer. You'll need to print it out, box up your items, tape your label on the box, and take the package to the post office.
Most people who sell their items through Decluttr experience quick processing times and receive payment only a day or two after the items arrive at the facility. Decluttr can also pay you in one of three different ways: through PayPal, via direct deposit to your bank, or by paper check sent through the mail. According to customer accounts, though, PayPal is the quickest of the three.
For those interested in using Gazelle, you can expect a similar process. However, Gazelle is geared more toward buying and selling Samsung and iPhone phones. You won't make as much on their site for anything that isn't one of those brands.
Earning Potential: How much you earn through Decluttr and Gazelle depends on what items you have to sell and what brands they are. You could earn as little as $5 per item or as much as several hundred.
>> Read Also: Ways To Sell Your Old Tech For Cash
12. Rent Out Unused Space
Not everyone has a room or house to rent out, but that doesn't mean you've exhausted your options. If you have any unused space in your house, you can find someone to rent it.
Websites like Neighbor make it easy to find people in your neighborhood in need of extra space. You can rent areas of your home as small as a closet or attic or as large as your entire backyard. Common types of rented spaces include those for small items, cars, RVs, boats, trailers, business inventory, and fleet parking. The larger your space, the more you can make.
To get started, find the unused areas of your home and list them on Neighbor. Potential renters will find your listing and approach you to lease your space. You'll both sign the contract Neighbor provides (or you can create your own), and they'll be free to store their items in the agreed-upon area.
Earning Potential: Your earnings will be determined by your space size and how you advertise it. For example, you could earn more for renting out your garage by advertising it as business inventory space instead of somewhere to park a car. If you want to make $50 fast, listing your unused space on Neighbor is a great option.
13. Rent Out A Room
If you have an unused room in your house, you could be sleeping (or, rather, not sleeping) on an extremely lucrative side hustle.
Popular sites like Airbnb and VRBO are dedicated to helping vacationers find rooms and houses to stay in while they're in town. In fact, you could rent out an entire house if you've got one to spare, are away for the week, or aren't staying there for some other unlisted reason.
Renting out a room on one of the aforementioned sites isn't difficult, either. Just sign up, go through the approval process with your property, list the room/house, and wait for vacationers to book.
Additionally, you could pair this idea up with house sitting to make double the money: just book someone to rent your space while you're housesitting for someone else!
Earning Potential: The more space you have to rent, the more you'll earn. Single rooms often rent out for anywhere from $20 to $100 per night, depending on the size and how nice your property is. However, if you rent out an entire house, you could make anywhere from $80 to $500 per rented night.
14. Test Products For Cash
If you've ever dreamed of becoming a product tester, sites like UserTesting and uTest provide the perfect source of side income. It's easy to get started, too.
Begin by navigating to UserTesting and creating an account. Once you agree to their terms and establish your profile, you'll be required to download their software before you can start earning. Once the file is downloaded, you'll be assigned websites and apps to review. Click through them and then fill out the corresponding questionnaire about your experience.
The requirements aren't terribly restrictive, either. To be eligible to become a tester, all you need is a reliable internet connection, a microphone, and a device capable of running the site's software. You'll also need a decent descriptive ability so you can concisely describe what you did or didn't like about the site.
Tests usually take around 20 minutes, and you earn $10 for each survey you complete.
Earning Potential: How many websites you can product test hinges on your demographic background. Since most sites are trying to product test for specific demographics, you'll only receive offers to test sites that are looking for individuals with your background.
>> Read Also: Ways To Make Money As A Product Tester
15. Get Paid to Run Errands
Do you enjoy the solitude of runnings errands? Do you look forward to listening to your playlists as you drive around town? If so, running errands for other people opens you up to the best of both worlds: doing what you like and getting paid for it.
TaskRabbit is a platform that connects willing participants (Taskers) with individuals who need errands and odd jobs completed. Depending on what you're willing/able to do, you may be asked to perform tasks like mounting a TV, shopping for groceries, dropping off bank checks, and more.
Additionally, while TaskRabbit has a "no cash" payment system, you can earn tips if you do a great job. Otherwise, payments are processed and sent to you within just a few days of completing the requested task.
If this side hustle sounds like something you want to try, here are a few tips to get started:
First, be positive and friendly when completing your tasks. People tend to respond to positivity, which also helps you get tips when you complete projects.
Be okay with lower rates when you first start out. You can increase your pay scale as you complete more projects, but the first few projects you finish likely won't pay much.
Earn extra money by opening yourself up to moving-related tasks. People will often give away what they don't want, and you can flip these items for a quick profit.
Respond quickly to messages for the best chance of success.
Earning Potential: Depending on how many tasks you complete and what skills you have, you could earn anywhere from $10 to $50 per hour for each task completed. Most tasks won't take more than an hour or two, so popular task-doers can accomplish multiple in one day.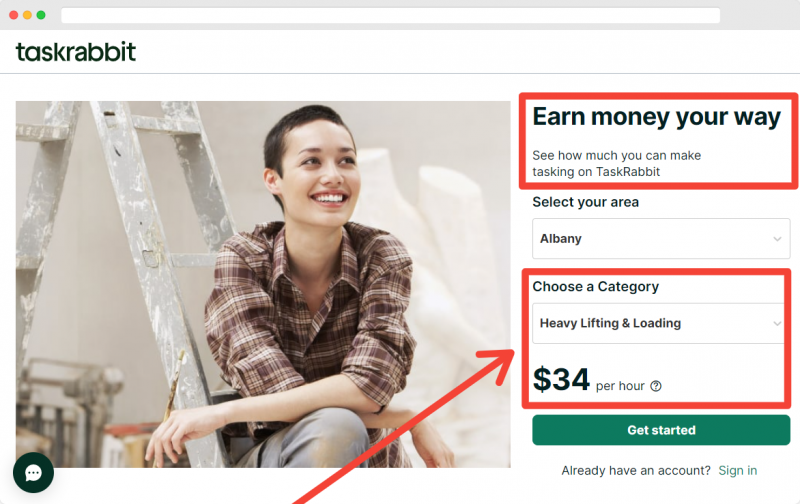 16. Cut Unwanted Subscriptions and Save $50 or More
While cutting unwanted subscriptions isn't technically a way to earn money, you can easily save the $50 you need and avoid having to work for it in the first place. In fact, USA Today estimates that the average American spends between $200 and $300 per month in subscriptions—many of which go unused and unnoticed.
Services like Rocket Money and BillTrim are great for analyzing your spending and cataloging all the subscriptions that automatically withdraw from your account. These types of services will report back with the dates these transactions occur and how much you're paying each month.
Even better? If you don't have any subscriptions you want to cancel, the above services will still help you negotiate your prices so you pay less in total.
Earning Potential: You can save up to $200 per month by canceling unwanted subscriptions and hiring bill negotiators like Rocket Money to decrease your subscription rates.
17. Rent Out Your Car
If you have your own car and decent insurance, renting out your car is another great way to earn cash without putting much effort in. Peer-to-peer car-sharing apps like Getaround and Turo will help you match with potential renters who need a car like yours to drive around for a day.
This side hustle is especially great for those who have unique or utility-oriented vehicles. For example, those with SUVs or trucks tend to make more than those with common economy sedans.
Both Getaround and Turo provide alternatives to car rental companies where the daily rates are outrageous. You can make easy money anytime you expect to spend the day at home by listing your car for rent at a decent rate.
Earning Potential: With car rental, your earnings are tied to what type of vehicle you have and how often you rent it. Larger and more unique vehicles both gross more than smaller, compact cars. Common cars may make between $30 and $50 per day, while trucks, SUVs, or special models could make as much as $100 to $200.
18. Sell Your Old Textbooks
We're all familiar with the old college process of buying textbooks for courses just to use them for a single semester and never open them again. If this has happened to you, know you can finally turn those old textbooks into much-needed cash.
BookScouter is a platform that functions as a one-stop marketplace to buy and sell old textbooks. Anytime you have a textbook to sell, you can plug the ISBN number into their search bar, and they'll automatically compare prices from book vendor websites to find you the best bid. They also have a convenient app available for iOS and Android so you can sell your books on the go.
Earning Potential: The more copies of a book you have, the more you'll be able to make $50 fast. This is because many vendors offer higher prices per book if you can send more than one. Additionally, how much you can earn will depend on what textbooks you have and how popular they are.
19. Sell Your Skills
More people than ever are turning their online skills into freelance side hustles, and some are even replacing their careers with them. Regardless of your skill (whether that be data entry, voiceovers, writing, or something else), someone out there is willing to pay for your services.
By signing up on sites dedicated to sourcing freelance jobs like Fiverr and Upwork, you can start earning cash as soon as today.
Depending on what you're looking for, you can use Upwork to source longer-term jobs while Fiverr keeps you supplied with short-term, one-off assignments to earn cash faster. Regardless of what platform you use, though, you can also build a long-term relationship with clients who need recurrent work.
Additionally, the better job you do, the more likely customers are to come back to you directly for future products. This means you won't be competing for those jobs anymore, and clients will prefer your services over searching for new providers.
Earning Potential: While Fiverr rates start at $5 per service, you ultimately choose your own rates no matter where you choose to freelance. Regardless, if you have a more specialized skill (such as web development), you'll be able to set higher prices than someone with a more generalized skill like data entry.
20. Sell Your Plasma For Cash
Plasma is the liquid part of your blood that carries red blood cells, white blood cells, and platelets around your body. When extracted from the blood, it's light yellow in color and makes up about half of your blood's overall volume. In addition, it's also a great way to make some extra money.
Plasma donation facilities are touted as one of the best ways to make money fast. Each appointment lasts only about an hour and can make you as much as $100 in one go. As long as you're healthy and have healthy habits, you can sell your plasma to any donation facility willing to pay for it.
Furthermore, many donation facilities will pay extra to first-time donors. For example, they may offer $500 for your first four donations or up to $850 in your first month.
Earning Potential: Barring extra money received from first-time donation deals, most appointments pay between $30 and $50. Individuals are able to donate plasma as often as twice per week according to FDA regulations so that they can make as much as $100 per week.
21. Turn Your Car Into A Billboard
Advertisements are everywhere nowadays, and cars are certainly no exception. Luckily, if you've got a car, you can turn those little annoyances into a decent source of spare cash.
Platforms like Wrapify and Carvertise pay individuals like yourself to provide mobile ad space via their personal vehicle. Depending on the ad size, you may have to take your car in to be outfitted with the ad, or they may send you a small decal in the mail to apply yourself.
The best part about this side hustle is that it takes very little additional work. In other words, it is very passive. Sure, you have to sign up and be approved, but past that, you're being paid to do something you're already doing anyway: driving.
However, remember that not everyone will be eligible to turn their car into an advertising space. Wrapify and Carvertise both base eligibility on where you live and where you drive most often. If you spend the majority of your time in a small town, you may not get matched with any campaigns.
Earning Potential: Technically speaking, Carvertise pays out per campaign. You'll be tasked to have a specific ad on your vehicle for a specific length of time, and Carvertise will pay you regularly for the length of the campaign. Because of this, shorter campaigns may only pay $350 in total, while longer ones may pay up to $1,500.
If you're looking for a more specific number, Carvertise and Wrapify users report earning an average of $100 monthly.
>> Read Also: Best Apps To Make Money Driving
22. Teach English Online
You can make money online teaching about anything, but English is among the most popularly tutored subjects. If you know English well, you can choose to tutor others on how to speak it or go for something more niche, like teaching grammar and mechanics.
In this day and age, there are also tons of methods you can use to teach. More hands-on people may choose to advertise face-to-face sessions while others may choose to write out their course, and others still might decide to record videos and post them on course-selling sites.
For English specifically, VIPKid is among one of the most popular learning marketplaces in the US and Canada. They pay well, but that pay rate comes with a price. Because all teachers on the site are carefully vetted, instructors are required to have a bachelor's degree and at least two years of experience.
Individuals who don't have those sorts of credentials aren't necessarily out of luck, though. You can still record courses and post them on sites like Udemy or Coursera.
Earning Potential: Tutoring online grosses $15 to $20 per hour for basic courses and more if you're able to teach more advanced topics.
23. Have A Yard or Garage Sale
If you have a ton of miscellaneous stuff you no longer need, a garage or yard sale may be exactly what you need. With just a small investment to purchase price tags and signs, you could easily make well over your $50 goal in just a few hours.
What's even better is that, even if you don't have anything to sell, you've still got options. Sites like Craigslist and Facebook Marketplace frequently list free items people no longer want. By spending a few weeks picking up these items and then compiling them into one large yard sale, you can make money from basically nothing.
If you plan to have a yard sale soon, here are a few helpful tips to maximize your earnings:
Sell a variety of stuff at various prices: Part of the appeal of a yard sale is that you never know what you'll find. You'll attract a larger crowd by having a large variety at your yard sale.
Use tags to price items: For some people, asking the price of every item they're interested in is a major turn-off. To maximize your sales, use price tags for your items.
Understand how to haggle: People come to yard sales searching for a good deal. If you're not expecting it, you could end up selling valuable items for much less than they're worth. That said, don't be rigid about prices either. The more you work with people, the more they'll feel compelled to buy from you.
Potential Earnings: If you live in an active neighborhood and put up plenty of signs, you could earn well over $500 in a single afternoon. The biggest factor that will affect your earnings is the type of items you're selling and how much you have out.
24. Claim Lost Money
It's hard to keep track of everything that goes on in our lives, which is why most people have some sort of lost money they don't know about. This includes cash from sources like safety deposit box contents, apartment or utility refunds, uncashed paychecks, and more.
To check and see if you're owed unclaimed money, you can visit the following sites:
For each of the above websites, follow the directions to check if you're owed anything. If you have a source that does owe you, click on the listed item and go through the steps to claim your cash. Within a few weeks, a check will be processed and mailed to the address you provide. Keep in mind, however, it may take more or less time depending on where you live and what source is sending you the check.
Earning Potential: It's difficult to say how much you could make by claiming lost money. Some people will click through the listed sites and find nothing, while others may discover several instances of unclaimed cash. How much you make depends on your personal history and the state you live in.
25. Make $50 By Selling Unwanted Gift Cards
If you have a family member who loves buying gift cards (especially if they're for places you don't visit), you may have some extra earning potential on your hands. Consider selling these extra gift cards on sites like Raise to turn them into cash.
This site profits from selling discounted gift cards for less than the monetary value loaded onto them. Depending on what store they're for and how much the gift card is worth, you can get up to 90% of the value of the card in cash.
Earning Potential: Your earnings will ultimately depend on how many gift cards you sell and their value. Since you can earn up to 90% of the gift card value, this is one of the easiest ways to earn $50 fast.
---
FAQ on How To Make $50 Fast
We've found some of the most frequently asked questions regarding how to make $50 fast; here are our answers.
What are the best side hustles to make $50 fast? 
If you need $50 but don't have a lot of time to make it happen, some of the best side hustles to pursue are selling your old jewelry or tech, selling your plasma, having a yard sale, or selling unwanted gift cards. 
What is the best way to make $50 in one hour? 
There's no set "best way" to make $50 in one hour, but one of the quickest and most reliable ways to make an extra $50 is by selling your plasma to your local plasma donation facility.
Most plasma donation appointments earn between $30 and $50 for about an hour of your time, but first-time donors can earn a lot more by taking advantage of first-timer specials. For example, many facilities offer deals like $500 for your first four appointments, $600 for your first month, etc. 
How can I make $50 fast as a kid? 
Unfortunately, being underage disqualifies you from a lot of typical side hustles. However, that doesn't mean you have no options. One of the best ways to quickly earn $50 as a kid is to sell your old tech or item at a yard sale. Depending on where you live and how many signs you put up for sale, you could earn $50 with just a few hours of work.
If you don't have anything to sell, you can also ask around your neighborhood to see if anyone needs their yard mowed or has odd jobs they need completed. You'd be surprised how much you can make just by asking around. 
---
Final Thoughts
It can be tempting to resort to emergency measures like cash advance loans whenever you need extra cash. However, these measures can damage your finances even more in the long term with their sky-high interest rates and rigid loan structures.
Instead, consider picking up a side hustle, renting out space, or selling items you no longer need. Of all the options listed in this article to make $50 fast, nearly everyone will find a few that interest them.
As you're trying out various side hustles, you may even find yourself making quite a bit more than $50—in fact, you may end up with an unexpected new source of regular income. By browsing this list and evaluating your options, you'll be able to earn the money you need in no time.
Get our free Side Hustle Handbook with the best strategies to multiply your income sources today.
Plus our best money tips delivered straight to your inbox.

Christa is a skilled researcher and serial entrepreneur. Her passion lies in providing people like you with ways to become financially independent without breaking the bank in the process. Currently, she's tested and perfected over 37 unique side hustles and brings that information to you through articles like these.