Many or all of the products featured on this page are from our sponsors who compensate us. This may influence which products we write about and where and how the product appears on a page. However, this does not influence our evaluations. Our opinions are our own. Here is a list of our partners and here is how we make money.
The information provided on this page is for educational purposes only. The Modest Wallet is a financial publisher that does not offer any personal financial advice or advocate the purchase or sale of any security or investment for any specific individual.
Many of us automatically go to Craigslist when we need to buy or sell something. It's become so popular that it's nearly a reflex to head over to Craigslist in search of almost anything we might want to buy. But the internet is full of effective sites like Craigslist.
From online auction sites to local classified services, consignment services, resellers, and aggregators, the Web has no shortage of offerings to help you buy or sell pretty much anything.
Continue reading below to learn about 21 site like Craigslist you can use for your next sale or purchase.
The Best Sites Like Craigslist
There is no shortage of sites like Craigslist. The list includes websites where you can sell stuff online, or locally, depending on your needs.
Flyp
Flyp is an app that allows you to sell your clothes across different selling apps without doing any of the selling work yourself. It basically connects you to a network of vetted Pro Sellers who will sell your stuff on your behalf.
After you download the Flyp app, you'll be able to create a "lot" where you will put all your clothes, shoes and handbags that you wish to sell. Pro Sellers will offer you a price estimate and set their commission rate. All you have to do is pick your favorite seller, print off a shipping label, and mail it to them at once. Pros will pay you as soon as they sell your goods.
The coolest part is that you don't have to worry about any of the usual back and forth with buyers, pricing, photographs, packaging and shipping. You just send your stuff and let them handle the rest.
See Also: 25 Best Coupon Websites to Save Thousands in 2020
Letgo
Letgo is a locally-oriented buy-and-sell website. Unlike similar services with a regional or nationwide flavor, Letgo focuses on connecting you with people in your area who want to buy or sell specific items.
In exchange for avoiding the hassle and expense of shipping items across the country, you'll have to make do with the more limited audience in your area. For some, especially those in rural areas, this will mean being limited to a very small number of potential buyers and sellers. For those who live in more densely populated urban areas, however, the local focus will not be as much of a restriction.
Letgo will show you listings from people who live nearby. Listings will typically include a picture and a description of the item. Beyond that, Letgo relies on users to vet and qualify potential buyers and sellers to avoid being taken advantage of.
Letgo is definitely one of the best alternatives to Craigslist.
Facebook Marketplace
You can think of Facebook Marketplace as a combination of Facebook and Craigslist. On the eponymous social network, Facebook Marketplace allows you to list items for sale with your Facebook profile.
The connection to your Facebook account can be a negative or a positive factor, depending on your circumstances. On the one hand, a buyer may be more comfortable buying from someone with a well-established Facebook profile. On the other, a seller may be uncomfortable with the possibility of a buyer obtaining information about them from their Facebook profile.
Keep in mind that Facebook Marketplace is not synonymous with the other buy-and-sell groups that exist on the platform. It's a separate feature that's accessible to all Facebook users.
If you're looking for sites like Craigslist, then Facebook Marketplace might be your best bet.
Decluttr
Decluttr offers to buy your (mostly electronic) items. The prices they offer for your gently used items aren't typically high, but it's certainly more than those items are going to earn just sitting around the house.
Decluttr will buy:
DVDs, Blu Rays, and CDs
Video games
Books
Phones
Tablets
LEGO®
The newer the item, the more money you'll be offered by the site. Similarly, an item in great or near-mint condition will command a much higher price than an item in poor condition.
As opposed to some other buy-and-sell sites, Decluttr is doing the buying directly. In other words, it's not another user buying your items; it's the Decluttr platform. This helps create better predictability around payments. As long as your item is actually in the condition you say it's in, and as long as your item matches the description you provided, you should get paid in full and on time.
If you're looking for sites like Craigslist for selling electronics, then Decluttr is your answer.
Check out our full Decluttr review to learn more.
See Also: How to Save Money: 91 Effective Ways to Save Money Fast
Poshmark
Poshmark is a website that lets you buy and sell your gently used clothing online. The site primarily rewards those who can offer near-mint condition designer and brand-name clothing. Clothes made by lesser-known designers, generic brands, and other less desirable labels will not fetch a very high price on Poshmark.
The buying experience at Poshmark is socially oriented. You can "Like" items and ask questions by commenting directly on the item's page. You can also follow people's "Closets" (collections of clothing) if you like their style.
The site offers an experience similar to other buy-and-sell listing sites, with a focus on clothing. If you're listing an item, make sure to pay attention to the quality of the photos of the items you post — they can have a huge impact on the price you can list (In other words, nice photos translate to higher sale prices.)
Poshmark is a good alternative to Craigslist if you're looking to sell clothes.
Mercari
Mercari is a national buy-and-sell website on which you can buy or sell virtually anything (as long as it doesn't go against their terms of service.)
Unlike Letgo and OfferUp, which focus on local connections and transactions, Mercari connects you with buyers and sellers across the United States. While this means you'll have to deal with the hassles of shipping, the site goes to great lengths to make the process easier and more convenient for you.
Upon agreeing to a transaction on the platform, Mercari will send the seller an electronic shipping and packing label. The seller simply prints the label out, packages the item safely in a box, and sends it off for shipping. When the buyer receives the item and verifies with Mercari that it's what they ordered, Mercari releases the money to the seller.
Mercari has millions of registered users, so they offer a good-sized market in which to buy or sell your items.
Gazelle
Gazelle will buy your used iPhones, Samsung phones, Google phones, iPads, iPods, and MacBooks. You go to their website, choose the name and model number of the item you wish to sell, enter its condition, and receive a quote. If you accept the quote, you'll receive an electronic shipping label and a box in the mail.
You pop your item (or items) in the box, slap on the shipping label, and send it to the Gazelle warehouse. If the item matches your description, they'll PayPal you the offer they made. If it's better than your description, they'll increase the offer!
Note, however, that some users have reported that Gazelle has unfairly rated some items' conditions and offered less than what they initially quoted. These reports should be treated with a grain of salt. After all, Gazelle deals with hundreds of thousands, if not millions, of items per year. There are bound to be a few unsatisfied customers.
Check out our full Gazelle review to learn more.
See Also: 15 Best Cash Back Apps Worth Your Time
Swappa
Swappa is an online buy-and-sell that specializes in relatively new smartphones. Unlike sites like Decluttr, Swappa connects buyers and sellers. It does not buy your items directly. Instead, it's a platform on which you list your item for sale, choose a price, and wait for offers from prospective buyers.
While Swappa facilitates the shipping process, your items are never sent directly to any Swappa-controlled facilities or locations. It's purely an intermediary platform to make it more convenient for buyers and sellers to interact.
The major trade-offs at sites like Swappa, that connect buyers and sellers — and sites like Gazelle, that buy items directly — are between speed and flexibility. Selling items directly to companies like Gazelle gets you your money more quickly (usually). Selling items directly to other users will allow you to customize your selling price and (usually) make more money.
Whether you'd like to sell your item quickly or have more control over the price is up to you. Swappa is a good alternative to Craigslist.
Check out our full Swappa review to learn more.
OfferUp
OfferUp is extremely similar to Letgo in that it's a locally-focused classified sales platform. OfferUp relies on its users to protect themselves against scams and dishonest users, so you'll need to pay attention and use your intuition before agreeing to a transaction.
Like Letgo, OfferUp is free for both buyers and sellers. Also like Letgo, OfferUp makes money by offering its sellers a "bump" service, in which their listings are pushed to the top of the list when buyers search for relevant items.
You can't sell certain kinds of items on the OfferUp platform (like weaponry or adult materials), and you should make yourself familiar with all the item categories that are prohibited on OfferUp.
One area where OfferUp differs significantly from Letgo (and not in a good way) is its reputation for customer service. Many users have complained about a lack of response to requests for support from this platform. Your mileage may vary, however.
See Also: 25 Frugal Living Tips That Will Save You Thousands
Bonanza
Bonanza is an online marketplace that aims to outcompete other sites like eBay by charging fewer (and lower) seller fees. The site is worldwide, offering items for sale from around the globe.
Bonanza has also found a small niche as a platform for the sale of unique and hard-to-find items.
Because Bonanza offers products from around the world, buyers are expected to keep a close eye on both shipping cost and shipping time. Shipping costs and shipping time can sometimes be high and long, depending on where the item is coming from (but if you're looking for something unique or rare, it may be worth it).
And like any other marketplace platform that connects buyers and sellers, you'll need to keep an eye on the reputation and credibility of the seller. Lesser-known or disreputable sellers are likely to send you products that don't live up to their description (if they send you anything at all). So, always read the online reviews attributed to a seller before purchasing anything from them.
Bookoo
Bookoo bills itself as a sort of online yard sale. It's very similar to sites like Letgo and OfferUp. It focuses on facilitating local transactions of used items without the need for shipping. Transactions are typically made in cash.
Bookoo has an incredibly simple online interface that's a breeze to use. Ads for buying and selling are also free to post. You should note, however, that if you want to make use of Bookoo's more high-end features (like enhanced photos, long descriptions, and bold titles) you'll need to purchase a Premiere or Unlimited account.
The paid features have a noticeable impact on selling your items faster and easier than you would otherwise with the free account. However, the free accounts usually do the job just fine, so don't worry about shelling out for the more expensive accounts unless you really want to sell a niche item fast.
Locanto
Similar to Bookoo, Locanto offers locally-focused online classifieds for free. Users can post ads to buy and sell items of all kinds. The site is reminiscent of Craigslist, but has a few differences.
For one, you can purchase a Premium Account that provides a few advantages over other users of the site. You'll be able to respond to reviews that buyers leave you and view the profiles of your followers. You can verify your account to increase your credibility with buyers, as well as see whether potential buyers are online or offline.
Premium users also get the ability to remove third-party ads from the site, and might notice a slight increase in site speed.
All things considered, we'd suggest sticking with the free version, unless you have an item that absolutely has to sell quickly and you still want to charge a premium price for it.
Locanto is a great alternative to Craigslist.
Bookscouter
Bookscouter aggregates the prices that various online book buyers will pay for your like-new and used books.
You go to the site and punch in the ISBN of the book you want to sell. Or you can use their app and scan the barcode of the book with your phone's camera.
After you've uploaded the information about the book (or books) you want to sell, Bookscouter will crawl the different book-buying companies for the price they'll pay for your used book.
You should keep in mind that Bookscouter includes some companies in its database that have poor online reputations. These companies will offer a lot for your books, but typically won't actually pay the promised amount after they receive the product. Use your best judgment when it comes to choosing a book buyer, and make sure you do good research and look at a wide range of online reviews.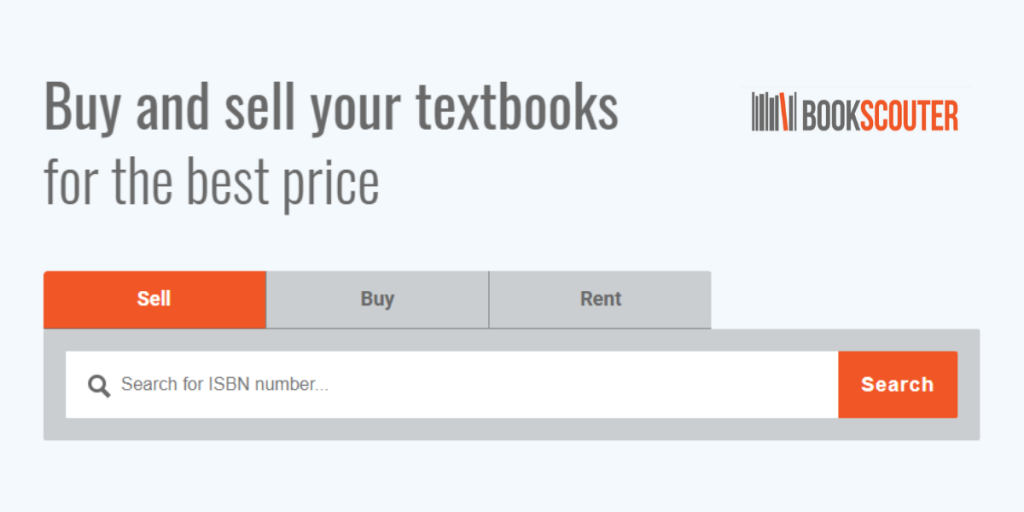 See Also: 18 Legit Ways to Get Free Cable TV (and Cheap Alternatives)
Gumtree
If you're located in the United Kingdom and you're looking for a buy-and-sell website with a local focus, look no further than Gumtree.
Gumtree is like the UK version of Locanto. Ads are free to post and view, but you might have much better luck if you opt for one of the many paid features offered by Gumtree. These include:
Bump Up – Bump your ad to the top of the search results
Urgent – Add an urgent label to your advertisement
Featured – Put your ad in the top section of search results for a set number of days
Spotlight – Put your ad on the Gumtree home page
URL – Add a URL to your advertisement
All of these paid options are reasonably priced, and powerful. They're a great way to sell a niche product quickly. So, if you don't have time to wait for an item to sell, then consider one of Gumtree's paid features.
Kijiji
Kijiji is extremely similar to Craigslist. It's a buy-and-sell website available to Canadians. It was operated in the United States for a while by eBay as a challenger to Craigslist, but it never really took off the way Craigslist did.
Like Gumtree and Locanto, you can post ads for free on Kijiji, but where you'll really start to see results is when you take advantage of their premium features. These features highlight your ad and give it more visibility, leading to quicker sales and higher prices for sellers.
Kijiji is a pretty big deal in Canada. It's definitely considered the Canadian Craigslist. If you live outside that country, however, you're better off trying to find another service.
Oodle
Oodle is a buy-and-sell classifieds website that operates in:
Australia
Canada
India
Ireland
New Zealand
United Kingdom
United States
It operates much like Kijiji, Gumtree, or Locanto. But where it stands out is in the variety of listings it has posted. You can find everything from real estate to apartment rentals to pets on this website.
As with the other classifieds websites, you'll need to exercise caution when using Oodle. Scammers regularly use sites like these, and a failure to stay on guard can lead to being cheated out of your hard-earned cash.
That's why you should always demand cash up-front when you're selling an item, and never settle for a personal check, gift card, or any other form of non-immediate payment.
ThredUp
ThredUp is an online consignment store that specializes in clothing. Upon your request, ThredUp will send you a free CleanOut bag. You go into your closet, add any good condition clothing you want to sell to the CleanOut bag, and ship it to ThredUp's processing facility.
ThredUp will inspect each item of clothing, and if they believe they can sell it, they'll put it on their online marketplace. They're much more likely to accept relatively new designer clothing that's in great condition than clothing from lesser-known brands and clothing that's seen better days. So we recommend sending them the higher-end items that you only wore once or twice (or maybe haven't gotten around to wearing at all).
ThredUp usually accepts around 40% of the clothing that's sent to them. The clothing they do not accept is not returned to the owner unless the owner pays a fee of approximately $11.00 (at the time of writing). Some people may not want to take that risk.
See Also: 15 Smart Financial Goals Everyone Should Have
ClassifiedAds
ClassifiedAds.com is exactly what it sounds like. It's a buy-and-sell classified site that operates mostly in the United States. It also offers its services in Canada and a handful of other countries, but most of its activity is located in the US.
Ads are free to post and view, and buyers can contact sellers without charge. Unlike services like Kijiji, Gumtree, and Locanto, you cannot sponsor an ad you post on ClassifiedAds.com. This is unfortunate, given that sponsoring classified ads is usually the only way you can get your ad to stand out.
If you are looking for sites like Craigslist, then Classifiedads.com might what you're looking for.
Recycler
Recycler.com is a classified buy-and-sell service operating out of the United States. It functions in much the same way as the other classified sites you'll find.
Many users have complained of technical issues when trying to access the site, however, with 403 errors being extremely common. There have also been many complaints of poor or inaccessible customer service attributed to Recycler.com.
Given the site's problems, and the many complaints you can find online, we'd give this one a pass in favor of one of the other buy-and-sell websites currently online.
Geebo
Geebo is the last online classifieds-only site we'll review in this article. Not a lot sets Geebo apart from the other buy-and-sell websites available. However, there is a smaller number of users on the site compared to larger competitors like Bookoo and Locanto.
A lack of users isn't the only problem suffered by the site. Many users have complained of customer service issues and a lack of scam prevention on the site. Geebo is a good alternative to Craigslist.
eBay
Everyone's heard of eBay. eBay is THE online auction site that makes it easy to buy and sell pretty much anything online.
And while its auctions are extraordinarily popular, eBay is less well known for its online classifieds section. Which is unfortunate, because eBay Classifieds is a great way to sell items to your local market.
You'll have more luck if you live in a densely populated area, but given the popularity of eBay generally, even if you're in a less well-traveled part of the US, you should still be able to find someone selling something on eBay Classifieds.
With respect to its auction services, eBay users should be aware of the multiple fees eBay charges to its sellers (the fees vary based on what you're selling). Additionally, shipping large or bulky packages can quickly become expensive. Finally, if you use PayPal to fund your purchases on the eBay site, you'll pay additional fees through that service. Basically, there are fees everywhere you look.
But you get a lot of value for those fees. The site is as sleek and easy to use as ever. There's even a handy mobile app. There's a reason that eBay is still the most popular online auction site of all time.
Final Thoughts
There are so many sites like Craigslist that they tend to run together after — and that's unfortunate because there are real differences between many of these websites. They offer a variety of different business models and seller arrangements you can take advantage of.
Depending on your preferences, you can sell items directly to a reseller, connect with a buyer online through a classifieds service, use an online auction, or rely on a consignor.
Whatever you choose to do, the internet is full of alternatives to Craigslist that can help you buy the things you need, sell items just hanging out in your garage, or sell the next new product you've created.
Up Next

Ricardo is an entrepreneur, investor and personal finance nerd who enjoys spending time with his family and friends, travelling and helping others achieve their financial goals. Ricardo has been quoted as a personal finance expert in several online publications including Healthline, Bankrate, GOBankingRates, MSN Money, Yahoo Finance, U.S. News & World Report, Forbes and USA Today.