14 Best Places to Sell a Wedding Dress in 2023 (Online and Locally)
Many or all of the products featured on this page are from our sponsors who compensate us. This may influence which products we write about and where and how the product appears on a page. However, this does not influence our evaluations. Our opinions are our own. Here is a list of our partners and here is how we make money.
---
The information provided on this page is for educational purposes only. The Modest Wallet is a financial publisher that does not offer any personal financial advice or advocate the purchase or sale of any security or investment for any specific individual.
Wedding dresses are often the most expensive item of clothing many people ever buy. And why not? Brides want to look their best on their wedding day.
Wedding dresses often hold immense sentimental value. However, their high worth also means they are a popular item to sell when people want to earn some extra cash.
What you may not know is that there is a substantial market for used wedding dresses, and they hold their value remarkably well — often selling for up to 60% of their retail price.
The biggest choice to make when selling a dress is whether to sell online or locally. Each option has pros and cons.
Here is our list of the best places to sell wedding dresses online and locally.
---
Best Places to Sell a Wedding Dress Online
Selling your dress online typically involves listing it on a clothing or wedding website and then shipping it to a buyer — anywhere in the country. Going the online route gives you access to a nationwide audience, and many platforms have features that simplify the selling process. If you are looking to make money fast, this might be your best option.
1. Nearly Newlywed
Nearly Newlywed has a system that makes selling your wedding dress easy… if your dress gets accepted.
To apply to sell your dress, create a listing that includes images and a description, and then upload it to the site.
If the team likes your dress, they take care of the entire selling process, including promoting it, communicating with buyers, and accepting payments. All you have to do is ship the dress to Nearly Newlywed when it sells.
There is a cost to this convenience.
You have to pay a $25 listing fee, and the site takes 40% of the dress selling price. You can also opt to pay extra for a professional cleaning service.
For some people, the convenience will be worth the cost of the service. But if you want to get the highest amount of money possible, there may be better options.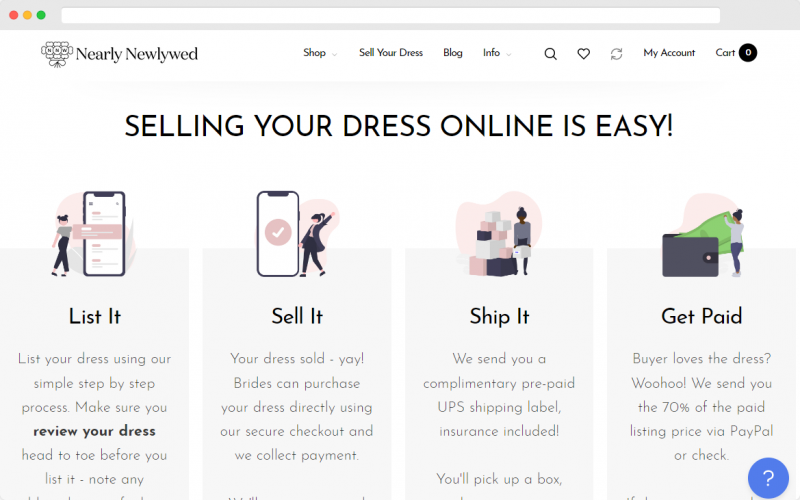 See Also: 26 Best Selling Apps to Sell Your Stuff Fast (Online or Locally)
2. Stillwhite
Stillwhite is a marketplace that specializes in wedding dresses. The company has a track record of selling dresses and says it has made over $36 million in sales.
You have two options for selling on Stillwhite. The first is the standard plan, which costs $20, and lets you upload four photos.
Alternatively, the Premium option costs $30 and lets you upload eight photos and a video. Your listing will also be more prominent on the site and in search results if you choose the premium plan. Both plans let you list your dress until sold.
The good news is that other than the listing fee, there are no fees for using the service — Stillwhite takes zero commission on your sale. You will have to take care of the selling process, however. This includes chatting with buyers, negotiating prices, and either shipping or meeting in-person to sell the dress.
See Also: 23 Best Places and Apps to Sell Clothes Online or Locally
3. Wore it Once
Wore it Once is a newly launched used clothing marketplace that connects buyers and sellers.
When signing up for the service, you can create a store that allows you to list all the items you have for sale. This could be useful if you have other things to sell alongside your wedding dress. In your listing, be sure to add images and a description.
When you sign up, there is a fee (as of this writing, normally $20), but it may be lower if you catch one of their promotions. There are no commissions on sales. This means that once your shop on Wore It Once is set up, you take care of the entire selling process — including communicating with buyers, shipping your dress, and taking payments.
4. WeddingBee
WeddingBee is a wedding blog and community with a ton of articles about how to have a successful wedding. The site also features a classifieds section where users can sell their wedding dresses.
It doesn't cost anything to post an advertisement for your dress on WeddingBee, although you can pay a fee to give your post more exposure. The site doesn't charge commission.
The downside to this is that you are on your own when it comes to selling your dress. You'll have to take care of the entire process, including shipping, returns, and accepting payment. Whether the effort is worth it or not will depend on how much time and work you are willing to put into the process.
5. Tradesy
Tradesy is a selling platform for used designer clothing. They also have a wedding section that you can use to sell your wedding dress.
Listing your dress is free on Tradesy. You just need to upload a photo and provide details about the product. Once your dress is listed, you can take care of the entire selling process from within the Tradesy app.
Tradesy charges a 19.8% commission for items sold for more than $50. For this fee, you get access to Tradesy's audience and seller protection as well as shipping labels and a free shipping kit, which makes posting your dress a breeze.
See Also: Free PayPal Money: 20 Legit Ways to Earn PayPal Cash Now
6. Once Wed
Once Wed is a platform for selling bridal dresses, accessories, and other wedding-related dresses. The site features both designer and high-street or mainstream designer brand clothing.
There is a one-time fee of $19.95 to list your wedding dress, while the fee for other items is $5. The good news is that Once Wed doesn't take any commission.
Most of the selling process takes place on-site. However, Once Wed doesn't provide help with shipping, so you'll have to take care of that on your own. The site doesn't have a built-in payment system, but they recommend using PayPal or Escrow.com.
Once Wed has a popular blog and a strong social media presence. The site says this means your post can be seen by thousands of potential buyers every month.
7. Poshmark
Poshmark is a platform for selling mainstream designer fashion. The site also has a section for wedding dresses, where you can sell bridal gowns, bridesmaid dresses, and other dresses people wear at weddings.
To sell on Poshmark, you need to download the app and then create a free listing. Poshmark provides several features that make selling easier, including buyer communication, payments, and prepaid, pre-addressed shipping labels.
Poshmark takes a commission for this convenience. There is a $2.95 flat fee for items that sell for below $15 and a 20% fee for items that sell for over $15. Nonetheless, the site is a good option if you want to sell wedding dresses other than your bridal dress.
See Also: 25 Creative and Legit Ways to Make Money as a Teenager
8. Wedding Recycle
Wedding Recycle helps you sell pretty much everything you used on your wedding day. This includes dresses, decorations, tableware, and even pre-wedding party accessories.
The site has a unique concept in that they ask newly married couples to upload photos of the wedding day so people can be inspired by — and ultimately purchase — your items.
Wedding Recycle lets users sell directly through the site for a 4% fee. If you choose this option, you have to pay for shipping, although you can add this as an extra cost to your listing.
You can also sell items offline by meeting up with buyers, which means you'll be responsible for the transaction. There are no fees for signing up or creating listings.
9. Sell My Wedding Dress
Sell My Wedding Dress is an aptly named site that lets you sell your wedding dress and other wedding accessories online. The site is a classifieds website in that it enables you to list your dress but doesn't provide any features to help you sell it, such as delivery, payments, or buyer protection.
There are two options to list your dress. A basic listing is $19.97 for a wedding dress, and it lets you add five ads and five images. A premium listing costs $27.97 for a wedding dress and doubles the number of ads and photos you can list. It also includes options that increase the exposure of your ad.
When creating your listing, be sure to add photos and all the information anyone would need to buy your dress.
10. PreOwnedWeddingDresses.com
PreOwnedWeddingDresses.com has been around since 2004, and claims to be the largest online bridal marketplace connecting buyers and sellers of new, sample, and used wedding dresses.
The site charges a one-time fee of $25 to list your dress. Once you have paid this fee, you can create a listing including images and other information that a buyer may want to know about your dress.
Once your listing is online, it's just a case of waiting for a buyer to contact you. The rest of the selling process takes place away from the site —all buyer contact is sent directly to the email address you provide.
Through that contact, you'll have to arrange payment and delivery with the buyer. PreOwnedWeddingDresses.com doesn't process payments; they recommend using either PayPal or Escrow.com depending on the type of transaction. There is also no commission.
11. eBay
eBay lets you sell everything, including wedding dresses. Its reputation means it has a large audience of potential buyers.
eBay doesn't charge a listing fee, but there is a 10% commission on the total sale price. The seller pays for shipping, although you can add the price of shipping to your listing.
If you already have an eBay account that you use for selling items, selling your wedding dress via the service could be a good option. This is because you will already have ratings and a reputation, as well as knowledge of how the process works.
If you don't have much experience with eBay, you may struggle to receive interest in your dress, which could make the other options on this list preferable.
---
Best Places to Sell a Wedding Dress Locally
If you choose to sell your dress locally, you'll post an ad to a local board and arrange with the buyer to pick up the dress at a time best for both of you.
12. Facebook Marketplace
Facebook Marketplace lets you sell your wedding dress to people in your local area. Just navigate to Facebook Marketplace from within your app and then create a listing. You'll have to add your price, images and description.
When selling via Facebook Marketplace, you can meet up with the buyer. You'll have to take care of payments yourself.
An alternative to Facebook Marketplace is local buy and sell groups that allow people to sell things to others in their local area. Try searching on Facebook to find groups that serve the area where you live.
Facebook has a large audience, which means it can be an excellent place to sell items locally. There are also no fees if you choose to sell your dress on Facebook.
13. Craigslist
Craigslist is a huge classifieds website with a large presence throughout the U.S. To sell your wedding dress on this site, you just have to create a listing for the area where you are located. Be sure to list the dress in the correct section so it gets maximum exposure.
Posting on Craigslist is completely free, and there are no commission fees. You'll have to organize delivery and payment, but if you plan to meet up with someone in your local area, this won't be much of an issue.
14. Local Wedding Consignment Stores
Consignment stores are those that sell used items for you and take a percentage of the commission. This can be a good way to sell your wedding dress without putting much effort into the selling process. (However, these stores generally take a large commission.)
Usually, you won't have any control over the price of your dress, so you may not get as much as you initially anticipated. Consignment stores are also under no obligation to accept your clothing, so you may have to look at a few stores.
When choosing a consignment store, try to find one that has other wedding-related items. You want to place your dress in a store with the right mix of customers for your dress. You should also be aware of when the store will pay you. The payment will come after your dress sells, but this could be at the end of the week, month, or even quarter.
See Also: 33 Best Money Making Apps: Cash at Your Fingertips
---
Tips on How to Sell a Wedding Dress
There are a number of factors to consider when trying to sell your wedding dress. We've listed a few below.
Understand the Real Value of Your Dress
One of the most important factors that can influence whether you successfully sell your wedding dress is the price you ask for it. However, it can be tough to know exactly how much your dress is worth.
Here are some guidelines.
Wedding dresses bought in the last couple of years typically sell at between 50% to 60% of the price you paid for it. This assumes the dress is in like-new condition. Considering wedding dresses are generally only worn once, this is usually the case.
As dresses get older, the amount you can sell it for generally decreases. This is especially likely if the style of your dress isn't in demand. Dresses from high-end designers may keep their value a little longer than non-designer dresses.
When valuing your dress, look at posts on the sites listed above to find ones similar to yours. Consider setting your price at the going market rate. But you should be aware that just because a dress is listed at a certain amount doesn't mean it will sell for that price.
You could also consider using a wedding dress value calculator like the ones on Pre-Owned Wedding Dresses or Stillwhite.
If you really have no idea how much your wedding dress is worth, then consider using a consignment store or a service like Nearly Newlywed (first on the list), which will take care of the selling process for you.
Finally, consider dry-cleaning your dress — It can add a small amount of value to the total price.
Know Where You Can Get The Most For Your Dress
Wedding dresses are often amongst the most expensive items of clothing people own. Because of this, you can earn good money by selling your dress.
The amount you make will depend on the value of your dress and how you choose to sell it.
Selling your dress on a classifieds website that doesn't take any commission will mean you receive all the money for your dress. However, it will be a lot more work, and there is usually no seller's protection on these sites, meaning you may be at risk of a scam if you aren't familiar with how these sites work.
Marketplace sites allow you to list either for free or for a small fee. They also often take a commission on the sale price. While these sites cost money, they provide useful features, such as easy payment processing, help with delivery, or seller protection.
The most expensive sites to work with are those that take care of the selling process for you in exchange for a large commission. But while you end up with less of the total sale price, you do a lot less work. The chance of selling your dress may also increase as the site is motivated to find a buyer.
It's also worth remembering that if the site is trusted and has a network of buyers, they may be able to get a higher price for your dress than you would on your own. This could make up for some of the money taken by the commission (though there is no guarantee of this).
If you want to increase the amount you earn, consider using one of the sites that lets you list other wedding related items. Some of the platforms in the list above contain sections for shoes, bridesmaid dresses, accessories, and even wedding decorations.
See Also: 15 Legit Ways to Get Paid to Walk, Fast and Easy
Understand How Long It Usually Takes to Sell a Wedding Dress
If you own a wedding dress, you know from experience that the sales cycle for buying a wedding dress is much longer than buying a pair of shoes or jeans. It is often a once in a lifetime investment that buyers want to ensure they get right.
Because of this, it can take a while to sell a dress. According to Pre-Owned Wedding Dresses, the average time a dress is listed on their site is 70 days.
If time is important to you, there are things you can do to accelerate the process. Setting the price of your dress lower than the competition could speed things up. You could even advertise your dress on multiple platforms, assuming the terms and conditions of the sites you use allow this. (If you choose sites that charge to list your dress, you'll also spend more money, which can eat into profits.)
If your dress is from a designer brand, it may sell faster — assuming you have priced it well. Additionally, dresses that are in a popular style and a common size may take less time to sell than ones that are more niche.
Decide On The Best Place To Sell Your Dress
There are clear benefits to both selling online and selling locally. If you choose to sell online, you gain access to a nationwide audience, which increases the chance of someone liking your dress. Of course, the competition is also stronger.
Selling online also means you won't have to meet someone in person. This can be a positive if you are busy or don't want to deal with strangers. Many sites provide you with some form of selling assistance, whether through payments, dealing with shipping and returns, or advertising your dress.
Selling locally has its benefits too. Sites such as Craigslist and Facebook Marketplace are entirely free to use, so you keep all the profits. Additionally, you don't have to worry about your dress getting lost during shipping, because you'll physically meet up with the person buying the dress.
Meeting up in person also allows the buyer to both see and try the dress on. This can increase the chances that they will be happy with their purchase and less likely to request a refund.
---
Final Thoughts
Selling your wedding dress is a good way to free up some space in your home, earn some extra money, and make someone else really happy.
If you want to sell your wedding dress, you can advertise your dress nationally and sell it to someone on the other side of the country, or go local and sell to someone in your area.
Ultimately, the best option for you will be the one you feel most comfortable with.
Up Next

Ricardo is an entrepreneur, investor and personal finance nerd who enjoys spending time with his family and friends, travelling and helping others achieve their financial goals. Ricardo has been quoted as a personal finance expert in several online publications including Healthline, Bankrate, GOBankingRates, MSN Money, Yahoo Finance, U.S. News & World Report, Forbes and USA Today.