21 Best Places to Sell Used Furniture In 2023: Online & Locally
Many or all of the products featured on this page are from our sponsors who compensate us. This may influence which products we write about and where and how the product appears on a page. However, this does not influence our evaluations. Our opinions are our own. Here is a list of our partners and here is how we make money.
---
The information provided on this page is for educational purposes only. The Modest Wallet is a financial publisher that does not offer any personal financial advice or advocate the purchase or sale of any security or investment for any specific individual.
Selling furniture can be a pain. It's often big, heavy, and awkward to move. But it's also often quite valuable, which means putting your old furniture up for sale is an excellent way to earn some extra cash.
The good news is that you have plenty of options if you want to sell your furniture. There are marketplaces and apps available offering a range of services — from those that only provide a place to advertise your item to those that take on much of the sales process — including delivery.
In this article, we'll look at some of the best places to sell used furniture for cold, hard cash.
TL;DR
---
Best Places to Sell Used Furniture
There are basically two options to sell your furniture — online or locally. Each option has its advantages and disadvantages, so we've tried to capture everything you need to know about selling used furniture so you can start making money fast.
1. AptDeco
AptDeco is a platform specifically designed for buying and selling used furniture online. The service is currently available to anyone based in the United States, with the exception of Alaska and Hawaii.
To sell an item, simply create and publish a listing free of charge through the platform. AptDeco suggests a price, which is a nice feature, although you can ignore the suggestion if you want. Also, you are able to see your net earnings (after fees and commissions are deducted) before your listing is published. The selling process takes place within the site, and it has features that allow you to chat with buyers or add discounts.
The standout feature of AptDeco is that they take care of pick-up and delivery for you. All you need to do is choose a date and time, and voila. Considering how much of a pain it can be to ship furniture, this is very useful.
Payments are processed within the platform, so that's one more thing you don't have to worry about. The company releases your money two to five days after delivery.
Of course, this convenience comes at a cost. AptDeco's commission is 25% of the total selling fee. The service fee includes furniture pickup and delivery, as well as marketing costs to promote your listing within their platform to get the most amount of views. It also includes payment processing fees and customer support.
If you live in one of the areas they service and want someone to take care of your furniture pickup and delivery, then AptDeco could be the best service for you.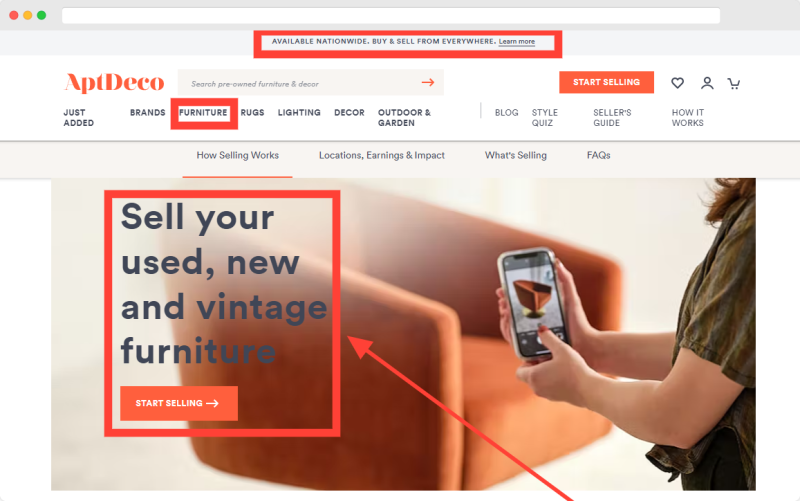 >> See Also: 15 Best Places to Sell a Wedding Dress Online and Locally
2. OfferUp
OfferUp is a classified website and app where users sell items to people in their local area. OfferUp's biggest competitor is Craigslist, but OfferUp differentiates itself by offering a mobile app, a clean-looking web portal, and user profiles with ratings.
To sell your furniture, just create a listing with an image and description. If a buyer likes your piece(s), they can message you from within the app and make an offer.
Before doing business with someone, you can look at their profile to see their ratings and transaction history. This can help you avoid scams and ensure you only do business with trusted people. (Note that it could also make selling slightly harder if you are new to the platform.)
Posting items for sale on OfferUp is free. There is also no transaction fee if you choose to meet up with the buyer and pay in cash. However, the company charges a fee on shipped items. There are also premium features available that you can use to promote your furniture.
Editor's Note
OfferUp raised $120 million in 2020 and acquired one of its main competitors, letgo, as a part of the fundraise led by letgo's majority investor, OLX Group.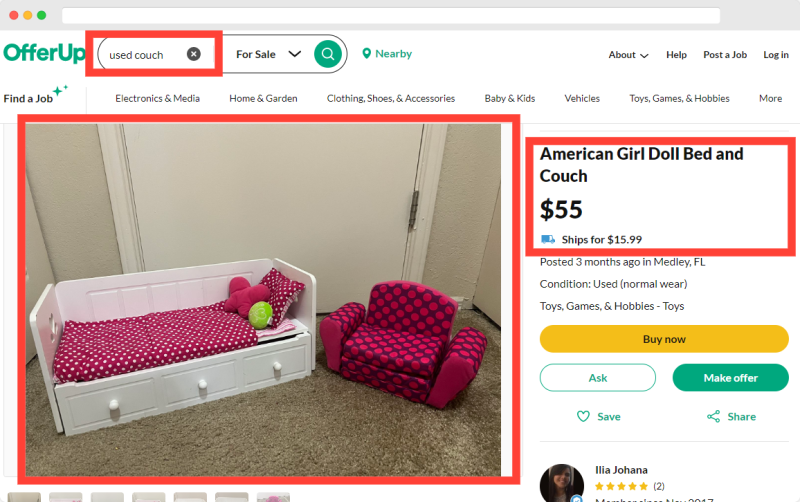 3. Bonanza
Bonanza is a selling marketplace that lets users create "booths" from which they can sell a variety of products. The benefit of this is that when a customer sees one of your items, they can click on your profile to see what else you are selling. This is useful if you want to sell multiple pieces of furniture.
Getting set up is easy — just create a booth, then list your items. (You can sell anything, not just furniture.)
While creating a listing is free, Bonanza charges a fee based on the final value of the sale. This is a figure that includes the price of the item plus the portion of your shipping fee over $10.
If the final value is under $500, the service takes 3.5%. If it is over $500, they take 3.5% plus 1.5% for the amount over $500. There is also a minimum fee of $0.50.
On Bonanza, you'll need to organize shipping. You can add a shipping fee to your listing to pass the cost on to the buyer.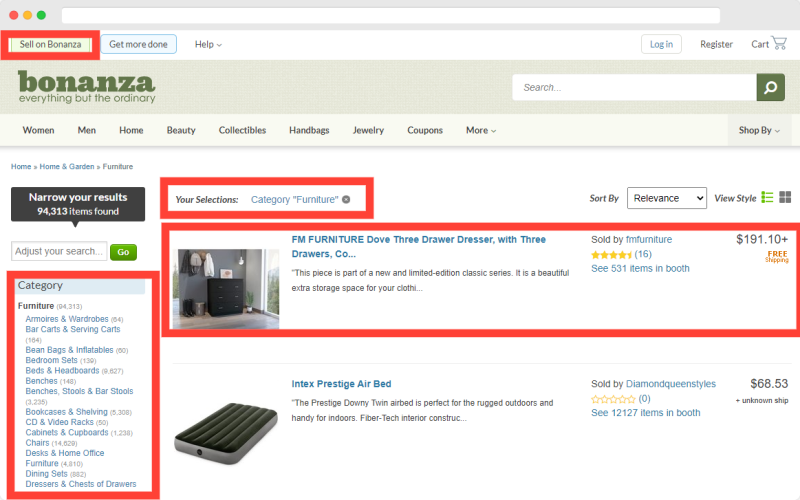 4. Shopify
Shopify is less a marketplace and more a platform you can use to create a web store. This makes it a good option if you want to sell used furniture as a business.
Getting set up is easy — The platform offers templates you can use to create a professional storefront. They also have a drag-and-drop editor that makes customizing sites easy.
Shopify is free for the first 14 days and then costs $29 per month for the most basic account. Shopify has a built-in payment solution that charges 2.9% plus $0.30. You have to take care of shipping, although you can add the shipping fee to your listing as an extra cost.
The biggest challenge when using Shopify is getting people to your store. It isn't a marketplace, so you need an audience. Consider posting to your social media channels or using paid ads to increase exposure.
Shopify is a good choice if you want freedom and the ability to run your operation like a business. If you need guidance, then you may be better off using a different platform.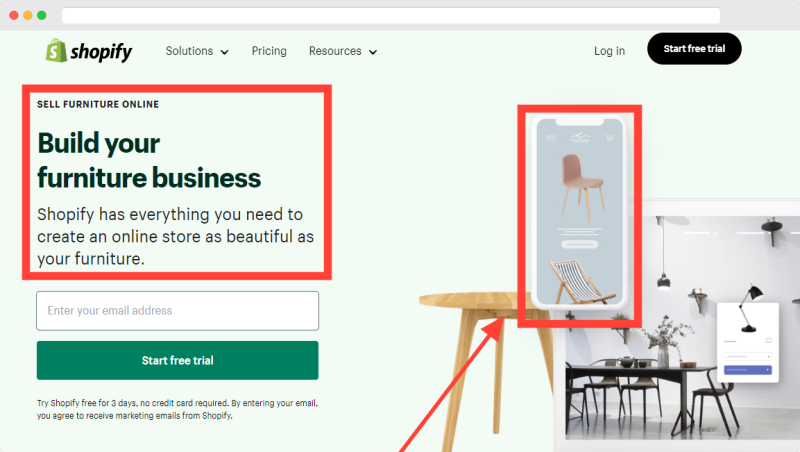 5. Craigslist
Craigslist is a classified website that allows you to sell furniture locally. To get started, head over to your area's local board, select the correct place for selling furniture, and then create a listing. Include an engaging description and some quality photos.
It is entirely free to use Craigslist to sell furniture. However, the platform doesn't provide much help. When selling, you either have to arrange shipping for yourself or you'll need to meet up with the buyer. You'll also need a way to process payments.
The good news is that Craigslist is a huge platform with a large audience, so the chances of finding a seller are quite high. Since it's free to use, it could be worth listing your item on the site alongside some other platforms for the highest chance of making a sale.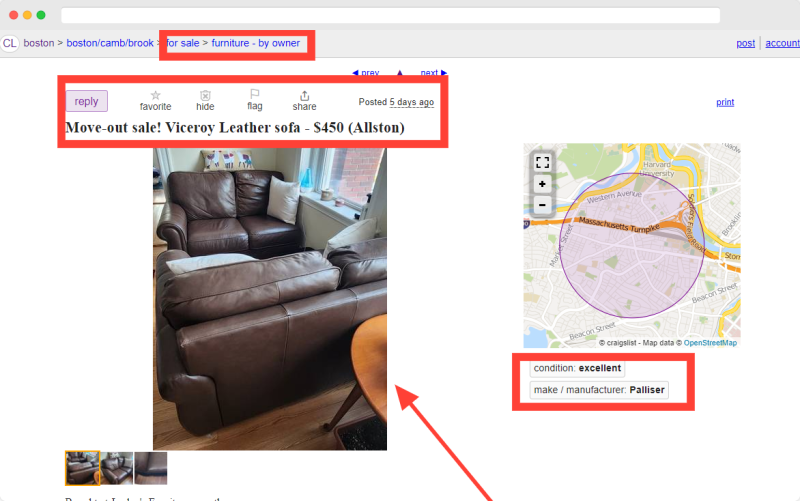 6. Etsy
Etsy is a platform that is part marketplace and part online store. Etsy is most well-known as a place to sell handmade or vintage items, so if your furniture fits this description, then it could be a good choice.
To get started selling with Etsy, you need to create a storefront. Etsy makes this easy, and you can customize your page to create a unique feel for your shop. Then, take photos of the furniture you want to sell and upload them to the site, along with your description.
When users search on Etsy, your furniture will show up in the search results. Be sure to choose the right keywords when creating a listing so that there is a higher chance of your furniture showing up. If users like the item, they can check out the rest of what you sell by clicking on your shop.
Listing an item costs $0.20, and Etsy takes a commission of 5% when your item sells. There is also a payment processing fee of 3% plus $0.25. To increase the chance of selling your furniture, you can use Etsy's advertising option, which takes another 15% of the transaction if your sale comes from one of those ads.
Etsy is a good option for people who either want to sell multiple items or those who want to create a furniture business.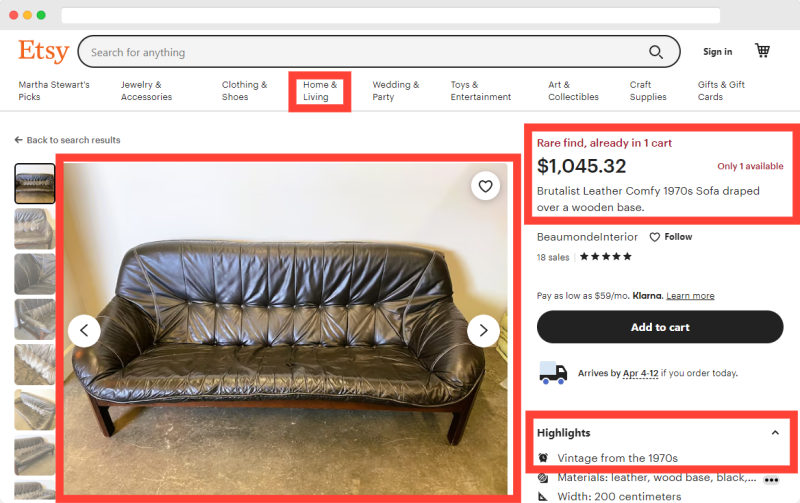 >> See Also: 40 Proven and Legitimate Ways to Make Money Fast
7. Facebook Marketplace
There are two ways you can sell your furniture on Facebook. Facebook Marketplace is essentially a classified site within the social network. Just head over to the Marketplace section of the website or app and create a listing. Once you add your location, your listing will become available for people to view.
The other option is to use local buy and sell groups to sell your furniture. Many areas have these pages; it's just a case of searching for them and requesting that the moderators add you. Each community has different rules about what you can sell and how to post, so be sure to follow them when creating a listing.
There are no fees to list your item or sell it on Facebook. You'll have to meet up with the buyer or arrange payments and shipping, though. The good thing about Facebook is that it has a huge audience, and you can check out a person's profile to see if they look legitimate before you agree to a deal.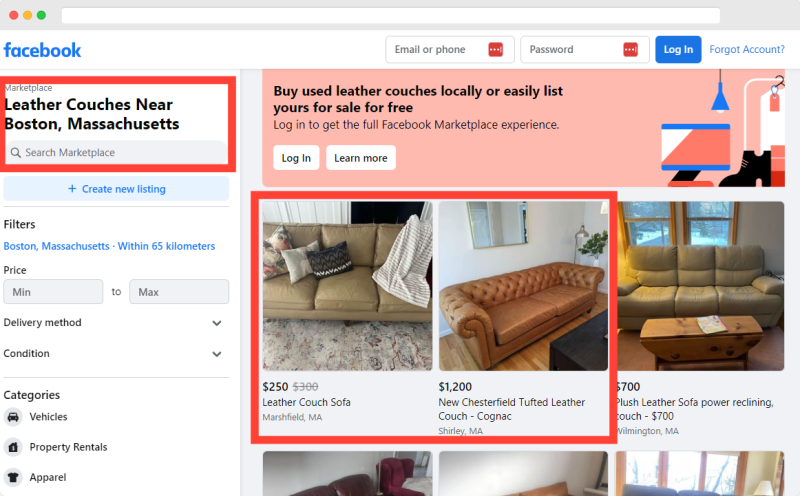 8. Chairish
Chairish is another site specifically designed for selling furniture and household items. Its biggest benefit is that it has an audience of people looking for furniture on the site. The site is perfect for people looking to sell vintage, collectible, or high-value furniture.
To start selling, list your item by uploading pictures and adding a description. While it is free to do this, Chairish only accepts furniture it thinks will appeal to its customers. If your item is accepted, buyers can contact you via the site. Payments are processed on-site and sent to you via PayPal within 48 hours of the return window.
Chairish helps with delivery by organizing shipping details. You can also opt-in for local pickup. Chairish takes 30% of the selling price on a regular plan or 20% (or lower) if you sell vintage items on a Professional or Elite Plan.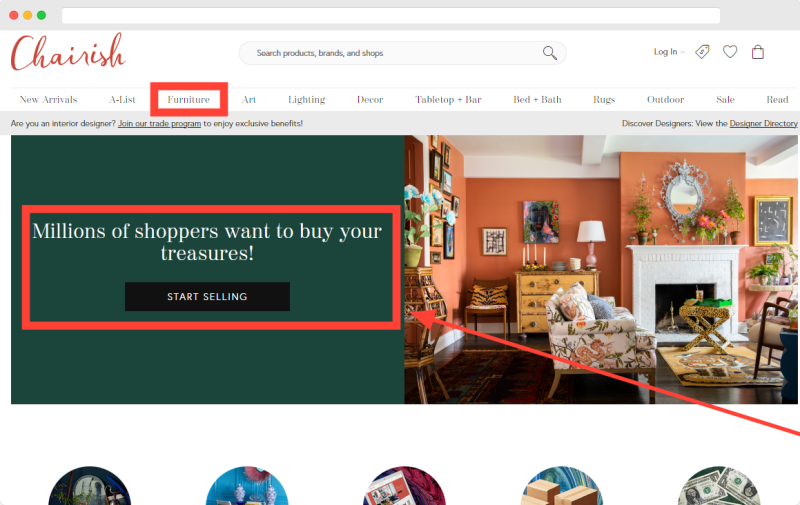 >> See Also: 19 Best Places to Sell Used Electronics for Cash
9. Bookoo
Bookoo is a platform that lets you sell within your local community. The site has a significant presence at many military bases, which makes sense when you consider people are often moving in and out of these communities.
To sell on Bookoo, you first need to join the community closest to you. Then, create a "yard sale" by listing the items you want to sell and uploading them in a single post. If someone sees something they like, they can contact you, and you can arrange a meetup.
The good thing about Bookoo is that it is free to list your items, and there is no transaction fee. If you live in an area where the app has an active user base, it could be an excellent option to sell your furniture.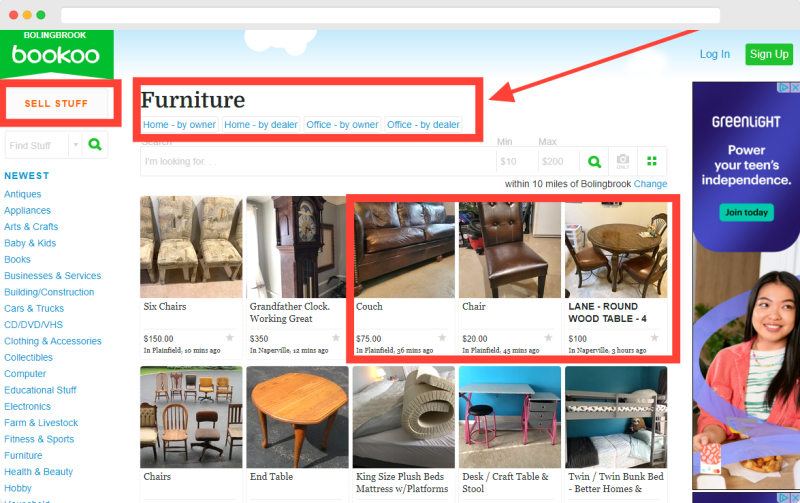 10. Remoov
Remoov is a site that makes getting rid of your stuff easy. All you have to do is send the company photos of your items or schedule an at-home appointment. Remoov will then send someone to your home to pick up your furniture or other items. They then take care of the entire selling process.
As Remoov does a lot of the work required to sell your items, it takes 50% of the selling fee. It also chooses the best resale channel for each item. This could mean you won't always get the highest amount possible.
If you just want to get rid of some furniture, then Remoov is a hassle-free way to do so. If you would rather get the most amount of money possible and don't mind putting some work in, you might want to choose a different service.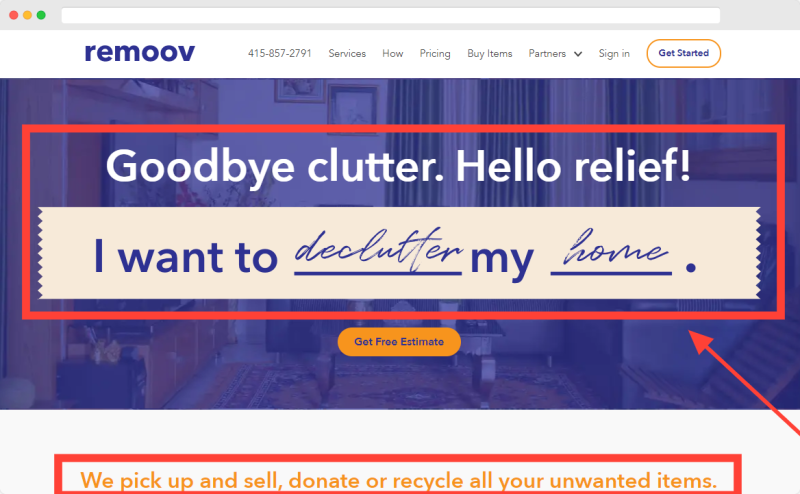 >> See Also: Free PayPal Money: 20 Legit Ways to Earn PayPal Cash Now
11. 1stDibs
1stDibs is a furniture marketplace that connects sellers and dealers with galleries, collectors, and interior designers. So if you are a business that sells high-end vintage furniture, you may find success by selling on this platform.
To sell with 1stDibs, you first need to apply to be a seller. If accepted, you can list your items on the platform. As a specialized platform, 1stdips can help connect you with buyers. Getting approved is not easy — You'll need to provide two references that prove you are a high-quality seller.
There is a monthly fee to become a seller with 1stDibs, and you will also have to pay an additional 15% commission on each sale and a 3% transaction fee for credit card transactions.
Basically, if you just want to sell your sofa because you are moving to a new house, it is better to use another platform. But, if you are planning on selling high-end used furniture as a business, this is a good option.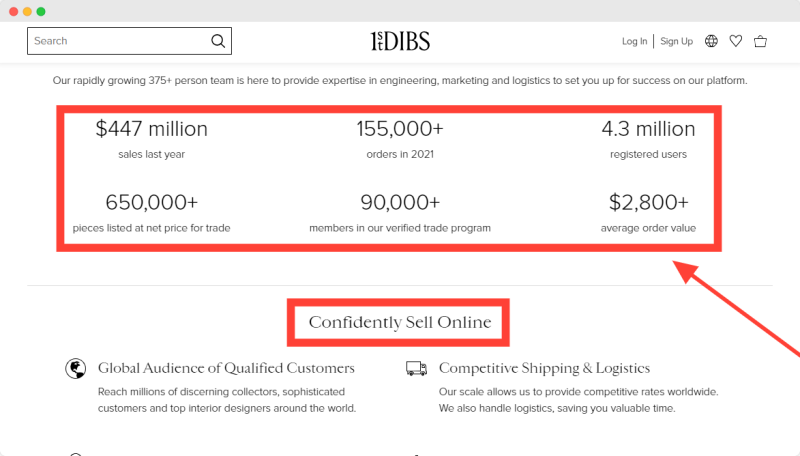 12. Sotheby's Home
Sotheby's Home is a consignment platform that makes it easy for you to sell new, like-new, or vintage furniture. Sotheby's takes care of the entire selling process, including arranging shipment and communicating with the buyer. Sotheby's Home's broad reach means it is well-placed to sell your items.
To sell on the platform, just submit the items you want to sell and then schedule an appointment with a member of the Sotheby's team.
There is no fee to get the process started. However, there is a large commission, and you'll only receive up to 60% of the sale price once the item sells. If you have suitable furniture and want an easy way to get rid of it, then Sotheby's Home is a good choice.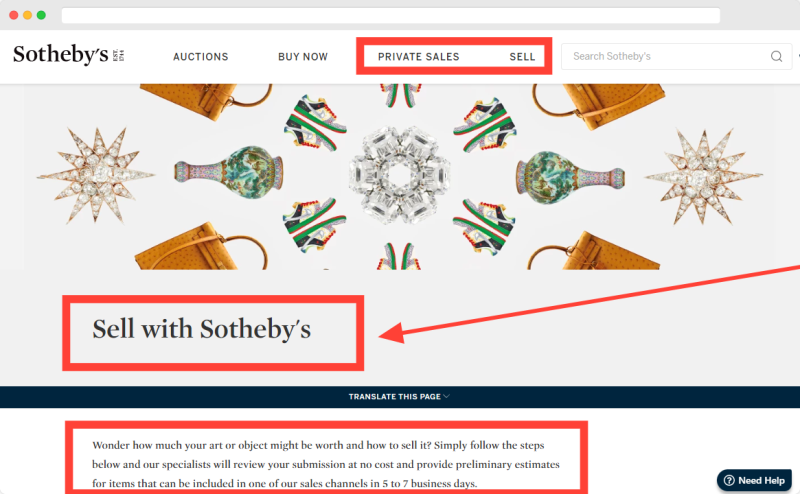 13. Apartment Therapy's Bazaar
Apartment Therapy's Bazaar is a marketplace for used furniture and household accessories. Signup is easy with your social media details. You can then create a store and add listings. The platform includes everything you need to sell securely, including credit card processing and messaging.
The website charges a transaction fee of just 3%. There is also a fee of 2.9% plus $0.30 to handle credit card payments. The site also offers seller protection, which protects you if you post an item but it doesn't arrive at the buyer's address or the seller claims an item is not as described.
The storefront-based way of selling makes Apartment Therapy's Bazaar a good way to sell multiple items. The fee is also quite low, considering the site offers payment protection and processing.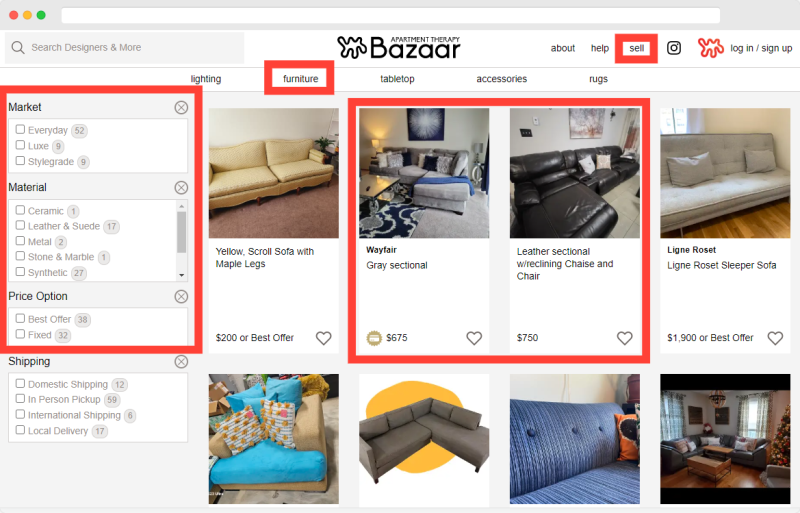 >> See Also: 25 Creative and Legit Ways to Make Money as a Teenager
14. eBay
eBay is a selling platform most people have heard of. It is a good place to sell furniture due to its broad audience.
Listing on eBay is free, but the site takes 10% of the total sale value. You have to pay for shipping, although you can add this as an extra fee to your listing. Or, you can choose to only sell via local pickup.
If you already have a presence on eBay, then using it to sell your furniture could be a good way to leverage your reputation. If you don't, it may be hard to get your first sale because people won't know whether to trust you — especially if your furniture is expensive.
eBay is a good option if you aren't sure about the value of your furniture. In this case, put your piece or pieces up for auction and let buyers bid on them.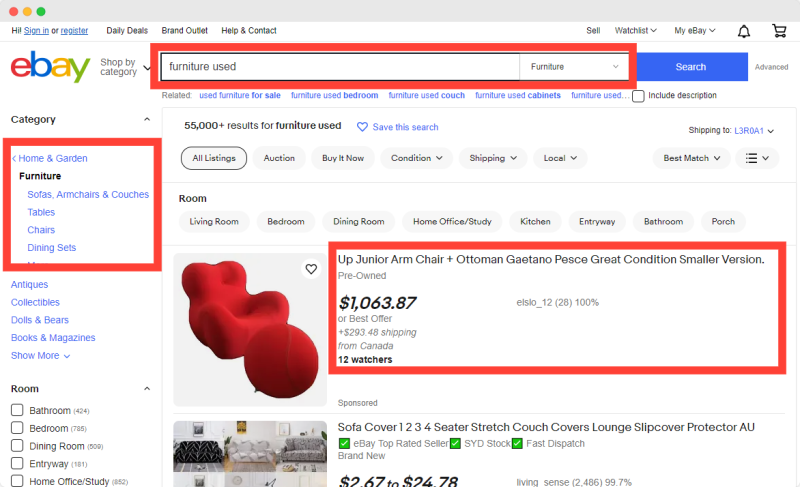 15. Recycler
Recycler is a classified website that originated in print media. The site has a dedicated section for furniture. To sell your item(s), create an account. and then add your listing, including images. Posting an ad is usually free, although the site says the fee varies depending on the ZIP code you choose and the subcategory of the item.
Once your listing is online, it will be available both in local searches and to buyers across the country. You can adjust the setting so only people nearby can see your ad if you prefer.
Recycler doesn't charge a commission on any sales. This means that you are pretty much on your own when it comes to selling. You must handle shipping (or local pickup) and payment yourself.
16. Ruby Lane
Ruby Lane focuses on connecting buyers and sellers of vintage and collectible items. Along with furniture, you can sell a variety of things, including jewelry, fashion, art, and pottery.
You need to consistently have at least 10 items for sale on Ruby Lane, which makes it more suitable for businesses than individual sellers. The site also has strict requirements for its furniture — notably that it has to be over 20 years old, with a minimum value of $50.
There is a $25 monthly maintenance fee to publish unlimited listings on Ruby Lane, as well as a service fee of 9.9%, based on the order total. There are no setup or listing fees.
You also have to pay for shipping. However, you do get access to a specialized audience, which could make the fees worthwhile if you have items that appeal.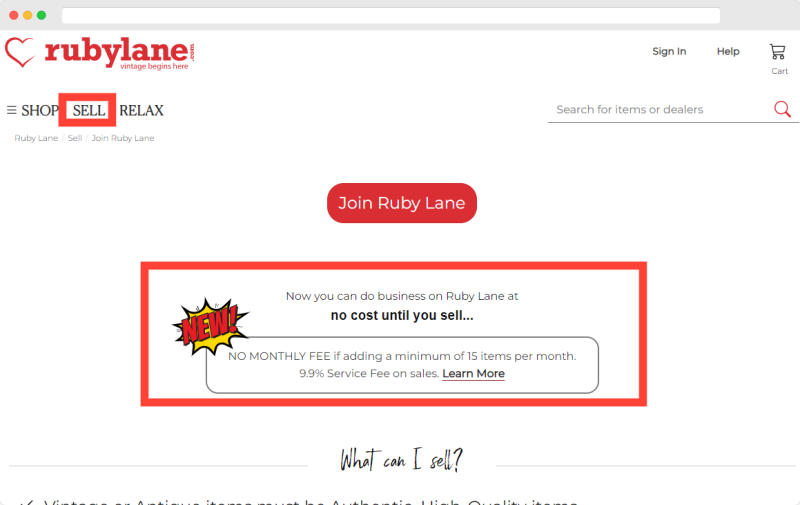 >> See Also: 33 Best Money Making Apps: Cash at Your Fingertips
17. Nextdoor
Nextdoor is very similar to Facebook in the sense that it is a social networking, but it is designed for local neighborhoods and communities. Nextdoor allows users (i.e. neighbors) to communicate and interact with each other on about things related to their particular communities, including local news, events, crime, and safety. It also allows users to buy, sell or give away items through the platform.
You can sell used furniture very easily on the platform. All you have to do is creating a listing that includes photos and description and set a price for it. Keep in mind that the transaction happens offline, similar to Craigslist or Facebook Marketplace. But at the same time, there are no fees associated with selling your used furniture via Nextdoor.
Overall, Nextdoor provides a way for neighbors to stay informed and connected with each other and their local community and sell all sorts of things to each other like used furniture.
18. Oodle
Oodle is an online platform for classifieds allowing users to buy and sell items in their local area. The platform is very similar to Craigslist but with much limited traffic.
Users can post listings for a wide range of items, including cars, real estate, furniture, jobs, electronics, and more. Users can also search for items by location, category, and price range which makes it very convenient for buying and selling used furniture. What makes Oodle unique is that its search engine aggregates listings from various sources, including other classifieds websites, social media, and local newspapers.
All listings are completely free, but they do expire after 30 days unless you review them.
Overall, Oodle provides a convenient and user-friendly way to sell used furniture locally. However, due to its traffic and limited distribution, you may be better off looking elsewhere if you live in a small city or town.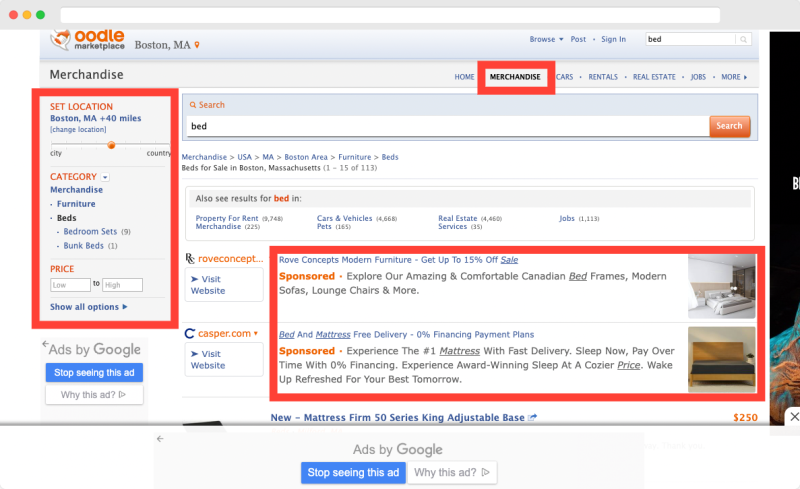 19. eBid
eBid is an online global auction and marketplace similar to eBay, where users can buy and sell various items, including antiques, collectibles, electronics, furniture, computers, toys, and much more. Similar to Oodle and eBay, users can also search for items by category, location, and price range.
One of the features that set eBid apart from eBay is its feature called "NinjaBidder," which essentially allows eBid users to place automatic bids on items in auctions. This feature helps users to bid and stay competitive on auctions in automatic.
eBid charges much lower fees than eBay and offers a range of subscription plans with different features for sellers. At the moment, eBid has 6 forms of listing, from silver to gold and platinum accounts. Listings fees range from $0.00 to $3.99, and seller fees are between 0% to 5% of the value of the final sale.
eBid is a great alternative to eBay if you are looking to sell your used furniture with much lower fees.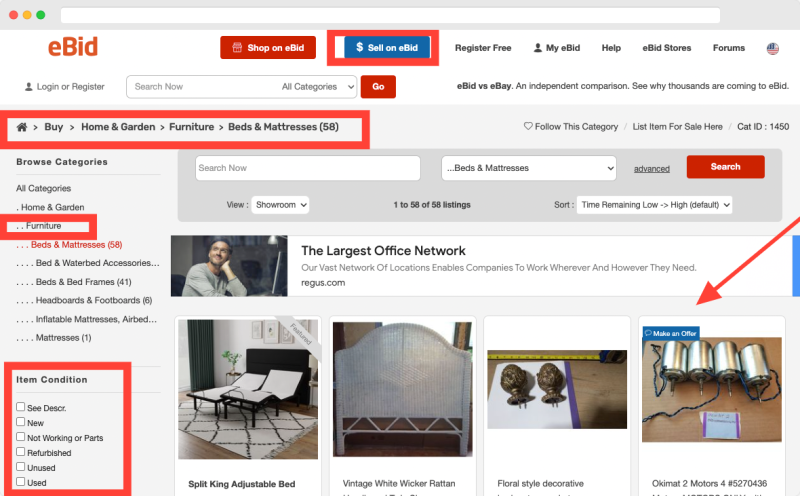 20. Instagram
Yes, Instagram. If you are looking to sell your used furniture on social media, one of the best ways to do so is through Instagram. Surprisingly enough, there are a ton of vintage furniture sellers and also home decor sellers, which makes it a great place for selling your old furniture pieces.
I've seen sellers offering anything from chairs to sofas and tables. For inspiration, we've found some of the most popular Instagram accounts selling vintage furniture on Instagram:
These are just some of the accounts you can look at for inspiration. Instagram sellers ship items across the United States by combining the power of other platforms like Etsy or Shopify.
21. Consignment Stores
Consignment stores are those that sell items on your behalf. They are commonly used for selling clothes, although plenty also accepts furniture. If you choose to use a consignment store to sell your items, the store will place your product in their shop. If someone buys it, the store will give you a percentage of the fee.
These stores typically put in a lot of work, and they also take a large commission. Depending on the store and the price of the item, this could be anywhere from 20% to 60% of the total fee. Usually, the more expensive your item is, the lower the percentage the store takes.
If you want to sell your furniture via a consignment store, consider shopping around in your local area until you find one with terms and conditions, you are happy with.
---
How To Sell Used Furniture
Regardless of whether you want to sell your used furniture online or locally, the following simple steps will allow you to sell your piece fast and for the most amount of money:
Step 1 — Determine what furniture you want to sell: This can be furniture that you don't longer need or want or furniture you purposely acquired to sell for money. In other words, flipping it.
Step 2 — Clean or repair the furniture: Clean and/or repair your used furniture thoroughly prior to presenting it to potential buyers.
Research the value: Research the current market value of similar used furniture in your area to determine a fair price.
Step 3 — Decide where to sell: This is where you choose the best way to sell your used furniture. This could include online marketplaces, social media, classified ads, consignment shops, or garage sales.
Step 4 — Take good photos and write enticing descriptions: Taking clear and high-quality photos of your used furniture is key to selling fast and for the most amount of money. Make sure you write accurate and detailed descriptions that highlight its features, condition, and dimensions. Be honest with your potential buyers.
Step 5 — Post your listing: Create and publish your listings on your chosen platform(s). From the previous step, make sure you include nice photos and clear descriptions.
Step 6 — Respond to potential buyers: Respond promptly to any inquiries from potential buyers and answer any questions they may have in a concise manner.
Step 7 — Negotiate with the buyer: Be willing to negotiate when a potential buyer makes an offer. Once you agree on a price with the buyer, arrange for pickup or delivery of the furniture, and finalize the sale. Some platforms and marketplaces offer to do this for you.
Step 8 — Arrange payment: This is also something that can be handled by the online marketplace or platform you choose to use. But if not, you can receive payment in the form of cash, electronic transfer, check, or online payment platforms like PayPal or Venmo.
---
Pro Tips to Sell Used Furniture
If you are looking to make the most out of your old furniture, there are a few tips and tricks you can use to your advantage. In a nutshell, the key to selling used furniture, online or locally, is to present it in the best possible way to the potential buyer, be honest about its condition, and price it fairly.
By following these recommendations, you'll increase your chances of finding a buyer quickly and getting the best price for your furniture.
Clean And Repair The Furniture
Before listing your used furniture, it's very important to clean it thoroughly and make any necessary repairs to it. This will, of course, make the furniture more appealing to potential buyers and can increase the value of the piece.
Make sure you check out our flipping furniture guide to find out the best and most effective to restore your piece of furniture to its original condition (or at least close to it).
Assess How Much Your Furniture is Worth
To sell your furniture successfully, you need a good idea of how much it is worth. While there is no hard and fast rule, you can typically get a good idea of an item's worth by looking at similar items on the sites listed above and also considering the condition of the item and how new it is.
Research the market value of similar used furniture in your area and set a fair price for your piece. Make sure you don't overprice it, as this can deter potential buyers, but don't underprice it either, as this can lead to you losing out on money.
Take Amazing Photos
Pictures are one of the most important parts of your listing. Before taking photos, clean the furniture to make sure it looks its best.
The lighting conditions will also make a big difference in how well a photo turns out. Where possible, try to take the picture in a room with lots of natural light; avoid situations where the light is shining from behind the furniture (which will create a silhouette effect).
Don't be afraid to take lots of photos from different angles and then upload the best ones. Spending a bit of time here could ultimately help you sell the item faster.
Write Irresistible Descriptions
The description is also important. But you don't need to write like Shakespeare to create a good listing. Just include all the information a buyer is likely to need — for example, the dimensions of the furniture, the materials it is made from, when it was made, and the brand.
While it may be tempting to hide any defects, be sure that you mention them in the description so the buyer can make an informed decision about whether to buy. This reduces the chance that they will want to return the furniture (which could be costly).
Above all, be honest about the condition of the furniture to avoid any misunderstandings with buyers.
List on Multiple Platforms
If you need to sell your item quickly, then consider listing it on several platforms. Some sites allow you to list items for free. Using multiple sites can seriously increase your chances of making a sale without increasing the cost of selling.
You can look at listing your used furniture on multiple places like online marketplaces, social media, and local classifieds. Make sure to include high-quality photos and accurate descriptions in your ads, and the description is tailored specifically for that platform.
It is not the same listing your used furniture on eBay versus listing it on marketplaces like OfferUp or AprtDeco. Understand the platform and its demographics.
Be Willing to Negotiate
It can be hard to know exactly how much a piece of furniture is worth. If you want the best possible chance of making a sale, be open to negotiations. Taking a little off the final selling price can keep the buyer happy while quickening the sales process.
You may be able to sell your furniture more quickly by being willing to negotiate; remember that.
---
Final Thoughts
The best place to sell your used furniture will typically depend on what you want from a platform.
If you want to do as little work as possible and don't mind paying for the convenience, then choose a site or app that includes payment processing and delivery. If you don't mind doing some work, sites like Craigslist will allow you to keep every cent of the final sale price.
Up Next
Get our free Side Hustle Handbook with the best strategies to multiply your income sources today.
Plus our best money tips delivered straight to your inbox.

Ricardo is an entrepreneur, investor and personal finance nerd who enjoys spending time with his family and friends, travelling and helping others achieve their financial goals. Ricardo has been quoted as a personal finance expert in several online publications including Healthline, Bankrate, GOBankingRates, MSN Money, Yahoo Finance, U.S. News & World Report, Forbes and USA Today.