Taking surveys that pay cash instantly is an easy and fast way to earn extra income on the go. Rather than mindlessly scrolling social media or playing games on your phone, why not get paid for sharing your opinions? Many surveys take less than 15 minutes to complete, so it's a great way to earn extra cash in small moments of downtime during your day.
While taking surveys isn't going to make you rich, when done consistently, the money you make from surveys can be a great way to help meet your financial goals, add to your savings, or pay off debt.
TL;DR
---
Best Surveys That Pay Cash Instantly
We're taking a look at 15 survey companies that offer instant cash payments for your work. Some pay better than others so make sure you check all of these out before making a decision. But, if you want to maximize your earnings and make money fast, you can always sign up for many of them at the same time.
1. Branded Surveys
With Branded Surveys, you'll complete short surveys or polls and share your honest thoughts and opinions about a variety of different companies, services, and products. You can complete the surveys using your computer, tablet, or smartphone. For completing the required tasks, you'll earn cash and gift cards.
Once your profile is complete, you'll be matched with surveys for which you'll qualify, and you can start making money right away. There will be four main types of surveys that you'll be asked to complete: brand awareness, consumer insights, product-based market research, and partner surveys. Branded Surveys also offers a loyalty program, called Branded Elite, that gives you progressively larger bonuses based on the number of surveys that you complete. Check out our full Branded Surveys review to learn more.
Average Payout: For each survey that you complete, you'll be awarded a certain number of points. These points vary per survey based on the difficulty level and the time it takes to complete. As you earn points, you can convert them to dollars, with 100 points being equal to $1. Most surveys at Branded Surveys pay between $1 and $3 and the minimum payout level is $10.
Cash-out options: Once you request a withdrawal, your earnings will arrive in your bank account within one to two days. Gift cards will arrive in your email inbox within one to two days as well.
See Also: 7 Ways to Get Paid to Advertise on Your Car
2. InboxDollars
With InboxDollars, you'll complete online activities for cash. These activities include completing surveys, watching video and TV, playing games, reading emails, redeeming coupons, and doing online shopping. Check out our full InboxDollars review to learn more.
Average Payout: Most of InboxDollars' surveys pay between $0.50 to $5.00 and take three to 25 minutes to complete, although some pay more. You must have $30 in your account to request a withdrawal of your earnings for the first time. After that, payment requests can be made starting at $10.
Cash-out options: You can request your withdrawal via PayPal, check, gift card, or Visa. Most payments process within three business days and checks process within one week.
3. Survey Junkie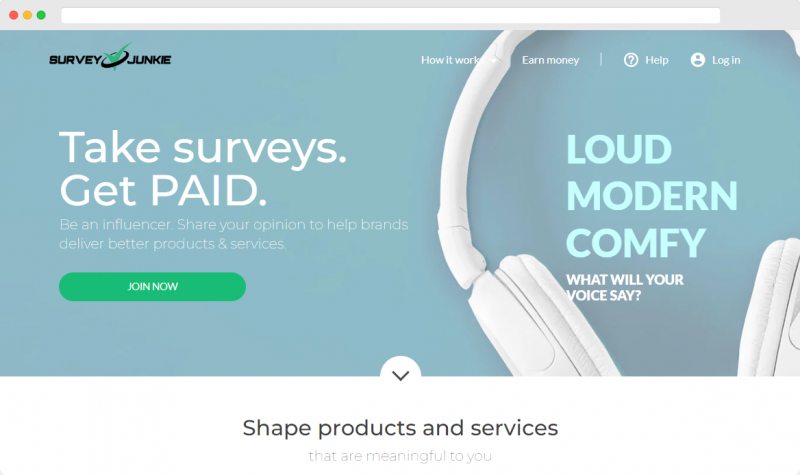 Survey Junkie allows you to share your opinions and online behavior in exchange for rewards. When signing up you have the option to participate in two different ways. You can share your opinion and get paid by taking surveys and participating in focus groups or you can opt-in to share your digital browsing data. After filling out your profile, Survey Junkie will match you with surveys to complete for cash or gift-card payouts. Read our full Survey Junkie review to learn more.
Average Payout: The rewards vary per survey completed and the minimum cash-out threshold is 500 points, which is equal to $5.
Cash-out options: Once you've met the minimum of 500 points, you can request a withdrawal via bank transfer, a PayPal account, or an e-gift card. Typically, it is an instant transfer.
See Also: 19 Best Places to Sell Used Electronics for Cash
4. Swagbucks
Swagbucks lets you earn free gift cards and cash for the everyday things that you do online, like shopping, watching videos, searching the web, answering surveys, and finding deals. As you earn Swagbucks (points,) you can redeem them for cash rewards. Read our full Swagbucks review to learn more.
Average Payout: 100 Swagbucks are worth $1, and Swagbucks says that the typical, casual user can earn between $25-$100 each month. By making Swagbucks a part of your regular daily routine and setting a daily goal of accruing points, making up to $1,000 in a year is a reasonable goal. For PayPal, the minimum cash-out amount is $25. For gift cards, typically $3 is the lowest cash-out level available.
Cash-out options: When redeeming your Swagbucks for Rewards, it typically takes up to 10 business days to receive your reward. You can get cashback through PayPal or a gift card to popular retailers like Amazon and Starbucks.
5. Pinecone Research
With Pinecone Research, you'll earn points for completing surveys, which you can then redeem for cash or prizes. Pinecone surveys typically take about 15 minutes to complete and you're paid a minimum of $3 per survey. You'll fill out pre-qualification questions each month, so you'll only be sent surveys you are qualified to take. Pinecone Research only accepts new applicants for people that fit the current demographics that they are looking for. So, you'll have to fill out a quick initial application to see if you even qualify for their program.
Average Payout: Your first Rewards redemption with Pinecone Research must be a direct bank transfer of money to your account, with a minimum amount of $3. Most people find that they only qualify for a few surveys each month.
Cash-out options: Rewards will process and be posted to your account within three to five business days. After your first direct bank transfer, you'll have the option to redeem your Rewards for any item that you qualify for in the Pinecone Research rewards catalog, including prepaid virtual cards.
See Also: 14 Best Food Delivery Services to Work For
6. MyPoints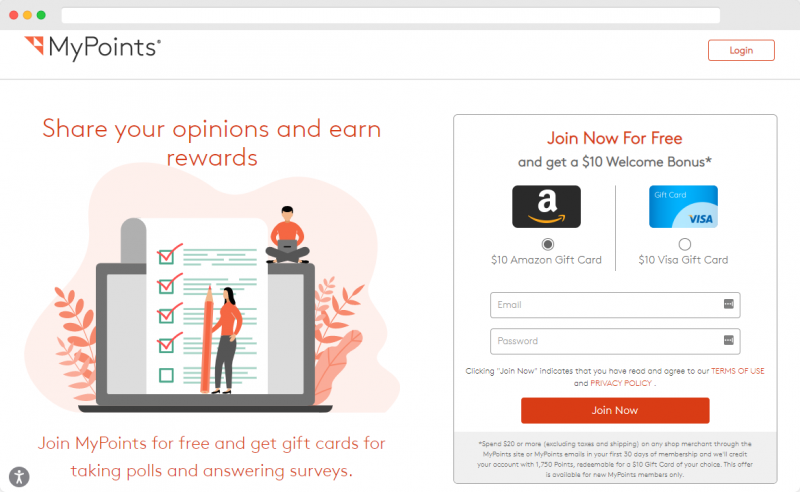 By joining MyPoints you'll get gift cards for taking polls and answering surveys on a variety of topics including automobiles, fashion, travel, and home and garden. There may also be an opportunity for product testing and review. To qualify for the most surveys, you'll want to fill out your survey profile, and even if you don't qualify for a survey, you'll still receive five disqualification points. You can also earn points by uploading receipts and when you click and complete a survey. Read our full MyPoints review to learn more.
Average Payout: The number of surveys you receive will depend on how often you qualify for the demographic that brands are looking for. Each survey has a different payout amount for completion, with the highest amount being $50, however, most pay less.
Cash-out options: You can redeem your points for gift cards or online certificates for a wide variety of online stores, or you can request a cash withdrawal via PayPal, which can take up to five business days. You've also got the option to redeem points for United MileagePlus® award miles.
7. Opinion Outpost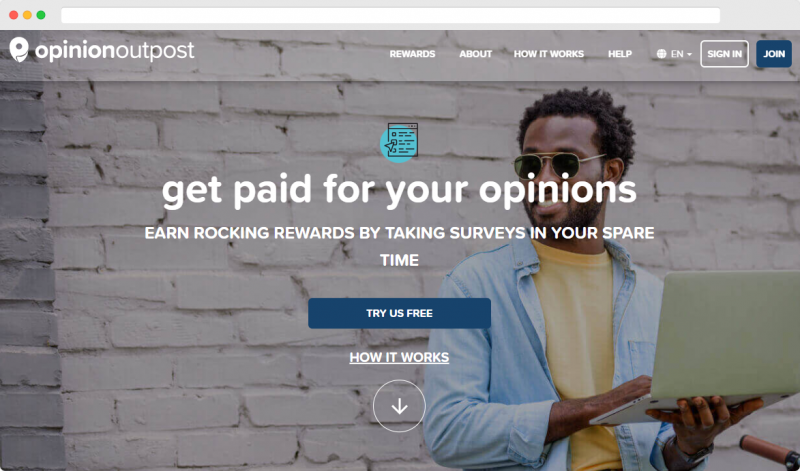 Opinion Outpost offers online surveys on a diverse range of topics for which you can earn rewards for sharing your opinions. Surveys are available on desktop, mobile, and tablet. Every time you complete a survey, you'll receive rewards credit. Before taking a survey, you'll have to answer a short set of multiple-choice questions to see if you qualify. From there, Opinion Outpost will connect you with a survey and tell you how many points you can earn and how long it should take to complete. If you're disqualified from a survey, you'll earn an entry into a $10,000 quarterly prize drawing. Read our full Opinion Outpost review to learn more.
Average Payout: Opinion Outpost says that the average survey pays 10 points (which is equal to about $1 in rewards), however, there are surveys available up to 250 points. The estimated payoff is between $1 to $2 per hour. You can unlock different levels of status for your Opinion Outpost profile by completing your profile and regularly completing surveys, which can result in additional reward points.
Cash-out options: There are several ways to redeem points including cash via PayPal, MileagePlus miles, Amazon points, or iTunes. You'll need a minimum of 100 points to redeem $10 cash via PayPal. However, for an Amazon gift card, you'll only need a minimum of 50 points to request your $5 gift card.
See Also: 55 Hobbies That Make Money: Get Paid to Have Fun
8. Toluna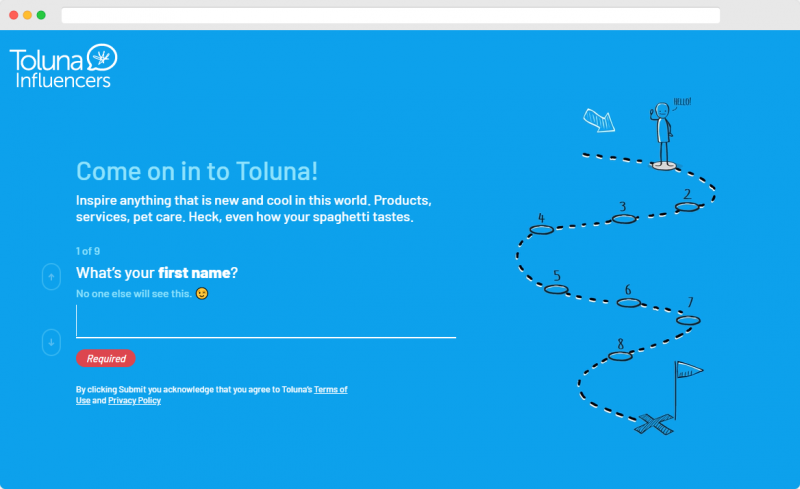 Toluna allows you to share your opinion of different products and services by completing surveys, polls, and topics created directly on the Toluna platform. You'll earn Toluna points for activities such as participating in surveys, playing games, inviting friends to Toluna, completing profile surveys, and engaging in community content. When you sign up to Toluna, you'll receive 500 points as a welcome gift. If you want to complete surveys through your mobile device, you will have to specifically opt-in to mobile surveys, and only some surveys can be completed this way. Read our full Toluna review to learn more.
Average Payout: Toluna offers two different types of surveys. Profile surveys take one to two minutes to complete and are worth 100 points. Longer surveys take 10-20 minutes and are worth more points. You'll be earning about $1 per 3,000 points earned.
Cash-out options: You can redeem Toluna points for e-gift cards or direct PayPal deposits, which are available in increments of $30. E-gift cards start at 30,000 points for a $10 gift card and range up to 150,000 points for a $50 Amazon gift card. It can take up to three weeks to receive your reward.
See Also: 25 Best Side Hustle Apps to Make Extra Cash
9. PrizeRebel
PrizeRebel is a free membership rewards site on which you'll primarily complete online surveys to earn points that you can redeem for cash or gift cards from popular retailers. However, there are a variety of ways that reward points can be earned including watching videos and completing offers that involve doing specific actions such as signing up for trials or joining email subscription lists.
Average Payout: Each PrizeRebel Point is equal to $0.01, meaning that 500 points would be equal to $5 in rewards, which is the minimum level you must reach to redeem your points for rewards. PrizeRebel also offers account levels which you'll achieve as you complete more surveys, which will make you eligible for greater reward opportunities.
Cash-out options: You'll have the option to redeem your points for cash via PayPal, direct bank payment, or brand name gift cards, including Visa. When you request a gift card, PrizeRebel will process your request within five minutes to 24 hours and you'll then receive your digital gift card almost instantly. This is one of the quickest processing times for paid survey sites.
10. Ipsos iSay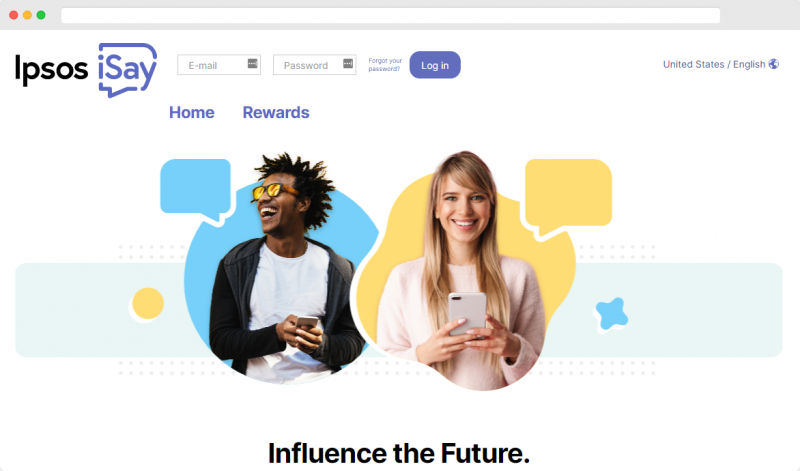 Ipsos iSay is an online survey rewards company that allows you to take surveys and earn points that can be redeemed for a variety of rewards. The number of Ipsos iSay points that you'll earn for each survey varies and depends on several factors, including survey length. One complaint is that Ipsos iSay seems to have fewer surveys available compared to the other paid survey programs. Read our full Ipsos iSay review to learn more.
Average Payout: 1 Ipsos iSay point is equal to about 1 cent in rewards. If you have 500 points, you can redeem your points for a $5 gift card.
Cash-out options: You'll be able to redeem your Ipsos iSay points for rewards like gift cards, cash, sweepstakes entries, or charitable donations once your account reaches a minimum of 500 points. Gift cards are delivered instantaneously once requested, while PayPal Funds can take three to four weeks to arrive.
See Also: 21 Ways To Get Paid To Play Games (Real Money)
11. Survey Club
Survey Club is a bit different from most of the other survey companies that we looked at because it matches you with research opportunities that are available in your area. While these could be online surveys, they could also be local panels and focus groups, clinical trials, and in-home usage tests. When a survey or other opportunity becomes available in your area, you'll have to fill out some initial questions to qualify yourself before being offered paid participation. With Survey Club, you'll receive both paid surveys directly from SurveyClub, along with research panels that are conducted by other companies. Read our full Survey Club review to learn more.
Average Payout: For surveys directly from SurveyClub, you'll earn reward points for completing the surveys which can be redeemed once you accumulate $25 in rewards. Typically, the surveys pay $1 to $2 for about 15 minutes of your time. Clinical trials often pay up to $1,000, but are only offered in specific cities. Panels and focus groups are also typically in-person opportunities, and average pay is $50 to $200 per hour or a set amount per day of participation. Each opportunity offered by a different company will include information on how long it will take to complete and what your reward options will be.
Cash-out options: For rewards earned by completing SurveyClub paid surveys, you can request payment via an Amazon Gift card once you hit the $25 cash-out level. For research studies conducted by other companies, you'll receive your rewards directly from them, which could include cash, gift cards, prepaid debit cards, cash sweepstakes, prize drawings, and charitable contributions.
12. LifePoints
With LifePoints you'll sign up to complete surveys and get paid for sharing your feedback on popular products and brands. You'll earn virtual points (LifePoints) that can be redeemed for e-gift cards from hundreds of retailers, including Amazon, or direct cash payment via PayPal. The primary way to earn LifePoints is by completing online surveys, however, you can also earn points by doing activities such as completing a diary on your habits or answering questions about a product that is sent to your home. You'll need to log onto the website to see which surveys are available to you. Check out our full LifePoints review to learn more.
Average Payout: The reward rate varies by survey, with most ranging between 50 to 350 points. LifePoints are worth around $0.08 to $0.09 each depending on the reward option that you pick. A $5 Amazon gift card costs 550 points and the smallest PayPal credit you can claim is $10, which costs 1,200 points.
Cash-out options: You can redeem your points for e-gift cards or cash via PayPal by browsing the LifePoints Rewards Catalog and picking your preferred option. Rewards arrive within 10 business days once requested.
See Also: 17 Paid Research Studies You Can Join Today To Make Extra Cash
13. Harris Poll Online
Harris Poll Online is a paid survey company from which you'll receive rewards for the surveys that you complete. Once you're registered, Harris Poll Online will email you with invitations to complete surveys in exchange for HIpoints, which can then be used to redeem for rewards. When you receive a survey invitation, you'll be asked to answer a few initial questions to help determine if you qualify or not in an attempt to send you more surveys that you'll be qualified to complete.
Average Payout: Typical surveys with Harris Poll Online pay about 125 points, so it will take around 10 surveys to make it to the minimum payout level of 1250 points, which is equal to about $10 of value.
Cash-out options: HIpoints can be redeemed for e-gift cards to retailers like Amazon, Starbucks, Walmart, and more. They do not offer cash payment options such as checks or PayPal.
14. CashKarma
CashKarma is a phone app that allows you to earn rewards for completing surveys, as well as by signing up for offers, completing PlayTime offers, earning location rewards, and referring people to CashKarma. You can also increase your reward points by working your way up to different reward levels that make you eligible for bonus points each time you complete a survey. CashKarma gives each survey a "rank" to help you quickly understand how good of an offer it is in terms of your effort. You'll also receive 25 points even if you don't qualify for the survey.
Average Payout: The minimum payout is $10. You'll receive a 300-point sign-up bonus when you register, to give you a jumpstart on earning rewards.
Cash-out options: CashKarma allows you to earn PayPal cash and e-gift cards, including ones from Amazon, which you'll receive directly within the app. A PayPal payment typically arrives within 24 to 48 hours. If you redeem for a gift card, it will be available for use after 24 hours.
15. OpinionInn
OpinionInn is an online platform allowing users to earn cash rewards by participating in online surveys and polls. After registration (make sure your profile is updated and accurate so you receive surveys relevant to you), users will begin to receive surveys and start earning money. OpinionInn partners with market research agencies, large corporations, brands, public organizations, PR agencies, and even individuals for the surveys they send out to users.
New users receive a $10.00 sign-up bonus which is credited to their accounts to help them reach the minimum threshold requirement for withdrawals (i.e. $25.00).
Average Payout: The incentives for a normal survey range from $0.50 up to $100 depending on the requirement of the research. However, on average surveys are $0.5 to $3 per survey. Once users reach the minimum threshold of $25.00, they can immediately transfer it to their PayPal account.
Cash-out options: OpinionInn allows you to earn PayPal cash. The PayPal payment typically arrives within 24 to 48 hours.
---
FAQ About Surveys That Pay Cash Instantly
We've found some of the most frequently asked questions regarding surveys that pay cash instantly, here are our answers.
Which Surveys Pay You Instantly?
While it's rare to find a survey company that pays "instantly" or as soon as you qualify for a reward, there are several that will have your cash payment or e-gift card to you within 24 to 48 hours. Branded Surveys, Survey Junkie, PrizeRebel, and CashKarma are a few with some of the quickest payment time frames. There are quite a few more companies that will have your reward to you within three to five days. You may not be paid instantly, but with many of these companies, you can easily expect to have your payment by the end of the week.
How Can I Make $20 Instantly with Surveys?
The best way to make $20 as quickly as possible with surveys is to sign up with multiple survey companies. It will take a little upfront work to complete the application process for each company, but it's going to be your best way to ensure you have multiple surveys landing in your inbox to complete each day. Keep track of the minimum pay-out level required for each survey company and then redeem your points as soon as you hit that level. By adding your earnings together from multiple companies, you'll have the best opportunity to make $20 quickly.
Which Surveys Actually Pay Cash?
The majority of companies we looked at offer the option to exchange your reward points for a cash payment via direct deposit or PayPal. Vindale Research is one company that pays money directly for completing surveys, rather than rewards points. InboxDollars and Swagbucks also offer surveys that pay cash.
---
Final Thoughts
While completing surveys that pay cash is not going to make you rich, it is a simple way to make extra money instead of mindlessly scrolling social media. When you work out how much you're making for the number of hours that you spend completing surveys, it typically works out to be a very low hourly pay rate.
However, when you're working towards a financial goal or paying off debt, every dollar counts. When you register for multiple surveys that pay cash and get into a regular routine of completing the surveys in your inbox daily, it can start to add up!
Up Next