20 Ways to Make $40 Fast in 2023
Many or all of the products featured on this page are from our sponsors who compensate us. This may influence which products we write about and where and how the product appears on a page. However, this does not influence our evaluations. Our opinions are our own. Here is a list of our partners and here is how we make money.
---
The information provided on this page is for educational purposes only. The Modest Wallet is a financial publisher that does not offer any personal financial advice or advocate the purchase or sale of any security or investment for any specific individual.
As a kid, $40 seemed like a lot. These days, however, it seems like you could spend that amount of money in the blink of an eye. Not to mention, earning it back is much harder than spending it, right?
Well, not exactly.
With all the resources available to the public in this day and age, making $40 fast has never been easier. In fact, for most of the options on this list, there are very few (if any) prerequisite requirements. In most cases, an internet connection and a little know-how are all you need to get started.
These are the best ways to make $40 fast right now.
---
Best Ways to Make $40 Fast
Regardless of whether you overspent your paycheck, can't work at the moment, or just want the peace of mind of having a little extra padding in your bank account, each side hustle on this list is a quick and easy way to meet your $40 goal.
1. Take Paid Online Surveys
While perhaps not the quickest way to make $40, taking paid online surveys is arguably one of the easiest. Unlike with many side hustles, there's no extra marketing involved, and you don't have to convince people to buy your things. Rather, you simply need to find a survey site you like, sign up, and take surveys to earn.
Among the most popular survey sites are Survey Junkie, Branded Surveys, and InboxDollars. Once you sign up and provide basic demographic information, they'll provide you with a list of surveys you're likely to be eligible for. These surveys range in length from 5 minutes to 60 minutes and pay anywhere from $0.50 to several dollars (i.e., around $5 per survey completed). Even better, two of the listed sites above provide a welcome bonus of $1 (Branded Surveys) and $5 (InboxDollars) just for creating an account.
Time to make $40: The amount of money you can make with paid surveys will depend on your consistency. However, assuming you are committed to making $40 fast, you can expect to make them within 2 to 3 days of consistent survey activity.
Requirements: To be eligible to earn money from taking surveys, you must be at least 18 years old (some sites will allow you to join at 16 years of age, provided you have parental consent).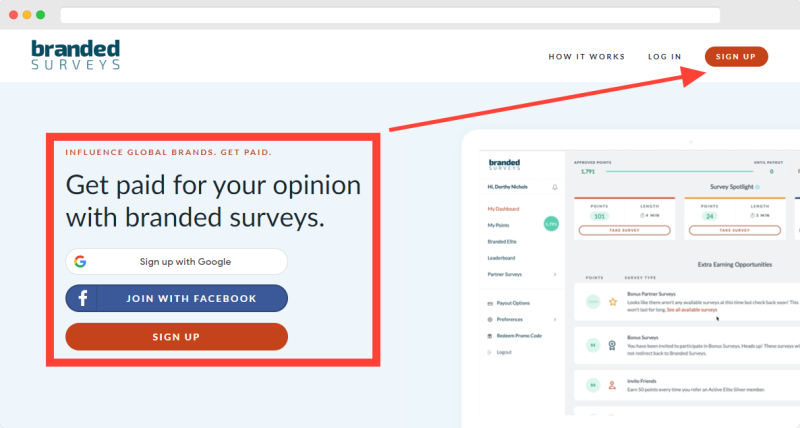 >> Read Also: Survey Sites That Pay Instantly
2. Get Paid to Watch Videos
Whether for learning purposes or entertainment, watching videos is a great way to pass the time—so why not get paid for something you're doing anyway?
Using platforms like AdWallet and KashKick, you can be paid to watch videos and provide feedback on them. Often, these videos will be based on new products and brand advertisements that will be released to the market soon. Companies pay the platforms to gather feedback on the videos, and the platforms then send a portion of that payment along to you.
Time to make $40: Since most videos don't pay more than a dollar, it will take 3-4 days of consistent activity to earn $40.
Requirements: Similar to taking surveys, you must be 18 years or older to sign up and earn money watching videos (AdWallet is open for individuals 13 years of age and older). It's also recommended that you have a decent internet connection so you don't risk losing progress and having to start an assignment over.
3. Make Money Playing Games
Kids often dream of making money by playing video games, but did you know that as an adult, you can bring that dream to fruition? By downloading games directly from your app store to your phone, you can quickly amass the $40 you're looking for.
The games you can play to make money are generally divided up into one of two categories: betting and non-betting.
With betting games, you stake your own money for the opportunity to win higher jackpots. Rather than being paid for your time, you and a few other players will put up a certain amount of money into a pot. You'll compete against each other, and whoever wins takes everything. Apps like Bingo Cash are considered betting games.
With non-betting games, there's no risk to your personal finances, but you also don't win as much at once. Instead, you're either compensated for your time or for the number of rounds won, or something similar. Apps like Solitaire Cash and Blitz Win Cash are both considered non-betting games.
Time to Make $40: How long it takes to make $40 by playing video games will depend on what games you choose, how much (if any) of your own money you decide to bet, and how often you play.
Requirements: You must have a compatible smartphone and be 18 years or older to be able to make money playing games.
4. Deliver Food
For those who are proud owners of cars with good gas mileage, you've got a unique opportunity that could yield well beyond the $40 you need. Platforms like DoorDash and Uber Eats are constantly looking for drivers to deliver restaurant orders and consistently pay $20 to $30 per hour.
This goes double for those who live in larger cities. Because the pay on these apps depends heavily on customer tipping, being able to complete more orders in a given time period means higher income. In more populated areas, the higher order volume helps you keep busy so you don't spend time waiting for new deliveries to roll in.
Time to Make $40: Less than one day. If you live in a more populated area, you can make $40 in just an hour or two. For smaller towns where there are fewer orders, you may need to spend several hours to hit that goal.
Requirements: You must be 18 years or older and have a valid driver's license, insurance, and a car less than 20 years old to sign up as a delivery driver.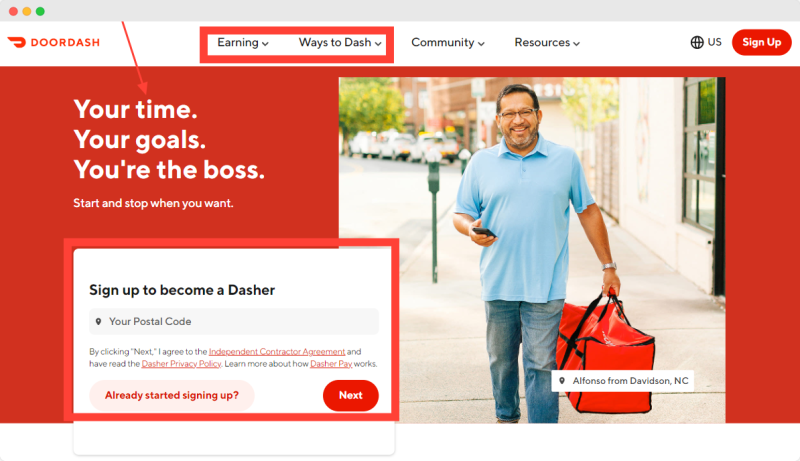 >> Read Also: Best Food Delivery Apps to Work For
5. Deliver Groceries
Delivering groceries through apps like Instacart and Shipt is another way you can make $40 fast if you have a decent, running vehicle. However, there are a few ways this option differs from delivering restaurant orders.
To start, grocery deliverers must shop for the order themselves in most cases. It isn't as simple as stopping by a restaurant, walking in, picking your order up, and leaving. Because of this, it takes significantly more time per order. However, you are compensated equally well since grocery delivery pays more per order to make up for the time discrepancy.
This option is great for those who'd rather drive less to obtain the same amount of money. And since a grocery deliverer typically only completes one or two orders per hour, you spend less time in your car waiting for new tasks to roll in.
Time to Make $40: In busy areas, you could easily make $40 in just 1 to 2 hours. In less populated or more overstaffed areas, it make take a full day of work to reach that amount.
Requirements: To deliver groceries through the aforementioned apps, you must be at least 18 years or older, have a valid driver's license, insurance, and a car less than 20 years old. You should also be able to lift 30 pounds comfortably since some orders contain heavy items.
6. Deliver Packages
Still want to drive for money but not quite sure about grocery or food delivery? Try delivering packages through Amazon Flex instead.
Amazon Flex is a service similar to DoorDash, where you're responsible for bringing peoples' packages to their door. However, contrary to the other two delivery options, Amazon Flex gives you a list of all your deliveries upfront. This means there's no waiting time; you schedule a time to work, pick up all your packages when your time slot starts, and deliver until you're finished.
Time to Make $40: If you live in one of the areas that support Amazon Flex, you could make $40 from just one batch of deliveries.
Requirements: For Amazon Flex, you must be at least 21 years old, possess a valid driver's license and social security number, and have a mid-sized or larger vehicle that can support large numbers of packages.
The biggest requirement, though, is that you must live in an area where Flex operates.
7. Walk Dogs or Pet Sitting
Have a soft spot for puppies and pets but can't have any fur babies of your own? No problem. Platforms like Rover and Wag! allow you to make fast cash walking dogs or by taking care of them at their home.
Depending on what you choose to do, you'll be expected to perform specific duties to keep your client's pet at its best. As a dog walker, you can expect to pick up the dog, spend 30 minutes to an hour walking them around the neighborhood, and then drop them off back home. During this time, you'll need to make sure they use the bathroom and drink enough water to stay hydrated.
On the other hand, pet sitters are expected to sit in the client's home (or in their own home with the client's pet) and take care of basic needs like water, food, and playtime.
Time to Make $40: According to three sources, the average part-time salary for a Rover dog sitter is approximately $1,000 ($800 after the 20% fee). To reach this income, you'd need to sit for 40 dogs per month. Working full-time, the monthly earnings would be around $3,300 ($2,640), requiring care for 132 dogs or 4-5 dogs nightly without days off.
Requirements: There are no requirements to be a dog walker or pet sitter. You may want to get a portable water bowl for walking, but the client will usually provide any other materials you'll need.
8. Make $40 By Selling Your Jewelry
For those who aren't into marketing their services or delivering goods, making that $40 by selling your old jewelry is a widely preferred option.
Using sites like Worthy, you can post old jewelry you no longer wear and watch it be auctioned off. Items like rings, bracelets, watches, and necklaces are all top sellers on the platform. Once your items sell, you can easily ship them off and wait for your money to roll in. You'll also receive a free GIA-certified appraisal for every auctionable item.
If your jewelry is gold or silver and you want to skip the hassle of an auction, however, you can also sell on sites like Cash for Gold USA.
Time to Make $40: It usually only takes one or two sales to earn $40. However, obtaining the money you make could take a week or more.
Requirements: You only need to be over 18 and possess sellable jewelry to make $40 using this method.
9. Make Money Driving
If you love driving, but the thought of getting out of your car for every delivery puts you off, rideshare services may be precisely what you need.
Through rideshare apps like Uber and Lyft, you can make all the money you need just by ferrying around passengers. Depending on the platform you use, you can also set alerts so you get a notification any time you enter a high-volume area. This cuts any guesswork out of the process and helps you make $40 much quicker than many other driver-based apps.
Time to Make $40: Using rideshare platforms, it can take anywhere from 1 hour to 1 full day to meet your $40 quota. The precise amount of time it will take depends on where you live and how well you're tipped. According to Indeed, Uber drivers make, on average, $19 per hour, so you could easily make $40 in just over one hour.
Requirements: Different rideshare apps have different sign-up requirements. The general rule is that you must be 18 years of age and have a few years of driving experience under your belt to be eligible for any of them. You must also have a license, insurance, and an eligible 4-door vehicle.
10. Make $40 or More Selling Your Old Tech
Just about everyone has old game consoles, phones, appliances, and the like lying unused around their home. Why not kill two birds with one stone and make your $40 while decluttering your house from old tech?
Through sites like Decluttr and Gazelle, you can easily sell old tech-related items for a profit. All you need to do to get started is go to your website of choice, enter your item's ISBN number, and review the instant offer to see if you'd like to accept or decline it.
Should you accept, you'll be emailed a prepaid shipping label. Simply print it out, slap it on your packaging, and take your box to the post office. You won't have to pay a dime to ship it, and you'll see money in your bank within just a day or two.
Time to Make $40: From start to finish, the entire process takes around a day or two. How quickly you can hit your $40 goal, however, will depend on whether you've got tech items worth that much lying around your home.
Requirements: The only requirement for selling old tech through these sites is that you have to be able to accept payment through either PayPal, ACH deposit, or paper check.
11. Rent Out Unused Space
Renting out unused space is a popular way to make extra cash these days, but did you know you don't even have to have a room to rent to take advantage of rental gains?
Through sites like Neighbor, you can easily find people willing to rent out spaces as small as a bedroom, closet, or attic. For those that have the extra space, though, garages and sheds are also popular rental options. Not to mention, the space you'll be renting will be used exclusively for storage, so you won't have to deal with seeing strangers in your home on a daily basis.
Time to Make $40: How long it takes to make $40 by renting your unused space will heavily depend on what type of space you have available. The larger your space, the quicker you'll be able to hit your goal.
Requirements: Naturally, you'll need to earn the space you plan to rent. Past that, you'll also have to keep that space readily available to your renter and be able to have a lease in place to protect you both legally.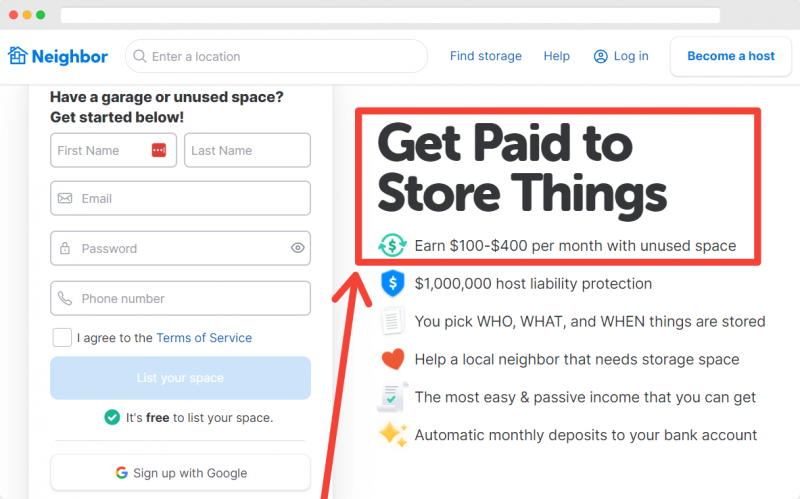 12. Rent Out a Room
If you want a little more control over when people are coming and going into your home, renting out a room can be just as lucrative as renting out storage space.
Airbnb and Vrbo are both alternative lodging platforms dedicated to providing vacationers with somewhere to stay beyond the typical hotels and motels on the market. Depending on the space you have available, you could choose to rent either a single room or an entire building/house.
One of the best things about this process, however, is that you can black out dates you don't want people to book. Whether you've got a family gathering or just desire a little alone time, you'll be able to make it happen.
Time to make $40: Depending on the size of your space and how popular the area you live in is, you could easily make $40 off just one night of booking.
Requirements: You must own the space you plan to rent. You must also be 18 or older and be able to maintain the space so that it abides by certain standards.
13. Test Products For Cash
For those who have a lot of opinions to give and wouldn't mind getting paid for them, consider earning your $40 by becoming a product tester through sites like UserTesting and uTest.
Getting started on these sites is simple. All you need to do is create an account, agree to the terms, and give some demographic information for your profile. You may also be required to download the necessary software that you'll be using when you go in to review the products you're sent. Once you've filled out the product questionnaire and submitted it, you'll be able to cash out your earnings.
Time to Make $40: Each test usually takes around 20 minutes, and you earn $10 (or more) for each one you complete. However, you will have to wait for the product to be shipped to you before you can review it.
Requirements: You'll need a reliable internet connection, a microphone, and a device that can download and run the site's software. It also helps if you have good descriptive ability since you will be reviewing products.
14. Get Paid to Run Errands
For some people, running errands is a chore they'd rather avoid. For others, however, it's the best part of the day. If you belong to the latter group of people, then you've got a unique opportunity to earn the money you need.
TaskRabbit is a platform where individuals looking to outsource their errands can connect with workers willing to do them. Depending on your talents and skills, you could easily make $40 just by mounting a TV or dropping off paperwork.
Time to Make $40: TaskRabbit has a no-cash payment system, so it will usually be a week or so before you can get paid for the work you did. However, tips are customary in this line of work, so you may be able to earn what you need in tips alone quickly.
Requirements: To work through TaskRabbit, you must be 18 years or older. It also helps if you have your own transportation and a positive demeanor with your customers.
15. Cut Unwanted Subscriptions
Technically speaking, cutting down on unwanted subscriptions won't earn you anything. However, you can easily gain an extra $40 per week just by canceling a few bills and avoid needing to scramble to make that money later.
BillTrim and Rocket Money are two of the most popular platforms that will help you identify all the subscriptions that are being auto-deducted from your bank account. By analyzing and cataloging those subscriptions for you, these services make it easy to cut out unwanted subscriptions and save money.
Time to Make $40: You could save anywhere from $200 to $300 per month by cutting out subscriptions you no longer use.
Requirements: Naturally, you first have to have subscriptions you don't use in order to cancel them and save money. As such, this method of making $40 fast isn't for the more frugal people reading this. However, other than that, anyone can cancel subscriptions to save money.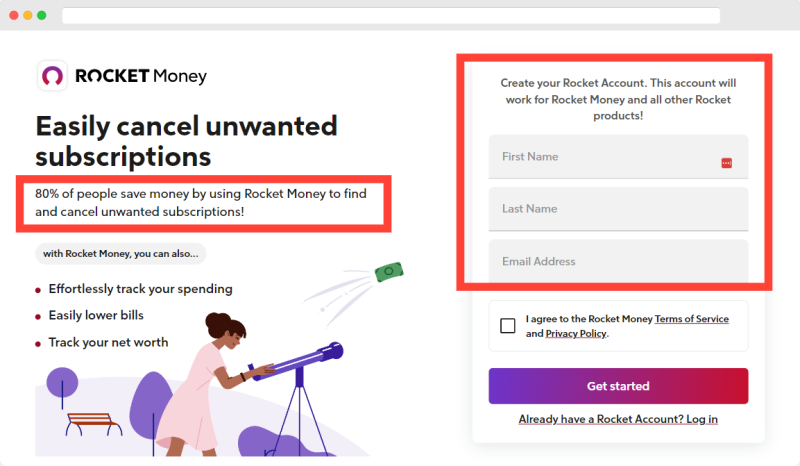 16. Rent Out Your Car
Do you own your car and want to make the most out of it? It might be time to think about renting out your car to make a little extra cash.
Peer-to-peer apps like Getaround and Turo are designed to match you with potential renters who will pay you for the chance to drive your car around for a day. This goes double for those whose vehicles can be used to haul large items, such as trucks and large SUVs.
Time to Make $40: Your earnings will depend on what type of car you have, how old it is, and what area you live in. That said, most people can earn $40 from just one day's worth of bookings so long as they live in a medium-volume area and have a car less than 15 years old.
Requirements: You must own your car, be at least 18 years old, and have insurance that supports non-listed drivers if you want to rent your car out.
17. Sell Your Old Textbooks
If you just recently graduated from college or have just been hanging on to those old textbooks, now's a great time to let them go and cash in instead of letting them continue to collect dust.
By using services like BookScouter, you can compare prices from tons of different websites, all wanting to buy the textbooks you're selling. So long as you have the book on hand, all you need to do is type the ISBN into the search bar and BookScouter will pull up a list of book vendors and the prices they're offering.
Prefer your smartphone to a computer? That's okay too. BookScouter's app is available on both iOS and Android to help you sell your textbooks whenever, wherever.
Time to Make $40: How quickly you will make $40 hinges on what textbooks you have to sell. Certain books will fetch a much higher price than others, and the more copies you have of one book, the higher the quotes you'll be eligible for.
Requirements: There are no requirements to sell using BookScouter because the platform is just a price comparison site. You may encounter additional requirements depending on what vendor you choose to sell to.
18. Sell Your Skills
Although perhaps not the quickest way to earn $40, selling your skills through freelancing websites is a reliable way to make money and maintain an extra income stream long after you've reached your goal. Skills like writing, marketing, social media management, and virtual assistance are all in high demand in the freelance space.
Sites like Fiverr and Upwork allow you to bid on jobs within your area of expertise for prices that you set. Depending on what you're looking for, you can use Fiverr for short-term assignments or apply for jobs on Upwork that will extend into the next few weeks or months.
Time to Make $40: The rate at which you reach your $40 goal will depend on what industry you're working in, how specialized your skills are, and what prices you're setting for yourself. Many freelancers make $40 from just one assignment.
Requirements: You must be at least 18 years old to use the aforementioned freelancing sites. Depending on the site you use, you may also be required to verify your identity and location.
19. Turn Your Car Into A Billboard
You've likely never considered turning your car into a walking advertisement, but that might change when you learn how much you stand to make by doing so.
Platforms like Wrapify and Carvertise will pay you handsomely to put decals on your personal vehicle and drive around the city you reside in. You don't have to go anywhere in particular, either; just driving around on your normal commute or running errands is enough to kickstart those earnings.
The best part, though, is how little work this hustle actually takes. Once you've signed up for the platform and have been approved for a campaign, all you have to do is stick the decal on your car. Past that, you'll be automatically credited based on your campaign's pay rate. Combine this with renting out your car, and you've got an almost entirely passive source of income.
Time to Make $40: There's no solid way to say how long earning $40 will take since different campaigns and advertisers have different pay rates. You'll also earn more based on where you live and how badly drivers are needed in your area.
Requirements: You must have a clean driving record, license, and a vehicle less than 20 years old to sign up as a driver through Carvertise or Wrapify.
20. Claim Lost Money
If you're looking for an easy, low-effort way to make $40, claiming lost money should definitely be on your roster. Although the payout times can be slow, the time it takes just to earn the $40 is less than any other item on this list.
Sites like Unclaimed.org are dedicated to helping individuals find old money they're owed. Some of the items you might find through this type of site include utility or apartment deposit refunds, uncashed checks, and safety deposit box contents. All you have to do is sign up with the site, enter your info, and they'll tell you if any mystery money is waiting for you to claim it.
Time to make $40: Less than one day
Requirements: The only requirements for claiming lost money you're owed are a valid social security number, birth date, and name. You may also be asked some questions to verify your identity or required to submit a photo of your license.
---
FAQ on How To Make $40 Fast
We've found some of the most frequently asked questions about how to make $40 fast; here are our answers.
What are the best side hustles to make $40 fast?
There's no single best way to make $40 fast if you're relying on a side hustle. This is because nearly all side hustles vary in pay based on how much effort you put in or what resources you currently have available to you. What's right for one person may not be right for someone else.
With that in mind, though, there are some hustles that tend to take significantly less time to pay out than others. Among the quickest paying options on this list are selling your old items, driving for delivery services, dog walking, pet sitting, and cutting unwanted subscriptions. 
What is the best way to make $40 in one hour?
Assuming you need to earn and be paid your $40 all in one hour, your options are limited. That said, you do still have a few opportunities to reach your goal in the allotted time. Below are all the side hustles on this list that can be completed (and will pay out) in less than an hour:
● Selling old tech
● Selling jewelry
● Deliver food or groceries
● Run errands for others
How can I make $40 fast as a kid? 
As a kid (that is, someone under age 16 who can't work a normal job and isn't eligible for most side hustles), making $40 quickly can seem difficult. More often than not, however, the solution is right there in your neighborhood.
One of the best ways to make $40 fast as a kid is to visit your neighbors and ask if they need any work done. You can offer to clean up their lawn, help tidy their house, organize their garage, or really do anything they've been putting off doing themselves. 
---
Final Thoughts
Making money fast doesn't have to feel like pulling teeth. Instead of stressing yourself out and racking your brain for ideas, simplify the process by trying some of the side hustles listed above. Whether you prefer hands-on options like delivery driving, have extra space ripe for renting, or need some ideas for items to sell, you're bound to find a favorite in this list.
Who knows—you may even end up continuing the hustle long after your $40 goal has been met.
Get our free Side Hustle Handbook with the best strategies to multiply your income sources today.
Plus our best money tips delivered straight to your inbox.

Christa is a skilled researcher and serial entrepreneur. Her passion lies in providing people like you with ways to become financially independent without breaking the bank in the process. Currently, she's tested and perfected over 37 unique side hustles and brings that information to you through articles like these.